Internet is flooded with quotes on empowering women and truly now's the time of women empowerment. In the 21st century, women aren't where they used to be. Women have grown out of their socially imposed cages and unfurled their wings into all sectors of society. Be it economics, business, aviation, filmmaking, or even just enjoying the little freedoms of life.
Women Empowerment and Feminism – Women Rules!
It's been a long and hard struggle trying to secure a place of worth in a male-dominated society. It started from the demand of equal voting rights and a right to assert their creative freedoms, and as the years went by, we've grown more of a foothold than ever.
But we've all done our bit and must continue to do so, to help all women rise to equal power and status. And yet, the road to perfect equality is a long one and definitely arduous to undertake, what with its other obstacles like, inclusion and acceptance of different castes, religions, sexualities, race, and class. These are no easy feats, and it requires a lot of determination and spirit to work towards this dream-like horizon.
Inspiring Quotes on Empowering Women
And so, here are some of the most influential quotes on women empowerment that can help add fire to this burning flame of enthusiasm. Let's all unite and keep this fight alive until we've won it. Go, women!
Think like a queen. A queen is not afraid to fail. Failure is another steppingstone to greatness.
— Oprah Winfrey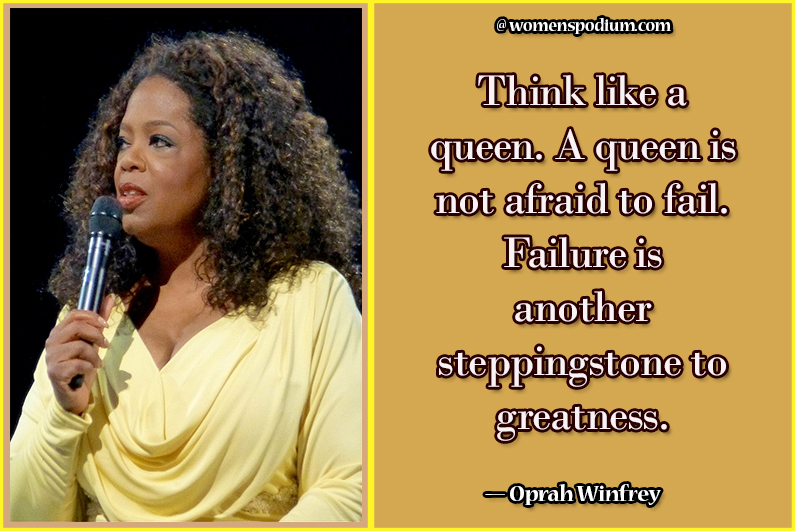 Women are always saying, 'We can do anything that men can do.' But men should be saying, 'We can do anything that women can do.
— Gloria Steinem
A woman with a voice is, by definition, a strong woman.
— Melinda Gates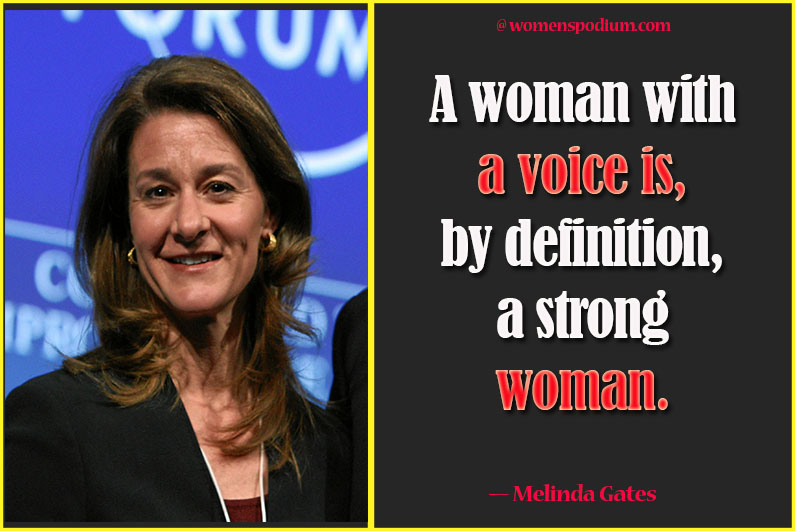 We need women at all levels, including the top, to change the dynamic, reshape the conversation, to make sure women's voices are heard and heeded, not overlooked and ignored.
— Sheryl Sandberg
The most courageous act is still to think for yourself. Aloud.
— Coco Chanel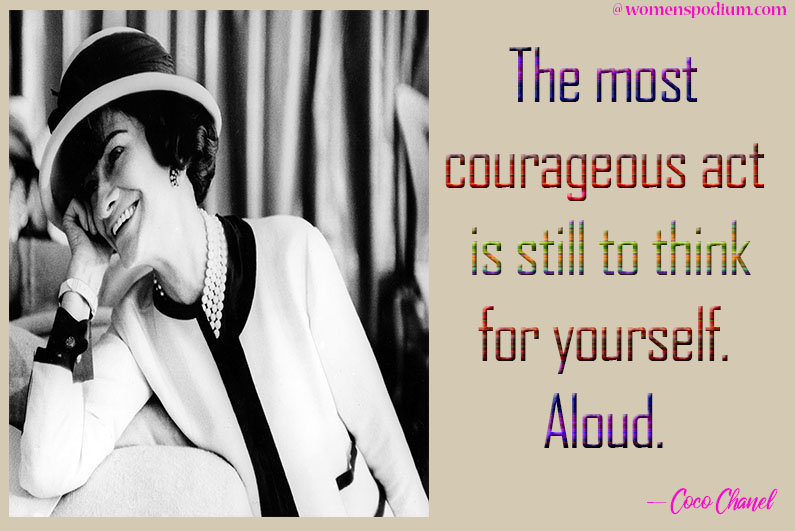 To all the little girls who are watching this, never doubt that you are valuable and powerful, and deserving of every chance and opportunity in the world to pursue and achieve your own dreams.
— Hillary Clinton
There is no limit to what we, as women, can accomplish.
— Michelle Obama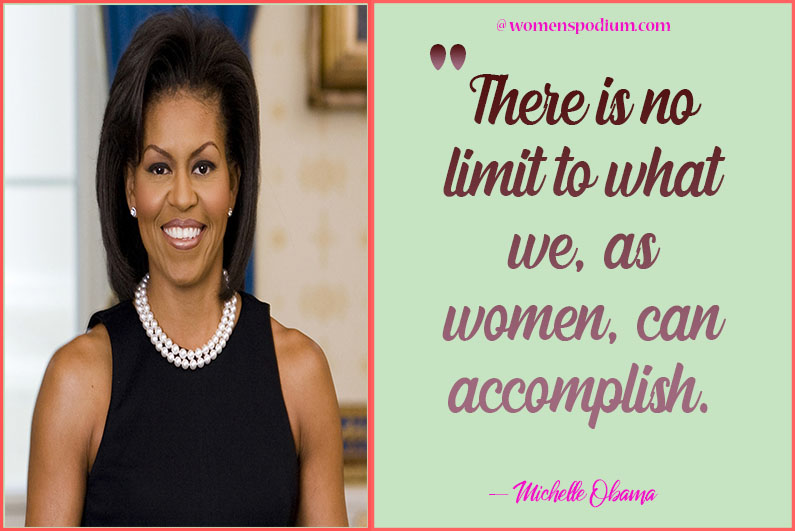 I never dreamed about success. I worked for it.
— Estée Lauder
If you want something said, ask a man; if you want something done, ask a woman.
— Margaret Thatcher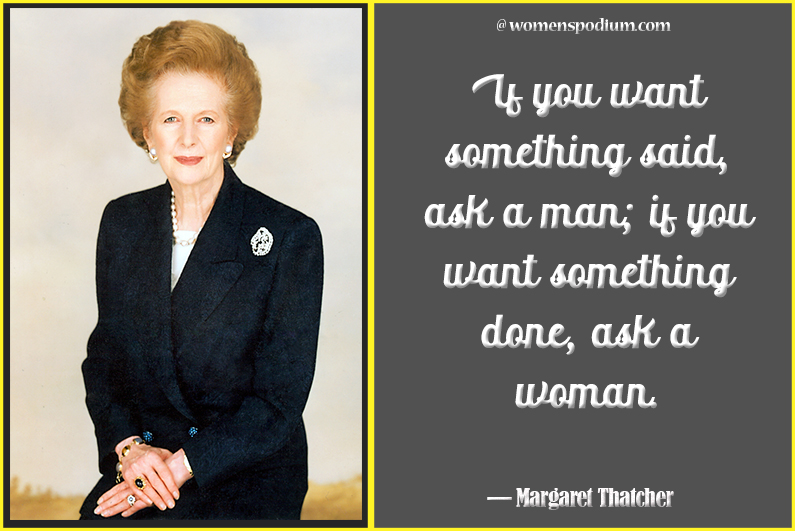 Find something you're passionate about and keep tremendously interested in it.
— Julia Child
It took me quite a long time to develop a voice, and now that I have it, I am not going to be silent.
— Madeleine Albright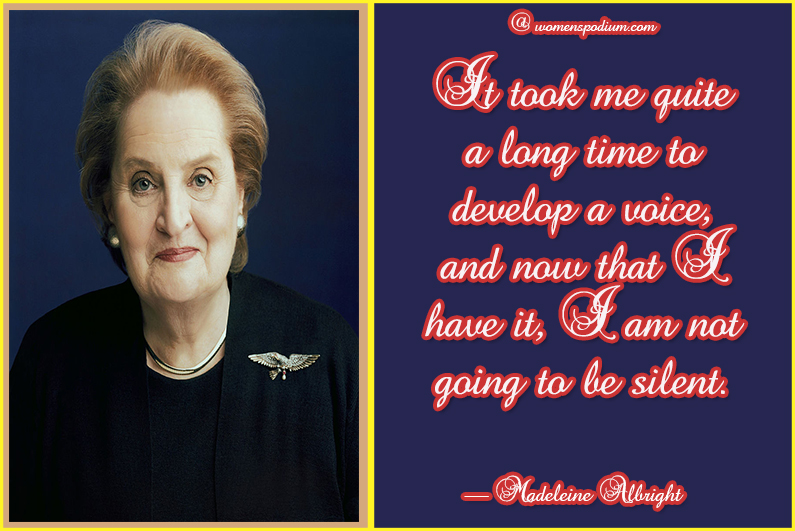 Feminism isn't about making women stronger. Women are already strong, it's about changing the way the world perceives that strength.
— G.D. Anderson
I raise up my voice—not so that I can shout, but so that those without a voice can be heard. … We cannot all succeed when half of us are held back.
— Malala Yousafzai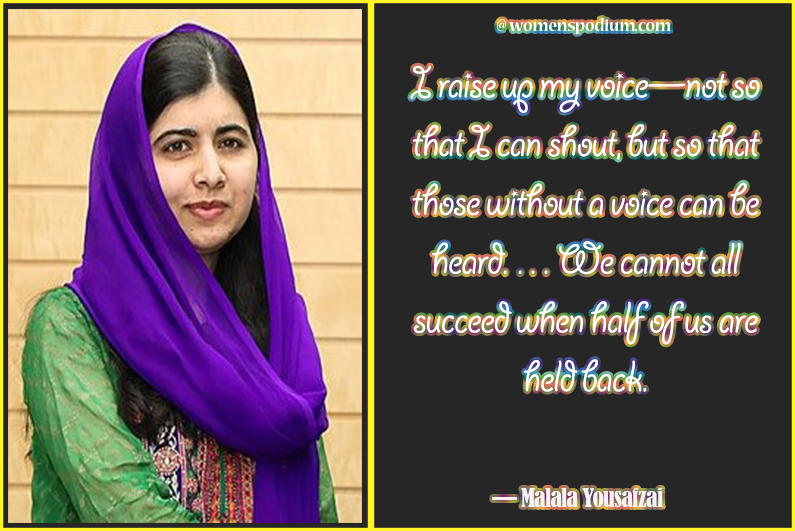 I am a woman / Phenomenally / Phenomenal woman / That's me.
— Maya Angelou
I'm tough, ambitious, and I know exactly what I want. If that makes me a bitch, okay.
— Madonna