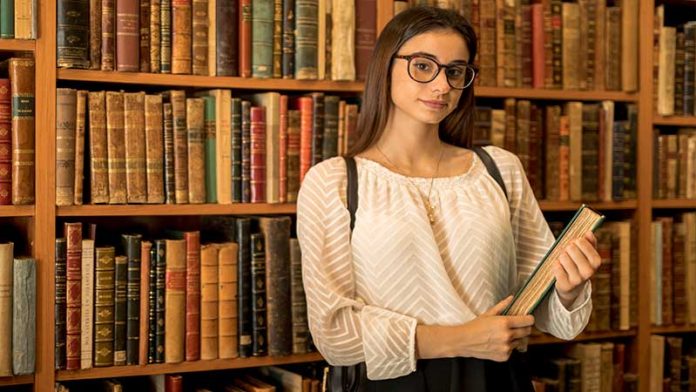 Education is the backbone of society, and quotes on women education are a smoother way to convey the message to understand the gist. Knowledgeable citizens who are intellectual and work together for the benefit of their country and their individual identities are truly constructive. For the overall development of a nation, it is necessary to educate the citizens, especially women.
Education is not a privilege but a necessity. It is equally as important as the air we breathe, the food we eat, and our right to livelihood. In fact, education should be like food for the mind. This is the primary reason why education should not be accessible to only a certain section of society. If our ultimate goal is equality, we must start at the roots and nourish young minds with the sunshine of education.
Inspiring Quotes On Women Education
Educating a girl is a priceless gift, one that can continue to bless her throughout her life. If you don't believe us, here are a few of the best quotes on women education by some of the brightest minds.
Women are the real architects of society.

– Cher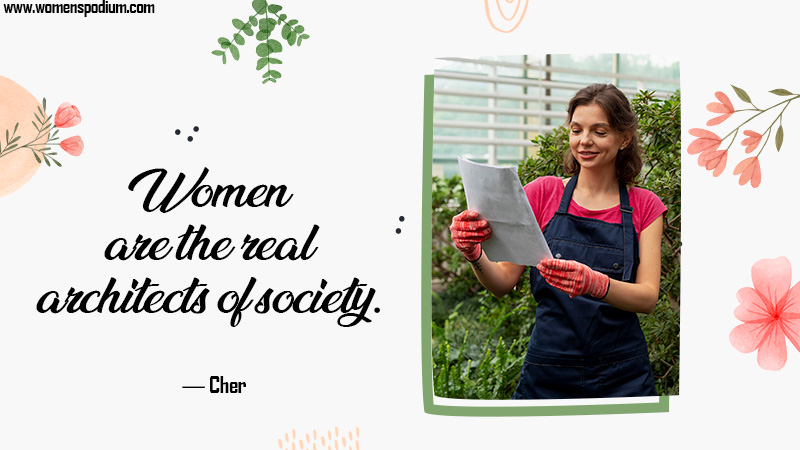 We educate women because it is smart. We educate women because it changes the world.

– Drew Fuast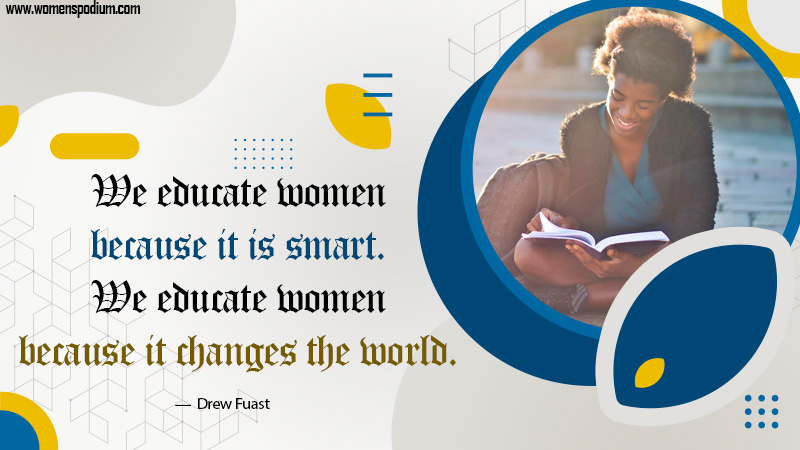 If you educate a man, you educate an individual. But if you educate a woman, you educate a nation.

– African Proverb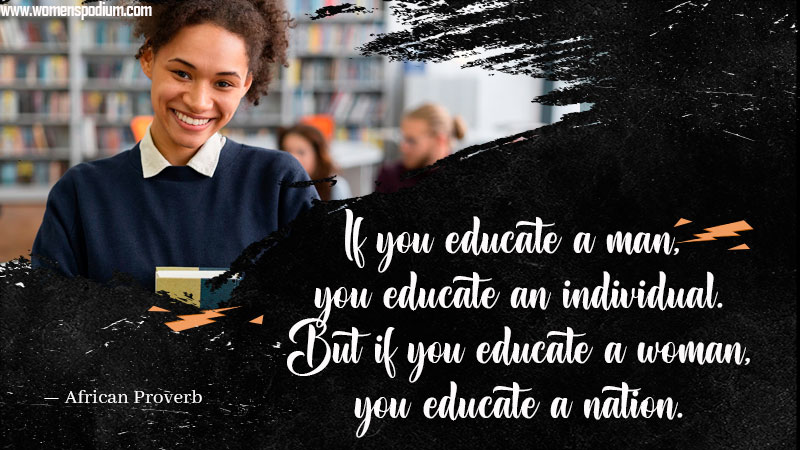 When girls are educated, their countries become stronger and more prosperous.

– Michelle Obama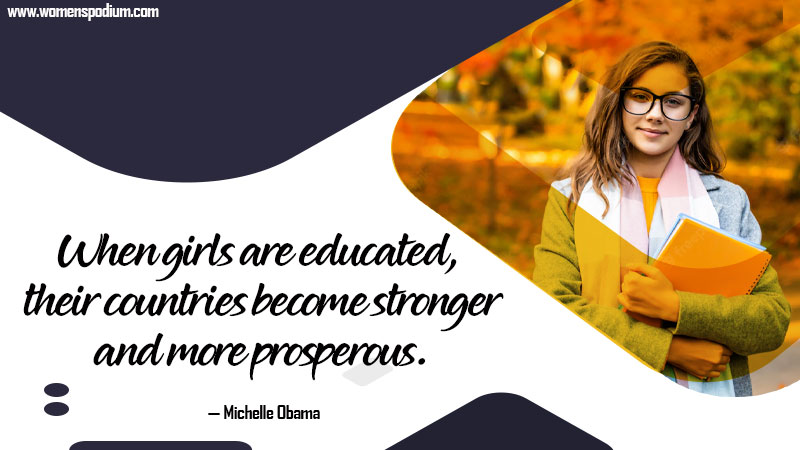 The education of women is the best way to save the environment.

– E.O. Wilson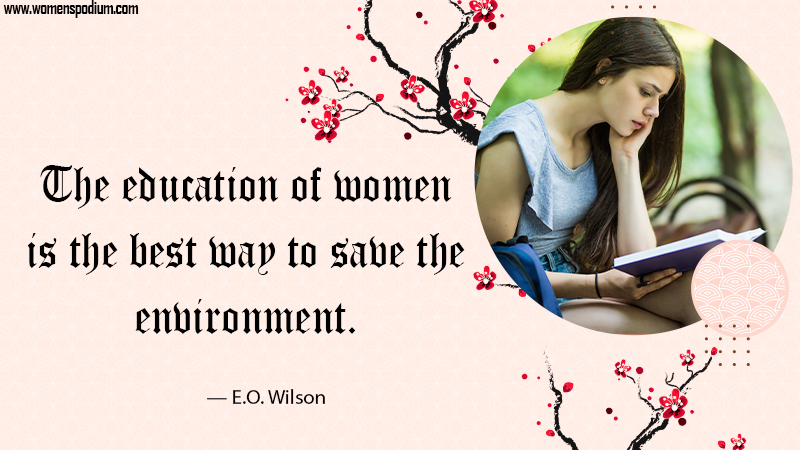 Women, like men, must be educated with a view to action, or their studies cannot be called education.

– Harriet Martineau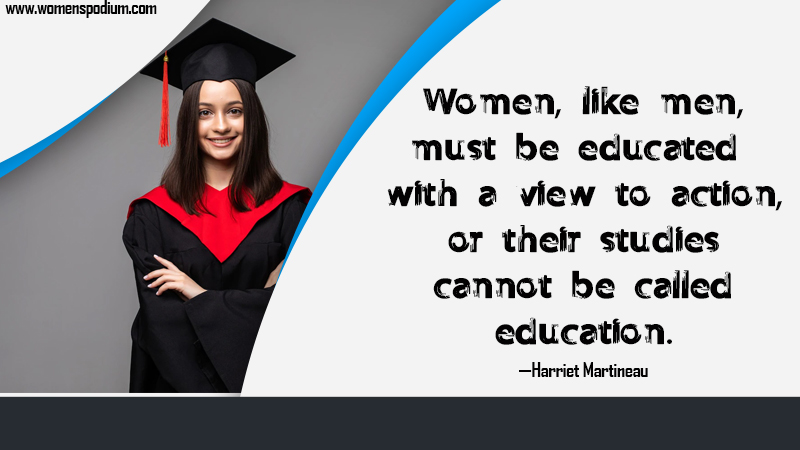 A girl child who is even a little bit educated is more conscious of family planning, health care and, in turn, her children's own education.

– Azim Premji
Investing in girls' education is the very best thing we can do, not just for our daughters and granddaughters, but for their families, their communities, and their countries.

– Michelle Obama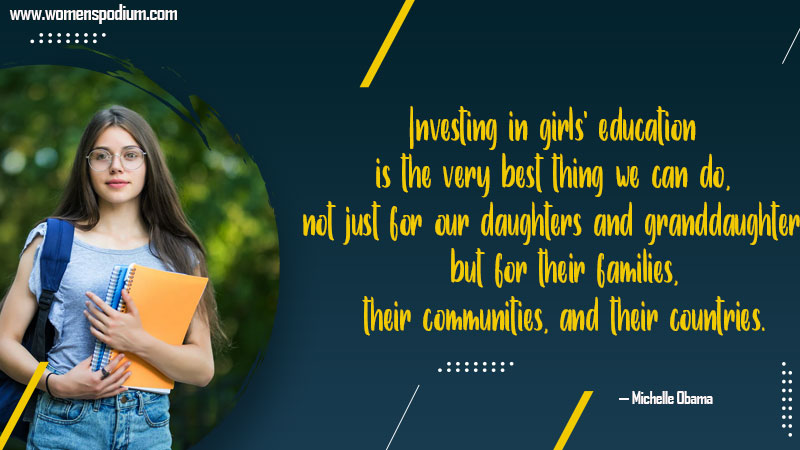 Women are emerging as a major force for change. Countries that have invested in girls' education and removed legal barriers that prevent women from achieving their potential are now seeing the benefits.

– Sri Mulyani Indrawati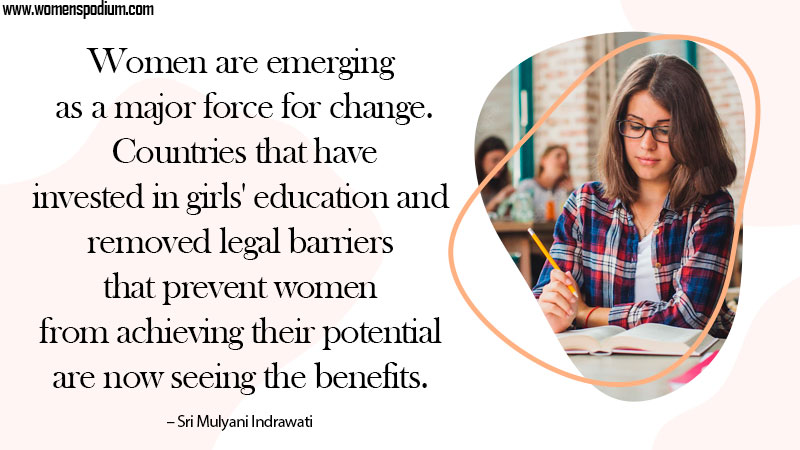 No nation can rise to the height of glory unless your women are side by side with you.

― Muhammad Ali Jinnah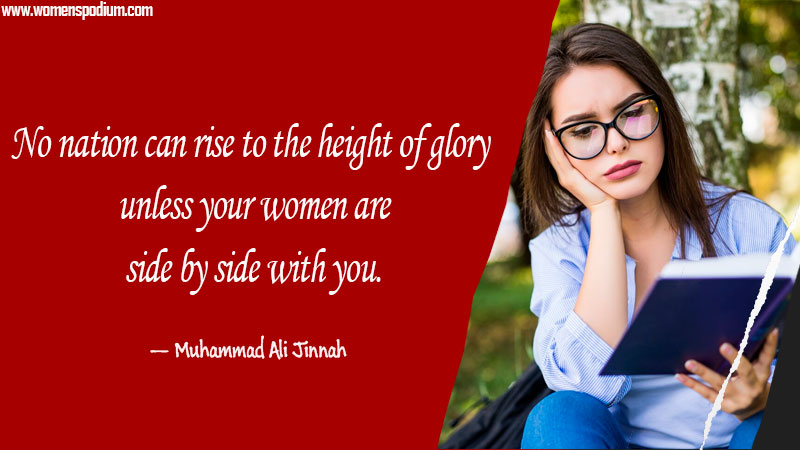 There is no greater pillar of stability than a strong, free, and educated woman.

— Angelina Jolie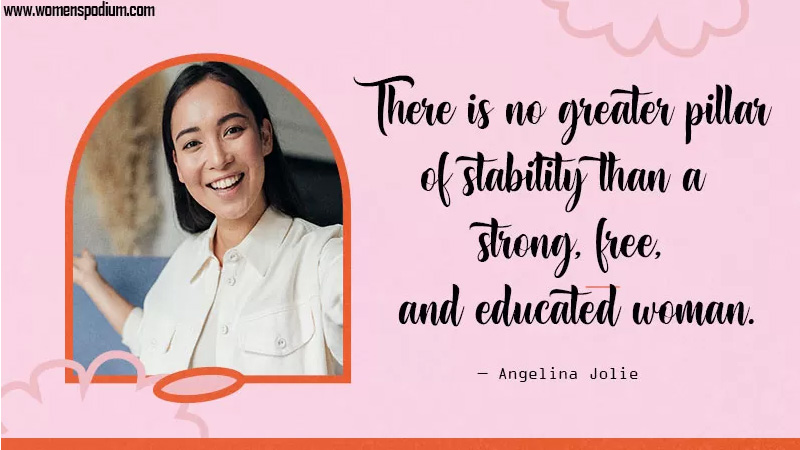 If we are going to see real development in the world then our best investment is WOMEN!

— Desmond Tutu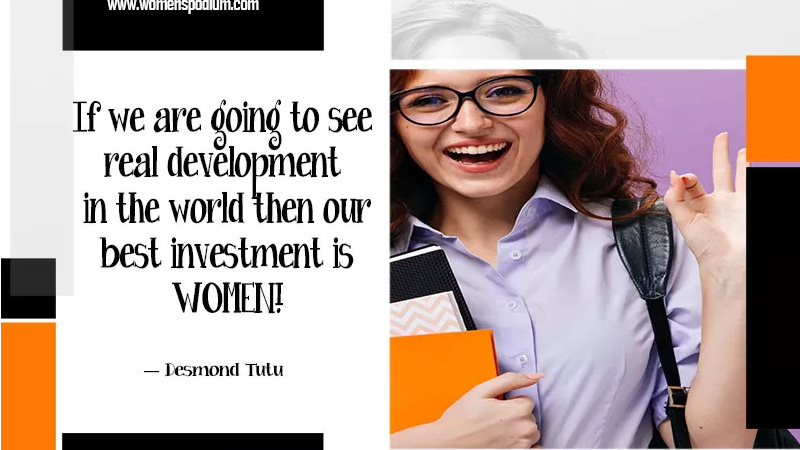 Women share this planet 50/50 and they are underrepresented – their potential astonishingly untapped.

— Emma Watson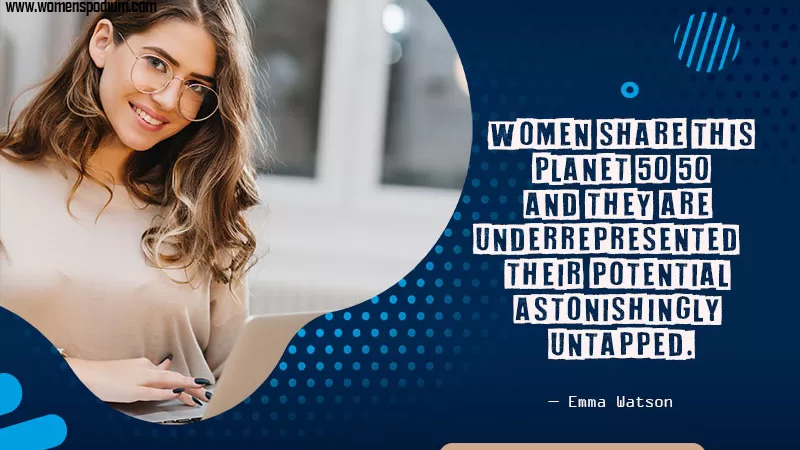 Martial arts should be part of every girl's education.

— Esha Gupta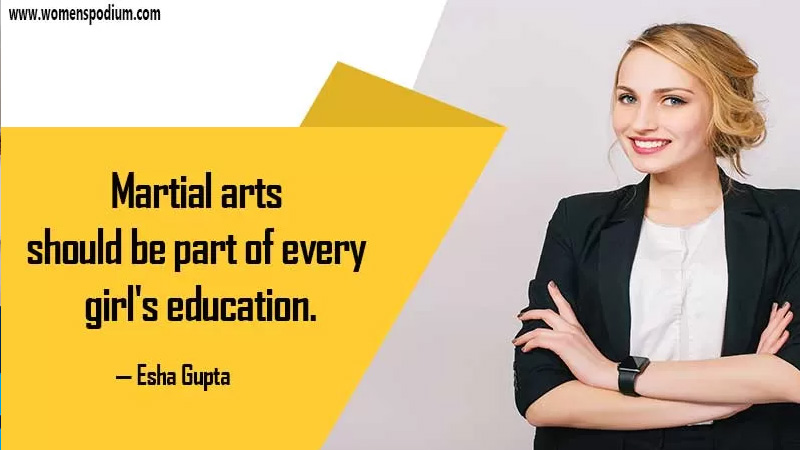 To educate girls is to reduce poverty.

— Kofi Annan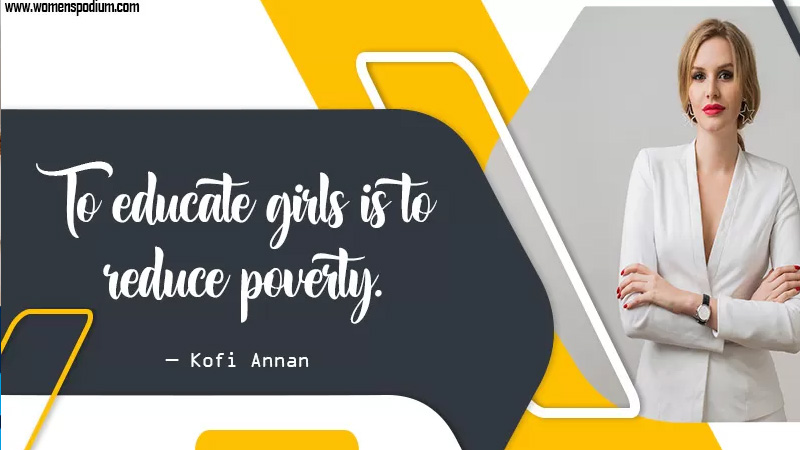 The seeds of success in every nation on Earth are best planted in women and children.

— Joyce Banda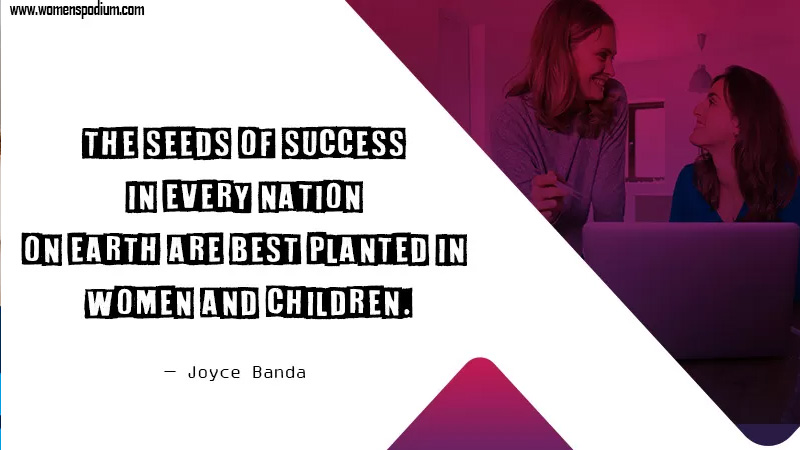 Education, leading to financial independence, has surely made women more empowered.

— Sudha Murty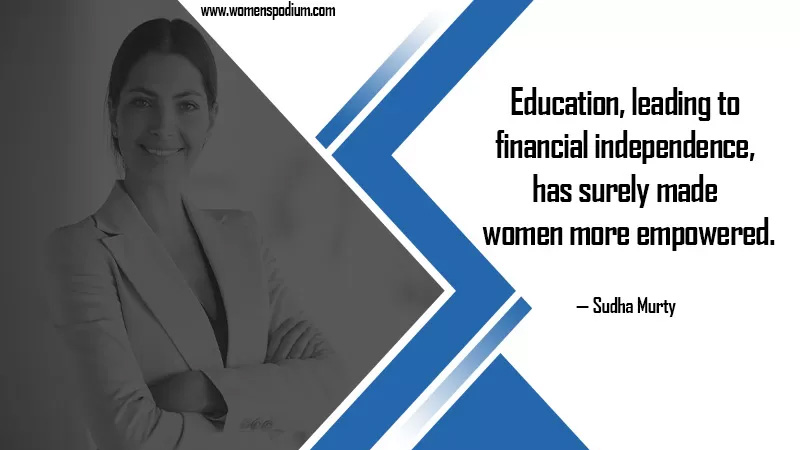 You educate a man; you educate a man. You educate a woman; you educate a generation

— Brigham Young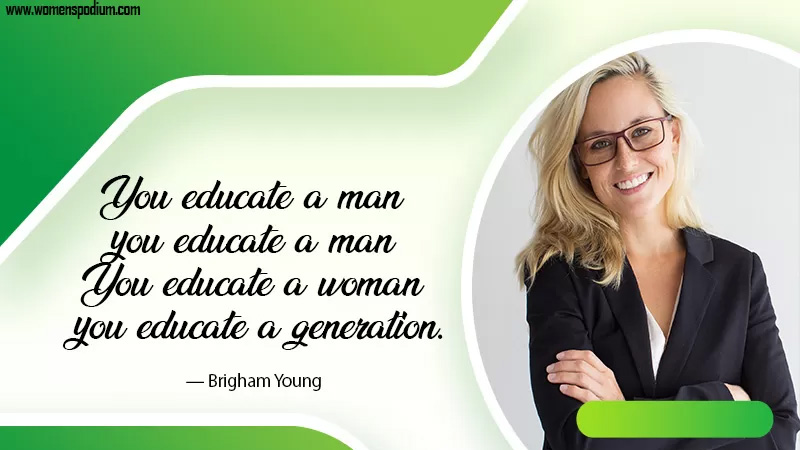 Education is the most powerful weapon you can use to change the world.

— Nelson Mandela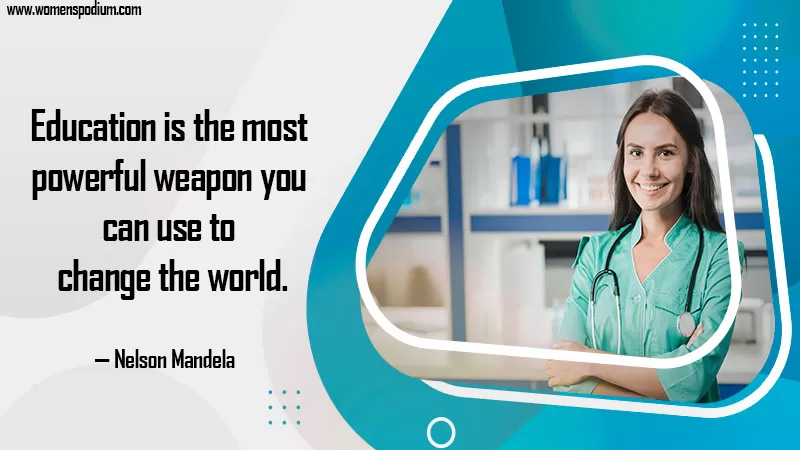 Education, doing homework, is the way to lift up girls. Around the world, where girls are educated, the economy and the standard of living rise.

— Karen DeCrow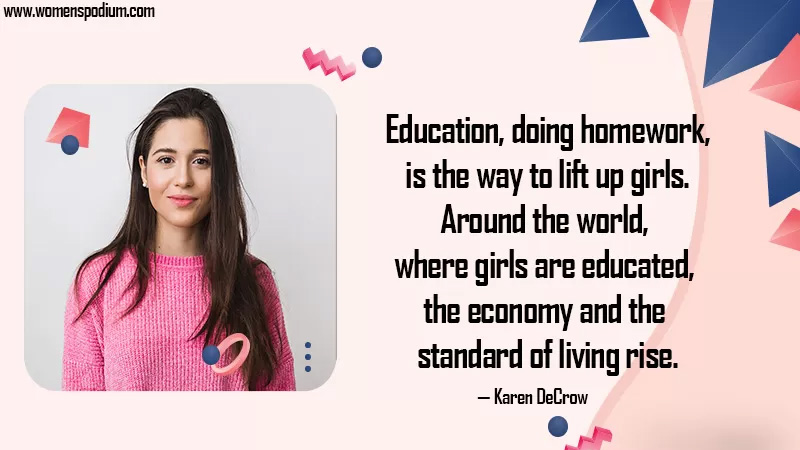 Young women who want an education will not be stopped.

— Freida Pinto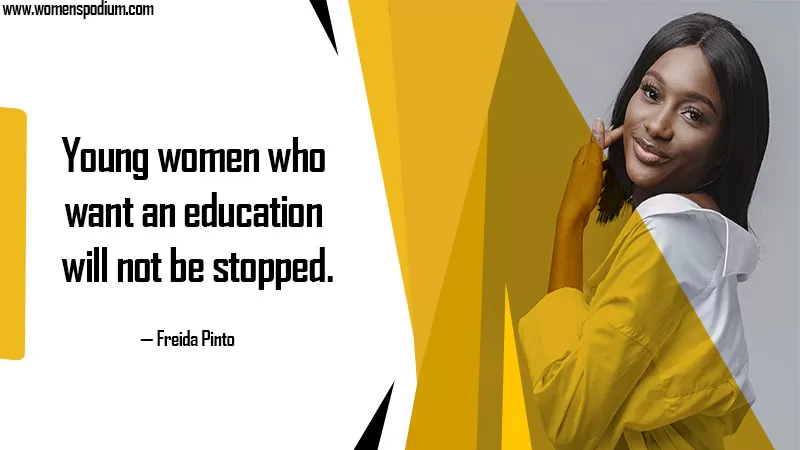 A girl child who is even a little bit educated is more conscious of family planning, health care and, in turn, her children's own education.

— Azim Premji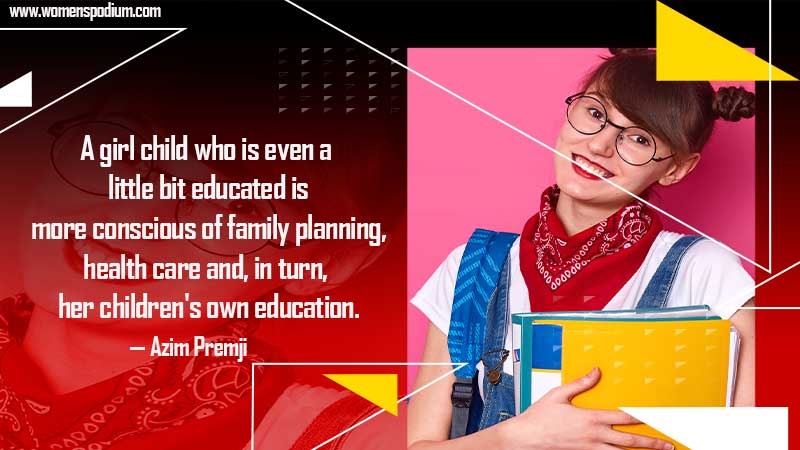 Quotes On Girls' Education
Women have an equal right to education as men. Women's education is often treated as secondary and given very little to no importance at all. However, it is high time we change this reality. Women are rising up in society and claiming their rights. One way to ensure that they get them is to educate women. Women Empowerment is secondary, but women education must stand first or on the priority list.
Girls' education is the single best investment that any society can make.

— Carol Bellamy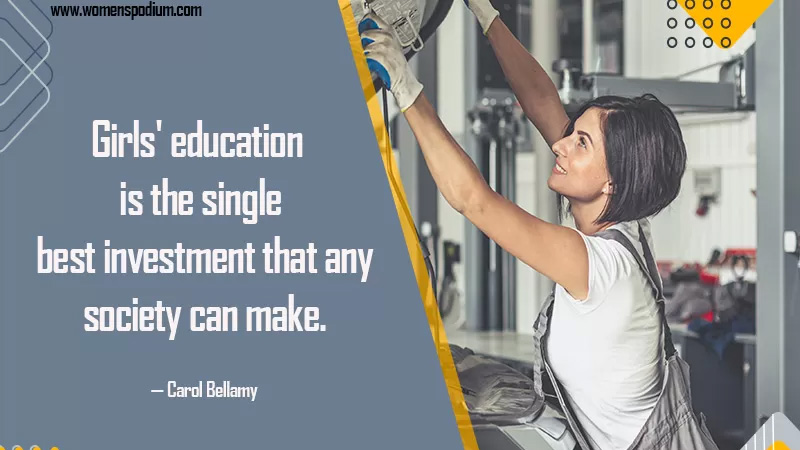 Going to school — picking an apple. Getting an education — eating it.

— E. L. Konigsburg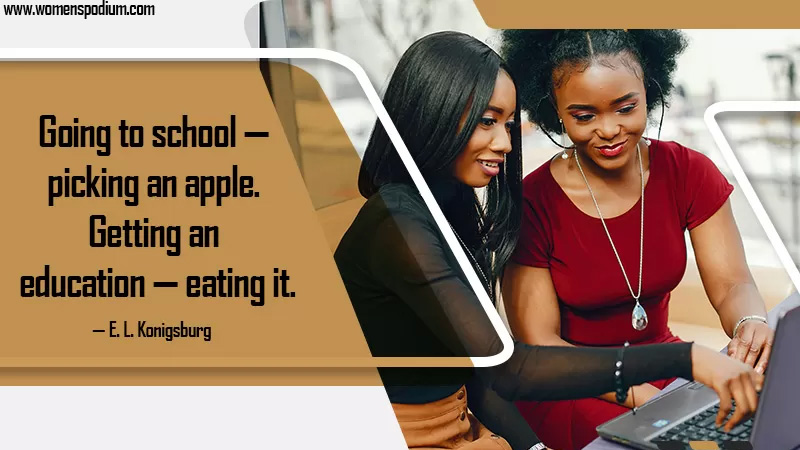 The education and empowerment of women throughout the world cannot fail to result in a more caring, tolerant, just and peaceful life for all.

— Aung San Suu Kyi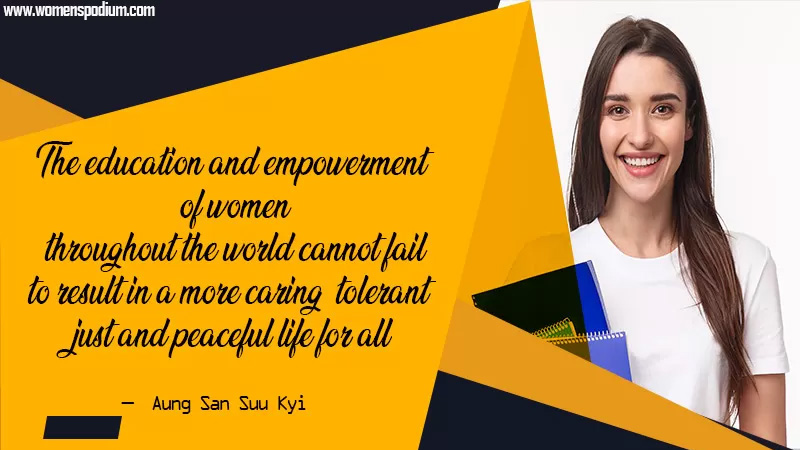 The education of women is the best way to save the environment.

— E. O. Wilson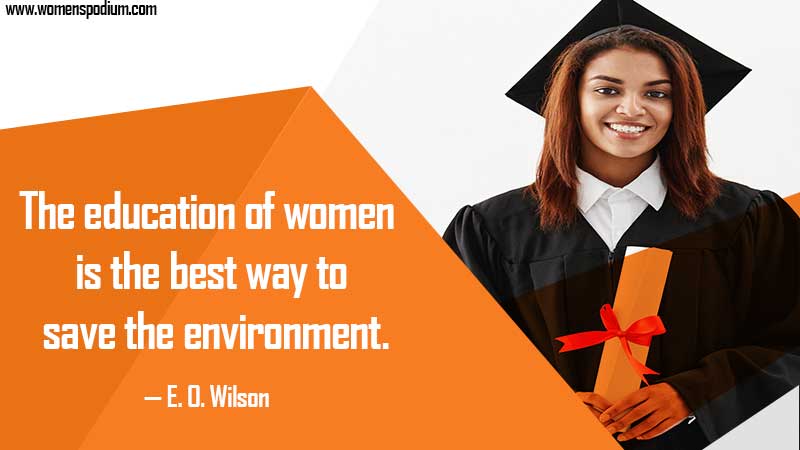 Young men and women, your education is ever important – to us, to you, and to God.

— Russell M. Nelson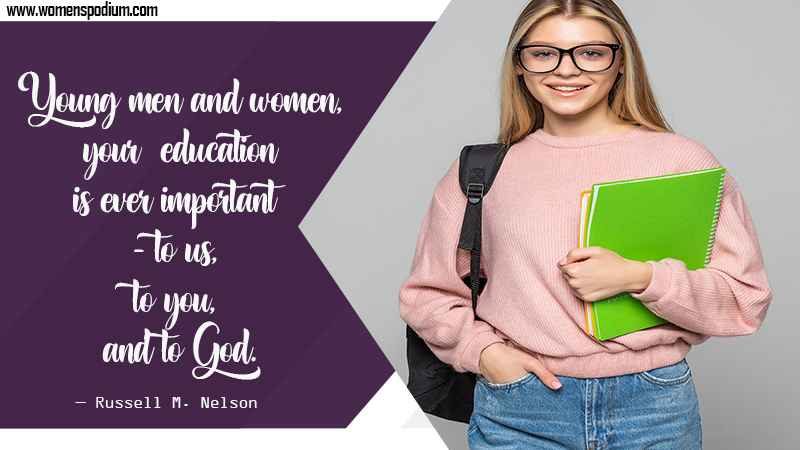 The content of a book holds the power of education and it is with this power that we can shape our future and change lives.

— Malala Yousafzai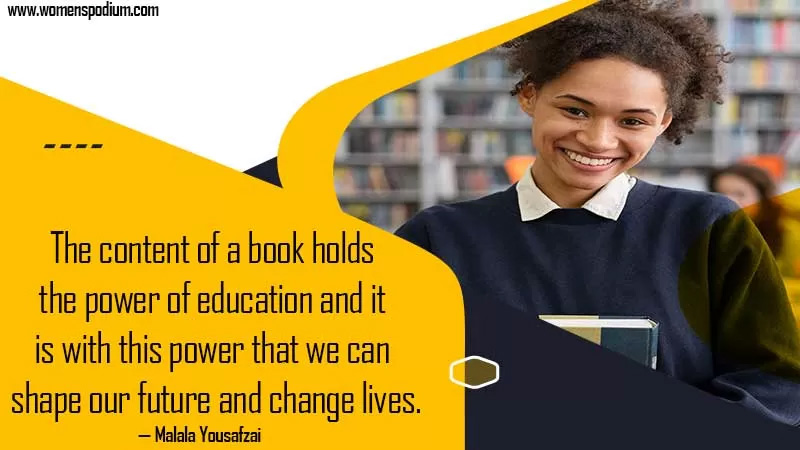 An investment in knowledge pays the best interest.

— Benjamin Franklin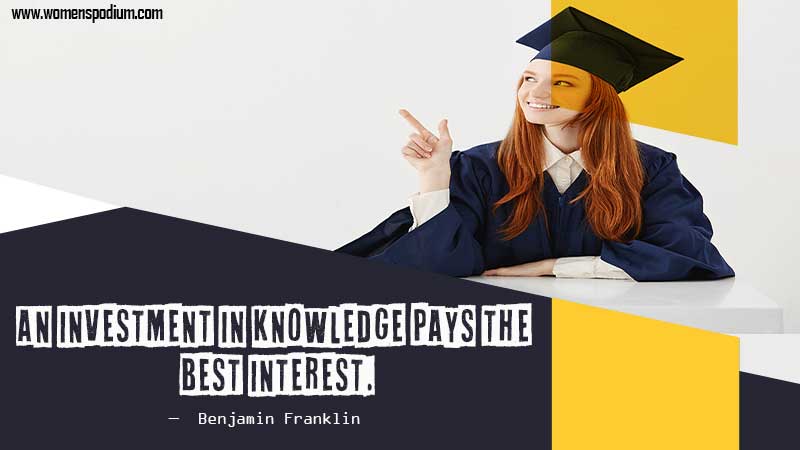 Change is the end result of all true learning.

— Leo Buscaglia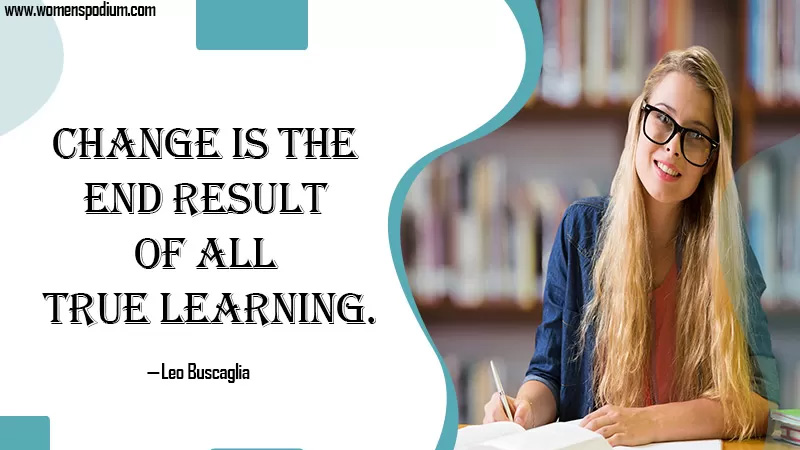 The roots of education are bitter, but the fruit is sweet.

— Aristotle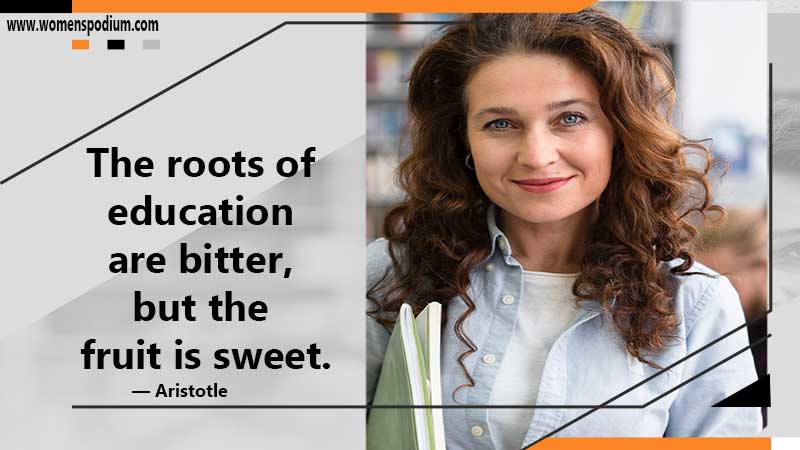 Live as if you were to die tomorrow. Learn as if you were to live forever.

— Mahatma Gandhi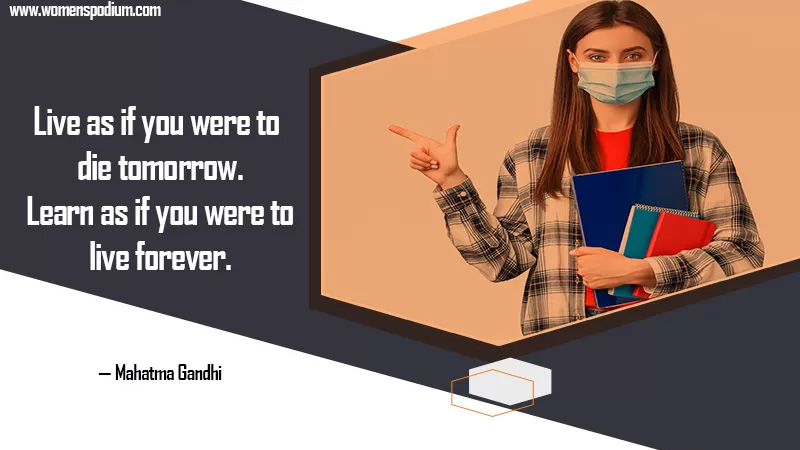 The more that you read, the more things you will know, the more that you learn, the more places you'll go.

— Dr. Seuss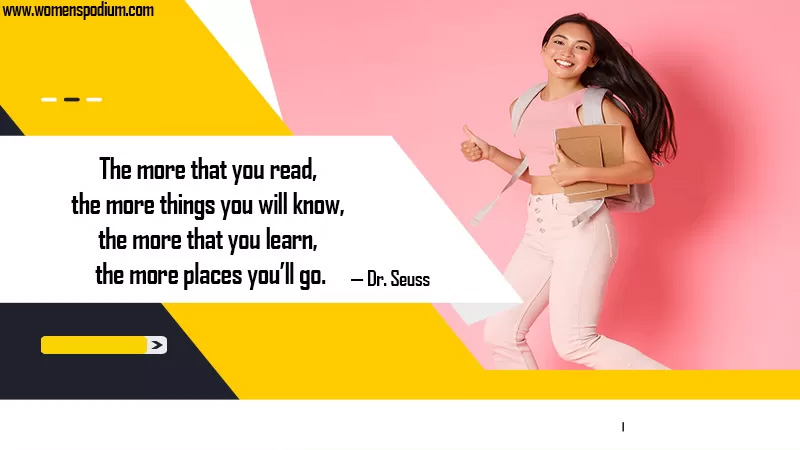 Education does loads of things for girls that won't surprise you at all – it provides self-esteem, teaches important life skills, and offers the kinds of choices a good education can give anyone.

— Richard E. Robbins
Educate the Women and You Change the World
Girls' education or women education goes far beyond sending them to schools. It's about giving them the right to the same right to education as boys and assuring they feel safe around their environment. Women education must be the priority of every family, society and government. The education system, when developed strategically, gives women the prospect to know about healthcare and nutrition at the right time to shape their lives as they want as well as in the right way. We hope our quotes on women education help in empowering women in every field.
Also Read: Give your girl child a safe space at home; lessons of gender equality start at home. Let your girl be the strong woman who can play a prominent role in shaping the world in the right way.