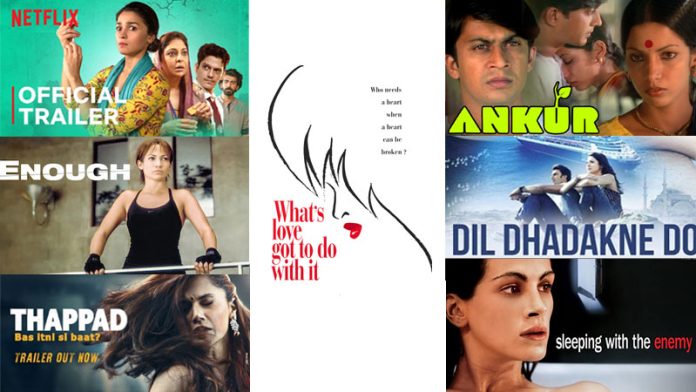 Abusive relationships have, over the years, become a favorite topic to explore on the silver screen. Movies about abusive relationships have definite appeal for filmmakers because it promises drama and depth at the same time. In the last few years or so, one increasingly sees abusive relationships displayed on the screen. Some movies do it right, and others not so much.
Kabir Singh, a recent Bollywood remake of the 2017 Telugu movie Arjun Reddy is a perfect example of how abusive relationships can be romanticized on screen. Both movies feature a largely misogynistic lead that not only falls into harmful addictions himself but also afflicts the violence of his thoughts on the people around him. His love interest usually becomes the target of his overwhelming anger and is forced to bear the brunt with a straight face only because she loves him. Movies like these tend to sentimentalize unacceptable violence and present it only as destructive love. However, some movies try to show the reality of abusive relationships, complete with the pain, dependence, and helplessness a victim feels when trapped in such a situation. Here are 8 of the best movies about abusive relationships that pull back the curtains on abuse, whether mental, physical, or even emotional.
1. Thappad (2020)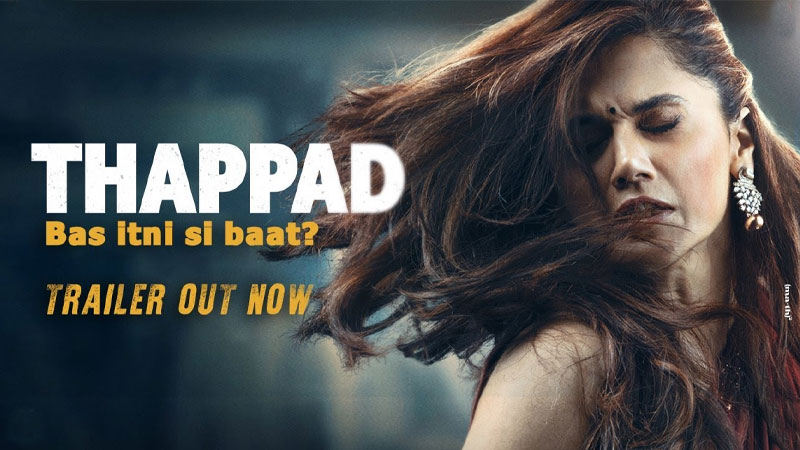 IMDB: 7.0
Language: Hindi
Starring Tapsee Pannu in the lead, Thappad is a seemingly commonplace story of an ordinary family. Like any other middle-class Indian family, Amrita (played by Pannu) and Vikram (played by Pavail Gulati) lead a mundane but happy life. The wife cooks, cleans and looks after the house as the husband goes out to work. Despite everything, the couple truly loves each other and seems to share a happy relationship that is complete with mutual respect. However, things take a drastic turn when Vikram ends up slapping Amrita at a house party run amock with guests. Overwhelmed with surprise, embarrassment, and finally indignation, Amrita distances herself from a husband. People around her, even her own parents, discourage her course of actions, reasoning that this wayward slap was only a one-off incident and would not require legal persecution. Undeterred, Amrita asks Vikram to take accountability and refuses to excuse his actions.
The movie does a great job of bringing across the point that even one slap is too much. The violence behind domestic abuse is not just physical, but also a direct violation of the respect a partner deserves to hold in their lover's eyes. With its delicate treatment of the subject matter, Thappad has become one of the most overt movies about abusive relationships to release in recent times and has instantly become a must-watch.
Watch on Amazon Prime Video
2. Uyare (2019)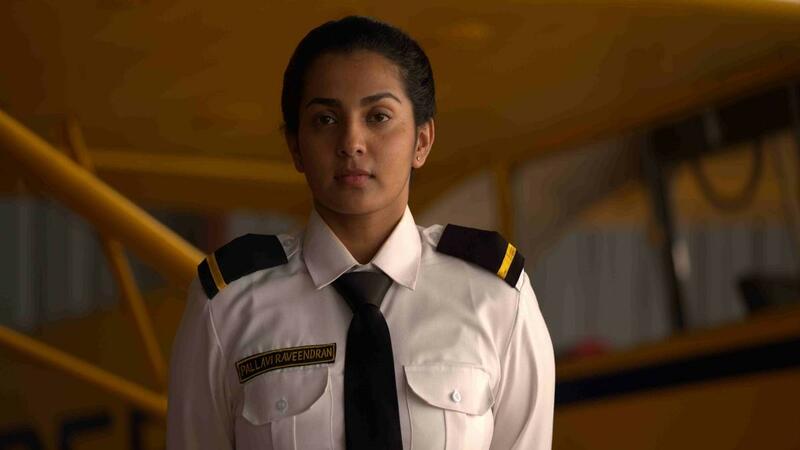 IMDB: 8.0
Language: Malayalam
In his directorial debut, Manu Ashokan attempts to present an overall picture of acid-attack survivors and the hardships they face as a result of an already traumatic event in their lives.
The 2019 Malayali thriller follows the life of Pallavi Raveendran, a young girl who aspires to become a pilot. Supported by loving parents, Pallavi is bubbly and cheerful as she heads to Mumbai to train as a licensed pilot. Her only roadblock is her domineering boyfriend, Govind Balakrishnan, who refuses to give her the time she needs to devote to her academics. Govind's demanding and controlling nature continues to interfere with her dreams, even as she does her best to work around them. Finally, having had enough of his ways, Pallavi angrily asks him to step out of her life and give her the space she needs to grow. Insulted and affronted, Govind decides to take revenge and premeditates an acid attack on her in a fit of rage.
With her dying dreams flashing in front of her eyes and overcome with the pain of having had her skin literally burnt off her face, Pallavi felt helpless. The authorities and the law demands evidence that she does not have, and the perpetrator is left scot-free. As her eyesight weakens as a result of the acid, Pallavi is no longer eligible to fly. The rest of the movie follows her fight for acceptance of her affected appearance and the reality of having to reshape her dreams because of an immature man-child who thinks he can control the women around him and inflict pain on them as a result of their "disobedience".
Available both on Netflix and Amazon Prime Video
3. Darlings (2022)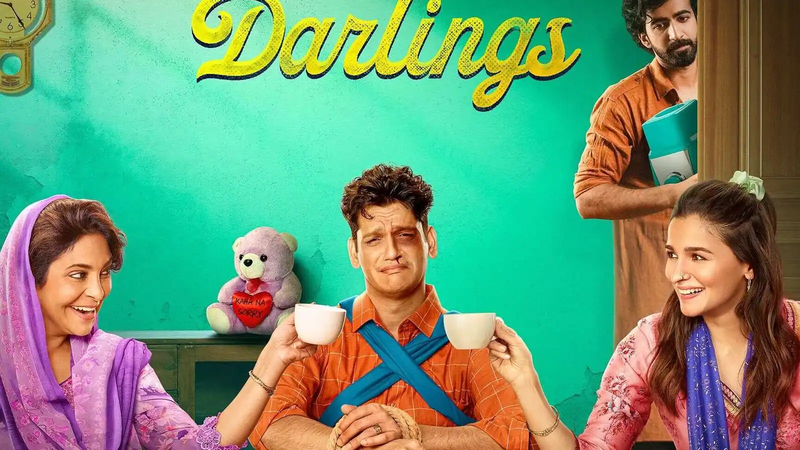 IMDB: 6.6
Language: Hindi
A more recent release starring big names like Alia Bhatt and Shefali Shah, Darlings is a Netflix production that takes on a comedic tone to approach darker subject matters. While one may think the result would be unsatisfactory, the movie is the right mix of comedic relief while simultaneously maintaining the seriousness associated with domestic abuse.
Badrunissa, a.k.a Badru (Alia Bhatt), and Hamza (Vijay Varma) fall in love and get married, thinking they will lead a happy life. However, things take an ugly turn when Hamza, frustrated by an unpleasant job and a pompous boss, turns to alcohol as a coping mechanism. But the substances aren't enough: Hamza begins to vent his frustration by physically harming Badru, causing multiple injuries on a daily basis, finally leaving Badru to decide and take matters into her own hands.
Despite its flaws and unnecessary dramatizations, Shefali Shah and Alia Bhatt are a pleasure to see on screen, with their mother-daughter equation. While one can appreciate what the movie tries to do, the fact is that the whole film may sound like a discourse of revenge rather than ethical action. Ultimately, the filmmakers choose to combat violence with even more violence, which doesn't address the root cause of it all. Even so, Darlings is a valiant attempt at exposing that domestic abuse rises out of power equations as much as it does out of silence.
Darlings is available to Stream on Netflix
4. What's Love Got To Do With It (1993)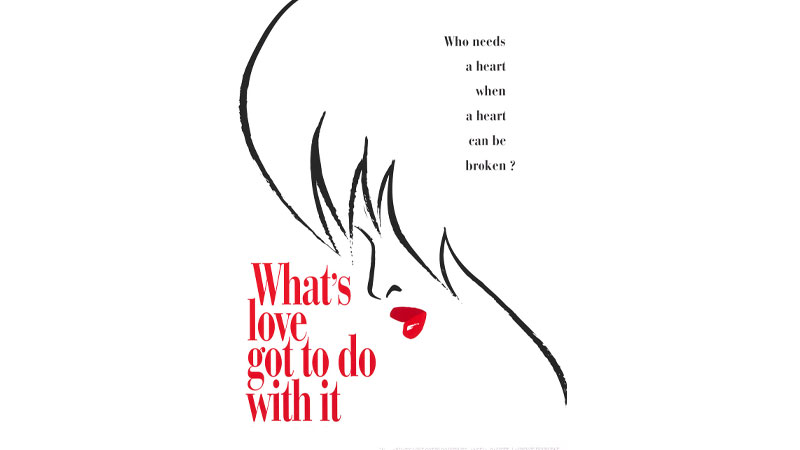 IMDB: 7.3
Language: English
Some movies about abusive relationships are much closer to real-world experiences. What's Love Got to Do with it is an example of precisely this. A 1993 biographical movie based on the life and abusive marriage of American music icon Tina Turner. Played by Angela Bassett, the movie depicts her rise to fame and her fight against an abusive spouse, despite the fact that she was the one to control the finances in the house. It explores themes such as male jealousy and how difficult it is for women, even with access to fame and money. The movie also explores how one can break free from this pattern of abuse and how conflicting emotions play into such a relationship. Like the title questions, where exactly does the love lie in a relationship that causes physical and mental harm to at least one partner?
What's Love Got to Do with It is available to Stream on Apple TV
5. Ankur (1974)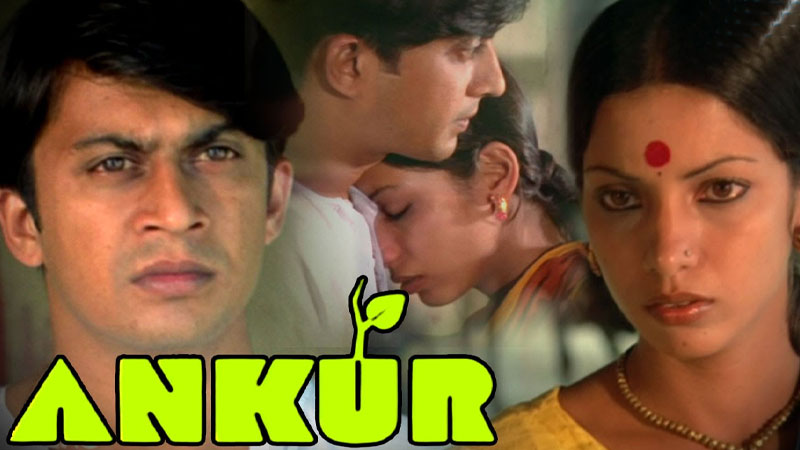 IMDB: 7.8
Language: Hindi
One of the best examples of absolute masterpieces arising out of the alternate cinema wave in the 70s, Ankur was way ahead of its time, using subtext to make a potent commentary on the socio-economic layers of society.
Lakshmi and her husband are a Dalit couple living a pastoral life and caretaker of an uninhabited house. Surya, the house owner, returns with his wife to take over the family business. There is immediate attraction when Surya encounters Laxmi for the first time. The two begin to court each other secretly, where Surya is fueled by his lechery and Laxmi because she isn't truly in a position to deny her employer for any kind of service. From there on, Laxmi is constantly exploited, both physically and mentally, as Surya's wife continues to instruct her domestic work while the husband claims to love her in secret. Surya is unwilling to give up his comfortable family life for Laxmi, and she is thus left to fend for herself.
The abuse in this movie is somewhat covert and does not extend to significant physical harm. Ankur deviates from the overly dramatic screenplay, instead opting for a more realistic approach, making it one of the movies about abusive relationships that aren't limited to married life. The movie manages to talk about adultery, casteism, poverty, prejudice, gender discrimination, and entitlement, all in its 2-hour run time. Instead, the viewer is left to think about the unfairness and helplessness. Ankur is a poignant reminder that abuse can have multiple forms, and each is just as valid as the other.
6. Sleeping With The Enemy (1991)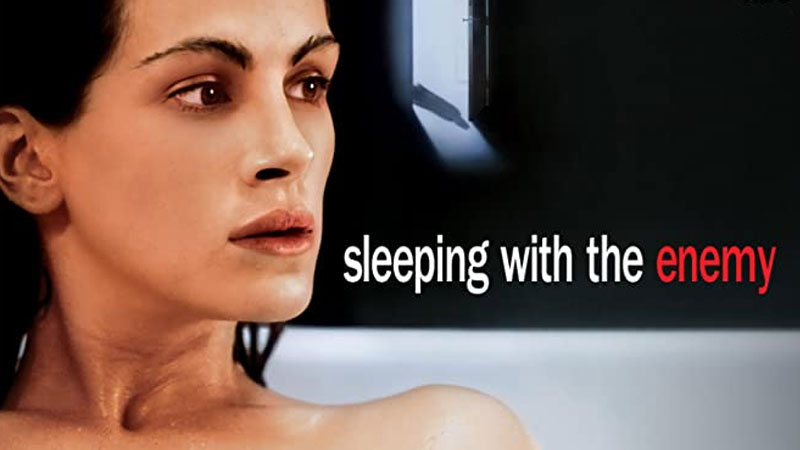 IMDB: 6.2
Language: English
Starring Julia Roberts in the lead, this American psychological thriller documents a woman's escape from the most dangerous man she knows: her husband. The only way for her to escape her traumatic life is by faking her own death and fashioning a completely new identity for herself. The film is a tender yet spine-chilling portrayal of how badly domestic abuse can affect a person's life and choices. No one would want to live in constant fear of their past and have to run from a person who had promised to love you.
To watch Sleeping with the Enemy Stream on YouTube
7. Dil Dhadakne Do (2015)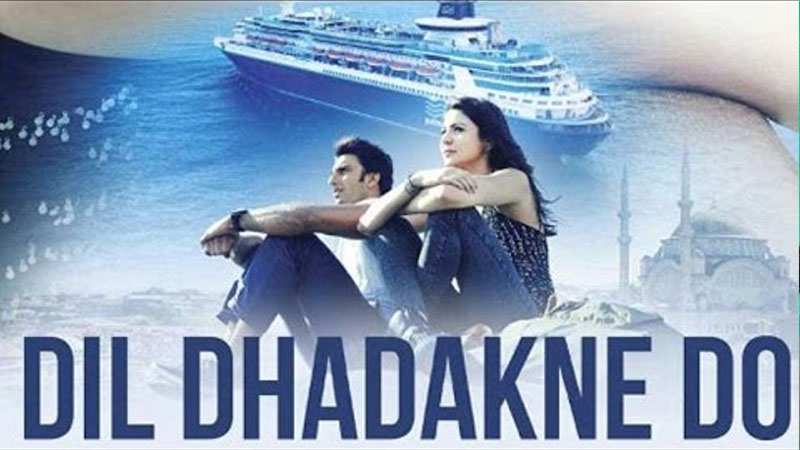 IMDB: 7.0
Language: Hindi
Directed by Zoya Akhtar, one of the most loved directors of mainstream Bollywood, Dil Dhadakne Do is a classic work of hers. However, it is a family drama focusing on a brother-sister relationship but also portrays a considerable excerpt about an abusive relationship.
The story moves around the upper-class in Delhi, among millionaires and business tactics. Amid this life of supreme luxury, Ayesha (Priyanka Chopra) and her mother, Neelam (Shefali Shah), struggle to maintain their individuality in their relationships. Neelam's husband Kamal (Anil Kapoor), a self-made businessman no longer in touch with his roots, repeatedly takes her existence for granted, making her feel unseen and small. He comments on her body and eating habits, flirts with other women in front of her, and never has a sweet word to share with her. In parallelity, his daughter Ayesha encounters constant manipulation at the hands of her husband Manav (Rahul Bose) and mother-in-law, who expect her to behave in the way a typical Indian bahu does.
The abuse only turns physical halfway into the film, but the discomfort remains throughout. The women are leached off of their personalities as the men in their lives, who had once claimed to love them forever, force them further and further into their own shadows. Dil Dhadakne Do therefore becomes one of the movies about abusive relationships that disregard the notion of class and makes an audience realize that no matter how well-placed you are. The fact is, if you are a woman, then you are automatically at disadvantage and risk of nurturing an abusive relationship.
Watch Dil Dhadakne Do on Netflix
8. Enough (2002)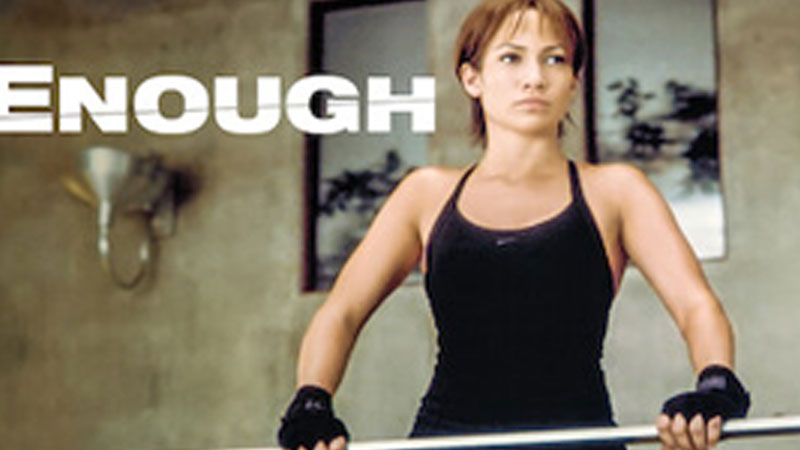 IMBD: 5.7
Language: English
Again with a powerful female lead, Enough features Jennifer Lopez as Slim, a former waitress who is happily married to one of the patrons of her diner. They give birth to a daughter, and all seems hunky-dory before their relationship takes a sharp turn as her husband begins to emotionally and physically abuse her. Her family is unsympathetic to her concerns, and no one supports her as she attempts to escape an abusive household. Things only get complicated because of her daughter; she is now responsible for both of their safety rather than just hers. This is one of the best movies about abusive relationships that portrays the multiple roles a woman has to juggle. She can never think about her own safety exclusively, which means a decision to leave will never come easy, primarily if the abusive man controls the money.
Enough is available to Screen on Netflix
Movies about abusive relationships usually stick to a narrative of overt physical violence inflicted on women. The movies that are a part of this list, however, try and reinforce the fact that violence can come in many colors, each just as painful as the other. Women are usually victims, but men deal with domestic violence too. Abuse can look different for everyone, and movies such as these make it all the more apparent to a mainstream audience who may remain alienated from topics such as these. The movies about abusive relationships on this list attempt to include abuse in every kind of relationship: marriage, dating, adultery, and all sections of society, whether rich, poor or middle-class, young, old, or middle-aged.
Also Read: How to overcome emotional abuse or how to deal with emotional abuse in our life.