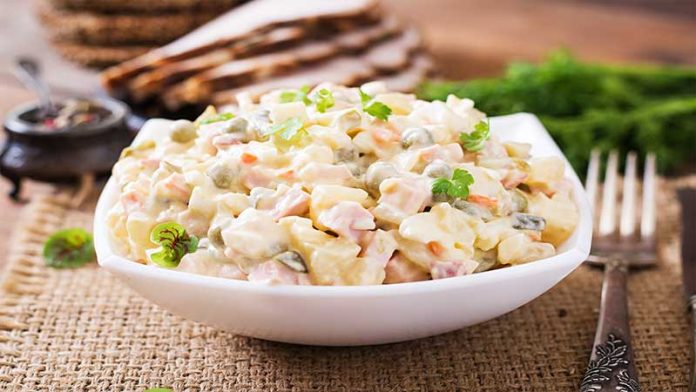 Russian potato salad is no ordinary salad. It is loaded with potatoes, chicken, vegetables, apples, nuts, and creamy mayo. All the ingredients are finely chopped and mixed to create an incredible flavor. Moreover, this is my favorite recipe that I love to make at almost every family gathering.
Traditionally, potato salad is an Eastern European and Russian recipe, and one can make it in many ways. The beauty of this salad is you can keep or leave the ingredients based on your preferences. And if you are a vegetarian, you can skip the chicken; trust me, it tastes so yummy, be it with chicken or without chicken.
Russian Potato Salad – Plus And Minuses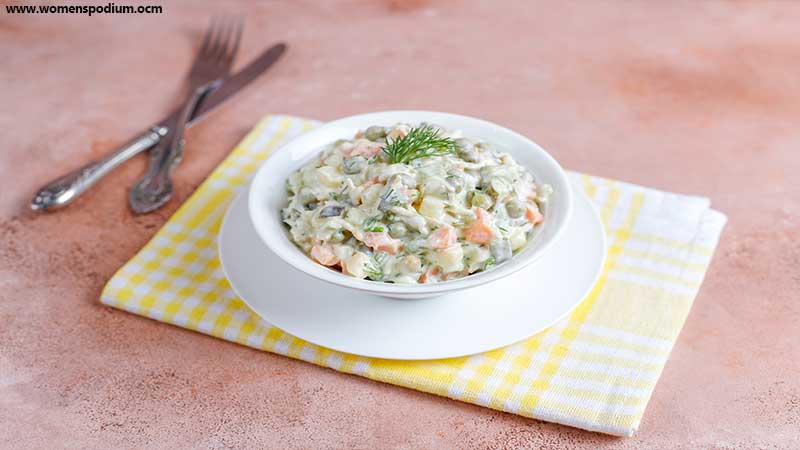 The main ingredient of this recipe is potatoes; they are rich in potassium, vitamins, minerals, and fiber. Moreover, chicken, fruits, and vegetables make it a healthy delight, making it a nutritious, protein, vitamin-rich salad, whereas mayonnaise and cream make it slightly high in calories. When we talk of potato salad, it is pretty healthy, and when it's Russian potato salad, it is a bit unhealthy, especially if consumed regularly. For short runs, potato salad is a healthy choice in the summer, as it helps improve our immune system and bowel health. But when the Russian dressing is added, it turns into a high-calorie, fattening food and if you are on a diet, make sure to avoid it or taste a small bite just to soothe your taste buds. And if it's your cheat day, go ahead and relish it. Life without tasty food, I can't imagine ever. Let's get started with sweet and savory potato salad.
Ingredients
2 large potatoes
1 carrot
1 apple
1 cup boiled chicken
1 cup green peas
1 cup elbow macaroni
1 cup mayonnaise
1 pack of cream
1 ½ teaspoon salt
1 teaspoon black pepper
1 tablespoon sugar
Preparation
Take a large pot, add water, and bring to a boil. When the water starts to boil, add a pinch of salt and one tablespoon of oil, then add 1 cup of elbow macaroni. Use the spoon to stir.
Approximately after 7-8 minutes, the macaroni will turn softer, drain the water, run it under cold water in a sieve 2-3 times, and add one tablespoon of oil to the drained macaroni so that it doesn't stick together.
Take a large pot and fill it with water; add the potatoes and bring them to a boil. After 15 minutes, insert a fork to check whether the potatoes are boiled. If cooked, drain the water and let it cool; when it is entirely cooled down, dice them into uniform pieces.
Peel the carrot and dice it into small pieces. Take a small pan and add water; let it boil, then add green peas and carrot and simmer it for 5 minutes until both are soft. Drain the water and let it cool.
Shred the boiled chicken into small pieces and placed them separately.
Take a large apple, peel off its skin, and chop it into small pieces.
Assemble macaroni, boiled vegetables, chopped apples, and chicken in a large bowl. Add 1 cup of mayonnaise and cream to the bowl and mix it well. After that, add salt and pepper and mix it well with the help of a silicon spatula spoon.
Add the mixture to the serving dish and refrigerate for 1-2 hours.
Your yummy Russian potato salad is ready to serve.
Conclusion
Russian potato salad is an extremely simple and easy salad recipe. All it needs is the boiling process of the main ingredients separately, which is a bit lengthy and takes time, else trust me, it is flawlessly painless to make. When everything is ready, all you need is to mix them, put them in the refrigerator, and, voila, the serving time. The best thing about the Russian salad is you can make many variations, such as adding pineapple and nuts (walnuts and almonds). This salad is delicious and nutritious. This recipe is best for family gatherings and parties.
Also Read: Also look out for some unhealthy salad dressings and don't use them often in your diet.
.