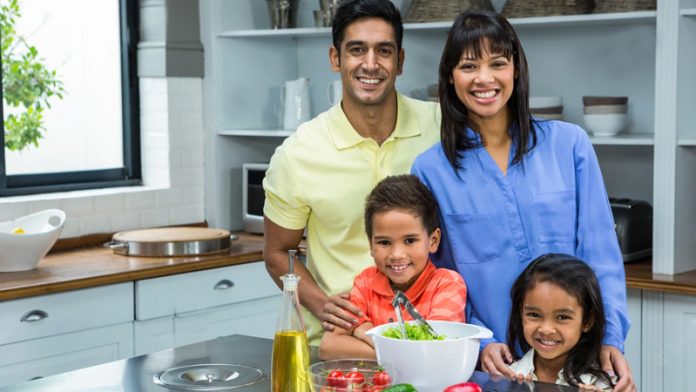 When we talk about culinary or cooking shows, we often see most chefs are men. Either you go to a 5-star hotel or crave street foods, just look around you, almost all the cooks are men; although there are exceptions, but with a low percentage. When it comes to taste, the food prepared by the male chefs is quite savory as well, so who says men can't cook? But why under our roof cooking is tagged on women? I have never seen my father cooking for us, the truth is he can't make a cup of tea even, although he is a senior citizen now, so I am not stooping low to criticize him more. But my concern is why a husband or son can't cook? Don't you think every family member must know or learn how to cook?
Family Bonding Strengthens While Cooking Together
Everything has its highs and lows, and COVID-19 has given quite an obstinate resistance to almost everyone and has fastened the world with anxiety and hopelessness. However, the one best thing we all got from it is family time, family bonding, and the most important is instilling cooking skills within the family.
In my case, after 18 years of my marriage, I got to know that my husband can cook too; he literally surprised me with his Egg curry and Dum Aloo; even I can't cook these yummy dishes and recipes like him. At the same time, my son hasn't excelled that much—still, he is good at making a refreshing cup of tea, yummy poached eggs, and a veg sandwich. During this pandemic situation, kitchen appliances like Air fryers are admittedly saviors. Now I don't worry about any kitchen mishaps; my life is entirely sorted for deep-fried foods and McCain French fries; at least now my son doesn't poke me for deep frying snacks.
Why Is It A Must For Every Member Within The Family To Learn How To Cook?
However, COVID-19 has displaced several things in our lives; it has actually dragged all of us to living in a defined zone, learning diverse skills and traversing our long-lost hobbies.. While coronavirus impact led us to house arrest ourselves, trying new recipes became the best pastime activity. I think cooking mustn't be just a hobby; if truth be told all family members must know how to cook. If you disagree, then my question is, why not? So here are my reasons which I find can contribute to this query's answer.
1. Time Demands The Change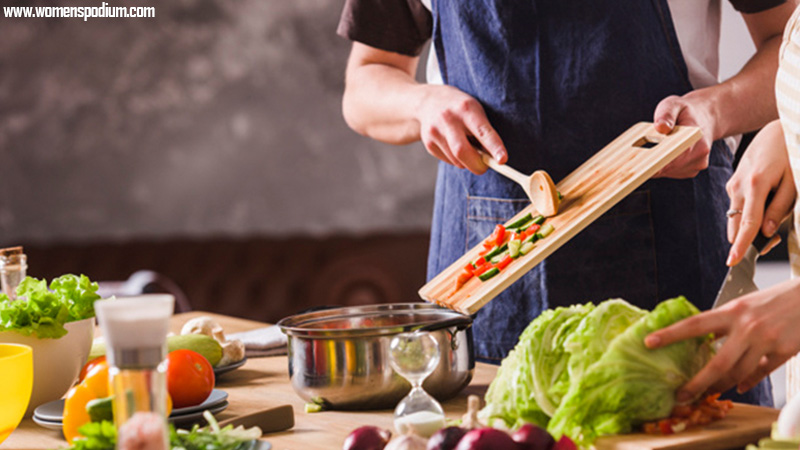 Time is changing; just look back when we were kids, most of our friends' mothers were homemakers, hardly a few were working moms. And quite obvious, all the household chores were solely the mothers' responsibility, and they hardly ever complained about it. Things changed a bit with our generation; we focused and attained higher education. In my friend circle, some preferred job and some didn't. As we know how time flies, after marriage and kids some of them quit their job yet some are still pursuing their careers with their multitasking skills and domestic help.
From what I see, our next generation is more career-oriented; they are sternly fighting gender-biased issues. When they will have their family, they will hardly get quality time to balance both work and home efficiently due to endless demands both at the workplace and home. In such cases, both husband and wife need cooking skills to escape from the differences on this matter, and that's the one reason every person in the family must know and learn cooking.
2. Share The Load
To care and share is our society's slogan, and it is the most basic thing we expect from our people. Women are human too, and most women never complain about working unpaid 24×7 for their family even if they are tossing between their job and household errands. But being a family, it's our duty as son, daughter, or husband to share her load. Even she is a homemaker, she needs a break. Cooking takes a toll on her; it is indeed the larger chunk of the household chores, and that's where she needs the most help.
If every member knows how to cook, it can share her load and worries; especially when she is sick. Even, whenever I get sick, my worries are who will cook for my son and husband! During this coronavirus pandemic, cooking became a serious matter. Suppose if both parents are suffering, who will cook for the kids? The answer is the same: know how to cook and teach every grown-up family member to cook.
3. Generation Diversity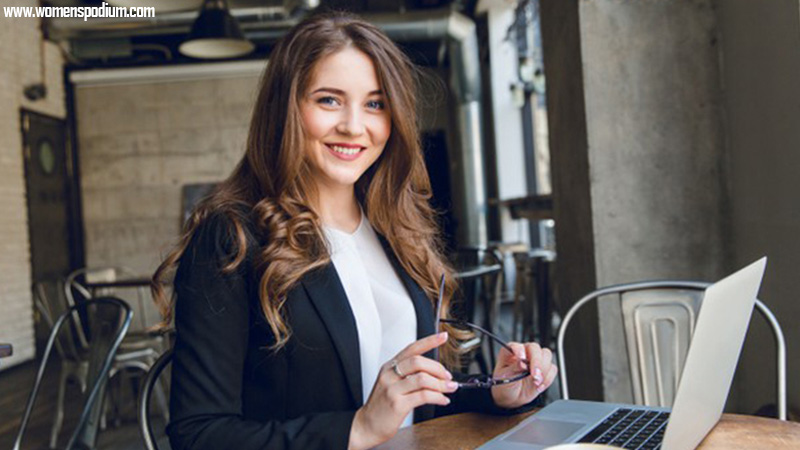 As I said, time is changing, generation's mindset is also changing. A woman, when studying so hard, choosing her desired career, working hard to go to a higher position, and then asking her to quit her dream job just for balancing the family? Is this right? Being a human, she is equal to a man; she too has the dream to be a CEO or an MD. She has all the right to fly high and mark her career growth. As a member of this society, is it right if we ask her to worry about her children and home first because she is a mother and wife. And, above all, why do women should make all the sacrifices?
All these emotional episodes are gone case now. We were a sacrificing generation. Being a woman, I would definitely never want my daughter to compromise her career for household chores. Things are manageable; everything can be managed; it's just what's your perspective. Her workload can be cut down easily if every family member plays their part honestly while dividing the household works. If children help keep their room clean or teenagers help in dinner or breakfast, a woman can conclude everything.
Also Read: Ads are a powerful way to inspire; these ads on gender discrimination are must watch.
4. She Is Sick Or On Tour – Knowing How To Cook Survives You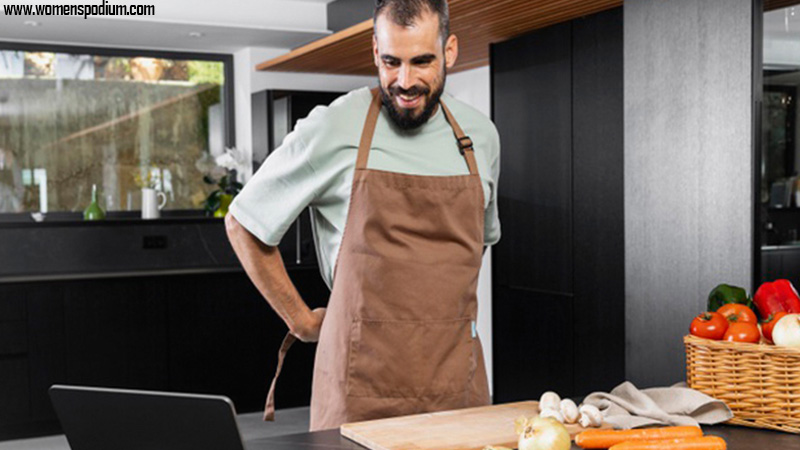 Women's lives matter equally; they can get sick too, and we know when we are sick, taking a glass of water is even a big task, then how can she cook? How can anyone expect her to get up and finish everything? You can't curb or pause your hunger; as we breathe, we need food too. We can't survive without food.
So, what's the option? Yes, everyone should know cooking. What if she is on some work tour or had gone with her friends for a fun trip or her parents wanted her presence for a while, she has to go, she just can't quit her social life, during such situations how the basic things can be done? The answer is simple, 'know cooking'.
5. Cooking Provides Quality Family Time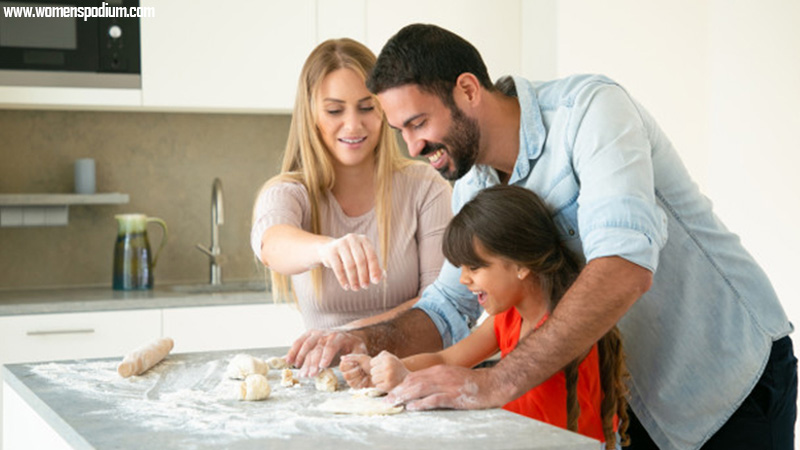 Above were some serious reasons, now I am coming to the fun part, why everyone in the family must know and learn how to cook. Cooking can help you to bond with your children and partner. It gives you plenty of time to share what's going on with each other's life. Also, if your children are hesitant, they get a platform to open up to you. If you are newly married, spending time together is all you want, but you hardly get enough time due to tough hectic work life. If you truly want to be with each other, simply know and learn how to cook, it will undoubtedly give you immense pleasure.
6. Preparing Food Helps To Appreciate The Efforts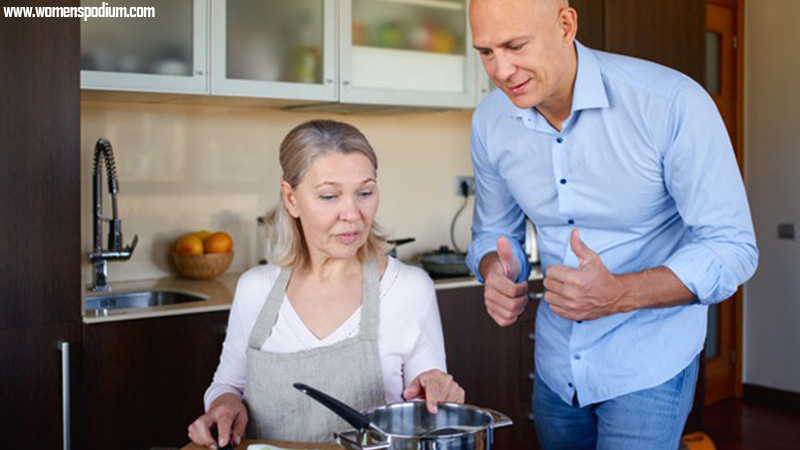 When you cook together, you learn to know what your mother or wife is going through or had been gone. When we don't cook, we just ignore the efforts behind the meal on the table. We often throw tantrums or just plainly order to cook this or that to our mothers, and she does it without any objection. When you know how to cook, you learn to appreciate the patience and effort the lady of your house has given to your platter. Teaching how to cook helps realize how much time and effort it takes for a mother or wife to make a healthy, tasty meal for her family.
7. Why It's Important To Cook At Home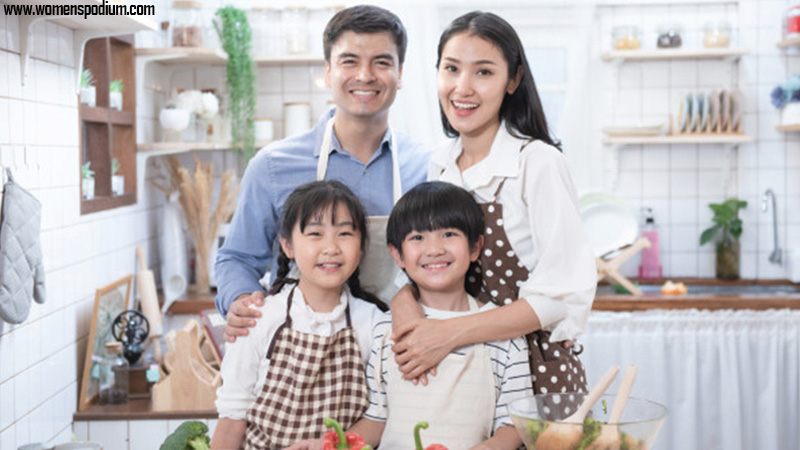 Kids and teens just love fast food, pizza is the one of the most desirable dishes for most of them, and it is tempting to grab a quick bite; they didn't even blink for a while to place an order or takeaways. And our busy lifestyle doesn't give us enough time to cook; instead, it grants a free hand to our kids.
However, it is essential to cook at home, and if you involve all the family members in the cooking journey, life would be easier for you and everyone. The younger members of your family can involve swiftly in feast preparation – assign them small jobs, such as peeling the potatoes or washing the vegetables. Teaching your kids the life skills like cooking that will last a lifetime ensures future generations live sustainably; also, they will maintain and pass along the cook-at-home tradition to their generation.
Final Thoughts
Cooking together with family can give you endless benefits; you will be in control of what you are eating. It imparts a basic but essential life skill to everyone. It helps significantly to kids; when your kids are grown-ups, you won't need to worry about them as you know they know how to cook. As a couple, both spouses have to be sensitive enough for each other, and cooking together can fill the gaps if you have any. Start cooking together at home as it is a healthier choice; furthermore, you can keep a check on the intake of the amount of sugar, fats, salt, and carbs going into your diet, in this way taking care of your family and yours too. Be supportive to the woman in your life, and learn how to cook 🙂
Also Read: What is True Meaning of Family and Some Quotes to Remind How Lucky You Are to Have One.