We all love to look back at the beautiful memories of our childhood and youth. The time we spend together with our family becomes the most treasured asset of our life. You would spend a fortune to bring back those moments just to live them once more. Photos help us recall those memories and let us remember our loved ones. Following the trends, here are some best family photo outfit ideas for family photo outfits to wear in any season.
12 Family Photo Outfits to Choose From Amazon!
The first question we have is where to buy family photo outfits for the whole family. Online platforms provide well-known clothing brands for shopping. They are the best option for you to purchase matching family outfits for pictures. Here are some family photo outfit ideas for you.
Fall Family Photo Outfits
With fall comes Halloween, and the best time to take family photos. You can either take a costume photo together or be cute in the pajamas.
1. Matching Fall Holiday Pajamas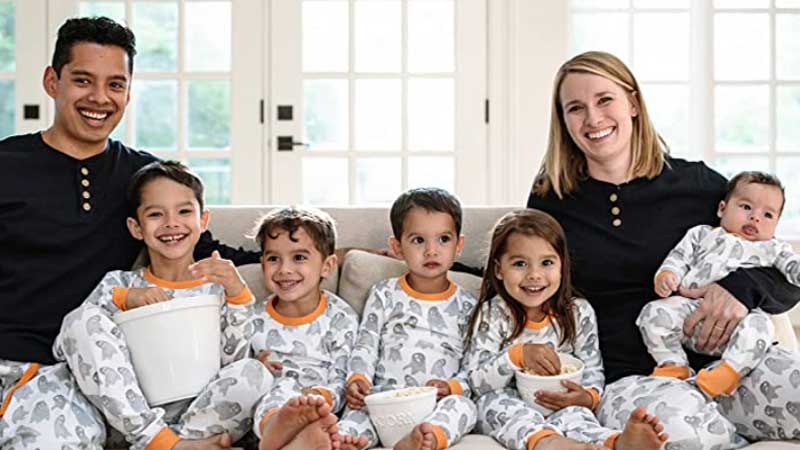 Let's start with a laid-back, comfortable outfit for a photoshoot you can wear for an indoor photoshoot. These pajamas bring out the bubbly side of your family in the Halloween season. The spooky ghosts hand-drawn on white breathable cotton looks decent for everyone in your family.

2. Plain Jersey Maxi Dress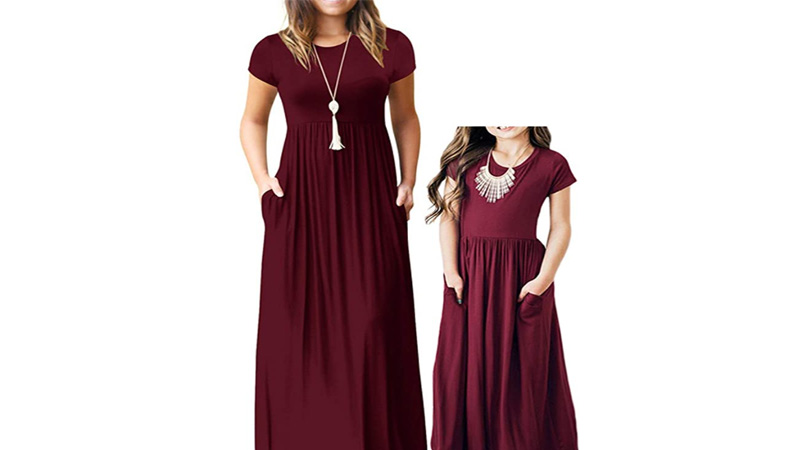 The matching maxi dress is pocketed and has a beautiful plait above the belly. The waistline is suitable for pregnant ladies to look elegant while showing off another member of their family. For men, fall family outfit ideas will be a similar colored shirt with white trousers.

Also Read: Fall is the season when you can rock different types of skirts and see what looks best on you.
3. Sweatshirt Long Sleeve Shirt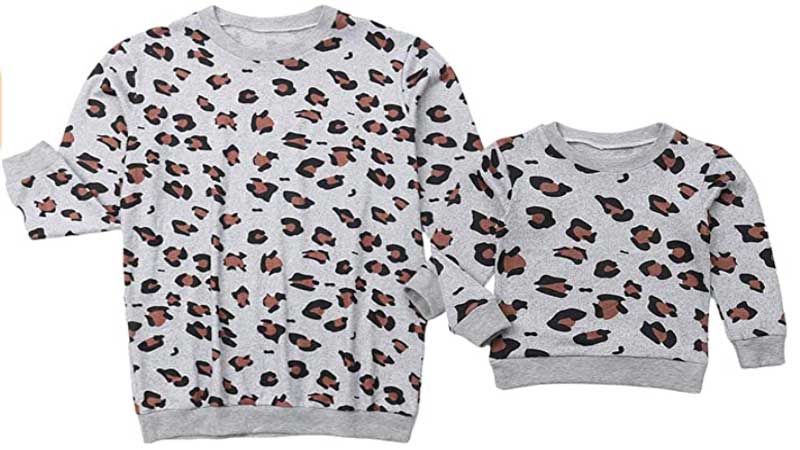 This unisex sweater for your family is perfect when the wind becomes a little chilly. If you like to have a photoshoot wearing warm fall family photo outfits, then this is best for your family. You can wear these outfits to a picnic or play around in the playground with kids being comfortable.

Winter Family Photo Outfit Ideas
For most people, winter is all about snow and zephyr, the chilly nights, and the Christmas holidays. Here is how you can imprint the winter memories.
4. Casual Heart Pattern Sweatshirt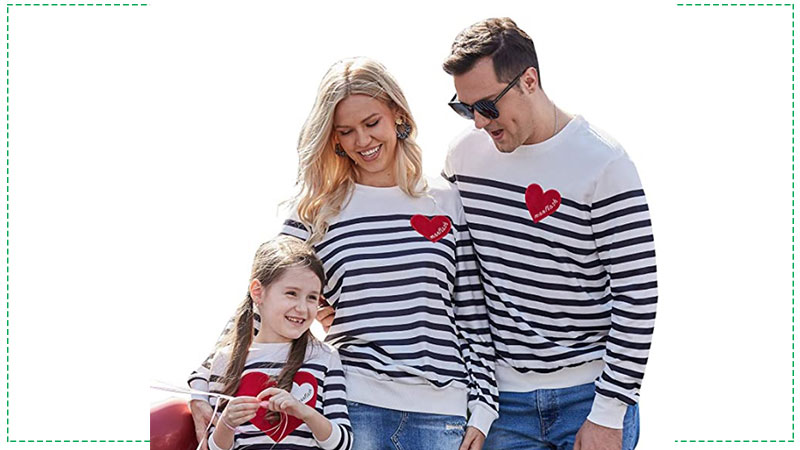 These shirts depict the love and care of your family. Kids are over the moon when they wear matching outfits with you. You will get tons of compliments wearing these polyester sweatshirts. Plus, the long sleeves keep you warm in winter.

5. Christmas Pullover Holiday Sweaters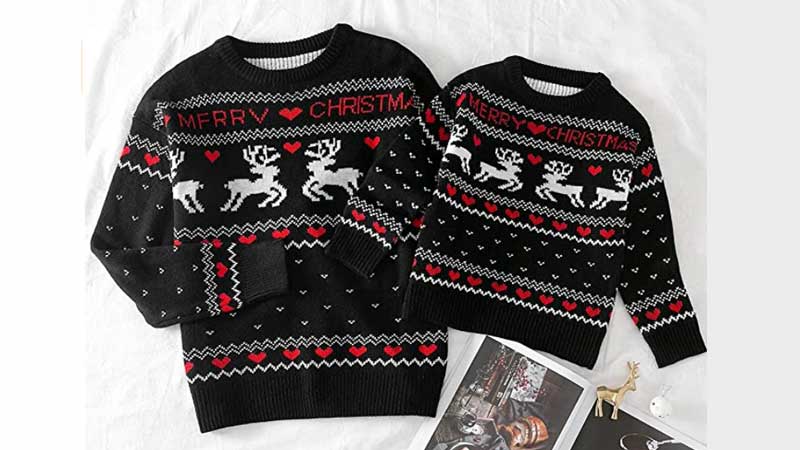 Pullover sweaters are the most comfortable outfits to arrange in the winter season. Moreover, these Christmas-themed sweaters bring out a humorous and funny side of your family. This is one of the cutest winter family photo outfit ideas you can think of.

6. Matching Fleece Hooded Sweater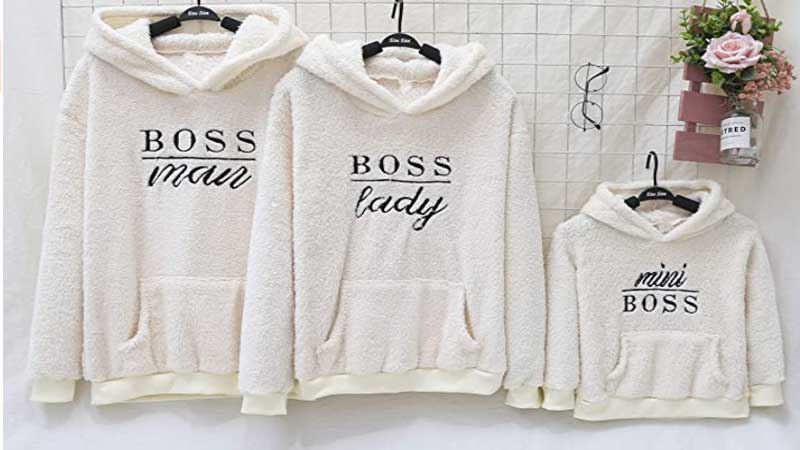 During the cold weather in the holidays, wearing the soft and comfortable fleece sweatshirt paired with winter scarves make your family look picture-perfect. These sweatshirts are best for a small house party, family gathering, or Christmas Eve.

Summer Family Photo Outfits
Warm weather calls for the warmth of your family. These super comfortable summer family photo outfit ideas are for you.
7. Chiffon Floral Ruffle Dress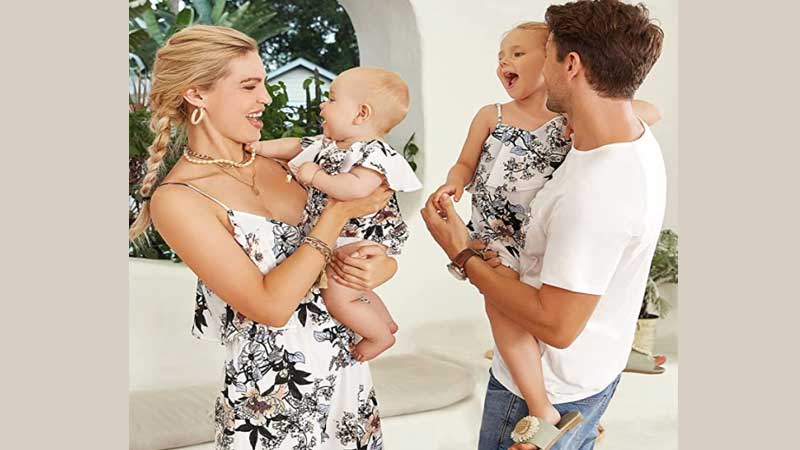 The stylish ruffle over the chiffon dress makes it perfect summer wear for special occasions. The T-shirt for men has a front chiffon pocket-piece to match with the whole family. You can pair nice summer shoes with your outfits.

8. Casual Floral Maxi Dress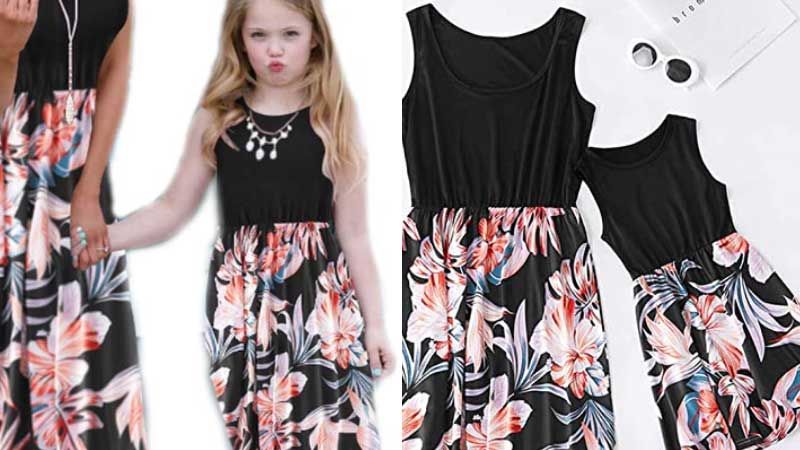 For a mother-daughter duo, this floral maxi dress makes every photo look warm. Anyone would feel the mother's love going beyond those photographs. Also, the floral striped print and a scoop neckline are trendy these days.

9. Matching Short Sleeve Ruffle Shirt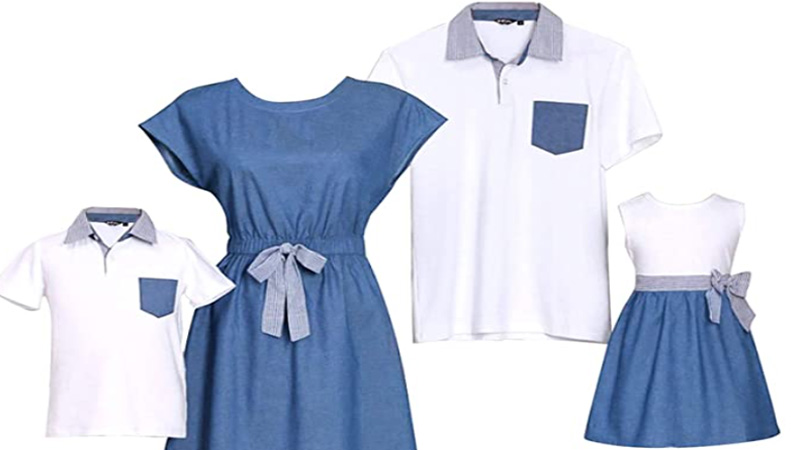 This matching family outfit is party wear. This dress comes with cap sleeves and a bowknot, right at the waistline. The T-shirts for men are made of breathable material as well. You can add this piece to your cart now.

Spring Family Photo Outfits
For the spring season, bring your family for a picnic or an outdoor party. Capture the liveliness of this season with your family.
10. Floral Print Matching Outfits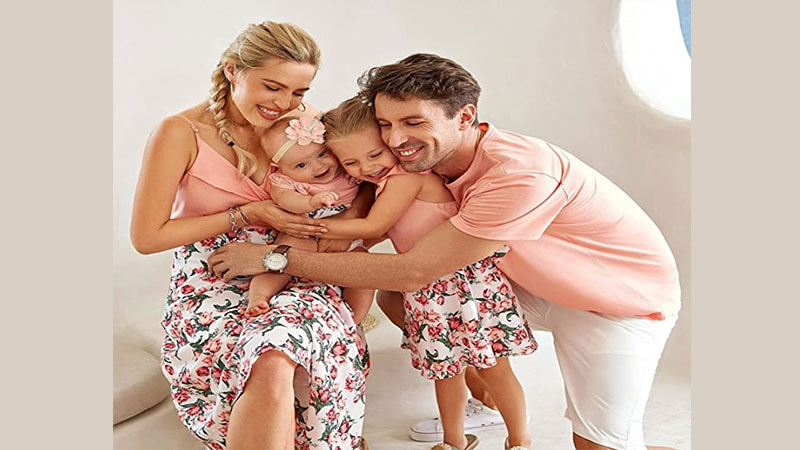 Bring the beautiful moments of your family to enhance the liveliness of the spring season. This matching outfit has a floral print and is great for events like family gatherings or parties. You can shop this outfit for the whole family right now.

11. Halter Short Sleeve Matching Outfit
The halter sleeve is in the trend right now, which makes this style a youthful one. The oblique ruffle design across the front part is the highlight of the dress. Such family photo outfits are the most suitable for a photo shoot.

12. V-Neck Backless Floral Dress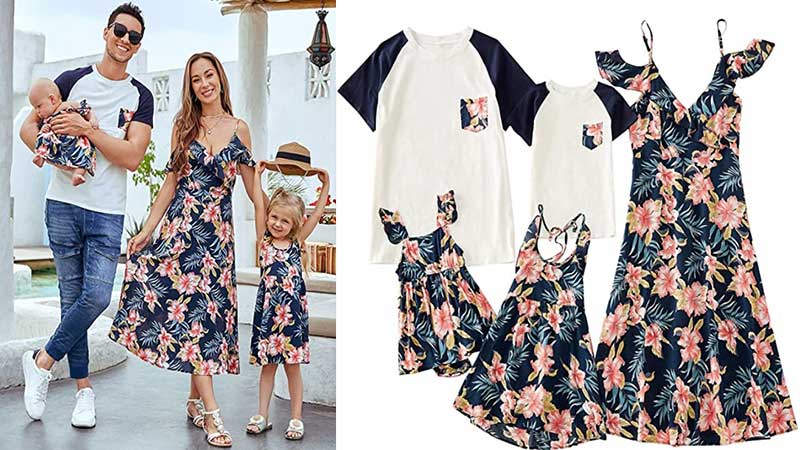 A backless ruffle flowy dress with a flower print makes you look feminine and shine among the crowd because of its beautiful color. The polo T-shirts for men have a pocket piece that matches the pattern. You will look cute together as a family when you wear this outfit at gatherings.

Tips to Plan Your Family Photo Day Successfully
Planning family photo outfits, choosing what to wear, and getting everything arranged for the photoshoot is tiring. That is why most people drop the idea of getting one. A few tips might help you out.
1. Plan Everything Ahead Of Time
Leave some time to finalize your look. Order your outfits beforehand and find the accessories if you want any. You need to get everyone ready in your family as well.
2. Dress Up Your Way
Don't restrain yourself and dress the way you want to. You don't have to wear uncomfortable clothes. The most comfortable family photo outfits bring out the most joyous moments.
3. Let Seasons Inspire Your Colors
Use fashion tricks to style your outfits and choose the colors according to the current season. Like Halloween, the concept with muted red and orange color makes the best fall family photo outfit ideas.
Finally
Family photos are all about having a lot of fun and joyous moments captured. You can either hire a professional photographer for the job or take pictures in the studio with all the equipment. However you take pictures, your family photo outfits must display your love and care as a family.
Also Read: You should also check out ideas for summer outfits to find what suits your family better.