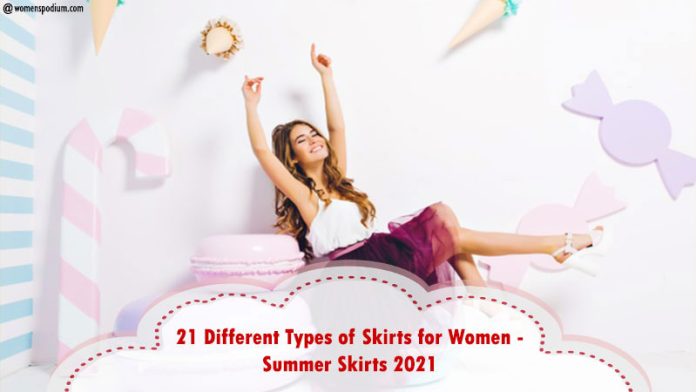 Hunting for the best types of skirts and selecting your best pick is quite a task. Skirts are one outfit that can give you a chic look effortlessly. You may interpret the skirt definition as a tube-shaped dress hanging down from the waist. You may call it the most convenient dress type. In my opinion, every girl wearing trendy clothes has at least one or two skirts in her wardrobe. And because the skirt styles have been popular for several decades, we see them evolving through those decades. While summer skirts may include knee-length skirts or midi skirts, it does not necessarily mean you cannot wear leather skirts or different types of skirts as casual summer outfits. Winter skirts are not confining only to flowy skirts or long skirts for women. Styling correctly can let you enjoy both edges. Here are some best skirt styles for you to see.
21 Best Types of Skirts and Summer Skirts – Stunning Skirt Types for 2021!
Skirts for women are the most iconic and feminine staple dress piece of her wardrobe. Therefore, it is very crucial to choose the right one from many different skirt styles. Below are some types of skirts with names, so you will know what summer skirts are for you this year.
1. A-line Skirt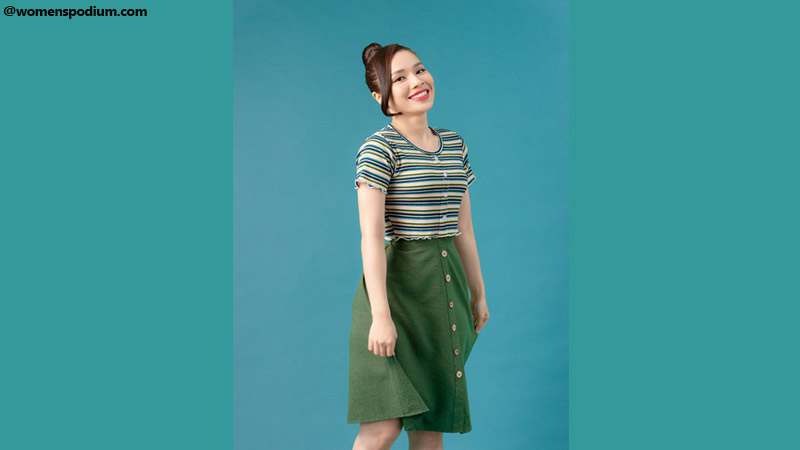 These types of skirts are fairly elegant and formal-looking knee-length skirts for girls. Among many summer skirts, a black A-line skirt, A-line midi skirt, A-line denim skirt are still popular as party wears. Although A-line leather skirts are more of a winter outfit, you can still wear them in summer with some styling. You can pick up some styling tips from below.
2. Pencil Skirt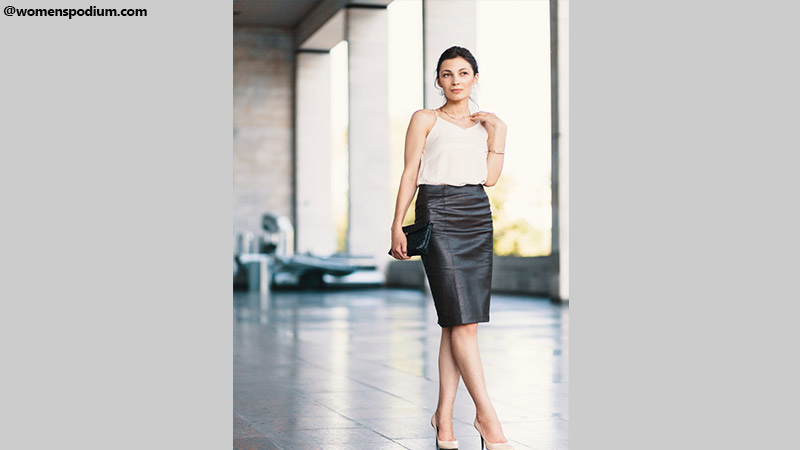 These "tube skirts" or "pencil skirt outfits" are often worn as narrow and formal workplace dresses. Such types of skirts are form-fitting and figure-flattering skirts. The solid-colored black pencil skirt or white pencil skirt goes well with any colored top. Pencil skirts are usually medium-length skirt types that fit well from waist to hips. Women can amplify their curves through this skirt style.
Also Read: Wearing a long figure-flattering skirt is an excellent fashion trick to look tall.
3. Circle Skirt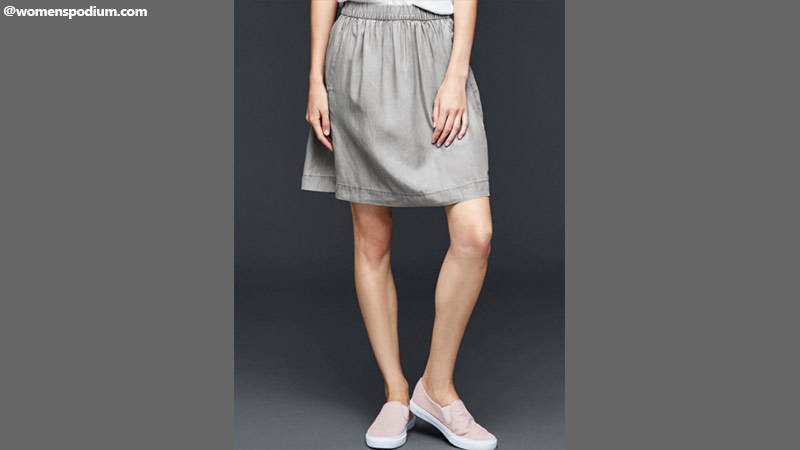 A full circle skirt gives a fuller look to the bottom of the silhouette than a half-circle skirt. But both look great unconditionally. It looks good because it is made out of a circular piece of fabric. Your feminine personality can reflect through different types of skirts. The skirt swings when you walk, giving it another name, "swing skirt." These skirts for girls can be long, short, or flowy skirts as well.
4. Flare Skirt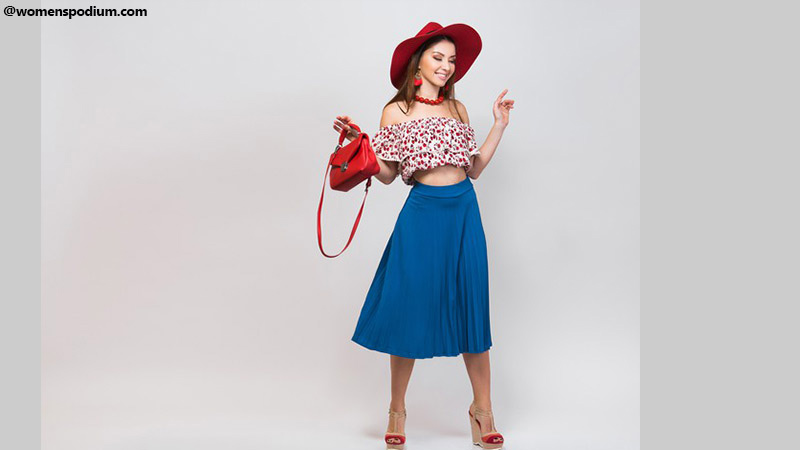 These are the perfect summer skirts and the types of skirts every girl would want to have in her wardrobe. The "fit and flare skirt" or "flared skirt" varies in size from flared mini skirt to long flared skirt and high-waisted flare skirt. Checkered skirt and top set with each other perfectly, if one is of solid color. The flared long skirt goes well with both summer and winter outfits.
5. High Low Skirt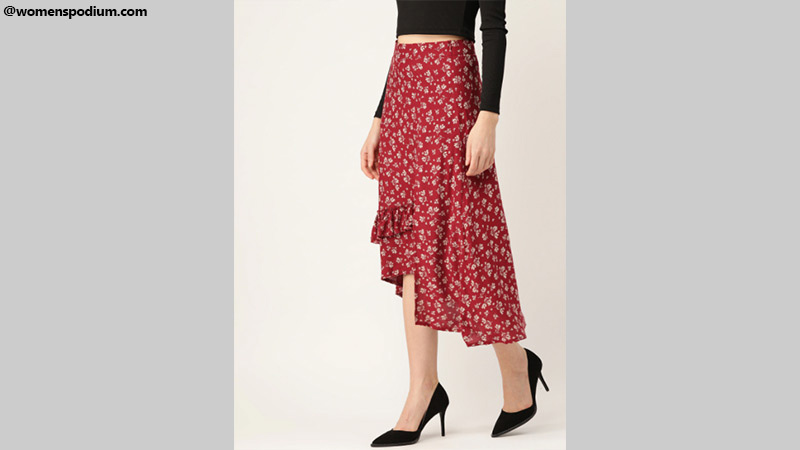 Girls love many different types of skirts, including this trendy one called high low skirts. The skirt style is an asymmetrical skirt as the front is a bit higher than the rear. A High-low ruffle skirt is the better version, which gives you a youthful look. Women uneasy about their fatty bodies should wear a high-low maxi skirt because it spreads outwards from the waistline.
6. Denim Skirt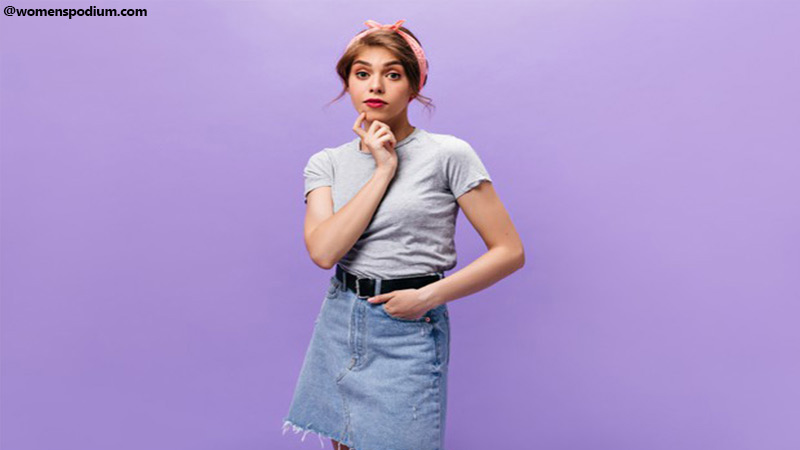 Even though it was not a distinct type of skirt, many denim skirt styles are very trendy nowadays. Fashion trends are for everyone, so various such skirts exist like black jean skirts, denim mini-skirts, and denim pencil skirts. Short skirts are more popular among the younger generation. Denim A-line skirt makes slim girls look gorgeous.
7. Box Pleated Skirt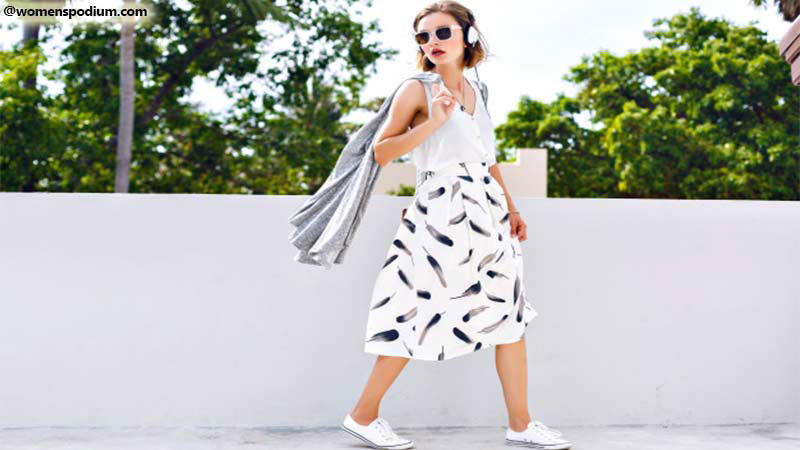 Pleated skirts are kind of high waist skirts with different pleat styles to make them look stunning. Black pleated skirts, sometimes leather pleated skirts reflect an intimidating punk style look. Young girls are fond of these types of skirts as they are comfortable, look good, and available in every length from mini, midi, and long. Both knife pleats and box pleats are equally popular.
8. Knife Pleated Skirt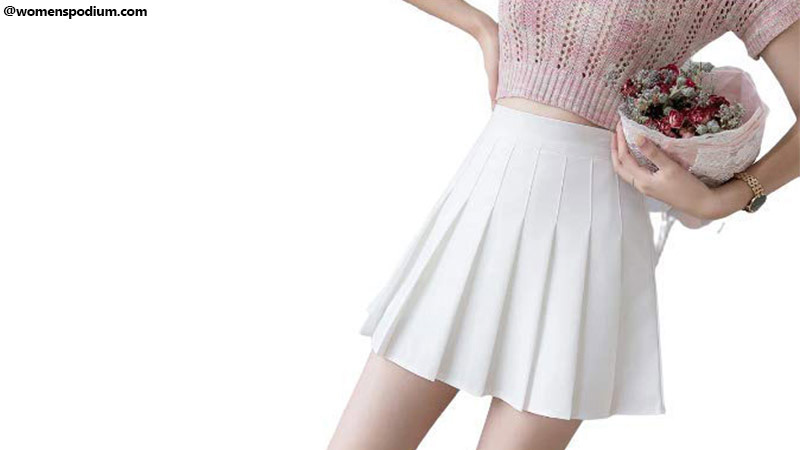 We often see this skirt style in East Asian countries, where the school uniform has skirts for girls, which are knee-length knife-pleated skirts. The long-pleated skirt is, therefore, a popular item in a youngster's wardrobe. Pleated skirts for women are decent dresses to wear at a formal meeting or on an extravagant girl's night out.
9. Wrap Skirt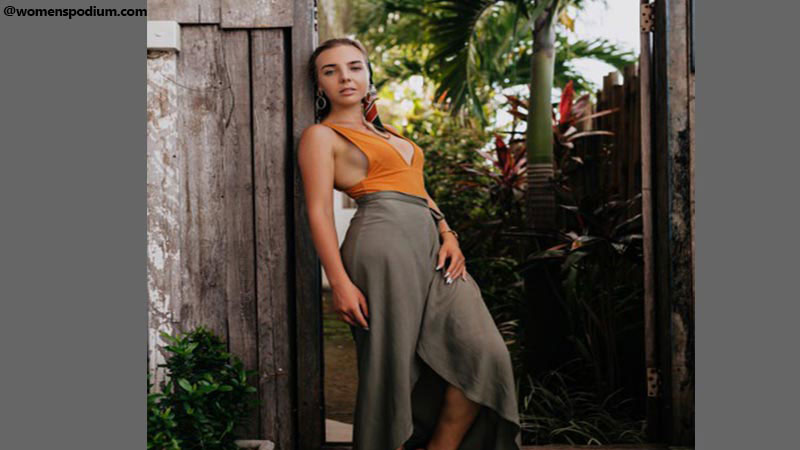 It is a one-piece fabric that wraps and overlaps around the waist and tightens with buttons or ties. Although women never fancied the classic style before, the newer trendy white and black wrap skirts are equally popular among teens and middle-aged women. This is because they are best known as comfortable summer skirts for women of all sizes and shapes.
10. Slit Skirt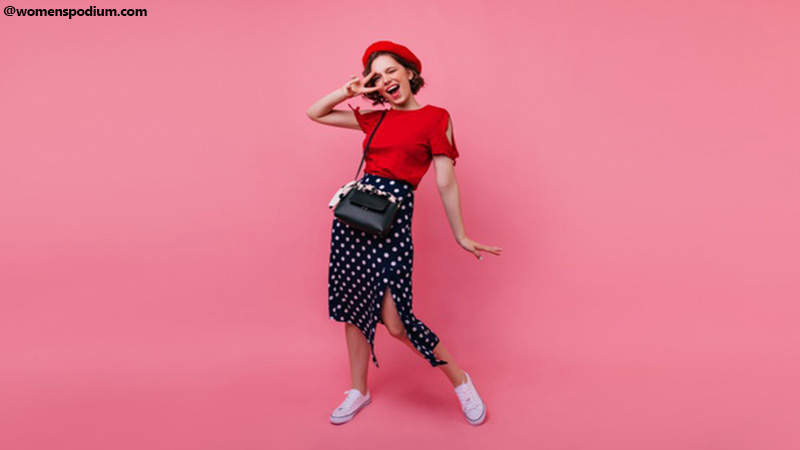 Slit skirts vary from the midi skirt with slit to high slit skirt and side slit skirt. Women love them all equally. And because the slit makes some women more feminine and sexier, they usually wear them at parties and friend's gatherings. There are also some super trendy silk, satin, or leather slit skirts for women for an outgoing and bold look.
11. Maxi Skirt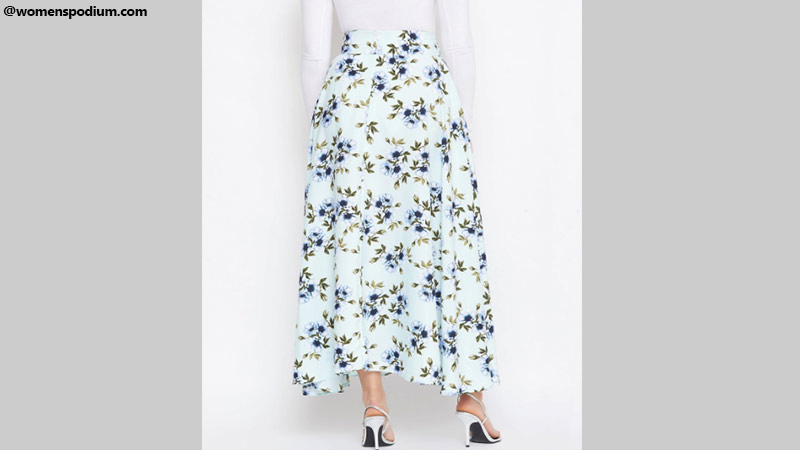 Long skirts for women are the most versatile skirt types, otherwise called "maxi skirts." Floral maxi skirt umbrella comprises many different types of skirts. Their color ranges from black maxi skirts to printed patterns. They are either ankle length or reach down to the floor. Women can dress for a stylish and comfortable look, perfect for both casual and formal occasions.
Also Read: Dressing in skirts with floral patterns and colorful printing help women to bring out that feminine energy.
12. Peplum Skirt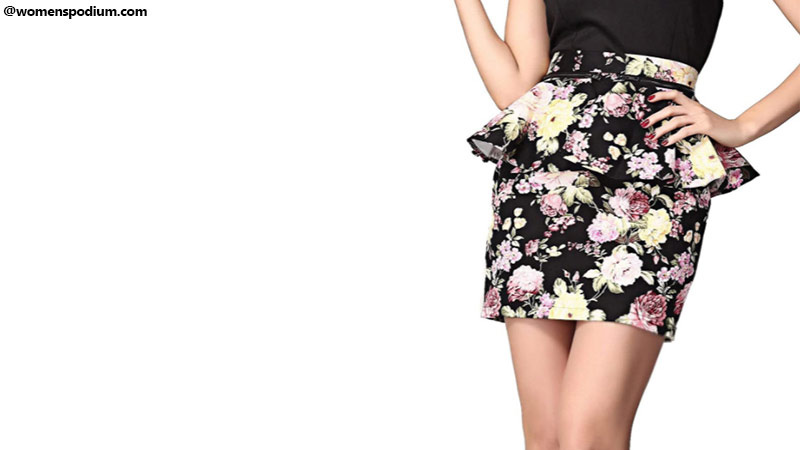 Peplum pencil skirts or simply "peplum skirts" are the types of skirts similar to tube skirts with a ruffle below the waistline. The skirt starts from the waist, aligning perfectly with your natural curves, and gives you that chic look. For bulky women, plus size peplum skirt is the best option. You can rock the skirt look without feeling insecure. You will eventually gain confidence when you also start exercising for weight loss.
13. Asymmetrical Skirt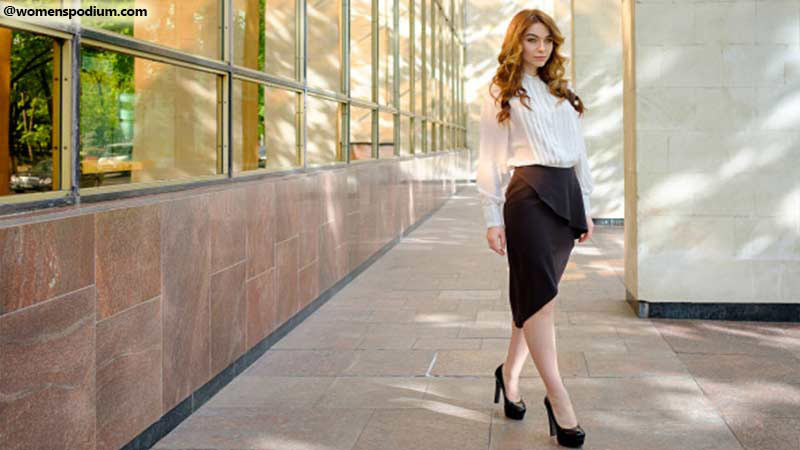 An asymmetrical skirt or "layered handkerchief skirt" is a type of skirt that combines different lengths in one piece. But mostly, it looks like a hanging-down handkerchief pinched at the center. A black skirt or checkered skirt looks flattering than a white asymmetrical skirt. Types other than handkerchief skirts include a half-pleated skirt and a half short asymmetrical leather skirt.
14. Mermaid Skirt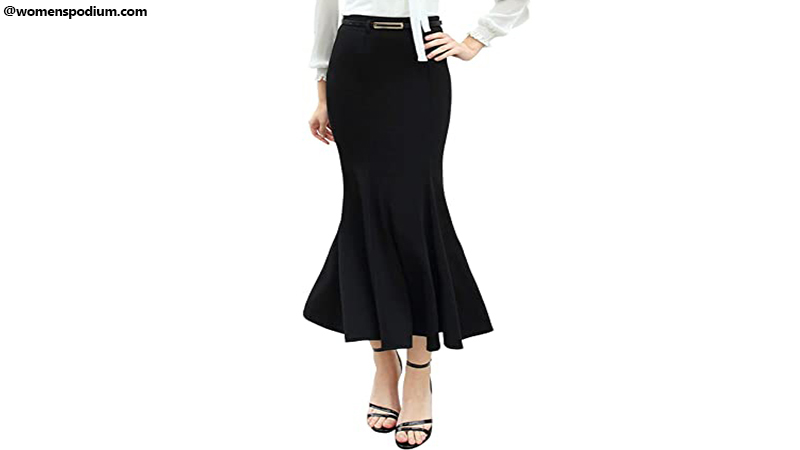 Mermaid tail skirt is a type of trumpet shape skirt that fits your figure from waist to knee, like a pencil skirt, but flares outwards at the bottom hem. It is also called a "fishtail skirt" because of its appearance resembling the tail of a fish. Not only do girls love such long skirts, but women also love them. That is why this mermaid-style skirt is a new trend from fashion shows.
15. Button-Front Skirt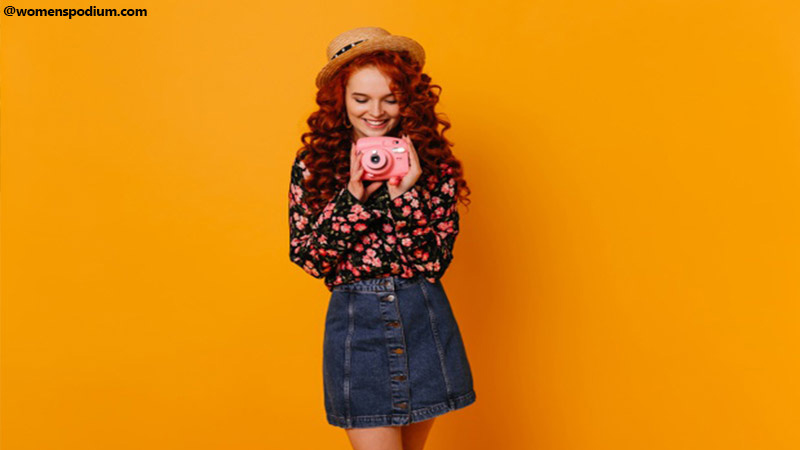 Usually known as a "button down skirt" or "button up skirt," this skirt is quite different than usual. This is a basic denim-style skirt with buttons down the front. The shape may be A-line short skirts or straight button front midi skirt. Most women love to wear the black button-up skirt made of jeans because they make them look slim. You must make sure to choose the right skirt top.
16. Pocket Skirt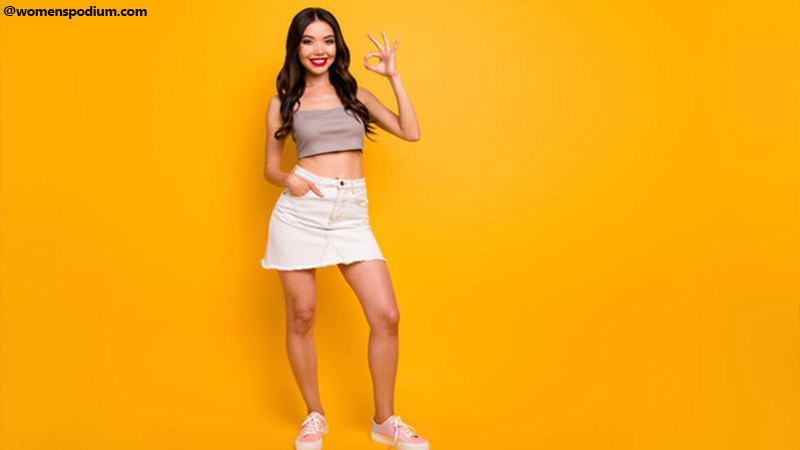 The pocket skirt called "cargo skirt" or "zippered skirt" is a type of skirt that is both comfortable and stylish. These days, such skirts have turned into skorts (sewed like a short but appears like a skirt). There are slim pockets on both sides of the skirt like a pair of trousers have. And because women's skirts with pockets are made comfortable, women wear them for sports and other such activities.
17. Tulle Skirt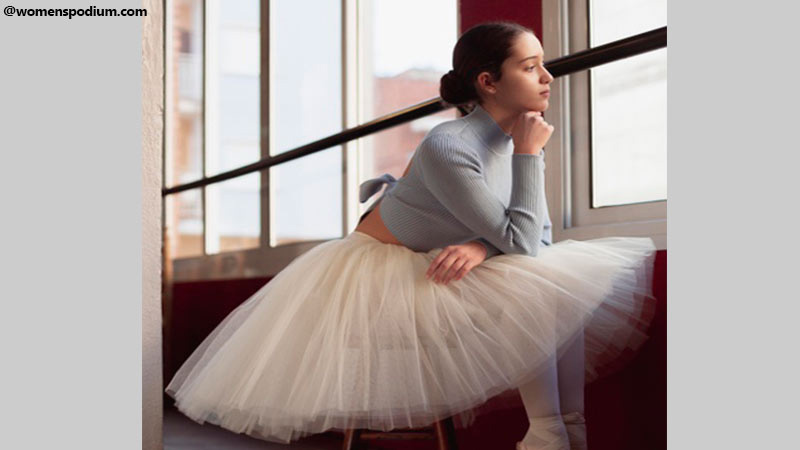 Layered tulle skirt comes under the category of cute and chic outfits. The summer skirts must be gorgeous yet dreamy at the same time. Therefore, a long tulle skirt is the best option. A tiered tulle skirt for women is more elegant that it can make any girl fall for it. It looks like a barbie skirt and makes you dream a fairytale of yourself when you wear the long tulle skirt.
18. Ruffle Skirt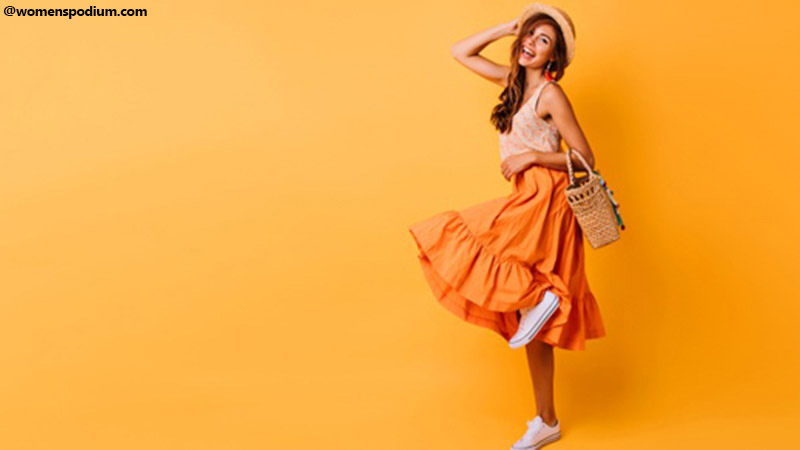 Get youthful with this long, layered ruffle skirt. A layered ruffle mini skirt is quite a popular item in the fashion industry. If you don't know what to wear on your first date, you should opt for a long, fitted ruffle skirt, more like a pencil skirt with full ruffles. You will have the best first date impression ever.
19. Tulip Skirt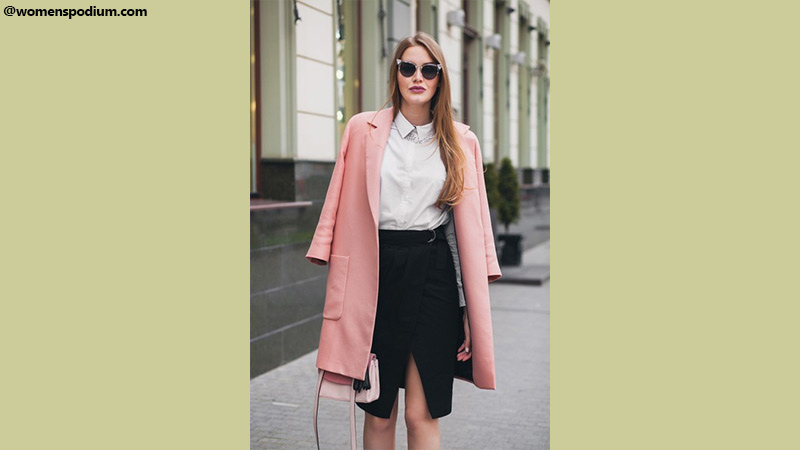 The name defines its shape. This tulip-style skirt resembles the inverted shape of a tulip flower. Such types of skirts widen in the middle and narrow down to the hem. The two panels of tulip skirt dress overlap at the front making the shape of a tulip flower. And a black tulip skirt looks best with a colored or printed top or with a checkered pattern.
20. Lace-Up Skirt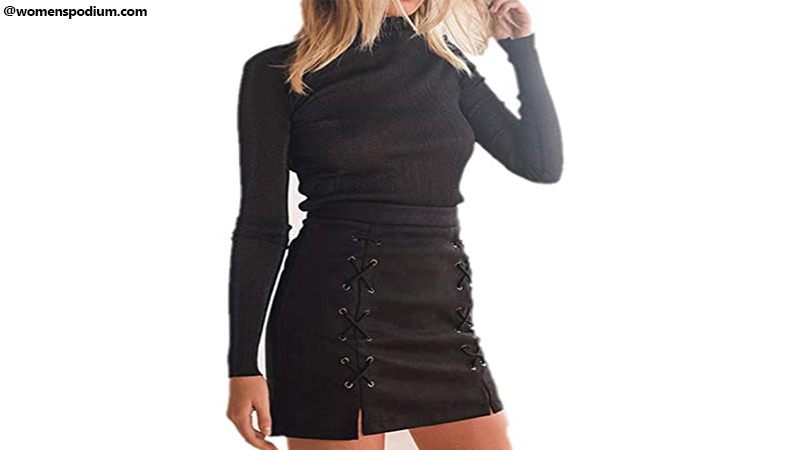 The lace pencil skirt is form-fitting skirts and by far the boldest skirts for girls of young age. Women tend to wear a toned-down version of lace-up skirts. The skirt consists of pieces of fabric and a lace patch sewed together. Usually, the skirts made of faux and vinyl leather have two side lace styles. A black lace skirt can sometimes reflect a punk style in you as well.
21. High Waist Skirt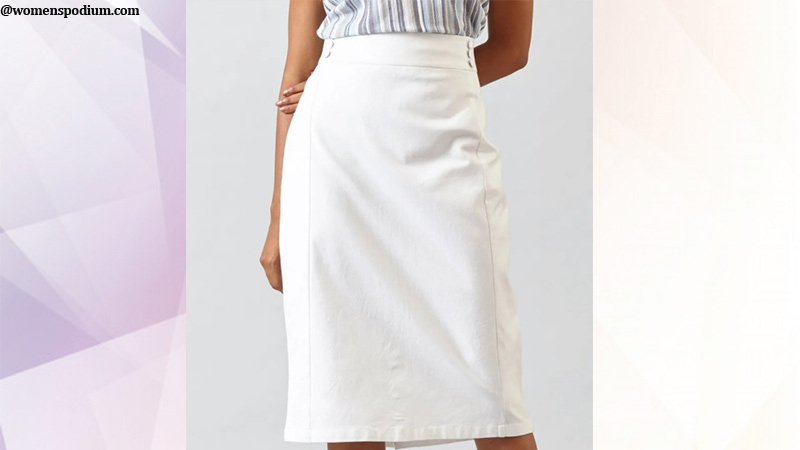 Although many different types of skirts fall under this category, some high waist skirts look exceptional. It is a skirt type that has the waistband rest over the belly button. There may be a high-waisted pencil skirt, high-waisted midi skirt, and skater skirt that look flattering on you. So, pick the correct styling technique as well.
Styling Tips for Summer Skirts for Women
Some skirts completely restrict to a specific season, you can also style some types of skirts according to season. So, can you wear leather skirts in the summer? Yes, definitely you can wear your favorite leather skirts in the summer if you follow these simple styling tips and hacks.
1. Wear A Light Cotton Top Over Mini Skirt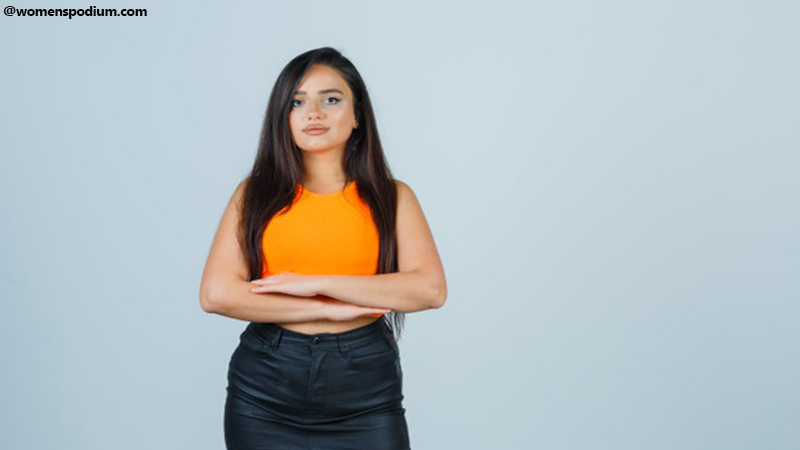 If the skirt is not suitable for summer wear, you can opt for a mini skirt or short skirt. Wear an off-shoulder top or an oversize cotton shirt with your skirt. You can wear skirts like leather skirts, denim skirts, and jeans skirt in summer with this tip. You have to select your type of heels and summer footwear to go along with your outfit.
2. Wear Skirts in Winter With Tights and Jackets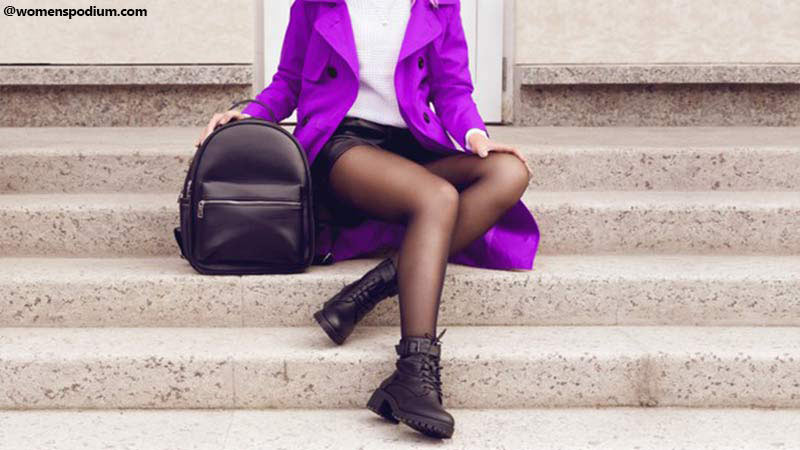 If you want to wear a mini skirt in winter, you can play around with different styling options. You can choose skinny pants below a mini skirt and a leather jacket to keep you warm. You have the choice to buy winter scarves that go well with your minimalist types of skirts.
3. Pair A Long Skirt With A Top That Defines Waistline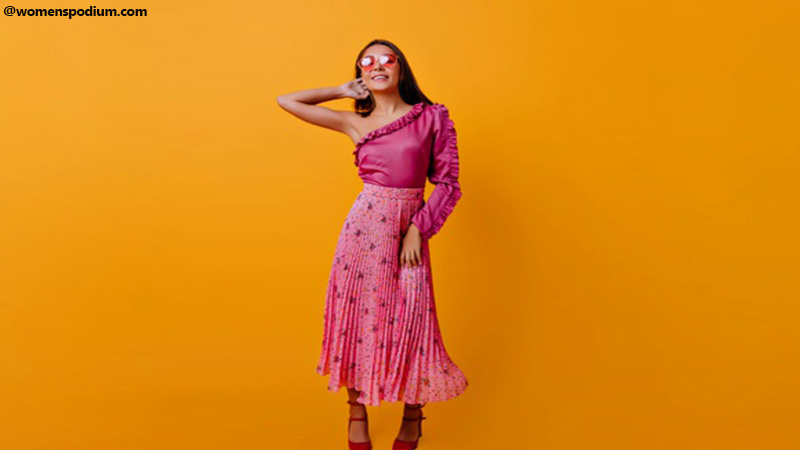 For long skirts or ruffle skirts, choose a fitted top so that both the skirt and top set everyone's gaze on your gorgeous look. You can tuck your top in the skirt to define your waist or tie a knot just above your waist to make your simple outfit look extravagant.
4. Choose a Solid Colored Top Over Pattern Skirt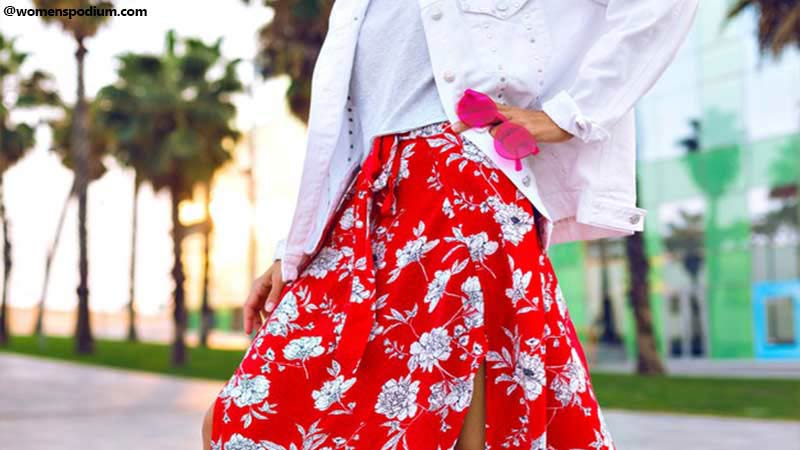 If a lot is going on with the top, the types of skirts you pair with them will offset your look. It will make you look like a clown. Either your top must be of one solid color, or you must wear skirts like a full black skirt or a full white skirt. This tip will make you look lovely and decent.
Choosing the types of skirts you can wear, depends upon the taste of an individual and the cultural influence. The body shape, size, height, and skin tones also affect your choice of best looking and flattering skirt style. The above list consists of some best skirts for girls for summer and winter outfits. Women can fill their wardrobe with the best-looking summer skirts for this season.
Also Read: Fitted skirts are a great idea for club outfits. You can select whatever style suits you best to rock the party night.