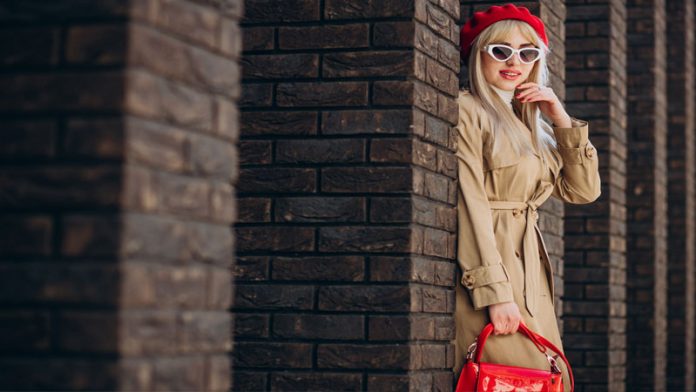 Tired of wasting thousands of dollars on fast fashion and still having nothing to wear? Classic style fashion might be your solution! Fashion is an essential aspect of our lives. The way we dress communicates so much about us to others. Likewise, it's a way to represent our personalities, our likes and dislikes, etc. For some, clothing is an artistic expression. It is only natural, then, that we'd spend our time and energy on finding the best clothing items and putting together a fantastic outfit that suits us. Let's talk about classic outfits for women to look elegant every occasion.
However, the fashion world has taken a great hit in the past couple of years due to the Lockdown of the COVID-19 pandemic. As with many other things, fashion is not the same as we knew it. While some people find joy in dressing up exuberantly after almost two years of staying indoors in their pyjamas, others are letting go of the constant pressure to keep up with the latest trends and sticking to timeless Fashion. That's where the classic style of fashion comes in. This article will give you a brief overview of what Classic Fashion is and how it's the best choice in a post-lockdown world. Also, some tips on how to build a sustainable wardrobe with classic outfits for women!
What is Classic Style?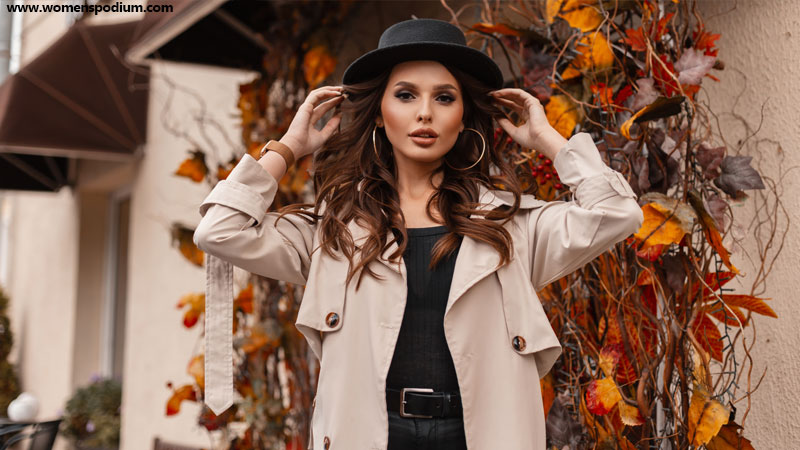 According to the article, What does the Classic Style of Clothing mean to Consumers? Published in the International Journal of Costume and Fashion, there are three themes that classic style follows:
Firstly, it features a conservative style, meaning that every clothing item that is too revealing and sexy or club outfit style is out of the question and cannot be considered classic.
Secondly, it has style pragmatism, referring to the positive attributes of clothes.
Thirdly, it is timeless, meaning that consumers expect to wear it numerous times in the future.
In other words, classic style consists of clothing that never goes out of style and looks fashionable and elegant no matter what occasion you wear them. Especially classic style clothes are versatile. You can pair them with various clothing items for different looks. It goes without saying, then, that classic outfits should be high-quality if they are to last for a long time. Consequently, this makes them environmentally friendly as well. Moreover, traditional style is not limited to just clothes only. It also includes shoes, outerwear and accessories.
Tips to Build Classic Outfits For Women
Building a wardrobe according to a specific style might seem daunting. Since most of us likely shop by instinct and what we like at first glance, we hardly know which category a clothing item fits in. So, here are some very easy and basic tips for building a classic style wardrobe.
Choose Neutral Colors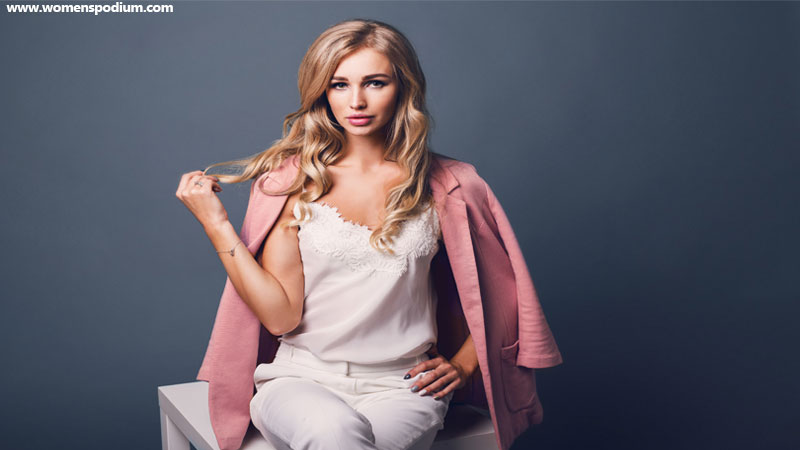 Although the Pantone Color of the Year 2022 is a new shade, Very Peri, illuminating the happiest and warmest of all the blue hues, it is the exact opposite of the Classic style. A Classic wardrobe features neutral colors such as ivory, nudes, blush nudes, beige, cream, dove, pistachio, mocha etc. Any color that is light and subdued can become a part of the classic outfit. And if you want to opt for neutral shades, stay away from the fashion trends that come in bold and shocking colors.
Pay Attention to Silhouettes and Body Shape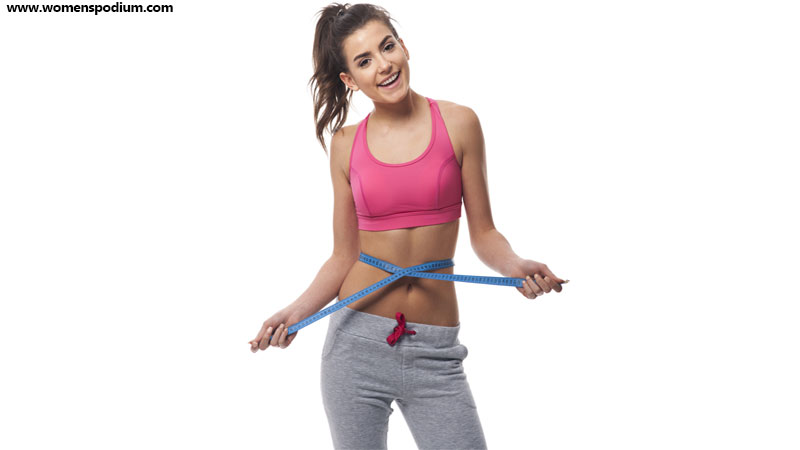 A Classic Outfit is always fitted perfectly to your form. A good rule of thumb is to buy clothes that fit your body shape. There are many ways you can do this:
Research how many types of body shapes are there.
Figure out which one you fall into.
Look what kind of clothes look best on your body shape.
There are various fashion tricks to make you look tall and slim if you're of a short height and don't want to be defined by it. Similarly, if you're a very tall girl, there are ways to balance out your height through clothing as well. Updating your closet to the classic style means knowing a good tailor that can tweak ready-made clothes precisely to your size.
Avoid Skinny and Baggy Clothes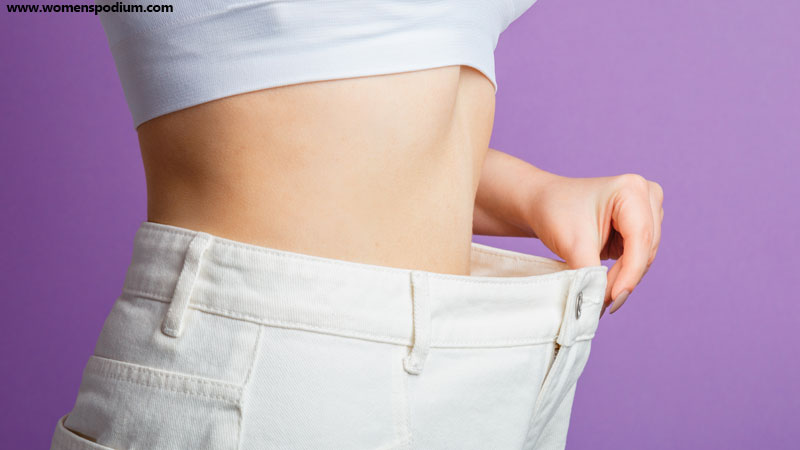 As said earlier, classic outfits compliment your body without focusing on it or taking attention away from it too much. They fit just right. A critical fashion mistake to avoid while selecting classic outfits for women is skinny and baggy clothes. Skinny clothes over emphasize your body, whereas baggy clothes hide your form. Classic outfits are genderless in this sense.
We know from research that women experience gender roles through their dressing practices. This means if you dress up too feminine, you're likely to play the role of a traditional female. On the other hand, if you dress up masculine and completely hide your female body, you're likely to act more aggressive and embody the traditional masculine role. Nothing is wrong with either of these things. Dress up however you want if the occasion calls for it. However, the appealing thing about classic fashion is that it's a balance between the two. Classic outfits for women do not accentuate their bodies too much, possibly giving them a sexual connotation. Neither do they present them as masculine, a deviation from their nature.
Invest in High-quality Items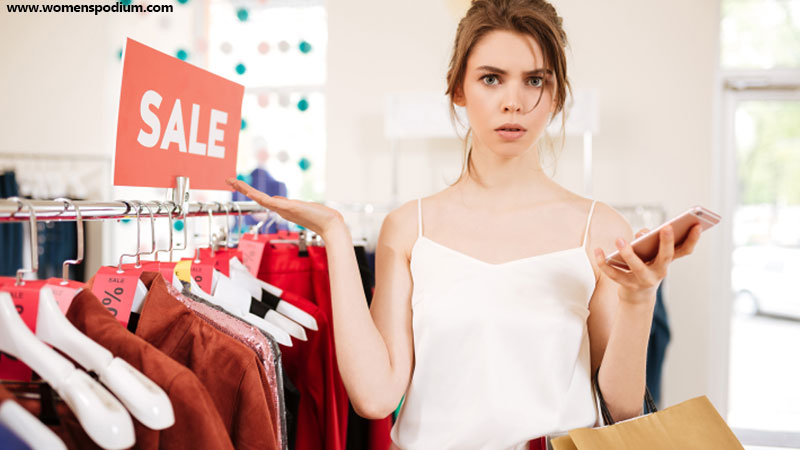 In a world dominated by fast fashion and online shopping, it is all too easy to buy cheap and trendy clothes impulsively. It's not wrong to say that fast fashion is the polar opposite of classic fashion. Therefore, aspirants or classic style must avoid it at all costs. The easiest way to build classic outfits for womenis to invest in a capsule wardrobe. Buy fewer but high-quality clothes. Classic clothes are versatile; you can pair them up repeatedly with other clothes. All you need is durable clothing items that stand the test of time. Ultimately, it is better to have a few expensive but high-quality garments that last you for years than to have a lot of cheap and poorly made clothes that you have to throw away after a season. Undoubtedly, this is also the secret behind looking good on a budget.
10 Timeless Classic Outfits for Women that are Perfect for Every Occasion!
Without further wait, here are the essential items you need for a Classic Style and some go-to Classic Outfits that you can put together with a few basic garments!
Also Read: Cool fashion quotes to inspire you for a wardrobe revamp!
1. Button-Down Shirt with Jeans/Skirt/Slacks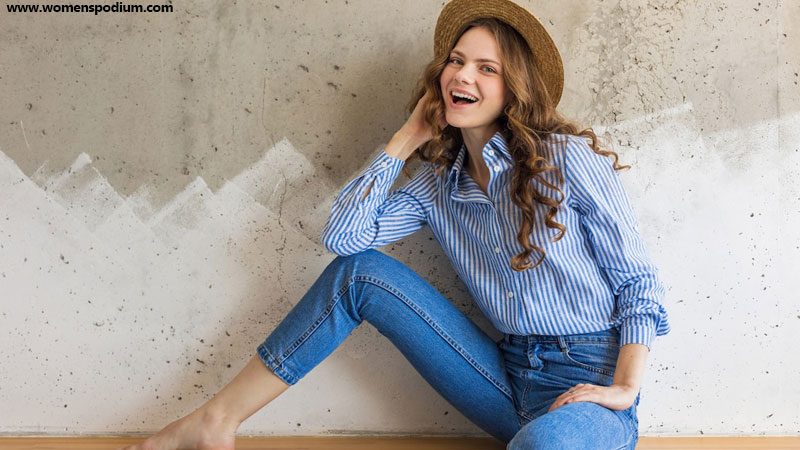 Button-Down Shirt
A button-down shirt is the most basic and fundamental item in a classic outfit. There are numerous ways to spruce up a simple white button-down shirt! Wear it tucked in with a skirt, jeans or slacks pairing it with loafers, and you have yourself a classic outfit. Furthermore, you can pair it up with a sweater vest for a more dark academia look. You can also knot it up and wear it with a skirt for a more feminine look.
2. Mom Jeans with a Fitted Shirt and Coat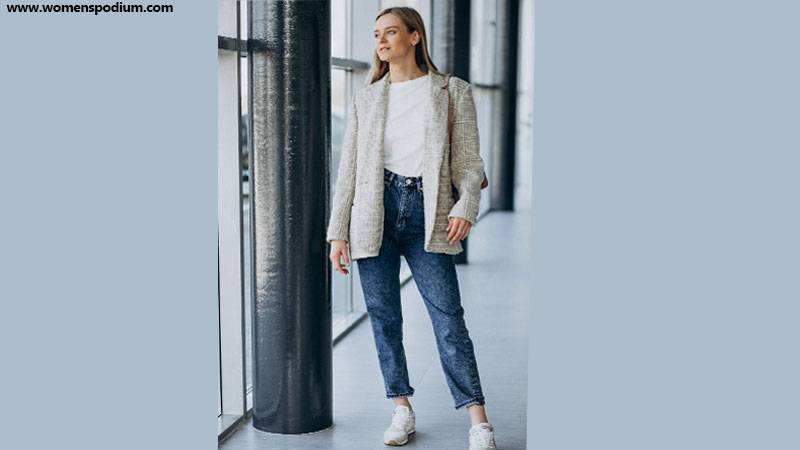 Although slacks and dress pants are preferable, they are by no means the only option in classic outfits for women. Jeans are a great way to build a classic outfit too. However, stay away from skinny jeans. Mom Jeans or slightly loose jeans are a better option. Wear simple boot-cut jeans with a fitted dress shirt and a long brown coat for an office-ready look.
3. A Perfectly Tailored Pantsuit for the Ultimate Girl Boss You Are!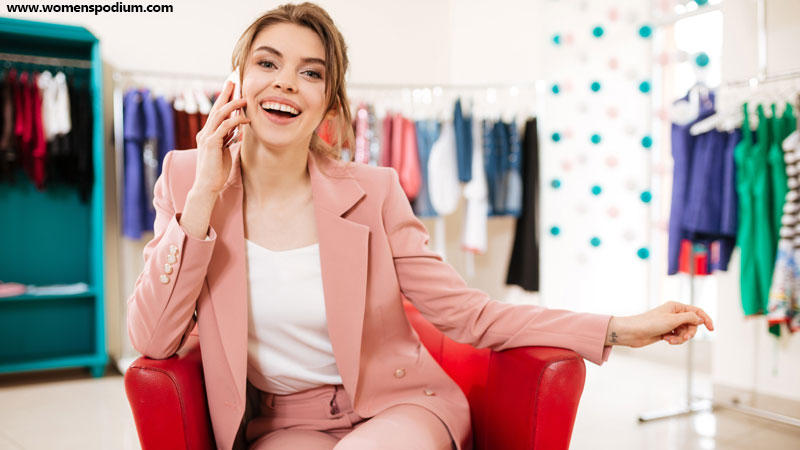 Every girl loves a pantsuit! Not only do they make you look confident and competent, but they also don't take away your femininity. Consider Cha Young from the K-drama Vincenzo! What a girl boss she is! Get yourself a tailor-made pantsuit in pastel hues that perfectly compliments your form.
4. One Piece Black Dress Instantly Gives off an Elegant, Classic Vibe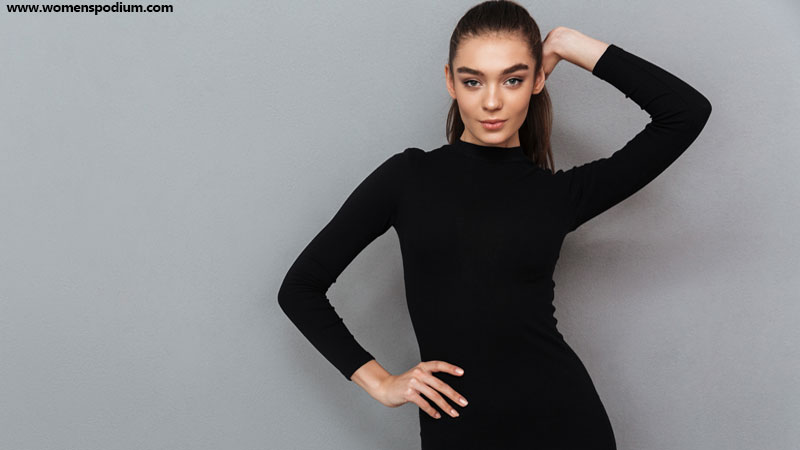 One-piece dresses are another staple when it comes to classic fashion. Always have a little black dress in your wardrobe that fits you perfectly to look more feminine while staying Classic. Accessorize it with statement jewellery and high heels to look sophisticated and elegant.
5. Pair Up a Skirt with a Simple Shirt for a Feminine Look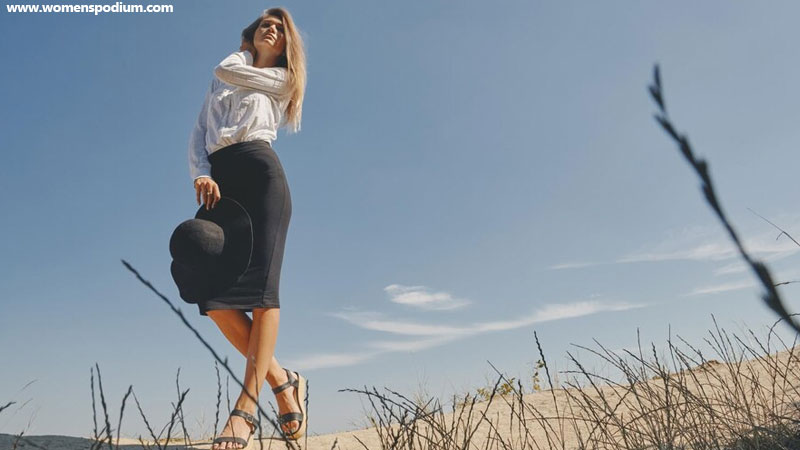 Skirts are a great addition to the classic style wardrobe. There are many different types of skirts for women that can be paired with various tops to rock the classic look. A rule of thumb in classic style is to avoid mini skirts. Instead, go for knee-length or ankle-length skirts. A simple A-line skirt with a blouse or shirt is what you need when you want a feminine look, plus if you want to go for a custom-made blazer just go for it as it is the right combo for a genderless look.
6. Blazers are a must-have Item in a Classic Style Wardrobe for Women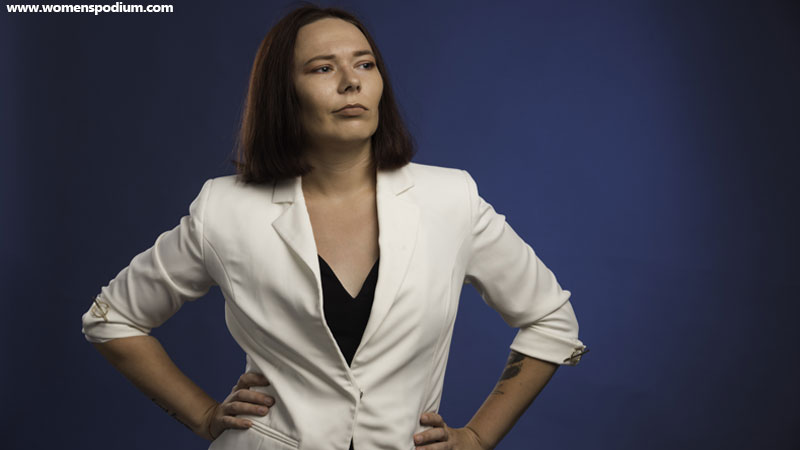 Invest in a few tailor-made blazers that are the right size. Since these are another staple for classic fashion and can be worn with various outfits, you must have at least one. Make sure that any outerwear you purchase is in a slightly loose size. You can wear it with mom jeans, a skirt or slacks for a classic outfit.
7. Wear a Statement Trench coat with High Heels for a Classic Look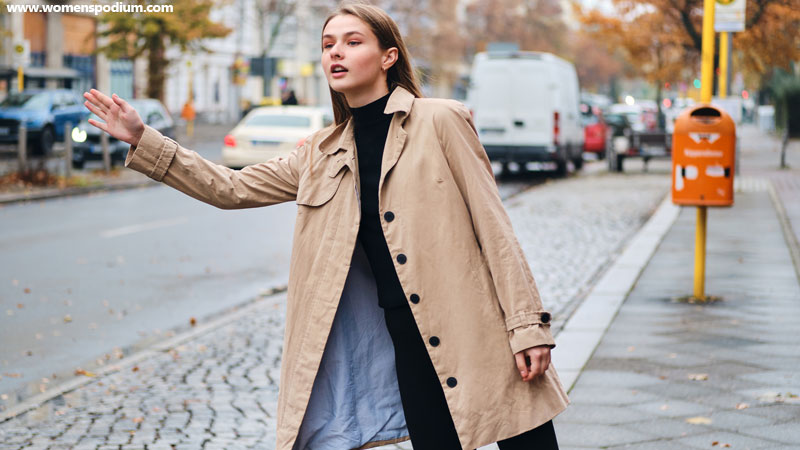 Undoubtedly, trench coats are the defining garment when it comes to classic fashion. Long trench coats not only serve as outerwear but can also be worn as an entire outfit in itself. Make a statement by wearing classic high heels with a trench coat! Consider the fashion style of Kim Go Eun in this one of the best action romance K-drama The King: Eternal Monarch. She was always seen wearing a long coat in various styles that embodied the casual yet classic look.
8. Loose-fitted Cardigan for Classic Winters Fashion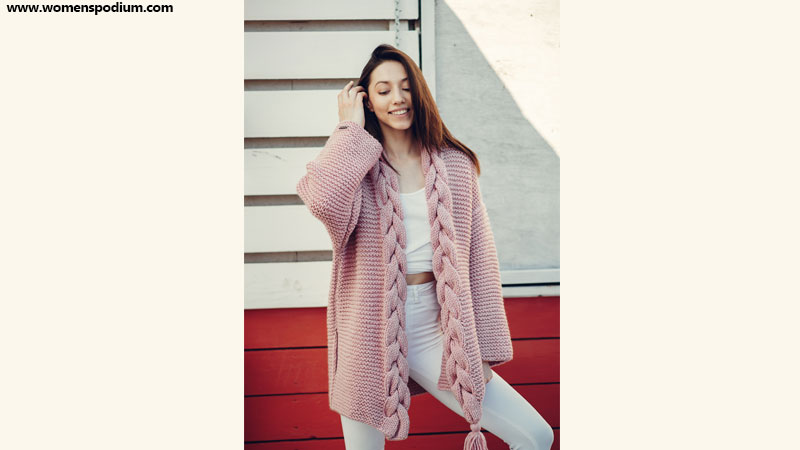 An instant way to spruce any winter outfit is to wear a fabulous cardigan. Long and loose cardigans are great for classic outfits for women. So, get yourself a high-quality, exceptionally well-knitted cardigan in fall colors to pair up with different shirts and bottoms throughout winter.
9. Emphasize your Sophisticated Style with the Right Shoes!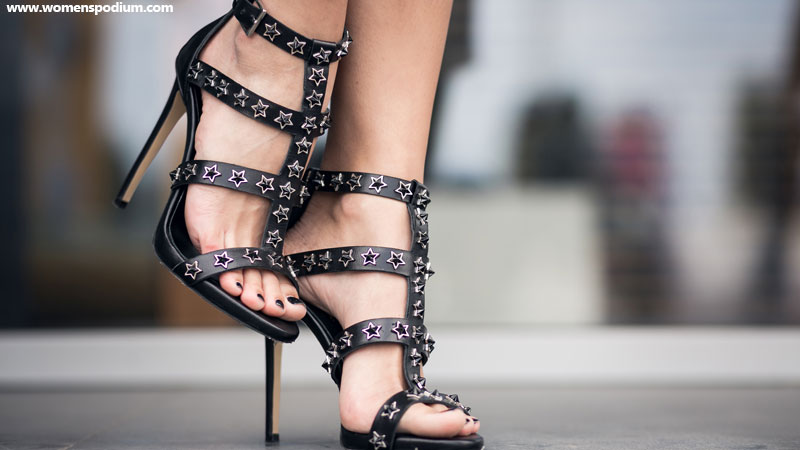 Shoes play an essential role in making or breaking an outfit. Classic outfits for women always include a classic pair of shoes as well. The go-to options are black high heels or for formal events. At the same time, loafers and black boots work for both formal and informal occasions. Contrastingly, a sturdy pair of chunky white sneakers is impressive for a casual, relaxed outing.
Also Read: The best summer shoes trends for women for the ultimate beach girl aesthetic that also provide protection to your feet!
10. Don't Underestimate the Role of Accessories In Classic Style Fashion!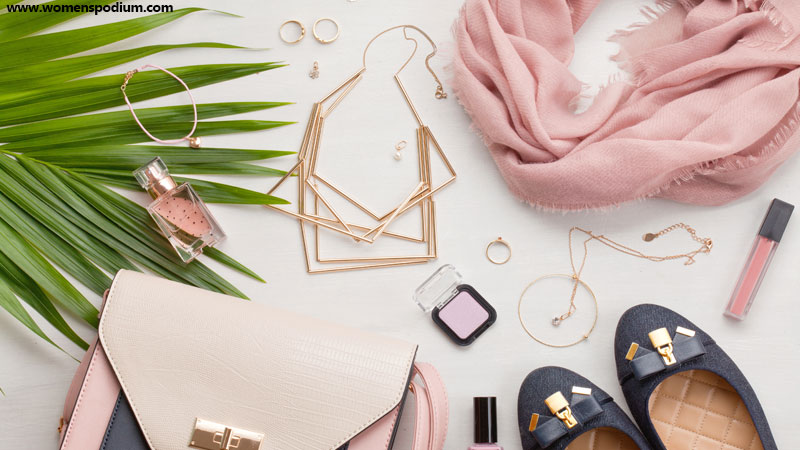 Accessories are a tough category to navigate. It's very easy to accessorize too much and too little. In classic fashion, accessories are essential and can enhance an outfit. The rules are to always for statement pieces when it comes to jewelry. A good pair of earrings and a bracelet is usually enough to vamp up your outfit. If you're wearing a dress and want to rock a necklace, go for a statement pendant and forgo the earrings. Another accessory you should invest in is a good pair of sunglasses that flatter your face shape. Moreover, an authentic leather bag is a rudimentary item in classic outfits for women.
Why is Classic Style Ideal for a Post-Lockdown World?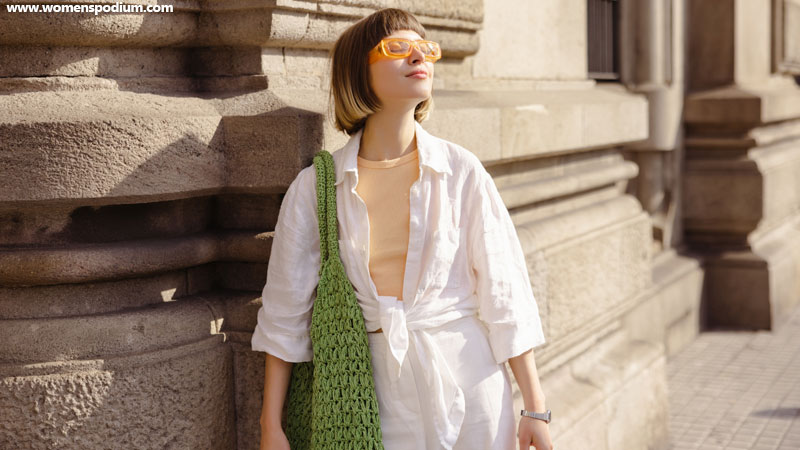 The rise of loungewear during the Lockdown due to the COVID-19 pandemic suggests that people prefer comfort over fashion. The masses have realized the strict fashion trends that are uncomfortable are no longer worth it. Since almost all of us were working from home, adhering to a strict dress code in offices was no longer necessary. That's why post-COVID office wear is getting a rethink.
People now want to wear comfortable clothes, including leggings, loose shirts and shoes without heels. On the other hand, there is some nuance to it as well. People who are fed up with staying indoors want to dress up again and look pretty. Classic fashion seems to be the synthesis of these two. It consists of comfortable clothes that are not just loungewear. It is aesthetic, elegant and sophisticated without being too bothersome and strict. Not to mention that most people cannot afford to waste money buying fast fashion items due to the economic crisis we find ourselves in. With these conditions, it is pretty evident why classic outfits for women are seeing a surge in popularity.
Conclusion
The bottom line is that classic fashion is timeless and long-lasting. We all have suffered a lot in the past couple of years, so it makes perfect sense to invest in high-quality clothes that look great and can be worn repeatedly; classic fashion affords this option. In order to build a sophisticated and classic style wardrobe, all you need to do is buy good quality basic garments and pair them up differently to make cool outfits. We've described many ways to make classic outfits for women above that readers can experiment with and enjoy!
Also Read: Comforting summer outfit ideas to look chic and comfortable while also beating the heat!