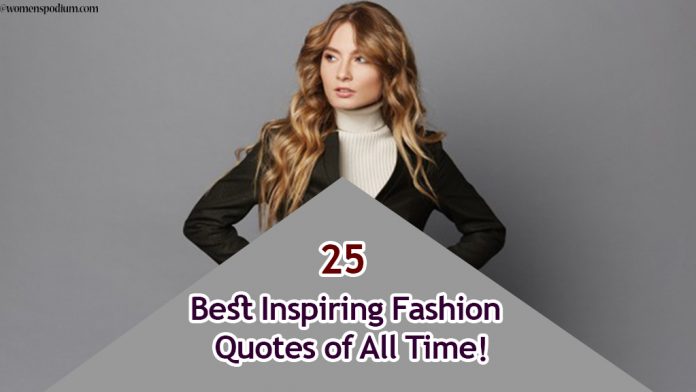 Fashion defines your personality. It is just not a word, it is actually the essence of a woman. Fashion completes your style—it has the power and ability to impact and change lives. It is not just about clothing or accessories; in fact, it is a complete package to change your entire personality. We take fashion as the latest or prevailing cultural trends (in an attire), but the word fashion comprises the aesthetic expression or a manner of doing something as well. As a matter of fact, it is only a tiny bit of a vast portray of our cultural representation. You will explore something better about fashion by reading these fashion quotes that we are discussing down.
How Does Fashion Affect Our Lives?
People tend to judge others by their outlooks before even having a chance to speak to them. We intimately know that the way we dress influences how other people perceive us, and our personalities are most certainly reflected in our style. Fashion also contributes to a person's better self-esteem, makes her confident, allows her to stand out among the crowd, and express herself better. Addiction to fashion isn't productive but making it a journey to find happiness is definitely considerable. Ironically, this is because it ends up fueling our productivity for the day and driving us towards success, thus changing lives.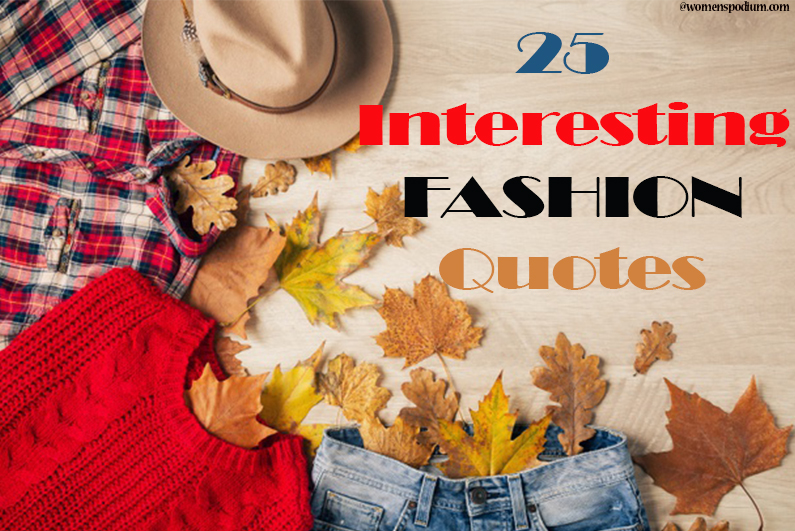 25 Most Iconic Styling and Fashion Quotes for You
Everyone must accept and adopt fashion in their life as it is a great way to achieve happiness and be confident. Check out these fashion quotes to open yourself to fashion.
We must never confuse elegance with snobbery.
— Yves Saint Laurent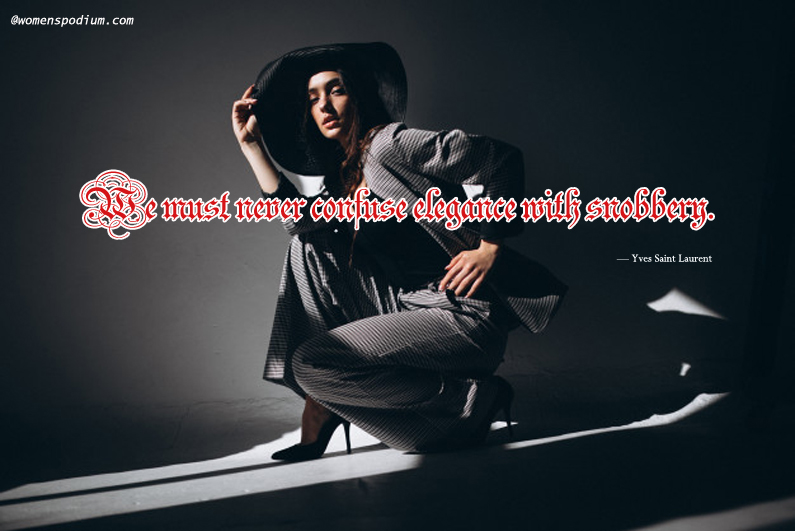 One is never over-dressed or under-dressed with a Little Black Dress.
— Karl Lagerfeld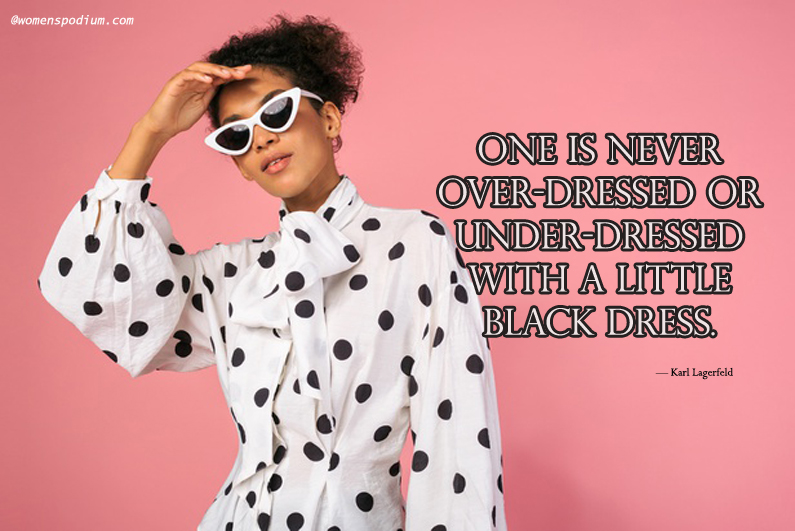 What you wear is how you present yourself to the world, especially today, when human contacts are so quick. Fashion is instant language.
— Miuccia Prada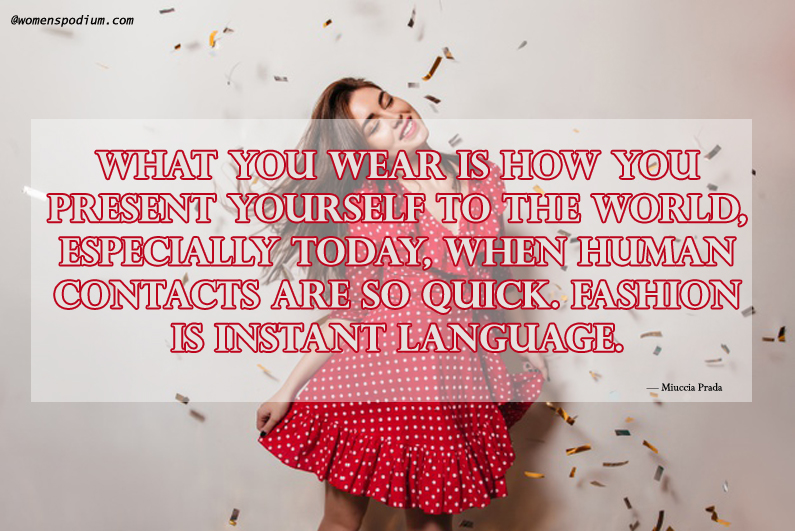 Style is something each of us already has, all we need to do is find it.
— Diane von Furstenberg
Fashion is the armor to survive the reality of everyday life.
— Bill Cunningham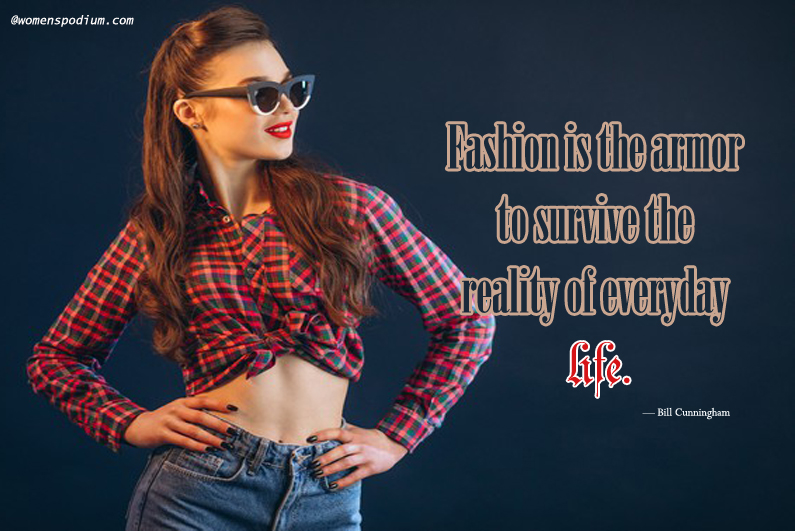 I don't design clothes. I design dreams.
— Ralph Lauren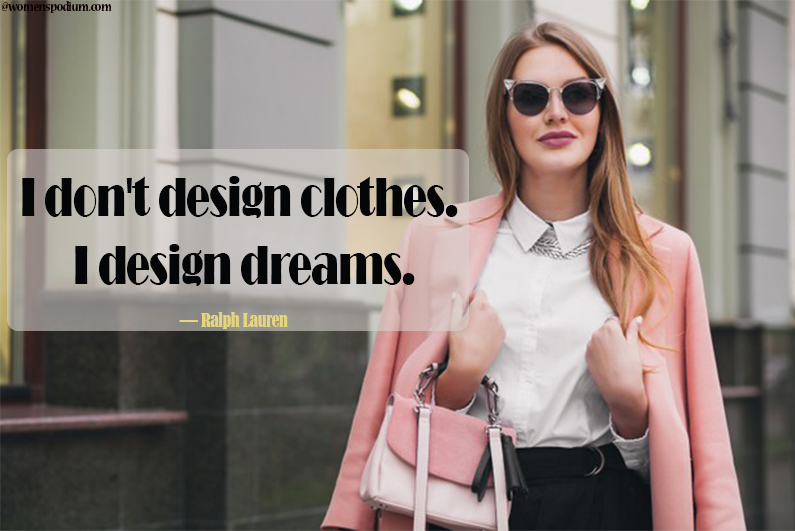 In difficult times, fashion is always outrageous.
— Elsa Schiaparelli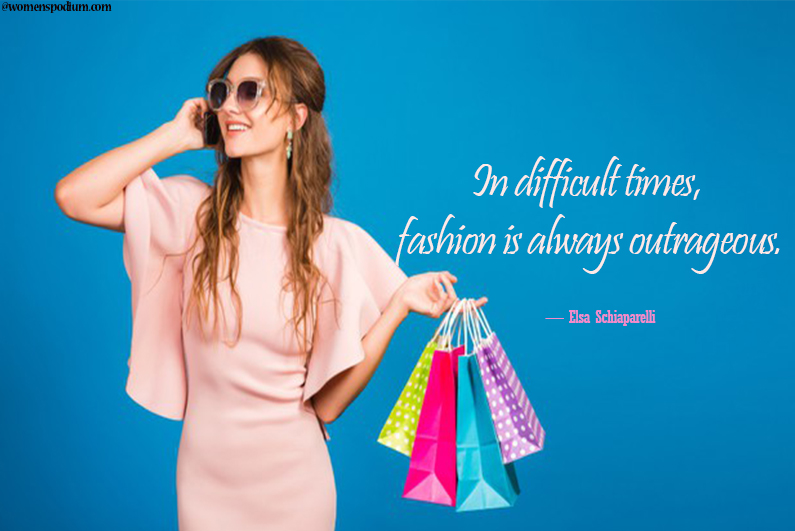 You can never take too much care over the choice of your shoes. Too many women think that they are unimportant, but the real proof of an elegant woman is what is on her feet.
— Christian Dior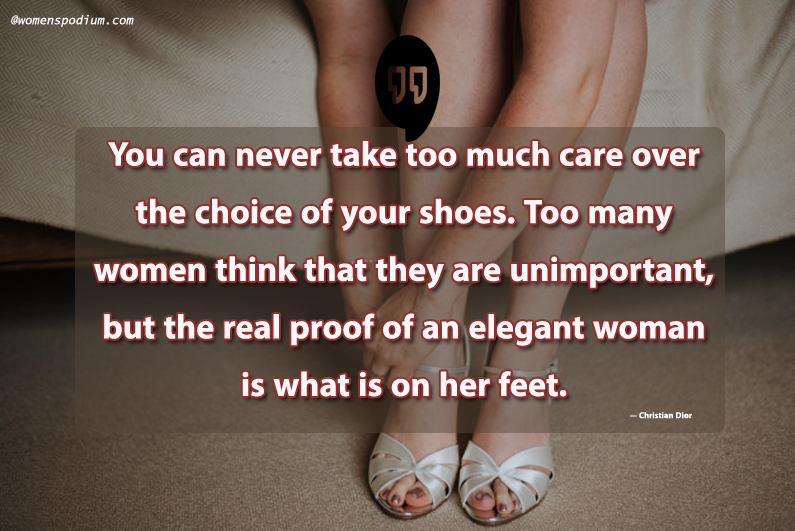 The dress must follow the body of a woman, not the body following the shape of the dress.
— Hubert de Givenchy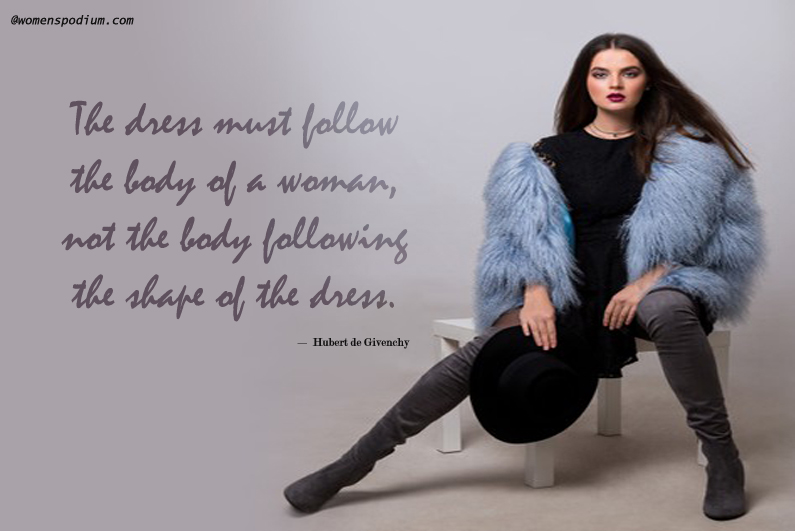 Style is a way to say who you are without having to speak.
— Rachel Zoe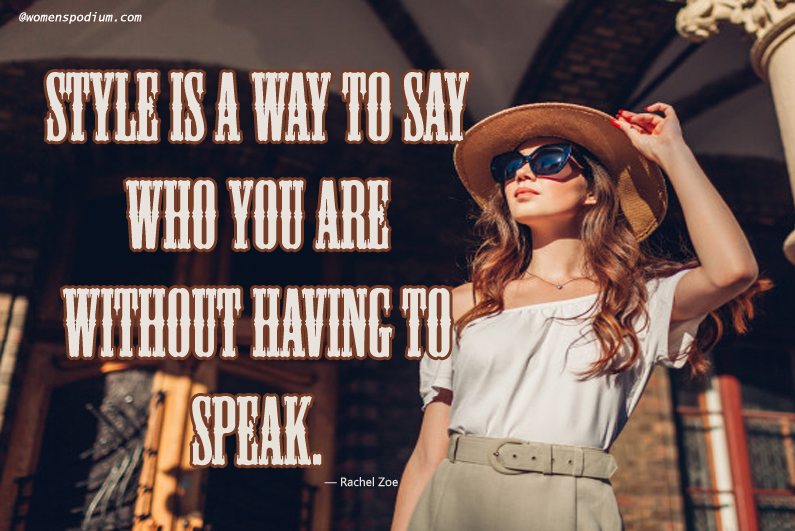 Clothes mean nothing until someone lives in them.
— Marc Jacobs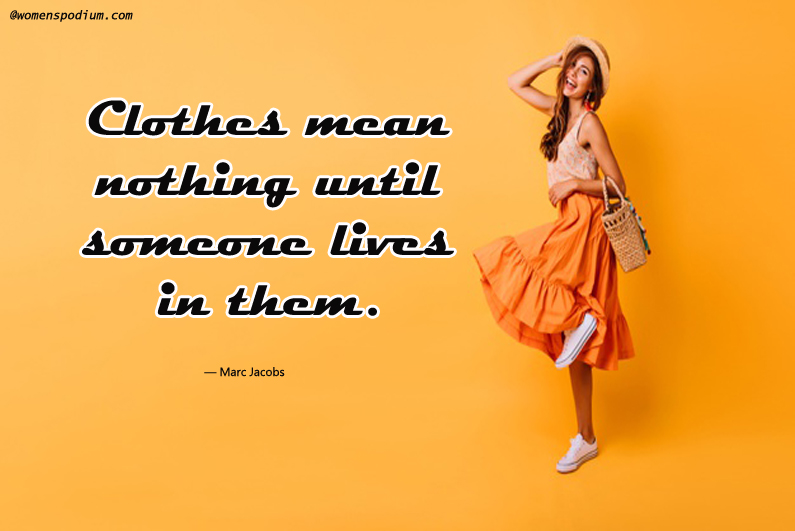 People will stare. Make it worth their while.
— Harry Winston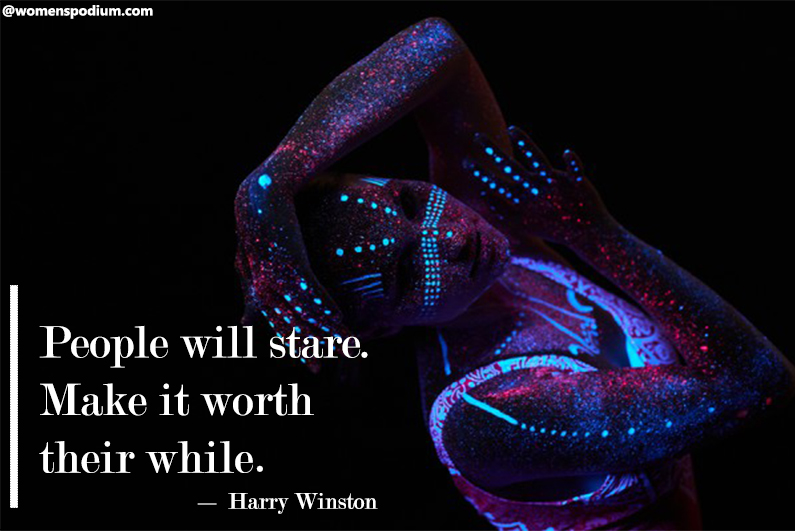 Elegance is not standing out, but being remembered.
— Giorgio Armani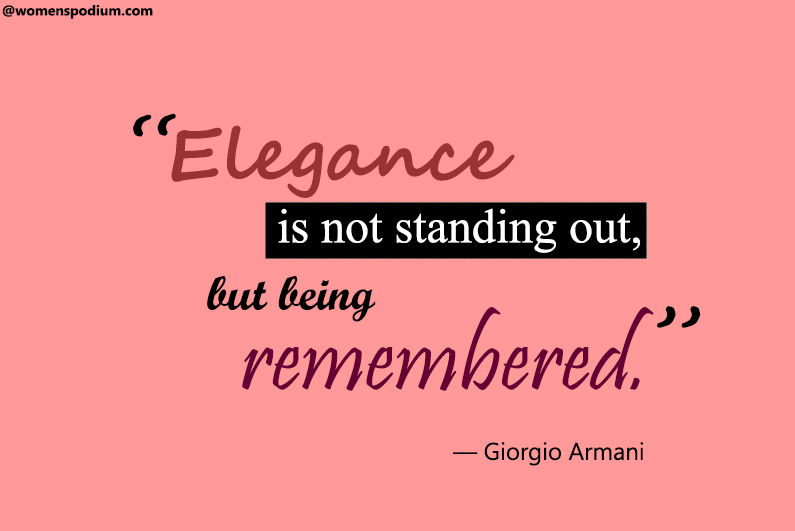 In order to be irreplaceable one must always be different.
— Coco Chanel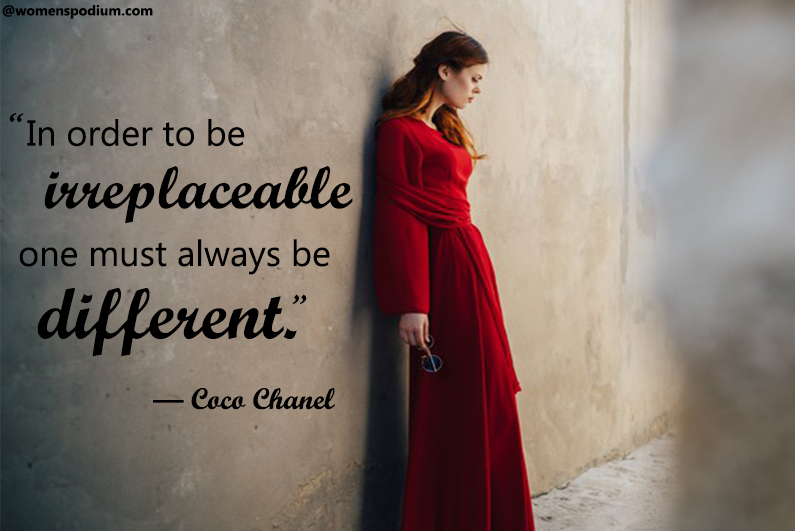 Elegance is elimination.
— Cristóbal Balenciaga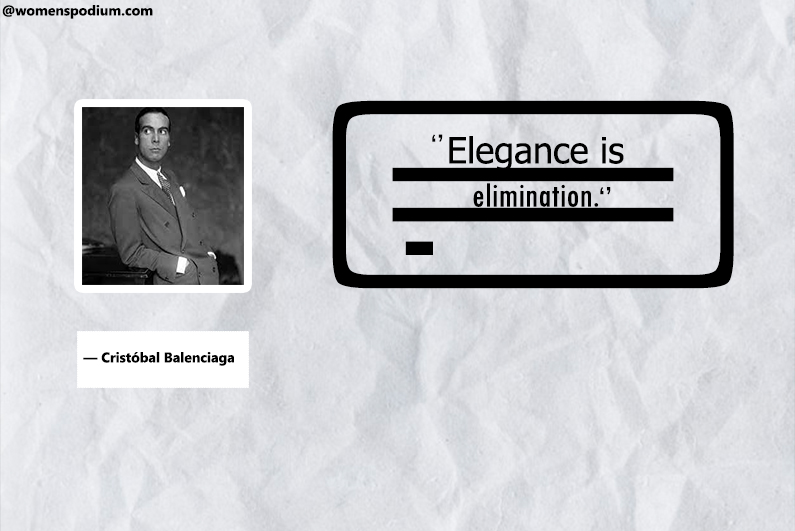 Fashion is like eating, you shouldn't stick to the same menu.
— Kenzo Takada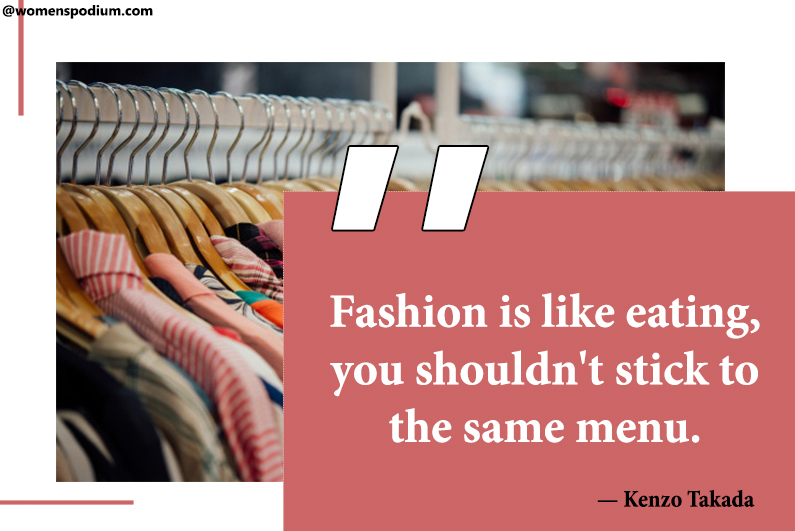 Shoes transform your body language and attitude. They lift you physically and emotionally.
— Christian Louboutin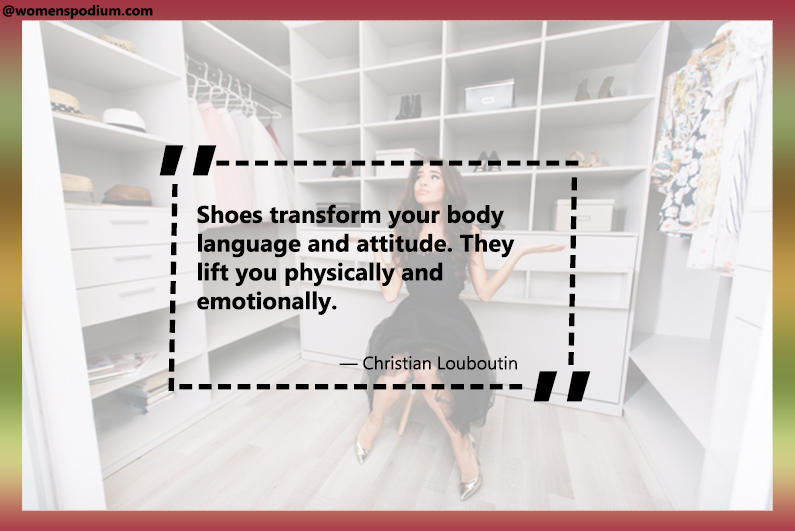 Playing dress-up begins at age five and never truly ends.
— Kate Spade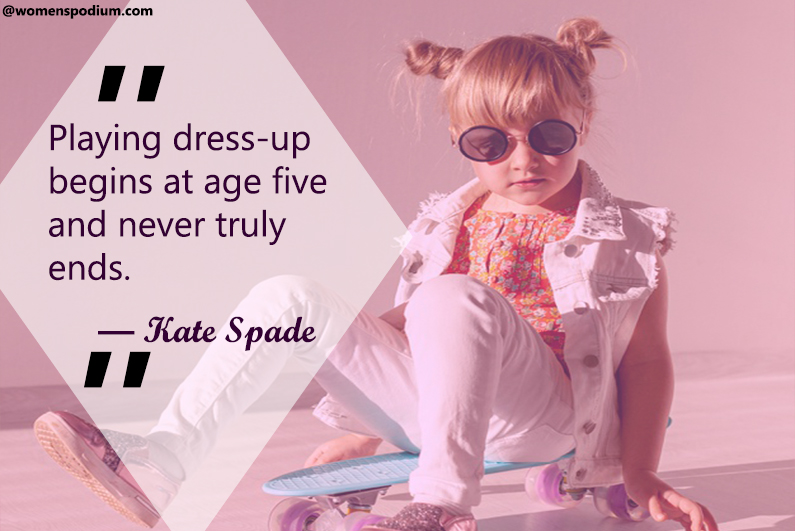 I make clothes, women make fashion.
— Azzedine Alaïa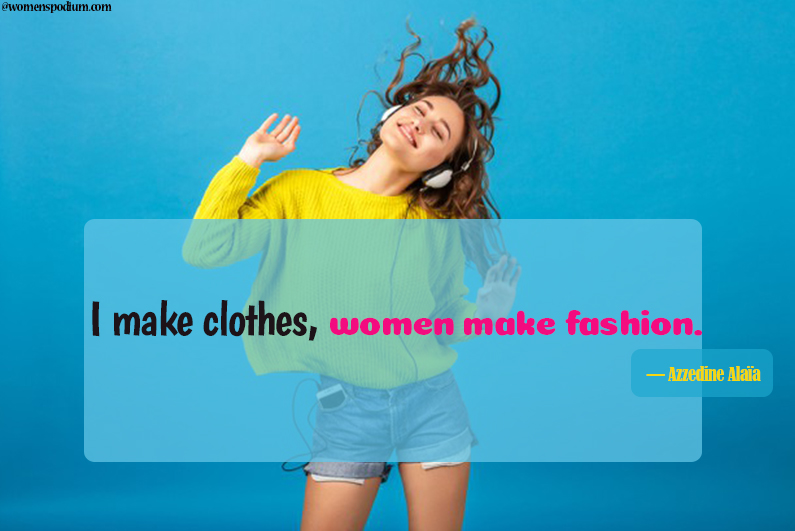 Fashion is about dressing according to what's fashionable. Style is more about being yourself.
— Oscar de la Renta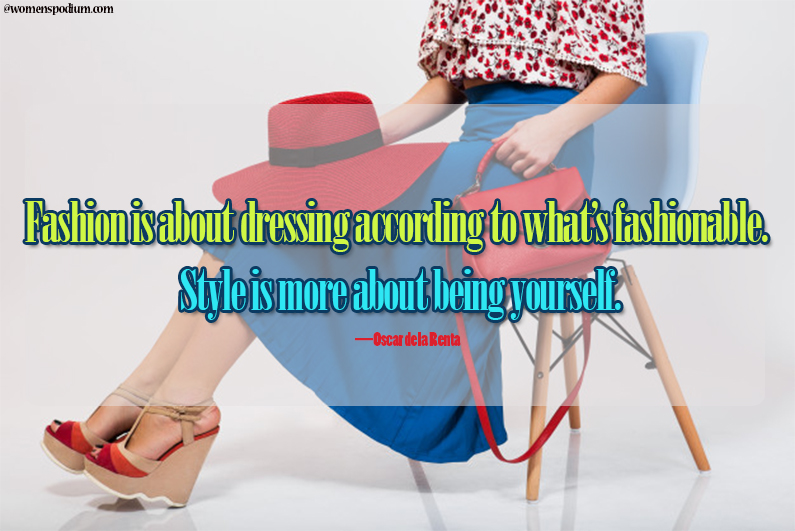 The joy of dressing is an art.
— John Galliano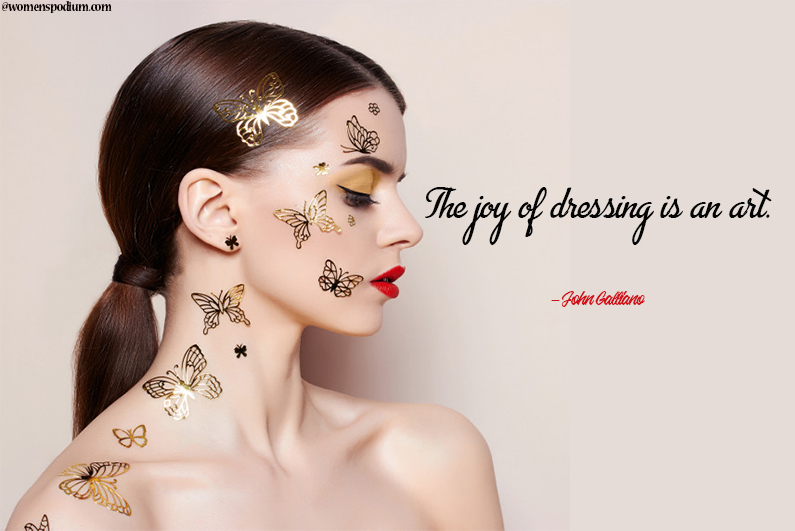 Elegance is good taste, plus a dash of daring.
— Carmel Snow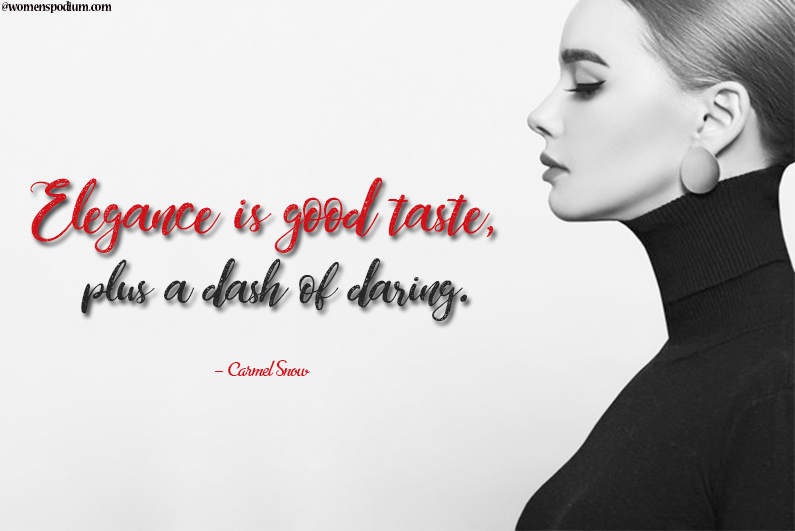 Dress shabbily and they remember the dress; dress impeccably and they notice the woman.
— Coco Chanel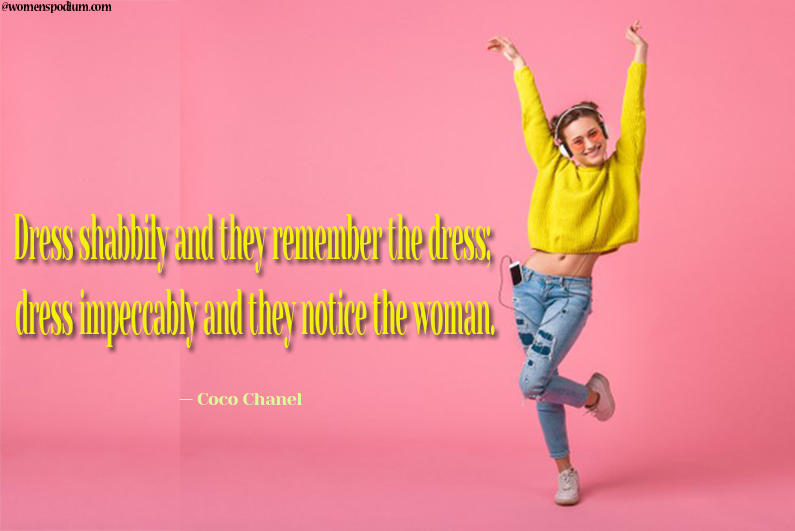 When in doubt, wear red. 
— Bill Blass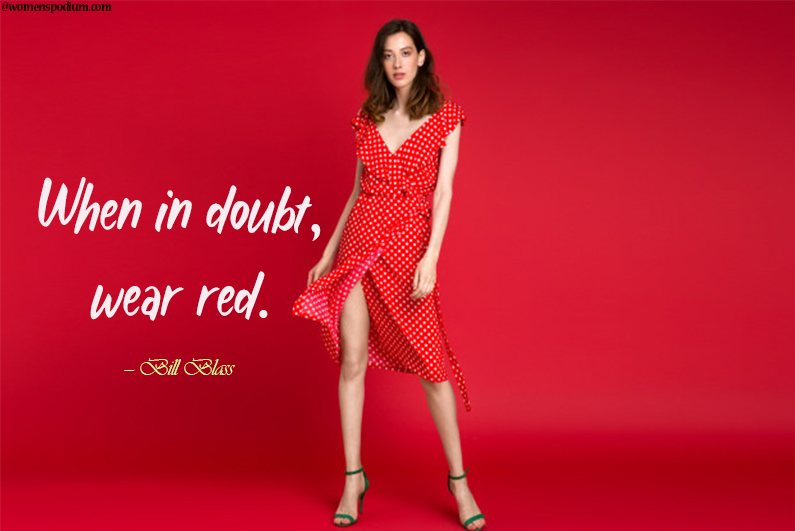 Being well dressed hasn't much to do with having good clothes. It's a question of good balance and good common sense.
— Oscar de la Renta