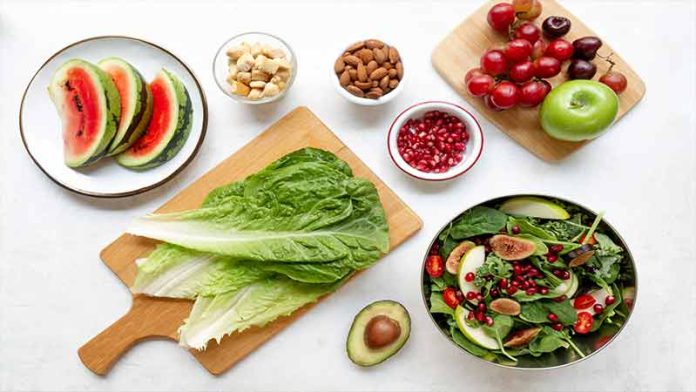 The worst risk to anyone's health is inflammation. And you can only fight it with a healthy and perfect diet. There is a difference between clean dieting and the low-carb anti-inflammatory diet plan. Both of these might have some similar foods, but people set a keto anti-inflammatory diet plan not only to improve their health but also to prevent the related symptoms. You can get the benefits like better sleep, improved mood, proper weight loss, less depression and anxiety, and slow aging. Here are some best foods and recipes for the low-carb anti-inflammatory diet plan.
Some Of The Best Foods For Low Carb Anti Inflammatory Diet Plan
A healthy eating diet plan with low carbs helps in reducing weight fast. Here are some of the foods that you can eat when you are on a low-carb diet and want to prevent inflammation.
Lean meat, chicken breast, and fish
Leafy green vegetables
Broccoli and cauliflower
Seeds, nuts, and butter
Coconut oil, olive oil, and rapeseed oil
Fruits, including blueberries, apples, and strawberries
Whole milk, plain Greek yogurt
4 Recipes That Conclude Your Keto Anti Inflammatory Diet
Here are a few best low carb anti inflammatory diet recipes for you that you can try with a few ingredients and enjoy at any time of the day. You will enjoy each one of these recipes.
Lemon Chicken And Asparagus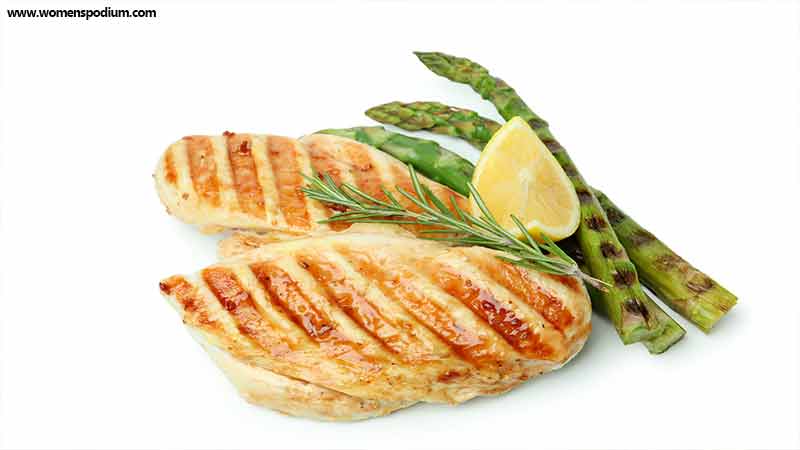 Chicken breasts are the most common low carb anti inflammatory diet and this food also helps reduce your weight and improve the sleep cycle. You can try this recipe yourself.
Ingredients:
Boneless chicken breast (1 lb.)
Flour (1/4 cup)
Salt and pepper (1/2 tsp)
Butter (2 tbsp)
Lemon and pepper seasoning (1 teaspoon)
Asparagus (1-2 cups)
Parsley (for topping)
Recipe:
Cover the piece of chicken breast with a sheet and pound it until every piece becomes three-quarters of an inch.
Place all of your seasonings, like salt, and pepper along with flour in a shallow dish and you can gently toss the chicken breast in this dish.
Melt some butter in a skillet to cook the seasoned chicken breast. When the skillet is warm enough, place the piece gently and let it cook on each side for 4 to 5 minutes, or when it turns golden brown.
Sprinkle pepper lemon seasoning on each side while it cooks. When chicken is cooked through, get it on the plate.
Now sauté the chopped asparagus and sliced lemon in the same skillet separately until they become tender and crisp. Caramelize the lemons and take them out on the plate. These foods help detox your body as well.
Layer all these ingredients in the skillet or a deep plate and serve. And this is how to do a keto diet and an anti-inflammatory diet.
Tomato And Basil Garlic Chicken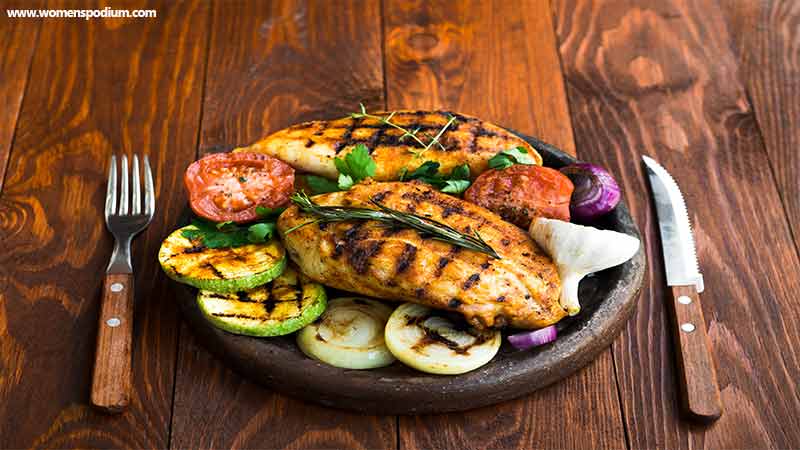 Combining garlic with chicken and turning it into a salad with the addition of tomato and basil is exciting and eating it is as healthy as it sounds.
Ingredients:
Chicken breast (1lb)
Olive oil (2 tbsp)
Yellow onion (diced)
3 garlic cloves
Italian tomatoes (15 ounces chopped)
Fresh basil (1 cup)
Red pepper (flakes)
Zucchini (4 medium-sized)
Salt and pepper
Recipe:
Cover the piece of chicken with the plastic sheet and pound each piece to about an inch in thickness.
Sprinkle each side with salt and pepper.
Now add one tablespoon of olive oil into the skillet and heat it until it is warm. Then add the piece of chicken and fry each side for a few minutes or until it is brown.
Once your chicken is tender and cooked through, you can take it out of the skillet into a plate.
In the same skillet, pour the remaining olive oil, sauté the onions in it for 5 minutes, then add garlic and sauté for a few more minutes.
Add tomatoes and basil to the skillet and season with salt and pepper flakes.
Simmer for a few minutes and you will get the required thickness by stirring occasionally.
Courgetti zucchini into noodles shape and soak them in the sauce along with the chicken. Simmer for a few minutes until ready.
Shrimps And Cauliflower Grits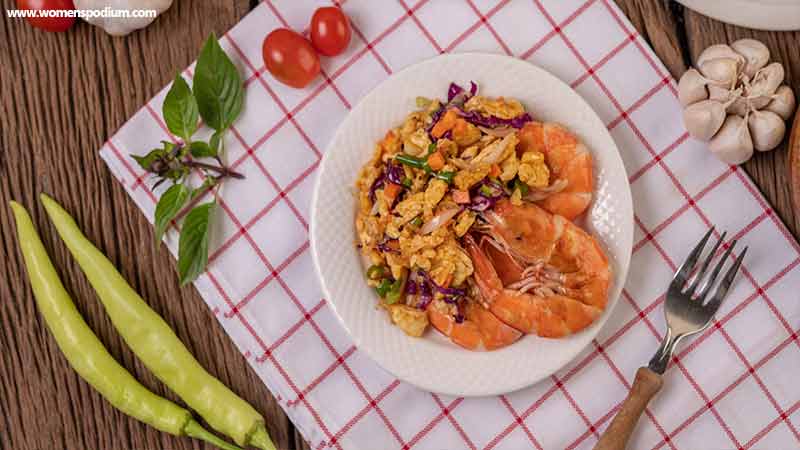 With only a few ingredients in this dish, this low carb anti inflammatory diet recipe is wholesome and gives you a punch of flavors in a portion of very healthy diet food.
Ingredients:
Large shrimps (1 pound deveined and peeled)
2 tbsp Cajun seasoning (no salt)
4 tbsp butter
12-ounce cauliflower (frozen)
1 garlic clove (chopped)
Recipe:
Pour some water into the saucepan and bring to a boil. Now place the cauliflower in the steamer and top it with garlic clove chopped. Cover it until steam makes it tender.
Place both cauliflower and garlic in the food processor, add butter, and blitz until desired texture is there.
Alongside, make shrimps. Season the shrimp with Cajun seasoning until they are almost coated. Also, salt the shrimp with a pinch or two.
Heat some remaining butter in a skillet and heat on medium-high flame. Cook the shrimp for not more than two minutes. When they become pink, remove them from heat.
Scoop the cauliflower grits into the serving plates. Top it with the seasoned shrimp and pour the cajun seasoning from the pan on top of it.
One-Pan Salmon With Broccoli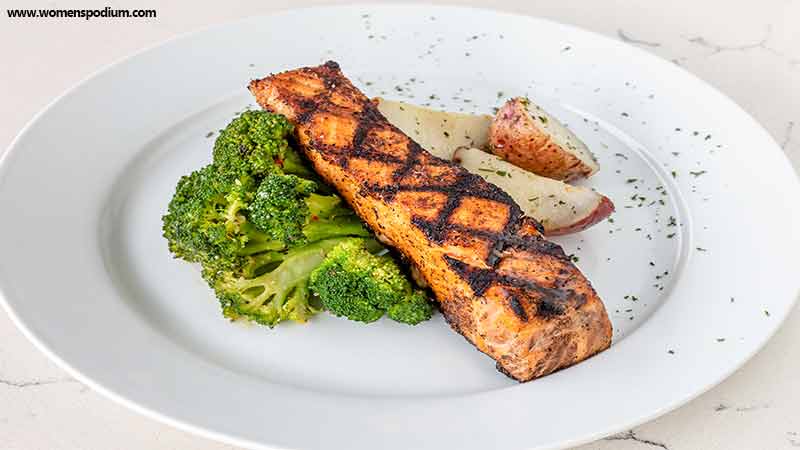 A one-pan quick low carb anti inflammatory diet recipe that blows your mind away is just a few minutes away. You can make this dish in less than an hour and enjoy it on weeknights.
Ingredients:
20g olives (pitted), and chopped
3 tbsp red pesto
1 lemon, half juiced, half sliced
10g basil (fresh)
100g purple broccoli (sprouting)
250g boneless salmon fillets
Recipe:
Preheat your oven to 200°C, and place a piece of nonstick baking sheet on the board.
Drizzle some olive oil over this sheet. Place the boneless fillets of salmon on this sheet. It is one of the heart-healthy foods for you.
Add olives, pesto, and lemon juice to the salmon. Also, throw in broccoli and lemon slices. Then you can cover the whole thing with another baking sheet. Fold it completely and tightly around the salmon.
You can then transfer it to the baking tray and cook for about 25-35 minutes or until the salmon is cooked and the broccoli is tender.
Scatter the basil leaves on top of it and serve.
There you have it! The most delicious low carb anti inflammatory diet recipes to try any day of the week. Continue this diet for a month or until you feel like your symptoms are improved, then you can add some other options to your plan. Enjoy life as much as you can!
Also Read: How a ketogenic diet helps you get healthy and get rid of the extra weight that your body has put on.