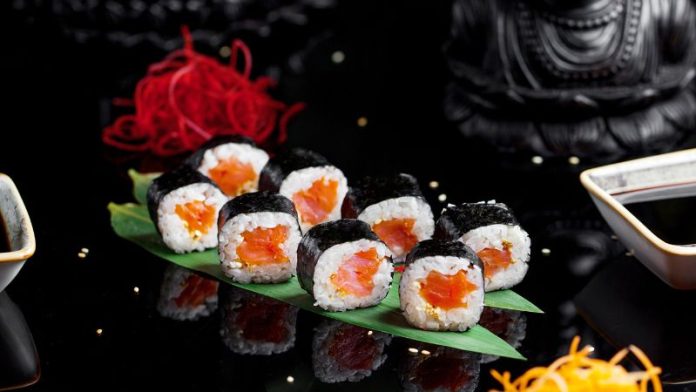 Sushi is a familiar, common and favourite of many people around the world for these valid reasons: it has a delightful fish flavour and is a healthy source of omega-3 fatty acids. Today my dish of the day is a classic salmon sushi roll made of thinly sliced fresh salmon. It's usually rolled up with cucumber, wrapped in nori, and then eaten with soy and wasabi sauce. With a balance of textures and flavours, sushi offers a unique dining experience. However, some people do not like raw fish. If you don't like raw fish in a salmon roll, you can bake or smoke it. This classic salmon sushi roll recipe is a staple of Japanese cuisine and is simple and easy to prepare.
What is Sushi?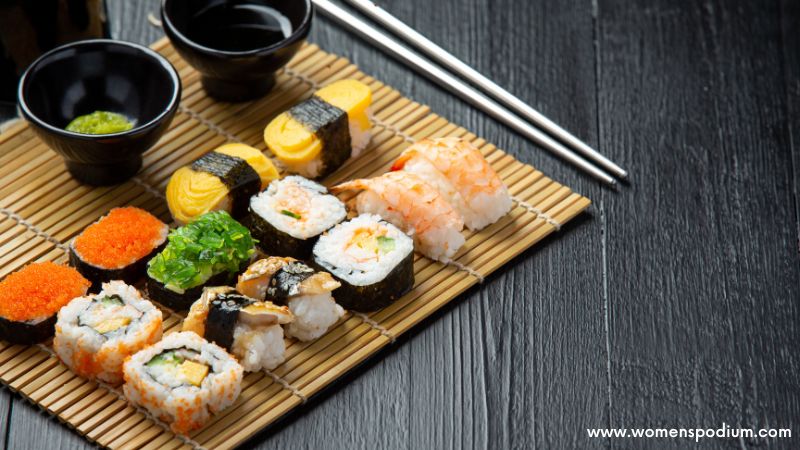 Sushi is a Japanese-oriented cuisine prepared with seasoned rice (vinegar and sugar), raw seafood, and vegetables. It has different variations based on its preparation, such as nigiri, maki, uramaki, temaki, and sashimi. Rice is typically an ingredient in all types of sushi except for sashimi. Sushi is also an ideal food if you are trying to lose weight because it's a healthy alternative. Since brown rice is fibre-rich, you can use it instead of white rice.
Is Sushi Nutritious And Healthy?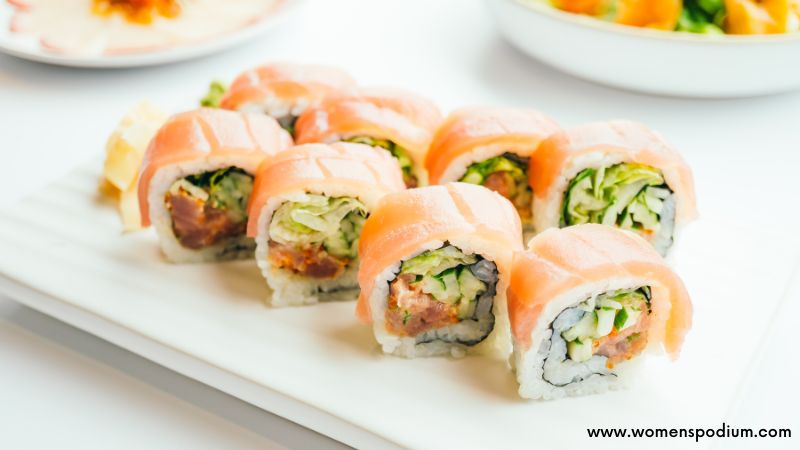 Sushi contains nutrient-rich ingredients, such as fish, vegetables, and seaweed. Salmon is a nutritious source of protein and omega-3 fatty acids. Moreover, it has vitamin D which is essential for skin and bones, as well as vitamin B12 and other essential vitamins and minerals. On the other hand, nori contains iodine, which controls body metabolism and thyroid function. Also, fresh vegetables such as cucumbers, spring onions, and carrots are good for your skin, hair, and nails.
How To Make Salmon Sushi Roll?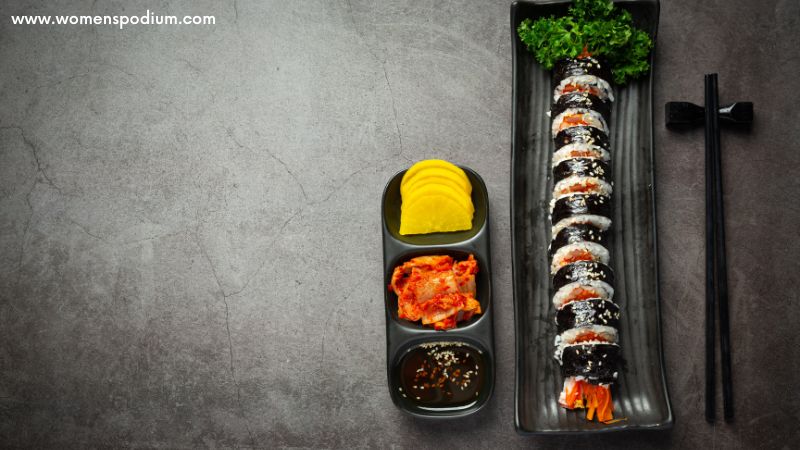 Served for lunch and dinner, this homemade salmon sushi roll is simple to make and is delicious and outstanding. Although making the perfect sushi roll might take a while, but if you are persistent, you'll have fun learning.
Ingredient
Cooked sushi rice – 2 1/2 cups
Salt – 1 tsp
Sugar – 2 tsp
Rice vinegar – 4 tbsp
Cucumber – 1 thinly sliced into strips
Spring onions -1 bunch, finely chopped
Nori (dry seaweed)- 6 sheets
Soy sauce-3 tbsp
Sesame oil – 1 tbsp
Ginger 1 tbsp. finely sliced
Wasabi paste 2 tbsp
Fresh Salmon – 8oz cut into ½ long strips
Direction
Preparation of Sushi Soy Sauce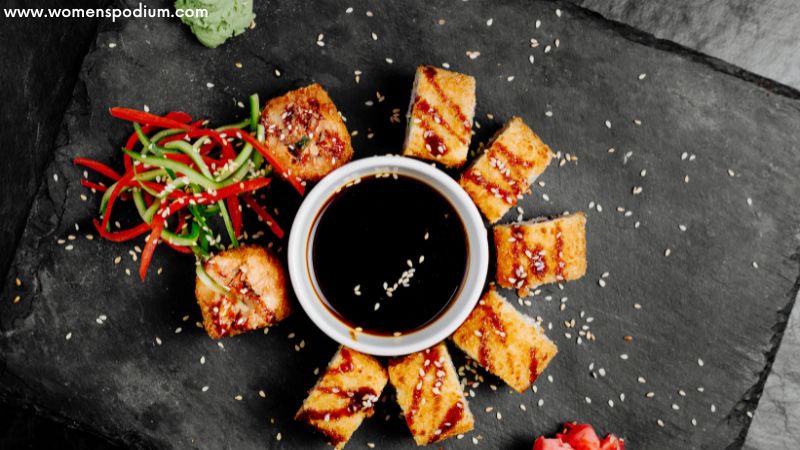 Combine soya sauce, sesame oil, and finely sliced ginger in a small bowl and set aside.
Sushi Rice Seasoning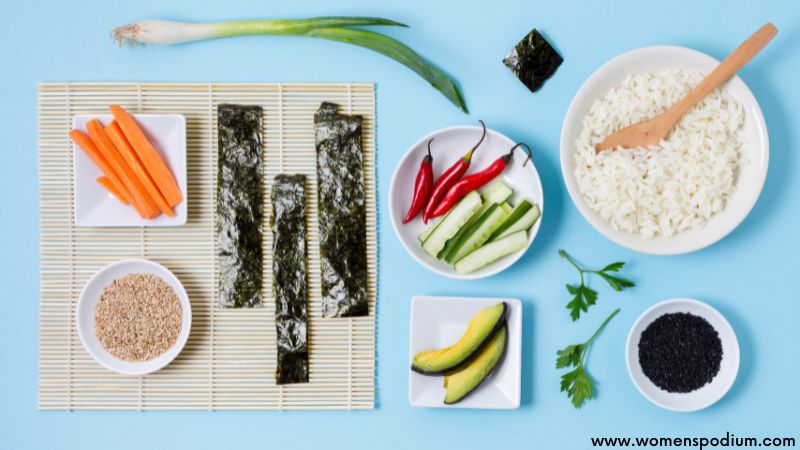 Mix rice vinegar, salt, and sugar in a liquid mixing cup. Transfer the cooked rice to a bowl and drizzle the rice vinegar mixture over it. With the help of a wooden spoon, combine the ingredients evenly.
How To Assemble Sushi?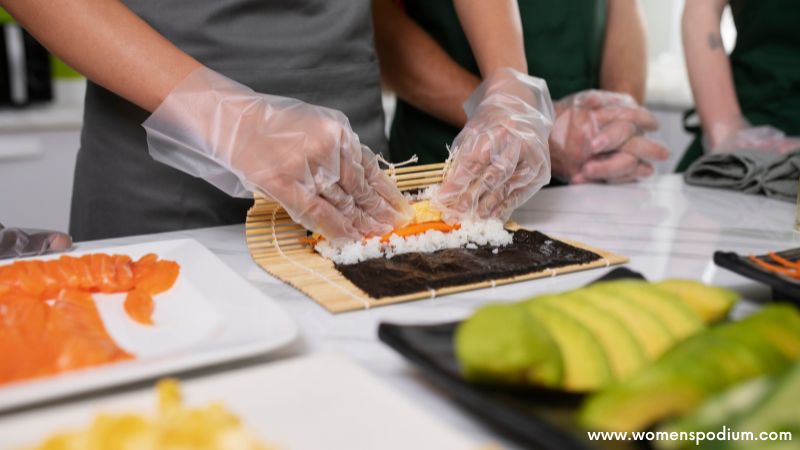 Put a bamboo sushi mat on a clean surface.
Now place the nori sheet on the bamboo mat and evenly distribute the rice on the nori sheet, leaving a ½ inch border at the top and bottom.
A Nori sheet has two sides: a shiny side and a rough side. Place the rice on the rough side and arrange the sliced salmon (if you don't want raw salmon, smoke it), cucumber, and spring onion on top.
Use the bamboo mat to lift and compress the rice mixture as you fold it over the filling.
Once rolled, remove the mat. With the remaining ingredients, prepare other sushi rolls and transfer the rolls to a serving platter.
Cut each roll into eight slices. Sprinkle a little black sesame seed on the rolls for extra flavour.
Enjoy with soy sauce and wasabi paste.
Final Words
Due to its amazing taste, Sushi is so popular that many restaurants worldwide love to offer it on their menus. The traditional salmon sushi roll recipe is easy to make and tastes as good as what you find in restaurants. However, it takes time to roll the ingredients perfectly. Do try these sushi rolls, and don't forget to share your feedback.
Also Read: Besides this Japanese recipe, try these Chinese Chili Paneer and Fried Rice with Chicken Manchurian recipes with a different taste and cooking technique.