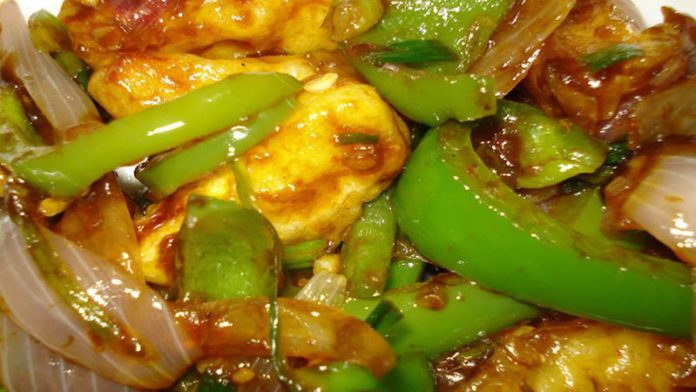 We always talk about nutritious food, balanced diets and healthy breakfasts. But today I am going off the limits because my taste buds are demanding this spicy and tangy Indo-Chinese chilli paneer recipe. When we are inquisitive about our health and fitness, eating junk foods, fast foods, or deep-fried foods is not a suitable choice, but you have the right to cheat on nutrition for a small bite once a month when you are working hard to lose weight.
Indo-Chinese Chilli Paneer Recipe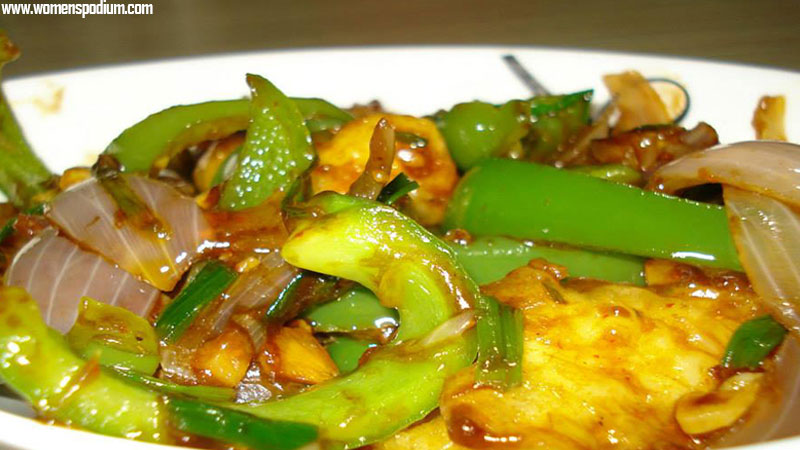 Chilli Paneer dry is a top-rated and most demanding Indo-Chinese recipe made with paneer cubes, diced onion and capsicum. The recipe is one of the most popular dishes in India, and it is available on the menus of every restaurant. There would be hardly any restaurant that will miss this amazing recipe on their menu. Chilli paneer enhances the spicy, tangy chilli flavour with the creaminess of deep-fried paneer with engaging flavour from the combination of vinegar and oriental sauces like red chilli and soy sauce. Paneer Chilli dry is an ideal party starter or an appetiser; it also goes well with veg fried rice or Hakka noodles.
How To Make Chilli Paneer Recipe?
For Batter And Fying
1/2 cups Paneer cubes (cottage cheese)

2 tbsp corn flour

1/4 cup corn flour – for batter

2

tbsp

plain flour

or all-purpose flour (maida)

1/4 tsp baking powder

1½ tsp ginger garlic paste

1tsp chilli powder

salt to taste

1/2 cup water

oil for deep frying
For Sauce Preparation
2 tbsp oil

1 tsp ginger (finely chopped)

3 tsp garlic (finely chopped)

1 green chilli (slit)

1 green chilli (finely chopped)

4 tbsp spring onion, both white and greens (chopped)

½ cup onion (cut in cubes)

½ cup capsicum (cut in cubes)

1 tsp red chilli sauce

1 tbsp tomato sauce

1/2 tbsp vinegar

2 tbsp soy sauce

1 tbsp chilli paste or 1/2 tbsp chilli powder

¼ tsp pepper powder

¼ tsp salt

1 tsp cornflour

2 tbsp water

For Garnish – finely chopped coriander leaves and spring onion greens
Preparation/Method For Restaurant Style Paneer Chilli Dry
Making Batter And Deep Frying
The first step is to combine the paneer cubes and corn flour in a deep bowl and toss them well.

Now is the time to make the batter. Take 1/4 cup corn flour, 1/4 cup plain or all-purpose flour (maida) and 1/4 tsp baking powder in a deep bowl.

Add ginger-garlic paste, chilli powder, pepper powder and tsp salt.

Start mixing them and make a smooth lump-free batter adding water steadily.

Now comes the deep-frying; make sure oil is hot and ensure to keep the flame on medium.

Dip the above corn flour coated paneer cubes in the batter.

Deep fry and occasionally stir until the paneer cubes turn golden brown and crisp from all sides.

Drain off the fried paneer.

Put then on kitchen tissue paper/towel to absorb extra oil; after then, keep aside.
Final Preparation Of Chilli Paneer
Heat the oil in a deep kadhai or pan, add the garlic, ginger and green chillies and saute on a medium flame for a few seconds.

Later add the spring onions, onion cubes, capsicum and saute on a medium flame for one to two minutes.

Now, add the red chilli paste, soy sauce, tomato sauce, vinegar, and red chilli sauce and cook on a medium flame for another one minute.

Sprinkle pepper powder and salt and stir fry until the sauce is combined well.

Prepare the corn flour slurry mixing it well in water.

Pour the corn flour slurry into the pan and mix thoroughly.

Stir fry until the sauce turns glossy and thickens.

Add the deep-fried paneer cubes and saute on a high flame for a few seconds.

Garnish the chilli paneer with spring onions, coriander leaves, and serve the tasty starter immediately.
Also read: Try out this Ice Cream Custard recipe to serve after the meal.