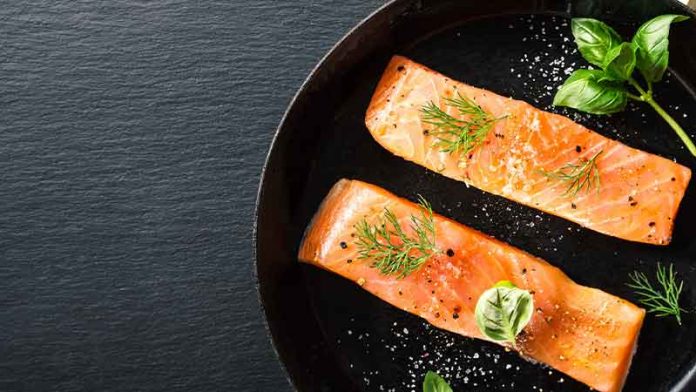 Fish is a nutritious and healthy source of protein. There are numerous recipes for cooking cod, salmon, tuna, and many other types of fish. However, cooking fish is not as easy as it seems. And to properly fry your fish, your first requirement is the right pan. Using the wrong pan can result in your delicious fillet falling apart or burning while sticking to the pan. So, are you wondering, what are the best pans for cooking fish? What kind of pan do you use for cooking fish? Does the size and shape of the pan matter? We have answers to all your questions.
Cooking utensils are designed for cooking delicate food without burning or sticking. Fish sticking to the pan is a common problem for many. If you are experiencing the same issue, it is time to upgrade. However, sometimes it's quite challenging to find the pan of your choice, but nothing is impossible; let's see how to select the right pan for cooking fish.
What Is The Right Pan For Cooking Fish?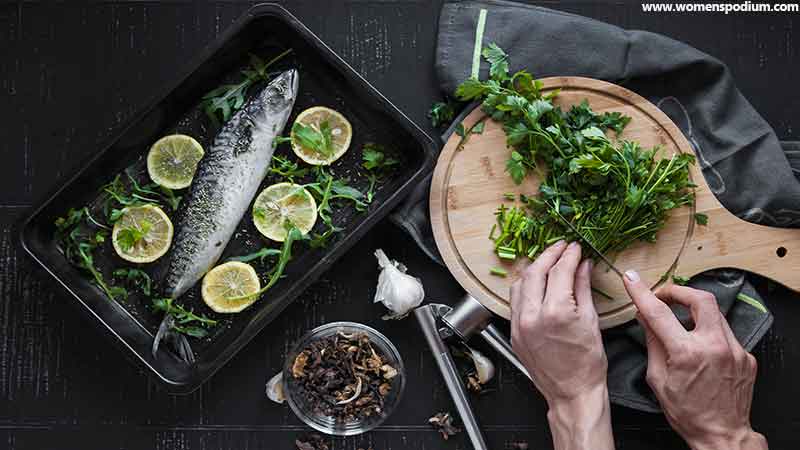 Lean or fatty, both fishes are high in omega-3 fatty acids and other vital nutrients. On the other hand, if fish isn't prepared correctly, all its nutrients are lost. The right cookware plays a crucial role in cooking crispy and well-cooked fish. Here are some important things to consider when purchasing a pan for cooking fish.
Heat Distribution
Cooking fish requires even heat distribution and effective heat retention. Generally, thick steaks need more heat retention than fillets. It takes longer to cook a large piece of meat than a thin one. A thick, heavy pan that evenly distributes heat is an ideal choice for cooking fish.
Pan Size
Depending on your usage, the size of the pan will vary. In general, the size of your pan determines how many filets you can cook at once. You will need a large pan to cook the fillets if you have a large family. A small 8-inch by 8-inch pan would be sufficient for a small family.
Pan Shape
Generally, cooking pans come in two shapes. There are pans with sloppy edges and pans with straight sides. A pan with sloping sides is ideal for preparing fish, as it easily handles fish fillets. Moreover, they are suitable for frying because they have a large surface area, and you can cook a large number of fillets.
Pan Material
What your cookware is made of is incredibly important. One should look for quality, durability, and safety. The metal used in your pan plays a significant role in your cooking and health. So, know the pan material, its pros and cons, and health benefits before buying it. Good quality and heavy-duty pans for cooking fish don't stick and rust or oxidise.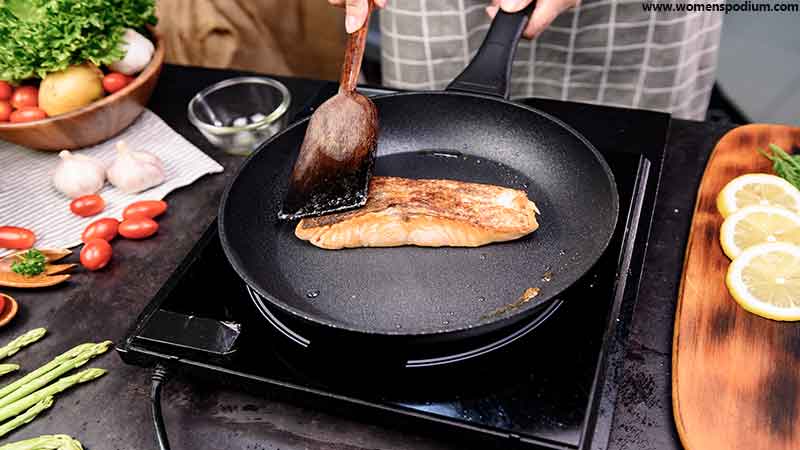 What Pan Material is best for Frying Fish
In general, stainless steel, carbon steel, cast iron, and non-stick are considered suitable choices for cooking fish. However, if the carbon steel is very thin, it can result in fish or meat sticking to the bottom. Fish is delicate, and cooking it to perfection takes skill. Here are some pans for cooking fish.
1. Cast-Iron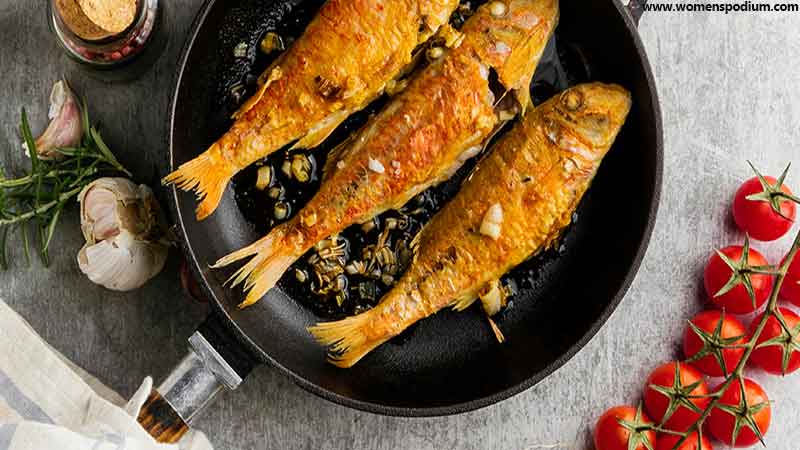 Cast iron pans are ideal for cooking fish. These pans are durable, easy to clean and have a non-stick surface that evenly distributes heat. In addition, the enamel surface prevents rust. Their only disadvantage is that they are heavy.
2. All-Clad Stainless Steel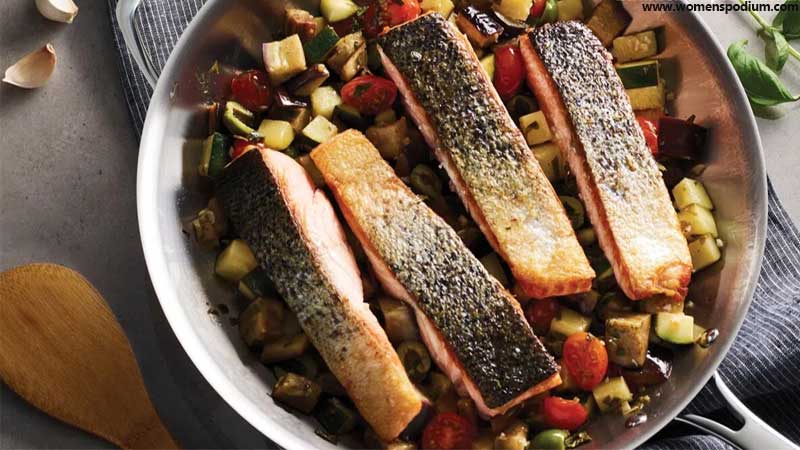 Stainless steel is an excellent material for home chefs' cookware because of its durability. Additionally, aluminium pans are lightweight, inexpensive, and excellent conductors of heat. Al-clad pans are made from a thick layer of aluminium sandwiched between two thin layers of stainless steel. Aluminum evenly distributes heat throughout the pan, and stainless steel is durable, non-reactive, and rust-free. These pans are an excellent choice for cooking fish. On the other hand, the main disadvantage of these pans is that they are expensive, the bottom heats slower, and the sides quickly heat up.
3. Carbon Steel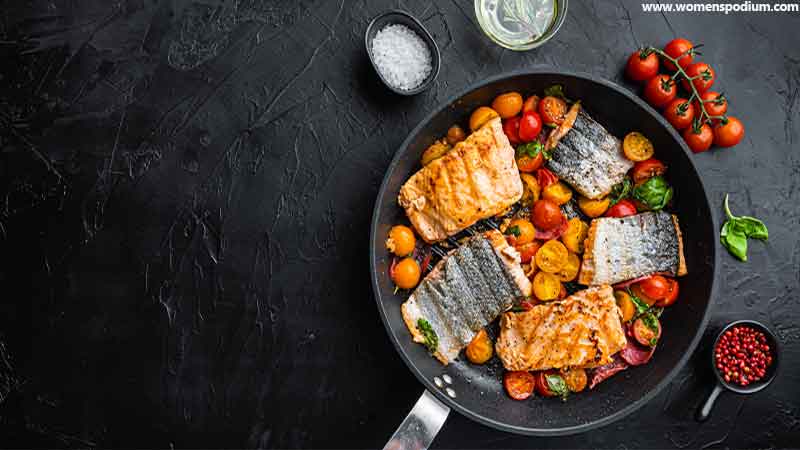 Carbon steel is similar to cast iron. Similarly, this alloy is composed of steel and carbon but in slightly different ratios. It's smoother, more versatile, less brittle, lighter, and more heat-resistant. On the other hand, carbon steel is not naturally non-stick. It needs seasoning and can easily become blotchy and discolored.
Best 3 Pans For Cooking Fish – Our Recommendation
These are some pan brands that we like to review today; they are good for cooking fish. We are just trying to narrow down the choices for you to pick the right pan so that the next time when you fry a fish, you won't worry about the sticking issues. Let's read the reviews.
Matfer Bourgeat Black Carbon Steel Fry Pan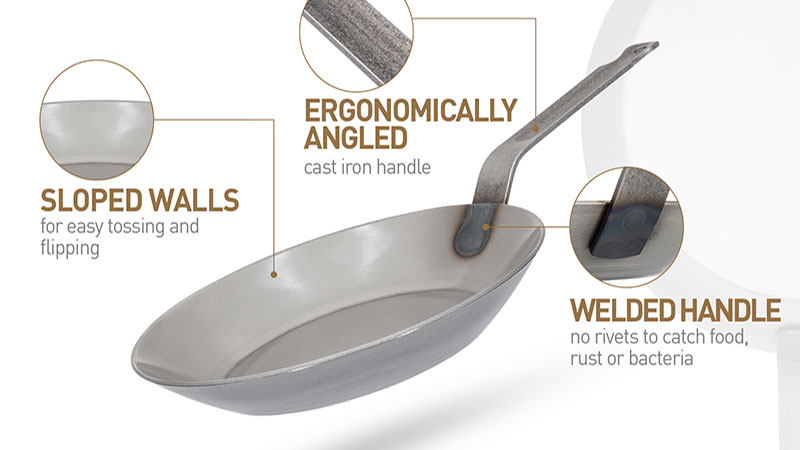 The Matfer Bourgeat Black Carbon Steel Fry Pan provides excellent heat distribution and temperature control. Carbon steel is a natural mineral that promotes healthy cooking. This product is free of harsh chemicals or coatings, as well as PTFE and PFOA. Additionally, these pans are naturally seasoned, and once seasoned, they become extremely nonstick. This makes it excellent for searing meats, browning omelets, grilling fish, and cooking a wide range of dishes, even desserts. This product comes with a steel handle that gives the pan extra strength and durability.
French-made Matfer Bourgeat Black Steel Pans are compatible with all types of hobs, including induction, and are oven safe at any temperature. In addition to being lighter than cast iron, they also guarantee high standards of durability, performance, hygiene, etc. The pans are good to go for both residential and commercial use.
| | |
| --- | --- |
| Pros | Cons |
| Lighter than cast-iron | Not easy to clean |
| Durable and reliable | Need regular maintenance |
| Strong handle for support | Requires seasoning |
| No chemical coating | |
| Compatible with any heat source | |
| Oven safe | |
Price: $74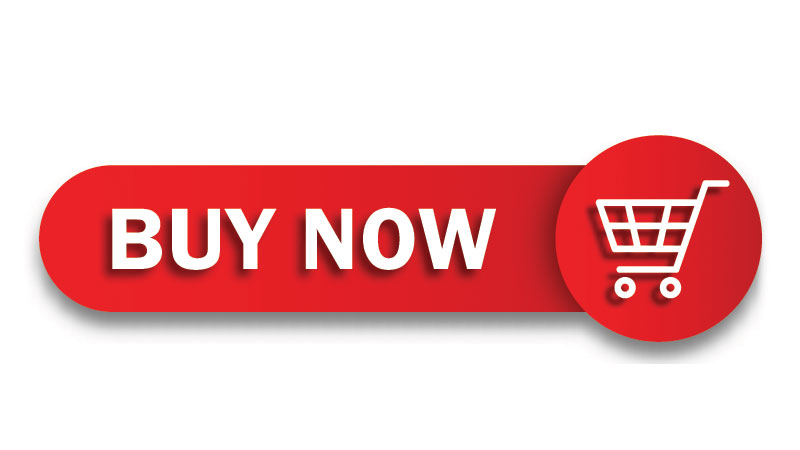 Tramontina Fry Pan Stainless Steel Tri-Ply Clad 12-inch, 80116/007DS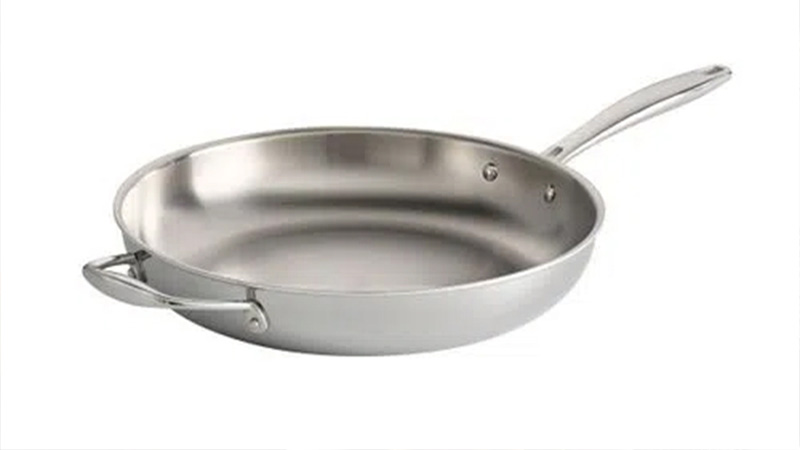 Both professional and novice cooks need a reliable fry pan. The Gourmet Tri-Ply Clad 12 in Fry Pan by Tramontina is designed for maximum performance and for cooking delicious savoury and sweet dishes. Flipping fluffy omelettes and crepes onto your plates has never been easier thanks to its three-layer structure, which enables heat from all sides, and an ergonomic handle. This product comes with many unique features, such as an ergonomic precision-cast mirror-polished stainless-steel riveted handle construction that offers a comfortable and secure grip for holding. In addition, it's compatible with all cooktops, including induction, and is dishwasher- and oven-safe.
| | |
| --- | --- |
| Pros | Cons |
| Tri-Ply Clad Construction | The usable cooking surface is only 8 inches |
| Durable and reliable | Expensive |
| Ergonomically designed | |
| Compatible with all cooktops | |
| Oven-safe up to 500°F / 260°C |  |
| Dishwasher safe |  |
| Lifetime warranty | |
Price: $68.89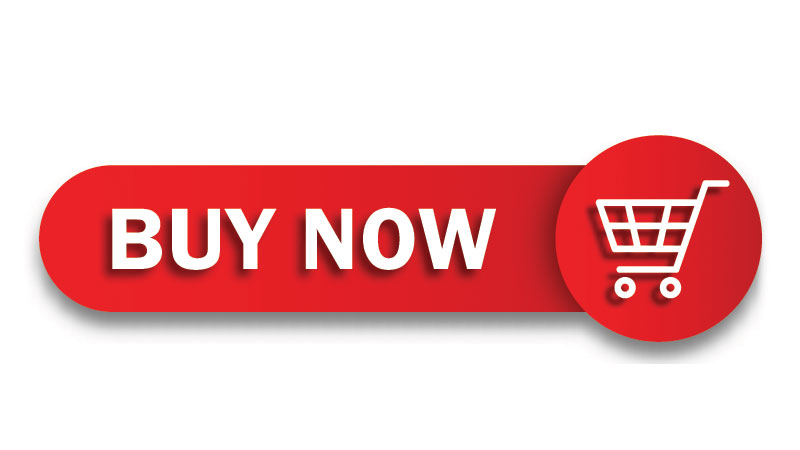 Lodge L14SK3 15-Inch Pre-Seasoned Cast-Iron Skillet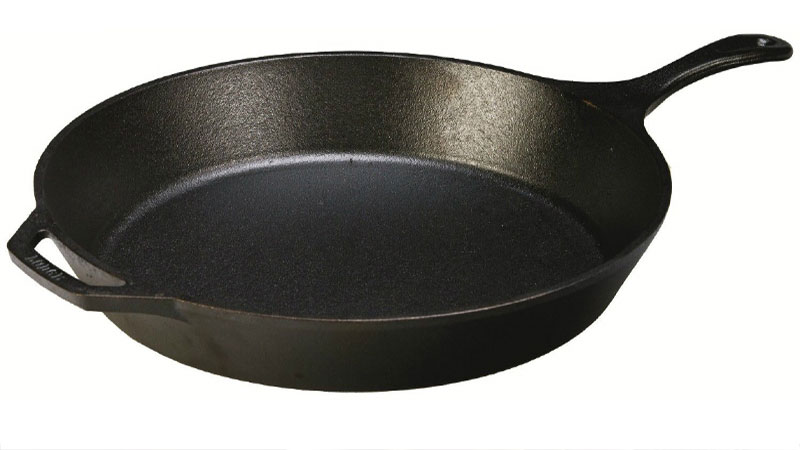 Impressive, yes, this Lodge L14SK3 15-Inch Pre-Seasoned Cast-Iron Skillet has all the features you need to cook your favourite breakfast or dinner meals. This cast iron pan is naturally seasoned and easy to use, and the cooking surface is nonstick and scratch-resistant, so you don't have to worry about food sticking or burning. You can use these skillets on any cooking surface, such as a home oven, a stovetop, a grill, or a campfire. In addition, this pan is oven-safe. Sauté, sear, fry, bake, and stir to your heart's content. It will not let you down. This pan is ideal for cooking fish because it is durable, sturdy, and heat-resistant. This product offers unparalleled heat retention and even heating. Its non-stick surface makes cleaning a breeze.
| | |
| --- | --- |
| Pros | Cons |
| Heat retention and even heating | Too heavy |
| Effective heat distribution | Ideal for large families, not for small families |
| Ideal for all cooking surfaces | No lid on the skillet |
| Oven-safe | |
| Durable last for a lifetime |  |
| Easy to clean |  |
Price: $78.95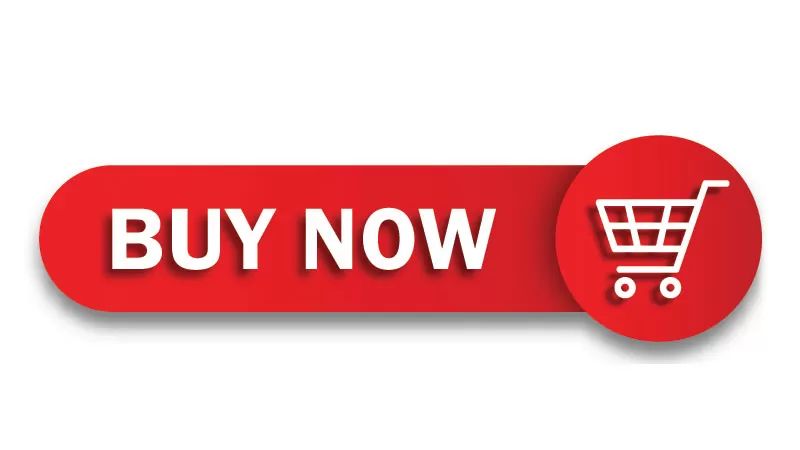 Final Feedback
Whether you're grilling, baking, searing, or pan-roasting fish, there's no perfect pan. However, these pans for cooking fish are designed to cook delicate food without burning or sticking. They are durable and reliable. It does not matter if you are looking for a cast iron pan, a carbon steel pan, or an all-clad stainless pan. These recommended pans are excellent for heat distribution and retention. Ultimately, the choice of pan depends on your budget, preferences, and requirements.
Also read: Winter is the best time of year when you feel comfortable cooking in a kitchen; try these healthy spicy snacks to curb mid-day cravings this winter!