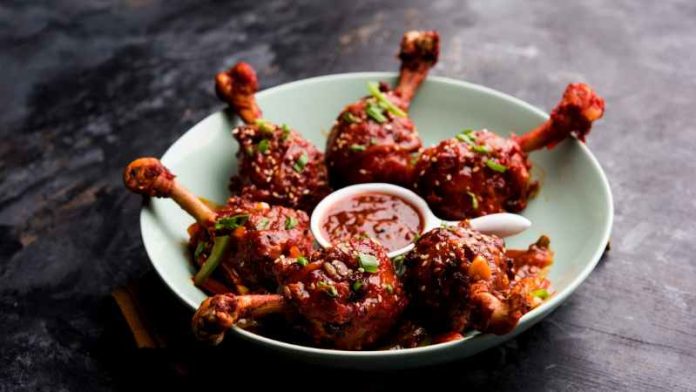 Everyone's favorite snack, especially children's, is lollipop chicken drumsticks. They're simple to make and delicious to eat. Whether you grill, bake, fry, or air fry them, they are delicious no matter how you prepare them. Their juicy meat and crispy top make them ideal for school lunch boxes. Although there are many recipes for lollipop chicken legs, our simple recipe is worth trying.
Drumsticks are the lower portion of a chicken's leg (the top part is the thigh). Because of their high potassium, protein, and essential mineral content, they are nutritious. When chicken drumsticks are trimmed at the bone joint and formed into handheld meat lollipops, they become even more enticing. Multiple seasonings and sauces enhance the meaty, juicy chicken's flavor, making it flavorful.
What Are Chicken Lollipop Legs?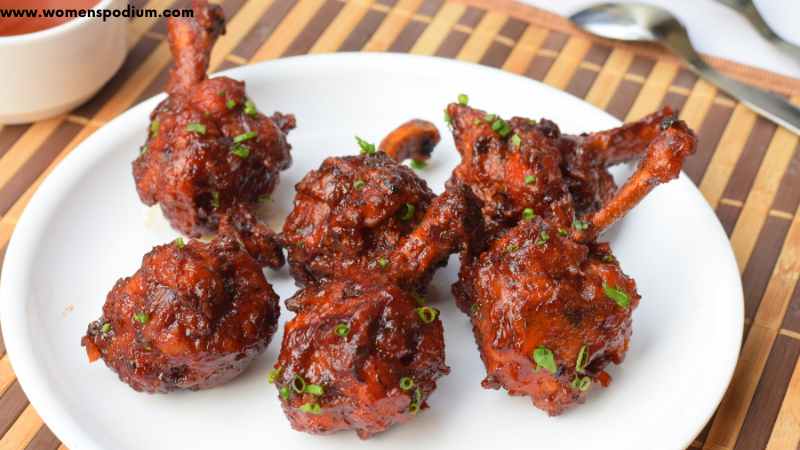 Lollipop chicken legs are a popular Indian appetizer in which meat is sliced free from the bone, seasoned, and pressed down on the bone to resemble a lollipop. It's a delicious appetizer for any occasion, including parties, family gatherings, and dinners. The majority of restaurants typically serve chicken noodles and Chinese rice together with chicken lollipops.
How To Prepare Chicken Lollipop
Chicken lollipops have various recipes. This recipe is easy to make and has a unique taste. Chicken lollipops are typically dished out with BBQ sauce or chili sauce. Homemade chili sauce, adds a special touch.
Ingredients
Chicken drumsticks – 12 pieces
Vinegar 2 tbsp
Garlic paste 1 tsp
Chili flakes 1 tsp
Salt 1 ½ tsp
Black pepper ½ tsp
Paprika powder 1 tsp
Coriander powder 1 tsp
Cumin powder 1 tsp
Hot sauce 1 1/2 tbsps
Boiled potatoes – 2 medium-sized
Eggs – 3
Bread crumbs 1 ½ cups
Cooking oil for frying
Ingredients For Chili Sauce
Water 1 ½ cup
Ginger and garlic paste 1 tsp
Salt 1 tsp
Red chili flakes 1 tbsp
Sugar 3 tbsp
Black pepper powder 1/2 tsp
Hot sauce 3 tbsps
Corn flour 2 tbsps
Water 3 tbsps
Direction For Chili Sauce
In a saucepan, combine water, ginger-garlic paste, salt, chili flakes, sugar, lemon juice, and hot sauce. When it starts boiling, turn down the flame and make a paste of cornstarch and water, then add it while stirring continuously. Cook until thickened and take off the flame.
Directions For Lolipop Chicken
In a bowl, add water, vinegar, and chicken, and set aside for 10 minutes. After 10 minutes, wash the chicken and cut the drumsticks into deep cuts. Add the chicken drumsticks and garlic paste to a boiling pot. Boil the chicken drumsticks in a pot or pressure cooker. Remove the meat from the bone after boiling the chicken. Finely chop or shred the chicken into smaller pieces with a sharp knife.
Add mashed potatoes to the chicken, then add salt, black pepper, chili flakes, paprika powder, coriander powder, cumin powder, and hot sauce. Mix well.
Make a ball with the mixture and insert a bone into it. Take the mixture and invert the inner part until it forms a lollipop. Repeat the same process with the others (you can also use an ice cream stick instead of a bone).
In a separate bowl, place eggs and breadcrumbs. Dip one lollipop stick in the egg mixture, then dip it in breadcrumbs. Heat the cooking oil and deep fry the chicken lollipops. Cook on medium heat until the lollipop becomes light to medium brown (2–3 minutes). Stir and flip sides as desired. Remove the drumstick and place it on the serving tray. Enjoy these delectable drumsticks with homemade chili sauce.
Conclusion
Lollipop chicken is hugely popular in Indian and Chinese restaurants. Another easy way to make chicken drumsticks is by marinating drumsticks or drumettes. Drumettes are typically served with BBQ or chili sauce, and they can be fried or baked. In this way, the chicken is not separated from the bone. This recipe is also easy to make. Try the lollipops chicken legs recipe and let us know what you think.
Also Read: Chicken is ideal for a ketogenic diet plan because it's nutritious and easy to make. Try this Indian chicken curry(murgh kari), one of the most crowd-pleasing recipes.