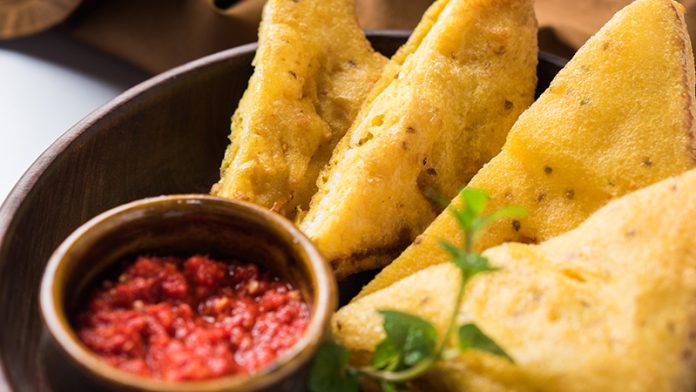 Trying new cooking experiments sometimes turns out to be the best recipe you have ever tried. One day with these hit and trial methods ended me making potato-cheese stuffed bread pakoras. Who doesn't love bread pakoras; it is a quick, easy and tasty recipe that almost every Indian household makes.
How To Make Yummy Bread Pakoras?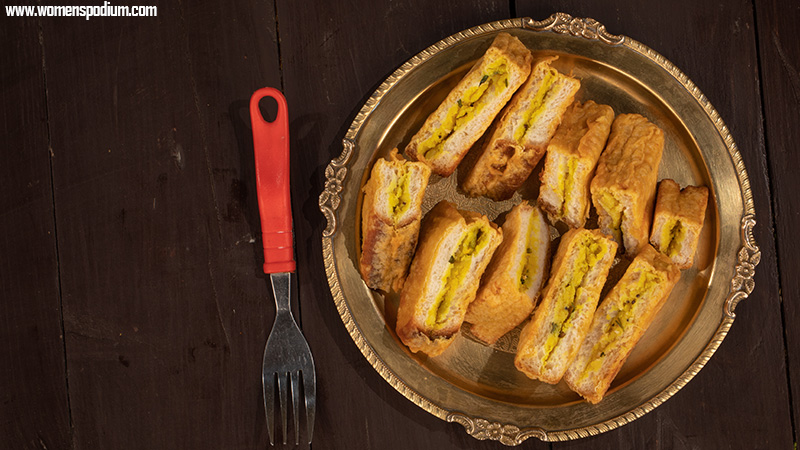 If you are tired of the same old traditional way of making bread pakoras, try this slightly enhanced version of bread pakoras. This tea-time snack: potato-cheese stuffed sandwich, is my family's favourite tea-time snack, which I often make. Usually, bread pakoras are stuffed with a filling of boiled, mashed potatoes, but by adding cottage cheese and processed cheese, you can simply come out with a new recipe. Check out the recipe for this crisp bite; it has a different taste, my family and I enjoy this a lot, and you too can try it at least once for a change.
Ingredients
Bread slices: 6
Potatoes (boiled and mashed): 5 medium-sized
Onion: 2-3 finely chopped
Cheese slices: 6
Cottage cheese or paneer: ½ Cup
Grated processed cheese: ½ Cup
Green Chilies: 1-2
Black pepper: ½ tsp
Garam masala powder:½ tsp
Chat masala: ½ tsp
Dhania-jeera powder (coriander and cumin powder): ½ tsp
Salt to taste
For Batter
Gram flour (besan): 2 cup g
Turmeric powder:¼ tsp
Garam masala powder:½ tsp
Red chili powder: ¼ tsp
Baking powder: ¼ tsp
Ajwain (carom seeds): ¼ tsp a
Water: 1 cup
Salt to taste
Oil (for frying)
Method
For Stuffing:
Put the pan on flame; now add oil.
Add onion and fry it till it gets transparent on a low flame.
Meanwhile, mix mashed potatoes and green chilies in a bowl.
When you see the onion turns translucent, add all the spices and salt to it.
Stir it for a while now, add the mashed potato and chilies, and mix it well for 2 minutes.
Finally, add half a cup of the grated cottage and processed cheese into the mixture and mix well.
Now your mixture is ready, put off the flame and let the stuffing get cool for a while.
For Frying
In another bowl, take gram flour and add small tsp salt, baking powder, red chilli powder, turmeric powder, garam masala powder, and ajwain. Now add water to make a thick batter.
Cut the bread slice into half so it can be two pieces.
Now put half slice of cheese and then spread a layer of potato mixture on the bread slice.
Place another half cheese on the top of the potato mixture; now put processed cheese on it.
Now close it by placing the other half of the bread slice, and press it gently.
Dip the stuffed bread into gram flour batter and deep fry from both sides till it turns into golden brown
That's it, and your stuffed potato-cheese bread pakoras are ready to eat. Sprinkle chat masala over it and enjoy with tomato ketchup or coriander green chutney.
Also Read: if you are a cheese lover yourself or you have people at home who love cheese, then here is the recipe of cheese stuffed potato balls.