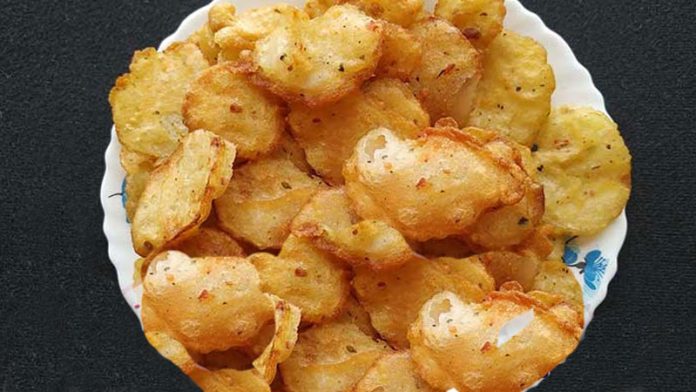 Aloo pakora is one of the most popular pakora recipes cooked in every Indian household. Most people love to savor a variety of pakora during the monsoon or whenever it rains. The same goes with me, too; I just adore this yum teatime snack whenever I crave potato chips or potato wedges or French fries. But I make it without gram flour; to me, this aloo pakora tastes far better than aloo pakoras made from gram flour (besan) batter.
My Story Behind Aloo Pakora Without Besan
It's a flashback memory; the very first time I tried this snack was when my son was in class 2. Every Friday was a 'Free Food Day' in his school, where he can bring anything except a traditional Indian lunch meal. He used to secretly wish for something tasty on this very day. One day I thought to make aloo and bread pakora for him, but my kitchen rack was out of gram flour. We know that necessity is the mother of invention, and voila, I came up with this crunchy potato pakora recipe. Let's check out the recipe.
Also Read: If you are a fan of Indian snacks, try making Gujarati moong dal vada or Paneer pakora, they are easy to make and tasty enough to touch your soul.
How To Make Aloo Pakora Without Besan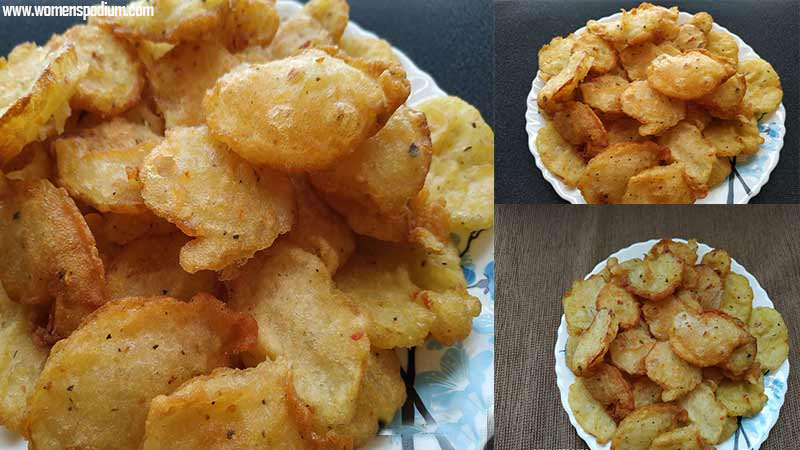 Recipe type: Snacks
Cuisine: Indian
Serves: 2-3
Ingredients
Potatoes/aloo:3 medium-sized
All-purpose flour/ refined flour/ maida: 1 cup
Rice flour: 3 tbsp
Semolina/suji: 4 tbsp
Corn flour: 3 tbsp
Chilli flakes: ¼ tsp
Mixed herbs: ½ tsp
Red chilli powder: ½ tsp
Chaat masala: ½ tsp
A pinch of baking powder
Salt to taste
Water
Oil for deep frying
Seasoning
Chat masala: According to the requirement
Black salt: A pinch of
Pepper (ground): As much needed
Instruction/Direction
Peel the potato skin and slice thinly.
Put in cold water for 2-3 minutes and then rinse in cold water to remove the potatoes' starch.
Now keep them in a kitchen towel, pat dry and remove excess water. Keep aside.
Now, take refined flour, corn flour, rice flour and semolina in a mixing bowl to prepare flour batter.
Further, add chilli flakes, mixed herbs, chilli powder, chaat masala, and salt.
Combine all the ingredients well and add water and whisk smooth.
Make a smooth batter without forming any lumps, just like you make for besan pakora; the consistency of the batter should be the same as that of besan batter.
Now, add a pinch of baking powder and mix in the batter gently.
Dip the sliced potato into the prepared flour batter, and coat it thoroughly.
Take a round-shaped deep Kadai for deep frying the aloo pakora. Pour oil into it and let the oil turn completely hot.
Drop batter-dipped potato slices one by one into the hot oil; after a minute, slow down to medium flame, and deep fry in hot oil.
Ensure to stir and infrequently flip to fry on both sides.
Deep fry the potato pakoras till they turn light golden brown.
Finally, the aloo pakora recipe is ready to serve on your snack platter.
Garnish it with chat masala, black salt and pepper and serve it with tomato sauce.
So, try out this once, I guess many of you might have tried this, but around my circle, I have not seen anyone making aloo pakora without besan as I do.
Also Read: If you are looking for healthy snacks or healthy dinner ideas, try these heart-healthy foods, avoid these salad dressings, and read these myths and facts about eating fruits.