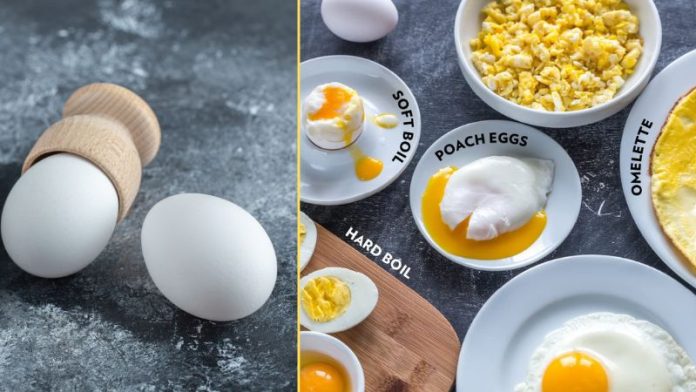 Eggs are an excellent source of protein, a simple, nutritious breakfast choice and the best way to start your day. For thousands of years, people have consumed eggs because they are naturally rich in vitamin B2 (riboflavin), vitamin B12, vitamin D, selenium and iodine. Besides these, one can cook eggs in a variety of ways, from a classic scramble to a flavored omelet. When it comes to boiling eggs, you need expertise. If you struggle to make soft, medium, or hard-boiled eggs, then the time has come to invest in a reliable egg cooker.
Rather than waiting for water to boil, opt for an electric egg maker that steams your eggs according to your preferences without ruining your morning routine. Additionally, egg cookers can prepare poached eggs and vegetables. This trusty kitchen gadget makes your morning as swift as you want it to be.
What is An Egg Cooker?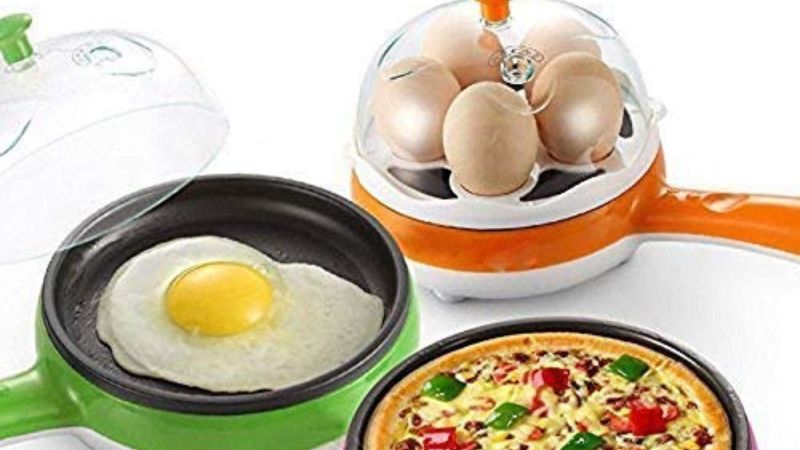 An egg cooker is a compact and easy-to-use kitchen appliance that cooks eggs, including poached and boiled eggs. Additionally, some egg-making machines come with trays for cooking scrambled eggs and omelettes. An egg cooker is highly beneficial for parents with small kids or working moms who want their kids to have nutritious breakfasts.
Besides cooking hard-boiled eggs and other breakfast favourites, the egg cooker can steam vegetables. The process of making hard-boiled eggs is simple. Just add the desired amount of water, then set your timer. When the beeps signal it's done, simply open the lid, and your cooked meal is ready to eat.
How to Choose the Best Egg Cooker? – 3 Best Egg Boilers
There are a variety of egg makers available in the market. An egg maker capable of poaching and boiling eggs is sufficient for an average household. A few egg cookers work with microwaves, and multifunction egg cookers work as steamers and slow cookers. Let's look at our favourite recommendations if you are looking for a reliable egg maker.
BELLA Rapid Electric Egg Cooker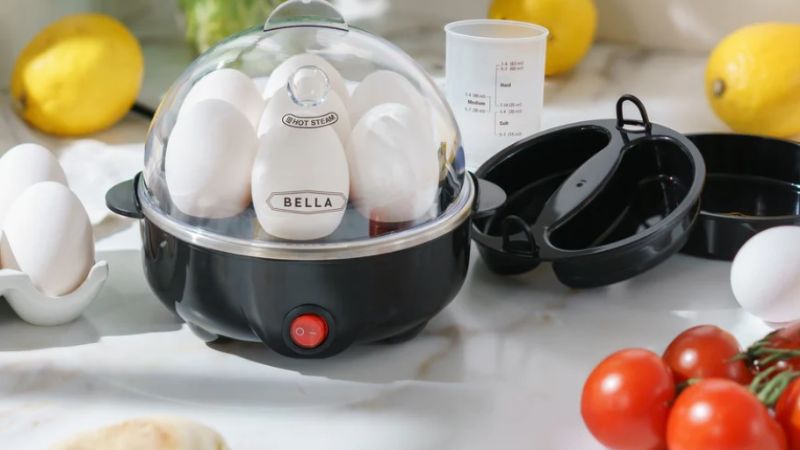 Whatever your choice is of eggs, whether it's a soft boil, medium boil, or hard boil, or a poached egg or an omelette, with its seven slots and excellent performance, the Bella Rapid electric egg cooker offers you various breakfast options. You can cook up to 7 whole eggs, 2 poached eggs, or an omelette on the interchangeable tray.
This product comes with a clear lid, tray, and measuring cup that is easy to clean and dishwasher safe. More importantly, the Bella egg cooker provides an indicator light and an automatic shutdown function that beeps when eggs are done. The compact design makes it very easy to adjust to a kitchen counter. It comes in 4 different colours, so you can pick one that matches the decor in your kitchen.
| | |
| --- | --- |
| Pros | Cons |
| Easy to operate | Uneven cooking |
| Indicator light | Low capacity |
| Auto-shutoff button | The cord is short |
| Compact design | |
| Dishwasher safe | |
| Two interchangeable trays | |
Price: $15.70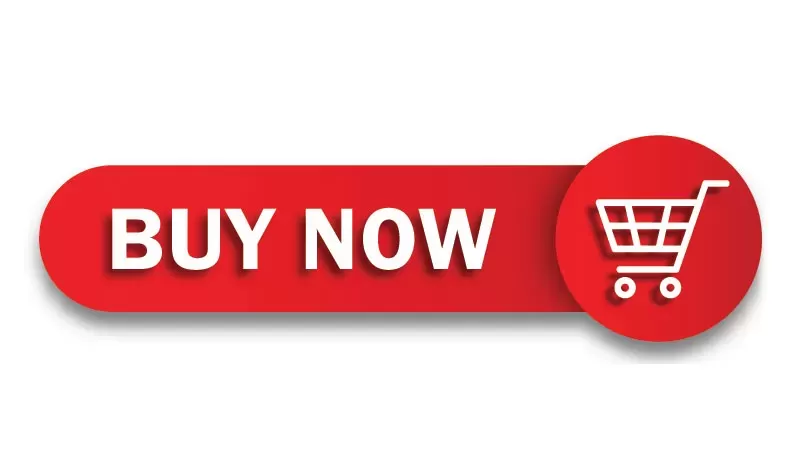 DASH Rapid Egg Cooker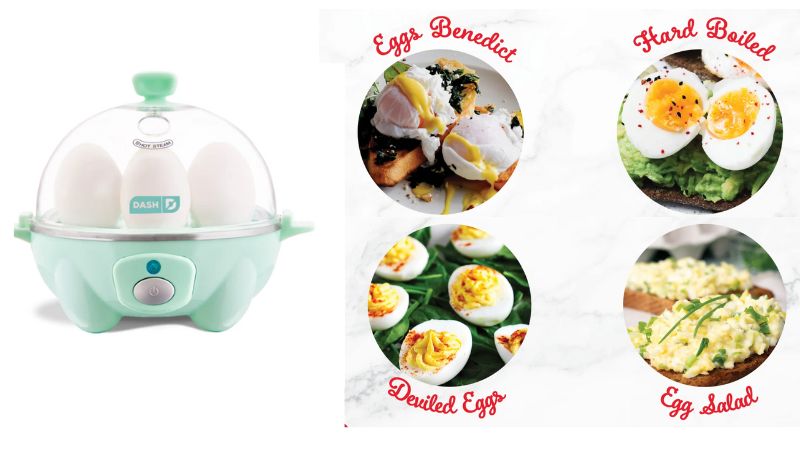 If you're looking for an affordable and reliable egg maker that is ideal for picky eaters and busy families, then the best and most trusted option is the Dash rapid egg maker. In addition to hard-, medium-, and soft-boiled eggs, you can make individual omelettes, two poached eggs, and scrambled eggs with this egg steamer. More importantly, it's compact, lightweight, and takes up barely any space on the kitchen counter. This product comes with a measuring cup, a poached and omelette tray, as well as a six-egg tray. The parts are dishwasher-safe and easy to clean. This product comes with an indicator light that shows that eggs are ready.
| | |
| --- | --- |
| Pros | Cons |
| Easy to clean | Low capacity |
| Dishwasher safe | Not for larger families |
| Compact and lightweight | Plastic made body |
| Audible timer | |
Price: $19.99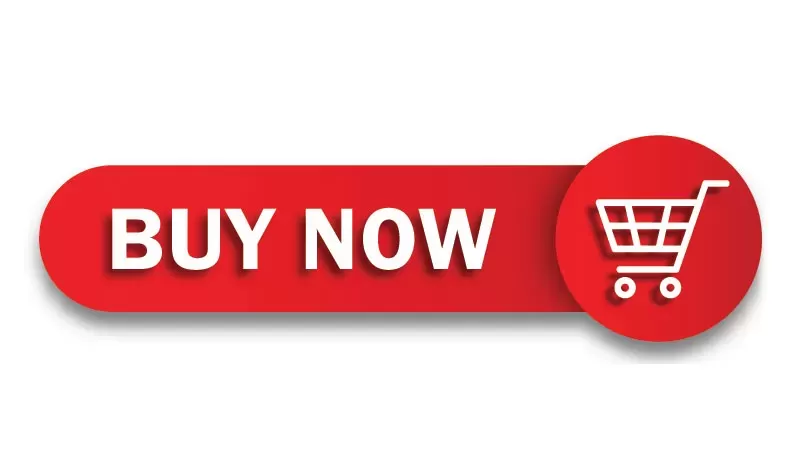 Hamilton Beach 3-in-1 Egg Cooker with 14 Egg Capacity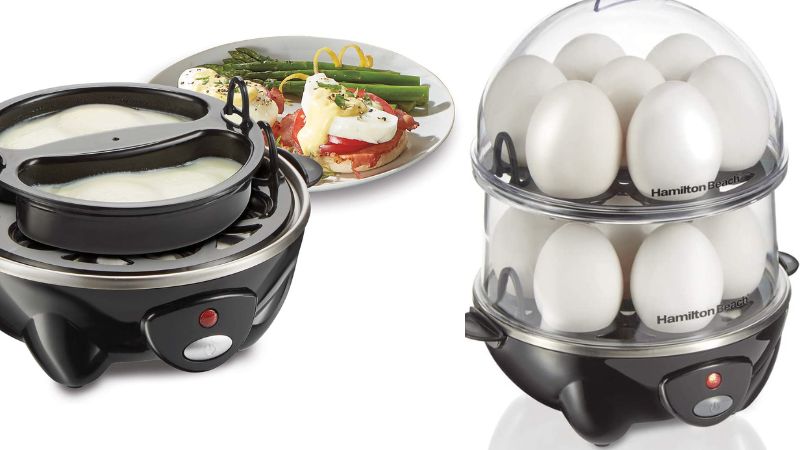 Forget cooking eggs on the stovetop if you have the Hamilton Beach 3-in-1 Egg Cooker. Whether you like omelettes, poached eggs, or boiled eggs, this product has it all. It's ideal for hectic weekday mornings and for family brunches on the weekends. You can prepare up to 14 hard-boiled eggs in this cooker. It's never been easier to make boiled eggs in such quantity without any hassle. Even omelettes without oil are easy to cook; just whip two eggs, add cheese and your favourite vegetables, steam water, and place the omelette on a non-stick tray, and the rapid egg cooker will finish the task.
By using this egg cooker, you can save time and effort and avoid the hassle of making poached eggs on the stove. In addition, this egg maker comes with a dishwasher-safe measuring cup, separate trays for hard boiling, poaching eggs, and a steaming bowl for steaming vegetables and preparing omelettes. It also has an indicator light and a beep to alert you when eggs are cooked.
| | |
| --- | --- |
| Pros | Cons |
| Easy to operate | Quite expensive in comparison to many others |
| Ideal for making poached eggs and omelets | No auto-shutoff |
| Indicator light and sound alert | |
| Good choice for a large family | |
Price: $27.99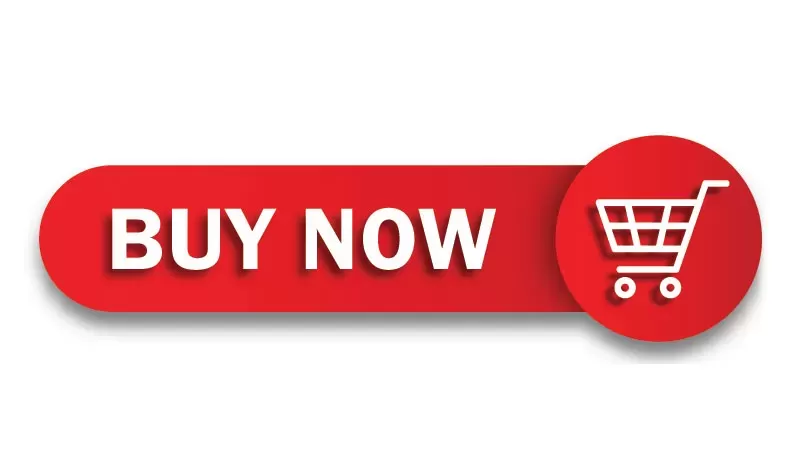 Final Verdict
The egg cooker is a compact and easy-to-use kitchen appliance that makes breakfast more effortless in the morning. It cooks eggs perfectly and is a must-have for anyone who enjoys eggs. Furthermore, they are ideal for gatherings with family and weekend brunches because they are portable, quick, and hassle-free. You must consider our recommendations if you are looking for a reliable egg cooker.
Read Also: Winter is the best time of year when you feel comfortable cooking in a kitchen; try these healthy spicy snacks to curb mid-day cravings this winter!
·