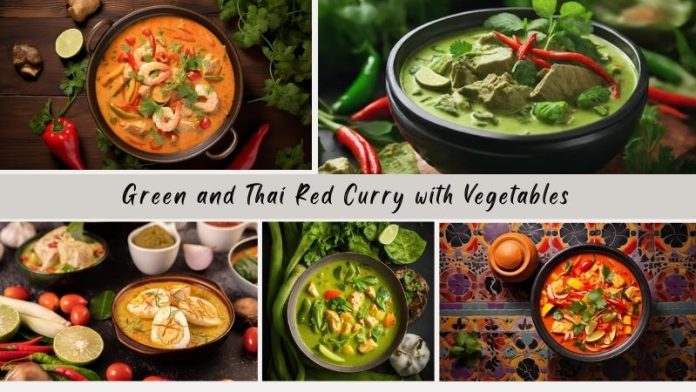 If you're planning a gathering for your loved ones, why not explore a nutritious, delicious option and a different cuisine? Give Thai curry a try, well-known for its aromatic and satisfying flavours. Thai cuisine has recently gained widespread global popularity due to its distinctive blend of sweet and savoury flavours, allowing people to experience a rich Thai culinary heritage. You can make tasty Thai curry with a balanced mix of sweet, spicy, savory, and tangy elements. Thai curry offers boundless culinary creativity, whether you like vegetables, meat, seafood, vegetarian tofu, legumes or Thai herbs and spices such as lemongrass, Thai basil, and chilli peppers. Most Thai curries include coconut milk, mainly in curries and desserts, giving the dishes a creamy and subtly sweet texture. With their rich flavours, all these ingredients elevate the taste and offer a wholesome dining experience. Thai curry has its charm; be it a Red Thai curry with vegetables or a green Thai vegetable curry, you will love it. You can try it for lunch, dinner, or even as leftovers for the next day.
What Type Of Food Is Curry?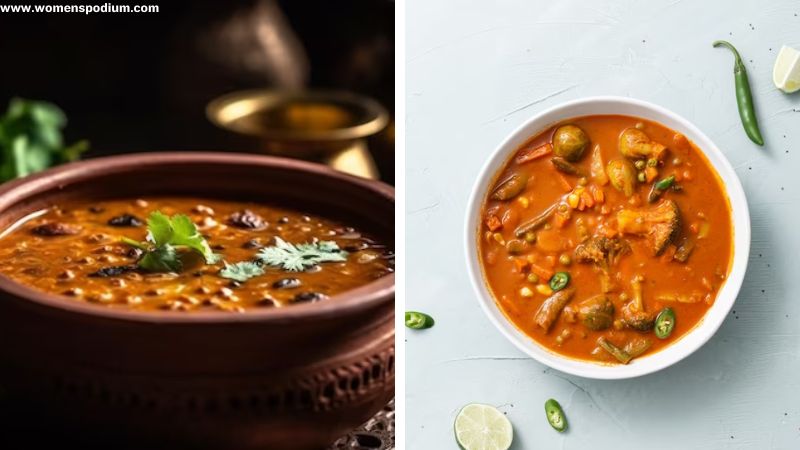 Curry is a popular and delicious dish enjoyed around the world. They are quite familiar with various cuisines, especially in South Asia, Thailand, and the Caribbean. Every country has its own way of making curries with spices and ingredients. It is cooked with diverse ingredients depending on the region and usually contains spices, herbs, vegetables, and meats. They can be mild, spicy, creamy, tomato-based, coconut-based, or broth-like, offering a range of alternatives and allowing you to explore different extents of this culinary treat. Curries are often served with rice or naan bread.
Which Is More Popular, Red Or Green Thai Curry?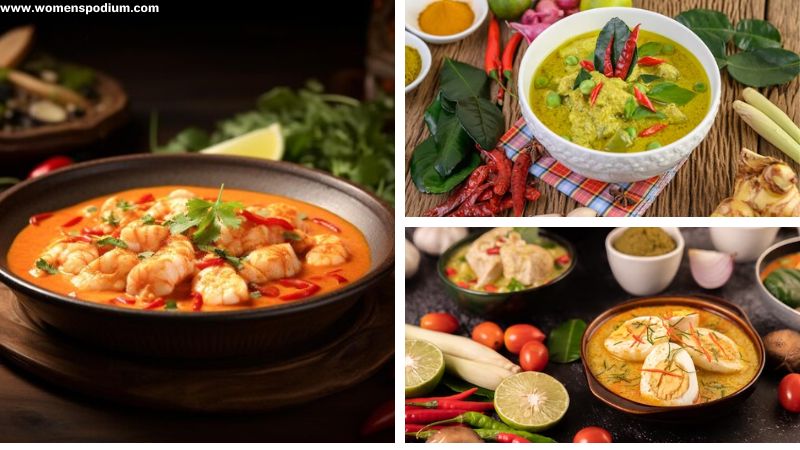 Thai curry is of three types: yellow, red, and green. Usually, the red curry is the spiciest, and the green one is mild. Yellow curry is between these two, with a mild to medium spiciness. Although all curries are widely popular and enjoyed, some people like the spiciness, while others like the sweet, creamy, mild flavour. Although it depends on personal and regional preferences, green curry is more popular than the other two because of its balance and rich flavours.
Which is Hotter, Red or Green Thai Curry?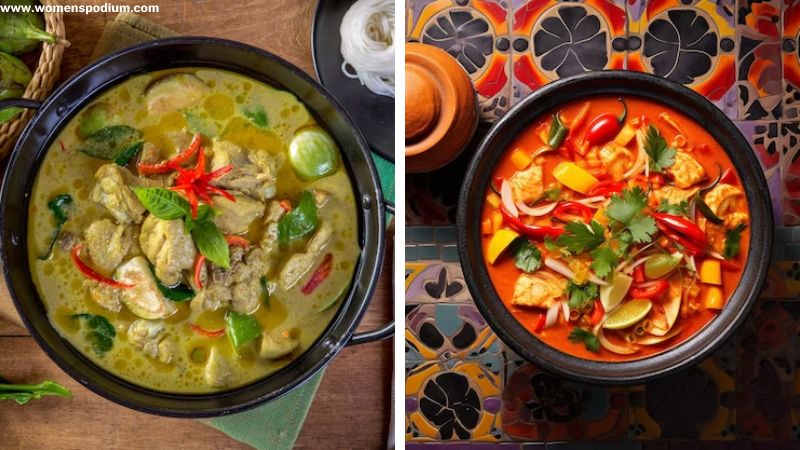 Red Thai curry gets its heat from red chilli peppers, a key ingredient of red Thai curry. This curry also includes garlic, ginger, lemongrass, and shallots for flavour. Coconut milk balances the heat, creating a balanced, flavorful curry, mainly served with jasmine rice, a widely used type of Thai rice, but for me, it goes perfectly with sticky rice. Red curry is hot and more popular in northern Thailand than green curry and is my personal favourite, too.
Quick And Easy Recipe Of Red Thai Curry With Vegetables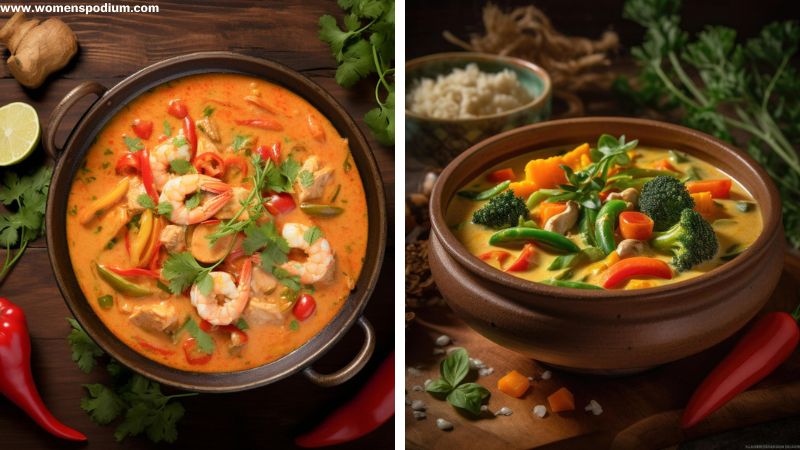 Red Thai curry with veggies is simply perfect for people who love vegetables and are tired of chicken or non-veg recipes. The dish combines a rich, spicy sauce with fresh vegetables for a delicious and flavorful taste. If you want a vegetarian and non-vegetarian combo in your Thai curry, just add tofu, chicken, shrimp, or any other protein you like for a healthier meal.
Ingredients
Vegetable broth (1 cup)
Sliced mushrooms (1 cup)
Broccoli florets (1 cup)
Yellow bell pepper (1 sliced)
Red bell pepper (1-sliced)
Baby corn (1/2 cup)
Eggplant (1 small) (cut into small bite-sized pieces)
Coconut milk (1 cup).
Red curry paste (3 tbsp)
Soy sauce (1 tbsp)
Vegetable oil (1 tbsp)
French peas (1/4 cup).
Brown sugar (1 tbsp)
Fresh basil leaves (for garnish)
Cook rice (brown or white) or noodles for serving
Instructions
Heat vegetable oil over medium heat and stir-fry the red curry paste for about a minute until it becomes fragrant.
Add the vegetables to the red curry paste. Stir-fry for 2–3 minutes until they are well-coated with the red chilli paste.
Pour the coconut milk and vegetable broth, churning until the liquid is thoroughly blended with the red curry paste.
Add the soy sauce and brown sugar, then allow it to simmer for 5 minutes.
Continue cooking for 8–10 minutes until the vegetables reach a tender yet crisp texture.
Remove the pan from the heat, and serve with your choice of rice or noodles. Enjoy!
Green Thai Vegetable Curry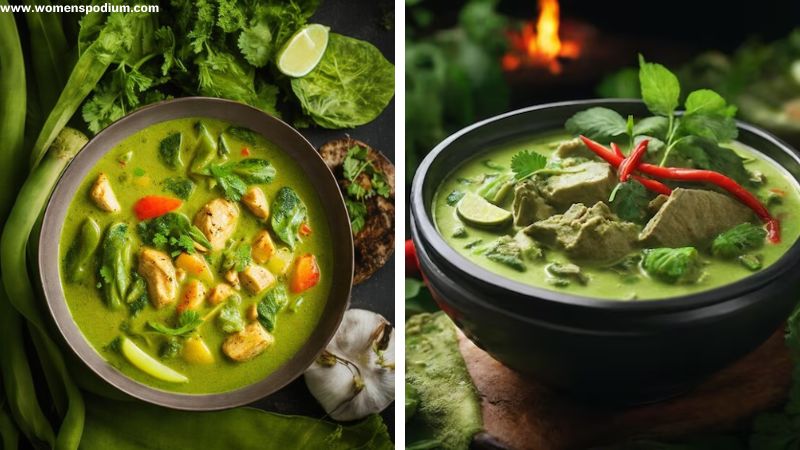 Thai green vegetable curry is the most appropriate choice if you love mild curry recipes. It combines a blend of aromatic ingredients like lemongrass, green chillies, and basil with coconut milk, resulting in creamy, spicy, and fragrant curry with a pleasant balance of flavours.
Make your own green Thai vegetable curry and customize it with vegetables of your choice; the best thing is you can also make it spicy or mild to your taste.
Ingredients
Coconut milk (1 cup)
Green curry paste (2 tbsp)
Vegetable oil (1 tbsp)
Onion (1 small) (thinly sliced)
Garlic (2 cloves minced)
Vegetable broth (1 cup)
Carrots (1 – medium-sized) (sliced)
Soy sauce (1 tbsp)
Brown sugar (1 tbsp)
Green beans (1 cup) (trimmed and halved)
Mushroom (1 cup, sliced)
Bell pepper (1 thinly sliced)
Tofu (1 cup, cubed)
Baby corn (1/2 cup)
Fresh basil or cilantro leaves for garnish.
Lime wedges for serving
Broccoli florets (1/2 cup)
Instructions
Heat oil in a large saucepan, add onion and garlic, and saute until fragrant and translucent.
Then add the curry paste to the pan and cook the green curry paste for 2 minutes. Then add the vegetables and tofu and mix with the green curry paste.
Pour in coconut milk and vegetable broth and stir well with curry paste.
Add soy sauce and brown sugar and stir well.
Let simmer for 10-15 minutes until vegetables are tender and crisp.
Remove from heat, garnish with lime wedges and basil leaves.
Serve with rice or noodles.
Final Words
Thai cuisine has become famous in recent years. You can taste a blend of sweet and pungent flavours of Thai curry. Whether it's the fiery intensity of red curry, the aromatic depth of green curry, or the calm richness of yellow curry, each variant offers a unique flavour of Thai cuisine. With their balanced blend of spices, herbs, creamy coconut milk, and vegetables, Thai curries not only win your taste buds but also your senses. Red Thai curry with vegetables is treasured among those who love spicy food, and Thai vegetable curry is in demand for those who love aromatic and mild curries. So now, as the recipes are with you, try making it once at home and enjoy it with steamed rice or noodles to make it a complete dish. Do share your feedback.
Also Read: Are you worried children don't eat vegetables? Try 7 creative ways to feed vegetables to your kids. These creative ways will make your children love vegetables.