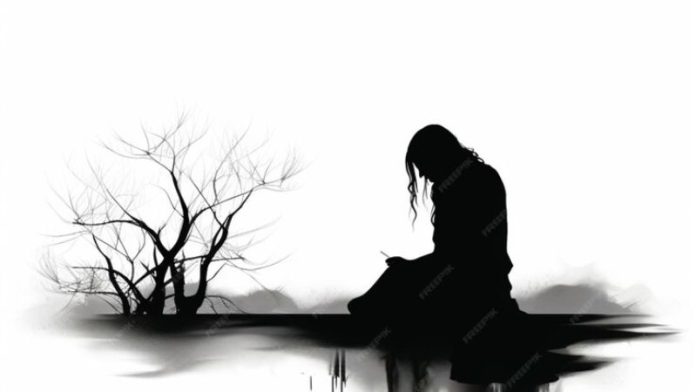 Each of us has experienced loneliness at some point in our lives. Loneliness refers to the feeling of isolation and emptiness that arises when one lacks social connections and companionship. As a social animal, humans require social connections to live peacefully. Aloneness can lead to a decline in both mental and social health. Therefore, individuals need to have social networks with others to lead fulfilling lives. These sad quotes about being alone will give you a better understanding of how loneliness manifests in a person and makes him feel lonely and unfulfilled.
Why Do We Feel Lonely?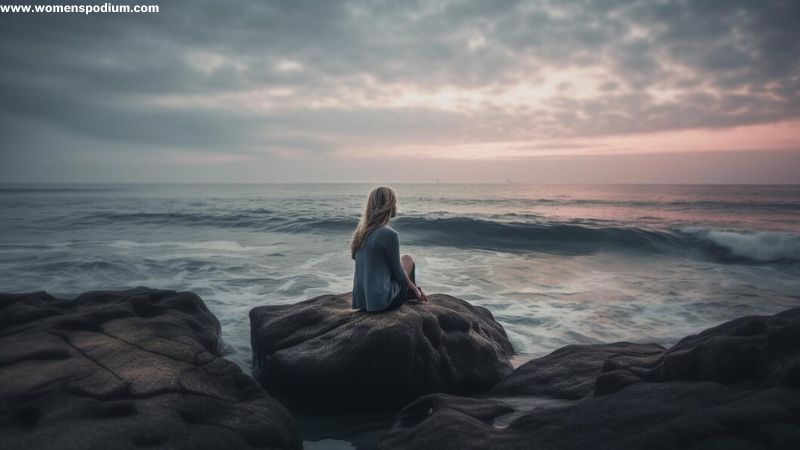 Loneliness arises from disconnection and separation from meaningful interactions with family and friends. Factors like an absence of social support, as well as physical or mental health challenges, can lead to isolation, as when you have no one to talk to, you begin to confine yourself and cage yourself, further cutting all your ties with your dear ones. Another reason for isolation can be a traumatic event or changes in life circumstances, where one may feel misunderstood or emotionally distant from those around them. Even one can feel abandoned after a painful breakup or being in a fake relationship. If you are in the right mindset and with a positive outlook, being lonely is perfectly okay because it allows for self-evaluation. However, prolonged loneliness can negatively impact one's health. So, be observant, seek a resort in good company and don't be alone any longer if you want to live a healthy life.
A Person's Well-Being and Loneliness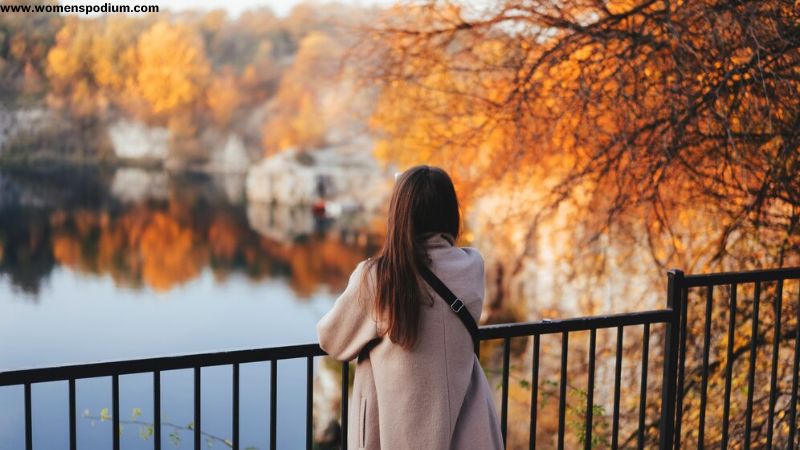 Loneliness is a common experience that can negatively affect one's life and bring physical and mental problems along with it. If a person's emotional well-being is imbalanced or disturbed, it can cause stress, sadness, despair, emptiness, anxiety, and depression. Additionally, loneliness can lead to physical health issues such as headaches, insomnia, and fatigue. It causes people to withdraw from activities they used to enjoy, leading to further feelings of isolation and loneliness. These quotes about being alone will help you understand what loneliness can do to one's mental well-being.
Sad Quotes About Being Alone: To Help You Deal With Solitude And Isolation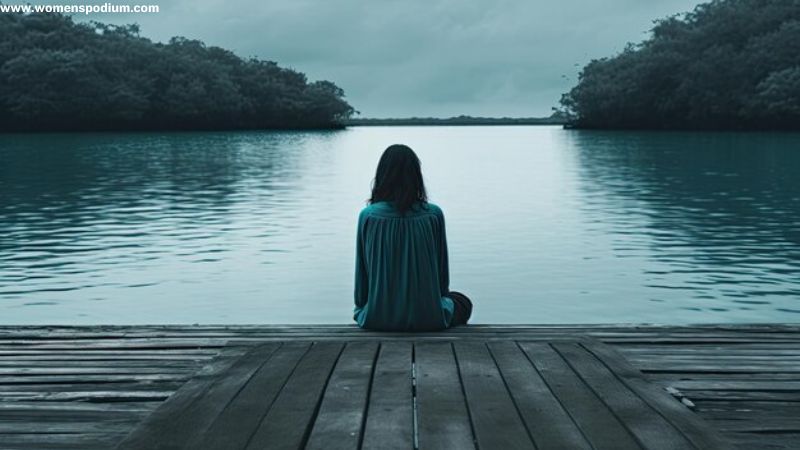 Loneliness is a prevalent feeling that can arise from different life events, such as the passing of a loved one, divorce, breakup or separation, and it may lead to depression and anxiety. Fortunately, there are many ways to deal with depression and anxiety stemming from loneliness, such as confiding in someone about how you feel, prioritizing your physical health, participating in activities you enjoy or reading motivational quotes on loneliness and constructive, inspiring articles. Also, try practicing self-care and kindness toward yourself during this challenging period. Let's check out these sad quotes about being alone to understand what loneliness is and how it affects a person.
Life is full of misery, loneliness, and suffering – and it's all over much too soon.

— Woody Allen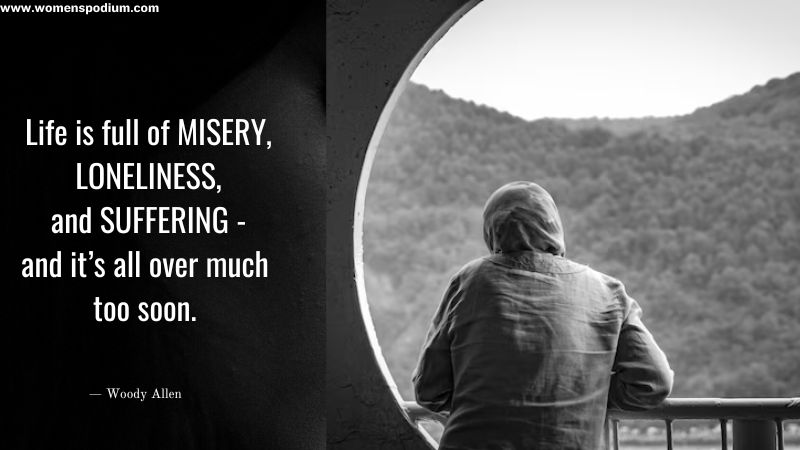 There are worse things than feeling alone. Things like being with someone and still feeling alone.

— M.W Poetry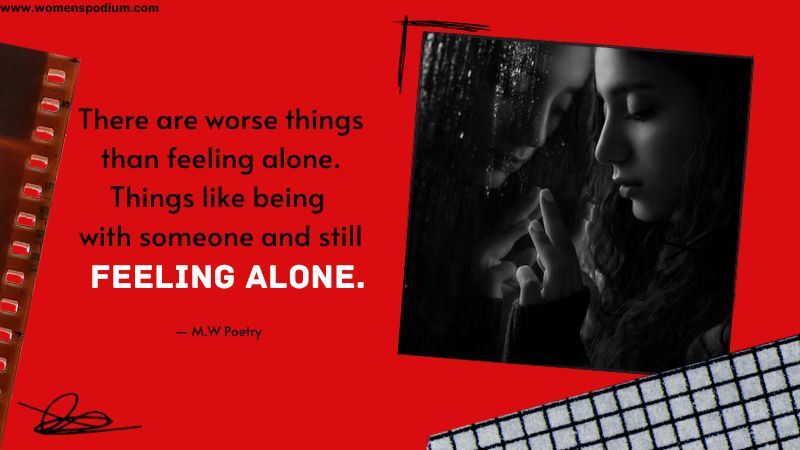 The most terrible poverty is loneliness and the feeling of being unloved.

— Mother Teresa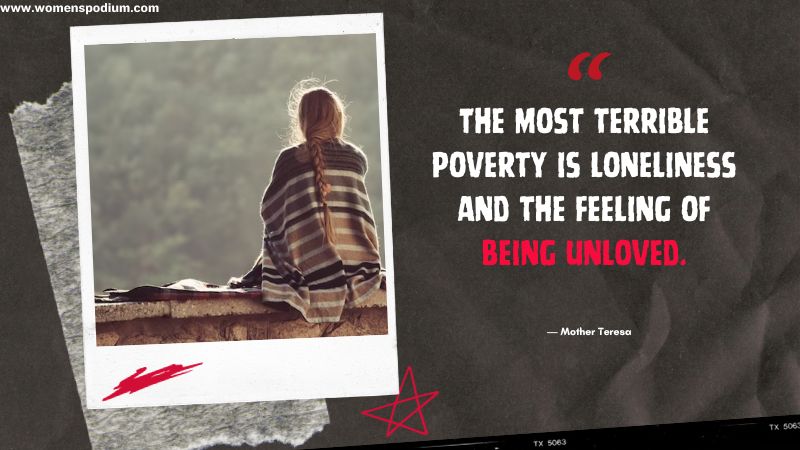 Absence makes the heart grow fonder, but it sure makes the rest of you lonely.

— Charles M. Schulz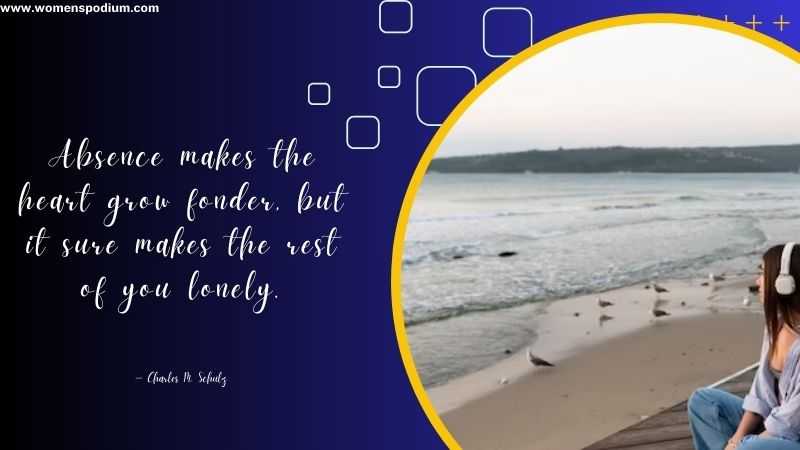 Sometimes being surrounded by everyone is the loneliest, because you'll realize you have no one to turn to.

— Soraya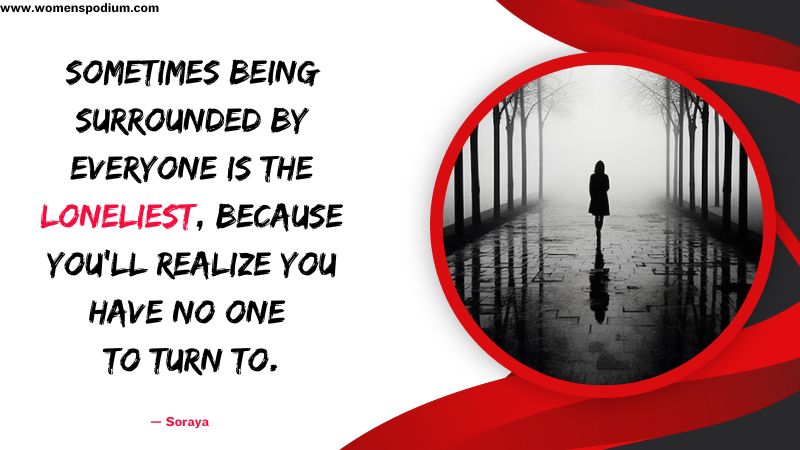 The time you feel lonely is the time you most need to be by yourself. Life's cruelest irony.

— Douglas Coupland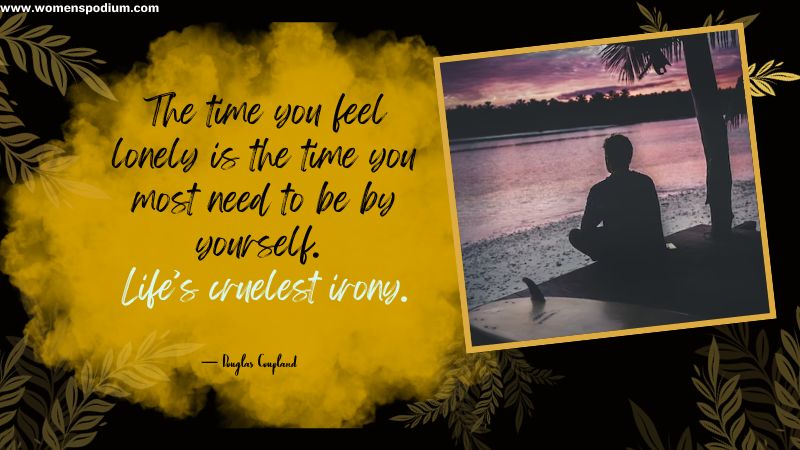 Yes, there is joy, fulfillment, and companionship, but the loneliness of the soul in its appalling self-consciousness is horrible and overpowering.

— Sylvia Plath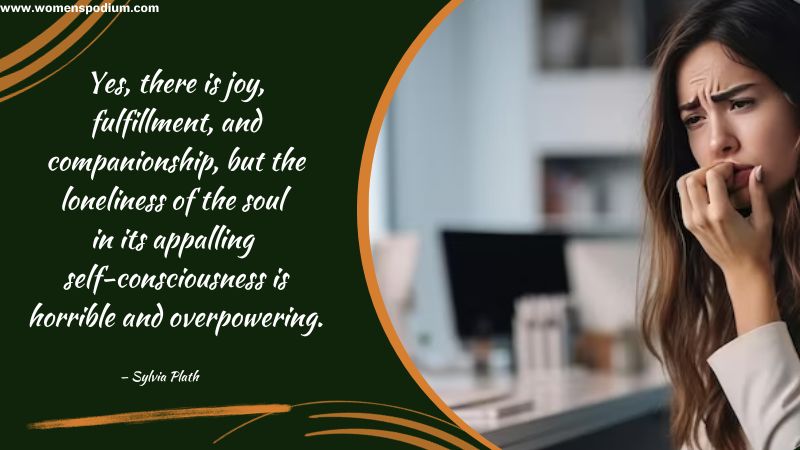 What makes us lonely are the feelings that we never share with anyone.

— Bunny Naidu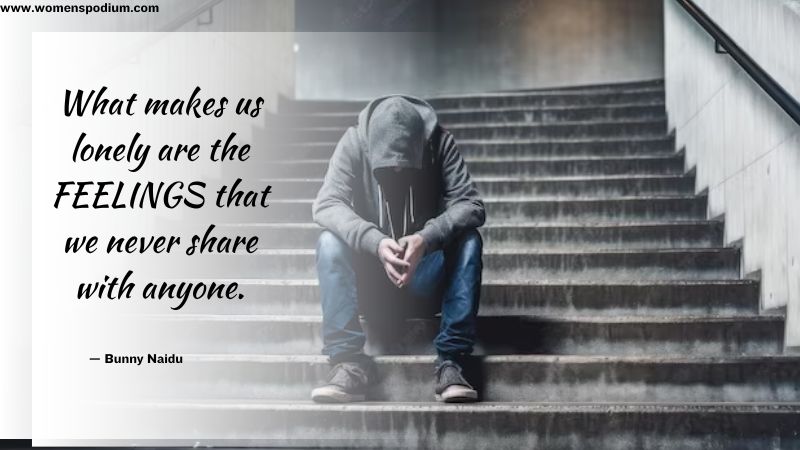 Loneliness is and always has been the central and inevitable experience of every man.

— Thomas Wolfe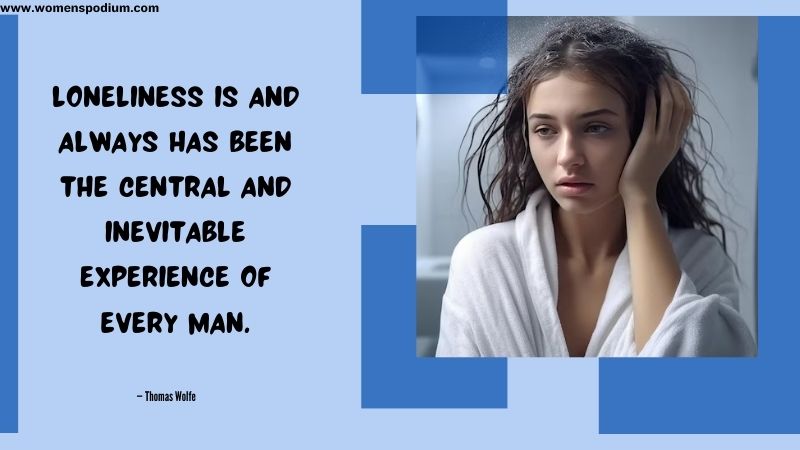 When we truly realize that we are all alone is when we need others the most.

— Ronald Anthony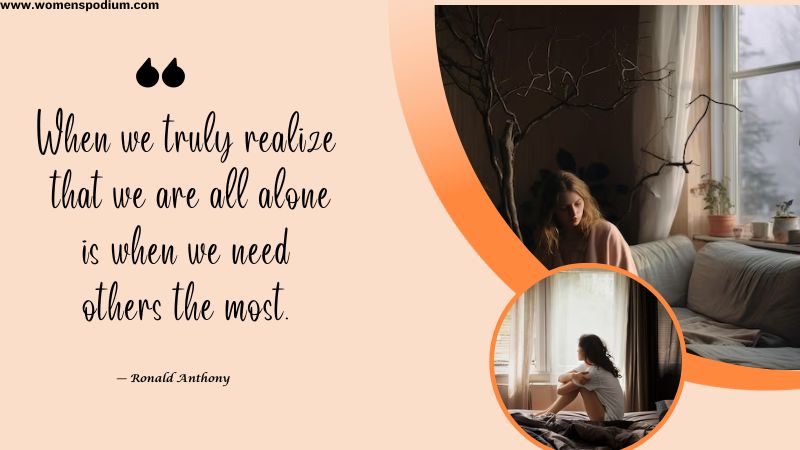 We are all so much together, but we are all dying of loneliness.

— Albert Schweitzer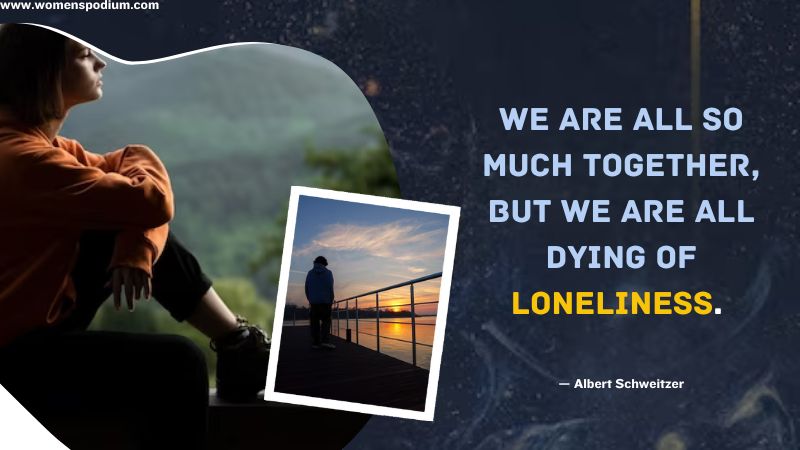 Over time, loneliness gets inside you and doesn't go away.

— Carlos Ruiz Zafón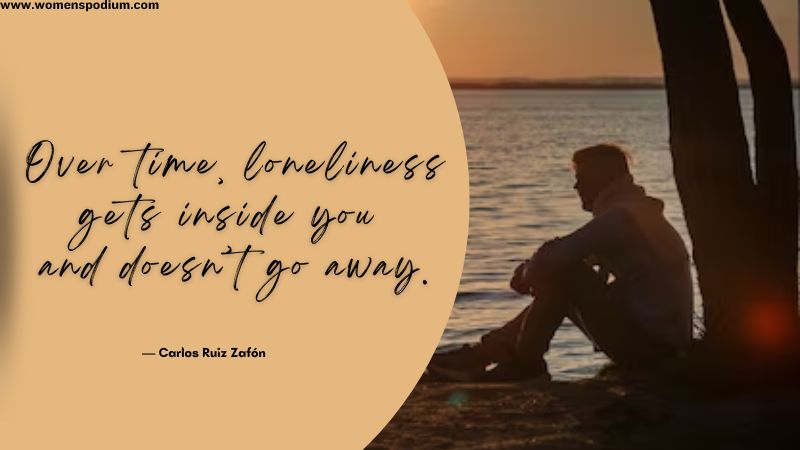 The real loneliness is living among all these kind people who only ask one to pretend!

— Edith Wharton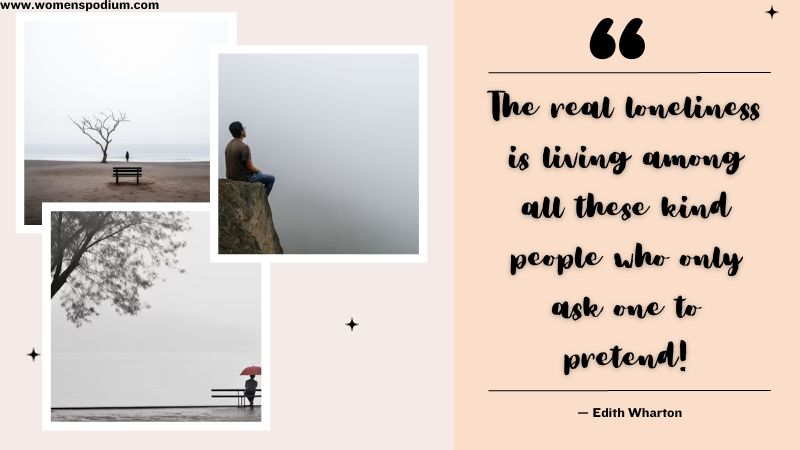 Loneliness becomes an acid that eats away at you.

— Haruki Murakami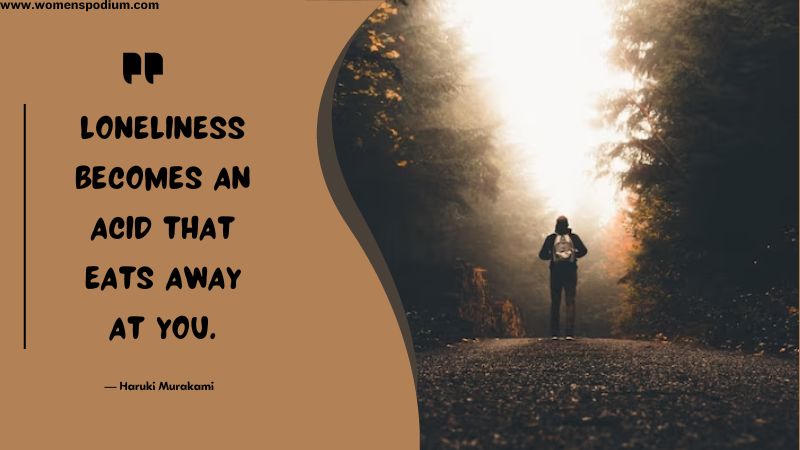 No one ever discovers the depths of his own loneliness.

— Georges Bernanos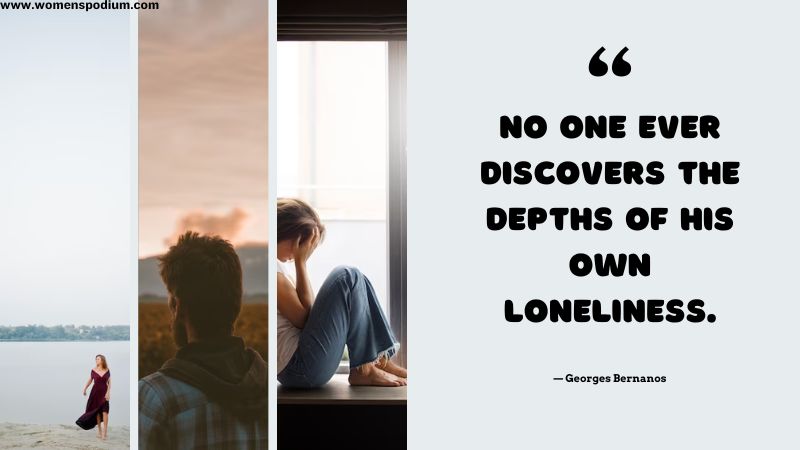 At the innermost core of all loneliness is a deep and powerful yearning for union with one's lost self.

— Brendan Behan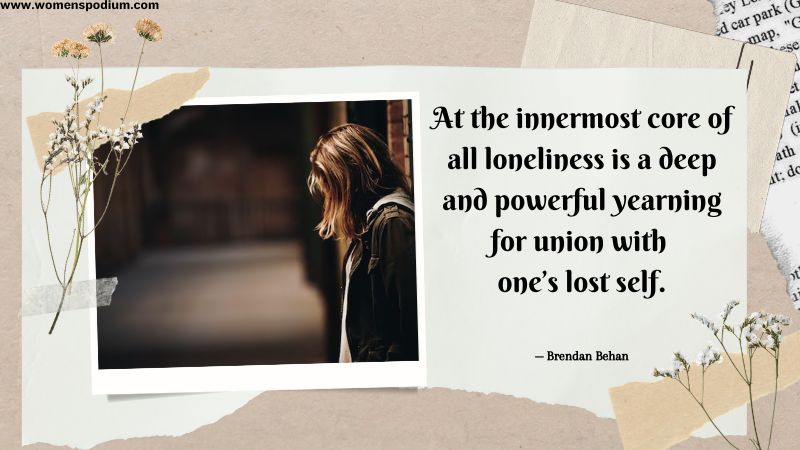 The worst thing about loneliness is that it brings one face to face with oneself.

― Mary Balogh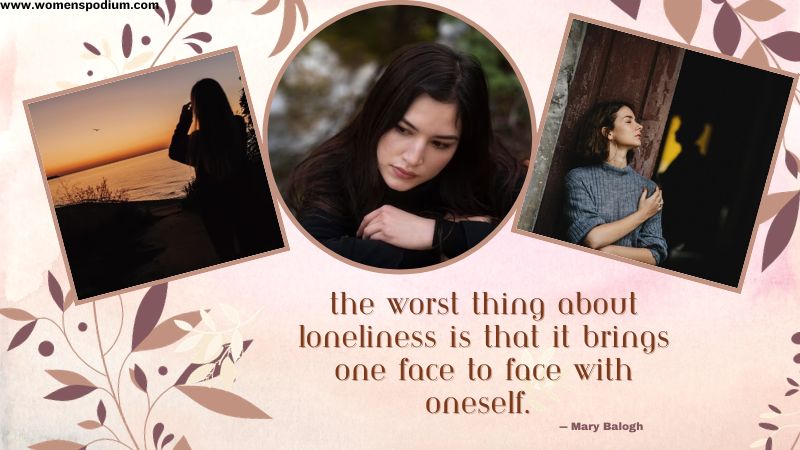 When the people you love are gone, you're alone.

— Keanu Reeves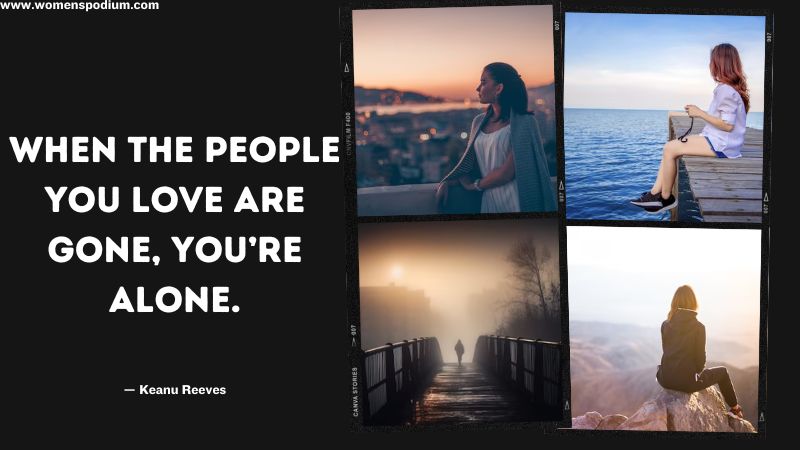 Loneliness is never more cruel than when it is felt in close propinquity with someone who has ceased to communicate.

— Germaine Greer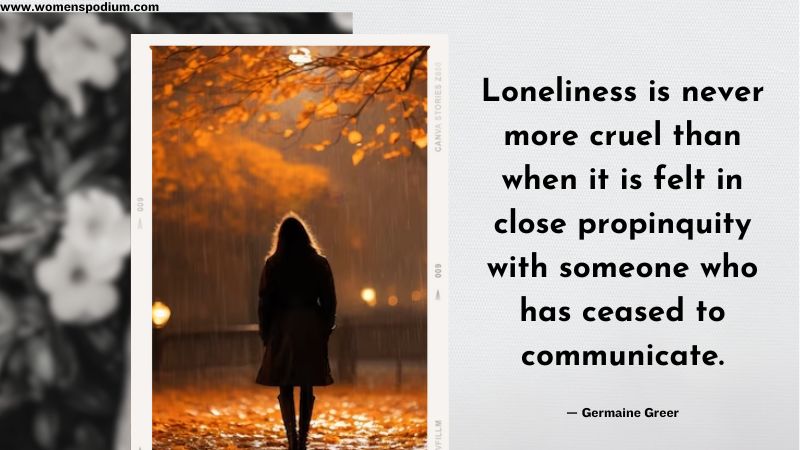 It is strange to be known so universally and yet to be so lonely.

— Albert Einstein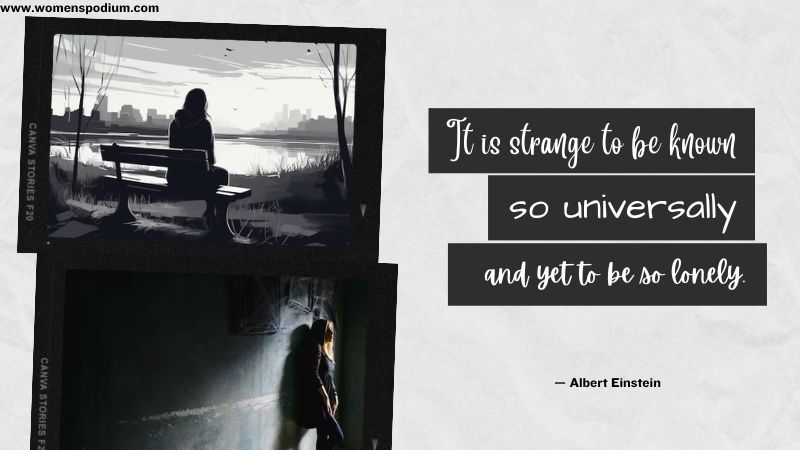 How To Deal With Loneliness?
Loneliness is a typical and across-the-board human emotion, and it's crucial to acknowledge it as it can be distressing and challenging if not dealt with on time. Ensure it isn't prolonged, and seek productive ways
and resources to cope with it. Building new social connections, seeking support from mental health professionals, and engaging in activities and hobbies that bring joy and satisfaction are effective ways to overcome loneliness and improve one's overall well-being. Also, adopting habits to improve mental health helps overcome emotional struggles like depression, anxiety, and loneliness. The above sad quotes about being alone might help you to understand the struggles of being alone, which might disturb your overall well-being. But being sad or being alone is not an option; you must change your outlook and seek perfection, happiness, and a godsend in loneliness. Below shared inspirational quotes on loneliness will steer a different viewpoint, giving you hope to live happily and to fight back against all the adverse situations due to loneliness.
Inspirational Quotes about Loneliness
Pray that your loneliness may spur you into finding something to live for, great enough to die for.

— Dag Hammarskjold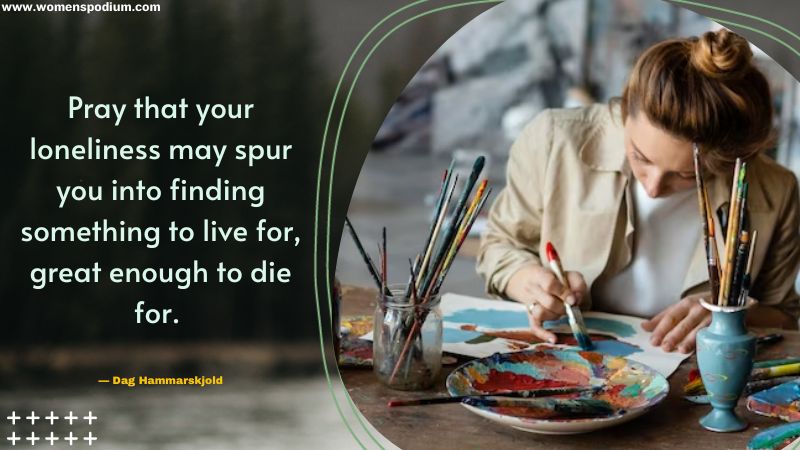 What a lovely surprise to finally discover how unlonely being alone can be.

— Ellen Burstyn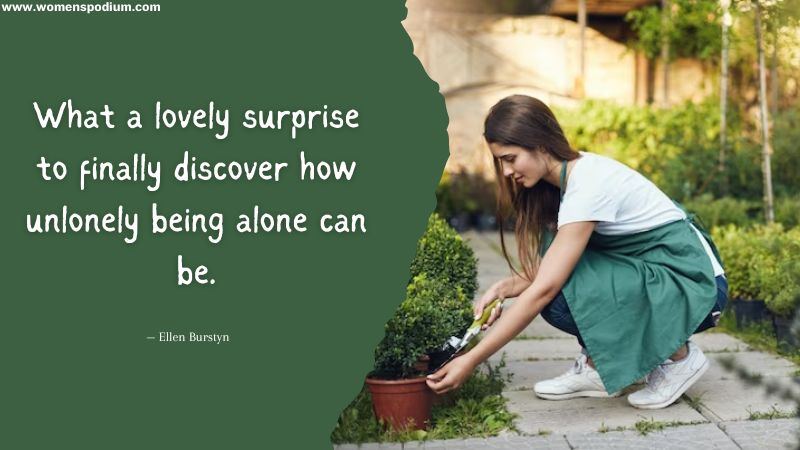 Loneliness might be taking you towards an otherwise unreachable experience of reality.

— Olivia Laing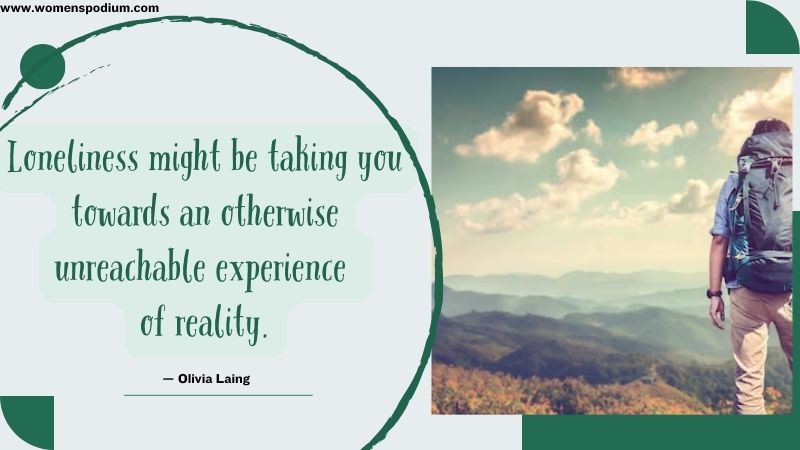 The greatest thing in the world is to know how to belong to oneself.

— Michel de Montaigne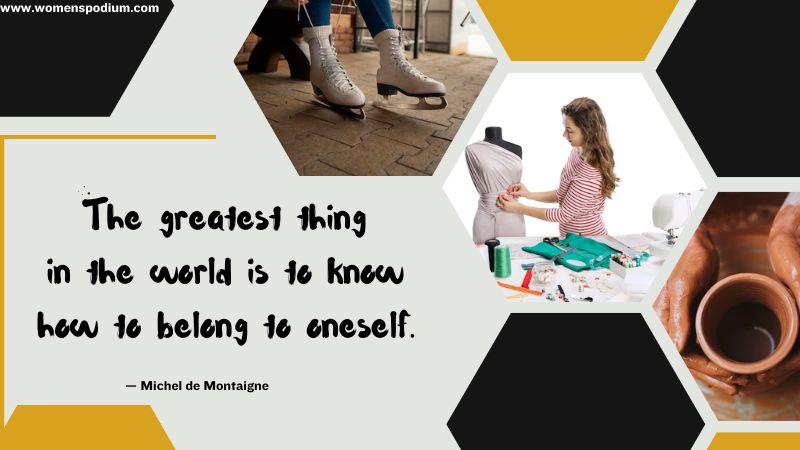 There is something immaculate about loneliness which only lonely people can understand.

— Munia Khan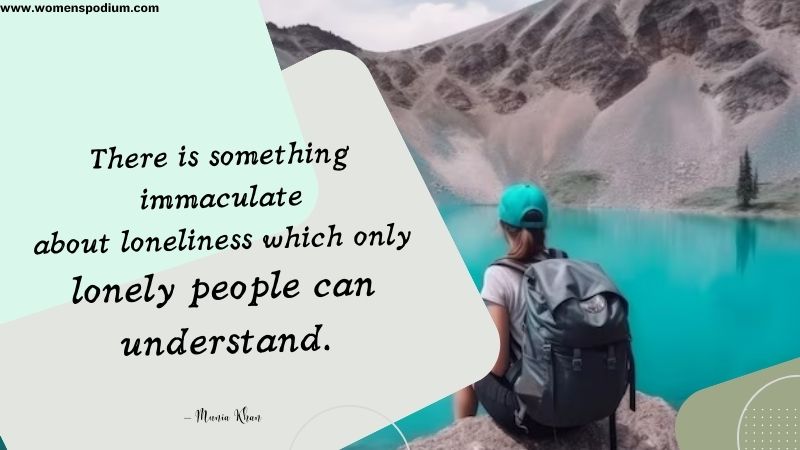 You'll end up living a lonely life if you're waiting around for perfect.

― Samantha Young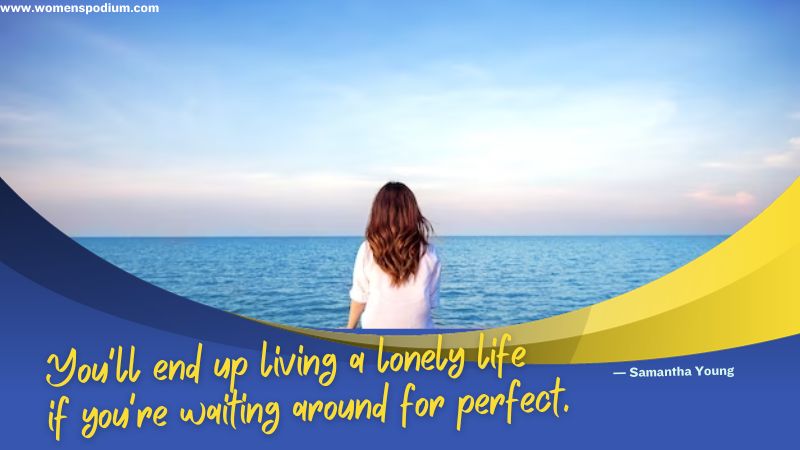 Until you get comfortable with being alone you'll never know if you're choosing someone out of love or loneliness.

— Mandy Hale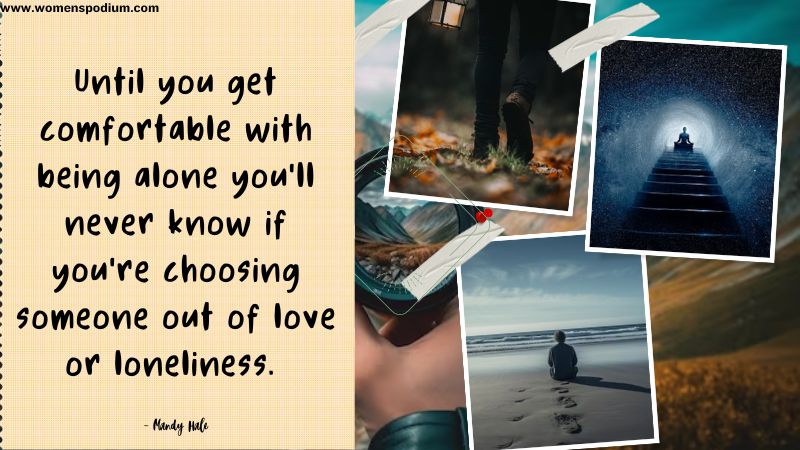 People are lonely because they build walls instead of bridges.

— Joseph F. Newton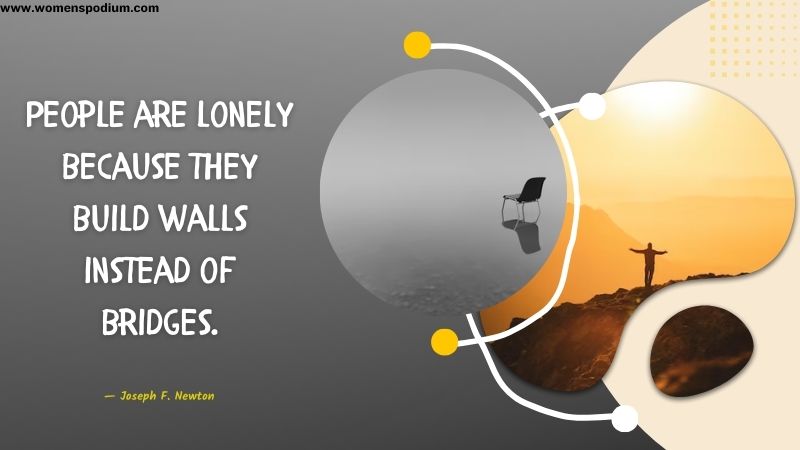 Sometimes you need to take a break from everyone and spend time alone to experience, appreciate, and love yourself.

— Robert Tew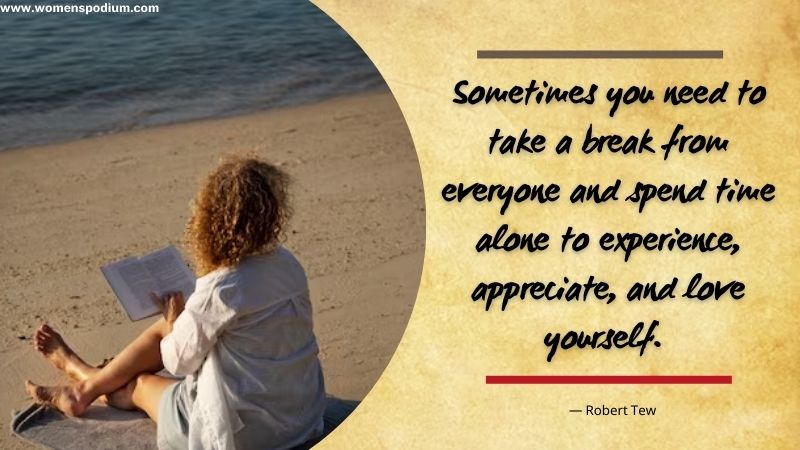 It's better to be unhappy alone than unhappy with someone.

— Marilyn Monroe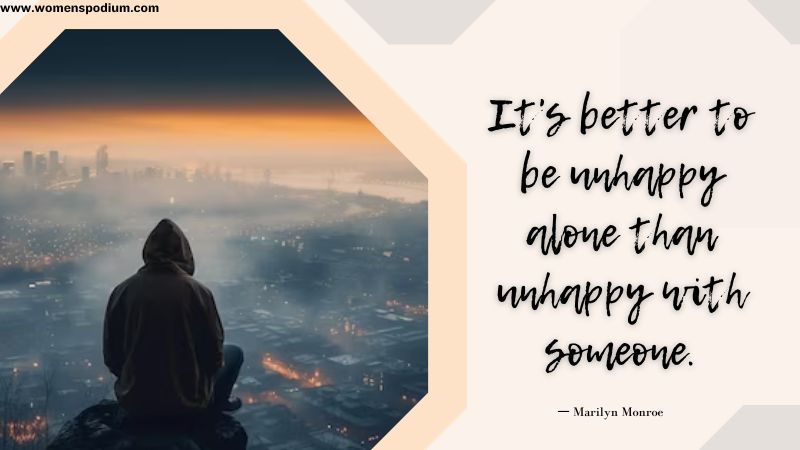 Final Verdict
Loneliness is not solely about the number of people you are with; it's actually about the quality of connection you have with them. Even individuals with many acquaintances may feel lonely if they don't truly connect with the people in their lives. A lack of meaningful connections can create a sense of emptiness and isolation. Therefore, taking the time and effort to foster meaningful relationships with others is important to combat loneliness. These sad quotes about being alone will help you remind yourself that you are not alone and that everyone experiences loneliness. Also, you can reach out, talk to others, and build relationships. Asking for help and talking to someone can help create a sense of connection and remind you that you are not alone.
Also Read: Feeling alone due to breakup? Knowing how to be happy after a breakup is a must to move on and live your life blissfully.