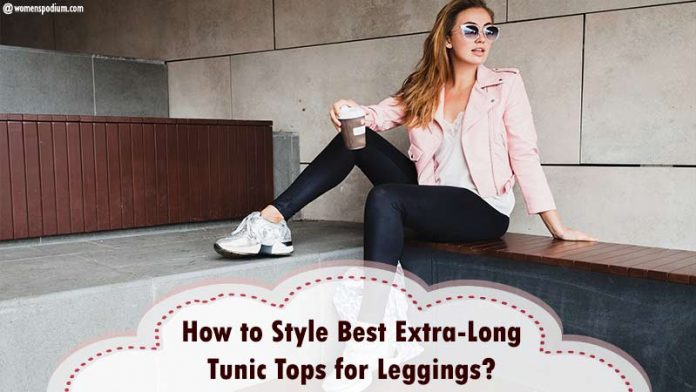 The hottest season is here, and we women want to dress comfortably yet look stylish. That is why extra-long tunic tops for leggings have become an essential element of women's wardrobe—the tunic style dates back to the ancient Mediterranean. A piece of clothing sewed from two pieces of linen; stitched by the sides and across the top at shoulders, the length reached just between thighs and knees, which is precisely the same to this day. You must ask why tunic tops are still popular? The reason being that the tunic silhouette became the timeless iconic style for women over time because it is more comfortable, fashionable, and more feminine at the same time.
Women from all ethnicity and cultures love to style in summer tunic tops or Kurtis (in India) because it is the most accessible and elegant style ever. You could see a whole spectrum of some of the best tunic tops and plus-size extra-long tunics or blouses anywhere you go shopping. Whether it is the stifling heat of summer or the icy winter zephyr, tunic style is the most approachable and comfortable shirt style for women of all sizes.
8 Different Types of Extra-Long Tunic Tops for Leggings
Though variations occurred throughout the history of tunic dress, the versatility of simple tunics remained the same. Now, some menswear-inspired tunics like popover shirts and tunic sweaters become trendy. A lot of loose-fitting and many form-fitting tunics are out there for women of all ages. Below are only a few styles of extra-long tunic tops for leggings you can wear in all seasons.
1. Soft Rayon Popover Tunic for Women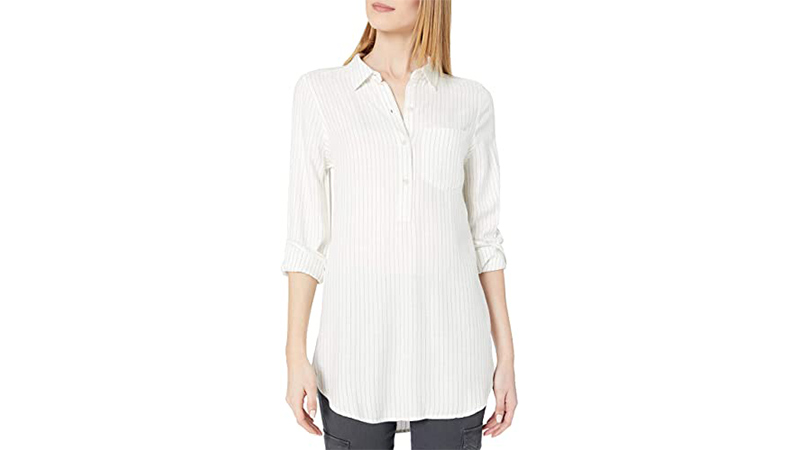 It is a casual and versatile simple tunic similar to menswear-inspired tunics. The unique draped hemline brings a relaxed vibe to this shirt. With a chest pocket, a pleated back yoke, and a popover placket, compose an easy and pulled-together look that you can wear for any daily routine like work or school, etc.
2. Plus Size Scoop Neck Casual Long Sleeve Tunic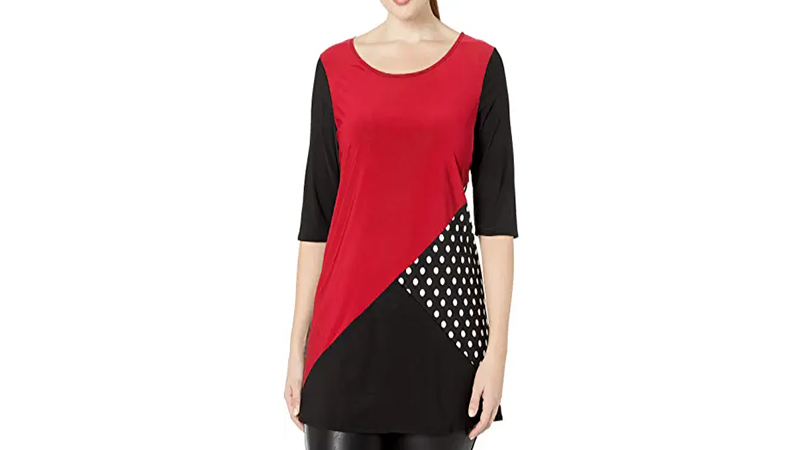 The scoop neckline makes it a perfect choice for plus-size extra-long tunics for women. The longer body is made with stretchy cotton to allow comfort in movement. It is a well-made design that fits every size perfectly. The fabric is lightweight, soft, and great for skin as well.
3. V-Neck Blouse Shirt Tunic Tops for Leggings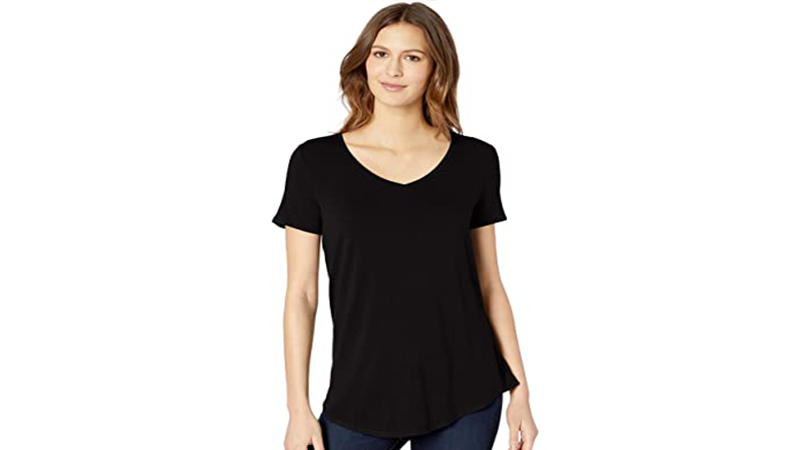 Lightweight, soft, and breathable fabric, perfect for your summer outfit. This blouse-style flowy silhouette is embellished with vintage buttons and is ideal for a night out or workplace. These are comfy, simple tunics perfect with high heels and leggings or even shorts in summer.
Also Read: The choice of your summer outfit styles significantly impacts how confident you look.
4. Floral Print Notch Neck Tunic Top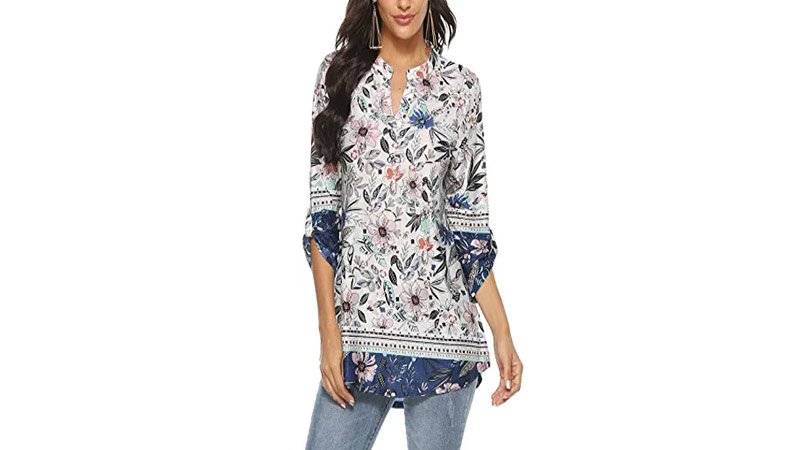 Loose-fitting casual long sleeve tunic is a perfect collection for women's wardrobe to add this year. The outfit is pretty roomy and could hide the fat on your tummy well. The notch neck also diverts attention from the lower body to the shoulders. That is why many women love to wear it at work or parties, etc.
5. Oversized Cotton V-Neck Casual Tunic Tee Top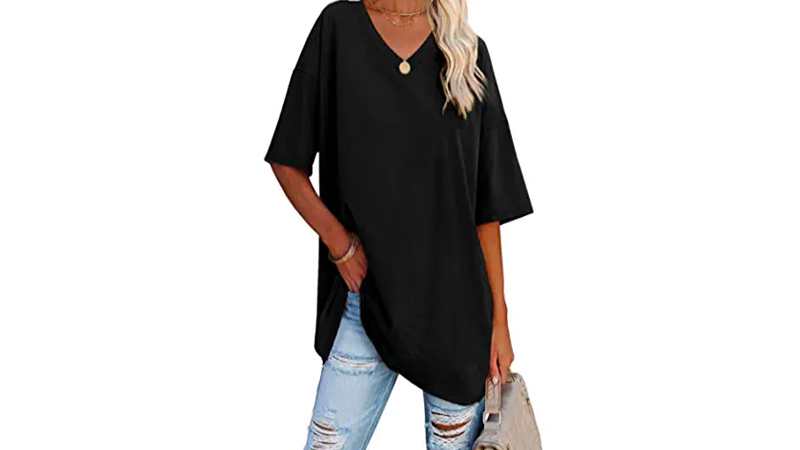 One of the many menswear-inspired tunic tops is this oversized cotton V-neck shirt, looks dainty when paired with heels or boots. It is everything you would want in a daily summer top. The half sleeve shirt gives a slightly outdoor vacation vibe. You can wear it as travel wear, casual wear, at parties, clubs, or for shopping.
6. Long Sleeve Side Split Loose Tunic Tops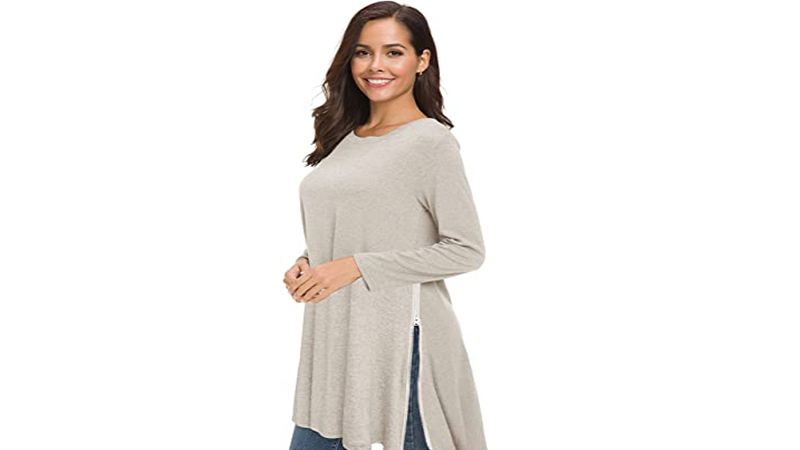 These extra-long tunic tops for leggings go well even with the winter season. The side split sweatshirts are more popular among girls. Even if it is one size up, it will look stunning on women. That is why some men love to gift these tunics as a surprise gift without worrying if it fits or not.
7. Summer Tunic Blouse Shirt Flare Tank Top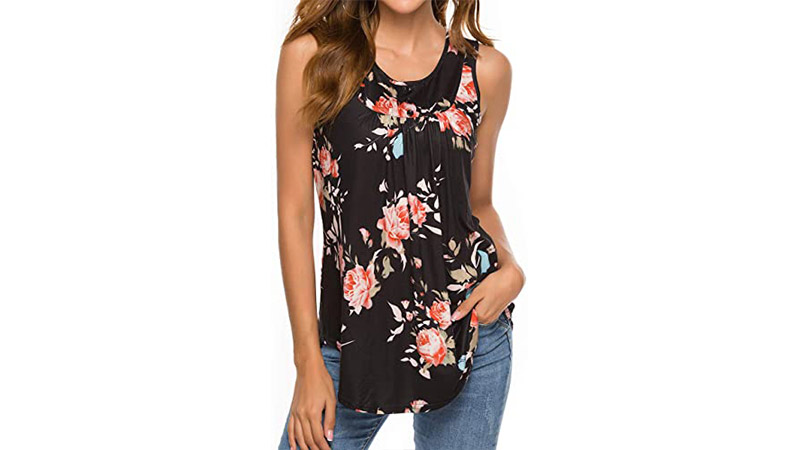 The flare tank top flows nicely with your body curves, perfect for the summer and fall seasons. You can wear it at work, parties, and as casual or daily wear. The round hemline of this summer tunic top makes it suitable for heavy women as well. Also, the lightweight fabric, loose fit, and short sleeves make it perfect for summer wear.
8. Irregular Hemline Loose Fit Tunic Top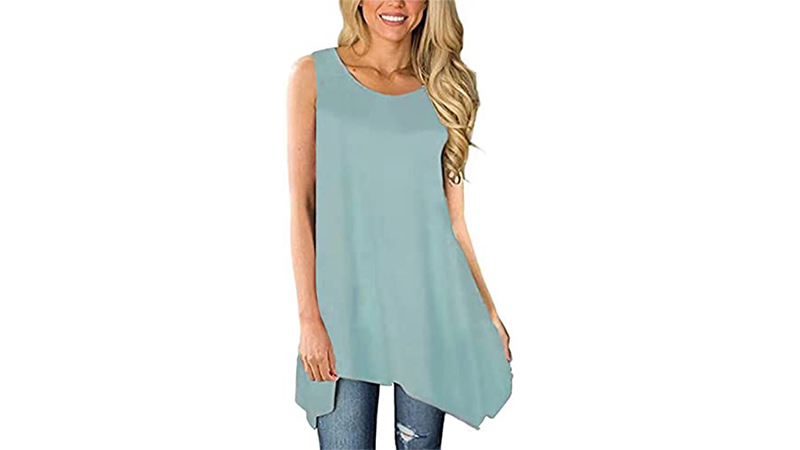 The asymmetrical hemline gives the dress more party vibes. Perfect for friends' gatherings, office parties, or any special occasion. The floral print, soft fabric, and loose fit are what give you a sleek, sophisticated look. Be more specific about what accessories to wear to avoid fashion mistakes when dressing for an occasion.
How to Style Extra-Long Tunic Tops for Leggings?
Women's wardrobe collection should constitute not only the trendiest clothes but the ones which suit them perfectly. There are numerous clothing hacks out there, but here I am pointing out only the necessary steps before you buy the best tunic tops for yourself.
1. Buy A Figure-Flattering Tunic Top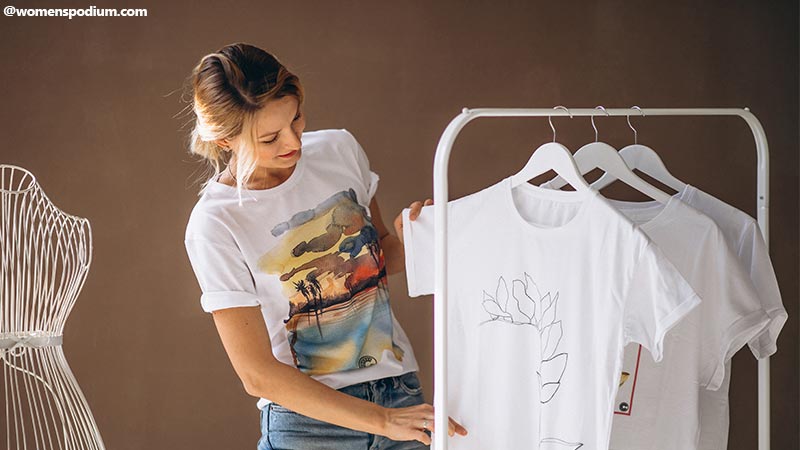 Figure flattering does not mean a clingy piece of clothing. It simply means a dress that fits you perfectly. A fit dress is intended to be a loose one, but not snug as well. Choose a color that best suits your skin tone and matches your personality. For example, if you are a decent woman going to work, you would not want to wear an immature cute style. Moreover, some tunic silhouettes can make you look short. So, choose carefully!
2. Choose A Tunic That Accentuates Your Shape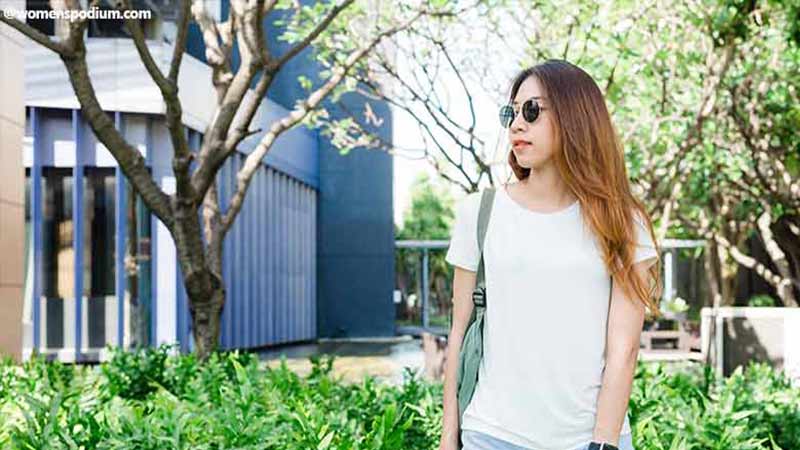 You must choose the proper cut and fit of tunic for different body shapes.
An hourglass figure is curvy from the top, narrows down at the waist, and wide at hips. A belt-style loose sleeveless tunic that defines the waistline is best suited for women with an hourglass figure.
The pear-shaped figure is broader at the bottom. A V-neckline simple tunic fitted at the top that flares at the bottom are one of the best tunic tops for those women.
Apple figured women are round and wide at the stomach area. Extra-long tunic tops for leggings and boots which flare below the bust make a perfect choice.
Inverted triangle figure shape is broad at the shoulders and narrows down. Casual tunics like scoop neck tunics or blouses are perfect for those women.
3. Choose Extra-Long Tunic Tops for Leggings Wisely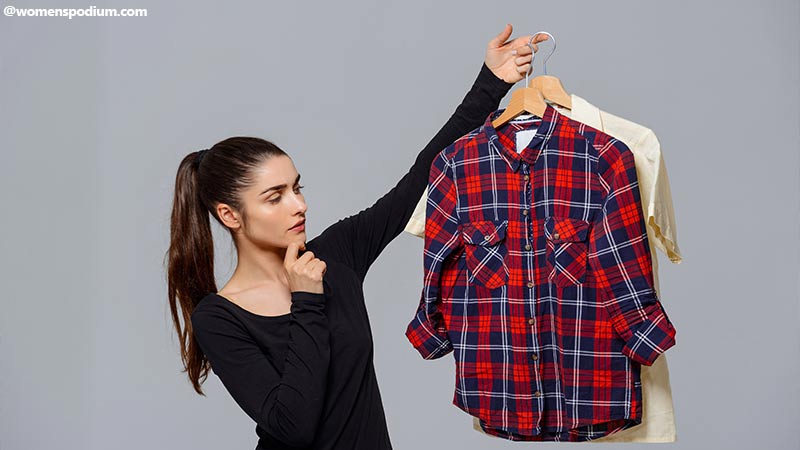 A baggy or wide-leg pant will never look flattering under a tunic long shirt. Tunics themselves are long, and that is why all that fabric will look ridiculous under a tunic shirt. The most appealing options to look stunning must be wearing leggings, skinny jeans, or fitted pants because the long silhouette of the tunic creates long, clean lines to flatter a woman's figure only when there isn't much volume under the tunic.
Also Read: You can apply some cool fashion tricks to look slim and tall the next time you shop for tunics.
4. Buy A Nice Pair of Shoes to Go With Them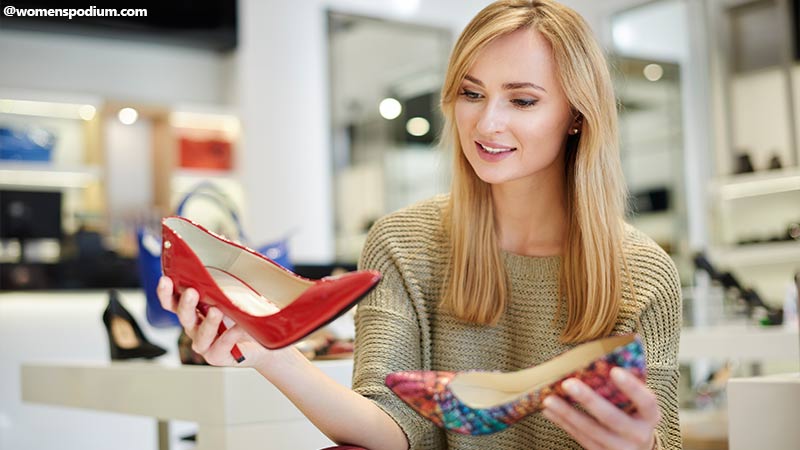 You will look stunning if you select the tunic with a proper pair of skinny jeans and the same hue tapered heels as your skin. Joggers or sneakers don't go well with this look and kill the purpose of long lines of tunic shirts. Heels give a perfect lean appearance adding extra height to make you seem taller and slim. Also, you can wear summer shoes like sandals or flats when you want a more laid-back vibe and casual look.
Bottom Line: Why We Love Casual Tunic Shirts?
One of the reasons we all love tunic silhouettes is because of their ease and versatility. The extra-long tunic tops for leggings are all about the less-is-more tactic. If anyone wants an effortless outfit for a hot summer day, a tunic shirt silhouette can do the job. Whether it is the plus size extra-long tunics you want or the fitted half sleeve tunics, you got all the best tunic tops within your reach for the best costs. Whether you are going to work, party, school, or a friend's gathering, you don't need to worry about what to pair with your favorite leggings anymore.