There's nothing quite like starting your day with perfectly cooked, browned pancakes or a grilled cheese sandwich. By investing in an electric griddle, you can easily achieve this. Electric griddles are amazingly handy for grilling meat, fish, pancakes, bacon, cheese, and vegetables. They typically feature a large, flat surface that heats up using electricity. This allows you to cook evenly and control the temperature without a propane tank, fire starter, or charcoal. If you like grilling food but want to avoid dealing with uncertain weather and fire hazards, an electric skillet is for you. This is truly a useful product that helps you prepare a variety of foods without making a mess.
Electric griddles are versatile kitchen gadgets used for a variety of cooking methods, such as grilling, baking, and sautéing. They are also less messy than traditional grills because they are non-stick, easy to clean, and require less cooking time. Overall, an electric grill is a convenient and practical appliance that can even be used while travelling.
What Is An Electric Griddle?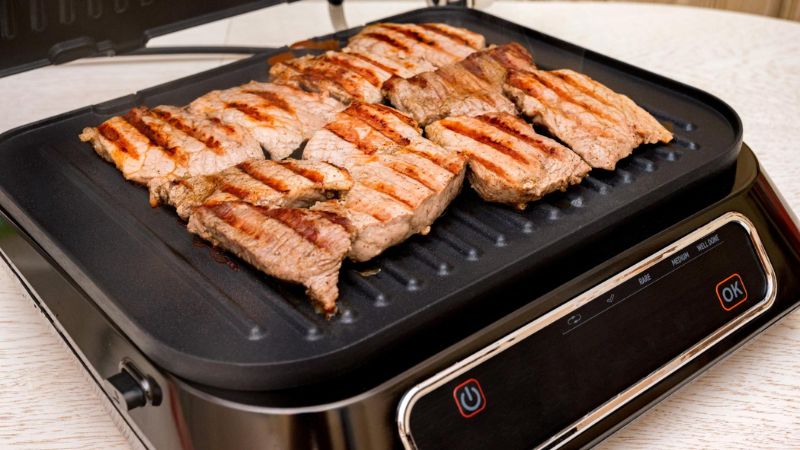 If you enjoy grilling but dislike weather fluctuations, consider using an indoor grill instead of traditional options like charcoal, wood chips, or gas canisters. One exemplary option is an electric grill. This features a large, flat, non-stick cooking surface and, in some cases, cast iron with built-in heating components. This versatile appliance can accommodate multiple cooking items, including pancakes, eggs, bacon, and other griddle-type foods.
Adding an electric griddle to your kitchen appliances is an excellent choice. This is because it allows you to enjoy your favourite grilled food regardless of the weather conditions outside. All you need to do is plug it in. In just a few minutes, you can savour the delicious taste of grilled food without worrying about rain, snow, or wind.
Benefits Of Electric Griddle
Electric griddles distinguish themselves with their extensive cooking surface, which facilitates more food preparation than frying pans. For example, even a large frying pan can only fit two pancakes at a time, while an electric griddle can cook approximately ten pancakes simultaneously. If you are considering buying an electric grill, here are some benefits.
1. Even Cooking And Surface Space
One of the main benefits of an electric grill is that it cooks food evenly. Even on a gas stove, there are cold spots. However, electric griddles cook food evenly and have a huge cooking area. This means you can simultaneously prepare a lot of food without worrying about burns.
2. Grease-Free Cooking
Grids are flat surfaces with no edges, making flipping food with a spatula easy. More importantly, an electric plate allows grease-free cooking that reduces oil content. In addition, it frees up counter space and is a handy kitchen appliance for substantial meals like Christmas and Thanksgiving dinners.
3. Temperature Control
Electric grills are a fantastic alternative to traditional grilling methods, offering speed, safety, and ease of use. Electric grills are an excellent choice for those who want quick and reliable grilling without the risk of fire. They can be powered by a reliable electricity source and heat up quickly, allowing you to reach your optimum temperature in a short time. Besides being efficient, electric grills are also safe to use. Unlike traditional grills that require open flames or combustible materials, electric grills pose no fire hazard. These features make it easy to operate and convenient for busy people who don't want to spend much time preparing their grills.
Top 3 Electric Griddle – Our Recommendations
1. Black And Decker Family-Sized Electric Griddle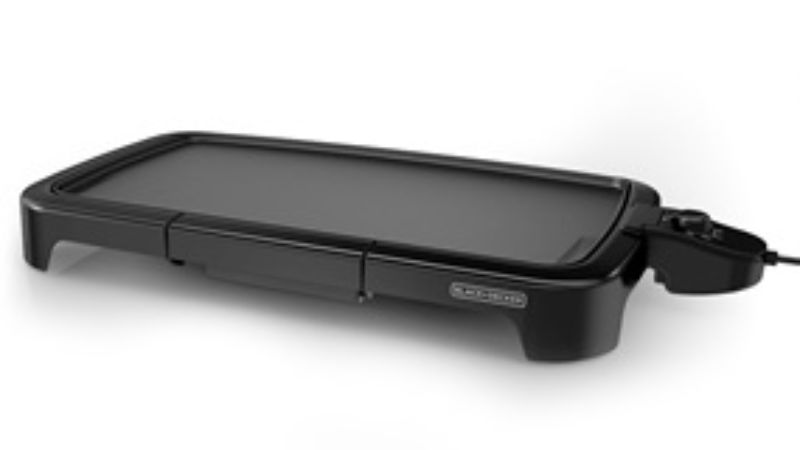 If you're looking for a family-sized electric grill that caters to all your breakfast needs, look no further than this Black & Decker model. With its 8-serving, durable non-stick cooking area, this grill allows for fast cleanup and easy cooking for every family event, whether you're making bacon, vegetables, or hash browns. Moreover, the built-in slide-out warming trays provide hot and ready-to-serve options to keep the food warm and fresh until serving. This electric grill also offers adjustable temperature control, making it a versatile choice for everyday cooking. With just a no-frills temperature adjustment, you can let the electric grill do the rest of the work. This will ensure that your food is cooked to perfection every time. Overall, the Black & Decker family-sized electric grill is convenient and practical for anyone who wants fast, easy, and delicious breakfast options at home.
| | |
| --- | --- |
| Pros | Cons |
| Even cooking | An electric thermostat cord is unsafe. |
| Temperature control knob | Expensive |
| Family-sized serving | |
| Easy to clean | |
| Grease-free | |
| Removable tray | |
Price: $45.50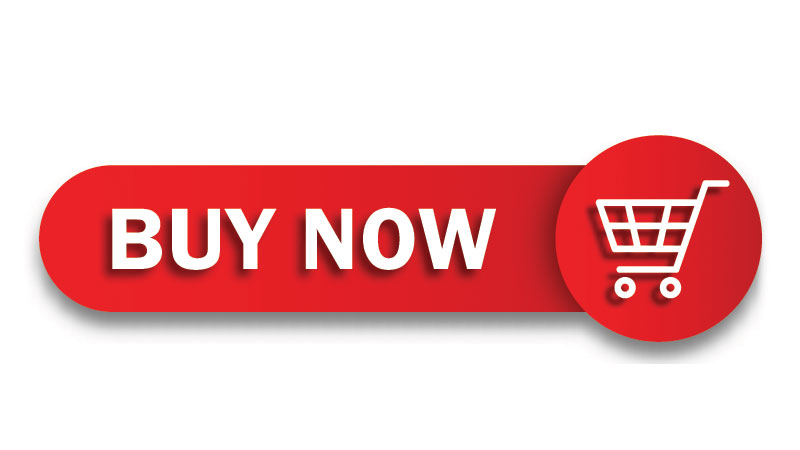 2. Hamilton Beach Indoor Searing Grill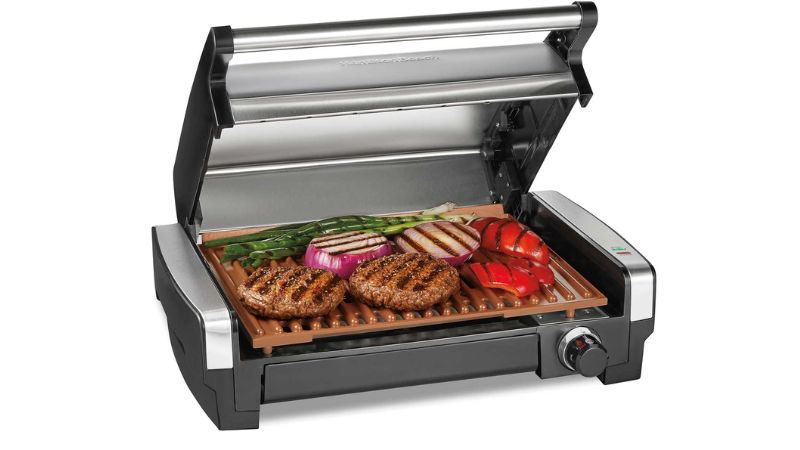 Enjoy your favourite grilled foods anytime and in any weather with the Hamilton indoor grill. From chicken legs and steaks to burgers, fish fillets, and vegetables, this versatile grill cooks your food to perfection at high-searing temperatures that lock in flavour and juices. With adjustable controls, a preheating light, and a special grilling section for small foods, this grill is packed with features to make your grilling experience convenient and enjoyable. You can watch your food through the convenient lid window without losing heat. The removable high-temperature grilling plates are easy to clean and dishwasher-safe for convenience. Plus, the tray underneath the cooking surface catches drips and juices, making cleanup a breeze with its easy-to-remove design. Say goodbye to outdoor grilling restrictions and hello to delicious indoor grilling with the Hamilton indoor grill.
| | |
| --- | --- |
| Pros | Cons |
| Preheat light | Expensive |
| Temperature control | The cord length is small |
| Even cooking | Plates take time to heat up |
| Offers high-temperature searing | |
| Dishwasher-safe | |
Price: $86.20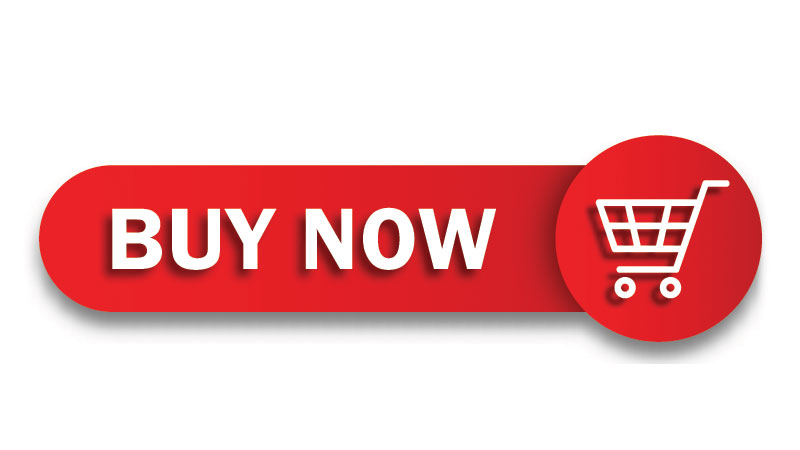 3. Elite Gourmet EGR2722A Electric Griddle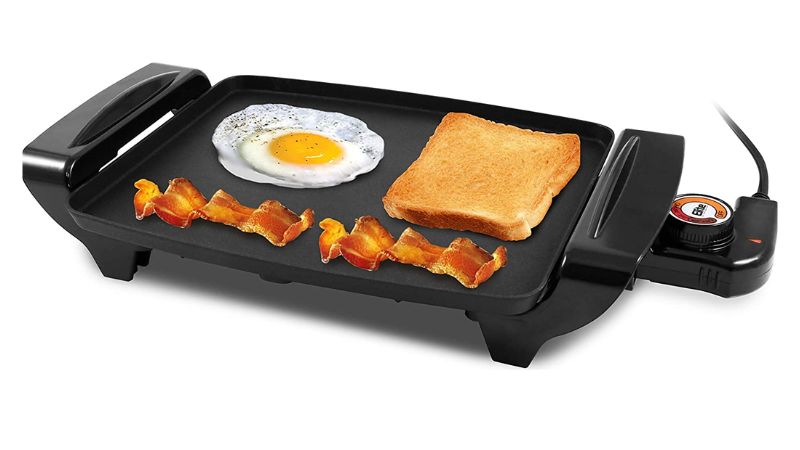 A compact Elite Gourmet electric grill makes it easy to prepare French toast, burgers, bacon, cheese sandwiches, and vegetables. Its non-stick griddle heats up in a few minutes, and its temperature control allows you to set the temperature of your choice, saving time and energy. A non-stick griddle cooking surface is suitable for preparing a variety of foods. This product comes with cool-touch rubber grip handles for serving. In addition, this product is easy to clean by wiping off grease and leftover food. Also, it comes with a large removable warming tray built into the design and is dishwasher-safe and skit-free.
| | |
| --- | --- |
| Pros | Cons |
| Comes with a large, removable tray. | Griddles take a long time to heat up. |
| Temperature control | Not for a large family |
| Dishwasher safe | |
| Rubber grip handles for serving | |
| 1-year warranty | |
| Temperature indicator light | |
Price: $24.99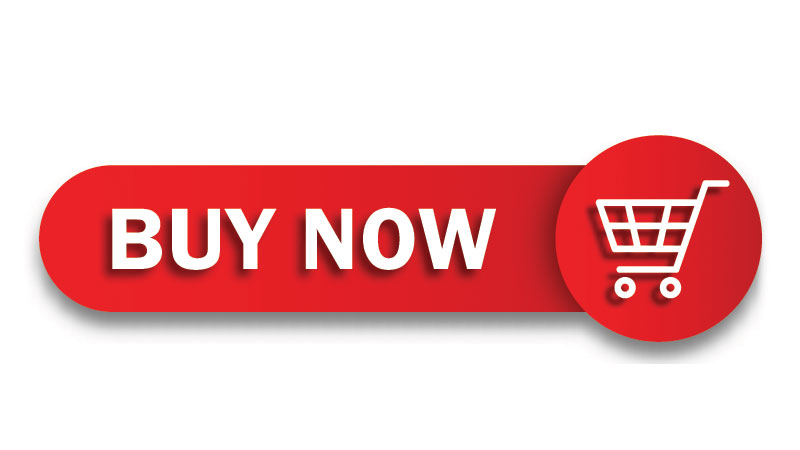 Final Verdict
If you are looking for a compact product that grills multiple food items with fire or smoke, an indoor electric griddle is the right kitchen appliance. There are different models and specifications available. We have shared with you the most impressive electric grill available in the market. If you have a large family and frequent get-togethers, Black and Decker family-sized is the best option, as it is reliable and durable.
Also Read: Spending time with family enables a deeper understanding of familial bonds and the true meaning of the family. Hosting dinner parties is an excellent way to foster connections with friends and family, learn how to cook and be a perfect host.