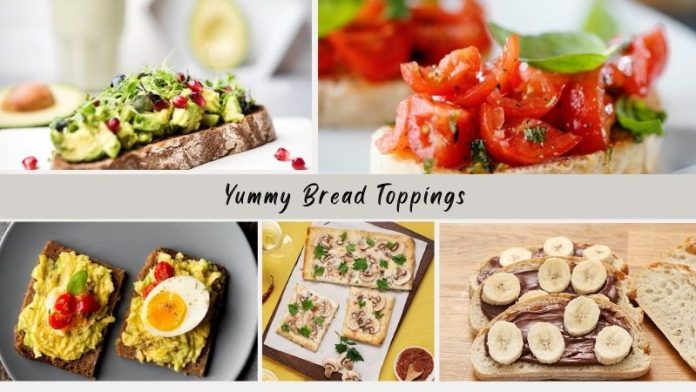 Beginning your day with the unbeatable delight of freshly baked bread, just-out-of-the-oven, and a steaming cup of coffee is an unparalleled experience. The scent of freshly baked bread alone is enough to rouse your senses, and when coupled with an assortment of toppings, it is simply irresistible. Bread's versatility and nutrition make it perfect for many toppings, be it sweet or savoury; they just blend perfectly, enhancing the taste of the bread. From all-time classic butter, jam, jelly, scrambled eggs and honey to modern-day favourites cream cheese, pizza toppings, peanut butter and avocado, there are endless combinations which you can try to make your breakfast with these bread toppings. All you need to do is keep on experimenting; hit and trail with these bread toppings can lead you to what you want.
What is The Purpose Of Bread Topping?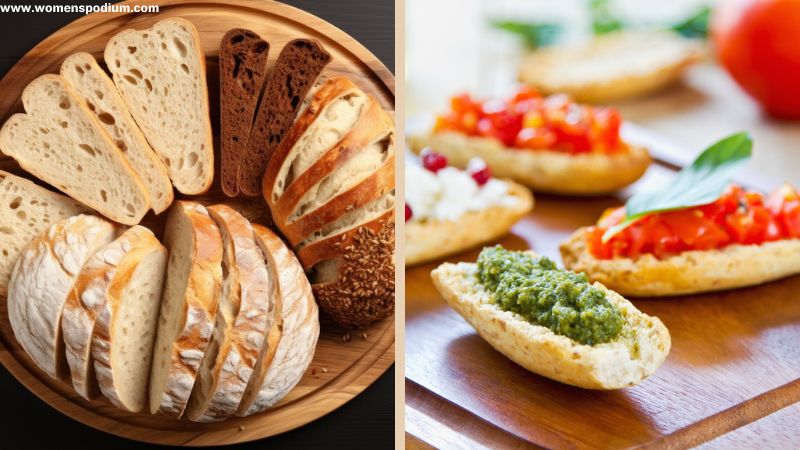 The purpose of toppings is to elevate and enhance a dish's flavour, texture, and nutritional content. Whether it's a quick snack or a full-fledged meal, toppings add a layer of taste and visual appeal. Healthy toppings have various nutrients like vitamins, minerals, healthy fats, and proteins, making the dish more balanced and wholesome. For instance, ingredients like avocado, smoked salmon, or peanut butter are excellent sources of nutrients, enriching both the flavour and overall dining experience. Toppings also proffer versatility, allowing everyone to customize their meals as per their choosing. For parents, especially, toppings can be a creative way to lure children to consume nutritious ingredients, ensuring their well-being and development.
Creative Breakfast Ideas: Irresistible Bread Toppings for Picky Eaters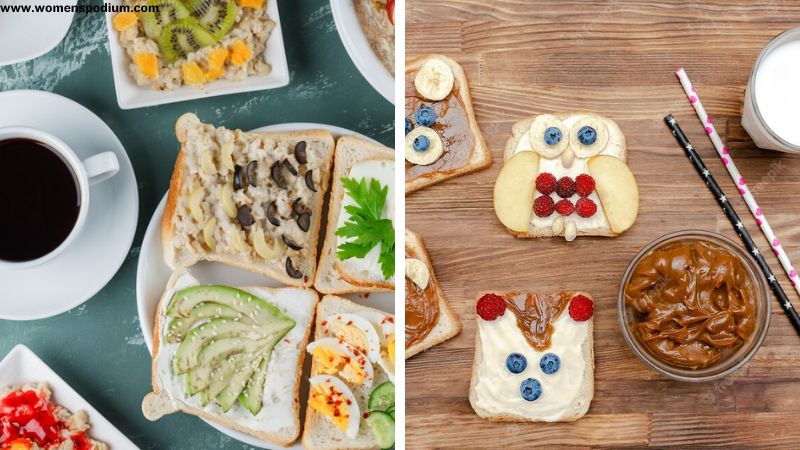 In today's times, children, whether toddlers or teenagers, tend to be quite selective when it comes to their food preferences, often leaning towards fast and processed options. However, if you're a conscious parent aiming to provide a delicious, nutritious, healthy breakfast to your teen or five-year-old, you must be open to experimenting with your cooking skills.
Besides pizza, burgers or pasta, kids have a fondness for garlic bread and cheese toast equally. This gives an opportunity for parents to get creative with various bread toppings. Consider trying a cheese omelette instead of a plain one, or perhaps experiment with mushroom frittatas, which can also serve as appetizing bread toppings.
How do you like your eggs? I simply love eggs on toasted bread in any form whether scrambled, half-fried, omelette, or poached. Eggs are a quick recipes when it comes to bread topping or egg sandwich, and above all kids usually love having eggs in their breakfast. Alongside eggs, you can top your bread with spreads like peanut butter, avocado, and Nutella for sweet and savoury flavours. Not only do these toppings enrich the taste, but they also enhance the nutritional profile and overall appeal of the dish. Moreover, experimenting with various ingredients allows you to alter the toppings to your child's liking and tastes.
Appetizing And Mouthwatering Bread Toppings to Elevate Your Breakfast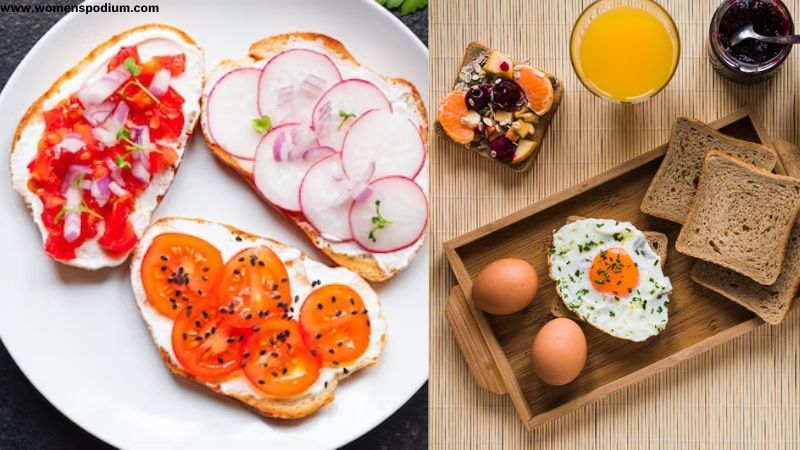 Bread, a staple in many diets, offers essential carbohydrates and some protein. Although white bread is tastier, it is better to opt for whole-grain or wheat bread for added fiber and nutrients. Toppings like avocado, eggs, and peanut butter enrich its taste and nutritional value, creating a balanced and satisfying meal. As bread is rich in carbohydrates, it becomes a healthy snack or breakfast meal when topped with cheese, meat, or vegetables. These simple bread-topped recipes are ideal for summer snacks or dinner appetizers. Let's check out these five delicious and quick bread toppings perfect for your breakfast; in fact, some of the bread toppings are perfect for a weight loss regimen.
1. Bruschetta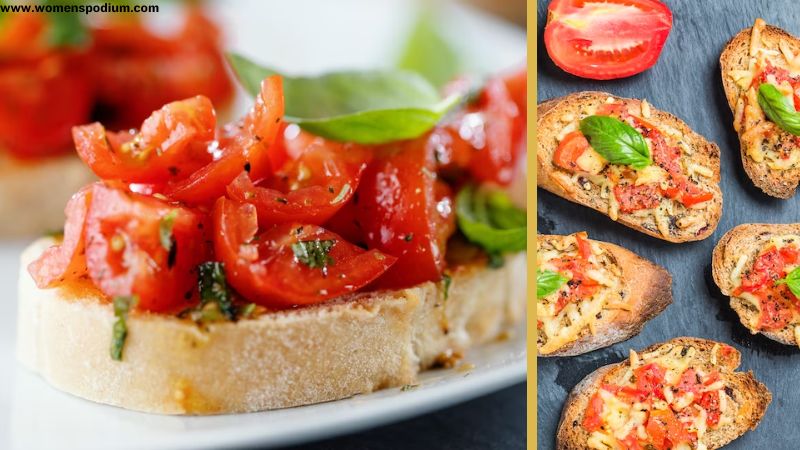 If you're looking for a classic and effortless recipe for bread toppings, look no further than Bruschetta. The delicious recipe combines finely chopped ripe tomatoes with fresh basil leaves, garlic, olive oil, and seasoning; spread the mixture onto the toasted bread and enjoy a flavourful bread. The resulting blend of flavours is both delectable and satisfying. Moreover, this wholesome recipe is a comfort food; you can have it anytime.
Ingredients
Italian or French baguette (1 loaf)
Diced tomatoes (2–3 medium-sized)
Crushed garlic (1/2 tsp)
Extra virgin olive oil (2 tbsp)
Salt (1/2 tsp)
Black pepper (1/4 tsp)
Chopped fresh basil (2 tsp)
Instructions
To create a delicious tomato bruschetta. Simply mix diced tomatoes, minced garlic, and chopped basil in a bowl.
Add olive oil and seasoning to the mixture and mix well until evenly coated.
Toast some bread in a toaster. If you don't have a toaster, grill the bread on the stove.
When the bread is ready, put the bruschetta on it, spread it evenly and enjoy.
2. Avocado Toast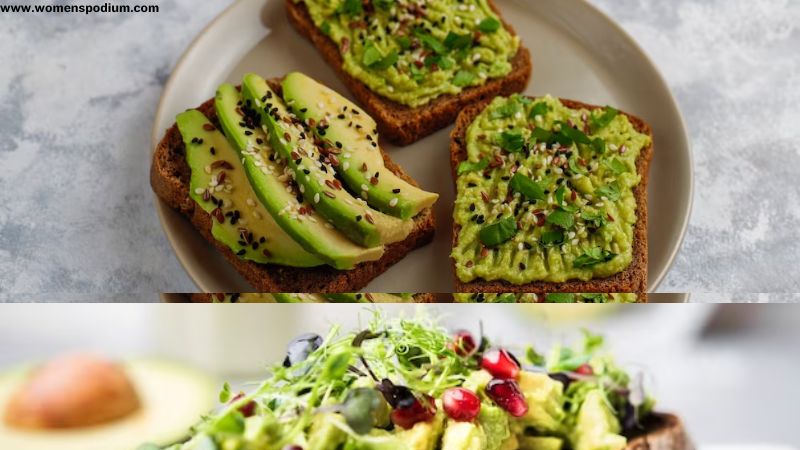 Avocado toast is a delicious snack and a low-calorie breakfast choice. Combining avocado slices with lemon juice, spices, flax seeds, and sesame seeds brings a heavenly flavour. Additionally, you can personalize this avocado toast recipe with other toppings such as cherry tomatoes, feta cheese, or poached eggs to boost protein content.
Ingredients
Avocados (2 cut into slices)
Lemon juice (1 tsp)
Flax seeds (1 tbsp)
Salt (1/2 tsp)
Red pepper flakes, a pinch
Black pepper (1/4 tsp)
Sesame seeds (1 tsp)
Instructions
In a bowl, add the avocado and mash it with a fork.
Then add lemon juice, flax seeds, sesame seeds, and seasoning.
Mix well until combined thoroughly.
Toast the bread in a toaster, air fryer, or in a toaster oven, spread the mashed avocado, and relish this healthy toast.
3. Toasted Bread With Mushroom Pizza Topping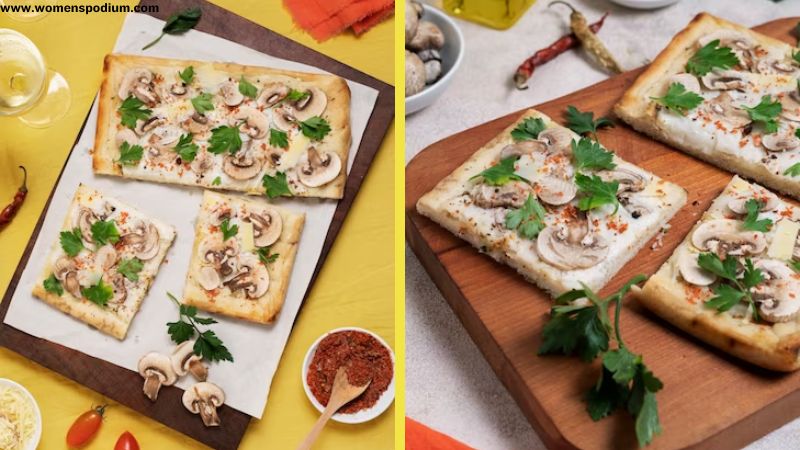 Bread pizza is a quick and easy alternative to traditional pizza. The recipe for bread pizza includes a toasted slice of bread with a variety of toppings, such as cheese, pepperoni, and veggies. Plus, bread pizza is a great way to get the taste of pizza without the time and effort.
Ingredients
White bread (3-4 slices)
Pizza sauce (3 tbsp.)
Shredded mozzarella cheese (1 cup)
Thinly sliced mushrooms ( 1/2 cup)
Thinly sliced onion (1 medium-sized)
Salt and pepper to taste
Red flakes (1/4 tsp)
Dried oregano (1/2 tsp)
Dried basil (1/2 tsp)
Instructions
Set the oven to 375 degrees Fahrenheit.
Lay parchment paper on the baking tray and place the bread on it.
Lightly brush olive oil on both sides of the slice.
Spread pizza sauce on the bread.
Sprinkle cheese, onion, and mushrooms on top and season with salt, pepper, and herbs.
Bake it for 10-12 minutes and enjoy.
4. Nutella And Banana Spread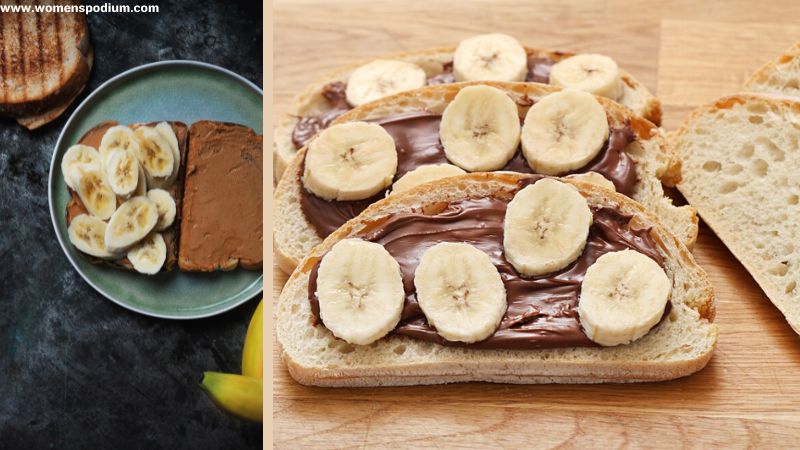 If you enjoy sweet treats, you might want to try topping your bread with a mix of Nutella and banana spread. This combination is tasty and nutritious, making it an ideal choice for those who want to indulge in something sweet without compromising their health. The recipe is easy to follow, and the creamy spread satisfies your cravings. Moreover, the Nutella and banana spread is an excellent snack for kids. Unlike other sugary snacks, this treat is both healthy and delicious.
Ingredients
Nutella or hazelnut chocolate spread (2 tbsp)
Bananas (1 thinly sliced)
Bread (2-3 slices)
Chopped nuts for topping (optional)
Instructions
Toast the bread in a toaster and spread the Nutella evenly on it.
Now add sliced bananas to it, top it with nuts.
Relish this sweet and savory toast.
5. Veggie Cream And Egg Topping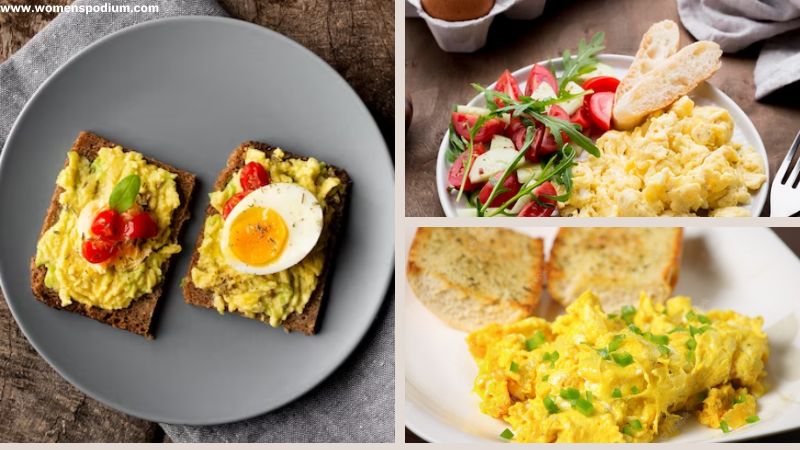 A nutritious and delightful breakfast or brunch option is veggie cream and egg toast. This dish is perfect as a healthier alternative to conventional sandwiches. Not only is it easy to prepare, but it is also loaded with nutrients and bursting with flavour.
Ingredients
Coarsely chopped carrot (1/2 cup)
Cream Cheese (8 ounces) at room temperature
Minced garlic cloves (1/3 tsp)
Diced bell pepper (1/2 cup)
Diced celery (1/4 cup)
Chopped parsley (1 tsp)
Salt (1/2 tsp)
Pepper (1/4 tsp)
Olive oil (1 tsp)
Boiled egg
2 scrambled eggs
Bread slices or bagels
Cherry tomatoes for garnish
Instructions
Apply oil to both sides of the bread and toast it.
Add the cream cheese, seasoning, and all the vegetables in a bowl and mix well.
Apply generously to the bread.
After that, put a half-cut egg and cherry tomatoes on the bread and season it with salt and pepper.
On a separate slice of toasted bread, spread cream cheese, then layer scrambled eggs and cherry tomato for an added delicious touch.
Enjoy the taste of both boiled and scrambled eggs on your crispy toast.
Final Words
Nothing compares to the delicious taste of bread topped with different ingredients, whether for breakfast or as a quick snack. Bread is an excellent carbohydrate source that provides instant energy, and with healthy toppings, it gets enriched with essential vitamins and minerals. Experiment with different bread toppings to find your favourite combination, and try out these recipes. We would love to hear your thoughts, so please don't hesitate to share your feedback.
Also Read: Toasters are handy kitchen gadgets. Sometimes, deciding which to buy is tricky: a 2-slice or a 4-slice toaster. Don't worry; this guide will help you make the right choice.