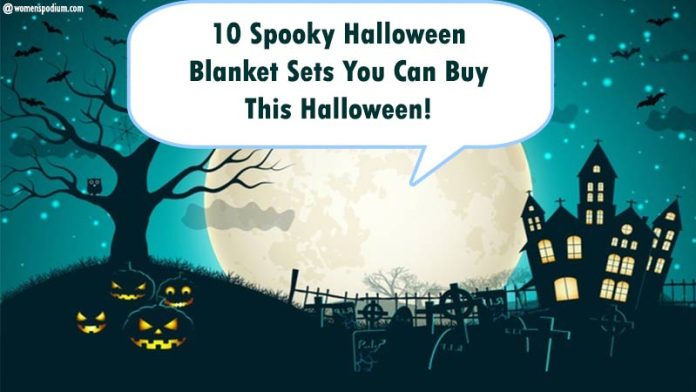 October is around the corner, and so is Halloween. Halloween lasts all October even though it is officially celebrated on October 31st. Kids and adults alike love to buy Halloween stuff like pumpkins, sketchy costumes, and many other things. Apart from Halloween costumes, spooky throw cushion covers and Halloween blanket are their most favourite purchases. The tradition started with Samhain's ancient Celtic festival; people used to light bonfires and wore costumes to ward off the ghosts. Now, it is more of a fun activity and a "Trick or Treat" festival in the autumn season. And if you are pretty indulged in the Halloween celebration, let's look at some best Halloween throw blankets you can buy this season.
What Halloween Blanket You Must Choose For Halloween 2021?
This Halloween season, you need to celebrate the festival at its best. Here are ten Halloween throw blanket sets you can choose from. You can check out some wonderful Halloween blankets and throw cushion covers from online stores as well.
1. Glow In The Dark Throw Blanket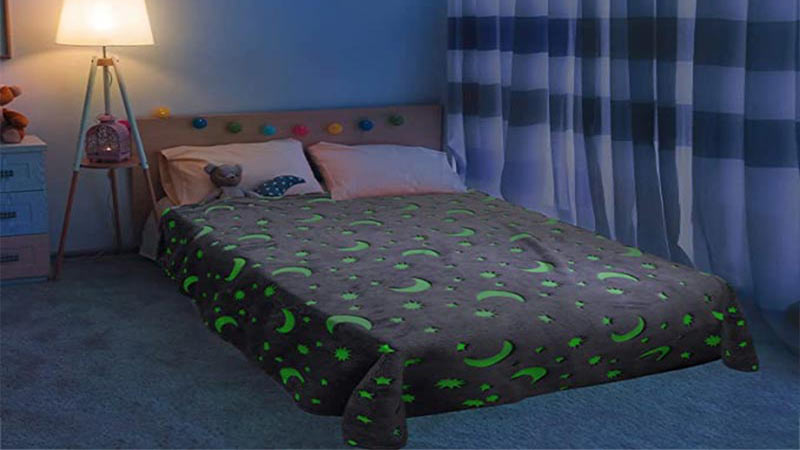 This comfortable Greenco's Halloween fleece blanket will make your evenings cozier. Both you and your family would love this blanket in your rooms. You can also fit this Halloween blanket in a stroller for small kids, enjoy it on a couch watching a movie, or in a car bed. This glowing design makes it a super fun blanket and also keeps the kids entertained and ward off their fear of witches or ghosts.
Also Read: Halloween-style kid's room décor must have been stressing you out. So, try these blankets.
2. Skull And Bones Halloween Throw Blanket
The Yangzhi's Goth blanket has an intriguing pattern of twisted bones and skulls over it. The design itself is very spooky and gives chills down the spine, but its artistic design and material are quite enough to captivate your heart. You can either buy it for yourself and cover yourself on the bed and sofa or gift someone. It makes a perfect Halloween gift when your friends and family reunite at a party. This velvety Halloween blanket doesn't shrink or wrinkle as well.
3. Orange Pumpkin Halloween Flannel Fleece Throw Blanket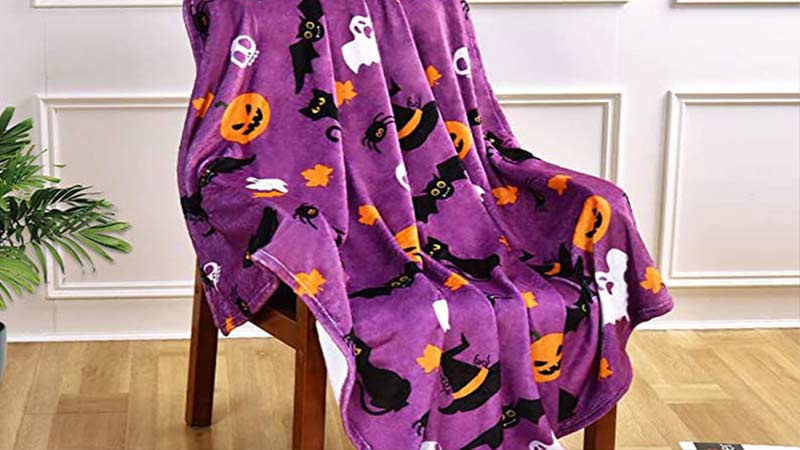 The cutest Yastouay's purple Halloween throws are designed with a pattern of pumpkin, maple leaves, black cats, and ghosts. The soft flannel fabric is breathable, which makes it comfortable for everyone. Don't worry; it won't shrink after washing. It is a lightweight Halloween fleece blanket that is worth giving away as a gift as well. Get it for your kids to sleep and cover themselves.
4. Cute Cat Bat Spooky Halloween Plush Blanket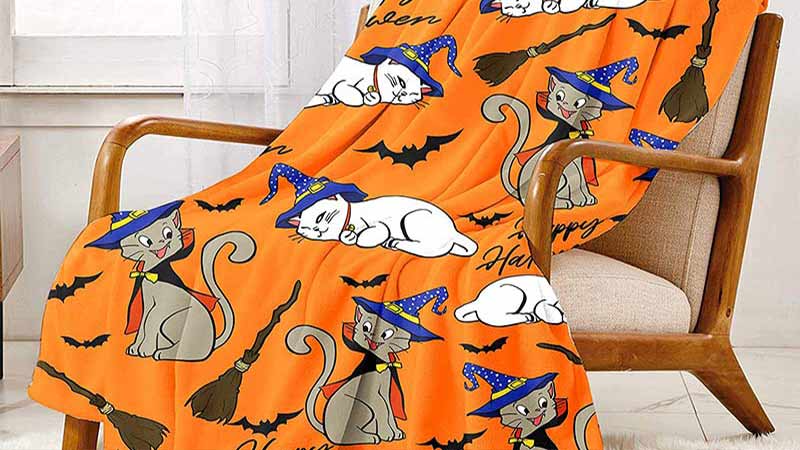 Jartlewm's Halloween throw cushion cover and Halloween blankets are yet other cute pieces you can buy for younger kids. The design of an adorable cat wearing a black magic hat on the blanket will surely enchant the kids. They can snuggle in there for a bedtime horror story, or you can take the blanket for a picnic. This Halloween plush blanket will give you warmth and add extra Halloween décor to your room as well.
5. Halloween Horror Witches Ghost Throw Blanket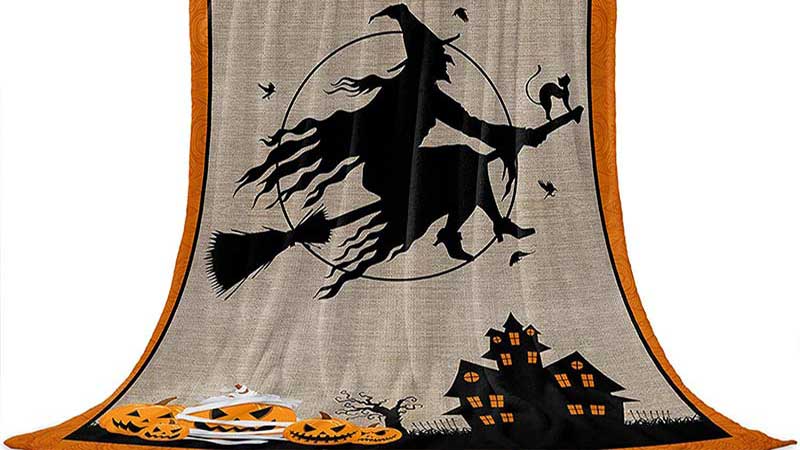 Vandarllin's ghost and witch blanket make the movie night more fun. You can even wear it to scare people off in the evening. More scare means more fun, right! Besides, this piece is one of its kind because it can happen to become your best home décor item for Halloween. Also, it is a soft fleece blanket that keeps you warm. For damage prevention, use cold water for a gentle wash.
6. Horror Movie Characters Halloween Soft Throw Blanket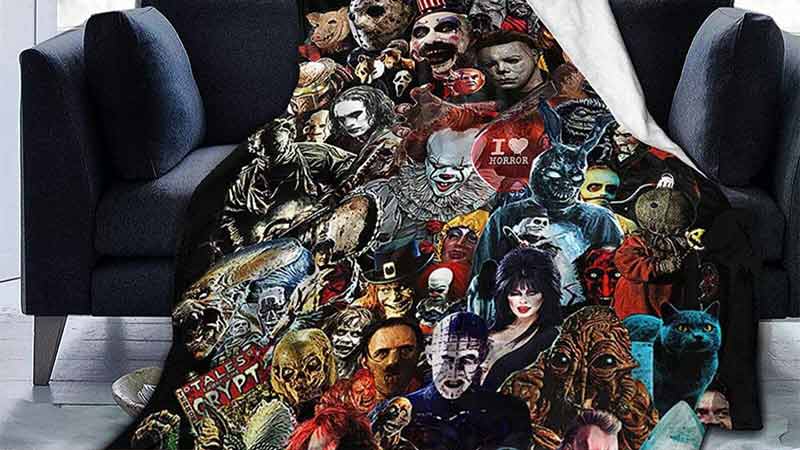 You should get this now! People do ancient Chola makeup, become movie characters, and create costumes for the Halloween party. So why not build an empire of characters over your throw cushion cover and blanket. Teens and older kids, as well as your friends and family, would love having such epic soft flannel fabric throws for the room décor. That is why it is suitable for anyone either for lounging or picnic.
7. Anime Characters Halloween Throw Blanket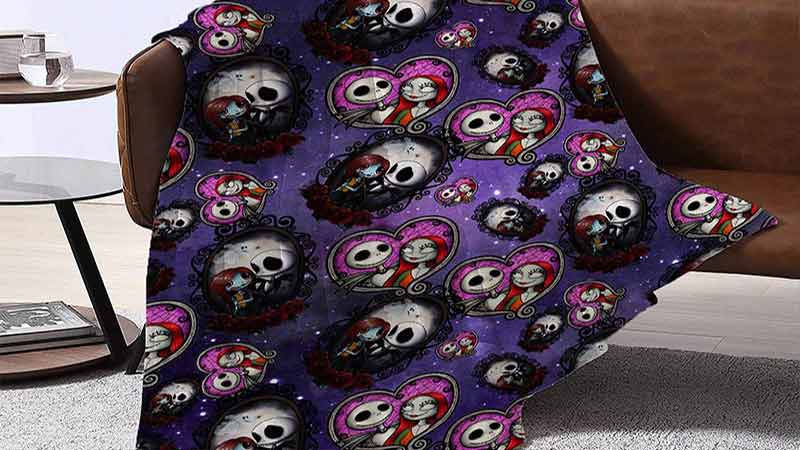 Many people love watching dark and creepy anime. If there can be a pool of horror movie characters designed over a blanket, then why not anime! Here you have your type of blanket for Halloween. Even though this is only a simple one, you can find many varieties of your choice online. The material is high-quality lightweight flannel, making it most suitable for outdoor and indoor uses, like watching a game or gossiping with friends.
8. Haunted House Halloween Throw Blanket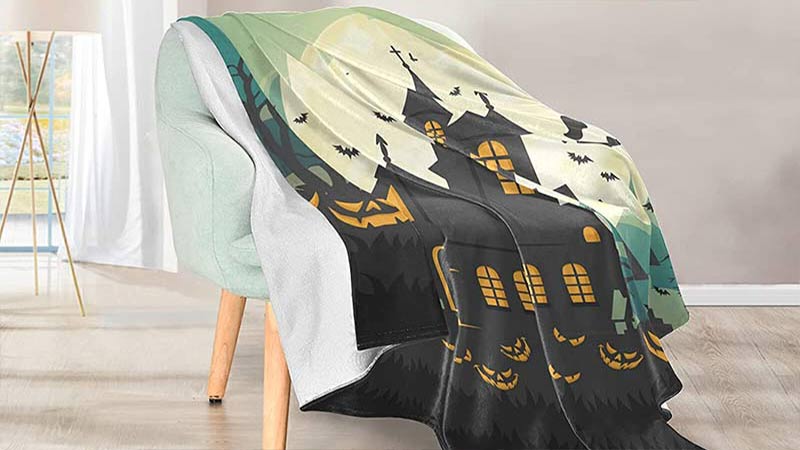 This Halloween house-printed throw will not disappoint you. This throw goes well with all of your spooky Halloween décor around the house. Moreover, the less colorful blanket makes it a perfect décor item for all rooms of your family. This artistic fleece throw has a neat edge, and printing is digital. The blanket is neither too warm nor cold, but you can feel warmth when you snuggle with your siblings to watch a movie or a game.
9. Purple Skull Spooky Bed Halloween Blanket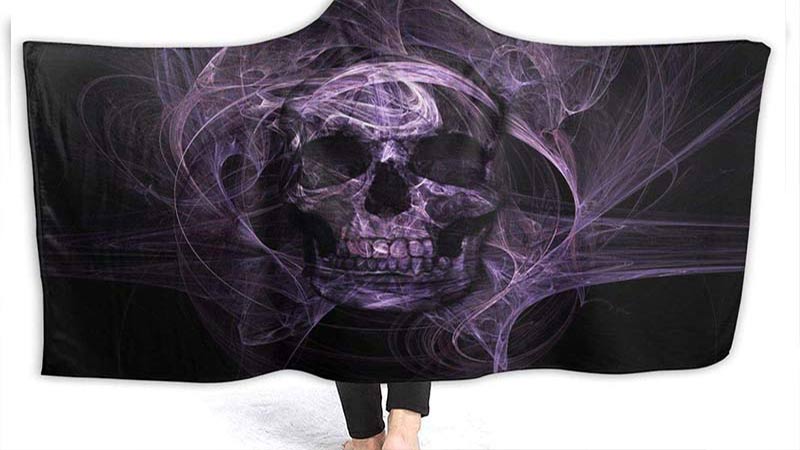 There are many unique pieces out there but the one with characteristic Halloween items will never grow old. This lightweight, fluffy flannel throw is modified into a wearable hooded blanket and comes with the perfect size for older kids, teens, and adults. A ghostly skull made out of purple smoke is printed on this blanket. Moreover, you will stay warm if you walk to the kitchen and back for food because the material is lightweight and warm.
10. Blanket Horror Witches Ghost Throw Blanket
The autumn colors of the blanket complete the perfect Halloween look of your home. The blanket is a soft flannel with single side printing of a witch hovering over a broomstick. It is convenient to carry everywhere with you like a picnic, or over a friend's house. It can even be perfect for snuggling while watching a movie in a cold cinema. Go on and buy one!
The above list of Halloween fun blankets includes character Halloween fleece blankets and other throw blankets anyone would love. Some blankets are cute, while some are artistic. Regardless of your age and how you have your decorations, everyone would love these Halloween concept blankets. Get your favorite Halloween blanket to get cozy and ward off your fear by covering yourself with them. Enjoy your time. Happy Halloween Season!
Also Read: You can make this spooky event more joyous by checking out some interesting Halloween quotes.