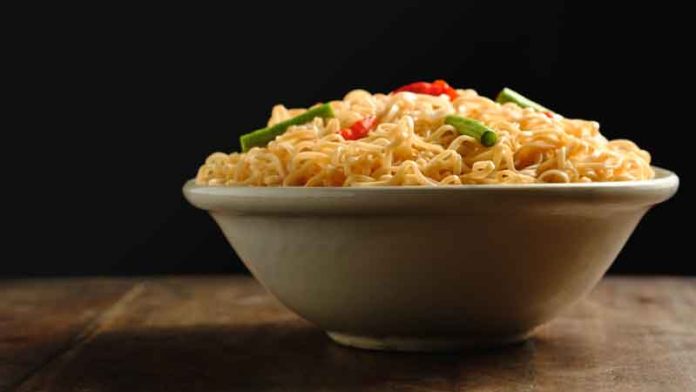 Instant noodles are the best snack to stock in your cupboard. Every time you crave food, you can find an escape from those untimely hunger pangs by cooking ramen. But if you are tired of eating those regular noodles in the pot, then you are lucky! Because here you can get some fantastic recipes to make your store-bought instant noodles a luxury dinner. You'll take your noodle recipe up a gear only by using the minimal ingredients you find within your reach.
Also Read: The recipes are so easy that every member of your family would cook without any experience.
5 Easy Ways On How To Cook Noodles In The Pot In A Trice
Take a break from stuffing cereal bowls into your stomach and check out these recipes for making noodles in the pot. You will find recipe ideas to satisfy whatever taste you crave in your pot noodles. Here are the five best instant noodle recipes for you to make in an instant.
1. Peanut Butter Noodles Recipe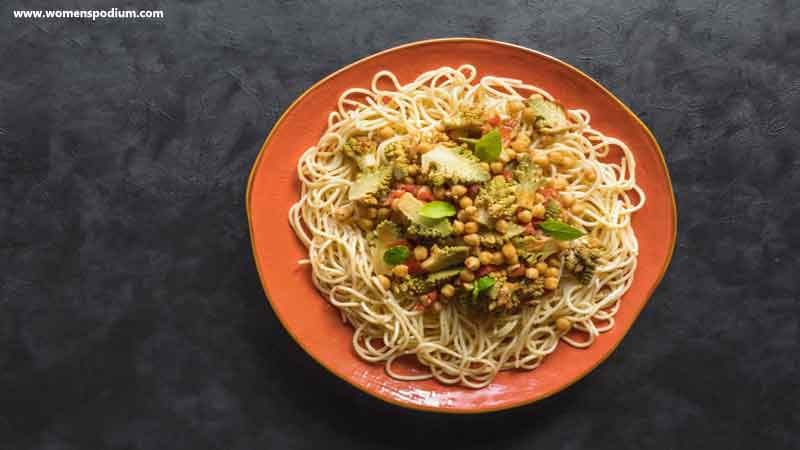 You can instantly elevate the taste of ordinary noodles with this quick recipe. You can use this recipe to make a vegan snack for your untimely hunger.
Ingredients For The Recipe:
Instant Noodles – 2 Packets
Peanut Butter – 2 Tbsp
Honey – 1 Tsp
Soy Sauce – 1 Tbsp
Dried Chili Flakes – 1 Tsp
Chopped Coriander
Spring Onions (Thin Sliced)
Red Chilies (Sliced)
Cooked Meat or Chicken (if needed)
How To Cook:
Firstly, mix the above quantity of peanut butter, soy sauce, and honey until the peanut butter loosens and attains the texture of a sauce.
You can cook instant noodles in the pot according to the package instructions. But do not add sachet at this point.
Cook the noodles a little less than you need to; it may seem slightly undercooked, but that's fine.
Drain them and add them to a pan placed over medium-high flame. Then fry for one minute.
Meanwhile, pour the peanut butter sauce, chili flakes, and other ingredients to combine while frying.
Pour out in two bowls, add spring onions and coriander to garnish.
2. Store-Bought Instant Ramen Recipe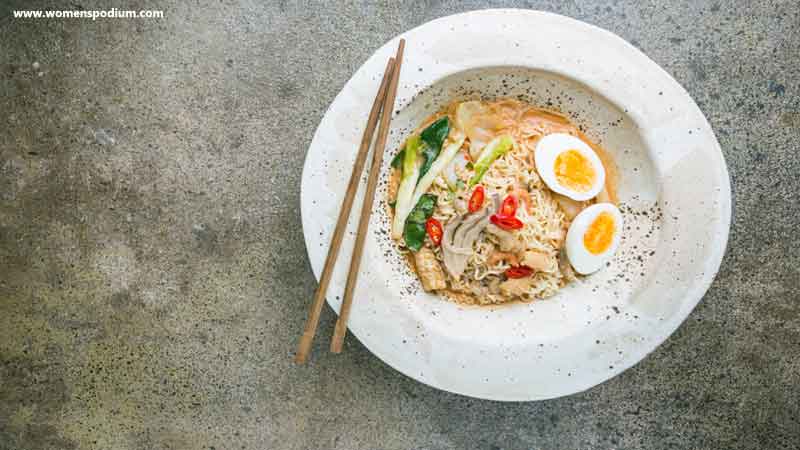 You don't have to skip meals when you got this recipe on your plate. The recipe is quick and savory!
Ingredients For The Recipe:
Instant Noodles – 1 Packet
Hard-Boiled Egg – 1 (cut in half)
Sriracha Sauce – 1 Tbsp
Soy Sauce – 1 Tsp
Mixed Frozen Vegetables
Chicken Stock
Chopped Coriander
Spring Onions (Thin Sliced)
How To Cook:
Prepare your instant ramen noodles according to the package, but again, don't add flavor sachet in it. Instead, add a cube of chicken stock in it.
While you cook noodles in the pot, boil the frozen mix vegetables and an egg.
When everything is cooked, assemble the ramen. Start by pouring the soupy noodles into a large deep bowl.
Add soy sauce on top of it. Then place the half-cut or sliced eggs and boiled veggies in the mid or all over the noodles.
Garnish by drizzling Sriracha sauce along with some chopped coriander and spring onions for delicious ramen noodles.
3. Soupy Pot Noodles Recipe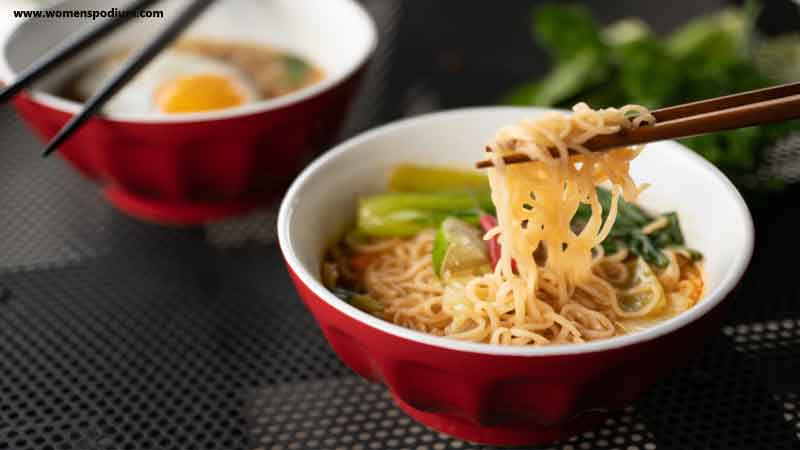 If you are a food lover, then this recipe is for you. It is easy, quick, and spicy. You can make as many portions as you want.
Ingredients For The Recipe:
Pot Noodles – 1 Packet
Egg – 1 (beaten)
Cooked Meat or Chicken
Sriracha Sauce (for drizzle)
How To Cook:
Cook the pack of instant noodles as instructed on the package. Keep stirring noodles in the pot while cooking.
Once they are cooked, stir the beaten egg into the pot and cook over medium-high heat.
Then add the already cooked meat or chicken to the noodles.
Transfer them to a bowl and drizzle Sriracha sauce over it for finalizing a simple but yummy when it comes to taste.
4. Baked Instant Noodles Recipe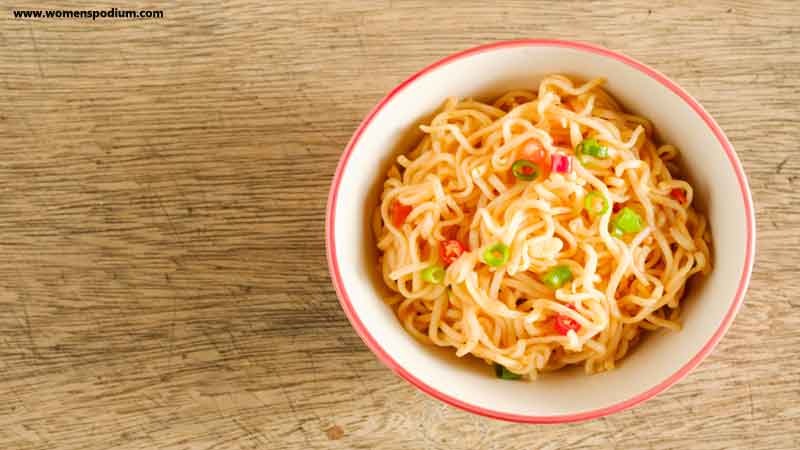 You will love this recipe when you love cooking and have the patience to wait for the perfect outcome.
Ingredients For The Recipe:
Instant Noodles – 4 Packets
Tomato Paste Sauce – 1 Jar
Beef Mince – 1 Pack
Cooked Vegetables or Broccoli
Mozzarella or Cheddar Cheese (grated)
How To Cook:
Start by preheating your oven to 200 Celsius or 180 Fahrenheit.
Brown your meat in a pan over medium-high heat. Then add tomato sauce along with cooked vegetables.
Season the sauce and let it simmer for five to ten minutes.
Put one layer of the uncooked instant noodles in the casserole dish. Pour over it the tomato sauce you made earlier.
Grate and sprinkle some cheese over them and bake it in the oven for 25-30 minutes. Serve it fresh out of the oven.
5. Prawn Noodles Soup Recipe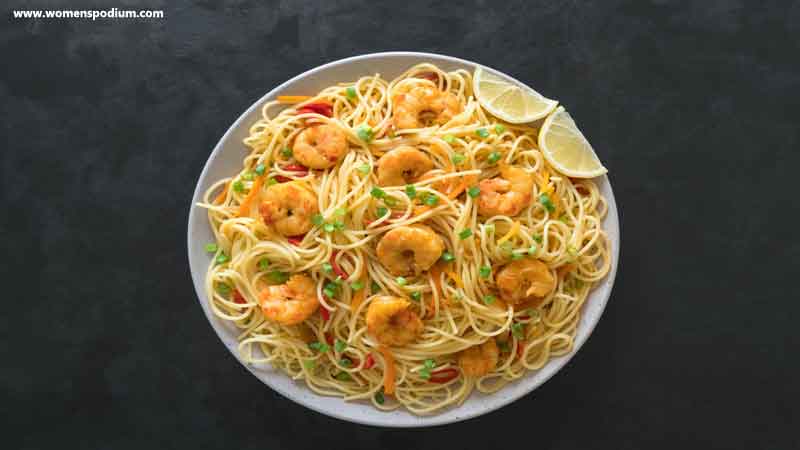 Seafood is a precious gift to us, and when you combine it with earthly spices, it makes a dream come true. Moreover, this recipe is nutritious as well.
Ingredients For The Recipe:
Instant Noodles – 1 Packet
Frozen Prawns – 8-10
Coconut Milk – ½ Tin
Green Curry Paste – 1 Tbsp
Coriander – Chopped
Lime – Sliced
How To Cook:
Cook your instant noodles the same as the package instruction without the sachet.
Place a pan over a medium-high flame and simmer the curry paste for a minute or two.
Add the rest of the ingredients (coconut milk, prawns, and spices, if any) and let it simmer for good ten minutes or until the prawns are cooked through.
Now pour the instant noodles and combine all these.
Garnish with a lime wedge or slice and coriander to give it a final touch before you serve.
The flavor sachet that comes with the noodles does add flavor to the instant noodles. But when you add the fresh organic ingredients to it, the taste is heaven. You can turn this simple snack into a luxury dinner and enjoy it while you watch your favorite show. Now you know how to cook noodles in the pot and bring the best out of simple ingredients. Try these recipes to cook noodles in the pot instantly with minimal ingredients you can find at home.
Also Read: These recipes are easier to cook and enjoy at home than planning to go to a restaurant on a girl's night out.