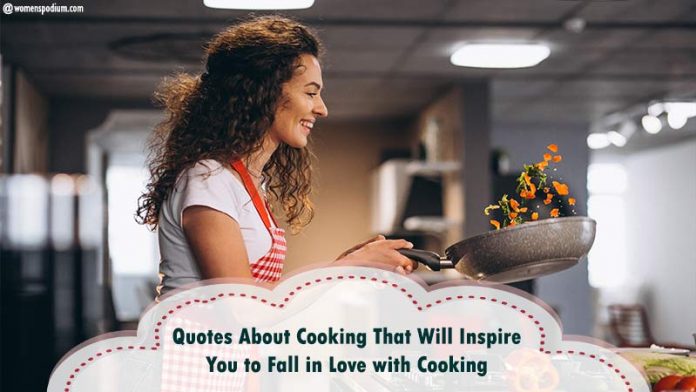 Cooking is not just throwing all the ingredients in a pan and calling it a day. It is also not using the fanciest cooking equipment to whip out the most complicated dishes. No, cooking is simply for the joy of it. It is the act of making something soul-warming and delicious from ordinary ingredients. Cooking, especially cooking well, is no less than an art, and today's quotes about cooking will assist you in exploring more about it. A cook who knows the value of their kitchen is a good cook. They realize the potential each ingredient holds and the value even the most subtle flavors add to a dish. It is a play of balance, taste, and skill, that everyone does, but only a select few perfect.
Who Can Cook?
Like Chef Gusteau says in his famous quotes about cooking, anyone can cook. If you have seen the popular animated movie Ratatouille, you know exactly what we are talking about. Even a rat can cook, so what's stopping you?
Anyone can cook
Provided they have the patience and the true intention of creating flavourful magic in their kitchen, of course. Cooking is not a day to day task or just another chore to tick off your to-do list. Cooking is the time you wind off and let positive energy flow into your food.
Why Should You Read Quotes About Cooking?
Well, for one, it will inspire you to look at food in a different light. Not only will you be able to find joy in cooking, but your food will also turn out much better, tastier and healthier. Whether it is to copy down on some handmade projects or mood boards to hang around your kitchen or for an extra kick to get you all charged and pumped up, these quotes about cooking are perfect for everything cooking related.
Also Read: A kitchen is perfect not only when you cook with your family or for them but also when you have a blend of layout, surfaces, modern kitchen appliances that create a cooking space that's simple to use and pleasure to cook.
25 Best Cooking Quotes For Culinary Innovation
Don't think of cooking as a task, but learn how to enjoy it. The crunch of fresh vegetables. The satisfaction of perfectly diced ingredients. The sizzle of the oil on the pan. And, of course, the delicious smells wafting around the kitchen. What's not to love? Here are some cooking quotes to inspire you to go the extra mile for a delicious home-cooked meal:
I'm not a chef. But I'm passionate about food – the tradition of it, cooking it, and sharing it.

— Zac Posen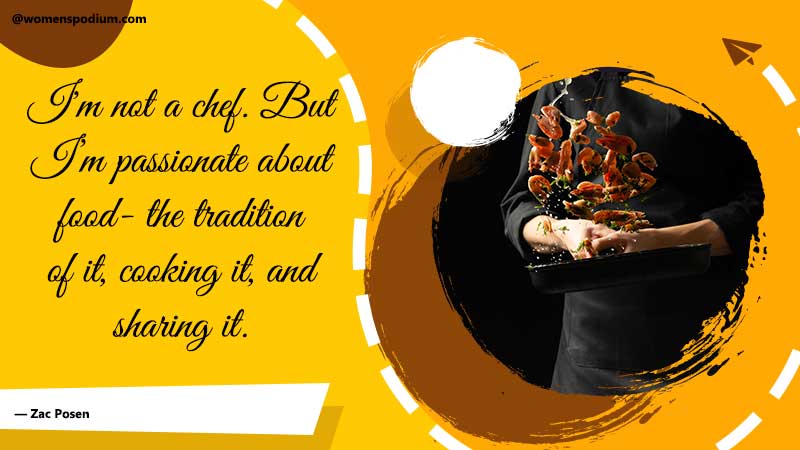 Cooking and baking is both physical and mental therapy.

— Mary Berry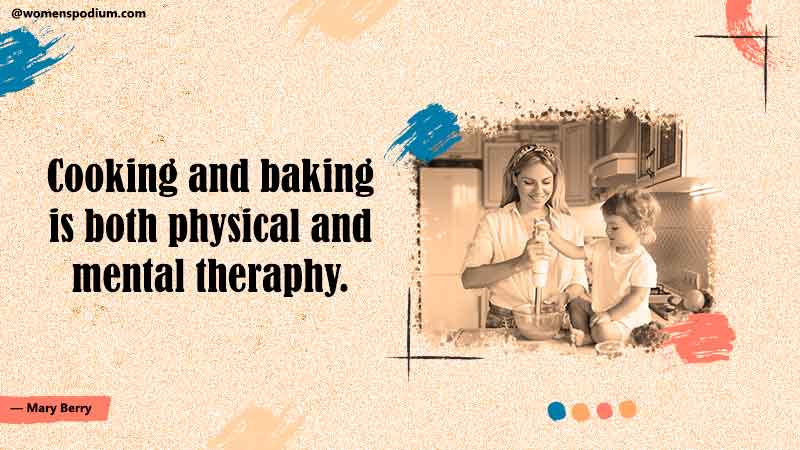 A recipe has no soul. You as the cook must bring soul to the recipe.

— Thomas Keller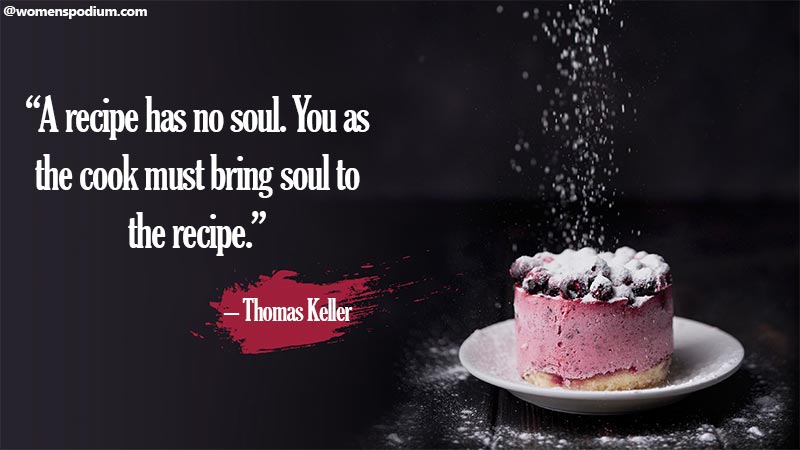 Cooking is like painting or writing a song. Just as there are only so many notes or colors, there are only so many flavors—it's how you combine them that sets you apart.

— Wolfgang Puck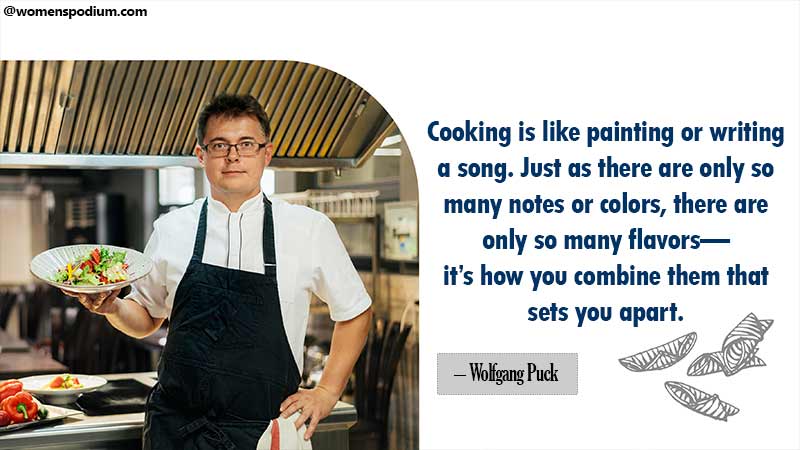 If you are a chef, no matter how good a chef you are, it's not good cooking for yourself; the joy is in cooking for others – it's the same with music.

— will.i.am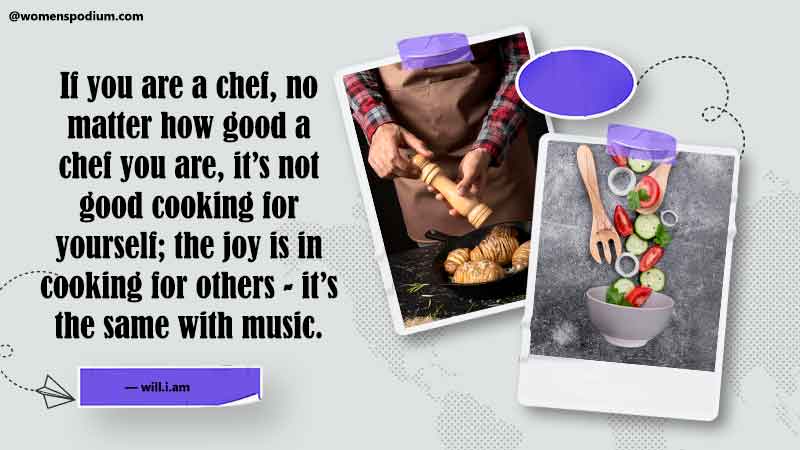 I want them to bite into a cookie, and think of me, and smile. Food is love. Food has a power. I knew it in my mind, but now I know it in my heart.

— Jael McHenry
Cooking is not difficult. Everyone has taste, even if they don't realize it. Even if you're not a great chef, there's nothing to stop you understanding the difference between what tastes good and what doesn't.

— Gerard Depardieu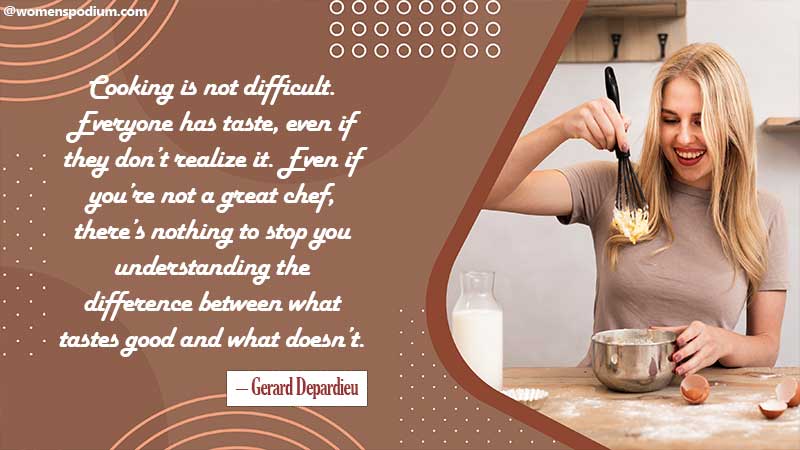 Cooking well, with love, is an art.

— Asha Bhosle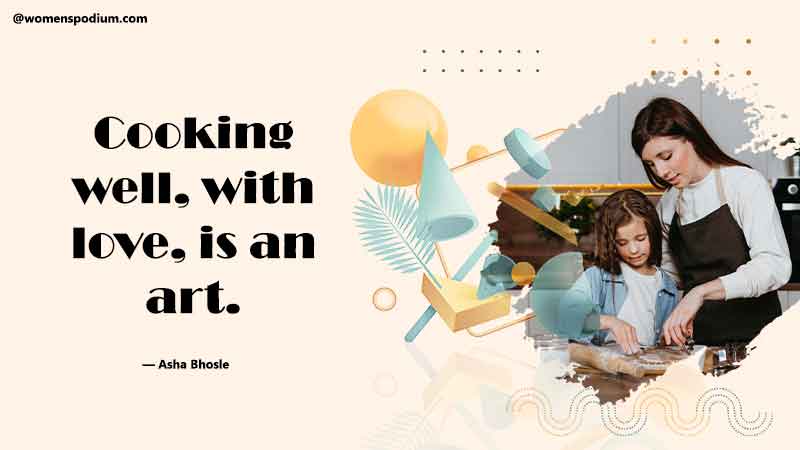 Cooking requires confident guesswork and improvisation—experimentation and substitution, dealing with failure and uncertainty in a creative way.

— PAUL THEROUX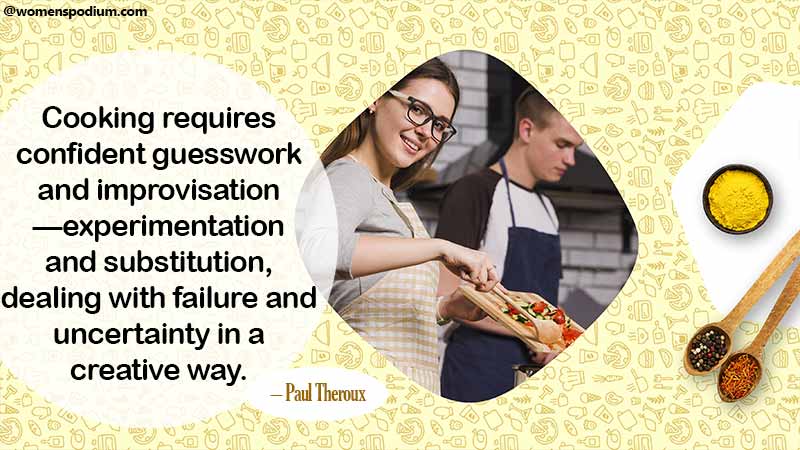 Cooking is like love. It should be entered into with abandon or not at all.

— Harriet Van Horne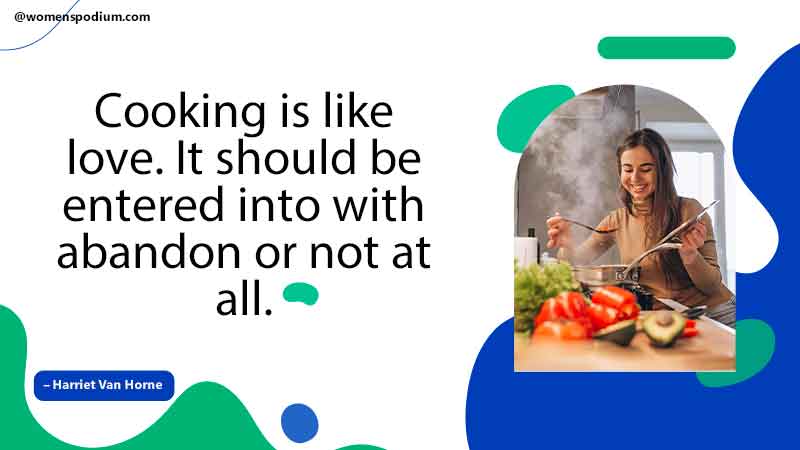 The only real stumbling block is fear of failure. In cooking, you've got to have a what-the-hell attitude.

— JULIA CHILD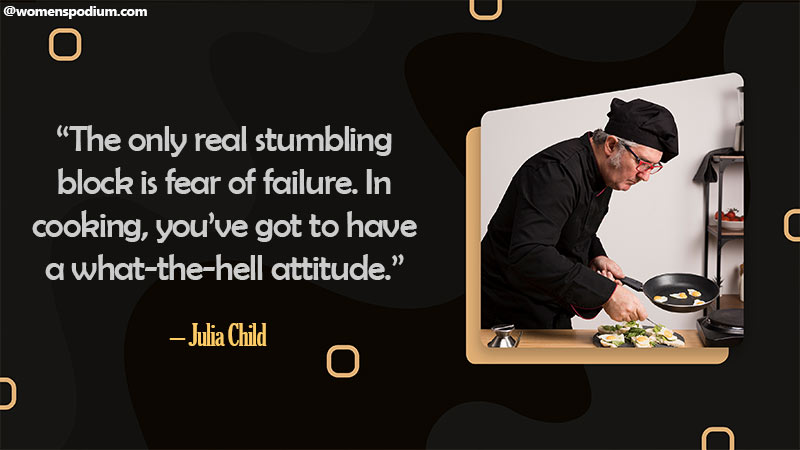 For me cooking is a pleasure, it's a relaxing thing

— Sophie Dahl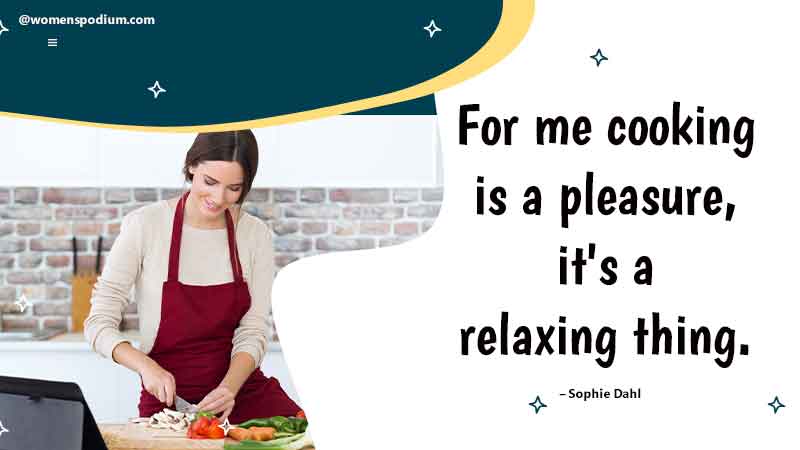 Quotes About Cooking to Evolve The Chef in You!
Cooking is a blend of art and science, and it needs the accurate measurement and personal touch to it, so try exploring everyday cooking to excel your cooking skill to cheer up people around you.
Cooking is like snow skiing: If you don't fall at least 10 times, then you're not skiing hard enough.

— Guy Fieri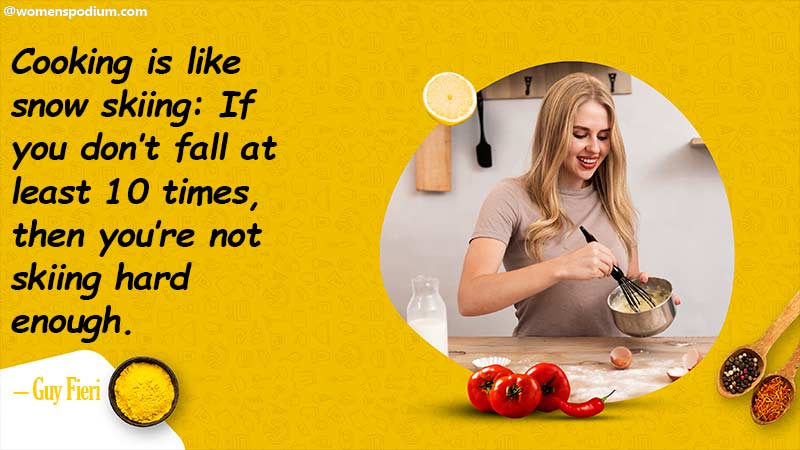 Cooking at home with fresh ingredients means you know what's going into your food.

— Joe Wicks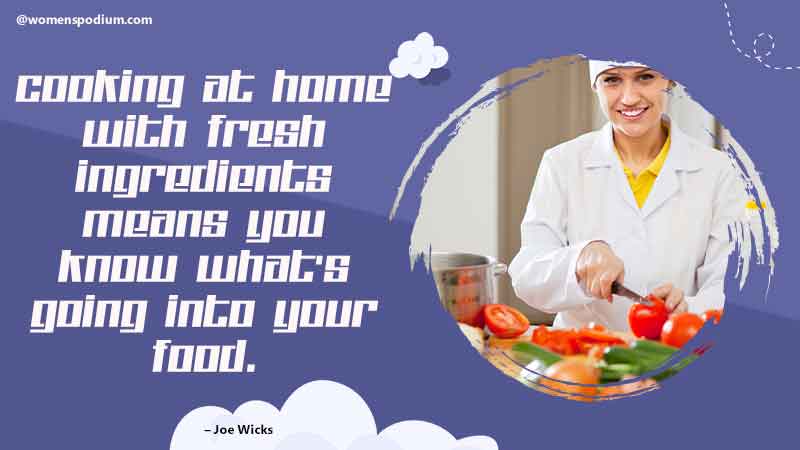 Cooking demands attention, patience, and above all, a respect for the gifts of the earth. It is a form of worship, a way of giving thanks.

— JUDITH B. JONES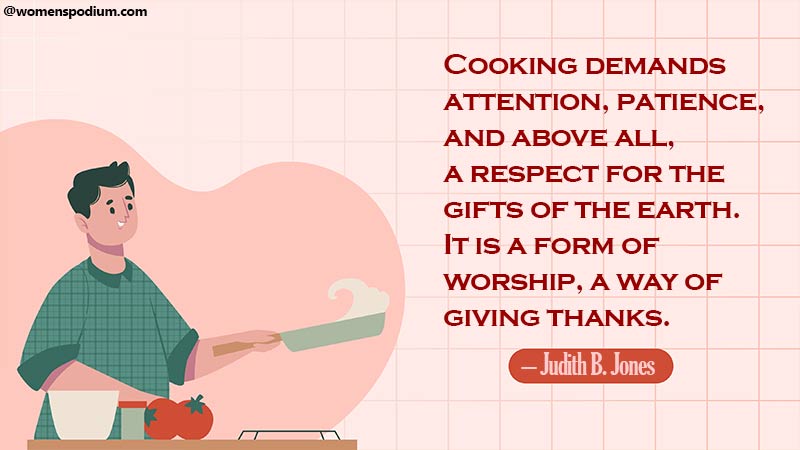 When it comes to cooking, it's a skill you learn and develop.

— AINSLEY HARRIOTT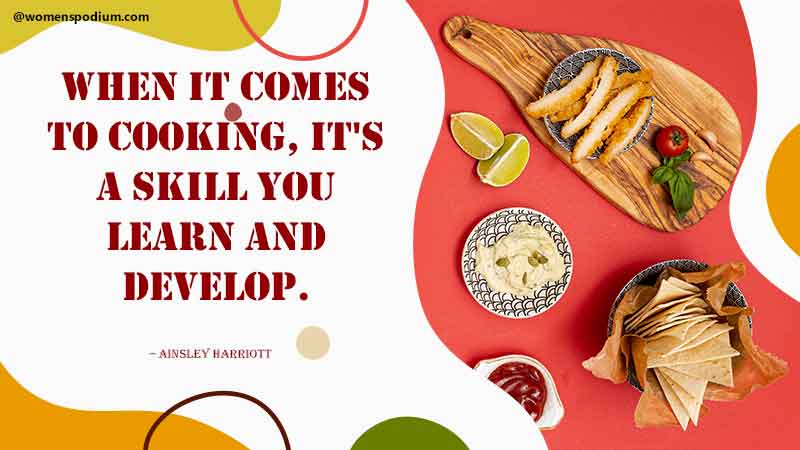 I feel a recipe is only a theme, which an intelligent cook can play each time with a variation

— MADAM BENOIT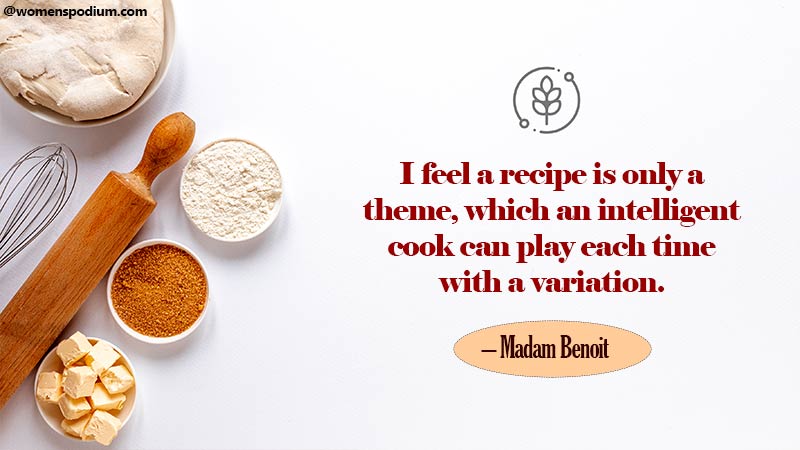 For me, cooking is an extension of love.

— HEDDA STERNE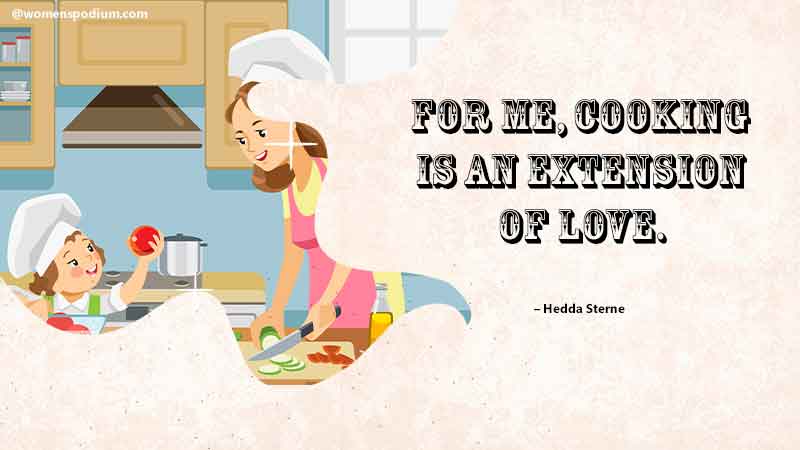 Cookery is not chemistry. It is an art. It requires instinct and taste rather than exact measurements

— MARCEL BOULESTIN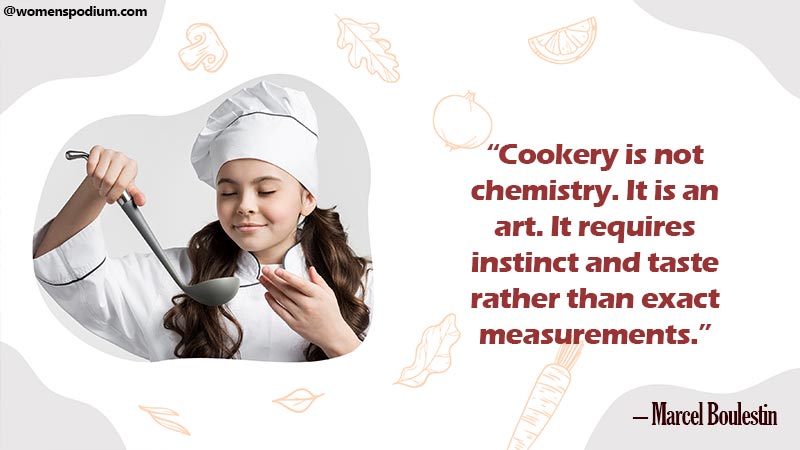 Cooking is about passion, so it may look slightly temperamental in a way that it's too assertive to the naked eye.

— Gordon Ramsay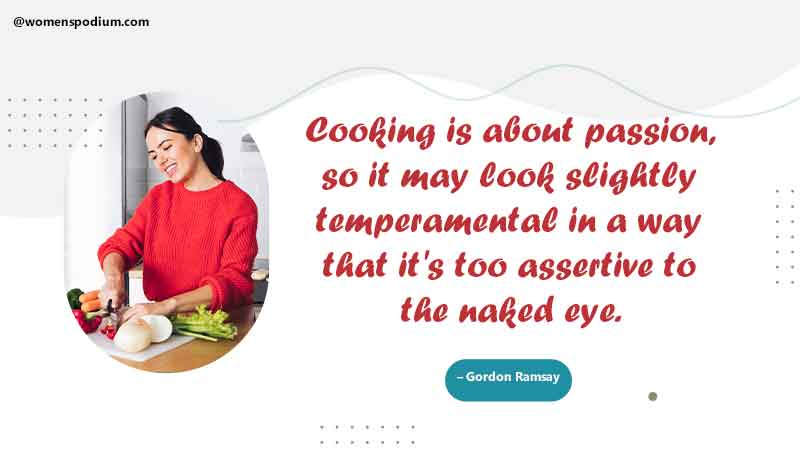 I'm just someone who likes cooking and for whom sharing food is a form of expression.

— MAYA ANGELOU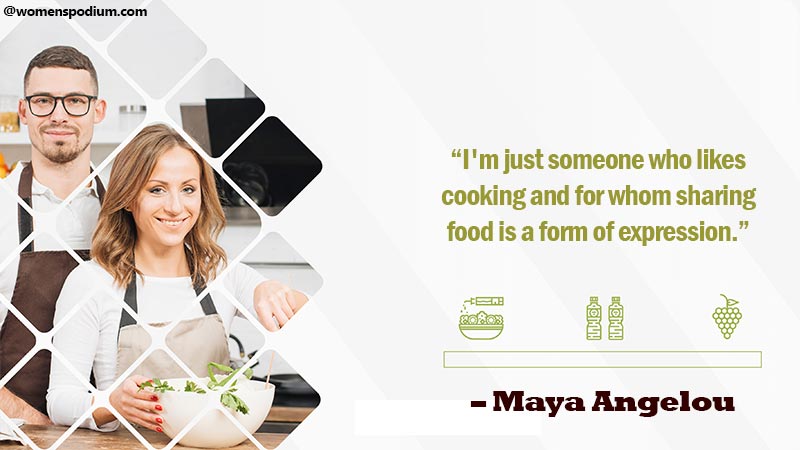 Food was a labor of love you felt by cooking it and eating it.

— George Tillman, Jr.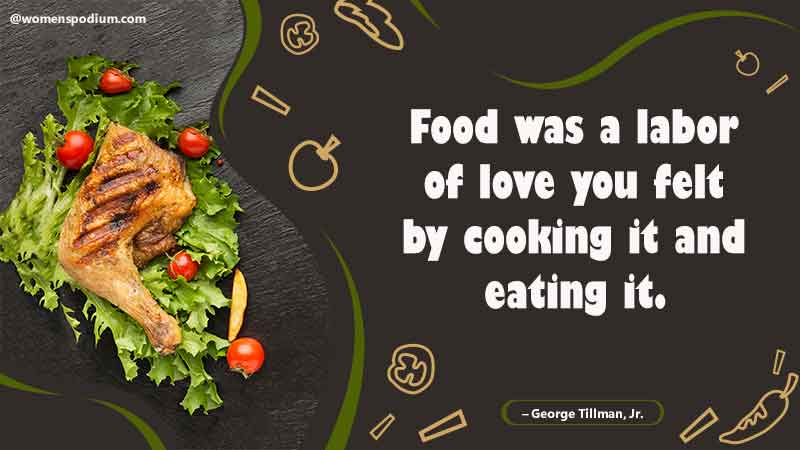 No one who cooks, cooks alone. Even at her most solitary, a cook in the kitchen is surrounded by generations of cooks past, the advice and menus of cooks present, the wisdom of cookbook writers

— LAURIE COLWIN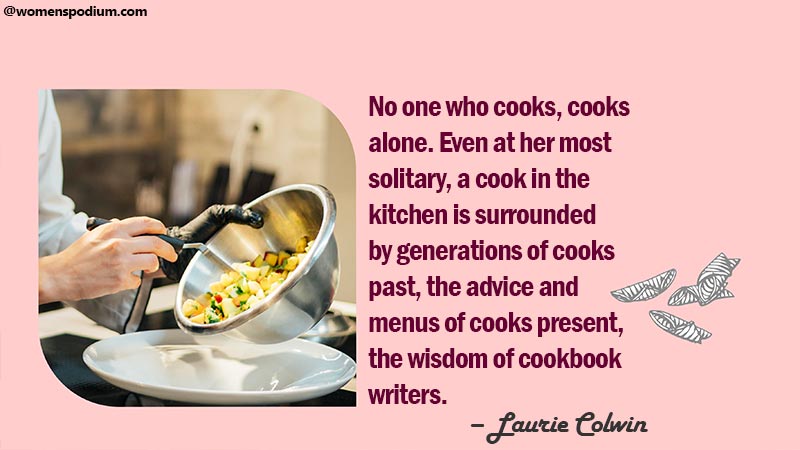 An excellent wine, someone's best attempt at cooking, and the candles and flowers on the table can turn the simplest dinner into an unforgettably romantic event.

— Letitia Baldrige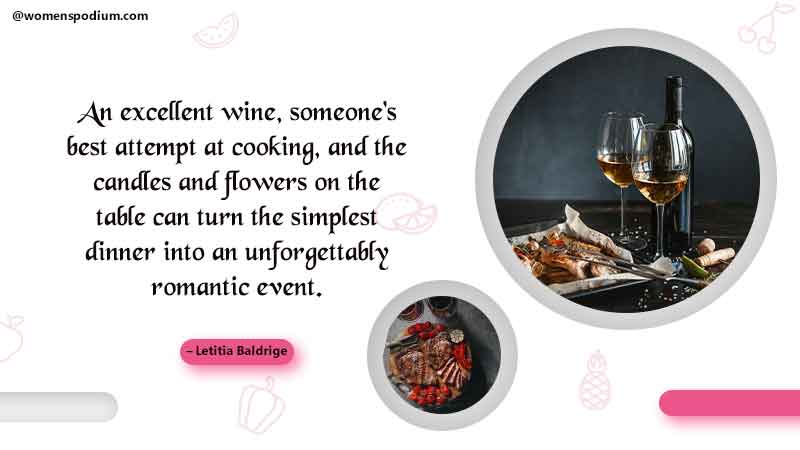 After reading these quotes about cooking, if you are inspired to try making something for your family and dear ones, visit our food and recipes section; you will get quite easy recipes to try once.
Also Read: If the above cooking quotes motivated you, celebrate the day by making some air fryer cheesecakes or healthy snacks.