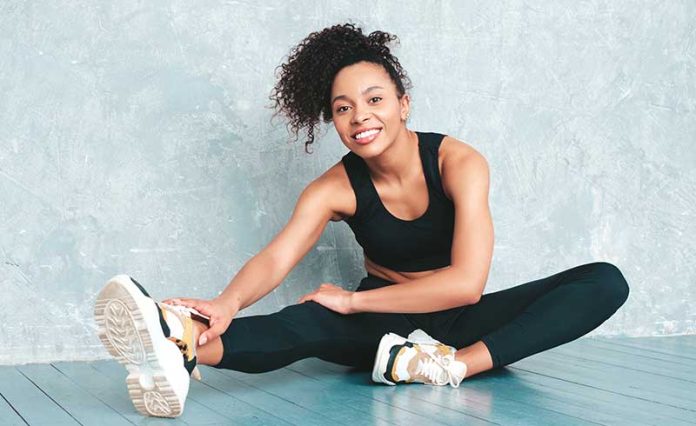 We all have the best workout plans in our minds when we go to the gym. Many factors decide your workout passion, but one thing that shouldn't affect you negatively should be your workout hairstyles. Understandably, you don't want to deal with sweaty tangles in your hair, but working out with braids and ponytails becomes more manageable than you think. Wondering what the best hairstyle for working out is! Here are the 15 best hairstyles for working out. You can move around easily and comfortably in these easy gym hairstyles.
15 Easy Gym Hairstyles For Women To Make Work Out More Fun
Here are tHere are the go-to easy gym hairstyles for women that a gym-goer like you can easily execute your workout plan. Try these trendy ongoing fashionable gym hairstyles to know which one suits you the best.
1. High Ponytail For Long Hair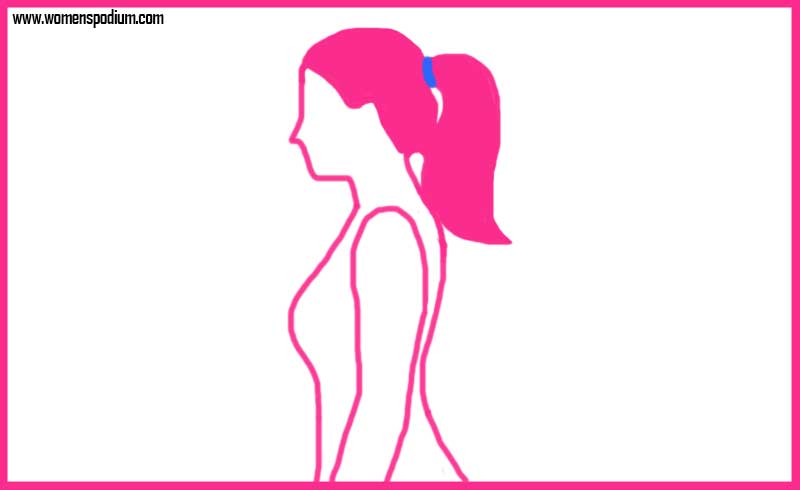 The first and most leisurely of all workout hairstyles is a ponytail. This is a go-to hairstyle for most women and teenage girls, just because you can do this hair updo in a few simple steps. First, comb your hair to untangle them. Now, with the help of a hairbrush or a comb, brush and pull back all your hair at the back of your head. Tie them with a band, and you got beautiful, effortless, and cute gym hairstyles for long hair.
2. Side Braid For A Neat Look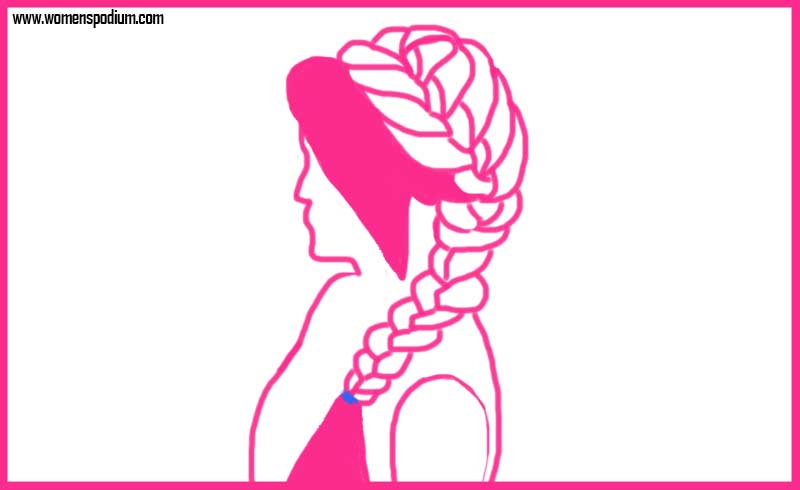 Working out with braids becomes easy because they keep your hair coming out on your face. If you have long hair, a side braid is another option. A simple side braid looks neat, and if you want to make a different braid, you can try a French braid or fishtail braid. A braid will keep every hair strand out of your face, so you will have fun while working out. Plus, you'll get natural waves for the whole day.
3. Top Knot For Easy Hairstyle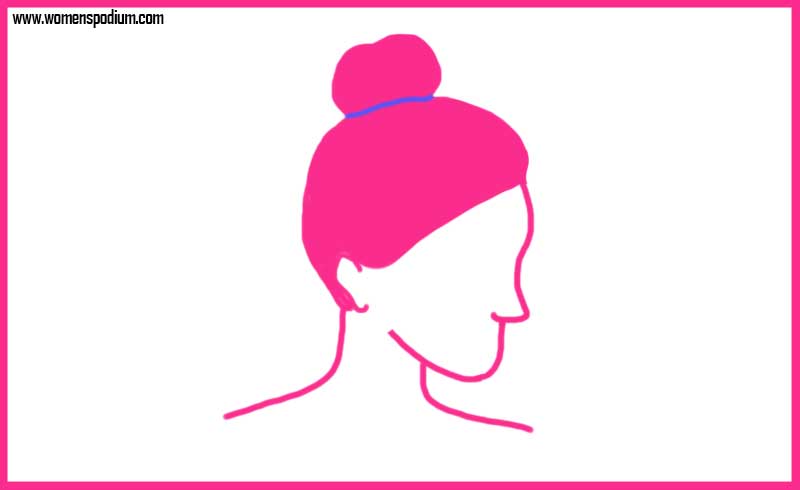 You can make an effortless top knot hairstyle if you have medium hair. It is one of the easy and quick workout hairstyles you can opt for if you have little or no time to get ready for the gym. You can make it by binding all your hair in a ponytail. Part them into two sections and then twist them around each other. Then wrap these strands around the hair tie and secure with pins. It will look voluminous and neat if you have healthy hair.
4. Low Ponytail For Medium Hair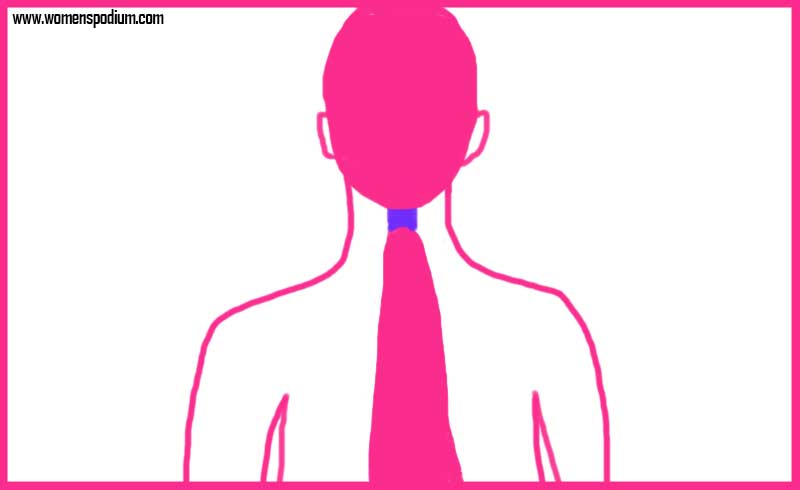 This hairstyle is effortless yet put together, and it is perfect as a workout hairstyle because your hair would be stress-free. Low ponytails aren't just for long hair. Women with short hair can also do this hairstyle if they want. You only have to untangle your hair first. Then comb back all your hair holding them at the nape of your neck; the lower, the better. Tie them with a tight hairband to secure the hairdo.
Also Read: If you don't have an intense workout plan, here are a few easy half-up half-down hairstyles that you can try.
5. Pixie Hair: Wash And Go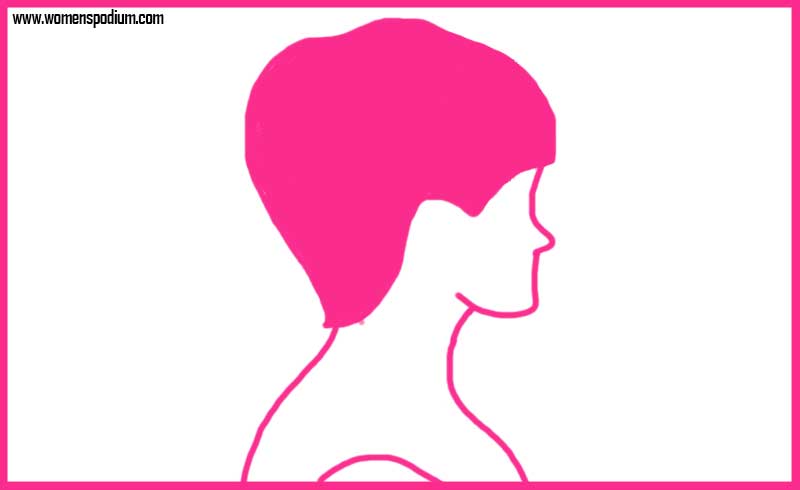 Well, nothing feels better than being all ready to go anywhere without having to spend a lot of time thinking. Women who love shorter hair can get a short hairstyle like pixie hair cut or wolf cut. Go to your regular salon, get your suggestions on whether or not a pixie would suit you, and then get a haircut. This way, you will not have to think about what hairstyle you should make to be comfortable every time you go to any type of gym for a workout.
6. Messy High Bun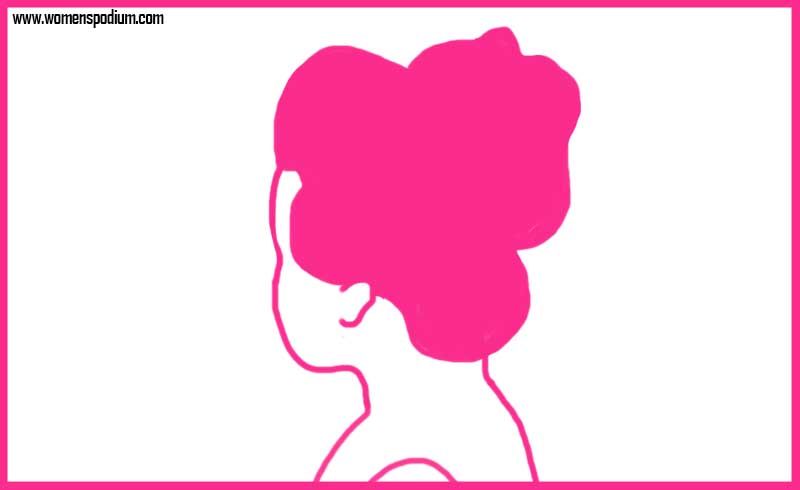 If you have medium hair and you want to try that seemingly effortless "I-woke-up-like-this" kind of hairstyle, then that's perfect. You've got to make this messy high bun one of your go-to workout hairstyles. The base of every bun is a ponytail, no matter how high or low you want to make it. Then twist the ponytail until it is taut and wrap around your hair into a bun. Pull out some strands to create volume. Try your way; nothing can go wrong in a messy bun.
7. Braided Bun Stands Longer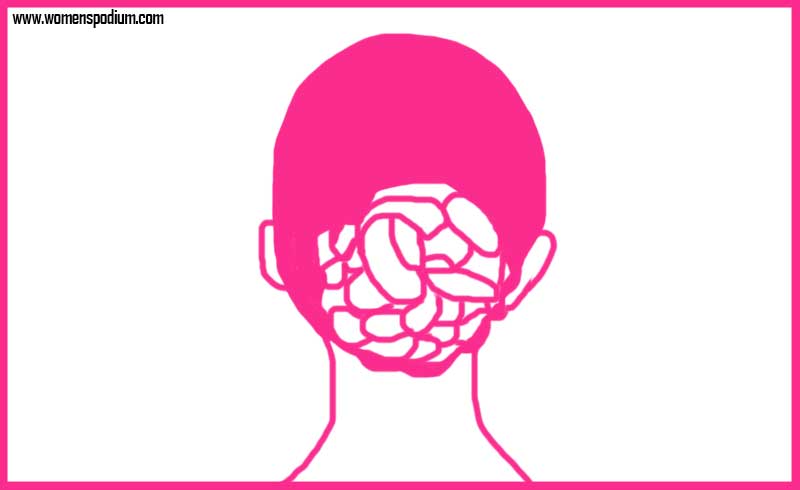 If your workout regime is vigorous, your hair might slip out of your regular bun and cause you trouble. You certainly wouldn't want that to happen. A braided bun is a neat and long-lasting alternative to a messy bun. First, make a ponytail at whatever height you want. Make three strands and braid them. Then twist your braid around the hairband to shape it into a bun. You'll get one of your perfect workout hairstyles done.
8. Puff Bun For Curly Hair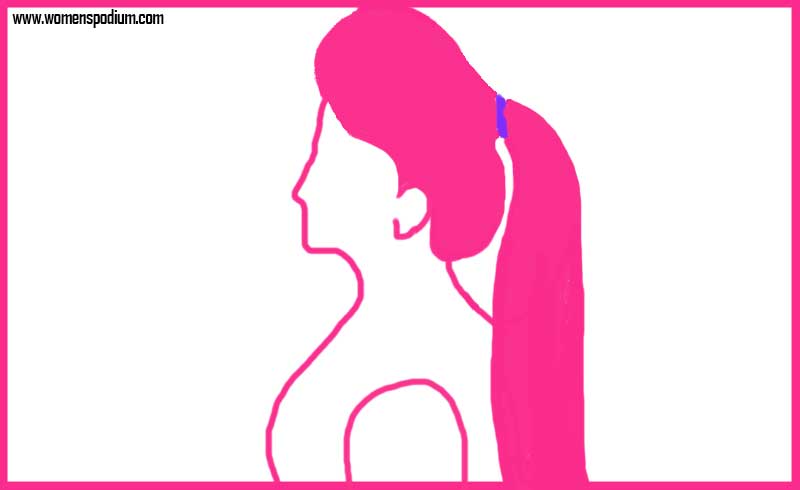 Although curly hair is difficult to manage, this hairdo will keep it simple for your curly hair. If you have shoulder-length hair with 3 c curls or close, go for a puff bun as a cute gym hairstyle. Using your fingers as a comb, gather all your hair on top of your head. Then tie a ponytail but keep it a little bit loose. This way, you'll get a voluminous and neat puff bun. You can keep a hairband in your bag in case it gets loose.
9. Boxer Braids Or French Braids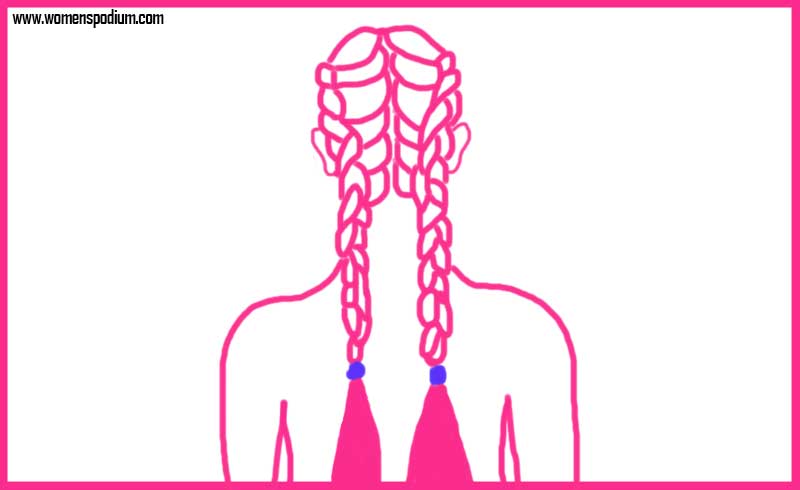 Braids are the ultimate solution to keeping your hair longer, so they are the best hairstyles for working out. Boxer braids are one of the best workout hairstyles as they hold your hair for a longer time. If you don't have time in the morning, you can do your hair the night before. Either part your hair in the middle and make two braids or make a few small braids all over. Nevertheless, it looks fabulous on everyone.
10. Zig Zag Dutch Braids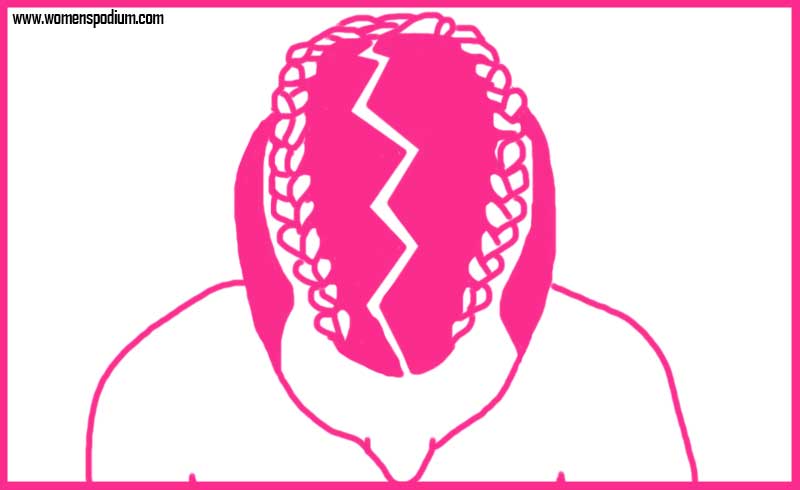 If you want to add some extra flair to your braids, you can go with Dutch braids. Add an extra element by parting your hair from the middle in a zigzag manner. Whether you have long hair, medium hair, or shoulder-length hair, you can make a Dutch braid easily. Start from the front part by making a braid, add hair strands to the braid and continue until the last tip. You will get a neat and trendy gym hairdo.
11. Pancake Braid To Create Volume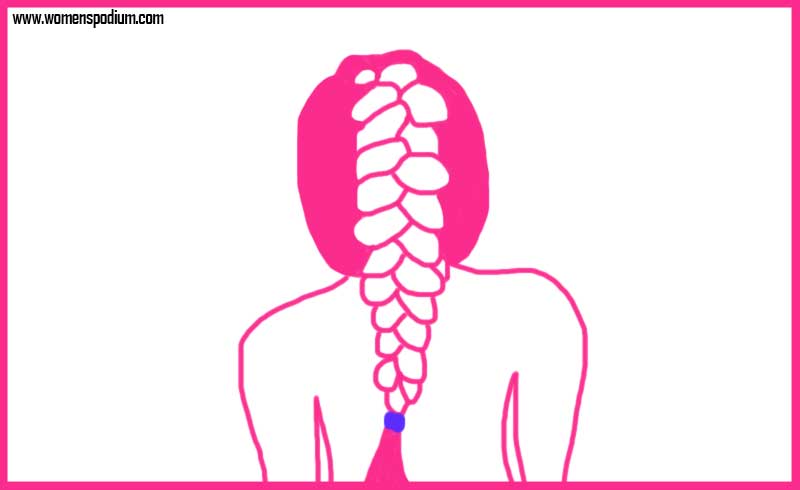 Pump up the volume of your hair with a pancake braid. You can make this braid on the middle section of your hair, leading to a ponytail. Simply make a Dutch braid just in the middle section of your hair, loosen up by giving it a gentle tug, and pulling some strands. Tie a high ponytail to finish the hairstyle. This will create volume, and you will look your best at the gym.
12. Braided Pigtail For Straight Hair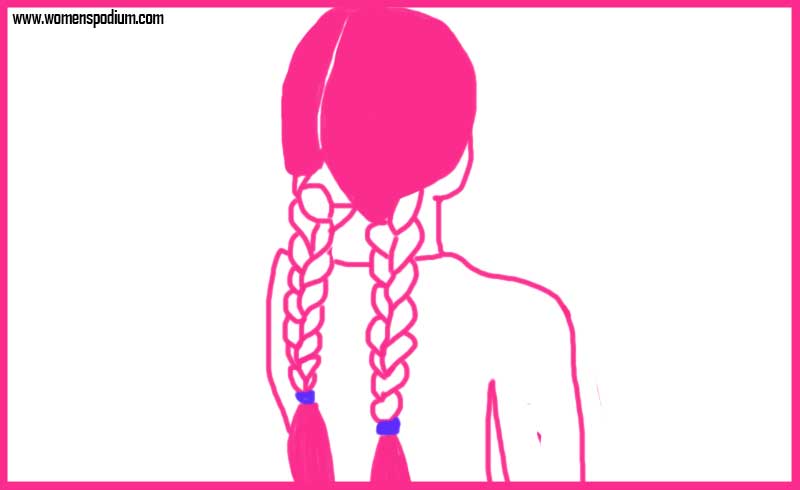 This hairstyle is your best choice if you want your hair away from your neck and your face. Simply part your hair from the middle to get two sections. Tie them with an elastic. You can leave them like that or make classic braids if you want. You will find this hairstyle most comfortable for yoga and Pilates. Also, you will feel comfortable while doing super crunches or yoga for weight loss on a mat.
13. Bubble Ponytail For Long Hair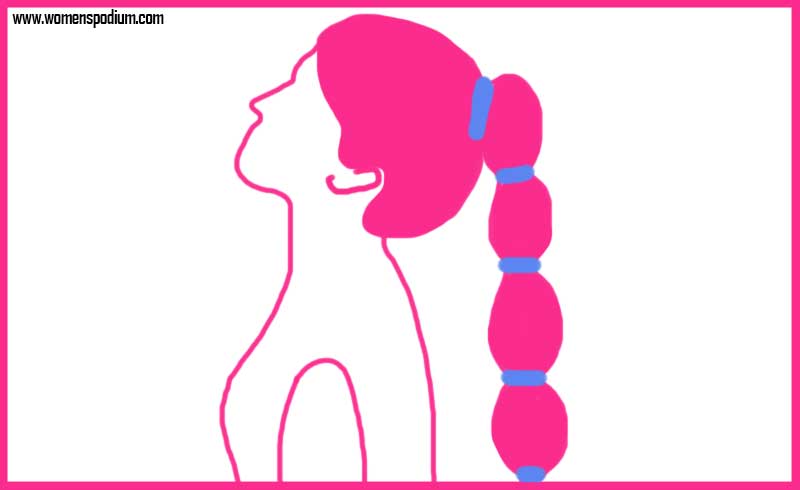 For this hairstyle, you only need elastics and a little bit of skill in handling your long hair. You can use this hairstyle to keep the tangles and knots out of your hair. First, untangle your hair and tie it in a neat ponytail to make this hairstyle. Tie another hair tie at some distance. Pull out strands of hair to make it look like a bubble. Do the same along the entire length of your hair.
14. Trendy Slick Back Low Bun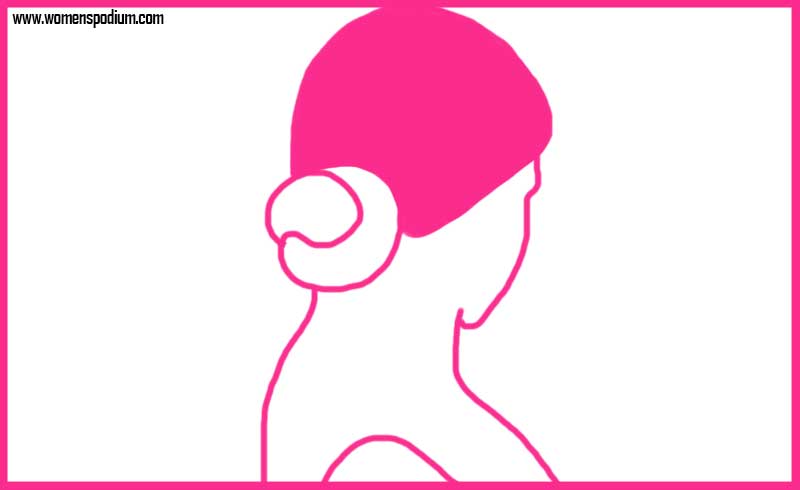 Slick-back hairdos are trendier and more stylish these days. So why not make slick back low bun as your workout hairstyles. Apply a little bit of gel on your hair and brush out your hair backwards. First, tie your hair in a low ponytail. Then twist your hair around the ponytail and wrap them around the base. It is a perfect hairstyle for weight training and intense workouts when you try to lose extra pounds.
15. Braided Space Buns
Space buns are the new cool, so you have to try this one out. You can add an eye-catching element by making the braids at the back of your head. You can start by parting your hair into two sections. Lower your head, then take a section of your hair at the nape of your head. Start making the Dutch braid and go all the way to the top. Tie your hair and finish by wrapping around all your hair around the bun.
Many people must have the new year resolution to become fit and have a healthy routine. You might have been enthusiastic at first. But once you get into it, going to the gym every day or every week feels tiring. Your workout hairstyles are as important as your gym wear because when you are comfortable with both your outfit and hairstyle, you can do your best while gyming. Try these different gym hairstyles to start working out to tone your body.
Also Read: Workout hairstyles are as important as gym wear to keep your motivation of doing yoga for healthy living.