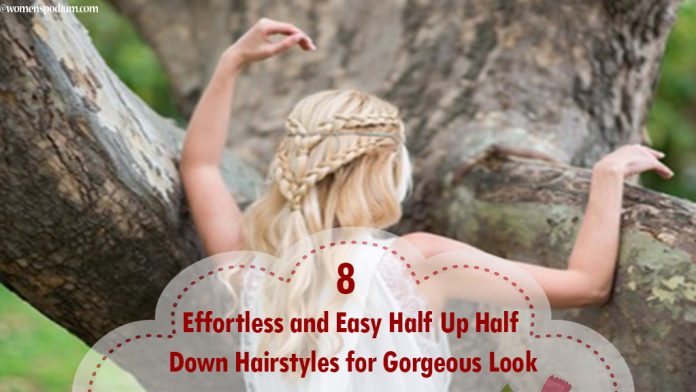 From go-to lazy hair updos for parties to proms and weddings, try the easy half up half down hairstyles to do yourself that can save you some trouble. The partial half-down hairstyles are not only glamorous wedding hairstyles but also the best summer hairstyles, suitable for both mid-length and long hair. However, they can be great for short hair too. Half updos are even great for more formal and casual events such as first date or a job interview because they keep hair out of your face. You can wear these hairstyles even while hanging out with friends at a park on a hot summer eve.
Regular Easy Half Up Half Down Hairstyles for Medium to Long Hair
These laid-back hairstyles are best for girls who are lazy to wear a glam look by complicating the hairstyles. The simple half updo is a go-to, gorgeous hairstyle for anyone with medium or long hair.
1. Casual Half-Up Hair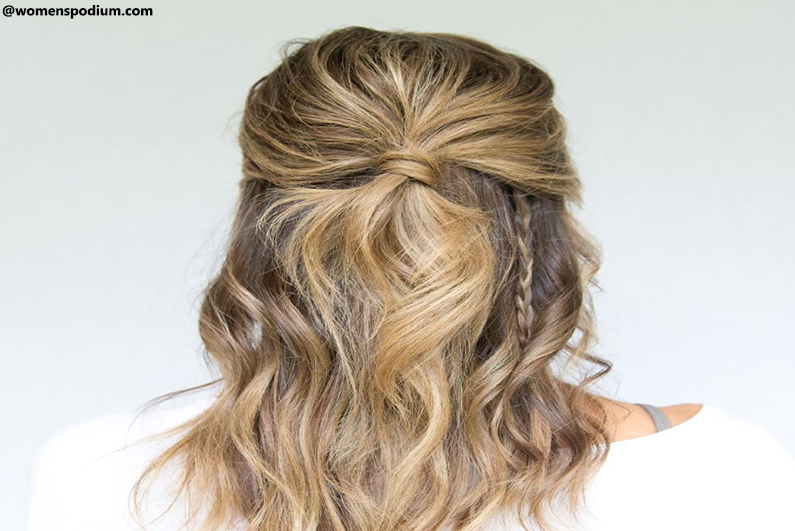 Such hairstyles might be the most casual, gorgeous, and easy half up half down hairstyles you can wear with any hair. They will give you a comfortable casual summer look—you can add some embellishments and barrette for a fancier occasion. This style only requires two steps. First, grab the hair from above your ear till the back of your head. Then comb out any strand of hair to smooth it down. Tie it with an elastic band. Next, loosen up the upper part to make it look a little puffy. Here you have the simplest hair updo.
Also, Read:

 How women can use hairstyles as 

fashion tricks to look slim

, tall, and formal yet elegant.
2. Horizontal Braided Crown Half Updo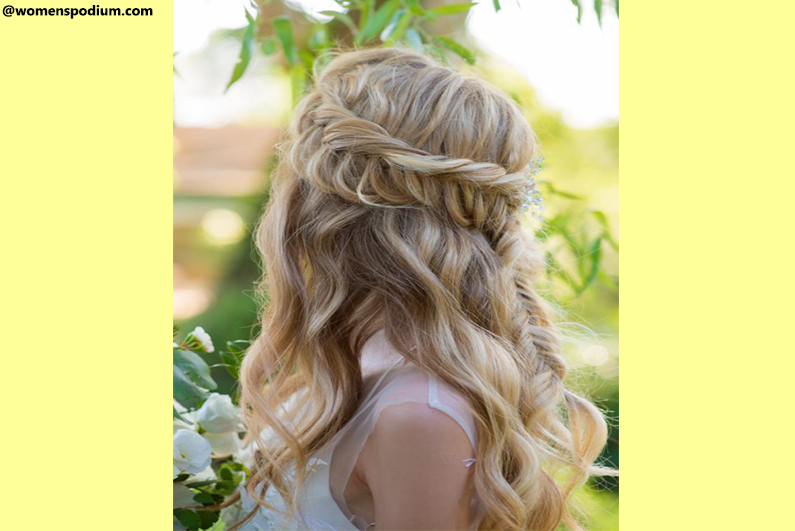 This amazing yet easy hairstyle is utterly perfect for exciting and carefree summer days. If you can pull off a fishtail braid, you can do this easy half-up voluminous hairstyle. Parting your hair in the middle makes a French braid on both sides so that it sits to the sides of your head. The braid adds up more strands of hair with every twist, which makes it voluminous as well. Then, tuck both the braid at the back of your head, shaping them in a crown, securing them with the bobby pins. Make it simple and neat.
3. Puffy Bouffant Curly Half Updo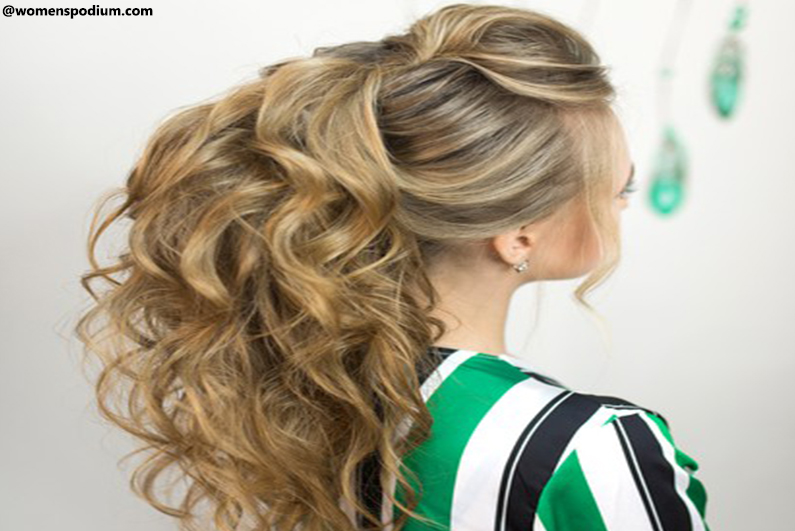 Get fabulous with the gorgeously soft and puffy bouffant easy half up half down hairstyles! This Victorian-style bouffant gives a voluminous look to your hair. You need to have a healthy hair care routine to wear this hairstyle because there is a lot of backcombing. Grab the top section of your hair and clip it. Make every strand of hair puffy by backcombing. Gently smooth it down a little. Then by backcombing the top hair, make a puff. Pull out some hair to make it lose. Secure with hairpins.
4. French Mohawk Braid Half Updo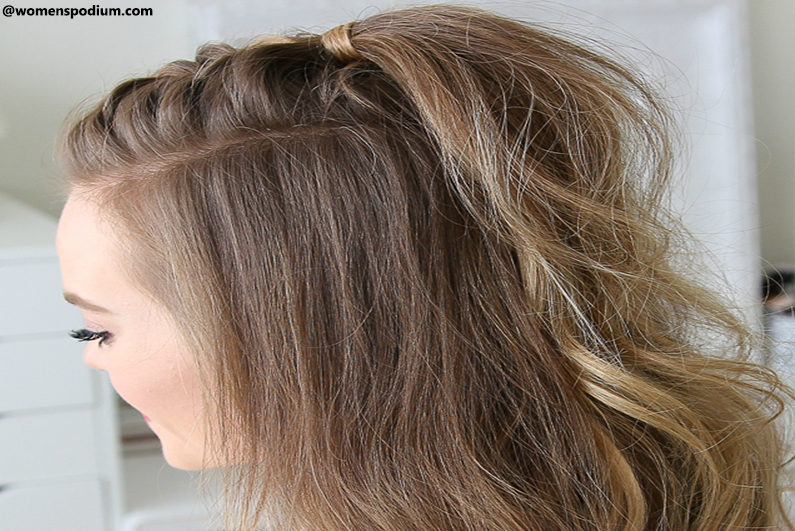 More like a mohawk, this hairstyle gives a teenage party look and bold look for a girl's night out. You have to section out the top hair by clipping down the parallel lines from the quarter of your head for this look. For the braid, start by grabbing the frontmost section of hair and dividing it into three parts. Next, start making a French braid just so it sits on top of your head. Tie it with a rubber band and curl upon it a small section of your hair to hide it. Backcombing the ponytail will give a voluminous look to your hairstyle.
Trendy Buns for Easy Half Up Half Down Hairstyles to Try
Half-bun hairstyle trends are on the rise these days. Teens and youngsters love to adapt these bun hairstyles for a casual and everyday look.
1. Half-Up Space Bun
Space buns, also known as double buns, give the cute Japanese character manga style to your look. Half-up space buns are the same, except that they look more childish than other hair updos. First, you have to part your hair in the middle and make ponytails. Then, by twisting the strands of hair wrap around itself to make a bun. Do it the same way on the other side as well. Pull out some hair and make this style a little messy to give it some texture and a voluminous look.
Also Read: Never forget to keep extra hair ties in your bag, women must carry necessary essentials in her bag, no matter what!
2. Messy Half-Up Bun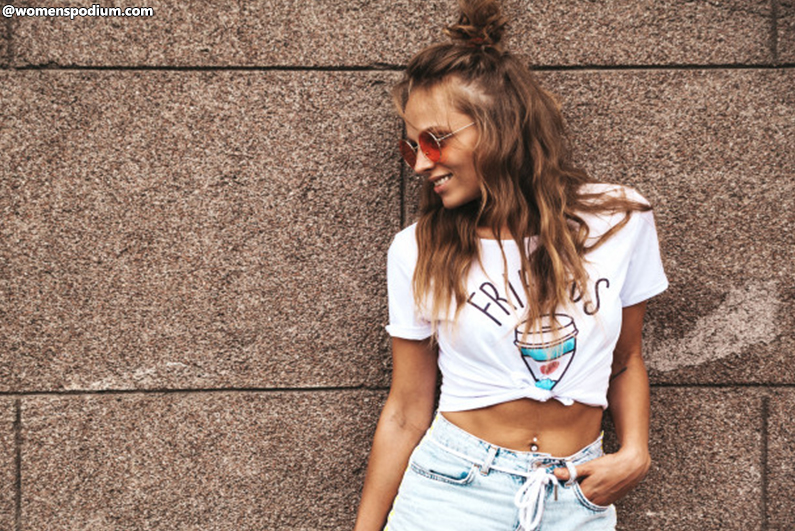 Everyone loves a quick, easy, breezy, go-to lazy bun hairstyle that is both easy and glamorous. And if you are looking for a more casual look, you should try this ideal messy half-bun. Begin by backcombing the top section of your hair for a puffy look. Next, grabbing the upper head section of your hair, make a ponytail. Then shape it into a bun that sits right at the back of your head. Also, apply some essential oils to protect your hair from further damage. You will get this perfect undone half bun hairstyle, simple and easy.
3. Braided Bun Half-Down Hairstyle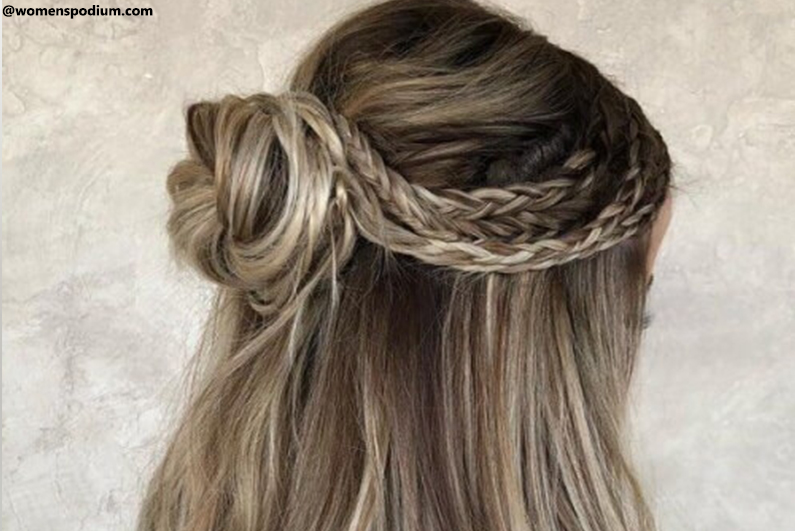 This half bun hairstyle gives you the voluminous, most covetable look ever. And this hairdo is perfect for your everyday and party look. For this hairstyle, you have to divide and grab the section of your hair from above your ears to the back of your head. First, grab the hair into a ponytail, and smooth down any bumps using a comb. Then divide the section into three small pieces, and braid the hair into a regular three-strand braid. You can pull out the edges so the bun will look more prominent. Then wrap the braid in a circle once, and tuck the braid under it, securing with bobby pins to keep in place.
4. Top Knot Half-Up Bun Hairstyle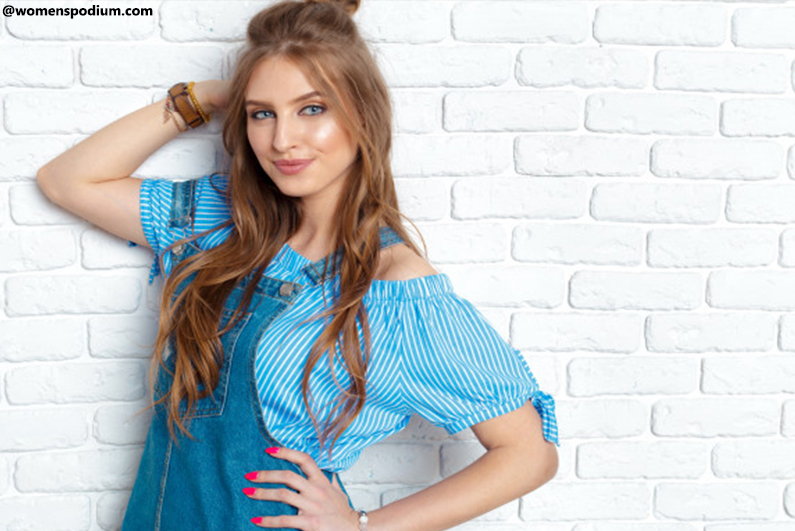 This high fashion edge style top knot bun hairstyle is modeling runway-worthy. To create this simple half-up half-down hairstyle bun, you need to grab your hair's top and front section into a ponytail. Simply weave the ponytail into a twisted strand of hair. Wrap it around itself and pin it down to create a top knot bun. Pull the hair slightly from above to give a voluminous and puffy look. Here you are with the easy instant model look.
Hair is the most valuable asset of women. You have to take care of them so you can style your hair better and look gorgeous. Treat the nutrient deficiencies, if any, to prevent hair loss. Don't forget to try the easy half up half down hairstyles this summer!