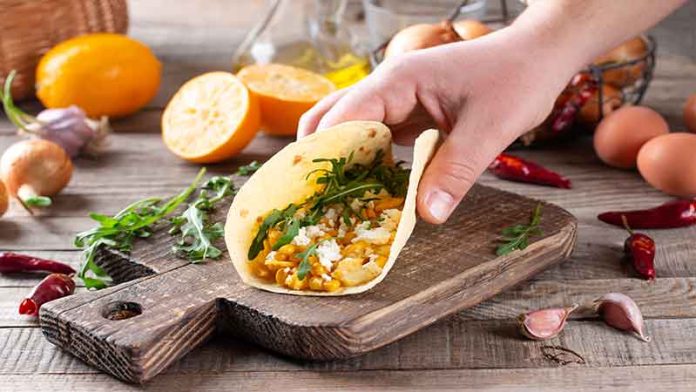 Usually, people have eggs and toast for breakfast because it is a fast and easy breakfast. But you don't want to have the same breakfast each day. You can serve different easy and quick breakfast recipes that everyone loves. Making egg taco breakfasts one day and vegan breakfast on another alternating day can encourage kids to finish their breakfast.
What Kind Of Toppings To Try On Egg Taco?
There is a variation of a lot of toppings you can try on tacos. The egg taco goes perfectly with the following toppings.
Jarred Salsa
Pickled Red Onion
Fresh Cilantro
Sour Cream
Few Jalapenos
Lime Cream
How To Make Easy Egg Tacos – 2 Quick Recipes
Try these two recipes if you are not vegan. Make these egg tacos as breakfasts for kids. These recipes are easy to follow and breakfasts are quick to make. Plus, your kids will also enjoy each breakfast.
1. Scrambled Egg Taco Recipe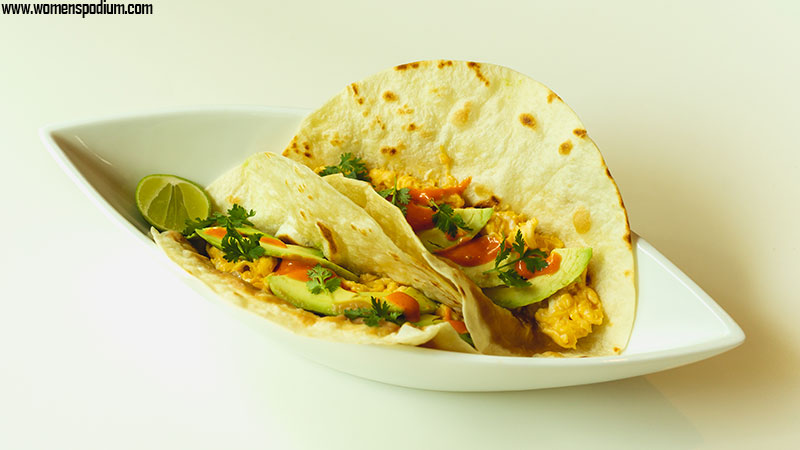 Recipe type: Snacks
Origin: US/ Mexican
Serves: Each serves one person
Ingredients
4 large eggs (well beaten)
Butter 1 tbsp
Sliced green onions 3tbsp
Crumbles of cooked sausage 1 cup
Flat corn tacos shell (heated)
Toppings (If desired)
Chopped tomatoes
Salsa
Sour cream
Sliced black olives
Shredded lettuce
Instruction/Direction
Start by putting the skillet over medium-high flame. Then melt some butter in the skillet until it sizzles.
Add the red onions to it and cook for 1 minute. Cook until onions are softened.
Stir fry the sausages and scramble the eggs then cook. Continue stirring for 4 to 5 minutes.
Then let it set for some time until the eggs are cooked. Turn off the heat.
Then heat the taco shells to make them crisp. Corn tacos are better than cornflakes.
Place the cooked egg and sausage mixture on top of it.
Then top with all the desired toppings to serve warm.
Also Read: Also look out for some unhealthy salad dressings and don't use them often in your diet.
2. Fried Egg Taco Recipe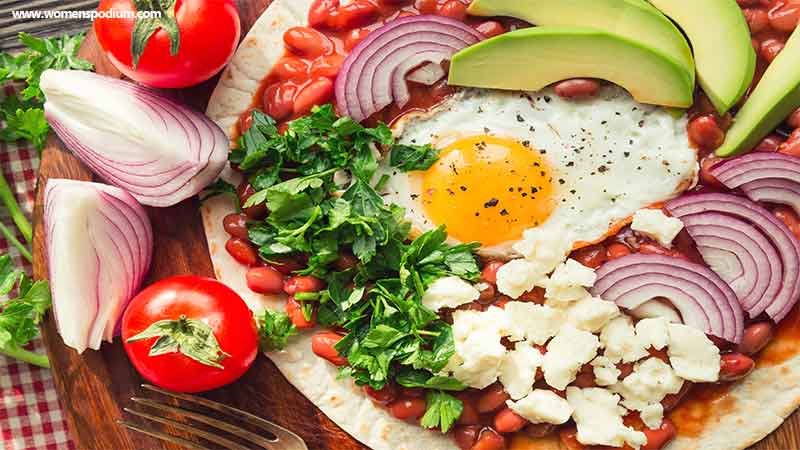 Recipe type: Snacks
Origin: US/ Mexican
Serves: Each serves one person
Ingredients
Vegetable Oil 1 tbsp
Corn tortillas (as required)
2 large eggs
Cheddar cheese ¼ cup grated
Toppings
Salsa
Avocado thinly sliced
Cilantro leaves
Instruction/Direction
Firstly, put a skillet on the fire, over medium heat. And pour some vegetable oil into it.
Add corn tortillas to the hot skillet to cook from one side.
When one side becomes brown and crispy, crack an egg carefully on top of it. Leave for 2 minutes with the lid on.
Remove the lid and place some cheese slices around the egg over the taco slice.
Add a tablespoon of water to the skillet around the tortilla so that it can cook for 60 seconds.
The egg taco base is ready. You can place the toppings on it as you desire.
Season the tacos with pepper and salt, and top them with salsa, cilantro, and avocado. Then serve.
Kids need a balanced diet and they don't want a single breakfast option every morning. You can give them. Try out these 2 egg taco recipes in your home and give us reviews on how you like these breakfast ideas.
Also Read: You can search for many different healthy snacks as breakfasts for your kids. Use heart-healthy foods that they love to make tasty breakfast.