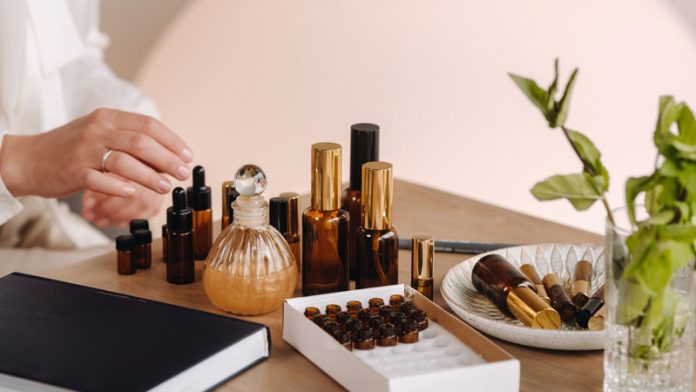 There exist many kinds of oils, which we use in our daily routine. But essential oils are the ones which can do magic in our life. Essential oils are, in fact, the extraction from certain herbal plants that have amazing health properties. They help relieve stress and have exceptional use in aromatherapy and topical treatment for skincare routine.
Essential oils are anti-fungal. They contain antioxidants, reduce inflammation, and have anti-aging benefits. These oils are often helpful in cleansing, treating acne, wrinkles, and many other skin related issues.
Here is a list of five most common and versatile essentials oils one can include in their skincare routine.
1. Sandalwood Essential Oil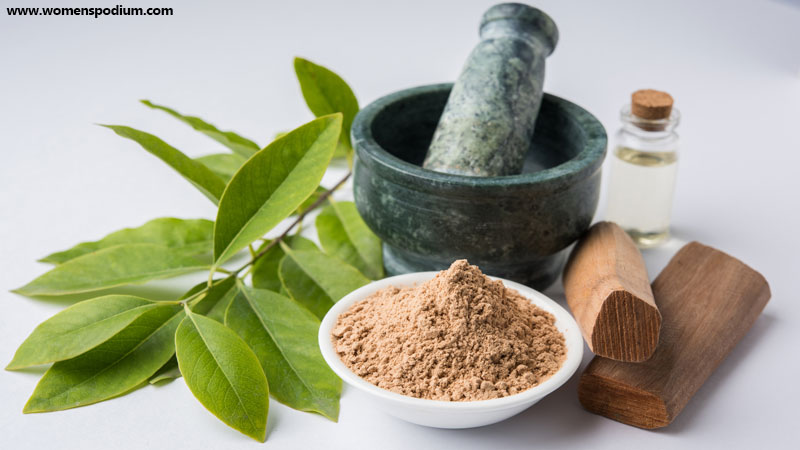 Sandalwood oil comes from the wood and roots of the Santalum album. It is one of the most valuable trees in the world. This oil is known for treating rashes and wounds due to its anti-inflammatory property. It is helpful in the treatment of eczema. It brightens up your skin and works as an anti-tanning agent. One can attain soft skin by getting rid of pimples and inflammation while using sandalwood oil or sandalwood powder.
You can apply a homemade mask containing sandalwood oil, egg yolk, and honey for sagging and aging skin. Furthermore, you can make an anti-aging balm using a few drops of sandalwood oil in any moisturizer.
2. Lavender Essential Oil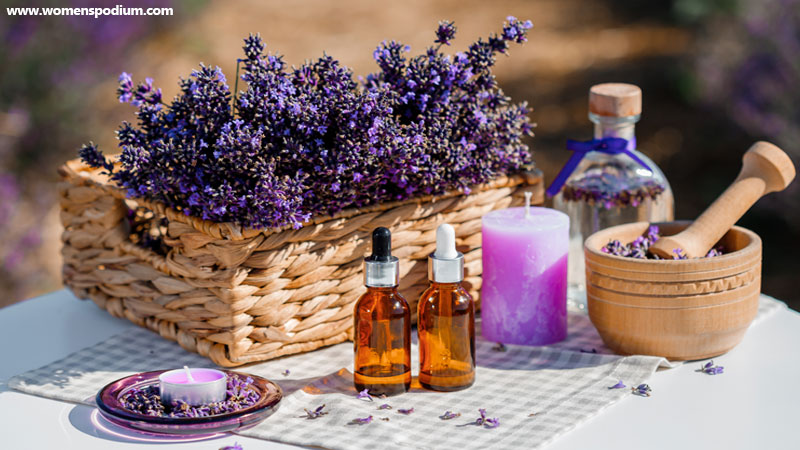 Lavender oil is a multi-functional oil. One can use lavender essential oil to treat acne. It can also help in lightening the skin tone, reducing the tan, and decrease the wrinkles. The oil helps unclog the pores and reduce inflammation. It is helpful against those bacteria which cause acne breakouts. You can mix lavender oil with a certain carrier oil, like coconut oil, for treating acne. Mixing lavender oil with witch hazel can work as a toner for the skin.
Moreover, one can use the mixture of coconut oil, tea tree oil, and lavender oil to treat eczema and dry itchy skin. The usage of lavender oil can also treat Psoriasis. It is helpful against hyper-pigmentation, dark spots, and wrinkles as well.
3. Lemon Essential Oil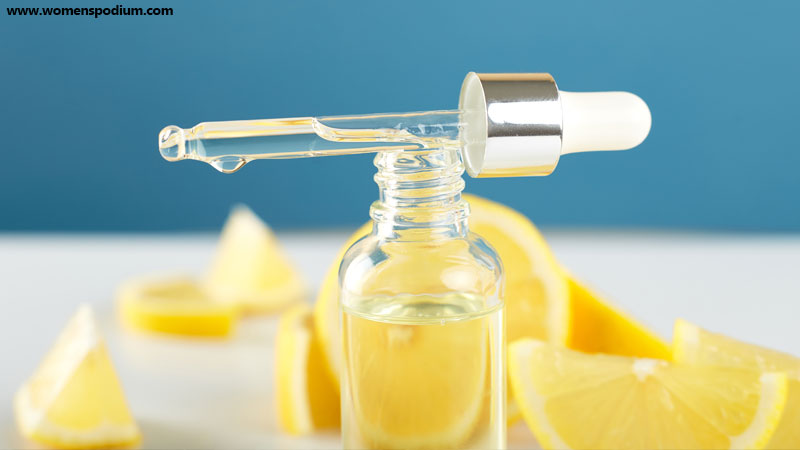 Lemon Oil is a natural astringent and anti-fungal ingredient. It helps in reducing the effects of tanning. One can use it as a detoxifying agent by mixing it with some carrier oil. When used with honey, it reduces acne and acne scars. You can make an exfoliating scrub using the lemon essential oil, coconut oil, and sugar to remove dead skin cells.
Further, a lemon oil deodorant blend can help reduce the underarm perspiration odor. The blend may contain lemon oil, Shea butter, corn starch, lavender oil, tea tree oil, and coconut virgin carrier oil. Moreover, it also improves concentration and helps with fever, asthma, and inflammation.
4. Peppermint Essential Oil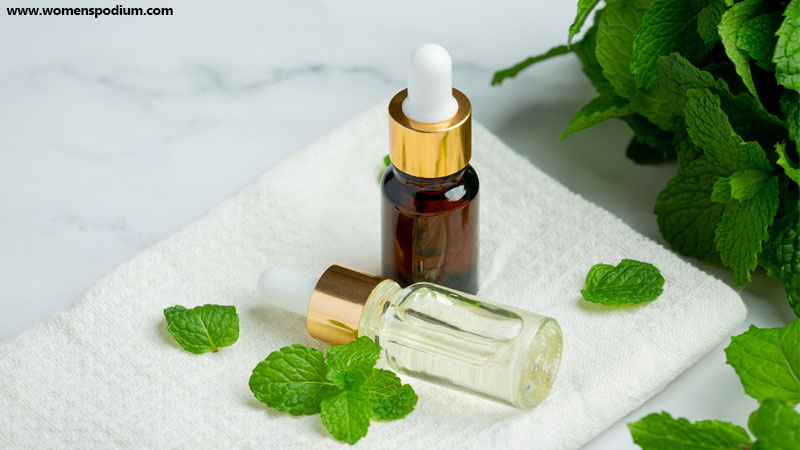 It is an essential oil that is a must-have in everyone's daily skincare and hair care routine. It has antiseptic and antibacterial properties, which helps in reducing the spread of acne. Peppermint oil has a vast range of usage, as it has the ability to cure ailments. It reduces acne irritation and inflammation. This oil can also act as a mild sedative and natural pain killer. It can also assist in treating the pregnancy itch (Pruritus) as well. Peppermint essential oil toner and cleanser are available in markets that help in brightening the dull skin. It controls the excess oil secretion of skin and prevents the clogging of pores as well.
5. Tea Tree Oil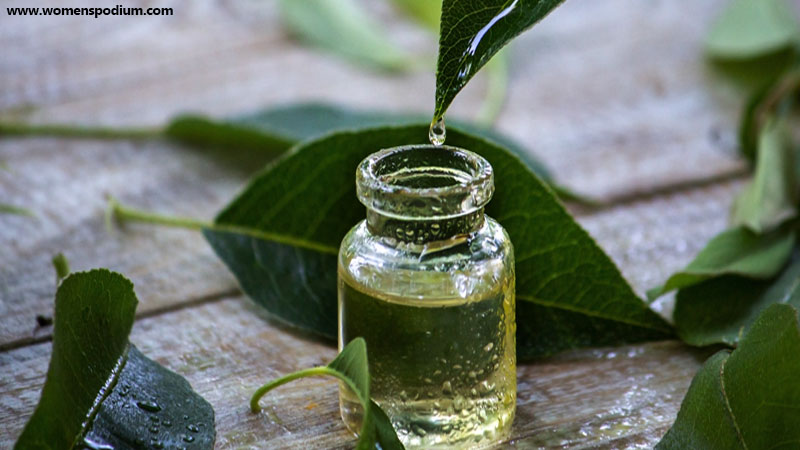 Tea tree oil or melaleuca oil, is useful for treating bacterial and fungal skin conditions and helps prevent itchy dry skin. One can use few drops of tea tree oil in any moisturizer and apply it after a shower to treat eczema. One can use sunblock containing tea tree oil to combat the oiliness of the skin. It has a use as deodorant and mouthwash as well. The oil soothes the itchy and irritating skin due to its anti-inflammatory property. It is also helpful in healing wounds, scars, cuts, and infections due to its antibacterial property.
Even though essential oils are effective, but nothing comes overnight. Avoid the direct use of essential oils. For better results, conduct a patch test and consult a skin specialist. The dermatologists recommend diluting the essential oils with certain carrier oils before applying to the skin for certain treatments. Mixing a proper amount of essential oil with other ingredients can be helpful. Regular skin care routine with these oils can get you desired results.
Also Read: While aging, we desperately seek effective aging tips; the practical aging tips for women can be the best confidant for the women who are either about to enter their middle age phase or undergoing it