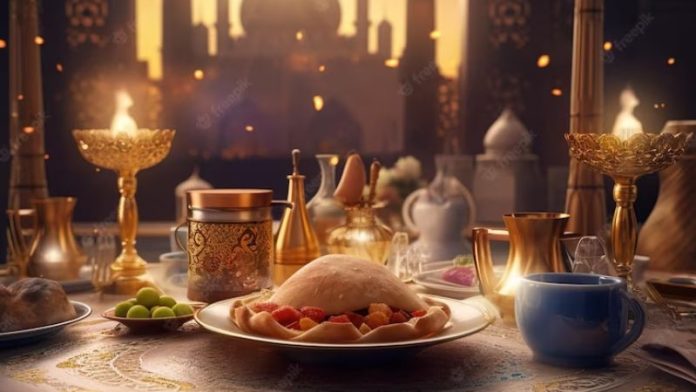 For Muslims, Eid ul Fitr and Eid ul Adha are the joyous times of the year. Eid ul Fitr and Eid al Adha have religious significance in Islam. Eid ul Fitr is the festival that marks the end of Ramadan (the fasting month). Muslims come to offer special prayers, celebrate joy and gratitude, give charity, wear brand-new clothes, enjoy traditional Eid recipes and visit family and friends. During Eid, children receive Eidi (money) from their elders.
Alternatively, Eid ul Adha commemorates Hazrat Ibrahim's willingness to sacrifice his son in obedience to God. Muslims perform the Eid prayer, and as Hazrat Ibrahim's example shows, those who can afford to offer an animal, such as a sheep, goat, or camel, do the sacrifice and distribute meat among family, friends, and the less fortunate. Eid is also a time for Muslims to express gratitude and strengthen their bonds with their loved ones. These delicious Eid recipes will make the celebrations even more special. This time, be grateful and remember Allah's blessings.
Eid Celebration with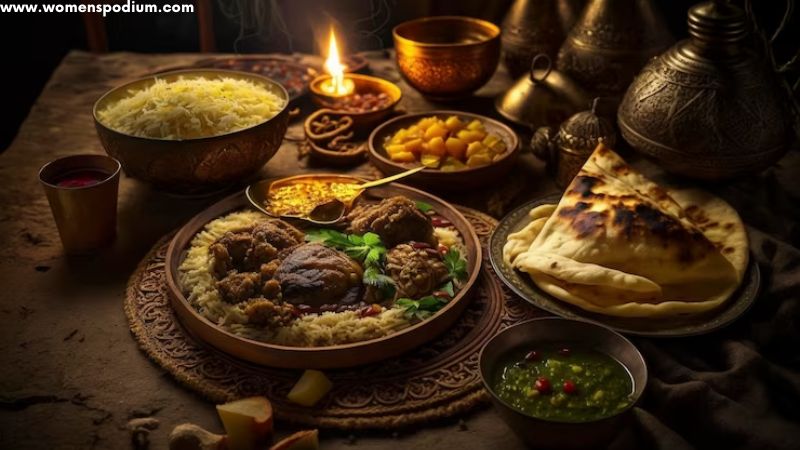 During Eid celebrations, food plays a significant role in enhancing the joy and festive spirit of the event. Undoubtedly, Eid is a celebration of togetherness and sharing a meal with family and friends. People make special and unique dishes for the festival, trying new Eid recipes becomes a common norm every Eid. They also invite friends and family to join the festivities and to share the Eid lunch and dinner together. These gatherings at home remind us of the strong bonds of love and friendship between family and friends.
Special Eid Recipes To Make Eid More Special
Traditional Eid food has become a part of our cultural heritage. Serving unique dishes has not only become the identity of many Muslim countries but also connected cultural roots and created a sense of continuity and tradition from one generation to the next. Here are some popular and traditional Eid recipes to enjoy this Eid.
Savory Biryani Delight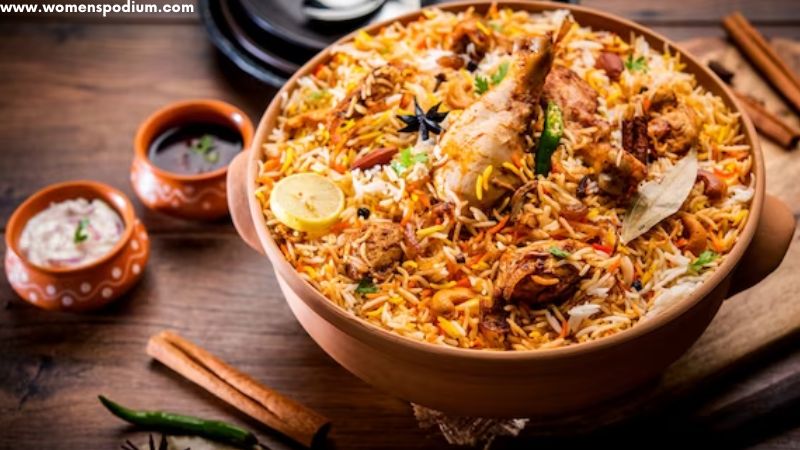 Biryani is South Asia's favourite dish. People in the region enjoy this flavorful rice dish cooked with meat (such as chicken, lamb, or beef) and aromatic spices, garnished with fried onions and occasionally nuts. Vegetarians make this incredible dish with eggs and potatoes, which we famously comprehend as veg biryani, egg biryani or egg fried rice and veg pulav. Let's cook together this most popular recipe with below-shared cooking process, I am sure you would love to include this tasty flavored rice biryani among other Eid recipes.
Ingredients
Basmati Rice 700 grams (soaked and boiled until 3/4th is done)
Medium sized Chicken pieces (12 to 17 or roughly 700 to 900 grams)
Chopped onions (5 medium-sized)
Ginger and garlic paste (2 tbsp)
Vegetable oil (½ cup)
Biryani Masala (5-7 tsp)
Chopped tomatoes (4 medium-sized)
Yogurt (½ cup)
Mint leaves (½ cup)
Fresh coriander (½ cup)
Green chillies (3-4)
Dried plums (8–9 pieces)
Yellow food colour (½ tsp)
Lemon slices (optional)
Fried onion (1 small cup)
Instructions
Heat oil in a large wok and cook onions for 5–6 minutes until brown.
Add the chicken and ginger garlic paste to the wok, and mix thoroughly.
Blend the chopped tomatoes into the mixture and simmer for 3 minutes.
Now add the biryani masala and ensure it is well blended.
Cook for another 5 minutes until the chicken is fully cooked.
Add yogurt and dried plums to the wok, and mix well.
Once the chicken is fully cooked and the oil is separated, set it aside.
In a large pot, layer the chicken mixture, followed by a layer of rice, then sprinkle coriander, mint leaves, green chillies, and yellow food colouring on top of the rice layer.
Add another layer of chicken masala and rice, and let the layer complete with the final toppings of fried onions and chopped coriander and mint leaves.
Cover the pot and steam cook on a low flame for 10–12 minutes.
Finally, serve the mouthwatering biryani you have prepared with your other Eid recipes.
You can relish biryani or pulav anytime, be it vegetarian or non-vegetarian; both taste at their best.
Flavourful Lamb Curry Delicacy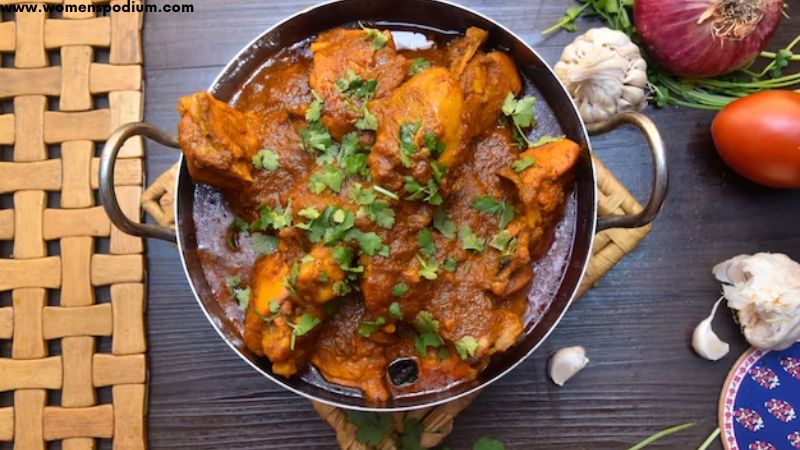 Lamb curry is renowned and cherished in a multitude of cuisines, most notably Indian, Pakistani, and Middle Eastern culinary traditions. This delicious dish features the tenderness of lamb, thoroughly prepared with an array of aromatic spices such as cumin, turmeric, coriander, garam masala, and chilli powder. The slow-cooking process melds the flavours together as the lamb simmers with tomatoes, resulting in an irresistible tangy curry base that enhances the gravy's taste and richness. To prepare lamb curry, follow these steps.
Ingredients
Leg of lamb (700 grams cut into bite-sized pieces)
Finely chopped onions (2 medium-sized)
Roughly chopped tomatoes (2-3 medium-sized)
Vegetable oil (2 tbsp)
Yogurt (1 cup)
Ginger-garlic paste (2 tbsp)
Turmeric powder (1 tsp)
Cumin powder (1 tsp)
Coriander powder (1 tsp)
Garam masala powder (1 tsp)
Red chilli powder (1 tsp)
Salt (1 tsp)
Cilantro (for garnish)
Green chilli (for garnish)
Roti or rice (to serve)
Instructions
Heat oil in a large wok over medium heat.
Add the chopped onions and cook until they turn golden brown.
Add ginger garlic paste and lamb pieces to the wok. Cook for a few minutes until it changes colour.
Put tomatoes in the mixture and mix well. Allow it to cook on low heat until the tomatoes are entirely blended.
Combine yogurt and spices (cumin, turmeric, coriander, garam masala, chilli powder) in a separate bowl. Mix well.
Pour the yogurt mixture into the wok with the lamb pieces and mix thoroughly.
Slow-cook the curry for 1-2 hours on low heat. Alternatively, you can use a pressure cooker to reduce the cooking time.
Once the oil begins to separate from the curry, it is an indication that it is ready.
Garnish with freshly chopped cilantro and sliced green chilli.
Serve the lamb curry with roti or rice.
Enjoy the flavorful and aromatic lamb curry!
Irresistible Kahk Cookies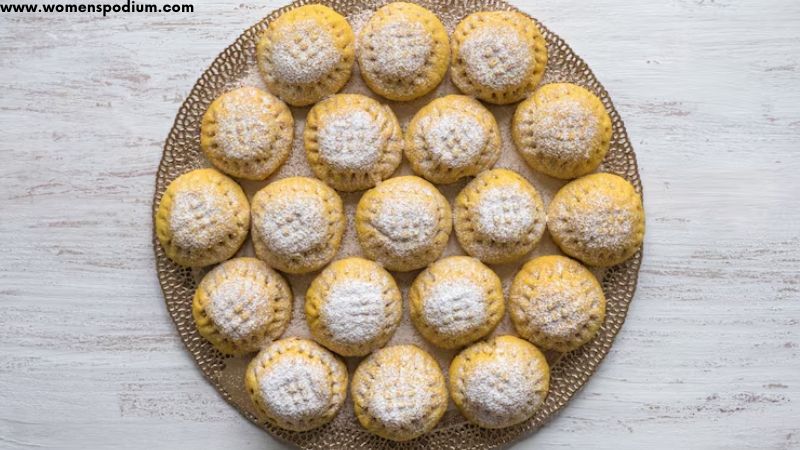 Kahk cookies, also known as Kahk al-Eid, are traditional cookies that carry immense significance during festive occasions, particularly Eid. These delightful treats have a buttery texture and enticing aroma. Traditionally, they are small in size and are filled with a delectable combination of dates, honey, ghee, and nuts. Kahk cookies are special in Eid celebrations, symbolizing warmth, generosity, and hospitality. Sharing and exchanging Kahk cookies among family, friends, and neighbours is a cherished tradition that fosters a sense of community and celebration during Eid. Try the recipe with the below-shared step-by-step cooking and baking process.
Ingredients
For Dough
All-purpose flour (4 cups)
Vegetable oil (½ cup)
Milk (¼ cup)
Unsalted butter (1 cup)
Baking powder (1 tsp)
Salt (¼ tsp)
Powdered sugar (1 cup)
Toasted sesame seeds (¼ cup)
Vanilla essence (¼ tsp)
Active dry yeast (1 tsp)
For the filling, choose any one:
Pitted dates (finely chopped)
Walnuts (finely chopped)
Pistachios (finely chopped)
Instructions
Preheat your oven to 350°F (180°C) and prepare a baking tray by lining it with parchment paper.
In a small bowl, dissolve the yeast in warm milk and let it sit for 5 minutes.
Combine the flour, baking powder, sesame seeds, salt, and powdered sugar in a large mixing bowl.
Add the butter, milk, vegetable oil, and vanilla essence to the dry ingredients. Mix well using a stand mixer until the dough is thoroughly combined.
Knead the dough until it becomes smooth and elastic.
Take small portions of the dough and shape them into balls. Make an indentation in each ball using your thumb.
Fill the indentations with dates, walnuts, or pistachios.
Roll the dough back into a ball by pressing the edges and rolling it to seal the filling inside.
Place the small dough balls onto the parchment paper-lined baking tray.
Bake the dough balls in the preheated oven for 15–20 minutes or until they turn light golden.
Once the biscuits have cooled, sprinkle powdered sugar over them.
Finally, savour the delicious biscuits and enjoy their delightful flavours.
Delicious Sweet Seviyan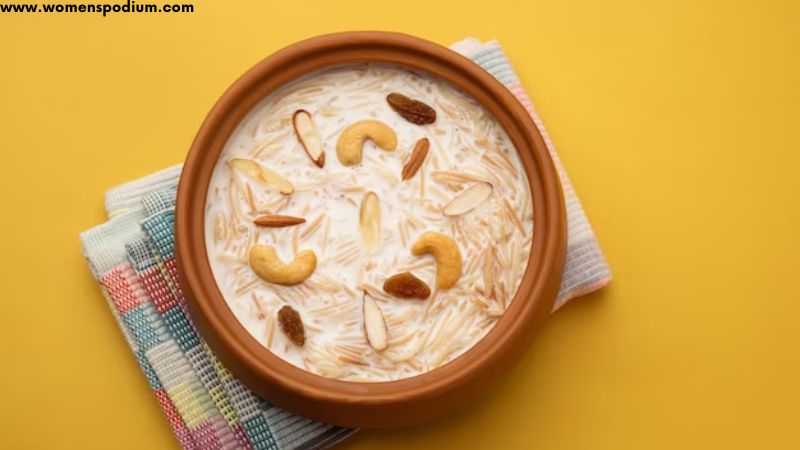 Sewai, also called vermicelli or seviyan, is an incredibly popular dessert in numerous South Asian countries. This delectable sweet can be prepared with just a few simple ingredients, making it a favourite among many. Sewai holds great significance during festive occasions. Thin vermicelli noodles are delicately cooked in milk; infused with saffron and other dried fruits. They are traditionally served at special festivals such as Eid ul Fitr, Holi, and Rakhsbhandan, adding to the joy and celebration of the festivities. To prepare Sewai, here is a step-by-step guide.
Ingredients
Vermicelli Noodles (1 pack)
Ghee (2-3 tbsp)
¼ cup Mixed nuts (almonds, raisins, and cashews)
Sugar (½ cups)
Milk (4 cups)
Cardamom powder (½ tsp)
Instructions
Heat ghee in a large pan over medium heat and add coarsely chopped nuts.
Sauté them for about 2-3 minutes until they turn slightly golden. Remove the nuts from the pan and set them aside.
In the same pan, add vermicelli and roast them in the ghee. Keep stirring continuously to ensure even browning. Roast the vermicelli until they change colour and become slightly golden; keep it aside.
Add milk and sugar to a pan, and stir well until the sugar is dissolved.
Bring the milk to a boil and then reduce the heat to low. Add the roasted vermicelli and let it simmer in the milk.
As the vermicelli cooks, it will absorb the milk and become soft. At this stage, mix in the cardamom powder and the sautéed nuts. Stir everything together to disperse the flavours evenly.
Continue cooking the vermicelli on low heat for an additional 5-10 minutes. This will allow the flavours to blend and the milk to thicken.
Once the vermicelli is cooked to your desired consistency and the milk has thickened, transfer it to a serving dish.
Garnish the Sewai with the reserved nuts, scattering them on top for an appealing presentation.
For the best taste, refrigerate the Sewai and serve it chilled.
Following these steps, you can make a delicious bowl of Sewai, ready to be enjoyed as a delightful dessert.
Rich and Creamy Chocolate Cheesecake Delight with Peanut Topping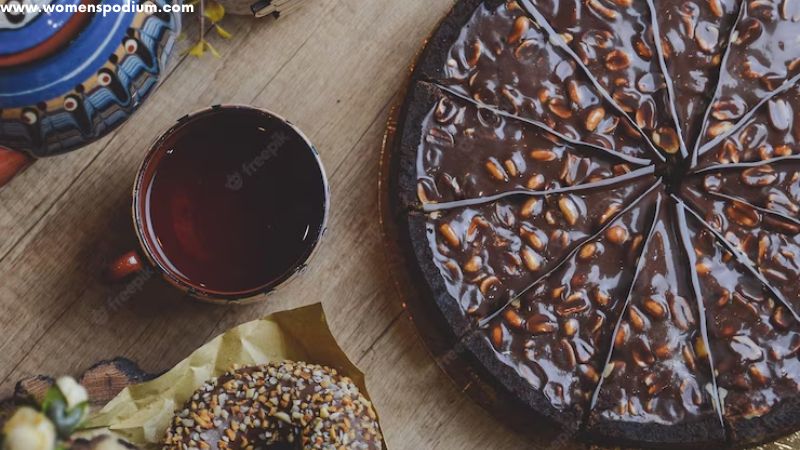 Treat yourself to this ultimate dessert option for festivals with this exquisite chocolate cheesecake adorned with a luscious peanut topping. The balanced blend of velvety chocolate and crispy peanuts creates an irresistible symphony of flavours and textures that captivate your taste buds. Not only does this delicious cheesecake satisfy your sweet cravings, but it also adds a tempting presence to any holiday table, making it a true showstopper. Here are the steps to make a Chocolate Cheesecake with Peanut Topping
Ingredients
Melted Unsalted Butter (5 tbsp)
Chocolate Graham crackers (½ cups)
Cream cheese (680 grams)
Granulated sugar (1 cup)
Large Eggs (4 numbers)
Vanilla essence 1/2 tsp
Semi-sweet chocolate (225g melted and slightly cooled)
For the peanut topping
Chopped roasted peanuts (1 cup)
Sugar (¼ cup)
Unsalted butter (2 tbsp)
Instructions
Begin with preheating the oven to 160°C (320°F). Grease a 9-inch springform pan.
Commix melted butter and cookie crumbs in a medium bowl. Mix until the crumbs are evenly coated with butter.
Press the cookie crumb mixture into an even layer at the base of the greased springform pan. Make sure to press it down firmly. Place the pan in the refrigerator.
Beat cream cheese, sugar, and vanilla essence in a large bowl until they turn smooth and creamy.
Add the eggs, one at a time, to the cream cheese mixture, and beat well after each addition.
Pour the melted chocolate into the cream cheese mixture and whip until the mixture becomes smooth and well-merged.
Remove the springform pan from the refrigerator and pour the cream cheese mixture onto the biscuit crust. Use a spatula to smooth the topping and ensure it is evenly dispersed.
Place the springform pan with the mixture in the refrigerator and let it chill for 2-3 hours, allowing the cheesecake to set.
In a separate bowl, add the peanuts and melted butter. Stir the peanuts until they are fully coated in the butter.
Take out the chilled cheesecake from the refrigerator and evenly sprinkle the peanut mixture over the top.
Put the cheesecake again in the refrigerator and let it continue to chill for another 4 hours, allowing the flavours to meld together.
Once properly chilled and set, remove the cheesecake from the springform pan.
Serve and enjoy the delightful chocolate cheesecake with peanut topping.
By following these steps, you will make a scrumptious dessert that combines the rich flavours of chocolate and the satisfying crunch of peanuts, resulting in a truly irresistible treat.
Maqlooba: A Flavorful Arabian Delight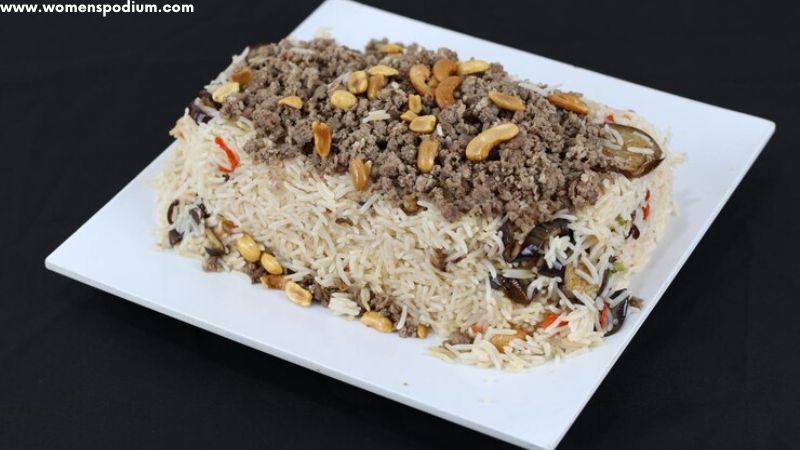 Maqlooba, also referred to as Maqluba or Makloubeh, is a treasured traditional Middle Eastern delicacy derived from the Arabic term for "upside-down." In this culinary chef-d'oeuvre, a medley of meat options like chicken, beef, lamb, vegetables, and rice cook together in a single pot. Once prepared, the pot is flipped upside down for a captivating presentation, unveiling a symphony of flavours that leave taste buds in awe. Let's check out the recipe and add this to Eid recipes this time.
Ingredients
Basmati rice (2 cups)
Thinly sliced onions (2 large)
Vegetable oil (2 tbsp)
Sliced tomatoes (3 medium-sized)
Meat (chicken, beef, lamb) (680 g cut into small pieces)
Slicked carrots (2 medium-sized)
Minced garlic (3 cloves)
Ground cumin (1 tsp)
Turmeric powder (1 tsp)
Coriander powder (1 tsp)
Salt (2½ tsp)
Cinnamon (2 sticks)
Black pepper (1½ tsp)
Water (4 cups)
Sliced eggplants (2 medium-sized)
Diced Potatoes (2 medium-sized)
Toasted nuts (for garnish) (optional)
Instructions
Take a large pot, heat oil, then fry onions, saute them until soft and translucent and become fragrant.
Add the meat and garlic to the pot and cook until the meat changes colour and turns brown.
Season it with salt, pepper, cumin, coriander, turmeric, and cinnamon sticks. Mix everything thoroughly to ensure the meat is evenly coated with the spices.
Add water to the pot and boil the meat and spices. Once boiling starts, cover the pot and let it simmer for about 30 minutes; this allows the meat to cook completely and become tender.
While the meat is cooking, take a frying pan, pour oil and fry the vegetables ( eggplants, carrots, and potatoes) until they turn golden and become soft. Remove the vegetables and set them aside.
When the meat is cooked, remove it from the soup and reserve it for later use.
Start layering the bottom with fried eggplant slices in a large pot, followed by potato slices. Then, layer with the cooked meat, tomato, and carrot slices.
Add the soaked and rinsed rice to the pot, spreading it evenly over the layered ingredients.
Pour the reserved soup from the cooked meat over the rice, ensuring that the rice is completely soaked. Add more water if needed to cover the rice.
Reduce the heat to low, cover the pot tightly, and allow it to simmer for approximately 30 minutes or until the rice is cooked and fluffy.
Once the rice is cooked, let it rest for a few minutes before serving.
To serve, flip the pot upside down onto a serving platter, carefully revealing the beautifully layered Maqlooba.
Garnish the dish with toasted nuts for added flavour and texture.
Enjoy the Maqlooba with yogurt on the side to complement the rich flavours of this yummy Eid recipe.
Exquisite Seekh Kebabs: Skewered Goodness on a Grill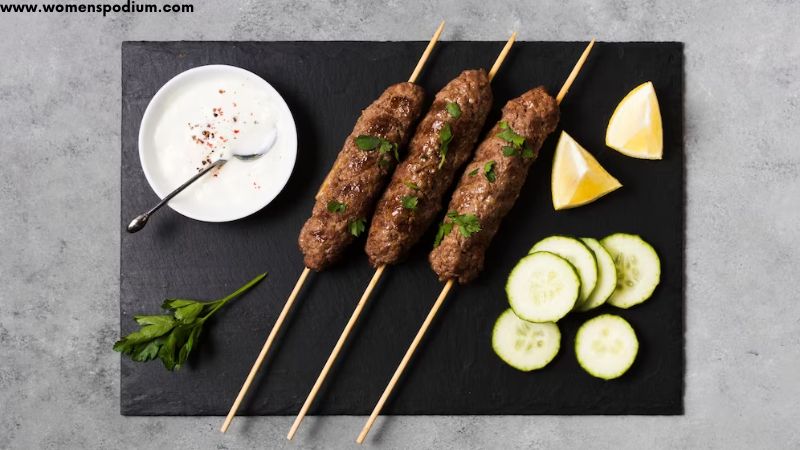 Seekh kebab, a culinary gem hailing from the Turks and embraced by India and Pakistan, has captured the hearts and palates of food enthusiasts. This savoury dish features minced meat skillfully blended with aromatic spices, shaped onto skewers, and charred to perfection over glowing charcoal. Seekh kebab is also a popular street food in India and Pakistan, particularly during the festive occasion of Eid ul Adha. Its succulent flavours and smoky charisma make seekh kebab a true culinary delight embodying these vibrant cultures' rich heritage. Let's put these seekh kebabs in our Eid recipes menu.
Ingredients
Minced meat (lamb or chicken) ( 450 g)
Chopped onions (1 medium and extract water from onions)
Garlic and ginger paste (2 tbsp)
Green chillies (2 finely chopped)
Fresh cilantro (½ cup chopped)
Ground cumin (1 tsp)
Ground coriander (1 tsp)
Garam Masala (1 tsp)
Red chili powder (½ tsp)
Finely chopped mint leaves (½ cup)
Turmeric powder (1 tsp)
Salt (1 tsp)
Vegetable oil (2 tsp)
Lemon juice (1 tsp)
Skewers
Charcoal (for smoking)
Instructions
Combine the meat with garlic and ginger paste, green chillies, fresh coriander, mint leaves, cumin, turmeric powder, red chilli powder, garam masala, coriander powder, powder, and salt.
Combine the onions with vegetable oil In a separate bowl, and add them to the kebab mixture.
Knead the mixture well to ensure the ingredients are evenly distributed.
Then, refrigerate the mixture for 3-4 minutes to allow the flavours to blend.
Grease your hands to prevent sticking, and then shape the kebab mixture into skewers.
Ensure the mixture is tightly packed around the skewers to prevent them from falling apart during grilling.
Smoke the charcoal and preheat the grill. Once the grill is hot, place the kebab skewers on the grill.
Cook the kebabs on both sides until they are fully cooked and have a nice charred appearance.
While grilling, you can occasionally grease the grill to prevent sticking.
Once the kebabs are cooked, remove them from the grill and serve them with naan, a traditional Indian bread, and raita, a yogurt-based sauce typically served as a condiment.
The combination of kebabs, naan, and raita makes for a delicious and satisfying meal.
Enjoy your flavorful kebabs!
Final Verdict
Eid encompasses the spirit of joy, unity, warmth, customs, and appreciation. It embraces our cultural roots and fosters connections among individuals. Families gather during this festive occasion to relish delectable cuisine, enhancing the experience. These amazing Eid recipes elevate the occasion's significance and provide an opportunity to savour the diverse traditional dishes from various countries. Moreover, Eid serves as a moment to cherish our loved ones and express thankfulness. Try these recipes and share your valuable feedback, making your Eid celebrations even more memorable.
Also Read: Innovation fuels our progress, and if you're seeking something distinct, indulge in these yummy tasty cinnamon rolls.