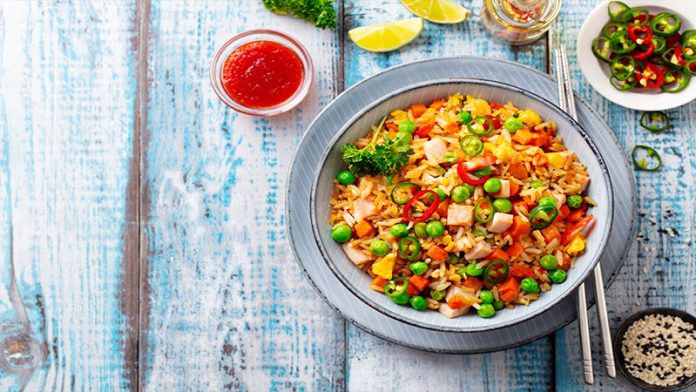 If you are thinking of making something simple, delicious, easy to cook, and nutritious, then egg-fried rice is your solution. Egg-fried rice is traditionally a Chinese recipe, but now it's popular around the world. You can find many recipes on how to make egg fried rice online, but everyone has their own technique and one secret ingredient that changes the recipe's taste making it their version. Generally, the basic procedure includes cooked rice, fluffy beaten eggs, spring onions, and soya sauce. However, you can modify this recipe by adding vegetables, chicken, or shrimp.
2 Ways Of Making Egg Fried Rice
This delicious Asian cuisine has numerous rice recipes; I relish egg-fried rice the most as they are savory and delicious. Today, I will share the recipe for making egg-fried rice in two ways: a simple homemade egg fried rice recipe and restaurant-style egg fried rice. Although egg fried rice requires a handful of common ingredients but its seasoning and stir-frying on high heated wok make it flavorful and delicious. Moreover, you can try this recipe with freshly cooked and leftover rice. Generally, I recommend making egg-fried rice with leftover rice because they don't end up being soft and mushy. Let's move on to the recipes in detail.
Traditional Egg Fried Rice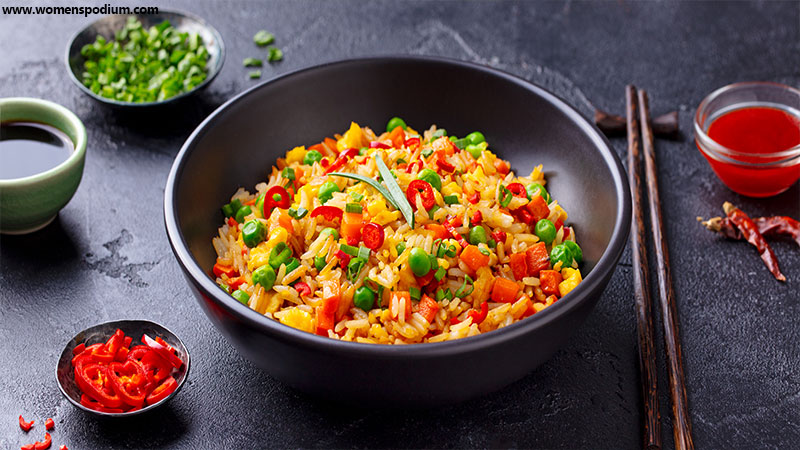 Egg–fried rice is the only recipe that tastes incredible without vegetables and meat protein. Additionally, it is not heavily seasoned and yet tastes flavorsome.
Ingredients
3 cups white rice, cooked and chilled, or 1 cup uncooked rice
2 eggs, lightly beaten
1 tbsp garlic finely chopped
¼ tsp salt
¼ tsp crushed pepper
1 tbsp sesame oil
1 tsp Soy sauce
½ bunch of finely chopped spring onions or scallion
2 tbsp vegetable oil
2 tbsp chopped spring onions
1 tbsp coriander leaves finely cut
Preparation
Generally, egg-fried rice is cooked with leftover rice, but if leftover rice is unavailable, you can cook it separately. Here is the recipe for boiled rice.
How to Boil Rice?
Take 1 cup of uncooked rice and rinse it with cold water before boiling it. So that impurities and dust are removed from the rice.
Boil 2 cups of water and add ½ tbsp of salt. Then add rice and cook rice for 18 minutes with a closed lid until the rice is soft and tender.
You can also add a little bit of oil. Oil adds flavor and stops rice from sticking together.
Once the rice is almost cooked, transfer it to a strainer or a big sieve and wash it under running water until it is totally cool down and starch-free, and now it is ready to use in egg-fried rice.
Egg Fried Recipe Process
Take a large wok and add 1 tbsp of vegetable oil, then add finely chopped onions and stir regularly on medium heat until they turn soft.
Now take a separate pan, add the remaining oil, add ¼ teaspoon of minced garlic, and stir regularly for 30 seconds.
Take a bowl and lightly beat eggs. After that, pour oil into a pan, add beaten eggs, and scramble them. Dish out when done.
Add cooked and chilled rice to a pan with garlic. Make sure the heat flame is high. Then put sesame oil on the rice. Add salt, pepper, and soy sauce, mix well and finally, add eggs and mix them. Ensure to flip the rice frequently so it doesn't stick.
Add stirred fried onions when serving in a bowl.
Lastly, garnish it with spring onions and coriander leaves, and your egg-fried rice is ready.
Restaurant Style Egg Fried Rice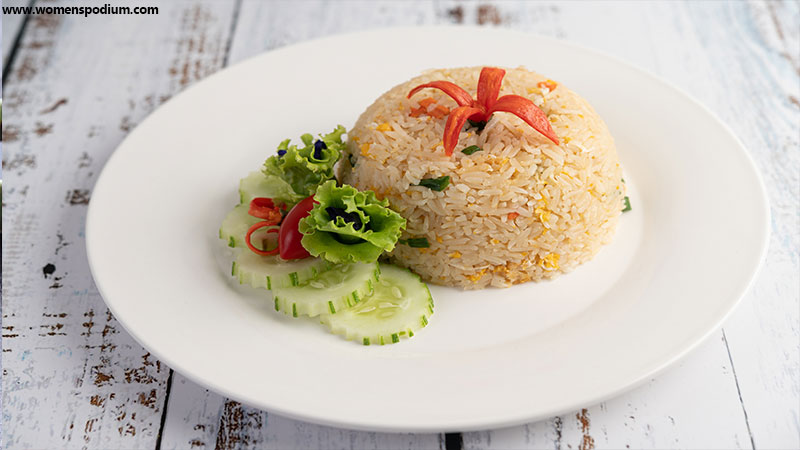 Chinese egg fried rice is one of the popular cuisines in Chinese restaurants. And knowing how to make egg fried rice like Chinese takeaway is the dream of many who just loves and adores Chinese rice recipes. Moreover, you can try this delicious recipe at home.
Ingredients
2 tbsp canola oil or vegetable oil
1 Chicken breast piece finely diced
1 carrot finely sliced
½ cup boiled or frozen peas
½ bunch of spring onions, finely sliced
2 tsp grated fresh ginger
2 eggs, lightly beaten
3 cups cooked white rice
2 tbsp soy sauce
1 tsp sesame oil
¼ teaspoon Salt
¼ teaspoon crushed pepper
Preparations
Add 1tbsp of vegetable oil into a wok and heat the oil on medium heat. Then add chicken and sauté until cooked.
Cut the white and green parts of the onions and place them separately. Add carrots, peas, and the white part of onions into the wok. Stir well for 2 minutes and then add grated garlic and mix well. Put the cooked ingredients on one side.
Take a separate pan, put some oil, add lightly beaten eggs, and scramble them. Mix the eggs with the rest of the ingredients.
Add cooked rice and mix it with the other ingredients. Then add soya sauce, salt, pepper, and sesame oil and mix everything well.
When serving, sprinkle spring onions on the top.
Your restaurant-styled egg fried rice is ready.
Egg fried rice is a traditional Chinese dish and rice recipe, but it is pretty simple to make, and when it comes to taste, trust me, it tastes heavenly. Usually, it has different recipes; even some cooks give it Korean and Japanese touch. It tastes incredible and savory without vegetables and sauces. This restaurant-styled recipe is simple; however, when you cook it following all the steps precisely as discussed above, it will taste just like professional cooks or chefs make it.
Also Read: Why a husband or son can't cook? Don't you think every family member must know or learn how to cook?