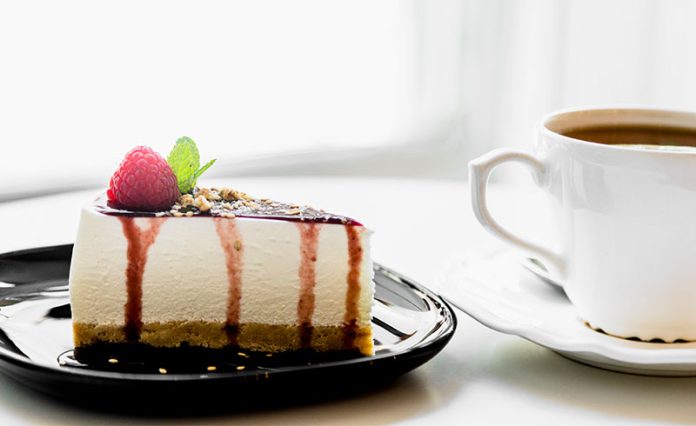 Innovation keeps us going; experimenting with new things has brought us to this modern world where technology stands beside us. Being 21st century women, we love to adopt new tech, and if it's in cooking, we just can't miss it. Air fryers are gaining quite attention these days, and without a doubt, this is one of those modern kitchen appliances that support innovative cooking. Besides trying deep fried recipes, have you ever wondered how to make air fryer cheesecake? Air fryer fries everything with almost no oil; thus, they cut off the cholesterol ratios from our plate. Apart from fried items, air fryers are gaining overwhelming success for baking traditional yet healthy cheesecakes.
What Are The Early Preparations For An Air Fryer Cheesecake Recipe?
This delicious dessert is a hit at family reunions and birthday specials. But, of course, none can miss the opportunity of learning how to make a cheesecake in an air fryer. Before getting into the baking adventure of air fryer cheesecakes, you should do some preparations. To make this chewy cake, begin with the Graham crackers. You can always use a regular or springform pan that fits your Air Fryer's baking compartment. Spray with cooking oil spray, then fill with Graham crackers or cookies of your choice.
How To Make The Yummiest Air Fryer Cheese Cake?
You may find several air fryer cheesecake recipes from your mom's kitchen, restaurants, and the internet off course. However, let me share the tongue-licking recipes that are quick for the clock but healthy for every stomach. All these recipes are Air fryer compatible – a kitchen gadget that breaks the monotony of baking techniques. However, it would not bring any change to the traditional flavor or texture of the cheesecakes.
1. Lime Air Fryer Cheesecake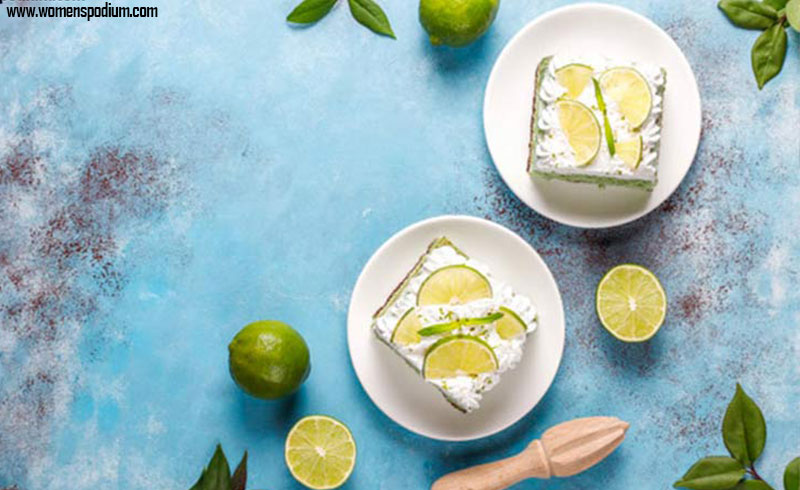 Although some of the ingredients may seem strange at first, making Lime Cheesecake in an Air Fryer is quite simple. It is easier than squeezing the nectar from a lime. The trick is the consistent blending of the ingredients so that you can create a smooth consistency with minimal effort. The list of "what you need" is as follows:
Ingredients
All-purpose flour: 2 tsp.

Powdered sugar: ½ cup (or as per taste)

Cream cheese: 12 ounces

Lime juice: 6 ounces

Graham cookies/crackers: 1 packet

Vanilla extract: 1 Tsp

Whipping cream: 1 pack

Sour cream: 1 small cup

Medium-sized eggs: 2

Lime slices (for garnishing purpose): 3-5
Recipe
Take crackers grind finely using a grinder. You can manually grind the cookies using a mortar and pestle.

In the next step, pour some melted butter into the powdered crackers and mix them well.

Go for a medium-sized pan, optimal for baking your cake with perfection.

Put crackers in the pan. Now bake creamy crackers mixture at 150 degrees for about 10 minutes in the air fryer.

Meanwhile, bring out the cream cheese and add sugar to it.

Now whip the two elements together with a hand mixer to save time.

In the next step, crack two eggs and beat them up with the cream cheese mixture.

Once it's done, add lime juice and vanilla extract while keeping a stirring hand on the move.

To get that perfect fluff in the lime cheesecake, whip and add whipped cream; it is one of the easiest and quickest ways to get a fluffy and velvety texture.

Now add three cups of heavy cream to one pint of hot water. Add a small splash of white vinegar, and then let this mixture boil for about five minutes.

Next, add this luxurious whipped cream with all-purpose flour to the main mixture. Do not forget a fine mesh strainer to separate the flour's lumps from the distinct particles.

Mix everything thoroughly; finally, put the mixture in the baking pan after rubbing olive oil on the sides of a baking pan. Eventually, your cake would be ready for the final touch.
2. Blueberry Air Fryer Cheesecake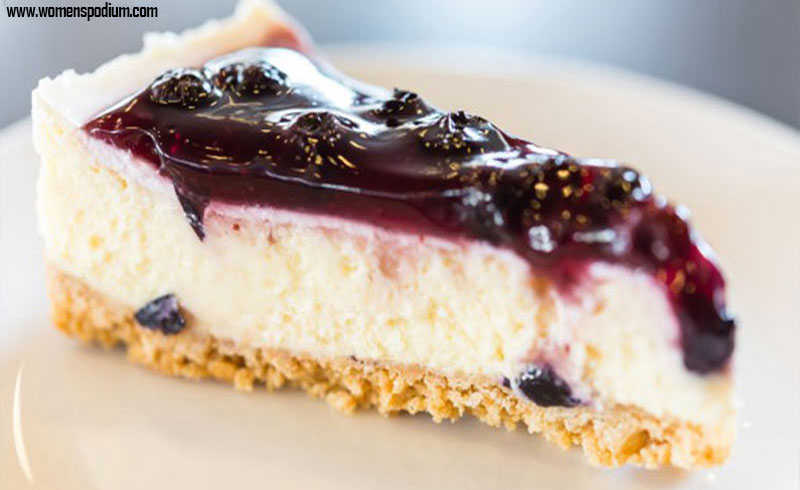 There are several blueberry recipe variations that one can give a try. They include blueberry crumble, blueberry bread, blueberry mocktails, blueberry ice cream, and blueberry pancakes; let's dig into the air fryer blueberry cheesecake recipe.
For me, blueberry cheesecake is the epitome of healthy desserts. Its principal ingredient, the flour, holds all credit; you can try this recipe with wheat flour or all-purpose flour. Flour holds all the required ingredients firmly together and retains the vitamins and minerals present in the blueberries. In addition, it helps in providing the smooth texture and maximum flavor of the blueberries on your plate.
Also Read: Blueberry desserts are certainly the delicacies to relish on special occasions like Christmas, Thanksgiving.
Ingredients
Chopped crackers: 1 packet

Sugar:2 tsp.

Melted butter: ¼ cup

Whipped cream: 1 packet

Cream cheese: 8 ounces

Sour cream: as per taste

Medium-sized eggs: 4

Vanilla extract- 1 tsp.

Blueberry pie filling-100 g
Recipe
In a large bowl, add crackers, melted butter, and sugar. Mix them well with a spatula until you get a fine paste.

Add this fine cracker mixture to the baking tray and pat it down.

Keep adding the crackers mixture until the bottom is evenly filled. Then, pat it again until it's fully packed.

Set the temperature to 250 °F degrees. Let the sides get a little brown, then remove it from the Air Fryer.

Wait for some to let the cake cool completely. The crackers need to come at room temperature before topping them with any other mixture.

In another mixing bowl, add cream cheese, whipped cream, eggs, sugar, powdered sugar, vanilla extract, sour cream.

Blend well until it comes into velvety form.

Spread this mixture into the same baking pan.

Also, pour the elusive blueberry pie filling on the top.

Bake it for 30 minutes in the air fryer at 300 degrees F.

Your Blueberry Air Fryer Cheesecake is ready.
3. Caramel Air Fryer Cheesecake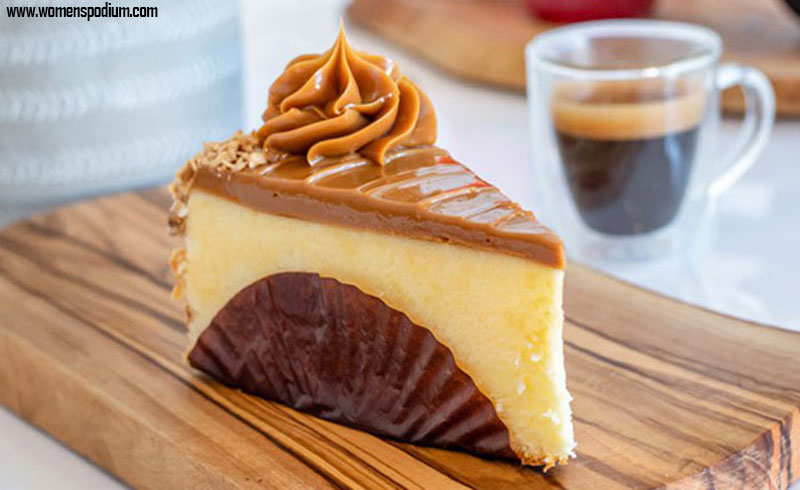 Desserts with caramel flavor are my favorite; stuff me either with caramel custard or caramel cake; just bring it on. They really add flavors to desserts and puddings. Caramel air fryer cheesecakes are a delicacy in Europe. Try the below share recipe to make your very own caramel cheesecake recipe.
Ingredients
All-purpose flour: 2 tsp.

Eggs: 3

Sugar: 2-3 tsp.

Melted butter: ⅓ cup

Condensed milk: 5 ounces

Soft cheese; 24 ounce

Melted caramel: 14 ounce

Light brown sugar: 3/4 cup

Instant flavoured pudding mix: 1 tbsp.

Unsweetened cold water: 1-2 tbsp.

Grated coconut: 1tbsp

Vanilla bean paste: 1 tbsp.
Recipe
Apart from the essential items, you will need about two tablespoons of unsweetened cold water to make a moist caramel cheesecake.
Take a bowl, whisk egg whites with a hand mixer on a low speed until they shift frothy and foamy.

Now add flour, melted butter, and condensed milk, mix all these three items well.

You will see the texture of your cake batter is smooth, then add vanilla extract, egg yolk, soft cheese, blend it well with a hand mixer again.

To add more personalization to your caramel cheesecake, take another bowl and add light brown sugar, pudding mix, grated coconut and vanilla bean paste; combine all these ingredients and mix well.

Now mix these all into your cheesecake batter.

Now is the time to transfer the batter to a preheated baking pan and bake the mixture for 20 minutes at 180 degrees in the air fryer.

When the cake is ready, moist it with unsweetened cold water then pour the smeared caramel on your cake. Tada! Your caramel cheesecake treat is here to pay off all your culinary efforts.
Now is time to clean up your kitchen top and sink after this new and trendy baking experience of cheesecakes in the air fryer. First, get rid of your kitchen from the sink from all the batter spillage and greasy marks. Whenever I cook or bake, I try to clean the kitchen platform simultaneously; it is hygienic and saves time. Try these air fryer cheesecakes; drop your comments or suggestions in the comment box. I believe user's comments are always the best critics!
Also Read: Craving for more sweet dishes? Try making this two-in-one mango dessert.