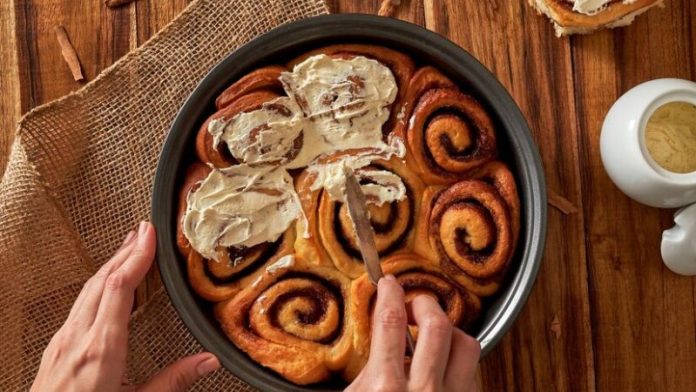 Everyone agrees that cinnamon rolls are delicious treats to enjoy at any time. They are also known as cinnamon buns, cinnamon snails, or cinnamon swirls due to their distinctive shape. These delectable rolls have a widespread presence in northern European and North American cuisine, with Sweden being particularly fond of them, where they call them Kanebulle. In fact, Sweden even celebrates Cinnamon Roll Day on October 4th. Cinnamon rolls are sweet pastry rolls filled with a delightful combination of butter, sugar, and cinnamon. People often savor these delightful pastries alongside a steaming cup of coffee or tea. Around the world, they have become beloved classics. If you're craving this heavenly treat, rest assured that our recipe for tasty cinnamon rolls is both easy to make and guarantees a flavor that will simply blow your mind.
Especially for holidays or when you need a special breakfast, cinnamon rolls freeze well, making them an excellent make-ahead recipe. Top the warm and gooey rolls with a variety of icing flavors that will save time and effort. This will make your family gathering even more memorable.
What Is Cinnamon Roll?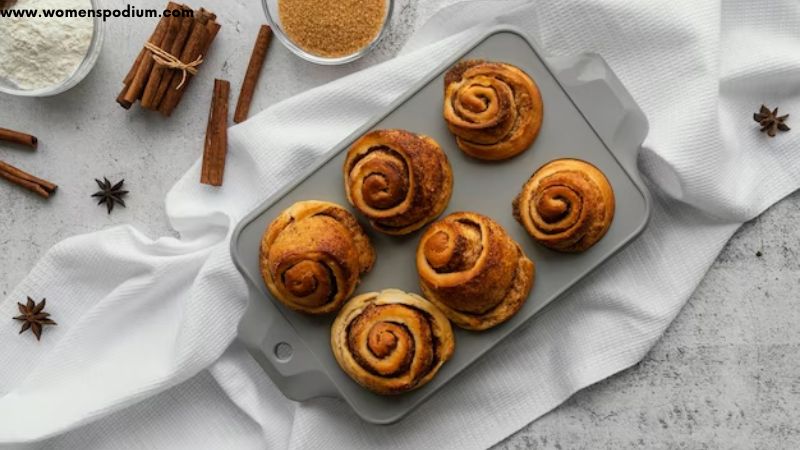 Cinnamon rolls are a type of sweet pastry that people make by baking dough filled with a delicious combination of cinnamon, sugar, and milk. Typically, you prepare the dough by combining flour, yeast, sugar, butter, milk, and water. After preparing the dough, you fill it with the flavorful cinnamon-sugar mixture, roll it out, cut it into individual portions, and bake it. The rolls bake until they turn a golden brown color and become puffy. To enhance their flavor, people often top cinnamon rolls with cream cheese or sugar glaze. Additionally, you can add toppings such as pecans, peanuts, caramel, chocolate nut spread, or chocolate sauce. The combination of soft, warm dough and aromatic cinnamon filling creates a mouthwatering treat. People enjoy cinnamon rolls as a classic pastry option for lunch and brunch.
How To Make Tasty Cinnamon Rolls With Cream Cheese Glaze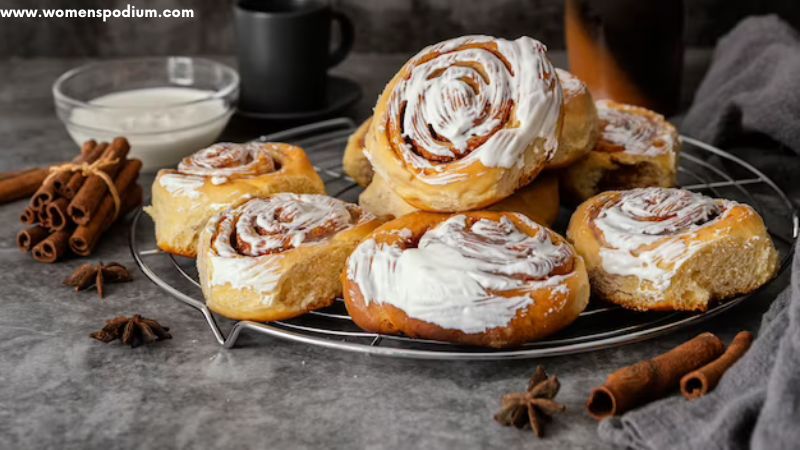 This recipe for homemade and tasty cinnamon rolls is topped with cream cheese glaze and is the perfect treat for breakfast and lunch. Also, these are easy to make, and soft and luscious cinnamon buns are a delight to eat.
Ingredients
For Dough
All-purpose flour – 2 1/2 cups
Milk 2/3 cups
Egg 1- medium-sized (at room temperature)
Sugar 2 tbsp (30g)
Instant Dry yeast 1tsp(4g)
Salt 1/4 tsp
Unsalted butter-40g (at room temperature)
Vanilla essence 1 tsp
Nutmeg 1 pinch (optional)
For Cinnamon Filing
Granulated sugar – 3 tbsp
Light brown sugar – 2 tbsp
Powdered cinnamon – 1 tbsp
Butter -3 tbsp at room temperature
For Cream Cheese Glaze
Cream cheese 3/4 cup (30g)
Milk 2-3 tbsp
Powdered sugar 3 tbsp
Vanilla essence 1/4 tsp
How To Make Cinnamon Rolls Dough
In a mixing bowl, combine lukewarm milk, sugar, an egg, nutmeg, and instant yeast.
Mix well until eggs and other ingredients combine completely.
Add all-purpose flour and salt and mix well until the mixture becomes a dough.
Let it rest for 30 minutes. Add soft butter and knead for 5-10 minutes. It will become soft and smooth after 3-4 minutes.
Knead until the dough is smooth and elastic and doesn't stick to your hand. When done grease the bowl with oil. Cover it and let it ferment until it doubles in size.
How To Make Cinnamon Filling
In a mixing bowl mix graduated sugar and brown sugar, cinnamon powder, and set aside.
How To Make Cinnamon Rolls
Preheat the oven to 170C and line a square baking pan (8 by 8 inches) with baking paper.
When the dough is double in size, flatten it and roll it with the help of a rolling pin.
Roll it into a rectangular shape. Apply butter to the dough, then generously sprinkle cinnamon- sugar mixture.
Roll the dough and cut it into equal parts with a knife. (You can also use dental floss it will make less mess.)
Put cut cinnamon rolls into the baking pan and let them sit for 10-15 minutes until they will expand. Bake for 25-30 minutes.
How To Make Cheese Glaze Topping
Beat cream cheese, sugar, vanilla essence, and milk until smooth in a bowl. If you want a thinner frosting, you can add an additional 1-2 teaspoons of milk.
When the cinnamon rolls have cooled, drizzle half of the frosting on the rolls, then drizzle the remaining glaze on the individual pieces when serving.
Final Verdict
Cinnamon rolls are a popular pastry enjoyed worldwide. With countless recipes available, this delicious cinnamon roll recipe is easy to make and has a delicious taste, simplicity, and exquisite flavor. If cream cheese isn't your preference, experiment with alternative toppings. Give this recipe a try and please let us know your feedback.
Also Read: In this article, we'll explain how long is cheesecake good for and how to freeze it the right way.