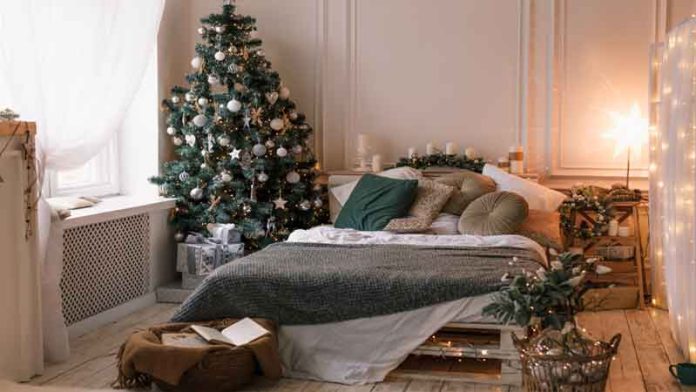 The holiday season brings happiness in the cold weather. When the snow covers all the colors around us, Christmas revives that joy and color in our homes. Even if it is hectic to do decorations and make preparations for Christmas Eve, people find joy in doing so. Usually, the Christmas decorations should be a Christmas tree, hanging garlands, string lights, putting up small wreaths, and hanging socks by the fireplace. The easiest way is adding Christmas throw pillows for a more colorful room. Let's make some Christmas pillows ourselves.
How to Make Christmas Throw Pillows? 7 DIY Ideas For You
Buying all the decorations can be a little daunting and nerve-wracking. You can at least be budget-friendly and DIY your own Christmas throw pillows. Here are a few ideas for Christmas pillows you can make at the last minute.
1. Decorative Plant Throw Pillow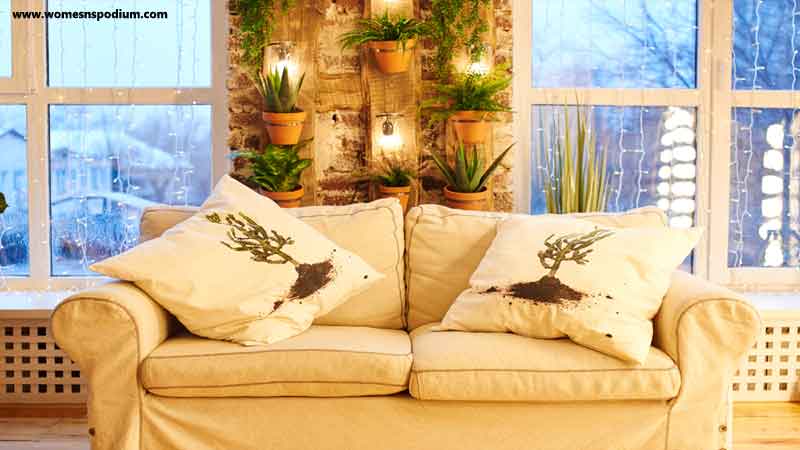 This throw pillow is quite simple and easy to make. If you are good at sewing it would be a piece of cake for you.
First, you need to have all the material to make this pillow. Buy suitable precut fabrics from the nearest quilt shop or the one under your budget.
For a 14-inch pillow, you need to cut 15-inch, wide quilting fabric. You can take tutorials for a profound sewing idea.
Use fabric paint to draw the plant or anything that suits your room. Then stitch with a thread of coordinating color.
Keep the front side of the fabric facing each other, sew three sides according to the pillow, then invert.
Sew the last side to finish these Christmas throw pillows by hand with the pillow material inside.
Also Read: These Christmas throw pillows can be practical housewarming gifts for people who just shifted to their new home.
2. Snowflakes Red Christmas Throw Pillows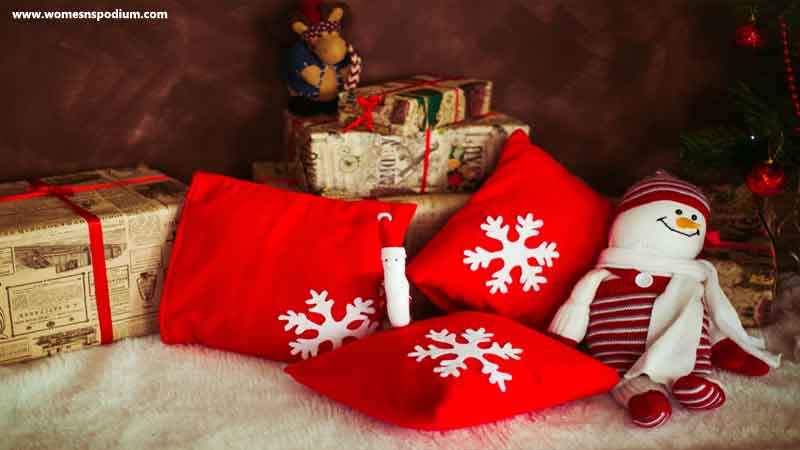 This throw pillow is very easy to make. All you need to do is select the fabric for making it.
Go to a nearby quilt shop and look for a beautiful Christmas red color that does not leave stains. Buy it.
Also, buy a pure white fabric just like snow. You will have to cut out the snowflake shapes, so buy accordingly.
Cut out the piece of red fabric an inch more than the size of your pillow. Sew the white snowflakes shape over this red fabric piece.
Sew the pillowcase just as before, and your home is ready for the festival celebrations.
3. Santa Claus Christmas Pillow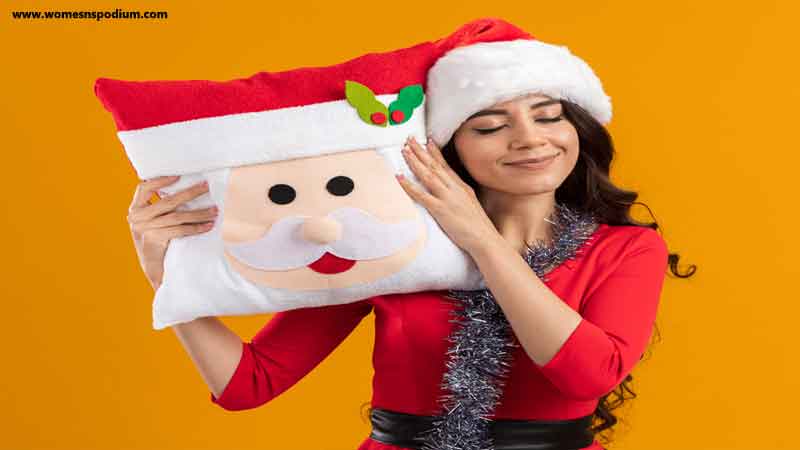 Nothing is more Christmassy than the Santa Claus pillowcase. These Christmas throw pillows look cute over your couch and go well with any background.
You don't have to buy a lot. All you have to do is bring some beautiful colored fabrics that are soft and nice while touched. A meter or two of red and white fabric is what you need.
Cut out the squares of white fabric as a base cover. Cut out stitch the shapes of Santa's face, beard, moustache, eyes, nose, and hat.
Stuff the recycled cotton or polyester in the cover and then sew it to finish.
4. Christmas Suit On A Pillow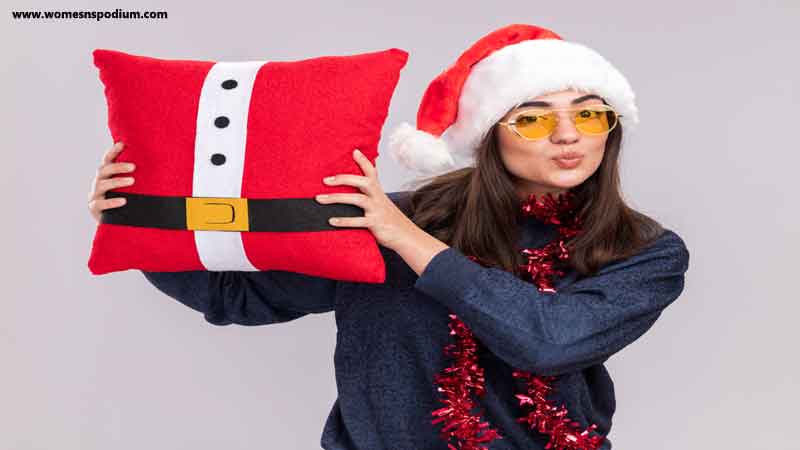 This rectangular throw pillow showcases Santa Claus with the front of his coat and belt. And it looks classic but easy to make.
Buy a red quilt fabric from the shop. Cut out two square pieces for each pillow.
Either print the belt on this fabric or stitch a white and black fabric strip over that red piece.
Sew them with the coordinating colors according to the one shown in the image. Your handmade simple pillow cover is ready.
5. Reindeer Christmas Pillows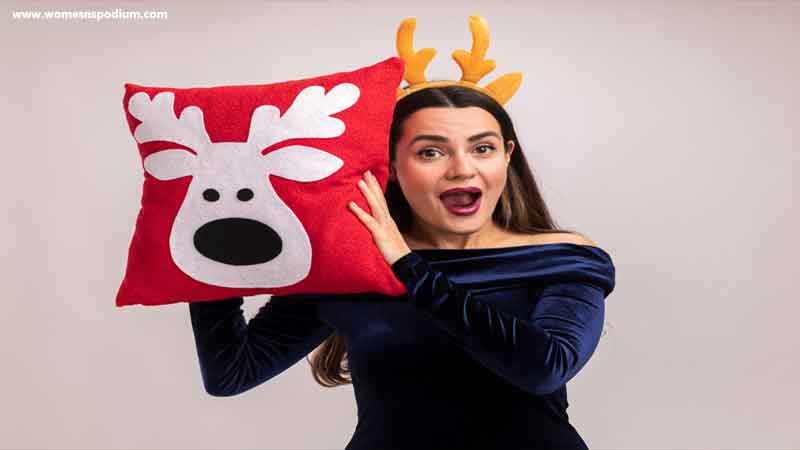 Cheer yourself and all others who come into your home this Christmas with a bold red color reindeer pillow.
Stretch out the piece of red fabric you bought from the quilt shop. Then cut it in square shapes according to your pillow.
Outline the shape of Santa's reindeer on white fabric and cut out this piece.
Stitch it over the red fabric and sew the sides of the cover. Fill the pillow cotton to finish the pillow.
6. Xmas Red Nose Reindeer Pillow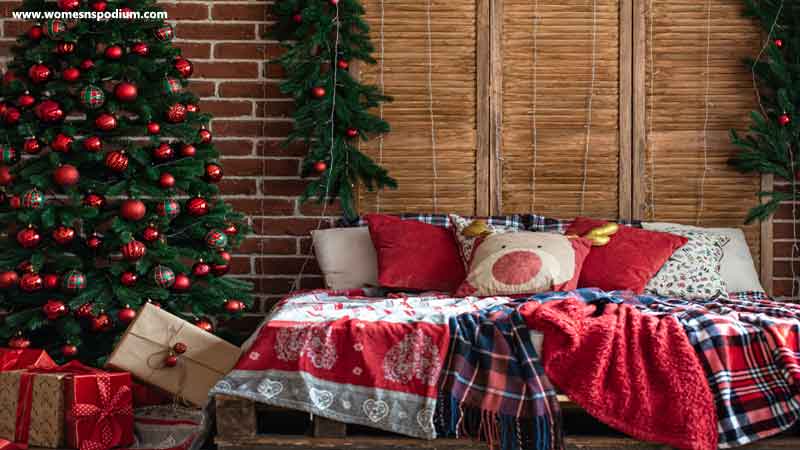 This pillow is yet another reindeer throw pillow. If you are looking for something different, then try making this pillow.
You will have to put in a little more effort because you need to stitch antlers separately.
Besides, the square pillow with a print of red nose reindeer is upgraded with antlers.
You only have to cut out the shape of antlers from a catchy fabric piece. Stuff them with polyester or recycled cotton, then sew them to finish.
7. Printed Holiday Throw Pillows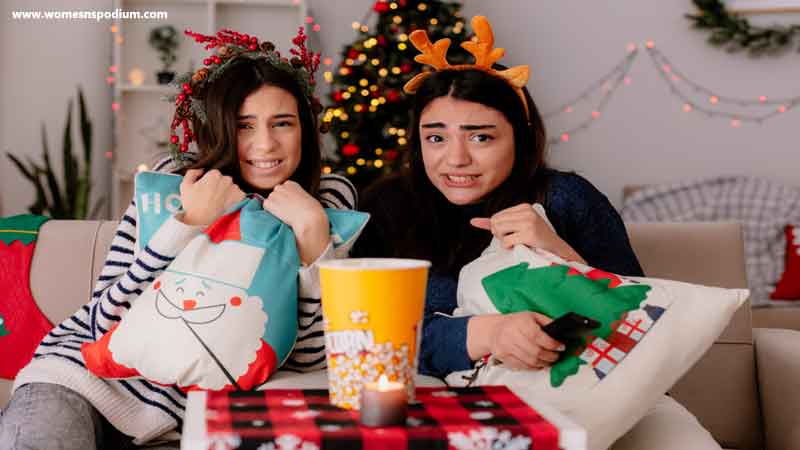 You will be at an advantage for this last pillow idea if you have the fabric printer at your home by now.
For a classic Christmas decoration, either print the Santa Claus and Christmas tree or some text for the Holiday season.
You can make different types of custom pillows with whatever you want to print on them.
Enjoy your favorite series, scary holiday movies, or watch FRIENDS: The Sitcom with your friends and siblings. This will help your sibling bond flourish as well.
What To Do For Christmas Decorations Without Money?
Christmas Decorations can be challenging and troublesome, especially if you are low on money and time. But you can always go overboard with time and DIY your decorations. They will be a perfect and cost-effective addition to your home decorations in the long run.
The first thing you can do is add greens to your home. Take some fresh plants or tree clippings and arrange them in a vase.
You can make a vase out of anything from teacups and glass to glass jars and tins.
Also, putting a glass jar full of candies and candy canes in the living room and lounge makes a perfect decoration.
You can put some money and effort into making the pillows and blankets as you can use them in the long run.
Cover some Christmas gifts in nice wrapping and scatter them around the tree in the lounge for a Christmassy vibe.
Putting some Christmas throw pillows in your home here and there add texture to your decorations and is the easiest way. Why buy expensive items when you can make similar ones at home under the budget? You only need fabric paints, different color fabrics mainly. You can also invest in a fabric printer and use it for years. Get your Christmas pillows ready for this year.
Also Read: Watching a Holiday movie together as a family while sitting on the couch holding these pillows makes the Christmas holiday worth celebrating.