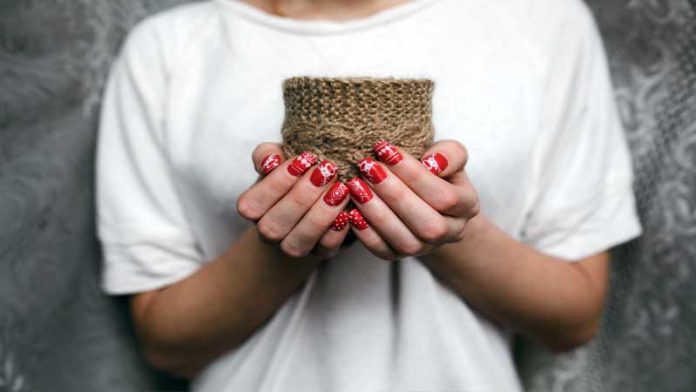 Nothing gets you in the holiday spirit more than decorating trees, playing jolly Christmas tunes, and hanging stockings by the fireplace. Anticipating your Christmas presents makes your Christmas eve joyous. But, besides embellishing your home, you should give yourself a manicure as well. This way, when you wrap the Christmas gifts, you can cheer up every time you glance at your Christmas nails. There are various colors like deep red, snowy white, ice blue, and hunter or emerald green. All of these were trendy for Christmas nails 2020, so you can use them for this year's festive Christmas celebration.
Also Read: The following trendy nails are the best option to choose as a Christmas gift for women. Even the pre-made nails look as natural as acrylic nails.
10 Stunning Yet Simple Christmas Nails For You To Try
There is no shortage of Christmas symbols that you can choose to draw on your nails. Even regular painted nails with some stones look stunning. You can also buy beautifully designed Christmas acrylic nails. Here are some ideas for cute Christmas nails you can do this year. Either you can paint it using nail paint techniques, glitters, sequences, stones or stickers. Because the end result is we all want our nails to look striking and noticeable.
1. Long Acrylic Red Snowflake Nails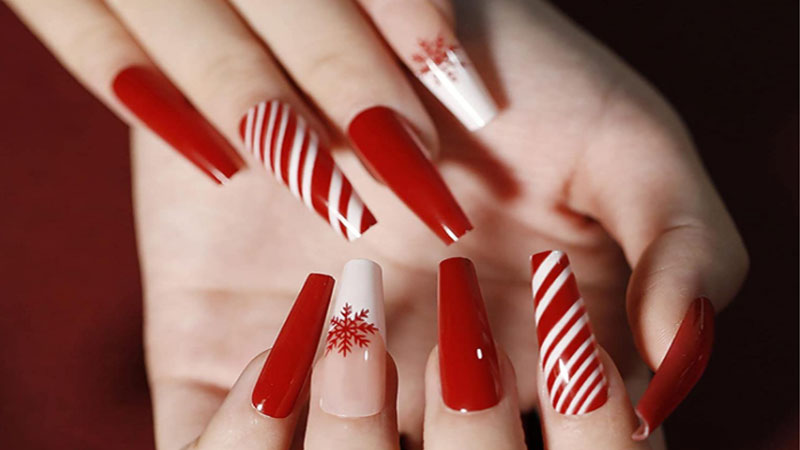 Deep red is the primary color of Christmas which is why it cheers us up. If you are looking for red nails, you can level up by painting all the nails with different designs. You can shop online to buy pre-made, painted fake acrylic Christmas nails, or you can paint one yourself. If you purchased plain nails, painting them would be fun. Paint one nail red, the other with stripes using stickers, and another with a stencil for red snowflakes or even can use stickers.
2. Acrylic Reindeer Christmas Nails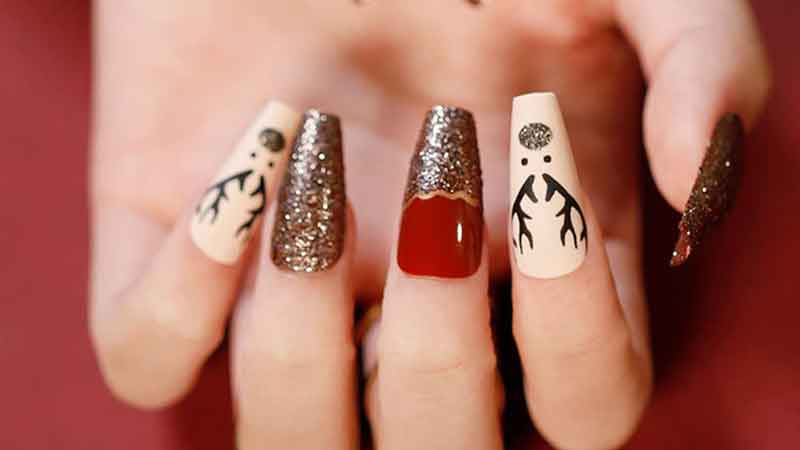 Try putting your touch on these reindeer nail art designs with easy-to-use stencils. Paint a base coat of white nail paint on two nails, then use the stencil to draw a reindeer shape. Use a zig-zag sticker strip for half and half red and glitter nail paint for the third nail. Paint the other nails with full glitter nail paint. Apply a coat of clear nail varnish to finish off the Christmas nail art.
3. Long Coffin Red Square Nails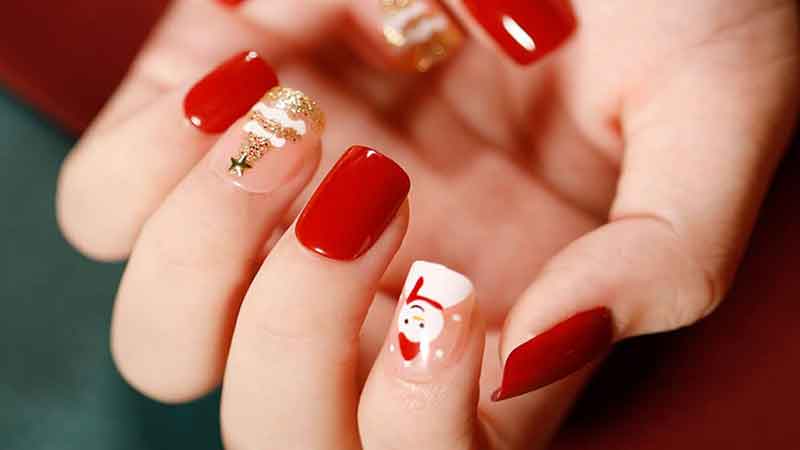 Square nails have been in the trend for quite some time now. You can take a simple red Christmas nail art up a notch by doing just the two nails differently. Decorate your nails with Christmas garland and tree vibe. You can best represent the snowy winter by drawing a snowman. Paint three alternative nails red in color and make a Christmas tree full of glitter and a snowman on the remaining nails. Apply a clear coat to complete. Personally, I feel this is the most effortless design to make, even if you are in a hurry.
4. Blue Snowflake Christmas Nails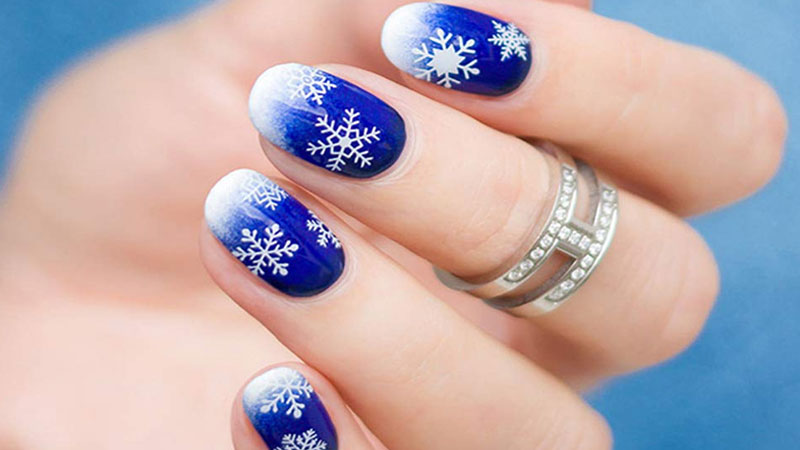 This is not your typical Christmas color, but it sure merges the snowy Christmas with the movie Frozen. The ombre is somewhat hard to achieve. If you can buy these nails as pre-made press on nails, then that's good. But if not, you can make it by using the sponge technique. Put on a dark blue at one end of the sponge, then light blue, and then white. Tap it on the nail to apply nail paint. Let it dry, then use a stencil to draw a snowflake shape or go for a sticker. Finish off with a clear coat.
5. Neutral Color Twist French Tips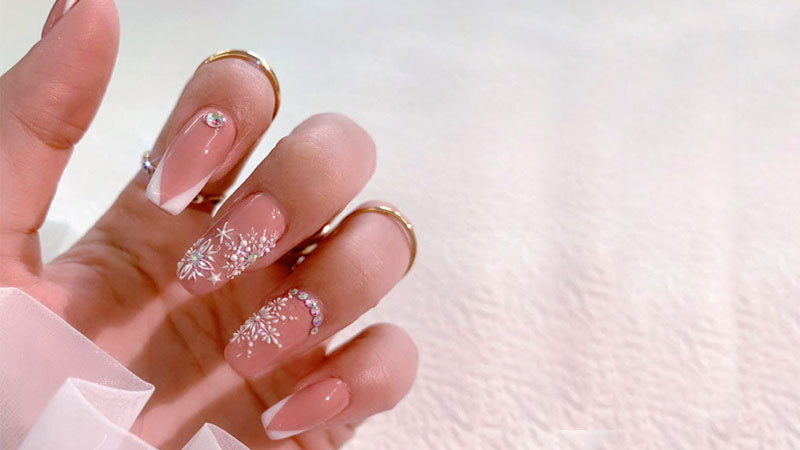 French tips are the latest trends in the nail art field. You can create the most elegant and simple Christmas nails using twisted French tips. Buy simple acrylic press-on nails in the neutral peach shade. Use a stencil for drawing the design on it. With white nail paint, carve a unique three-dimensional bump shape. Use stones to decorate the ring fingernails and index fingernails. For snowflakes, you can use stickers; you can apply nail polish first, stick the nail sticker to your nails, and seal them with clear nail polish. You can also wear these nails for your winter date this Christmas.
6. Snowflake Nails Twist French Tips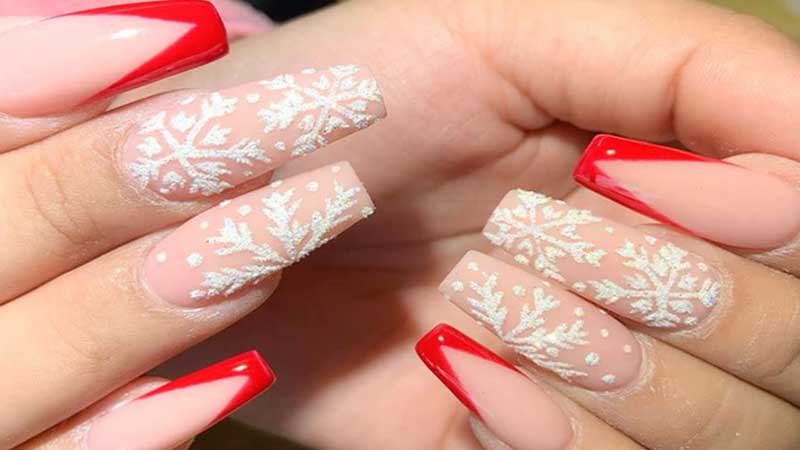 These coffin Christmas nails look more Christmassy because of the red-colored twist French tips. You can buy simple nails and paint them neutral yourself. Draw the shape of the snowflakes using stencil or paste stickers. Neatly draw the edges of the French tip using red nail paint. This Christmas nail design brings out the feminine nature of you as well.
7. Metallic Green Christmas Nails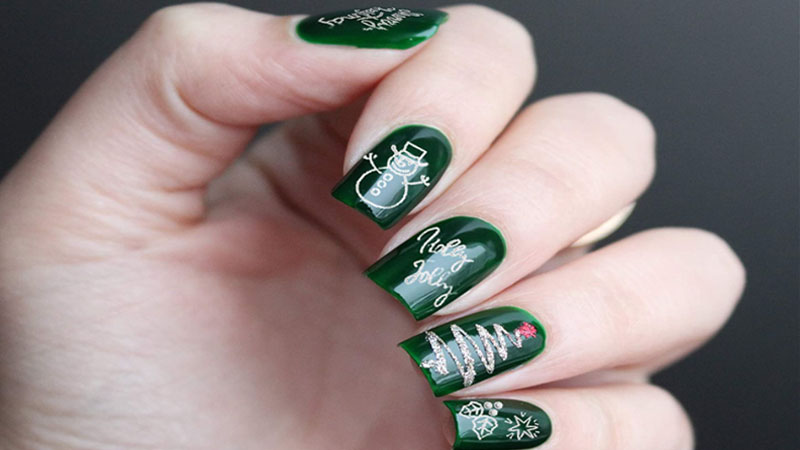 I like these easy-to-do Christmas nails the best on the list because they are simple. This is precisely what shows "Simple Is Special" at this special festival of the year. The emerald green is the color of Christmas trees and greenery. Minimalist nail art designs like this one require you to shape your nails first. Then paint all of them the same, like emerald or hunter green in this one. Use a stencil to draw the different shapes on the painted nails, or simply go for some stickers.
8. Decal Art On Blue And White Nails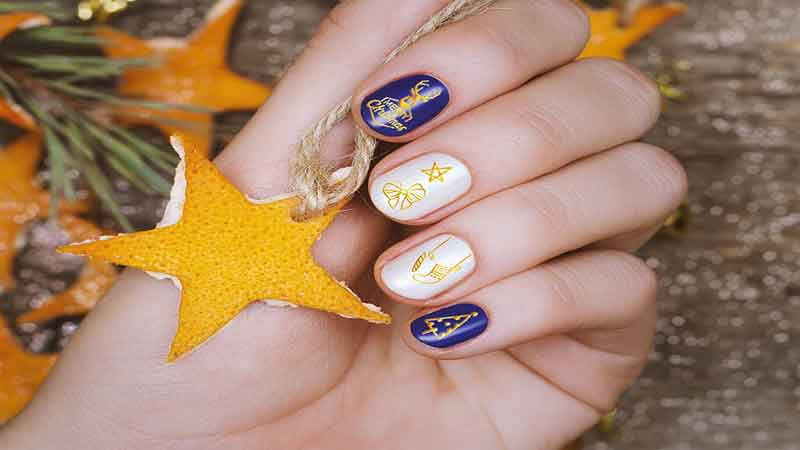 These dark blue and white nails are similar to the above nail art. You can apply the base coat of dark blue color on some nails with white on the other nails. Let it dry completely, then use decal nail art to draw the metallic golden Christmas tree and snowman shapes. You can write some wishes or merry Christmas using stencils and decals. Then apply a finishing coat to finalize this design.
9. Matte Black Nails With White Art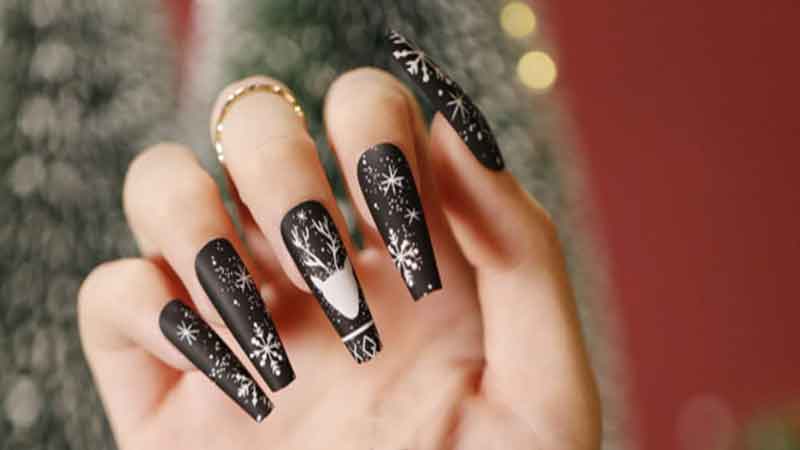 Black is an unusual color for the Holiday season, but the design looks awe-inspiring and stunning with a silver touch. Buy the coffin nails, then paint them with matte black nail paint. Start by drawing the shape of reindeer and its antlers using white nail paint on one of the nails. Draw tiny snowflakes on some of the nails. Add small white spots randomly to give it a starry night look. You can go for stickers if you want to get these done quickly or draw yourself. Do it whatever you like, as this nail art is enchanting. Any silver fashion jewelry looks great with black and white nails.
10. Cute Matte Press On Acrylic Nails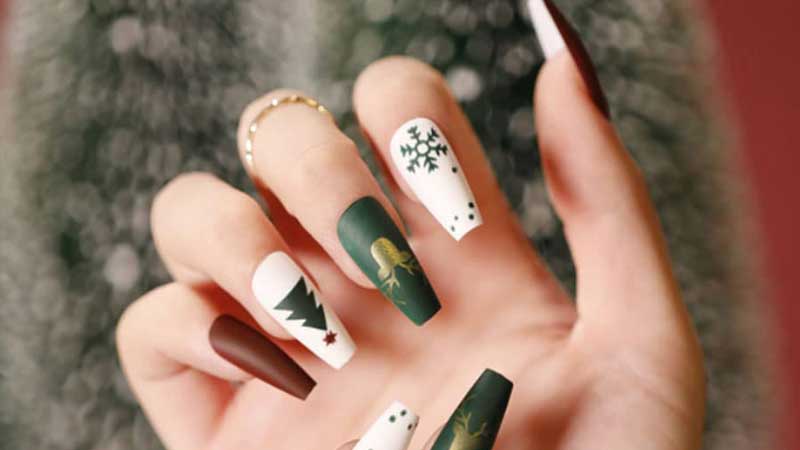 Press-on nails have been around for years, but it's been taken up a notch lately. They look like natural acrylic nails. Start with buffing the shine off of your nails to create a rough surface. Wipe the dust off of your nails. Add adhesive to the back of the press on nails, and apply to your natural nail. Press down for 20 to 30 seconds to secure them. You can buy these cute Christmas nails easily.
You can achieve a complete set of Christmas nails using these Christmas nail designs and ideas within 20 minutes. Get in the holiday mood by giving yourself a manicure at home. You don't need to spend a lot and wait for your appointment at a nail salon. Everything is within your reach, so you can create beautiful designs and enjoy this Christmas season.
Also Read: You can get some other beautiful nail design ideas for a better look at the latest trendy nail art.