We can't label fashion just to wardrobes! With everything shut down in 2020, the restrictions have made all of us experts at many things, which we would never try ourselves otherwise. Fashion trends and beauty treatments are one such thing. We have tried everything from hair dyes and press-on to trendy nail designs, manicures, and pedicures. Although nail art is a form of sophisticated talent, you can first try some simple nail art designs to get started. Also, geometric and marbling nail art ideas are the easy-to-do nail trends these days. So, to save your time and worries, get ready, here are some popular and easy nail art ideas for beginners.
Also Read: Women shouldn't adapt to every fashion trend out there, leading them to some unavoidable fashion mistakes.
Easy Nail Designs for Summer Outfits To Rock This Season
Don't worry if you can't get a professional French manicure because there are some simple nail arts you can master at home. For women who love trying new nail trends even when most nail salons are closed, here are some 25 Insta-worthy nail art ideas for the 2021 summer look.
1. Polka Dot Nail Art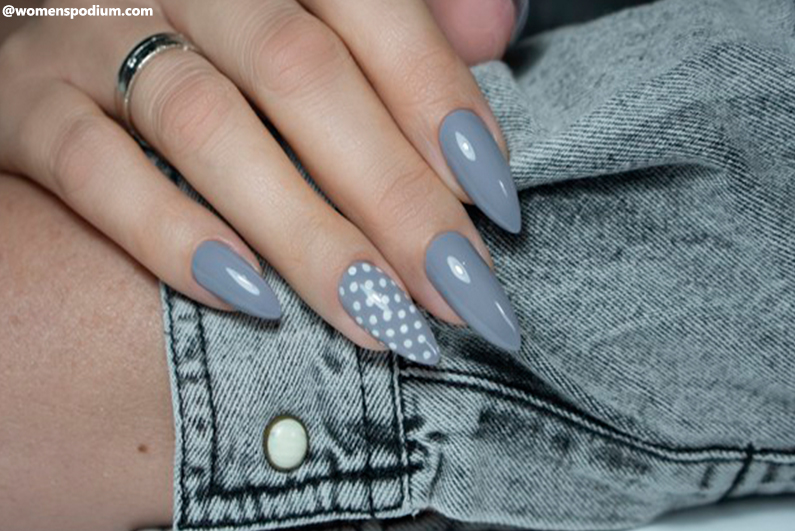 Otherwise called dot nail art or dot manicure, polka dot nail designs are easy to master. This is one of the trends in the fashion industry which is never going to age. You can play around and make varying designs using nail art dotting tools from this simple design.
2. Decal and Sticker Nail Designs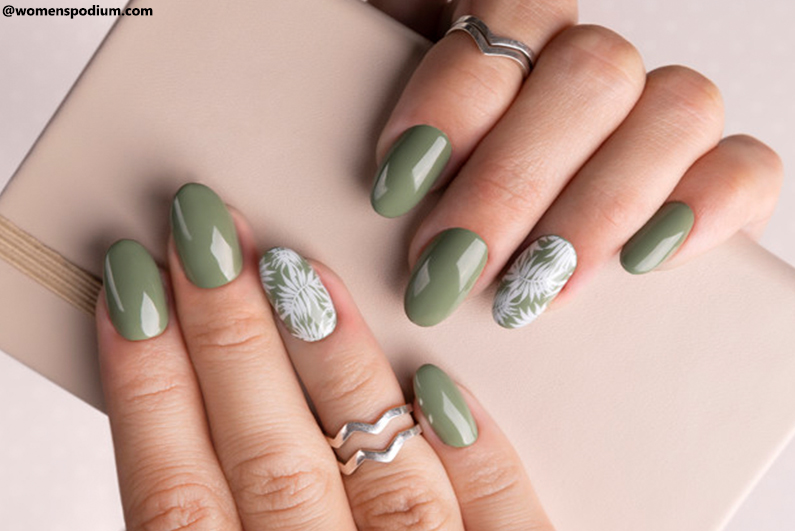 Designer nail decals and stickers help your outfits to look prettier. These nail polish trends use nail stickers easy for impatient people who don't want to go through an hour of trouble for nail ideas. However, you being lazy, tried this nail art in your one nail; on the other hand, an eye-catchy and elegant design came out. So go green with a tint of white floral nail art accompanying summer pool parties.
3. Beads 3d Nail Designs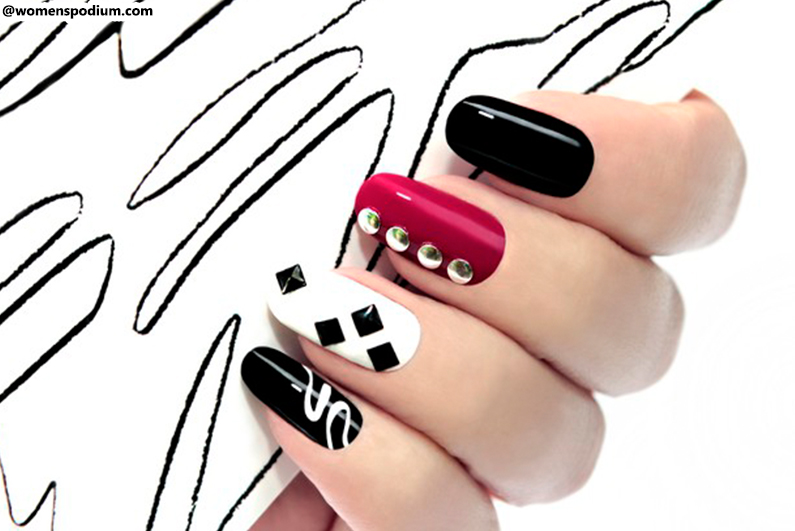 With a wide range of techniques and designs, 3D nail art designs are now the talk of the town. People try various things like placing beads on nails, using rhinestones or microbeads for nails to make them look sophisticated or vibrant. Various nail tools help you to style your nails with beads so that your hands stand out.
4. Water Marble Nail Designs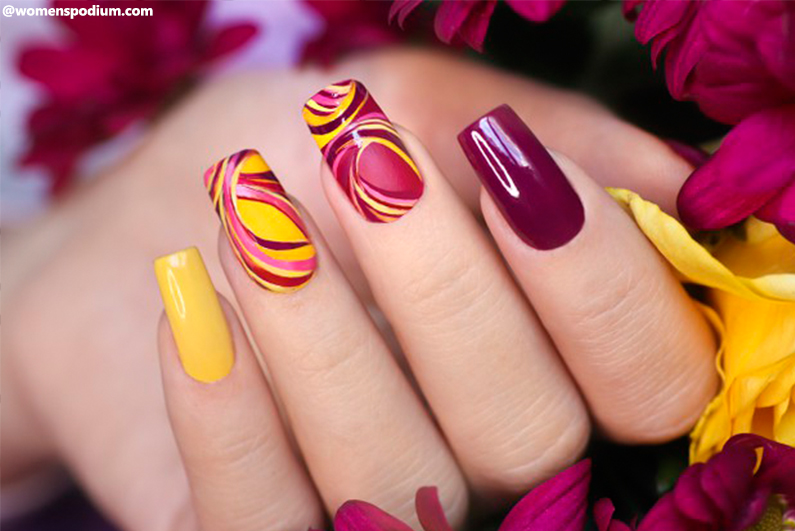 Although water marble nail ideas are a little tricky, you can master them with some practice and make marvellous marble designs. Of course, the first time when you try such nail art ideas, the outcome of the whole marbling process can be a disaster mystery. But you will get beautiful matte and shiny marble nail ideas once you get a hold of this technique.
Also Read: Women should also try matching summer outfits that go well with these artistic nail ideas.
5. Segmented Geometric Nail Art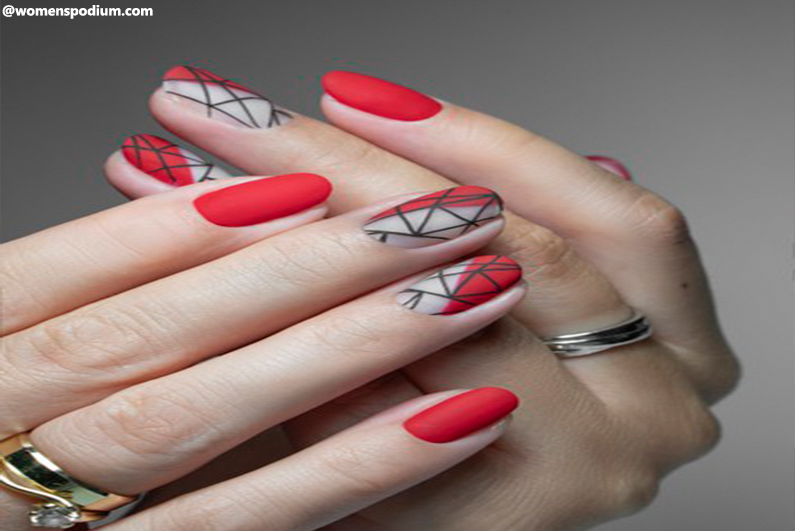 You can play with different shapes for incredible and easy nail art ideas. Geometric nail art, also called color blocking or segmented nail art, are totally in among fashion trends. You can make geometric figures using different color lines for more subtle and chic geometric nail designs. Feel free to be creative with triangles, trapezium, and squares to create simple geometric nail art ideas more fun.
6. Nude Swirl Nail Designs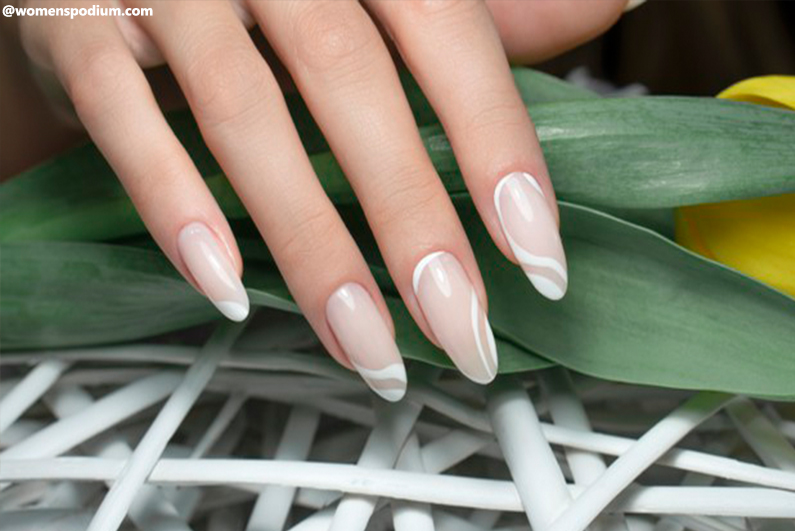 We can make the swirl nail art designs simply by using a single nail brush. The white swirl designs, also called white marble nails, are extremely easy to draw. You only need the right nail art tools for it. You can also add swirls of two or more colors on different nails to give it more summer vibes.
7. Leaf Stencil Nail Art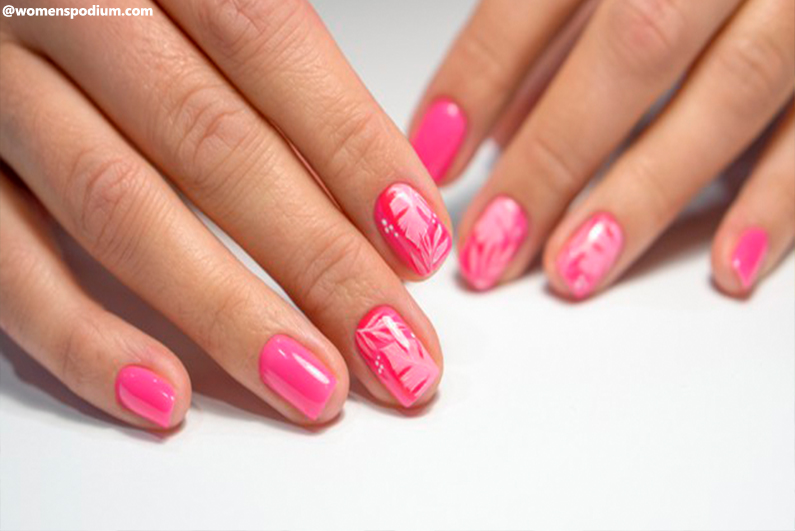 Here is a way to jazz up your style by using nail art that depicts your colors for all nature lovers. The leafy greens look stunning on nails. The stencil nail art method uses leaf nail stencils to create this admirable and decent nail art. You can also wear fashionable jewelry to complement this simple design.
8. Multicolored Nail Art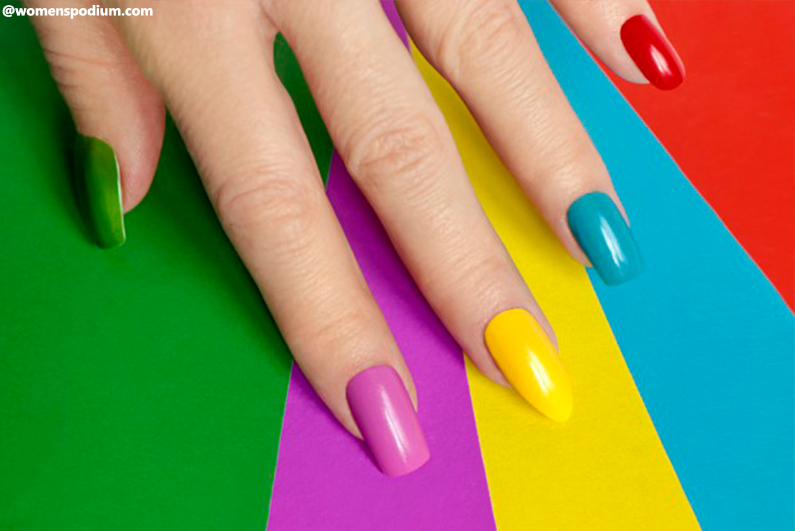 This colorful nail art is the most natural nail art idea on this whole list. The nails look like there is a rainbow effect going on them. Coloring each nail with a different color might not only be easier for you but also look cute, stylish, and youthful. You will be amazed by the popularity of this nail art multicolor trend.
9. Stamped Glitter Nail Art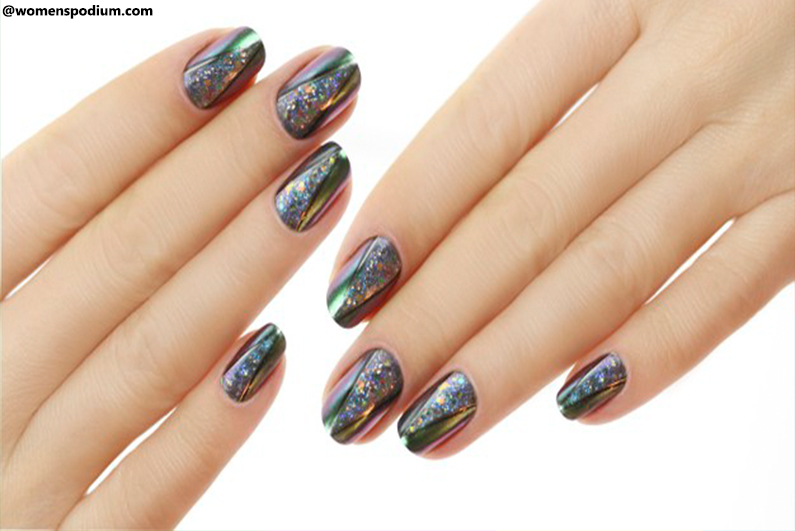 A less common way to glam your nails is to use glitter foil nail art. But the foils shine up your nails and add glamour to them to make them look charming. The stamped nail art technique requires you to have all the materials and some simple nail art tools so you can get your nails done in less than 20 minutes.
10. Minimalist Nail Art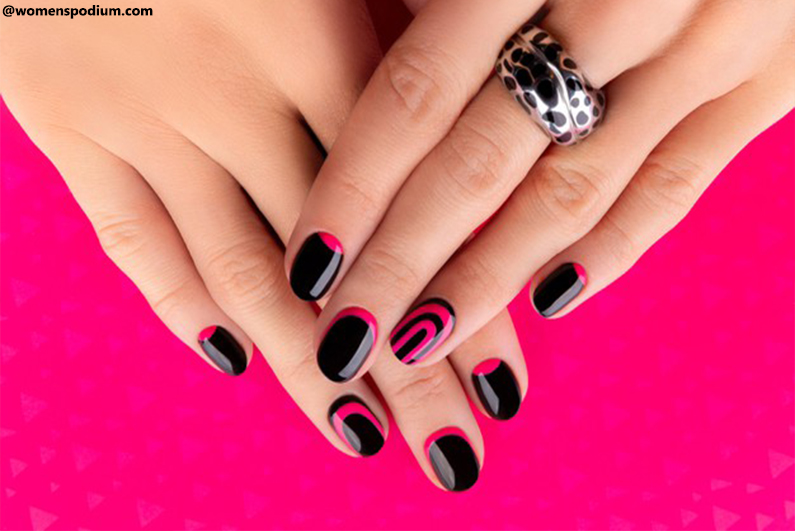 This black minimalist art is a half-moon manicure perfect for those who want a chic look for their nails. As the name suggests, nail polish appears as a half-moon at the nail base. And the shape and length of your nails don't matter for such simple nail designs.
Also Read: Glam yourself, pick summer outfits and ongoing nail trends with comfortable summer shoes.
11. Stripped Valentine's Day Nails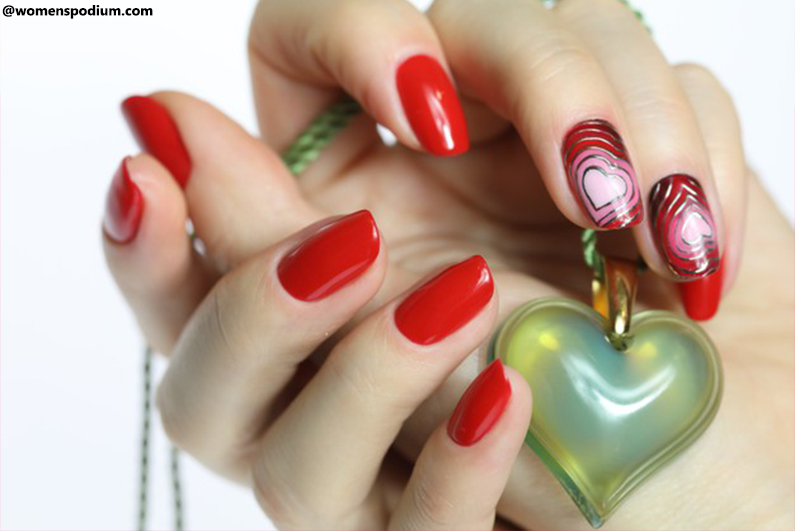 Who can ever skip mentioning the heart designs? Classic red is every girl's all-time favorite nail polish for special occasions. And such nail polish trends are even more popular around Valentine's Day celebrations. To feel love around her every woman likes the touch of hearts to her nails; adding hearts will give that romantic touch to these Valentine's Day nails.
12. Graphic Nail Art Designs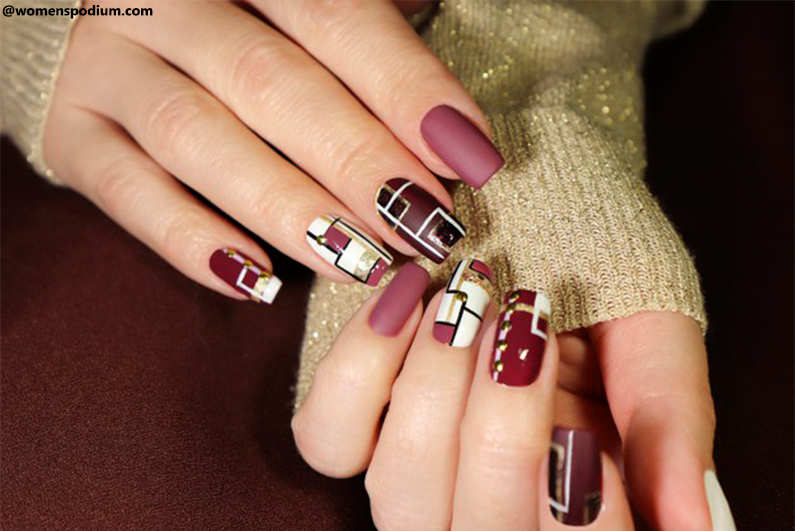 Printed nail graphic designs, similar to geometric figure nails, give a fantastic look. But you need to have the nail print tools if you are a beginner and want to recreate this nail polish trend at home all by yourself. You can create vibrancy in nail designs by selecting bold colors to compliment your skin tone using artistic nail designs.
13. Peacock Freehand Nail Art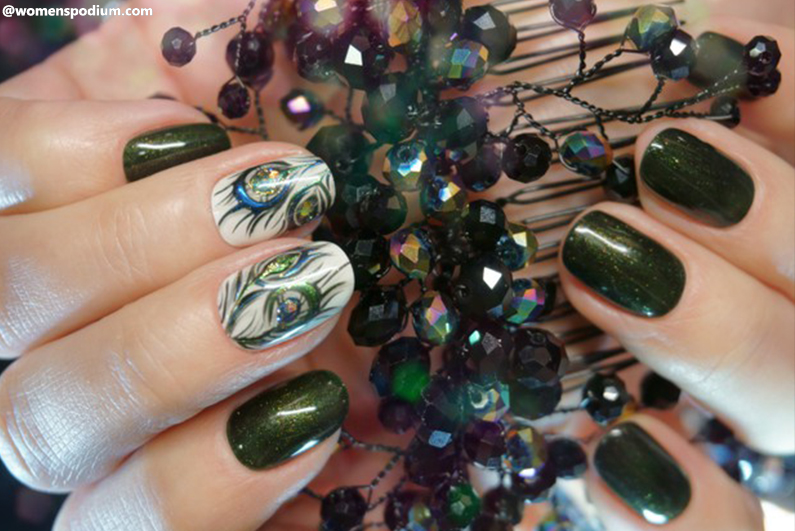 Peacock feathers are nature's masterpiece and a glimpse of splendid beauty. If you are in these vibrant eye-catchy colors, peacock freehand nail art ideas can do that job for you. Giving your nails a super fancy look, plus you can add embellishments to them. The color range you can go for is vast. A prominent choice would be using shiny nail paints instead of matte.
14. Rhinestone Nail Art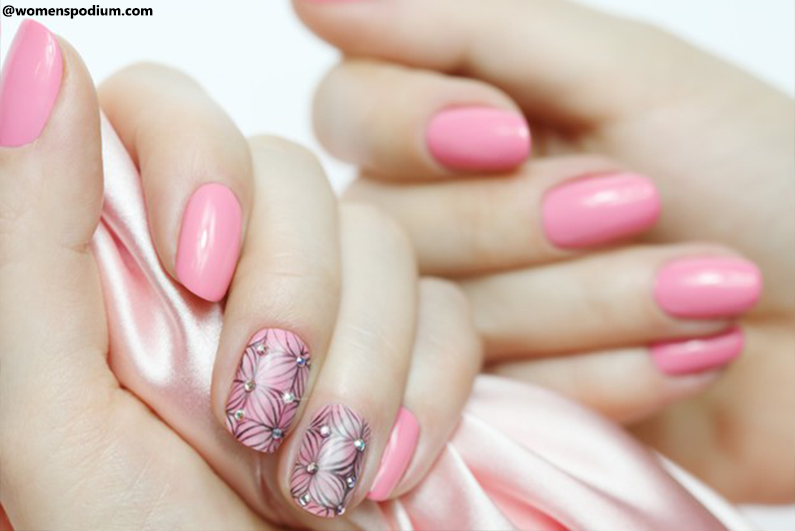 Decorating the nails with rhinestones and gems is the latest most beloved nail art idea. Bejewel the nails with gems to go perfectly without any accessories. Dress your nails to look classy and elegant with rhinestone nail designs as they impart a fashionable and rich look to the hands, adding shine to the summer through the tips of your nails.
15. Floral Nail Designs Using Brush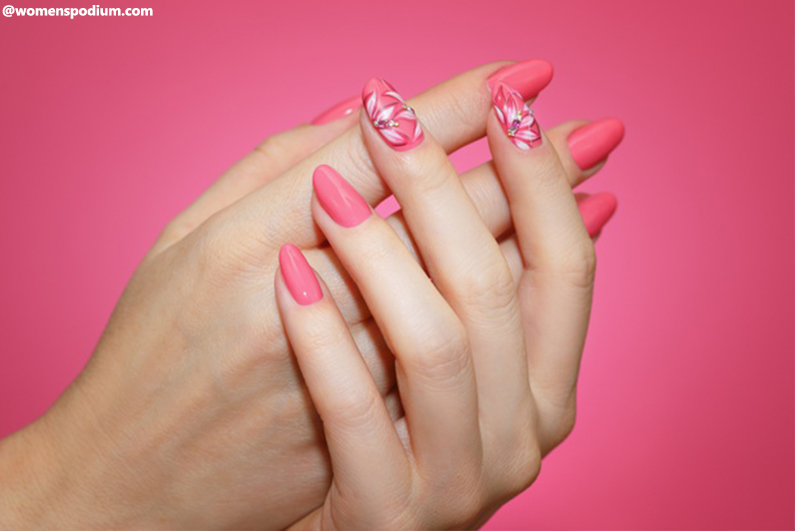 These floral simple nail designs reflect your pure and lively nature. You can combine the trend of flower nails with nude nail polish as well. This way, your nails will look natural and perfectly balanced with vibrancy. The design uses a brush as a tool to create nail art. But, of course, you will have to practice more to perfect it.
16. Freehand Christmas Themed Nail Art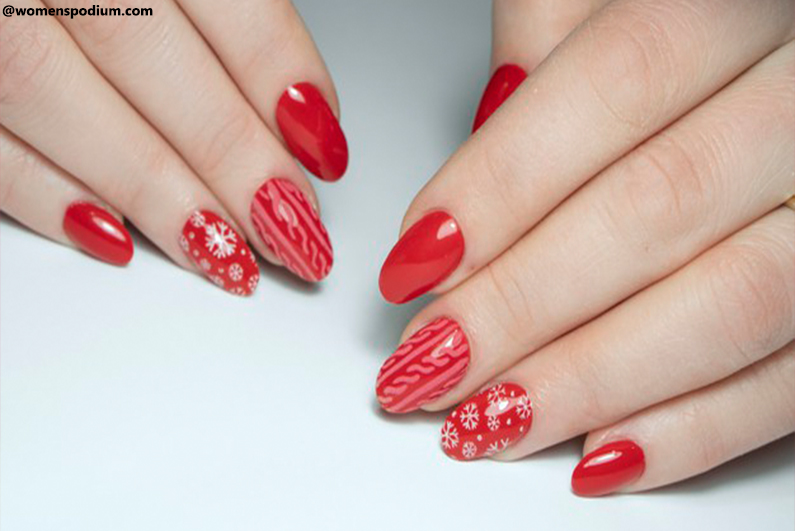 Women love to go all out for the trends, which is why the Christmas-themed nails and every holiday theme nail art are popular among them. This easy nail art design is quite simple, paint your nails in red, symbolizing Christmas, adding a touch of snowflakes over them, drawn in icy white color. These holiday season easy nail art ideas are simple and fun to do at home.
17. Airbrush Nail Designs With Sequins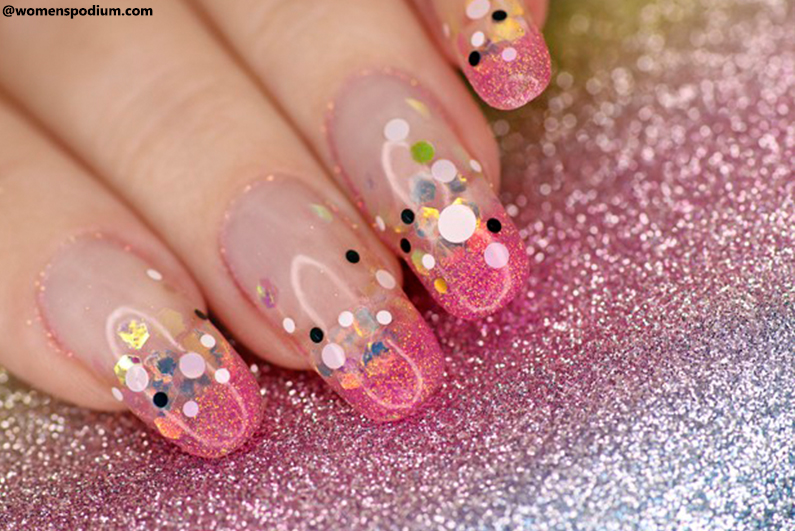 For a true diva personality, no other embellishment looks perfect than sequins. This nail trend is a relatively simple one that requires an airbrush nail art tool to begin. You can choose to do all nails with colorful shiny sequins or just one nail art, depending upon how vibrant you want to be.
18. Animal Print Nail Designs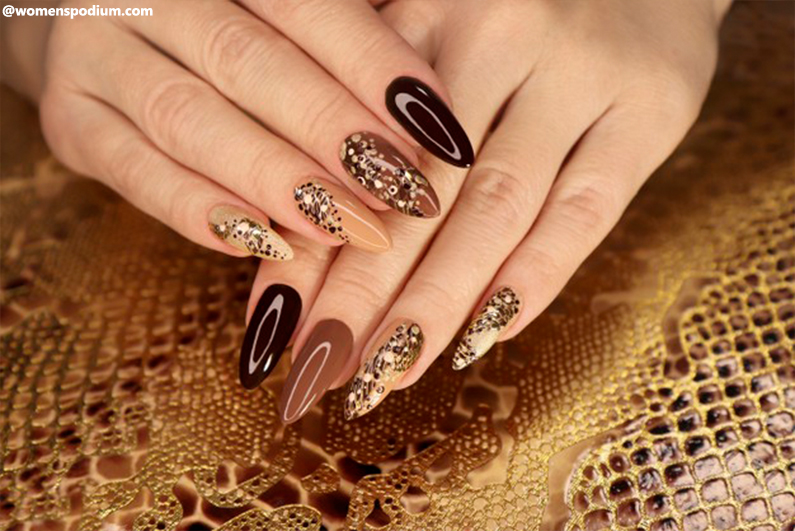 For those who like to go with an edgy look, the snake print nail design is for you. The bold shiny scales are the most popular ones among the trendy animal print nails these days. Such gorgeous easy nail designs look even sharper when you have the square shape of the nails.
19. Brush Stroke Nail Designs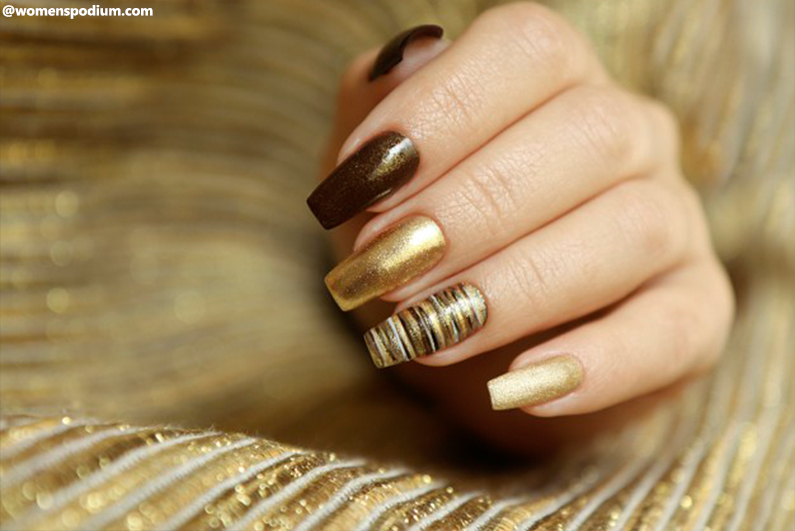 This is one of the most manageable nail polish trends for the last few years. To create the abstract brush stroke nail art, you only need a flat thin-fiber nail brush. It is easy because this one-stroke nail art for beginners or professionals wouldn't have much of a difference. By the way, the technique does not involve math formulas!
20. Freehand Metallic Nail Designs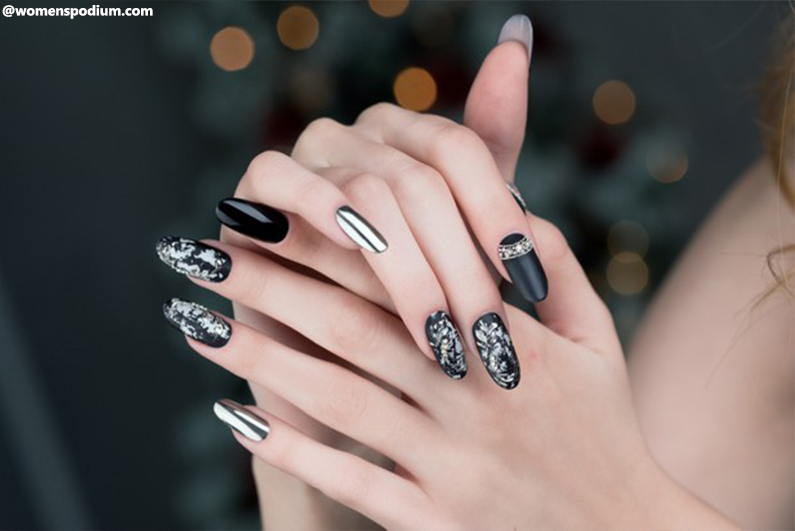 Be the glamour queen with dramatic metallic nail art this season. The metallic talons not only look eye-catchy and classy, but they also shine bright like a diamond! People also create silver foil nails, but it needs some extra work. The metallic silver nail art looks stunning with just one coat over your nails.
21. Stripe Sponge Nail Art
Not to mention, the ombre has been that one artistic look that goes well with any occasion, season, or party. Women who are addicted to fashion know how well the fade-out effect of ombre nail art looks on them. Dip dye, gradient nails, or ombre, whatever you call it, the look is always mesmerizing and stunning.
22. Simple Acrylic Nails With Gems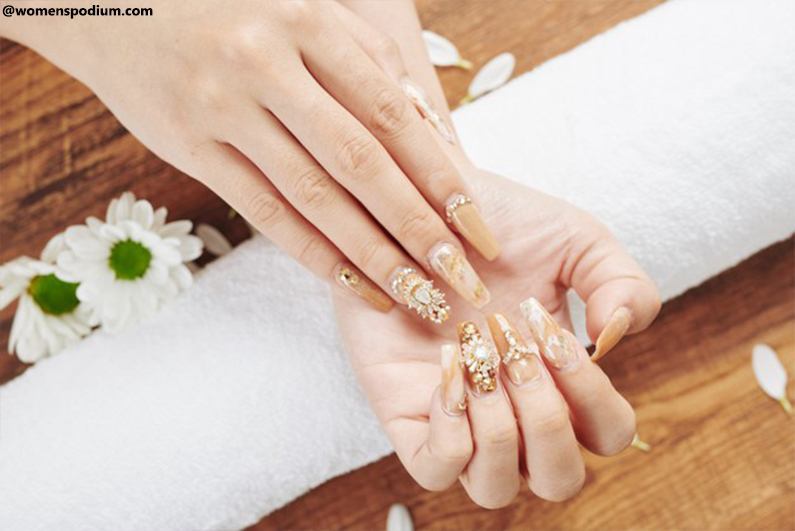 All the trend-setting fashion influencers would agree that ornamented nails make you have all eyes on you at the party. The gem acrylic nails are the new accessory for your hands. You can put rhinestones, pearls, glitters, or gems on acrylic nails for eye-catchy bridal nail art as well.
23. Glitter Nail Art Design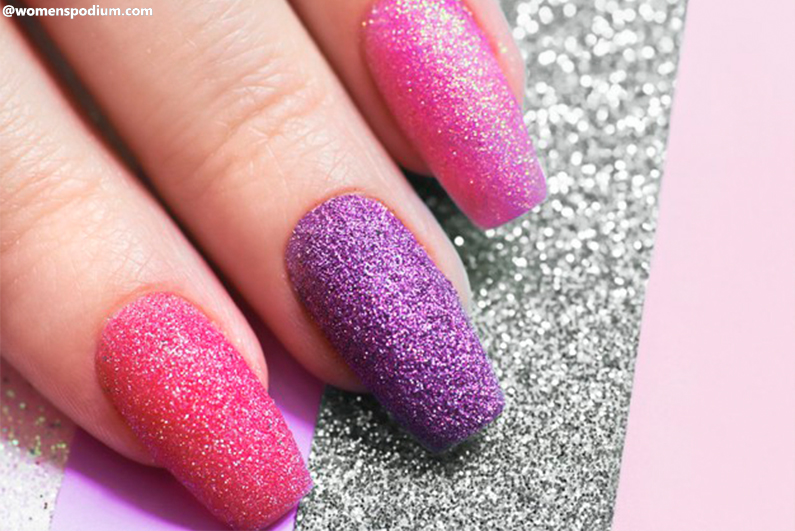 Jazz up your look with shimmer and glitter nail polish. If you love to go all out, you can try the multicolor glitter and sparkle nails. Everyone will be stunned by your extremely glamorous glitter nails and fawn over your glam queen aura. You can also wear this simple yet mesmerizing nail design for a wedding or a party.
24. Go Pink with Polka, Heart and Stripes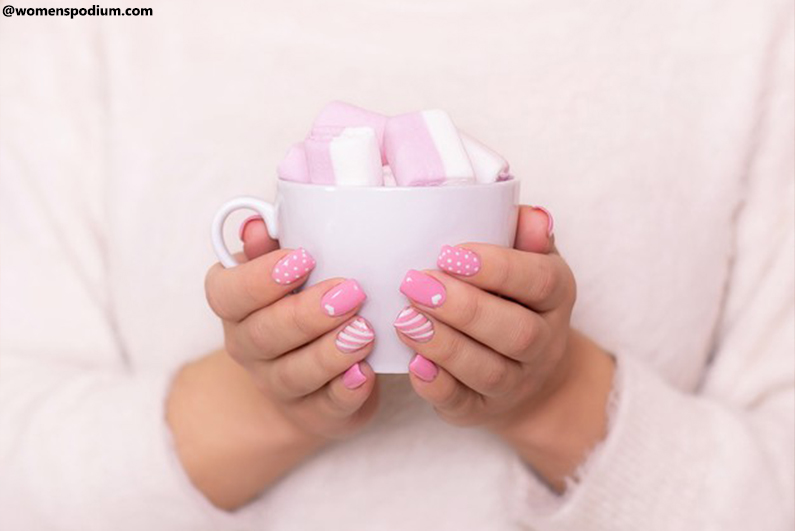 Summer evolves the best when you fall for cool, light breathing colors, either it's your dressing or nail paints. So this summer, try your nails being colored in soft baby pink with trendy designs. Paint your nail with pink nail paint and play with some of the most effortless nail designs like polka dots, stripes or a tiny heart in white. Just go pink and relish your summer with this most demanding summer color.
25. Bright Yellow Tiger Nail Art Design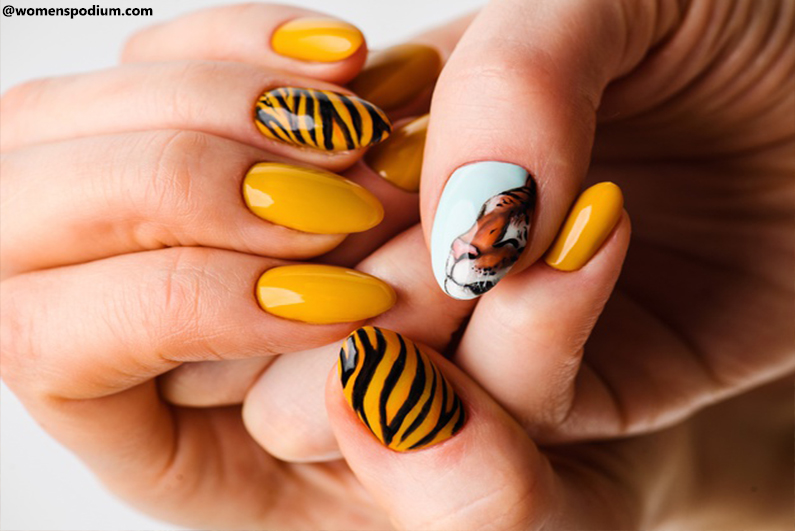 Among animal prints, leopard nail art designs behold a classy and elegant stand, yet you want something offbeat but a touch of wild; go for a tiger nail art manicure. You can either design all your nails with tiger prints or just go with a slight variation painting your nails in yellow, with a tiger face on thumbnail and stripes in black on the other two nails, leaving the rest of the two painted in the base color.
Getting a manicure can be pretty expensive, but the outcome you get after undergoing the manicure can be truly satisfying. But getting expensive manicures all the time is not affordable for many of us, and for this, trying to learn some cute and easy nail art designs can fetch you a real solution. Moreover, the internet is flooded with in-depth information about nail arts so getting the latest nail art is not that tough.
Enjoy your summer in glam with these 25 simple nail designs and trendy yet easy nail art ideas this year. Some of these designs are easy, and you might achieve success in a go, while some might take time and practice. In fact, I would suggest, instead of trying alone, get your girlfriends with you and try all these nail arts with them. Then, later, you don't always have to worry about spending hours in a nail salon; instead, you can learn to master these easy to do nail arts at home by yourself. And I bet you can attain this glamorous look in no time!