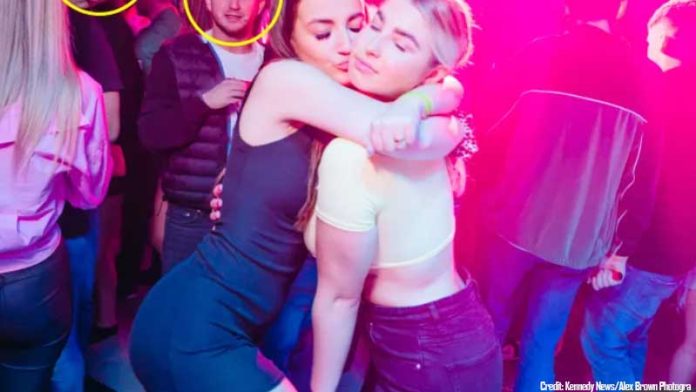 A 27-year-old photographer from Greater Manchester, Alex Brown's snap went viral, in which two men were captured in the act of eyeing two women on the nightclub's dancefloor, clubbers left in a frenzy. However, the photographer explained that his timing was odd. He took the snap earlier this month at Liquid and Envy in Oldham.
Alex explained that there is a possibility that they were not actually looking and were trying to pass through. However, it appeared as if they were observing them. To him, it was unfortunately funny, but because of the photo, the clubbers left in a rage. Further, he added that he was unaware of the fact that the picture went viral; later, he got to know this from the DJ. He hardly could remember the taking photo but didn't notice anything like that.
Reactions from the Followers
Once the club published this image on one of the leading social media sites, observers quickly figured out two fellows were behind the hugging brunette and blonde and appeared to be checking the girls out. This unusual picture was flooded with several types of comments and likes, though the snap taker expressed his apologies jokingly to those fellows. 
Nevertheless, the men looked to take the whole incident in their stride with a smile, and later on, being tagged by a friend, Ethan Taylor made a fun-filled comment, "F*** sake' while trying to ignore the comic remarks.
The picture framed hundreds of communications, including several laughing faces from the nightclub fans. It was astonishing that the photographer got so much attention; however, he found it funny.
The crazy photo is part of a digital album containing more than 85 snaps and shared on Facebook more than dozens of times.
One of the followers, Kiera Moore, remarked 'Hahaha caught in the act' in a fun-filled banter. Another follower Jenna Quinn jokingly commented that she knew where the two boys were looking. Another lady Lorelle used a popular TikTok term to describe the situation "Caught in 4K. Unlucky".