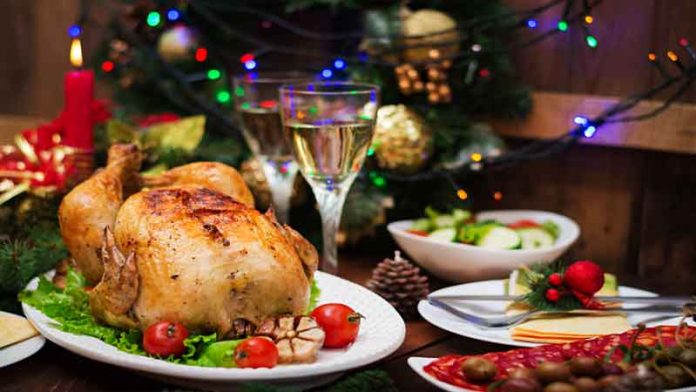 Christmas is around the corner, and making something special for Christmas dinner is all we look for. And with a bit of creativity, we can make this day memorable. Chicken as meat is quite versatile to cook, and with some alteration, try making Christmas chicken recipes a little tastier this year. We can blend chicken in various ways while cooking without making it appear too much. It could be a starter or a main course for Christmas dinner.
Santa is Out, And Christmas Chicken Recipes Need to be Stand Out
Our very own Santa Claus is all set to deliver the gifts, so we need to shortlist the Christmas chicken recipes quickly. Chicken is also lean meat, so people who have diet restrictions can also enjoy it when you incorporate chicken into your Christmas meals. Though sometimes people prefer to go out for dinner when you have the perfect Christmas chicken recipes, why not try out homemade meals. With little effort, you can create restaurant-quality meals at home too.
1. Grilled Chicken Salad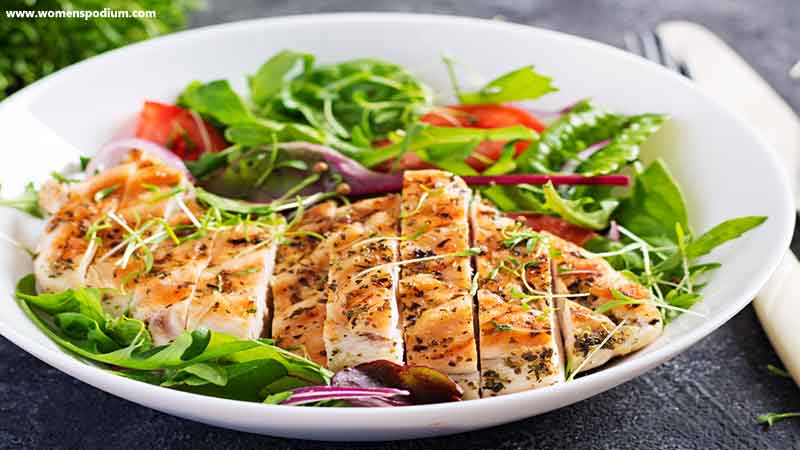 When we are looking for something healthy and an easy-to-make recipe, this one is a perfect option for you.
Ingredients:
Rapeseed oil or canola oil- 2 teaspoon
Chicken breasts- 500gm
Lemon wedges- 6
Parmesan cheese- 1 cup
Caesar salad dressing- 1 cup
Black pepper (freshly ground)- As per requirement
Washed and thoroughly dried lettuce romaine- 250 gm
Salt- As required
Croutons- ½ cup
How to Cook?
Clean the chicken breasts well and pat them dry thoroughly.
Get a large-sized container and season the chicken breasts with salt, black pepper, and canola oil.
Put the chicken pieces in the preheated griller for almost 5 to 6 minutes
Grill till the pieces turn brown and get tender.
Now take the large-sized bowl and pour the washed lettuce and croutons in it.
Add the caesar salad dressing and toss the mixture well.
Cut each piece of chicken into 2-inch portions and add to the salad.
Pour the parmesan cheese to garnish.
The salad is now ready; just serve it with lemon wedges.
2. Chicken Meatloaf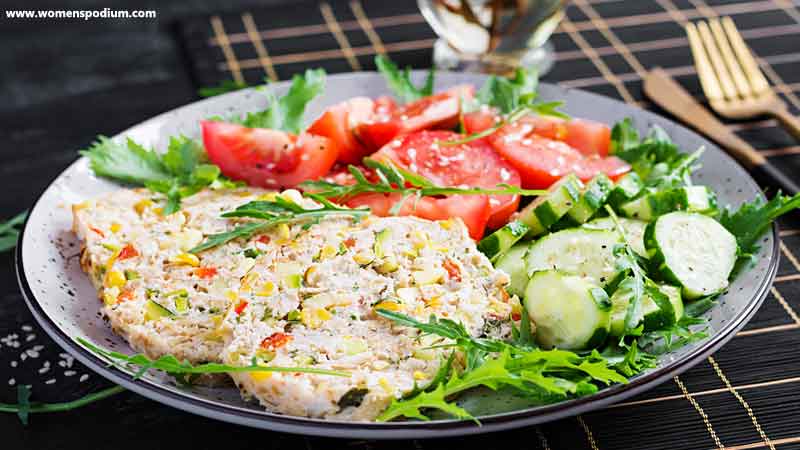 Among Christmas chicken recipes, chicken meatloaf would be another easy-to-make comfort food we can put in your Christmas meal and satisfy your Christmas cravings.
Ingredients:
Ground chicken: 1 lb
Large white eggs: 1
Breadcrumbs: ½ cup
Onion(small size): 1
Medium size carrot:1
Celery cees: ¼ tsp
Minced garlic: 1.2 tsp
Ketchup: ½ cup
Worcestershire sauce: 1 tsp
Pepper: ½ tap
Salt: as per taste
How to Cook?
Preheat the oven to 350 degrees Fahrenheit
Take a large container, pour the chicken along with fine breadcrumbs, and keep it aside.
Chop the onion and carrots into medium-sized chunks and put them into the blender.
Let the blender run till you get a fine texture.
Now pour the carrot blend over the chicken mixture.
Use your hands to mix it well.
Give it the shape of a loaf from that mixture.
Place it in a 9″ X 13″ lightly greased pan.
Use a foil to cover it and bake it for an hour.
Take the foil cover off and bake it for 15 to 30 minutes more, till the loaf is cooked thoroughly.
What Can We Serve with Chicken Meatloaf?
The meatloaf itself is a heavily filling main course. However, if we want to make it a little more exceptional, chopped cherry tomatoes or cucumber with some salad dressing would be a good option. For garnishing, my recommendation is to go for parmesan cheese.
3. Cheesy Spinach Chicken Rolls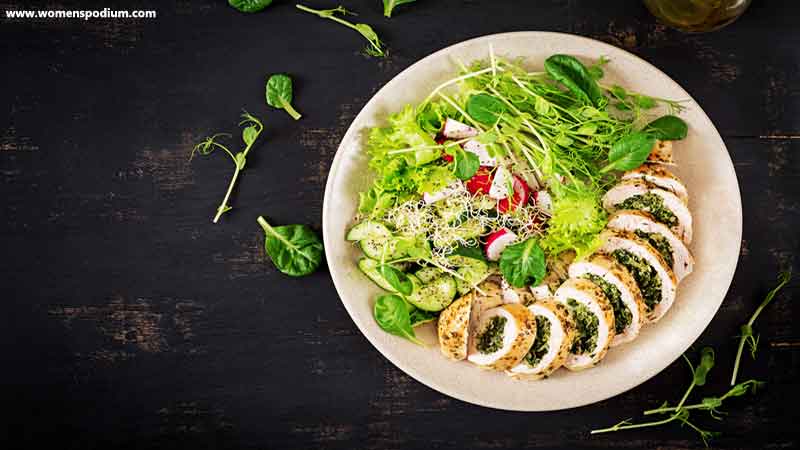 Cheese is something that we all love to eat. When we add the cheese with some other ingredients, most of the time, it enhances the taste. So, try the following recipe and satisfy your taste buds superbly.
Ingredients:
Olive: ¼ cup divided
Mushrooms: 6 chopped
Boneless and skinless chicken breasts: 3 (lengthwise halved)
Garlic cloves: 2 (minced)
Ground black pepper and salt: as per taste
Red pepper flakes: ½ tsp
Green onions: 2 tbsp (chopped)
Frozen spinach: 10 ounces (thawed and chopped)
Cream cheese: 8 ounces
Toothpicks: 12
How to Cook?
Put the chicken breasts in between two sheets of heavy plastic on a solid, level surface; firmly pound it with the smooth side of a meat mallet to 1/4-inch thickness. Then season it with pepper and salt as per the taste.
Take a skillet and heat one tbsp of olive oil on medium heat. Now pour the garlic and mushrooms. Stir and cook them till they soften for almost 5/7 minutes.
Preheat the oven to 400 Degree Fahrenheit.
Grab a mixing container and pour in green onions, cream cheese, spinach, red pepper, and the mushroom garlic mixture.
Now take a spoon of cream cheese mixture and put it into the middle of every chicken breast. Roll up the chicken breast in a circle and put a toothpick to secure the roll.
Take an ovenproof skillet and, over medium heat, heat the remaining three tbsp of oil, and place the chicken rolls in a single layer inside the skillet.
Cook each side for almost 5 minutes, till it turns golden in color.
Now put the skillet inside the preheated oven. Allow it to bake for almost 15/17 minutes till the chicken is no longer pink, especially at the center of the rolls.
Your dish is now ready. You can serve it with sliced avocado and arugula along with some dressings.
4. Yummy baked chicken legs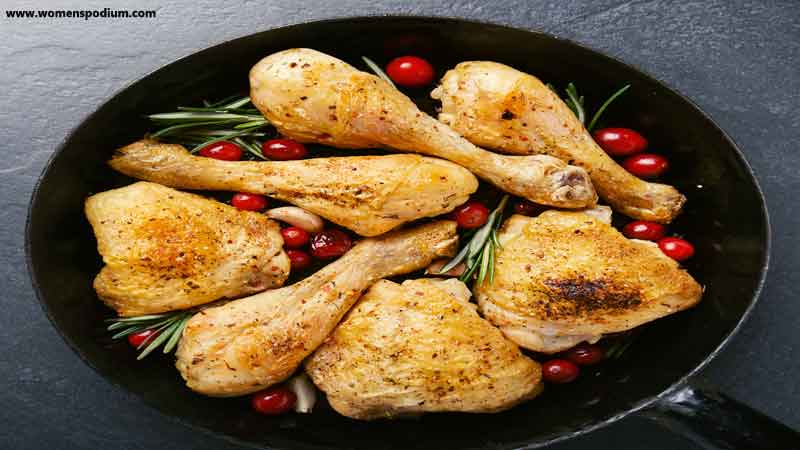 This recipe is one of the quickest recipes to put food on the dinner tables at record speeds. With simple seasoning, you will get juicy chicken legs inside and crispy outside. A clean side of mash potatoes or scallop potatoes can give it a completely new attractive look that can be a superb option as a Christmas chicken recipe.
Ingredients:
Chicken legs/drumsticks: 2 pounds
Paprika: 1 tsp
Avocado oil: 2 tbsp
Cracked pepper: ½ tsp
Parsley: 1 tsp (chopped)
Onion powder: 1 tsp
Garlic powder: 1 tsp
How to Cook?
Preheat the oven to 425 degrees Fahrenheit. Use a nonstick spray to spray the baking sheet.
Grab a large-sized zip lock bag and pour all the ingredients in it. Then seal the bag.
Shake the zip lock well so that each leg piece gets appropriately coated.
On a baking sheet, arrange the chicken and allow it to bake for almost 45 minutes till the meal thermometer shows 165 degrees.
Take the drumsticks out from the oven and serve it hot with your choice of side.
To give it some popping color you can garnish it with some pomegranate seeds.
5. Chicken and Bell Pepper Skewer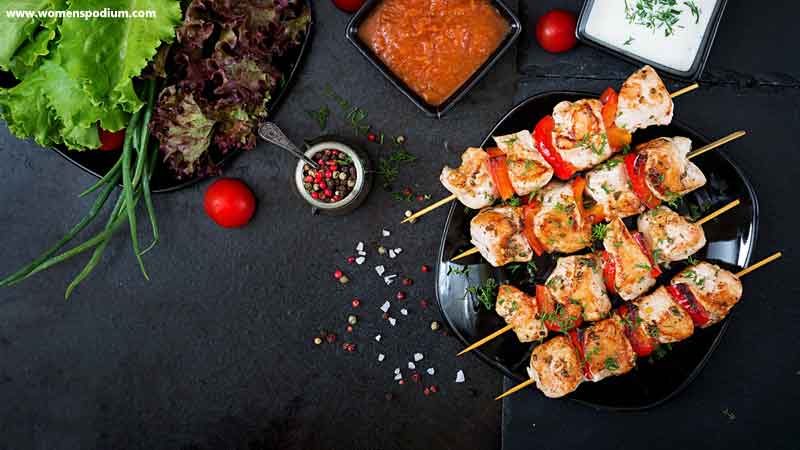 This is a simple preparation that you can cook with some easy-to-get ingredients. You can get this filling but healthy dinner on the table quite quickly ahead of schedule.
Ingredients:
Skewer: wooden and soaked for almost 20 minutes in water.
Chicken breast: 32 ounces (skinless and boneless)
Dried Italian herbs: 1 tsp
Lemon juice: 6 tbsp (freshly squeezed)
Honey: 1 tbsp
Olive oil: ½ cup
Black pepper: as per taste, freshly ground
Red bell pepper: 2, washed well, and cut into bite-sized portions.
Salt: According to taste
How to Cook?
Clean the chicken under running water and use a pepper towel to dry it.
Cut the chicken into bite-sized portions and put it in a ziplock.
Take a small-sized container and add Italian herbs, olive oil, lemon juice, salt and pepper, and honey. Whisk it well to get a clean blend.
Take almost 3 tbsp seasoning for dressing put aside for drizzling.
Now pour the bite-sized peppers inside the chicken bag. Then add the marination mix in the zip lock and seal the bag well.
Turn and squeeze the bag repeatedly so that every piece gets coated with the marination thoroughly.
Put the bag in your refrigerator for almost an hour.
Preheat the grill on high and get the grill ready for direct grilling.
Divide the peppers and the chicken pieces evenly and thread them over the already soaked skewers.
Use oil to brush the grill grate. Put the skewers over the hot grill and cook each side for almost 5 minutes till the chicken cooks well and gets the color.
Take it out from the grill and place it over the serving dish. Use the remaining dressing for drizzling. You can use dill leaves for garnishing.
6. Crispy Baked Garlic Parmesan Chicken Wings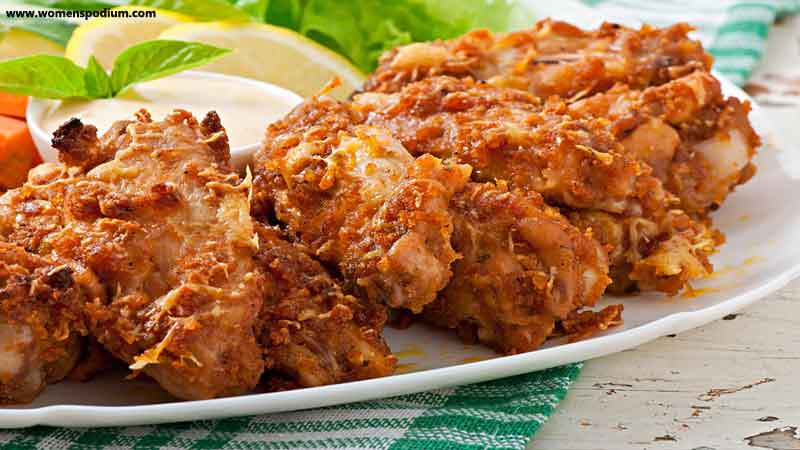 This preparation of chicken wings could be the talk of the party. With mouthwatering parmesan cheese, this baked option is much better than a fried one. So in the list of Christmas chicken recipes, save this dish as a savory and must-try dish.
Ingredients
Olive oil: 4 tbsp
Chicken wings: 2 lbs.
Parsley: 3 tbsp (chopped)
Freshly grated parmesan cheese: ½ cup
Salt: As per taste
Garlic: 2 to 3 tbsp (minced)
Butter: 4 tbsp
How to Cook?
Take an eight-quart saucepan with a steamer basket and pour 2 inches of water in it. Put it over the high heat, cover, and allow it to boil. Pour the wings and steam them for almost 12-15 minutes.
Now take the wings out and put them on the cooling rack over a baking sheet. For almost 1-2 hours, place them in the refrigerator.
Preheat the oven to 425 degrees Fahrenheit and arrange the chicken wings on the baking sheet. Bake each side for 20 minutes or till they turn crispy and brown.
Take a small-sized saucepan and add butter, olive oil, and salt to it. Let the butter melt and then add chopped garlic and cook it for 3-4 minutes on low flame.
Transfer the wings to a bowl. Now pour the garlic butter sauce along with parsley and parmesan cheese.
Toss them well till each wing gets an even coating.
Put them on the serving plate and sprinkle some more parmesan over it.
7. Crispy Fried Chicken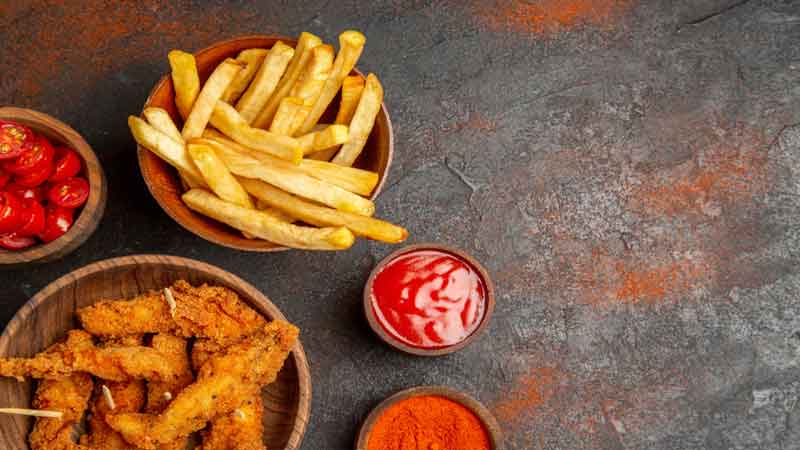 This is a dish that we all love. To make it a full Christmas Chicken meal, you can add fries, mash potatoes, chopped cherry tomatoes, etc. Don't forget to serve tomato sauce with the final serving plate.
Ingredients:
Broiler/fryer chicken: 2 ( cut into around 4 pounds each)
Garlic salt: 2 tbsp
Pepper: 3 tsp (divided)
All-purpose flour: 4 cups (separated)
Water: 1-1/2 cups
Eggs: 2 (large)
Paprika: 1 tbsp
Oil: For deep frying
Salt: As per taste
Poultry seasoning: 2-1/2 tsp
How to Cook?
Grab a large-sized shallow dish and pour together garlic salt, 2-1/2 pepper, paprika, poultry seasoning, and 2-2/3 cups flour in it.
Take another bowl and add 1-1/2 cups water, tsp salt, eggs, ½ tsp pepper, and the remaining 1-1/3 cup flour in it.
Now plunge the chicken pieces (take a couple of pieces together) in the egg mixture first and then dip them in the flour mixture. Make sure that the coating is perfectly done.
Heat the oil to 375 degrees Fahrenheit in the deep fryer. Take a few pieces together and let them fry till the skin is golden brown and the inserted meat thermometer reads 165 degrees. Drain it over the pepper towel and serve it with hot fries or cherry tomatoes.
So, these were some selective Christmas chicken recipes, which you can try out this year. Let's not waste any more time and start the Christmas preparation.
Also Read: In this article, I have come up with some unconventional yet trendy and helpful Christmas gift ideas for your near dear ones.