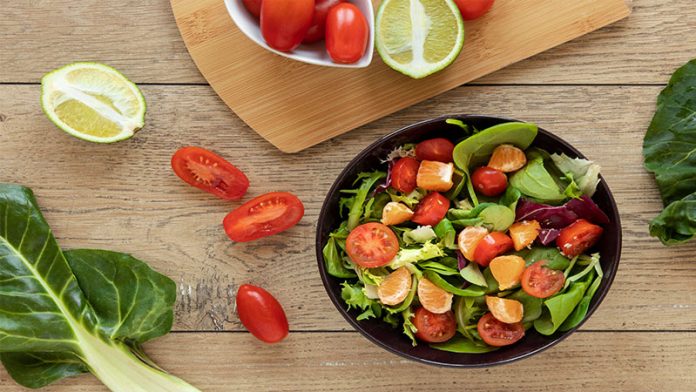 Do you struggle to lose weight? Traditionally, the weight loss advice we receive is to eat less and work out more. However, you must work on your diet and exercise routine simultaneously to keep a healthy lifestyle. Generally, our body requires protein, carbohydrates, and fats to work properly. However, if you want to try something different and healthier as well, salads are an excellent way to lose weight and are light and healthy. Salads come in a vast range to try on; you can easily get or make different types of salads to incorporate into your weight loss journey. Here are some weight watcher salads recipes you can try to incorporate into your diet.
What is Weight Watcher?
If you are a weight watcher, trust me, you are on the right track to losing weight effectively with good results. The incredible thing about being a weight watcher is your dependence on losing weight via a diet plan. No doubt weight watcher is a slow process but indeed a healthy, long-term way to lose weight. The emphasis and priority are on making better food choices and being healthy and active. The primary goal is to lose weight over time through healthy habits, and including salads is definitely a must when it comes to weight watcher recipes.
Weight Watcher Salads Recipes
Seeking a weight loss plan? Weight Watchers is a points-based weight loss program that calculates your nutrition needs based on your height, weight, age, and activity level. The best part about this weight-loss program is that there is no off-limit food. And the most appropriate choices would be low-calorie, high-volume, fiber-rich, and protein-rich foods. The best option for low-calorie, fiber-rich food is a salad. There are a variety of delicious and healthy salads, and you can choose weight watcher salad recipes from the recipes shared below, so let's move on to these fabulous recipes without wasting a minute more.
1. Classic Cobb Salad 
The recipe for an easy-to-make classic Cobb salad is loaded with chicken, hard-boiled eggs, diced tomatoes, bacon, and blue cheese. Moreover, this salad is ideal for both lunch and dinner, and you can add your favourite dressing to make it more flavorsome.
Ingredients
2 boiled eggs
½ cup diced avocados
8 half-cut cherry tomatoes
1 boneless chicken breast
4 bacon strips
2 oz. blue cheese
1 chopped iceberg lettuce
1/4 tsp salt
¼ tsp black pepper
For Dressing
1 small finely chopped onion
¼ cup apple cider
1tbsp dijon mustard
¼ tsp salt
¼ tsp pepper
¼ cup olive oil
Direction
Dressing 
Add onions, apple cider, dijon mustard, salt, and pepper in a bowl. Whisk well. Now slowly drizzle olive oil into the mixture and combine.
Salad
Cut the bacon into small pieces and fry them over medium-high heat until they are crisp—season chicken breasts with salt and pepper on both sides. Cook the chicken for 10-12 minutes on each side until it's perfectly cooked.
Cut the avocados, tomatoes, eggs, and lettuce. Place the vegetables in a line in a serving dish. Chop the chicken into small pieces and add the chicken, bacon, and blue cheese to the plate. Drizzle it with dressing and enjoy.
2. Fruit Salad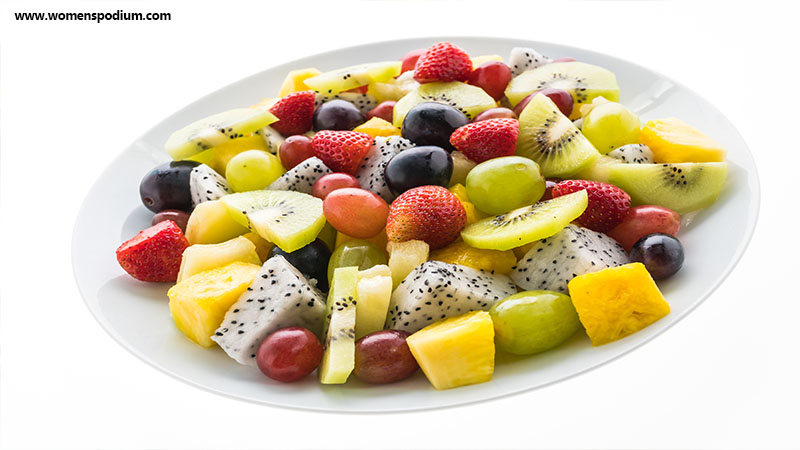 Fruit salad is a simple and perfectly balanced, and quick-to-make salad. The best thing about this salad is that you can add the fruits of your choice. Moreover, the taste and texture of this simple yet delicious salad are mouthwatering. This salad is ideal for breakfast for people struggling to lose weight.
Ingredients
1 dragon fruit, peeled and cut into bite-sized pieces
2 mangoes, peeled and cut into bite-sized pieces
1 cup blueberries
4 kiwis, peeled and cut into bite-sized pieces
1 cup red grapes
1 cup green grapes
15 ounces of strawberries cut into bite-sized pieces
1 cantaloupe peeled and cut into bite-sized pieces
1 pineapple peeled and cut into bite-sized pieces
1/2 tsp salt
1/4 tsp pepper
1 tbsp. sugar
2 tbsp. lemon juice
Direction
In a large bowl and add all your favorite chopped/sliced fruits. Then season with salt, pepper, sugar, and lemon juice, and mix well. You can also add honey instead of sugar. Your fruit salad is ready to enjoy. Isn't it a quick one? Whatever time goes to make this salad is in slicing and chopping; once they are done, your salad is ready to serve.
3. Greek Salad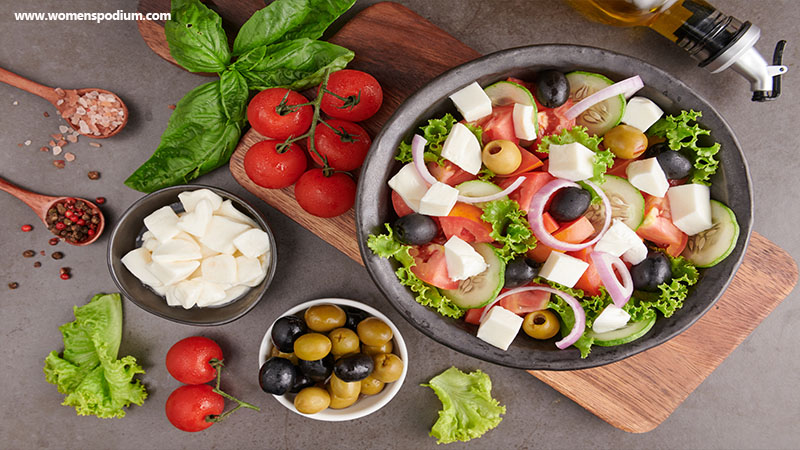 This traditional Greek salad recipe is the real deal. It's delicious and easy to make. Furthermore, simple ingredients such as a no-fuss dressing of olive oil and red wine vinegar make this salad easy to make.
Ingredients
For Dressing
¼ cup olive oil
2 tbsp. lemon juice
1 tsp salt
1 tsp black pepper
2 tbsps. dried oregano
3 tbsp. red wine vinegar
1 tbsps. dijion mustard
1 minced garlic clove
For Salad
1 large cucumber finely sliced
2 cups cherry tomatoes cut in halves
1 green bell pepper chopped into 1-inch pieces
1 red onion thinly sliced
1/3 cup Kalamata olives cut in half
7 oz feta cheese cut into small cubes
Direction
For the dressing: Take a small bowl and add olive oil, garlic, vinegar, mustard salt, pepper, lemon juice, and oregano. Whisk the ingredients and set aside.
Add cucumbers, tomatoes, bell peppers, onions, olives, and feta cheese in a serving dish. Pour the dressing over the vegetables and toss them. Garnish with fresh oregano.
4. Grilled Chicken Salad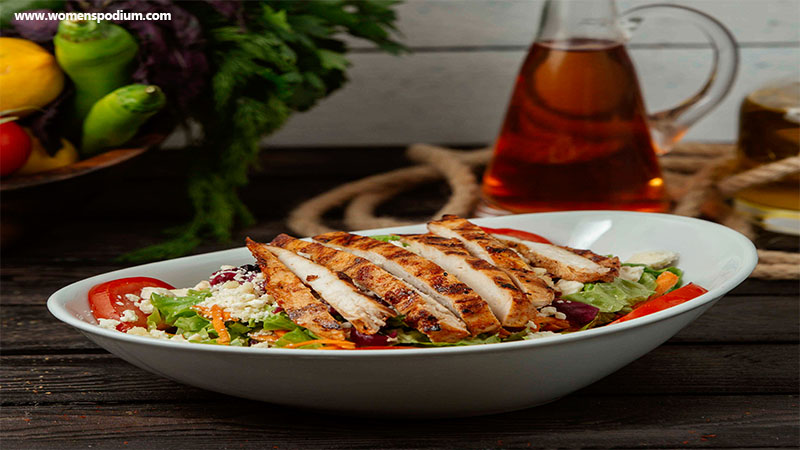 Grilled chicken salad is the best healthy dinner recipe for your weight-loss journey. It's simple and provides all the nutrients you need for the day. Furthermore, this salad is pretty easy to make and is mouthwatering to drag you toward the dining table.
Ingredients
For Grilled Chicken
3-4 tbsp. of thick yogurt
1 tbsp. Ginger and garlic paste
2 boneless chicken breast pieces
1 tbsp. olive oil
1 tbsp. lemon juice
1 tbsp tikka masala
For Dressing
½ tsp salt
½ tsp black pepper
½ tbsp. vinegar
2 tbsp. olive oil
1 tsp lemon juice
½ tbsps. Mustard paste
For Salad
1 large cucumber thinly sliced
1 large red onion thinly sliced
1 tomato-deseed the tomato and cut into small cubes
2 cup iceberg or lettuce
Directions: 
Whisk together the yogurt, ginger garlic paste, lemon juice, and tikka masala in a mixing bowl.
Add the chicken breast to the mixture and marinate for 30 minutes.
Grease a grill pan with olive oil; add the chicken breast and the remaining flavoring.
Cover and cook on low heat for 8–10 minutes; on both sides. When cool, cut into slices.
For the dressing, add mustard paste, salt, black pepper, lemon juice, vinegar, and olive oil in a bowl, and mix well.
Finally, add the tomatoes, cucumber, onion, iceberg, or lettuce to a serving dish. Drizzle the salad dressing on the vegetables. Garnish the salad with fresh oregano and grilled chicken.
5. Cucumber and Radish Salad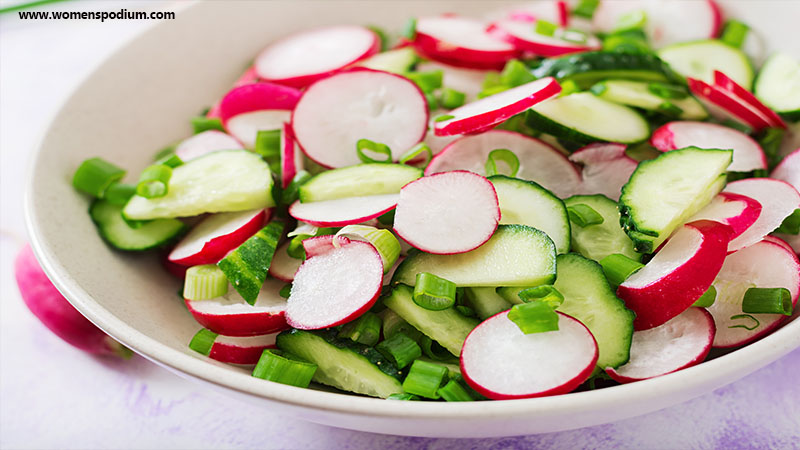 If you are struggling to lose weight, these weight watchers salad recipes are all you need. This cucumber and radish salad are tasty and nutritious. Salad dressings are typically high in calories. So before feasting any salad, be watchful about the salad dressing to avoid. 
Ingredients
2 large cucumbers thinly sliced
3 radish thinly sliced
1 tsp lemon juice
¼ tsp salt
¼ tsp pepper
1 spring onion finely chopped
Direction
Toss all the vegetables in a large bowl. Add salt, pepper, and lemon juice and mix well. Enjoy.
These weight watcher salad recipes are simple to prepare and are satisfying to your taste buds. These salads contain carbohydrates, fats, and proteins that your body needs on a daily basis. If you are looking for nutrients as well as taste, these recipes are worth trying.
Also Read: Maintain the balance and make space for their colorful delights in the midst of healthy fruits and vegetables.