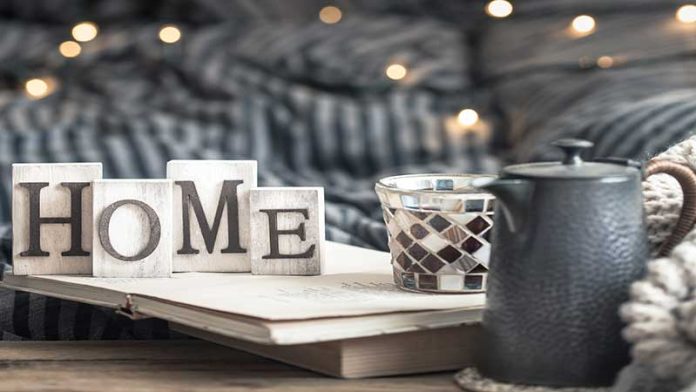 Homesickness is a natural feeling, and each individual has a different way of dealing with homesickness. Generally speaking, we feel homesick when we are in a new, unfamiliar, foreign environment for countless reasons. Homesickness is the feeling of emotional distress that comes from being away from home. Whether we are far away from home for schooling, a job, or travelling, at some point, we begin to miss home, and we can't deny the fact that homesickness can make us feel dispirited, dejected, and secluded. So, if you are someone miles away from your home, missing your dear ones, read our today's quotes on homesickness; we bet they will succour you in times of hardship and distress to deal with your ongoing emotions. Remember that you are not alone in this journey; many people around the world are reliving the feelings of being homesick with you.
What is Homesickness?
Living away from home, missing it badly, and longing for home during a period of absence is the literal meaning of homesickness. Most people miss their sense of belonging when they are away from home, whereas some get homesick because of loneliness. Some people get homesick more than others and take a long time to settle. Everyone has their own way of handling it; some people accept the change and adjust gradually, but some miss their home so much that adjustment becomes challenging for them. Although there are numerous causes of homesickness, some of the most common are difficulty in adjusting to a changed environment, cultural differences, and missing family and friends. However, changed surroundings and new settings are a part of your life, and here you need some lifestyle changes to adapt to your current situation for healthy living.
What Makes You Homesick?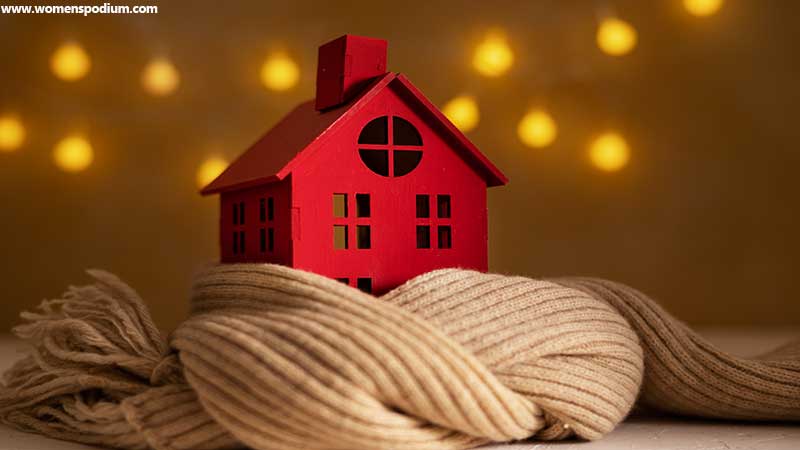 When moving to a new place, settling feels a bit demanding due to multiple reasons:
All these reasons make a solid ground to make you extra sensitive, leaving you homesick and disheartened. But every coin has its flip side; when you are away from home, you value your relationship and understand the true meaning of family and family love, learn life skills and become an independent decision-maker. 
What to do When You Feel Homesick?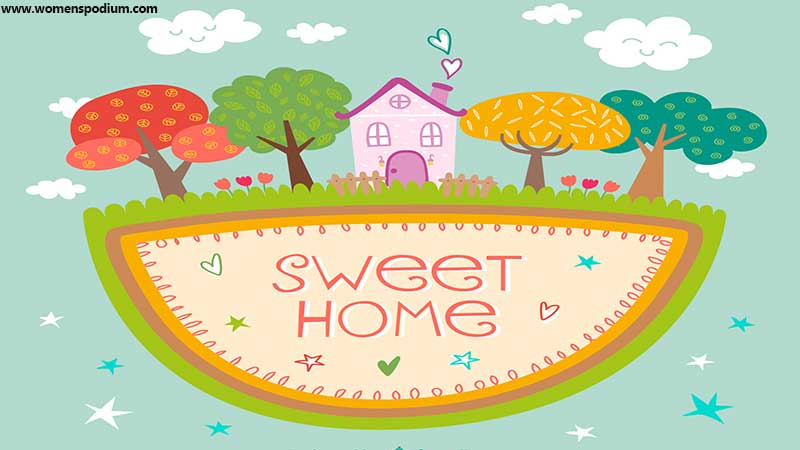 Homesickness can transpire at any age due to the given situation, and you might feel perplexed about managing things in a new place. The most common symptoms of homesickness are despair, depression, disorientation, stress, and disorganisation. It usually makes you sad, discouraged, isolated, downhearted, and lonesome. You may feel homesick and miss your old pillows and the smell of your home, but we know that change is the only constant in life and is inevitable. So, the only option is to accept the changes with an open heart and adapt to your surroundings; it may take time, but eventually, you will cope.
25 Best Quotes on Homesickness On How To Deal With it!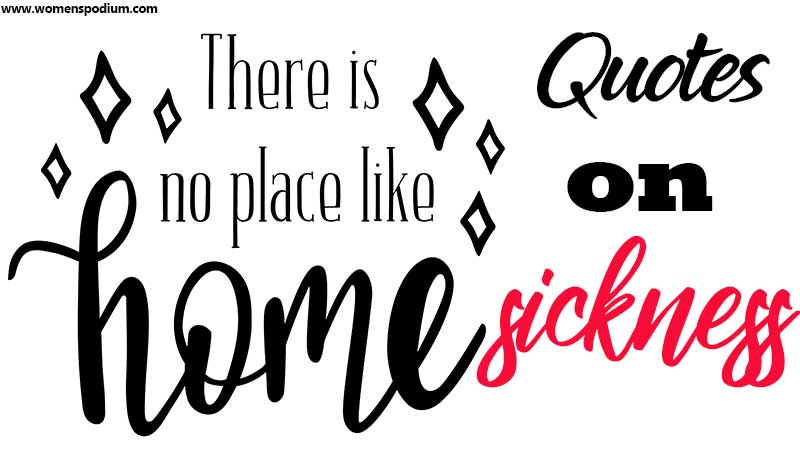 Maintaining a previous connection to home while making modest adjustments to your newly acquired environment is all part of recovering from homesickness. These amazing quotes on homesickness will help you adjust to your changing surroundings.
We don't call it homesick. We call it missing home. There's not a sickness involved, its a state of mind.

— John Litten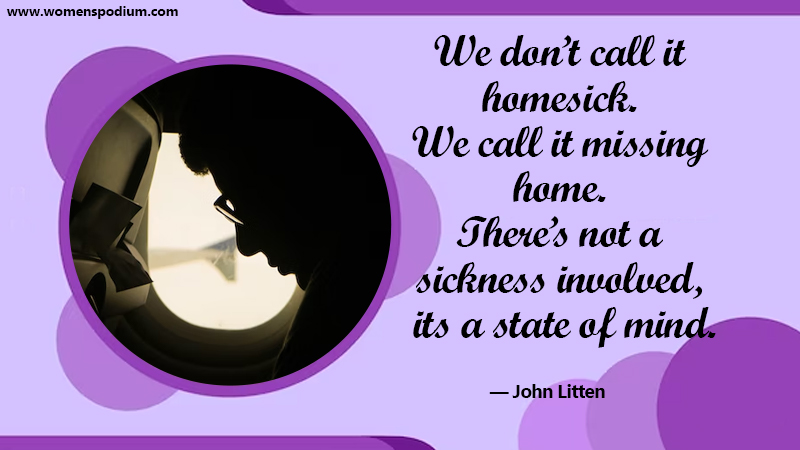 Do not make homes out of people. This will leave you homesick and sad.

— K. Michell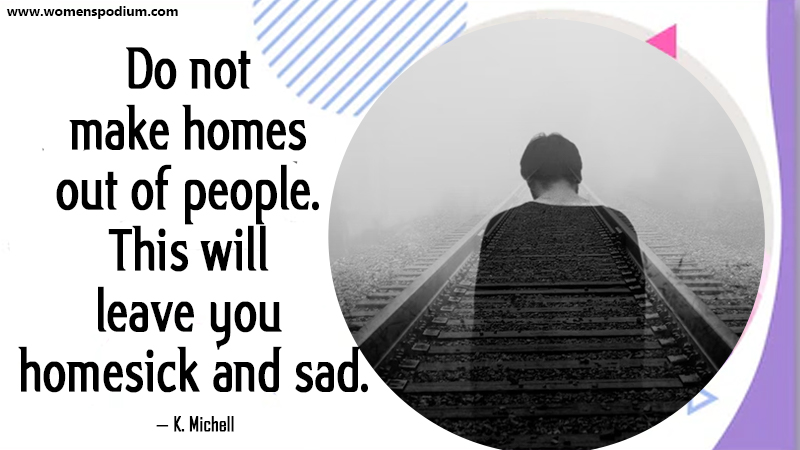 You live overseas, you see these exotic places and you want to know about them. But, weirdly, it also made me homesick for all these very prosaic places in America.

— Ken Jennings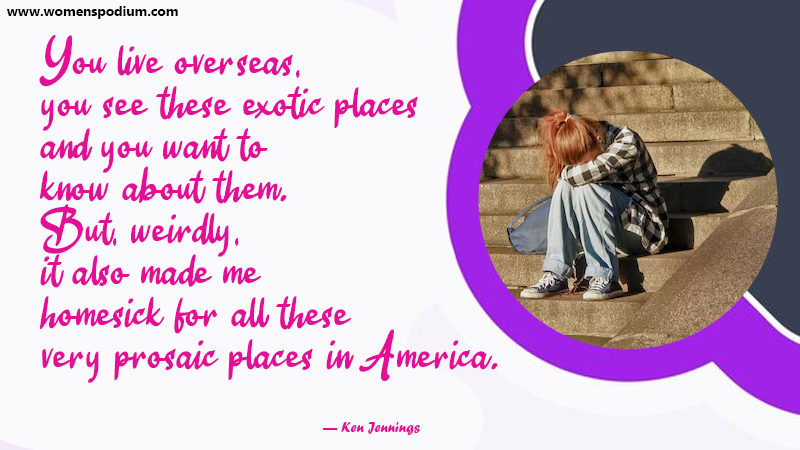 When people hear good music, it makes them homesick for something they never had, and never will have.

— E.W.Howe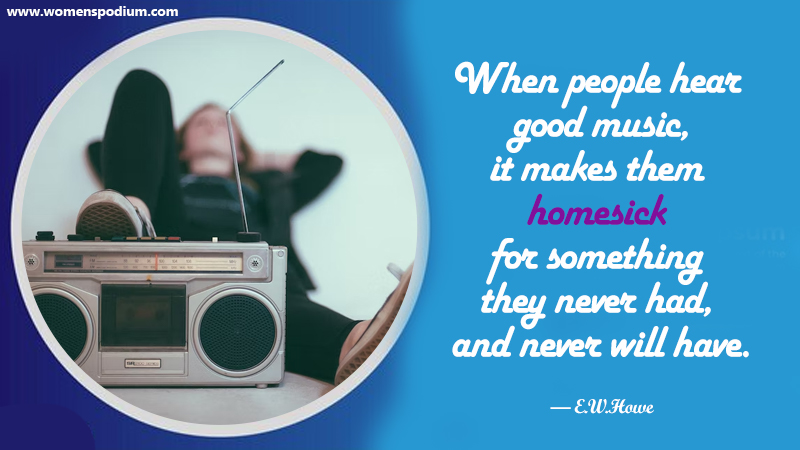 If you go anywhere, even paradise, you will miss your home.

— Malala Yousafzai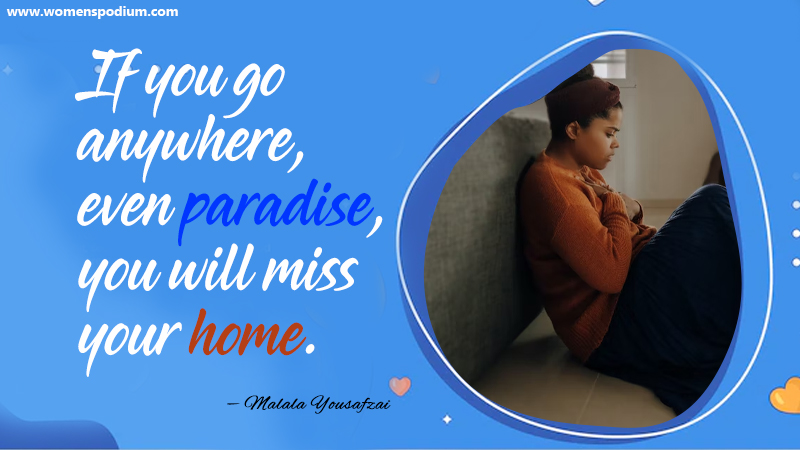 We are homesick most for the places we have never known.

— Carson McCullers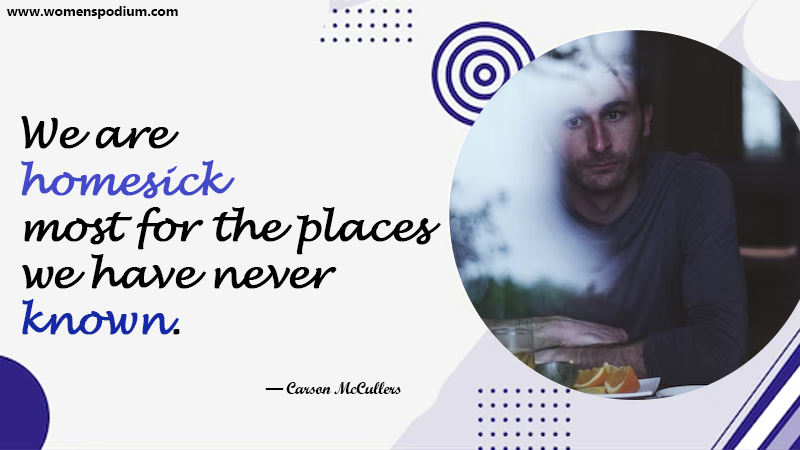 The ache for home lives in all of us. The place where we can go as we are and not be questioned.

— Maya Angelou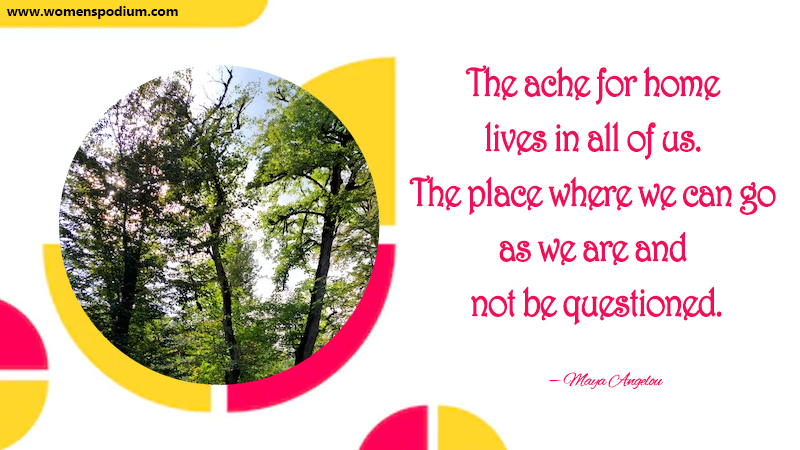 Homesickness is not always a vague, nostalgic, almost beautiful emotion, although that is somehow that way we always seem to picture it in our mind. It can be a terribly keen blade. It can change the way one looks at the world.

— Stephen King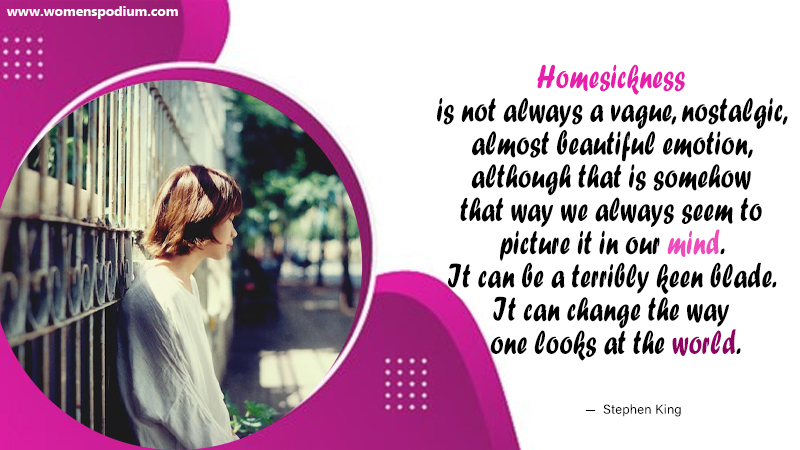 There is no sickness of spirit like homesickness. When what you are sick for has never been seen or heard. In this world, or even remembered except as a smear of bleached light. Opening, closing beyond any alphabet's Recall.

— Charles Wright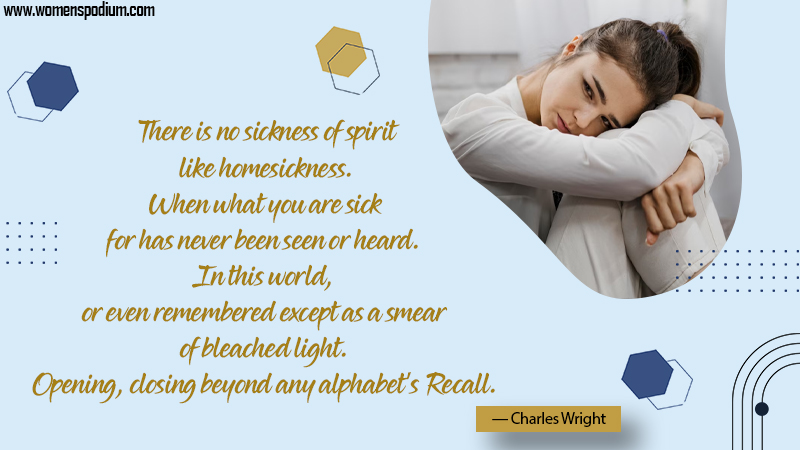 Homesickness is a sickness of the heart, not of the mind. It is deeply subjective and belongs, inarguably, to the sufferer alone.

— Kate Mulgrew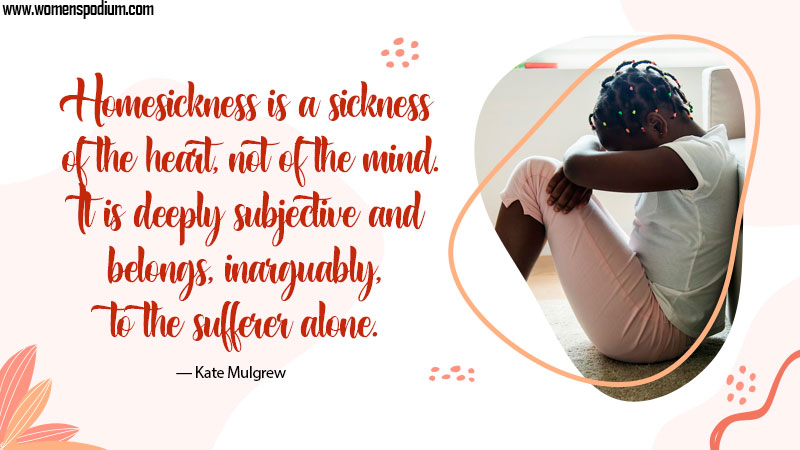 If you've ever been homesick or felt exiled from all the things and people that once defined you, you'll know how important welcoming words and friendly smiles can be.

— Stephen King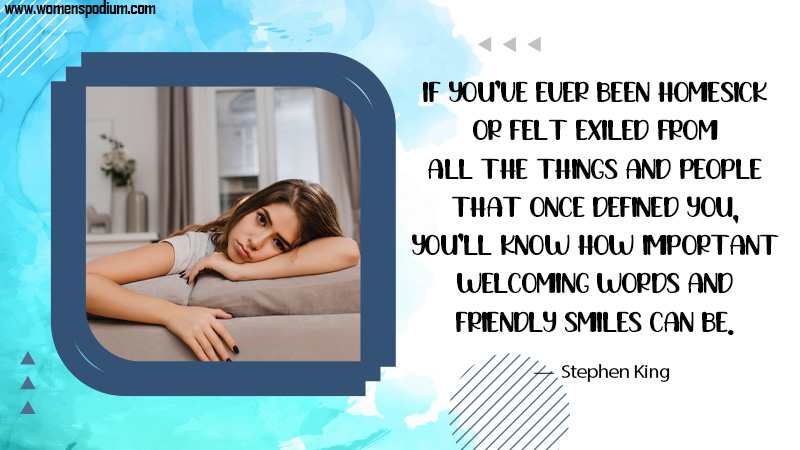 How To Deal With Homesickness
Indeed it's pressing to leave your home, family, friends, and the environment in which you were raised. However, you can subsist with loneliness by accepting change, exploring various places, keeping in touch with your loved ones, and making new friends. On the other hand, these inspirational quotes on homesickness will also help you learn to love your newly found surroundings.
We are homesick for places, we are reminded of places, it is the sounds and smells and sights of places which haunt us and against which we often measure our present.

— Alan Gussow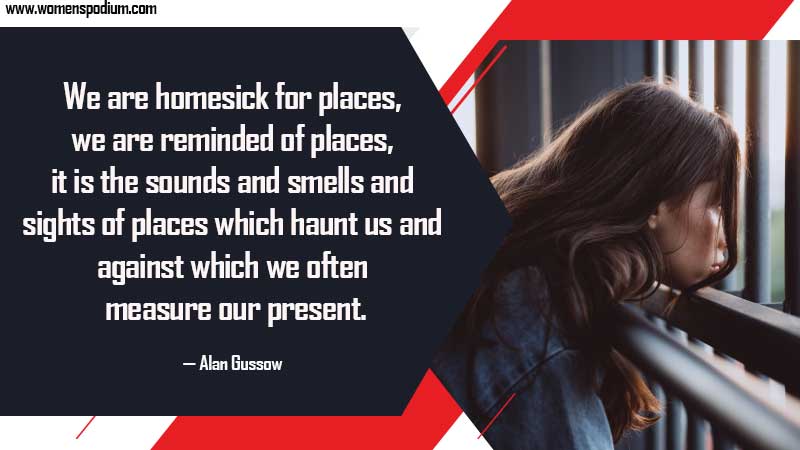 Maybe you had to leave in order to really miss a place; maybe you had to travel to figure out how beloved your starting point was.

― Jodi Picoult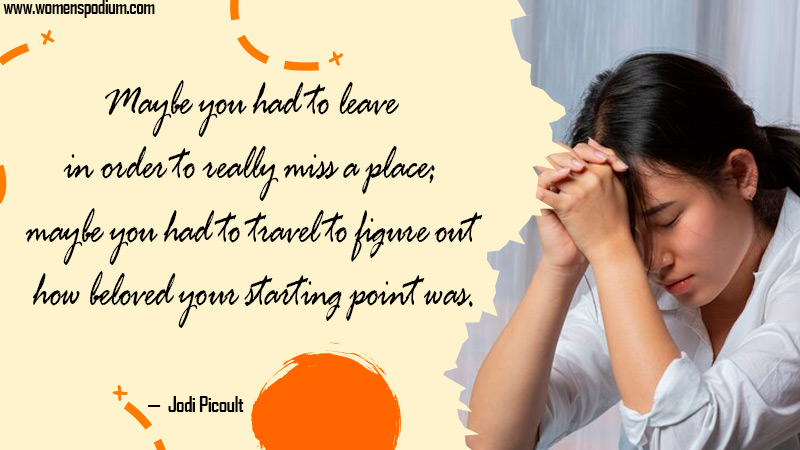 Most of the people are homesick anyway, and a little lonely, and they hide themselves in their hair and are turned into flowers.

— Tove Jansson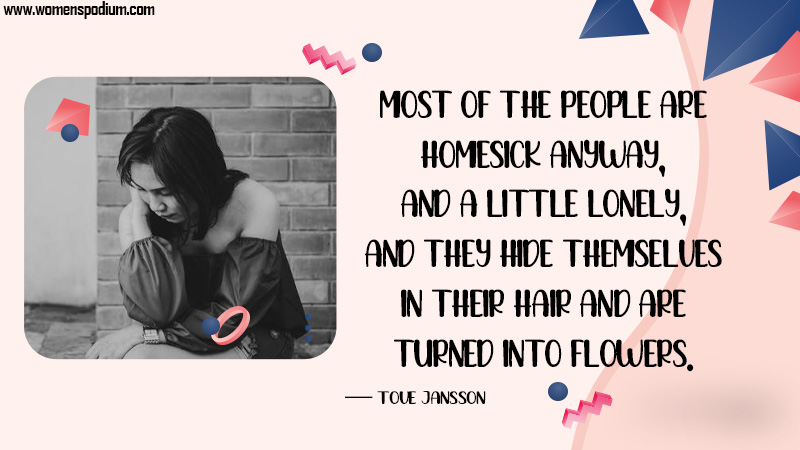 Paris is one of the most beautiful places in all the world. Unfortunately, I was so homesick I couldn't appreciate its beauty.

— Tyra Banks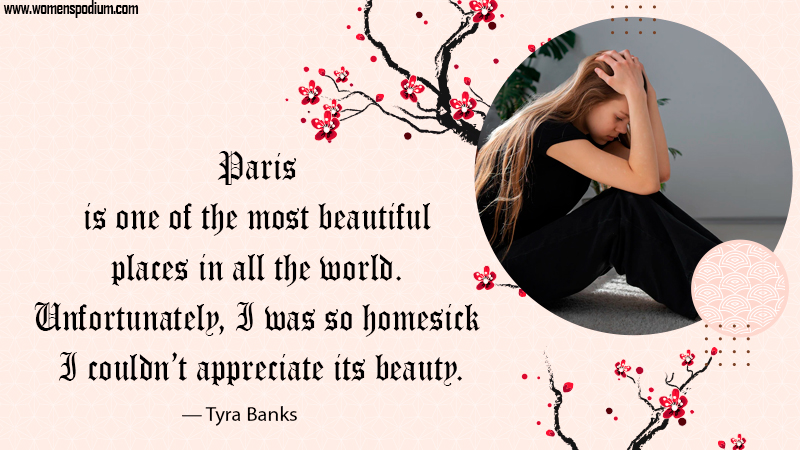 Nothing is better than going home to family and eating good food and relaxing.

— Irina Shayk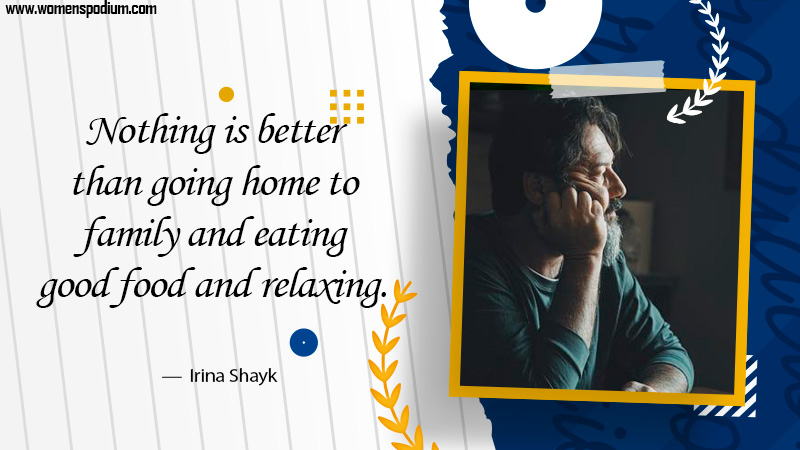 Every traveler has a home of his own, and he learns to appreciate it more from his wandering.

— Charles Dickens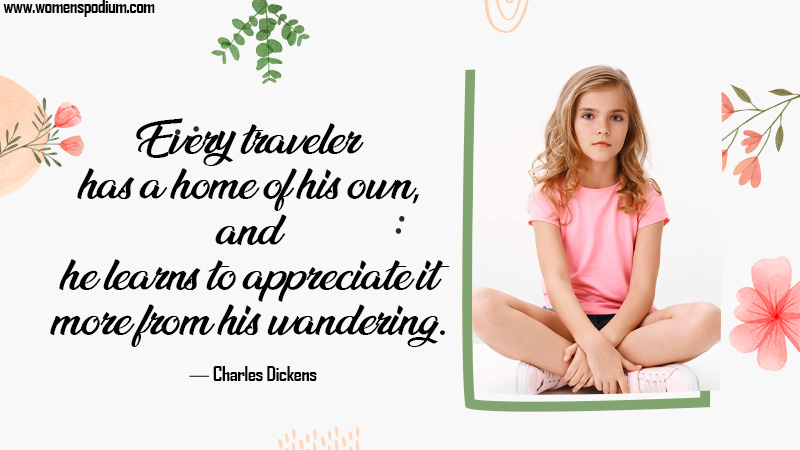 We have to stumble through so much dirt and humbug before we reach home. And we have no one to guide us. Our only guide is our homesickness.

— Hermann Hesse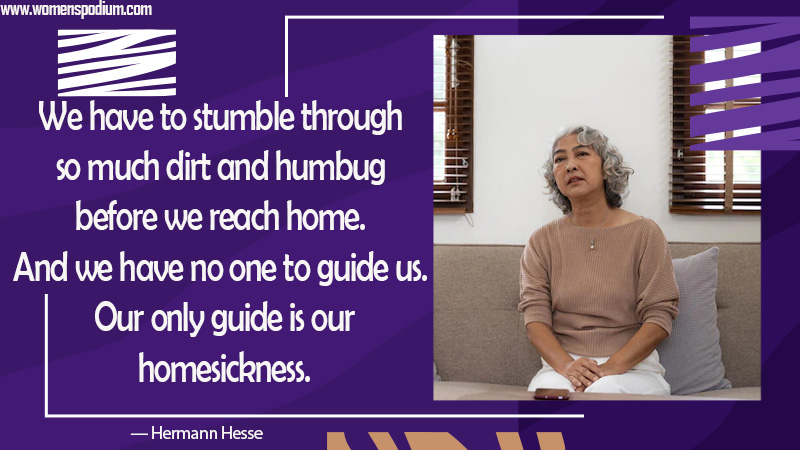 People of a certain age look back on the Mayberry of 'The Andy Griffith Show' and become almost as homesick for that simple fictional hamlet as they do for their own home towns.

— Tom Shales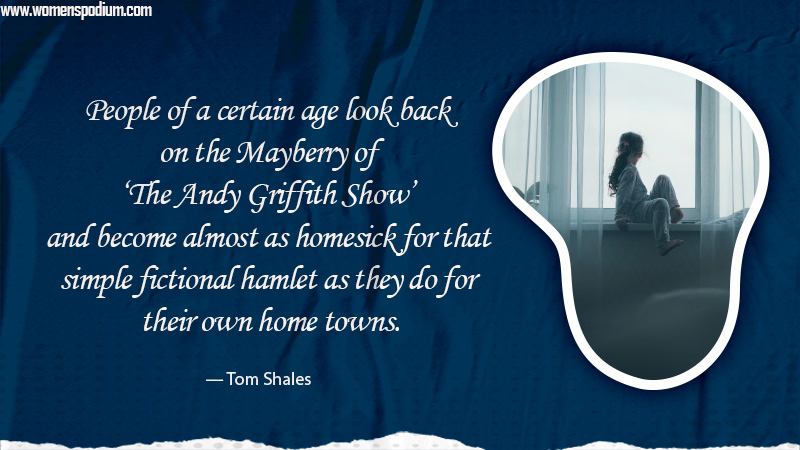 The worst feeling in the world is the homesickness that comes over a man occasionally when he is at home.

— E. W. Howe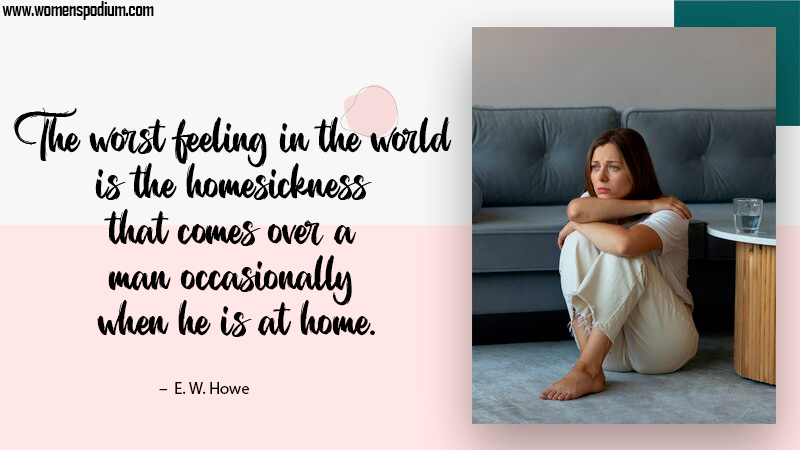 There is no place more delightful than one's own fireplace.

— Cicero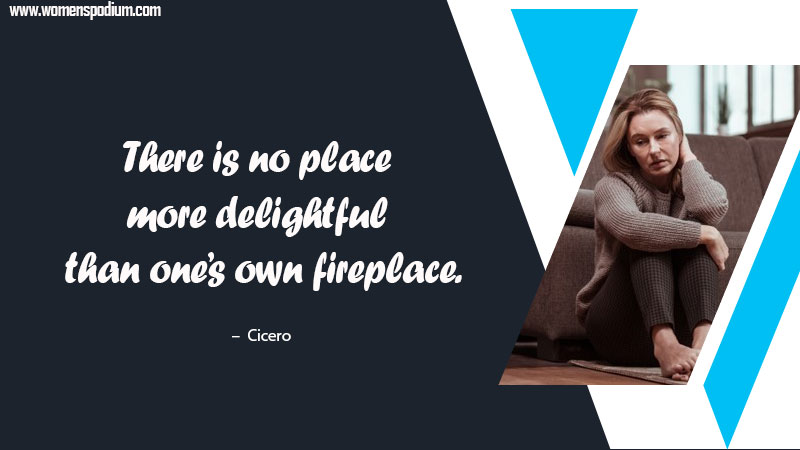 Homesickness is nothing. Fifty percent of the people in the world are homesick all the time.

— John Cheever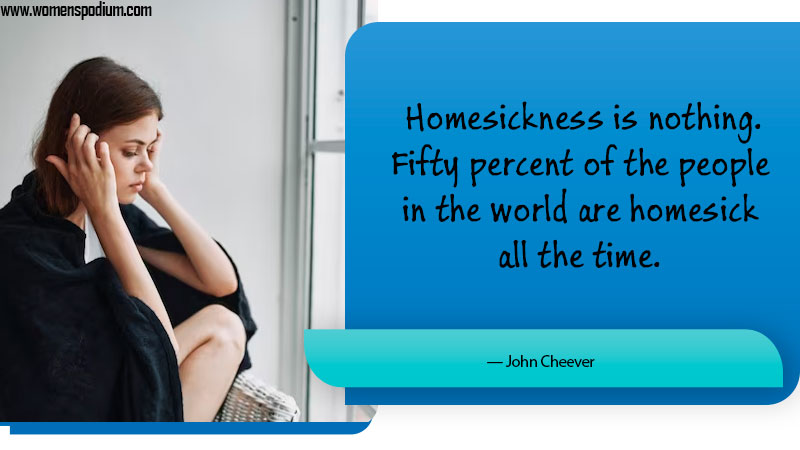 When you feel homesick,' he said, 'just lookup. Because the moon is the same wherever you go.

— Donna Tartt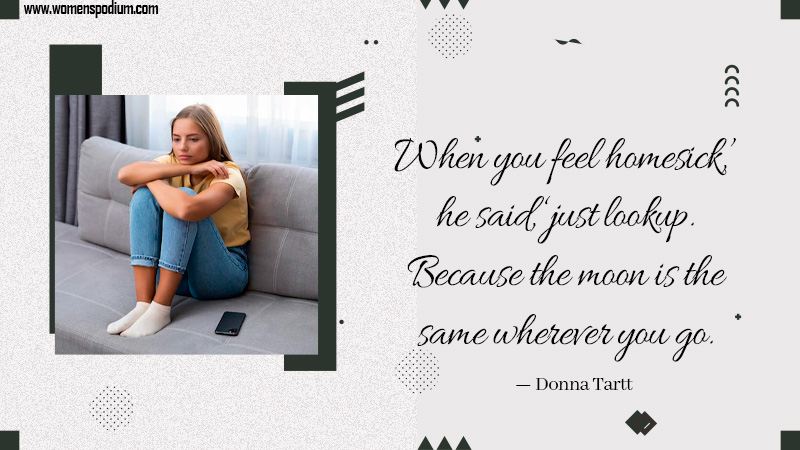 Home is a place you grow up wanting to leave, and grow old wanting to get back to.

— John Ed Pearce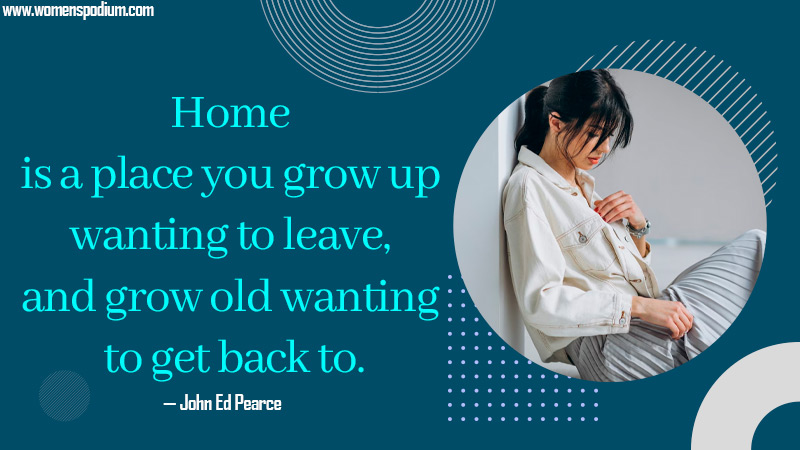 We are torn between nostalgia for the familiar and an urge for the foreign and strange. As often as not, we are homesick most for the places we have never known.

— Carson McCullers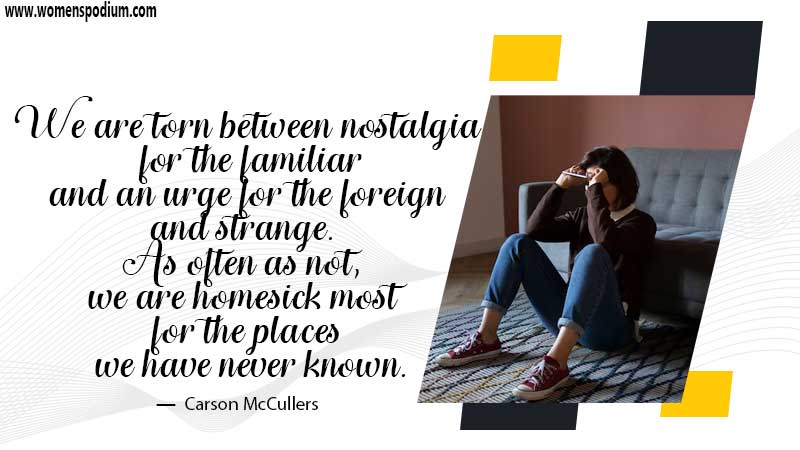 Let's Wind-up
It is natural to feel homesick whether you are an immigrant, a student, or a traveller; everyone enjoys the surroundings they are used to living with. But nothing is in our hands, and we have to move as our life demands, sometimes it's studies, sometimes it's a job which requires your relocation. Adapting to change, making new friends, trying to live happily, and exploring unexplored aspects will help you cope with homesickness. The above shared insightful quotes on homesickness from some brilliant minds with their experience and practical knowledge can help you accept your changed environment.
Also read: If you are struggling with your long-distance issues, seek effective ways to spice up your long-distance relationship.