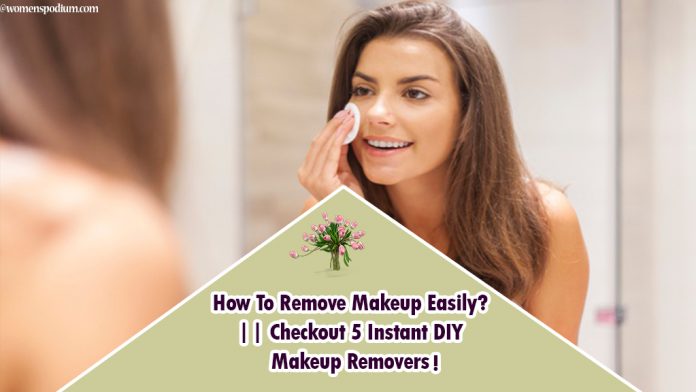 Putting on makeup need persistence and skill but removing makeup needs quality makeup removers. Sometimes I imagine it would have been quite an arduous job of hours for women to wipe the makeup before the invention of makeup removal products. But thanks to the innovations and discoveries in our century, we have 'N' numbers of makeup products in our hands now, but knowing how to remove makeup without makeup wipes are the key to success. When you wipe your face with makeup wipes, the possibilities of getting a significant amount of residue from makeup and pollutants are potent, as they might reside in your pores and clog them. The best ways to remove makeup requires a healthy skincare routine while opting for natural makeup products or organic makeup brands. Also, ensure makeup residues mustn't adhere to your skin pores, as they will damage your skin. In a nutshell, you must know the steps to remove makeup on your own without using any harsh substance.
How To Remove Makeup Easily?
As per most Dermatologists, makeup particles can adversely affect the skin when mixed with skin's oils and microbes to remove makeup efficiently. Aftereffects could be you might get open pores, patchy skin, and dull skin texture. And those who take removing makeup lightly or have a habit of not removing makeup age even before time. If you find removing makeup a time taking or a demanding job check out these easy steps on how to remove makeup easily and efficiently on a regular basis.
Also Read: Makeup removers can also be one of the 

must-carry items in the women's bags

, remove unwanted makeup when needed.
1. Tie Your Hair Up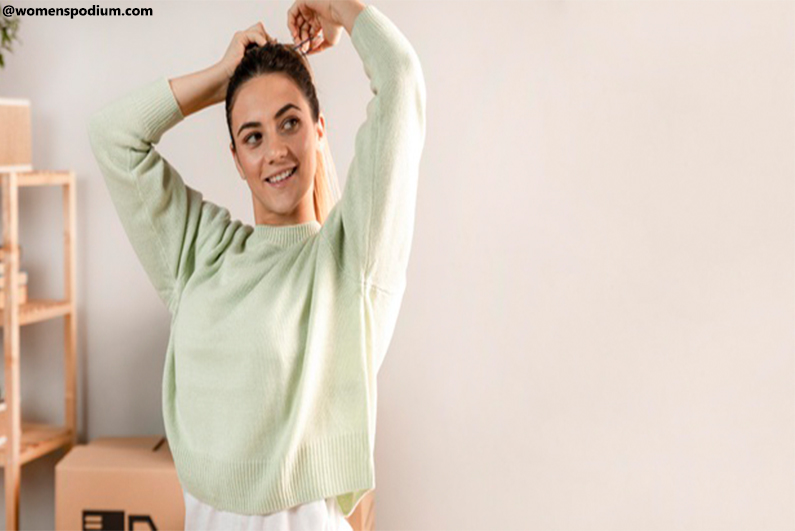 Baby hair always distracts your cleansing fingers while wiping off makeup. Tying them up lets you clean your hairline as well.
2. Start From The Eyes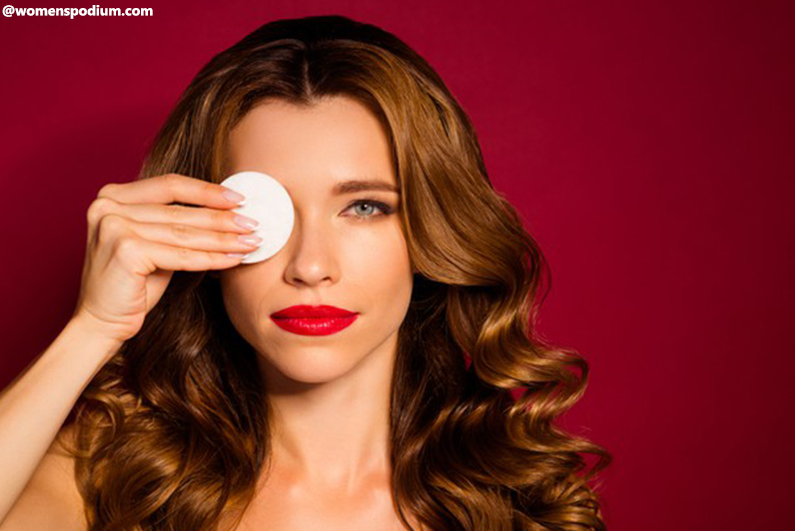 Eyes have many layers of makeup these days. From an eye concealer to double strokes of eyeliners, eyes carry the most burden. That's why it takes more time to undo the result of recognized eye makeup.
Also Read: Apply concealer on top of your foundation so it doesn't smudge, crease or look cakey.
3. Remove Traces From Eyebrows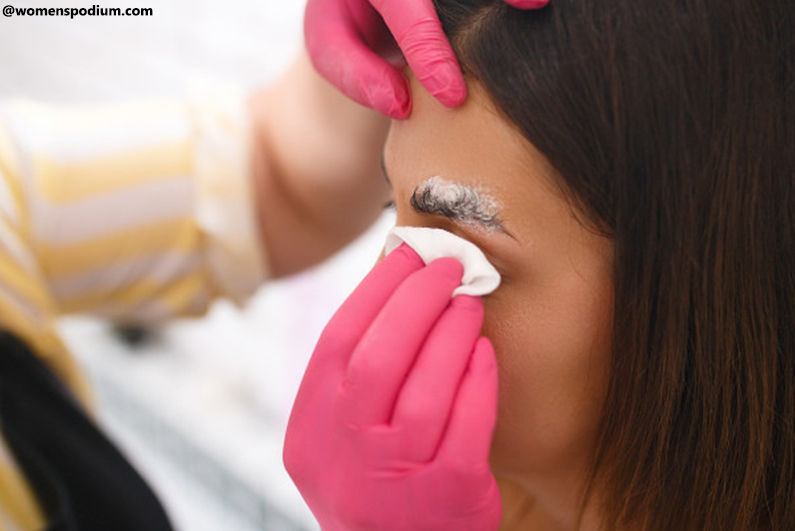 You must not forget to cleanse your brows. As makeup residue may cause unusual acne and irregular hair growth, you should clean them nicely.
4. Remove From The Face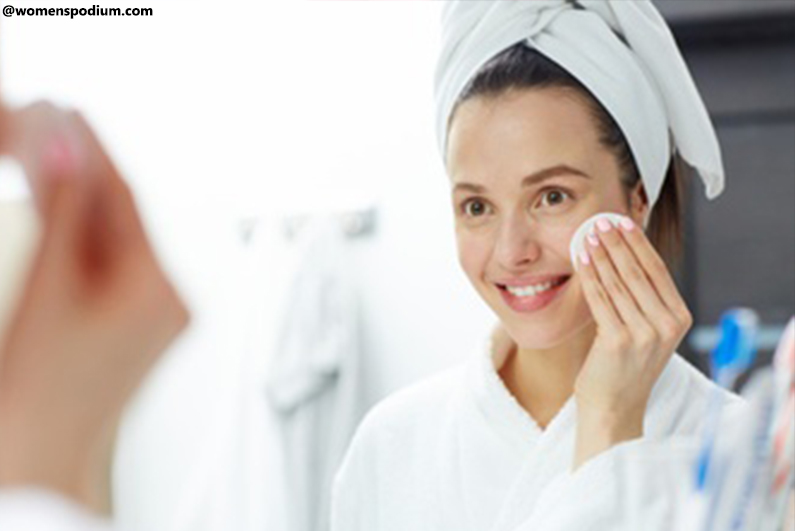 Use your skin friendly makeup remover to clean your face from all makeup particles. Rinse your face thoroughly after the makeup removal process.
5. Tone Your Skin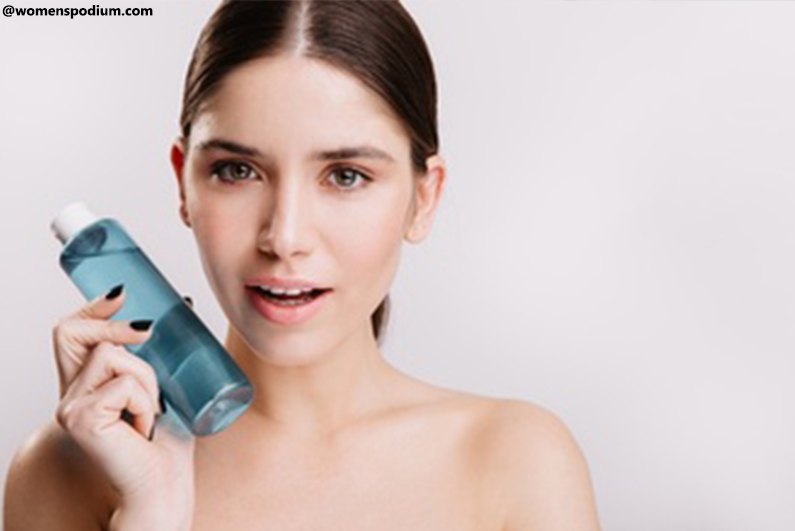 Use a gentle toner to shrink pores and soothe skin.
Is it Necessary to Remove Makeup?
You must take care of your skincare routine by putting off your makeup every day. However, removing makeup is not that easy—many makeup removers contain harmful elements that may cause skin damage and are not the best for your skin in the long run. My advice would be to go for high-end brands or brands that contain natural products or non-harmful chemicals—in fact, finding out an alternative that removes makeup does not inflame your facial skin cells would be the best.
How To Remove Makeup Without A Makeup Remover?
It is a fantasy to get makeup removed without a makeup remover, but the question arises- How to do that? Following are some easy tips to make your makeup removing recipes.
1. Essential/Carrier Oils
The fun fact is oil dissolves oil. So carrier and essential oils are a one-step remedy against removing makeup. All you have to do is pour 2-4 drops on cotton rounds and remove makeup in a circular motion. However, one should opt for good makeup-removing oils for different skin types.
Coconut Oil

Coconut oil acts as a knight in shining armor when it comes to beauty routine and makeup removing ideas. It is the least sticky and easily washable oil, and due to its detergent effect, it inline itself as an efficacious makeup remover. Coconut oil is safe to use as a makeup remover while cleansing your face. Moreover, its aroma would keep you intoxicated for hours. Its anti-bacterial and anti-yeast properties assist it as an all-embracing first-aid cream. While cleansing your face with coconut oil, you don't need any cotton pads, simply take a few drops of coconut oil in your hand and smoothly rub them onto dry skin; once your makeup is removed, wash your face with warm water. 
Castor Oil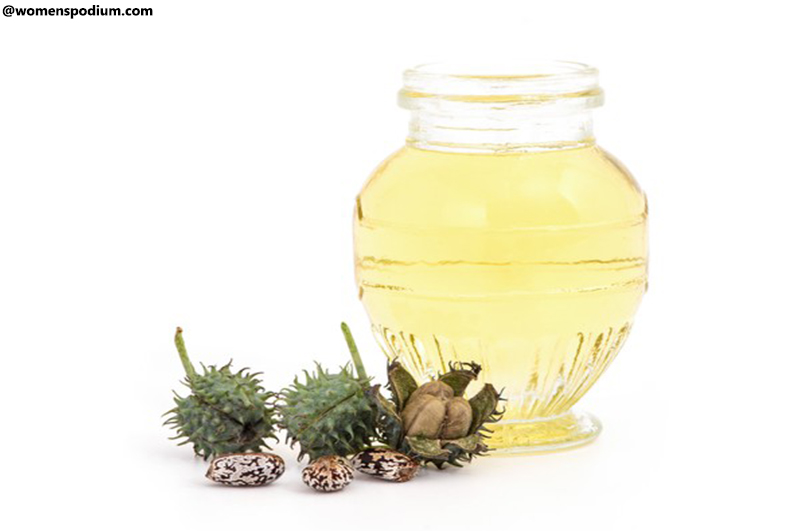 Castor oil — renowned for its sticky and unpleasant taste and is somewhat comedogenic, but this age-old oil comes with numerous benefits and an excellent substitute for eye makeup remover. Oily skin may have some issues with it, but it goes the best with combination skin. However, the quality of castor oil is that you can use it for many purposes—it can be your go-to moisturizer for skin and hair or even for lashes. 
Olive Oil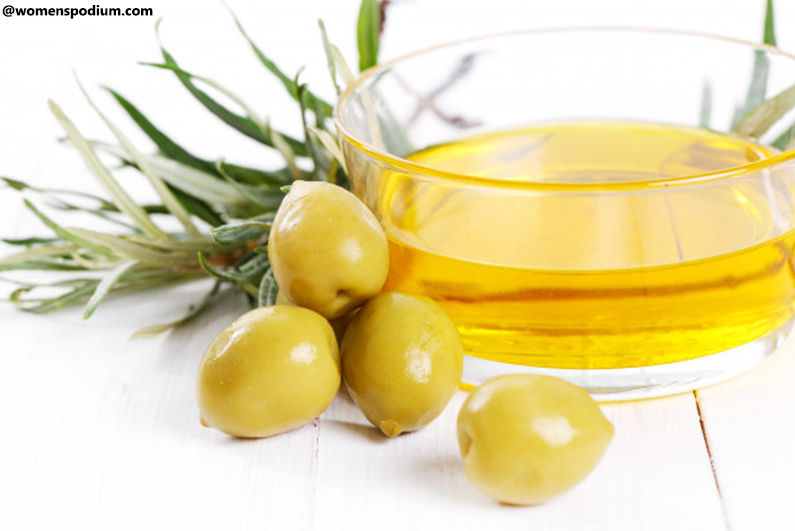 Removing makeup with olive oil is pretty simple and effective—it not only removes makeup but also keeps your skin healthier. Olive oil is best suited for dry skin types, and for extra dry skin, use olive oil along with shea butter. Take 3-4 drops of olive oil in moistened organic cotton rounds, dab it on your face, cleanse it like you do with makeup wipes and rinse your face with cold water after the makeup melts.
Jojoba Oil

If you own acne-prone skin, jojoba oil can be your best alternative in the oil cleansing process to remove makeup. In addition, it acts as a nutritional supplement for any primary oil application. Jojoba oil doesn't clog pores and quickly absorbs in the skin, and that's why it is a good carrier oil option for massage oils, face moisturizers, and spa oils. It is pretty efficient to remove stubborn makeup or waterproof mascara. Just apply it on your face, wait for a couple of minutes, let it penetrate, and rub it off gently with reusable cotton pads or cotton balls. Or you can take 5-6 drops of jojoba on your palm and then massage it onto your face, then take a damp washcloth, put it over your face for two minutes, wipe it off your makeup and rinse your face.
2. Aloe Vera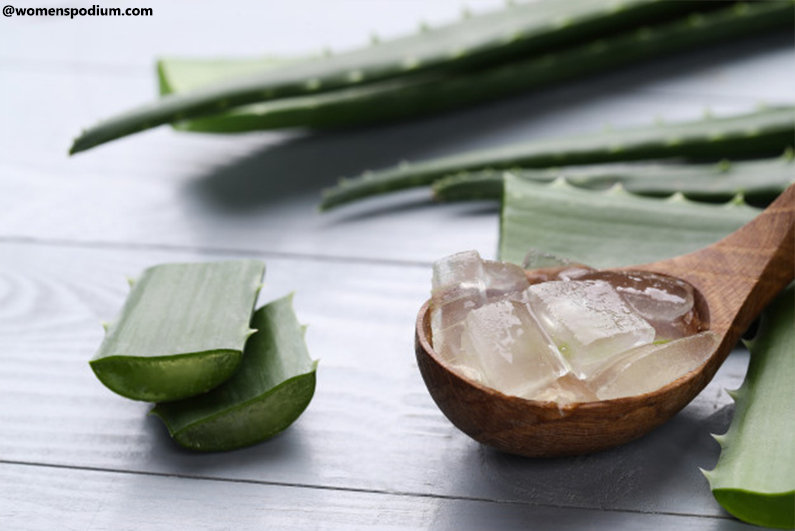 You cannot forget Aloe Vera when wondering for the answer to how to remove makeup naturally? Aloe Vera is a nourishing herbal extract that comes in the form of a thick transparent Gel. Dermatologists often recommend it as the best moisturizer; besides, it is considerably effective for toning your skin. Also, it has tranquillizing properties for the goodness of your skin. So, it is all one product for the makeup removal routine for all skin types.
To use aloe vera in a makeup-removing recipe, whisk it well with raw honey and essential oil of your choice. I would suggest using 4-5 tiny drops of coconut oil—next, take a regular cotton wipe to clean your face and neck. Finally, rub gently and wipe off any makeup particles. 
3.Witch Hazel Scrub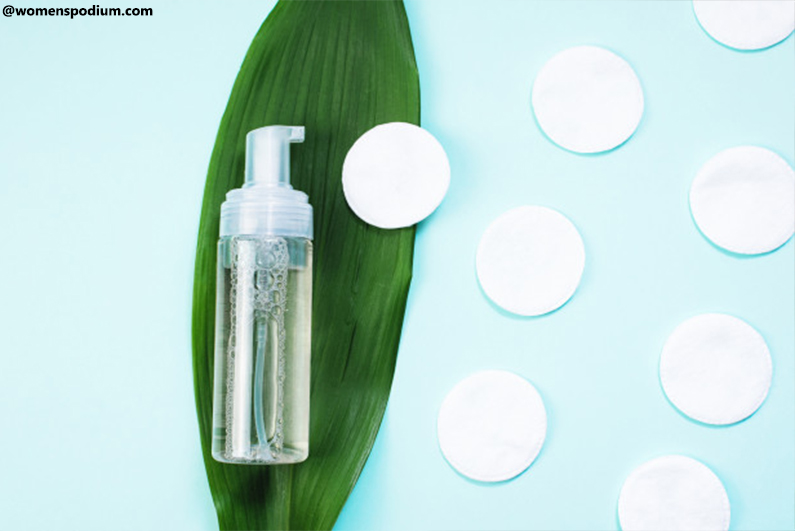 Witch hazel might be a new name for many ears; it ranks among the best natural removers. It inherits anti-inflammatory and antioxidant properties and works wonders for acne-prone skins and dry skin. Either applying in pure or mixed up with another ingredient actively gives a chance to remove all makeup impurities—what I like the most in witch hazel is that it frees excess oil from your skin, leaves skin nourished, and makes your skin glowing and flawless. If you are looking for a precise beauty recipe, all you do is take 50-50 extract of water and witch hazel in a small container, mix it well, apply gently on your face with a cotton round, massage in a circular motion to remove makeup, do take care around your eye area, finally rinse thoroughly with warm water.
4. DIY Makeup Removing Wipes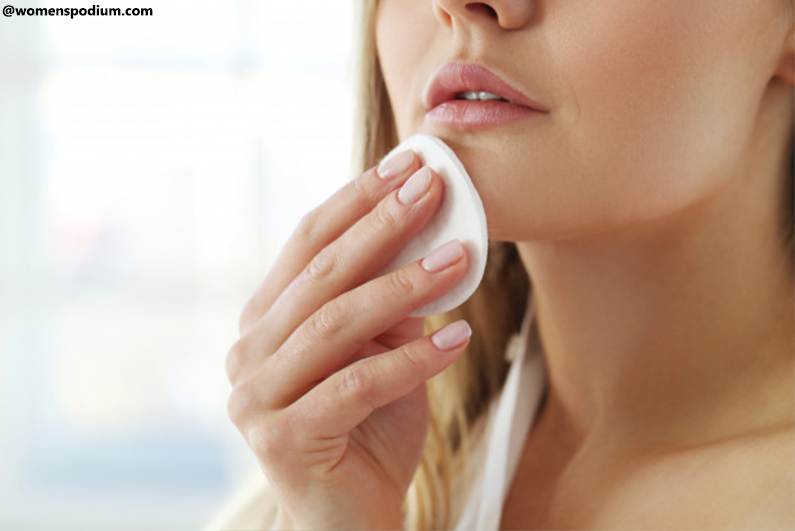 If you are worried about expensive makeup wipes for their adverse effects, why not make your own wipes? In fact, it is an easy and quite a possible task to make your own DIY makeup remover wipes at home. 
Try out once making these wipes with the given below ingredients.
Cotton circular pads

Any Essential oil

Cold-pressed coconut oil

2 Tsp of witch hazel

Some mild baby liquid soap

Vitamin E drops
Mix the ingredients well with an immersion blender. Coat your cotton wipes evenly in the mixture. Utilize them any time anywhere to get clear and clean skin right away. These removing wipes are perfect against even long-lasting foundation and stubborn makeup stains.
5. Gel Rosewater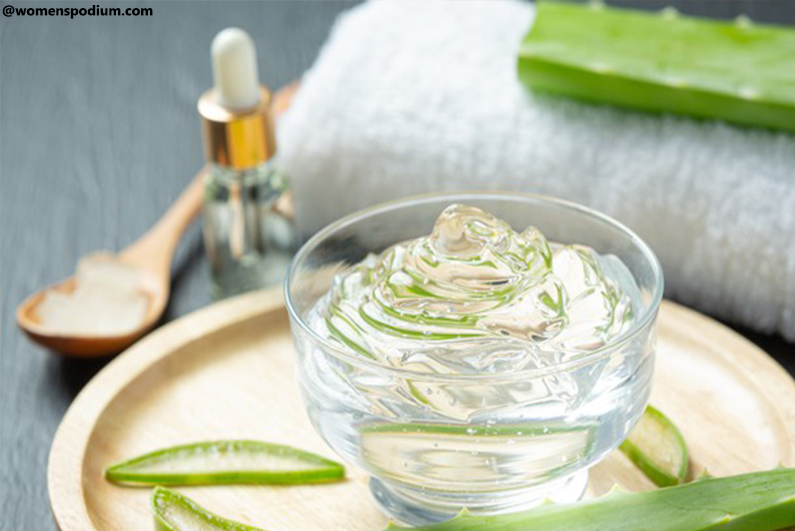 We all know that rose water is miraculous for skin and open pores. How about adding a little more magic to scoop up its benefits for makeup removal? When you have rose water, think of it as half work done; just don't worry about how to remove makeup without a proper remover. Using rosewater, glycerin, and aloe vera together, you can get a blended DIY makeup remover for all time. Also, this gel is best for detanning and skin-lightening remedies. Ensure to prepare the mixture fresh for high-end results.
We cannot slow down the urge to beautify ourselves with makeup. We women love makeup; hardly anyone will say that she doesn't like makeup. However, it is a must to follow proper makeup tactics, plus do stick to healthy makeup removal tactics and know-how to remove makeup naturally!