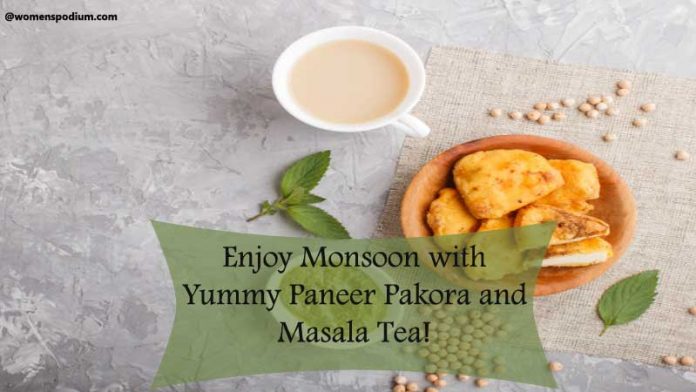 When we talk about Indian snacks, especially tea-time snacks, we can't miss talking about pakoras. And monsoon is the perfect time to enjoy different types of pakoras with special masala tea. When it rains outside, and you really feel like munching something spicy; pakoras serve you that unique flavor to relish your taste buds. Among the range of tea time pakora platter, today I have picked paneer pakora; a vegetarian recipe loved by both vegetarians and non-vegetarians equally.
Preparation for Paneer Pakora – How to Make Paneer Pakodas?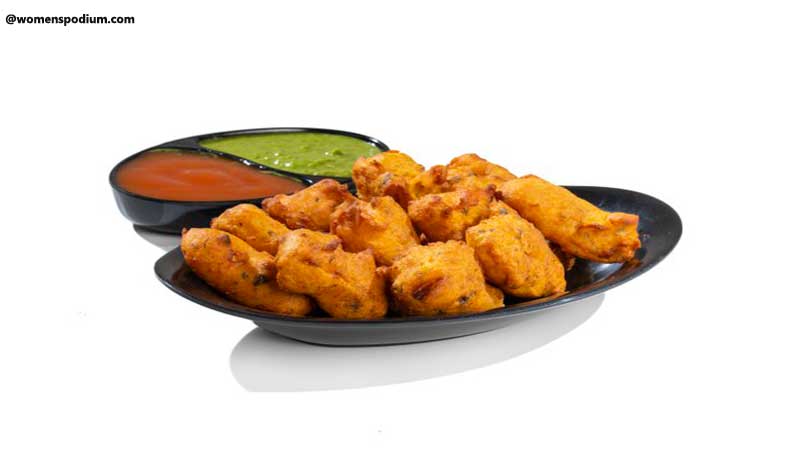 Recipe type: Snacks
Cuisine: Indian
Serves: 2-3
Ingredients
Garlic-Ginger Paste: ½ tsp
Corn flour: 2 tbsp.
Oil- For deep frying
Cottage cheese/Paneer (cubed):1 Cup or 14-16 pieces
Gram Flour/Besan: 1½ cup
Turmeric powder: 1½ tsp
Red chilli powder: 1 tsp
Semolina ( optional): 1 tsp
Rice flour (optional): 1 tsp
Salt- As per taste
Seasoning
Chaat masala: According to the requirement
Black salt: A pinch of
Pepper (ground): As much needed.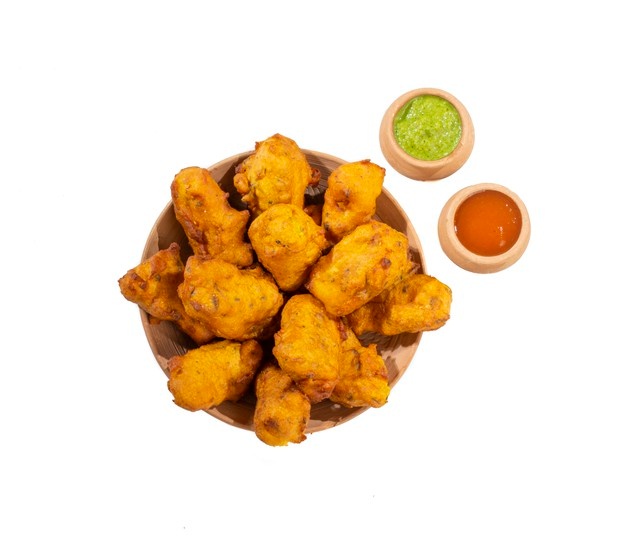 Instruction/Direction
Cut the cottage cheese into cubes. If the paneer is not soft, to get sponginess in the paneer, you can keep it for 5 minutes in warm water; after then, drain the water and keep the paneer in a kitchen towel or tissue paper so that it can soak the water, and place it separately in a bowl.
Take a medium-sized bowl, take gram flour and add garlic ginger paste, red chili powder, turmeric powder, corn flour and salt into it.
Gently pour water to get a firm batter; if you love crisp pakoras, you can add semolina or rice flour or both in the batter.
After the batter and paneer are ready, take a Chinese wok or a frying pan and heat oil to medium temperature.
Let the oil turn completely hot; when you see the oil is hot enough, turn the flame on high for a while.
Now dip the paneer pieces into the gram flour batter and drop one by one into the hot oil; after a minute, slow down the flame.
Stir, flip and fry the pakoras on a slow flame until they turn golden on all sides.
Ensure to flip them after every 1 -2 minutes to cook them evenly.
Let the paneer pakoras get deep-fried and then take it off.
Place them on a paper towel to remove that extra oil and then transfer them to the serving plate.
Make sure to season them with ground pepper along with salt and chat masala before placing them in a serving bowl/tray.
Serve it with green chutney or tomato sauce.
The Perfect Masala Tea
Masala Tea is a trendy, popular and demanding beverage in India. Its unique taste has made it popular even in other parts of the world. During the rainy season, people love to enjoy their cup of hot masala tea with yummy pakoras. Masala tea can rejuvenate you when you feel tired. And with the above-mentioned paneer pakora recipe, you can relish it more.
All over India, people use various ways to make tea according to their preferences. Some like them strong, some like them milky, some like them full of masala. One common ingredient used for masala tea all over the country is cardamom (it might be in crushed or ground form). For the rest of the ingredients, some common ingredients are black pepper, cloves, ginger etc.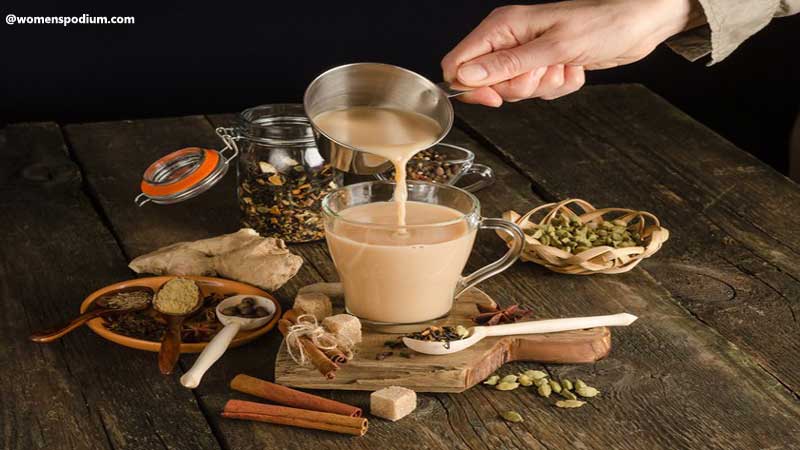 How to Make Indian Masala Tea?
Recipe type: Hot beverage
Cuisine: Indian
Serves: 4-5
Ingredients (for preparing masala tea for 4 – 5 people)
Ginger root: 2 thin slices (or ginger powder 1/4 tsp)
Cardamom: 3 pods, crushed
Clove: 1-2
Cinnamon sticks: 1/2″ or cinnamon powder – 1/2 tsp powder
Water: 3 cups
Milk (with full fat): 2 cups
Regular black tea – 2 tea bags or 2-3 tsp.
Sugar – 4 tsp (or low fat, artificial sweetener)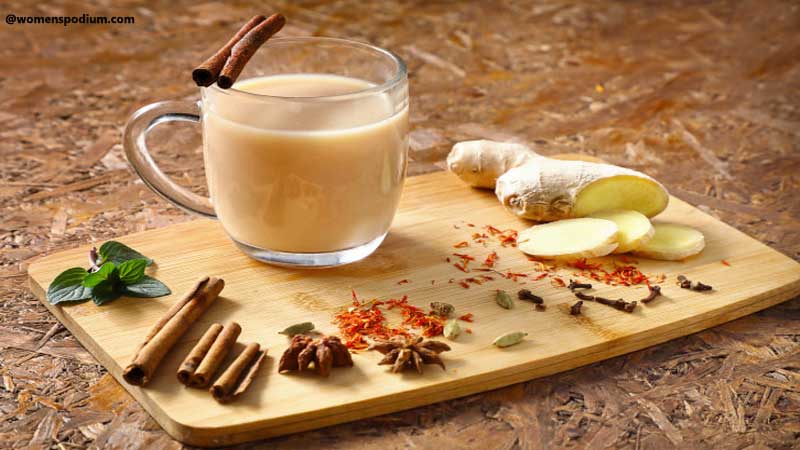 Instructions:
The first step is to grind the cardamom pods, cloves and cinnamon in a spice grinder. Grind and keep it aside.
Now in a pan, add water let it boil.
Then mix two cups of full-fat milk in the boiling water, let them boil on a medium flame for 5 minutes.
Add sugar, tea bags or tea leaves and the ground spices you made first.
Wait till the milk starts producing the froth, which happens when the tea gets adequately boiled.
Once that happens, get the tea bags out with a small spoon.
Wait for the spices to steep. This will approximately take at least 5-10 minutes.
But it is advised to keep the steeping period to 15-20 minutes on a low flame.
If required, you can reheat the masala chai and then strain it with a strainer.
If you watch Chai-wallas in India carefully, you will see that most of them pour the chai back and forth between two pans at a rapid pace to improve the texture.
Finally, the masala tea is ready to serve; take small clay tumblers or small glasses to serve the masala chai. If you don't have those, normal tea-cups can go to.
Personally, I like masala chai in winters, monsoons, or whenever it rains. Due to the global warming scenario, now seasons are unpredictable; sometimes it is scorching hot, sometimes it is too cold, in fact, now you can see frequent rains in winters even. In a nutshell, you don't need winters or monsoon to savor paneer pakora or any other veg pakoras with your simmering cup of masala tea. Whenever you feel it is going to rain, step into your kitchen, make these pakoras and chai, and enjoy your family time.
Also Read: If you don't want to make pakoras, try making moong dal vada during the rainy season.