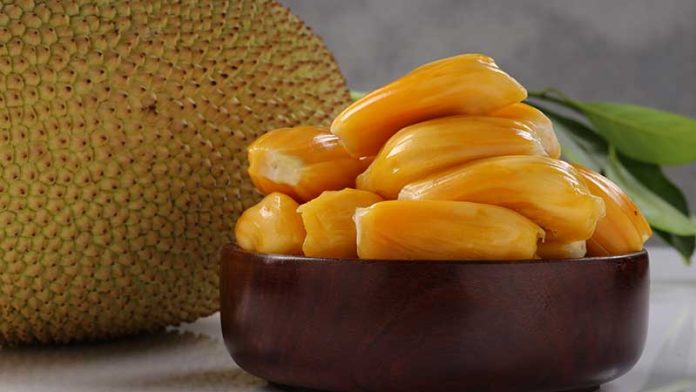 Can fruit replace meat? The answer is tricky, Jackfruit is an alternative to meat and has both sweet and savoury flavours, depending on how ripe it is. Have you ever opened a can of jackfruit or seen unripe green jackfruit and wondered how to cook jackfruit? There are different flavorful ways to prepare jackfruit.
Additionally, if you are a vegetarian, these recipes are especially for you. Jackfruit tastes meaty and is an excellent substitute for meat in tacos, barbecues, sandwiches, and many other dishes. With jackfruit, you can make a delicious meal under 30 minutes.
What Is Jackfruit? Is It Healthy?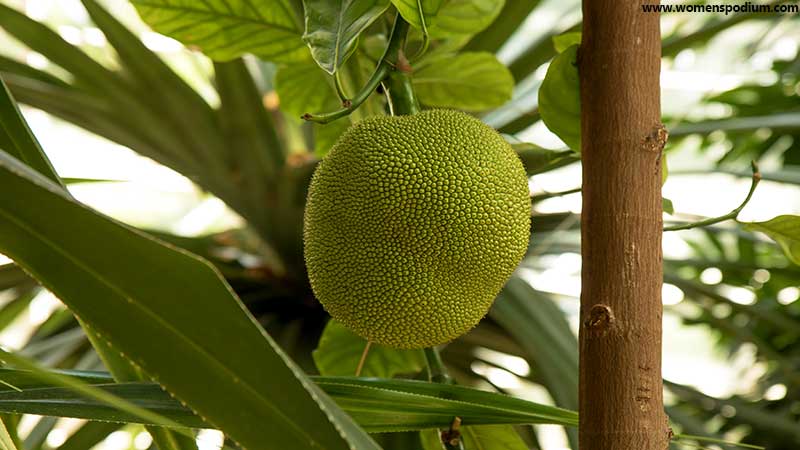 The scientific name of jackfruit is Artocarpus heterophyllus, and it's found on tropical regions of the world, mainly in Africa, Asia, and South America. Jackfruit is a heavy fruit and weighs up to 40 pounds. Despite its thick, rough peel, it has juicy flesh inside. Fortunately, some stores sell peeled and sliced jackfruit in canned form.
Many vegans and vegetarians prefer jackfruit in their diet because of its texture, versatility, and a mild taste. Jackfruit contains more vitamins and minerals than avocados, apples, apricots, and bananas. It's rich in vitamins C and B and also contains folate, niacin, riboflavin, potassium, and magnesium. You can feel fuller for a longer time because it is a good source of fiber, and help keep your bowel movements regular. In a nutshell, we can conclude that Jackfruit is relatively healthy because it is low-calorie and has plenty of fiber, vitamins, minerals and antioxidants. Let's move on to how to prepare jackfruit.
How To Prepare Jackfruit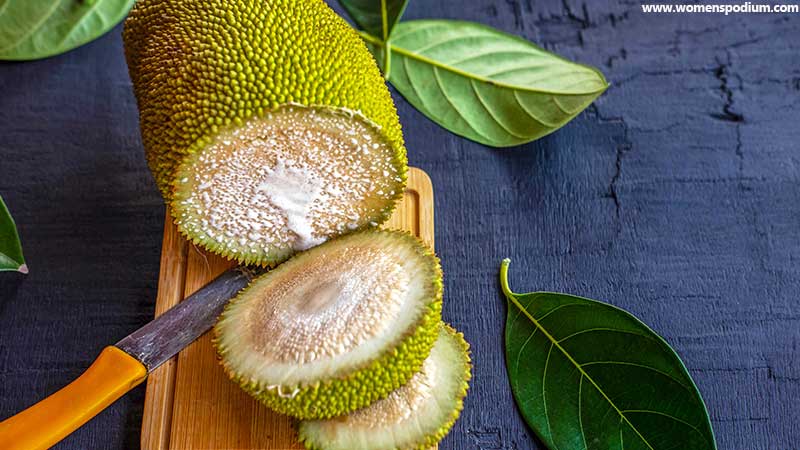 Do you wonder how to cook a juicy, tasty, tender jackfruit from a can? Because when you open a jackfruit can, you get inedible rectangular pieces of jackfruit. However, little preparation can turn canned jackfruit into tasty, tender-crisp edges, just like your favourite meat meal. If you are following a low-carb, anti-inflammatory diet plan, jackfruit can be a great addition to your diet. There is a wide variety of canned jackfruit available in stores; usually, it's preserved in brine, which is why it's extremely salty. Most people recommend putting the jackfruit in the refrigerator or cold water for 24 hours to reduce the saltiness. If you don't have enough time, adjust your salt accordingly—here is a step-by-step guide on how to cook jackfruit, especially the canned ones.
Jackfruit Sandwich/Burger Fillings
Ingredient
2 cans of green jackfruit with brine
Onion – 2 finely chopped
Olive oil – 1 tbsp.
Barbecue sauce – 1 cup
Preparation
Draining the excess liquid from the cans, put the jackfruit in a large bowl, add cold water to soak them thoroughly, and leave it for 4-5 hours. Strain the jackfruit through a mesh sieve and keep them aside.
Now put some water in a pan, let it boil, add the jackfruit and cook it for 45 minutes. When the jackfruit is ready, drain it and give it a quick rinse in cold water. Once it is cool enough, shred it using your hand or a fork.
Stir-fry them in olive oil with chopped onion in a nonstick skillet over medium-high heat, then add barbecue sauce and boiled shredded jackfruit. Simmer the mixture for about 5-10 minutes.
Stir the jackfruit regularly after it has absorbed all the sauce and the pan is dry.
Transfer the mixture to a plate, and your jackfruit filling is ready.
How to Cook Jackfruit – 3 Indian Jackfruit Recipes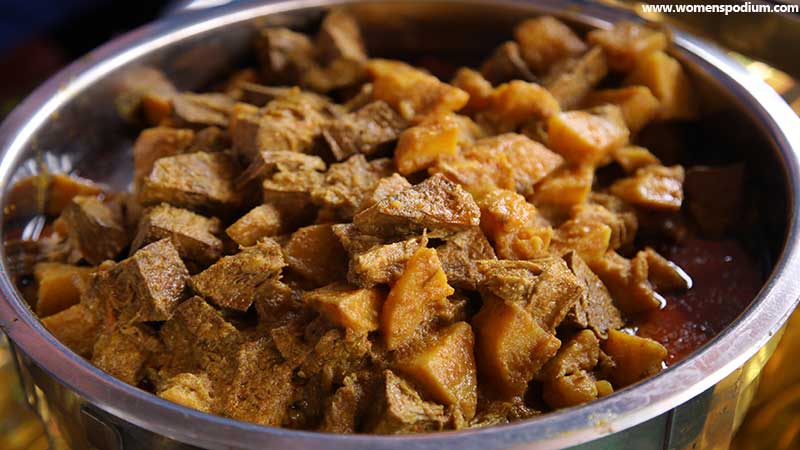 Being a North Indian, Jackfruit curry is my all-time favourite recipe. We call it Kathal ki sabzi, and I mostly cook it in two ways, one is Kathal-do-pyaza and the other in a typical curry style; the first one is relatively easy to cook, but the second one takes time, but trust me, both taste extremely tasty. Besides these sabzis, I also love to relish aloo-kathal tikki; let's look at these three Kathal recipes.
Note: This is the base step in both jackfruit recipes; ensure to soak the sliced jackfruits in saltwater soon after dicing them to cease discolouring. As we know, jackfruit is a seasonal vegetable/fruit; thus, you can use frozen or tin jackfruits.
Kathal-Do-Pyaza (Jackfruit with Onion and Indian Spices)
Jackfruit is considered as a vegetarian mutton, and Kathal-Do-Pyaza is a tasty vegetarian substitute for Mutton-do-pyaza. The ingredients and cooking techniques are more or less some, though they taste entirely different with their unique taste.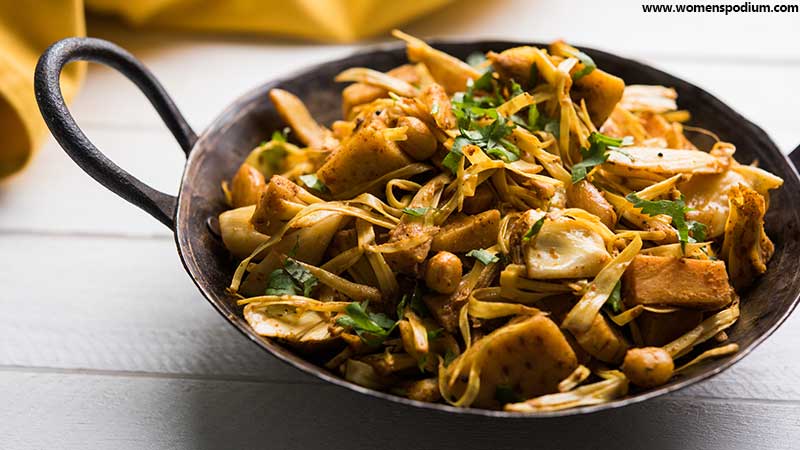 Ingredients
Raw and tender jackfruit – 300 grams or sliced in 1 inch 14-17 pieces
Potato – 1 medium-sized, diced
Onion – 6 medium-sized, thinly sliced
Garlic – 5-6 cloves, roughly sliced
Ginger – 1½ tsp, thinly minced
Green chilli – 1-2, half-slit
Turmeric – 1tsp
Red chilli powder – 1½tsp
Coriander powder – 1½ tbsp
Jeera powder – ½tsp
Garam Masala – 1½tsp
Cumin seeds – ½ tbsp
Black peppercorns – 6 to 8
Bay leaves – 1 leaf
Cloves – 2-3
Green cardamom – 3 pods
Cinnamon Sticks – 1 inch
Oil – 4-7 tbsp
Water – 1 cup
Coriander leaves for garnish
Preparation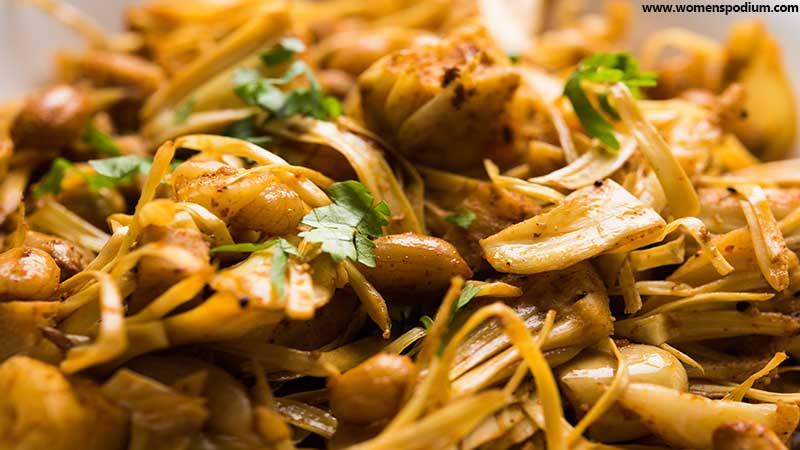 Heat 2-3 tbsp oil, let it heat and add the sliced jackfruit slices; fry it for 5 minutes.
Then add diced potato, fry it, sprinkle ½ tbsp salt, combine both vegetables, and cook it for another 5 minutes; afterwards, turn off the flame.
Now, take a pressure cooker, put it on a medium flame, and add oil.
Add all the dry spices( bay leaves, cloves, cinnamon, cardamom, cumin seeds, peppercorn) to temper when the oil is hot.
Now add sliced garlic and ginger and saute it for ½ minute.
Then add sliced onions and green chilli, and fry the onions till they turn light brown.
Add turmeric powder, red chilli powder, coriander powder, jeera powder and garam masala; add 4 tbsp water.
Cook all the spices along with onion on low flame till oil separates.
When spices are cooked, add fried jackfruit/kathal and potato, and coat them thoroughly with the spices; now add water and salt.
Give all the vegetables and spices a good stir, put the pressure cooker lid, set the gas on a slow flame, cook until it whistles 3-4 times, and then turn off the heat.
Kathal-do-pyaza is ready. Garnish with coriander leaves and serve it with plain butter roti.
Kathal Sabzi/Curry (Raw Jackfruit Curry)
Call it kathal sabzi, jackfruit curry, kathal ki sabji, or raw jackfruit curry; it is a fabulous meat alternative curry recipe cooked with tender jackfruit slices. It tastes delicious with rice and roti both.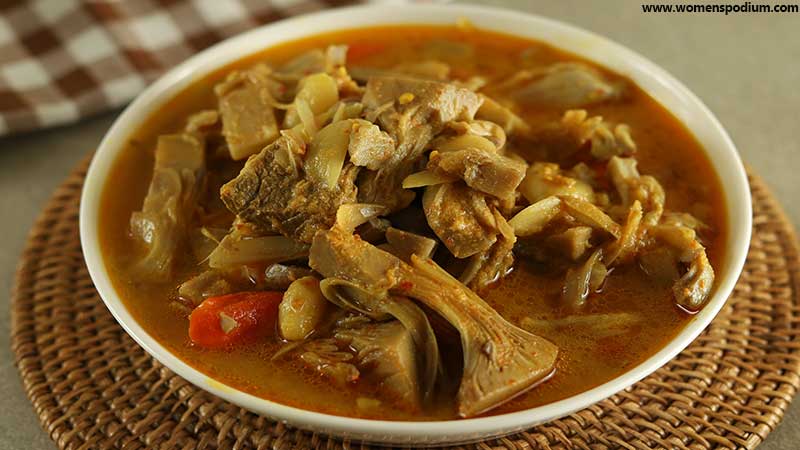 Ingredients
Raw and tender jackfruit – 15-17 pieces
Onion – 3-4 medium-sized finely chopped
Tomato – 3-4 finely chopped
Ginger garlic paste – 1 tsp
Coriander powder – 1½ tsp
Red chilli powder – ½ tsp
Turmeric – 1½ tsp
Cumin powder – ½ tsp
Garam masala – 1½ tsp
Kasuri methi – 1 tsp
bay leaf – 2
Cinnamon – 1 inch
Cardamom – 2-3 pods
Cloves – 3-4
Cumin seeds – 1tsp
Oil – 5 tbsp
Salt to taste
Water – 1 cup
Coriander leaves (finely chopped for garnishing)
Preparation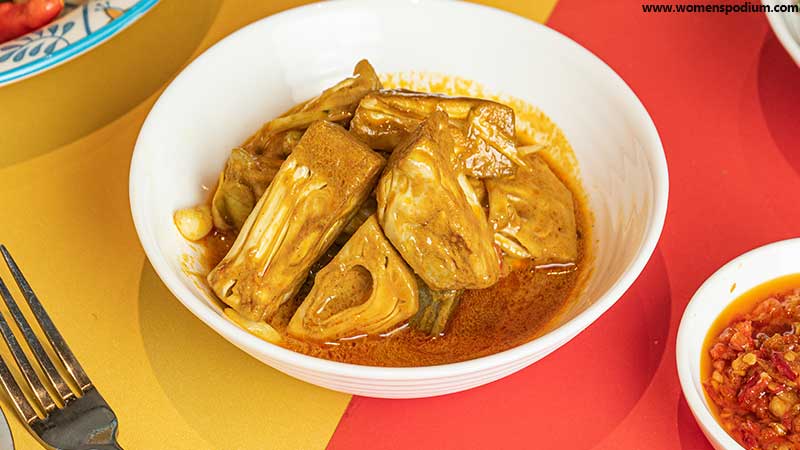 Take a pan and heat oil; add the kathal and fry it on a medium flame until it is cooked well; now, keep it aside.
Now, take a large kadhai/deep pan and heat oil; saute the spices: bay leaf, cloves, cumin seeds, cinnamon, and cardamom, and season them until they turn aromatic.
After it, add chopped onions and saute them for a few minutes until they turn golden brown; then add ginger garlic paste, stir and saute it for another 2-3 minutes.
Turning the flame on low, add turmeric, chilli powder, coriander powder, cumin powder and garam masala, saute it and let it cook.
When spices turn aromatic, add chopped tomatoes and cook them well until they turn soft and mushy.
Now, add fried jackfruit (kathal) and mix well so that all the spices can get coated easily.
Add 1 cup water and stir and adjust consistency as needed.
Now add kasuri methi, mix it and cover and let it simmer for 15-20 minutes or until the jackfruit curry is cooked and the flavours of spices are infused and soaked.
Kathal curry is ready to serve with rice, roti or naan.
Aloo-Kathal Tikki – Potato Jackfruit Cutlets
Indian snacks without aloo tikki are incomplete, and this one snack you can eat any time of the day; snacks like tikkis are every foodie's ultimate choice. ! And when you club boiled, mashed potato and jackfruit together with some basic spices, it tastes delicious and is healthy too. This tikki goes best with tea and can be an excellent addition to your kitty parties and birthday parties.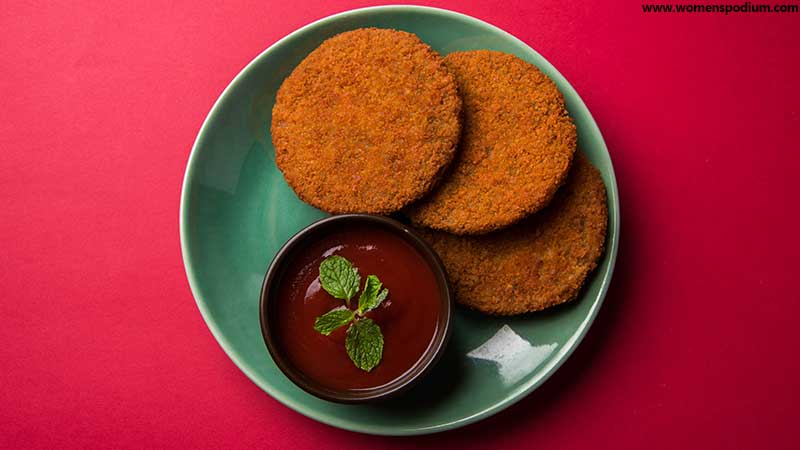 Ingredients
Potatoes – 6 medium boiled and mashed
Tender Jackfruit/Kathal – 1 cup cooked and mashed
Green chilli – 2-3 finely chopped
Ginger chopped – 1 inch grated
Onion – 1 finely diced/chopped
Coriander powder – 1½ tsp
Red chilli powder – ½ tsp
Chat masala – ½ tsp
Coriander leaves – ½ cup finely chopped
Bread crumbs – ½ cup
Oil
Salt to taste
Preparation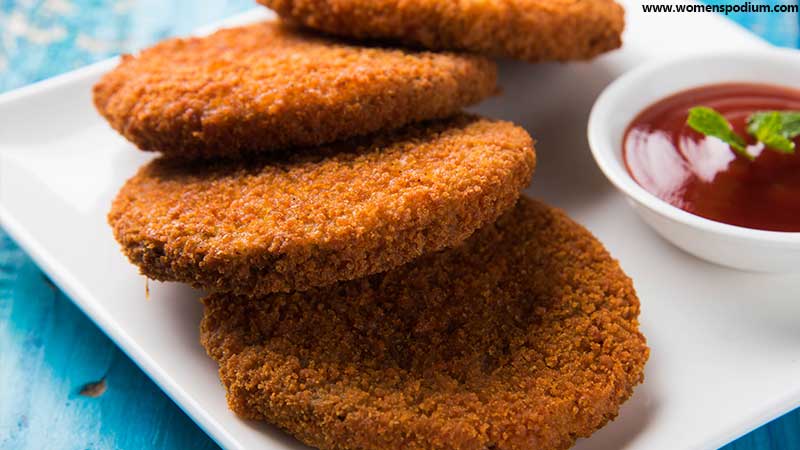 Take a big bowl, add boiled and mashed potatoes and kathal, knead and mix them well.
Now add onion, grated ginger, chillies, all the spices (red chilli powder, coriander powder, chat masala), salt and coriander leaves, and combine all together.
Grease your palms with oil, take a little mixture and shape them into tikkis.
Coat all the patties or tikkis with breadcrumbs and keep them aside.
Heat oil in a kadai or shallow frying pan to shallow fry these kathal-aloo tikkis on both sides until they turn golden brown.
Drain and place the tikkis in an absorbent paper and serve it hot with green coriander chutney.
Jackfruit Pineapple Smoothie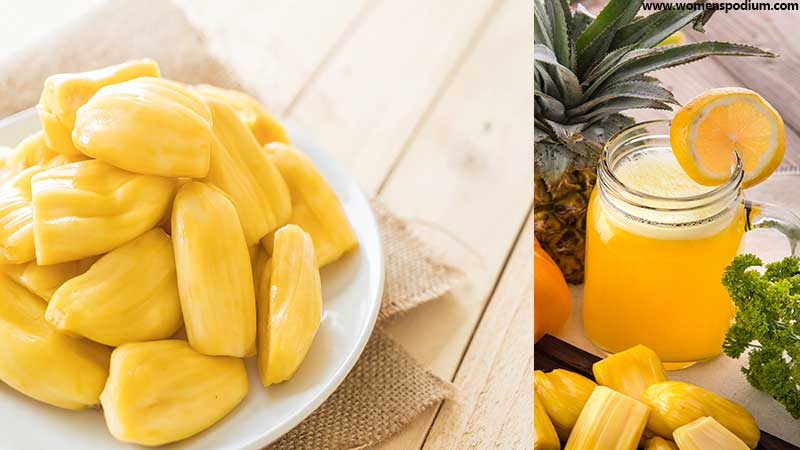 This Vitamin C-rich exotic fruit can be made into an easy and quick smoothie recipe that aids in boosting your immune system. Smoothies are one of the easiest ways to consume fresh jackfruit without added sugar, as a healthy menu on your breakfast table. Many of us prefer to eat jackfruit when it is fully ripe, although some prefer it a bit early. Ripe jackfruit has a wiry, chewy texture with a tropical flavour, similar to pineapple, banana, and mango. Even the seeds are edible too; you can roast or boil the seeds just like chestnuts; in India, we make jackfruit seeds curry as well.
Ingredients
Fresh ripe jackfruit – 6-7 pieces
Frozen pineapple – ¼ cup
Coconut milk – – ½ cup
Pineapple juice – ½ cup
Ice cubes – 5-6
Preparation
Place all ingredients and 3-4 ice cubes in a blender.
Blend until smooth. Ensure to blend the ice cubes completely.
A tasty and healthy smoothie is ready to serve with some lime and ice cubes.
Note: You can use fresh pineapple instead of frozen and coconut water instead of coconut milk; this will make your smoothie lighter and not thick.
Final Thoughts
Jackfruit has become extremely popular among vegetarians, and it is a healthy substitute for meat because of its meaty texture. There are multiple ways to cook jackfruit, but I hope the above-shared jackfruit recipes will help you how to cook jackfruit. If you want to store jackfruit, you can slice and blanch them and then refrigerate them; you can use them for one to two months. Another way to store them is in mashed form, boil the raw jackfruit, add salt and mash them with some herbs, cook in olive oil and store them. You can use this mashed jackfruit in different dishes like burgers, sandwiches, wraps, tacos, and many others. Do try these recipes, and don't forget to share your feedback.
Also Read: If you are someone who's gone vegan recently and looking for vegan snacks, try these, you are going to love them.