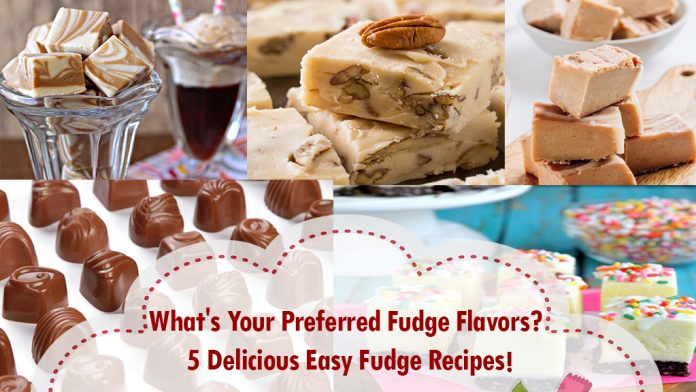 What's your favorite dessert? Of course, everyone has their own taste; some like ice cream, some pastries, and others crave to eat fudge. Although you will find many flavored fudge recipes on the internet, how about trying to make some mouth-watering fun fudge recipes by yourself? Chocolate fudge and peanut butter fudge are some of the most popular fudge flavors, applauded at every treat table. However, people usually recreate different fudge flavors with countless fudge ideas and ingredients to make their own unique fudge recipes.
What is Fudge, and What is it Made of?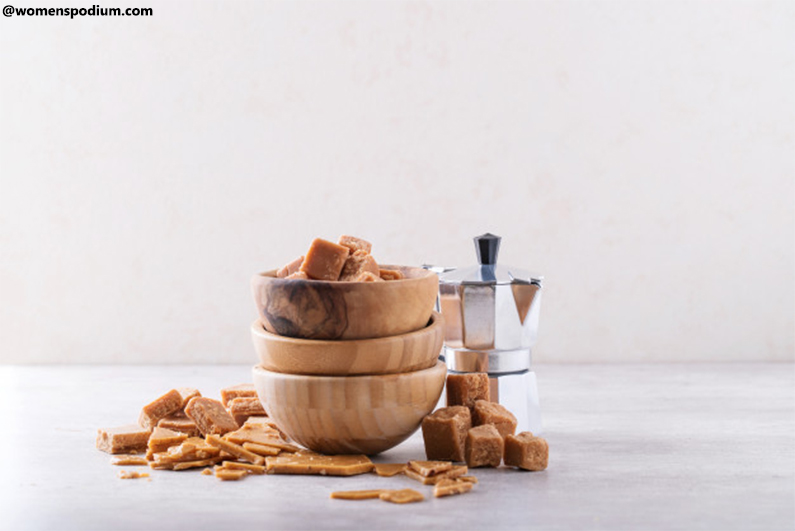 Fudge and sugar candy belongs to the same family, so if we say fudge is a type of sugar candy, we aren't misled. The basic old-fashioned, easy fudge ingredients are sugar, butter, and milk—all cooked together, finally beaten to a soft, creamy texture. However, one can go on with multiple variations such as marshmallows, chocolate, peanut butter, and condensed milk for flavored fudge. For most kids, their favorite fudge typically includes marshmallow fluff or condensed milk; further adding nutmeats and raisins, you can turn it into their favorite treat as well as a healthy breakfast meal for your kids.
How Can You Make Your Own Fudge Flavors?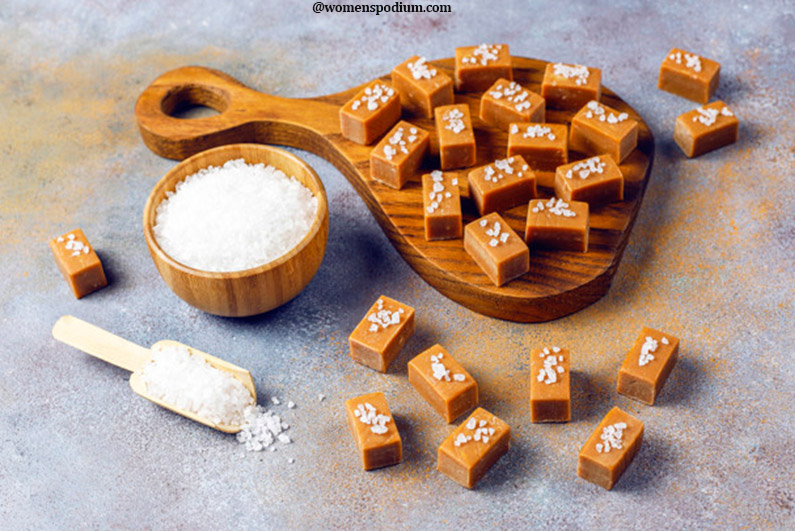 Gone are the days when it was troublesome and time-consuming to make your favorite fudge flavor at home. You don't need to worry; making a fudge recipe is no fuss or hassle now. Here we have brought five easy fudge recipes that you can make at home within 10 to 15 minutes. Try these delicious fudge flavours and enjoy with your family and friends during holidays, gathering, and treats at Christmas and Easter.
Top 5 Mouth-Watering Recipes for Your Tasty Fudge Flavors
Today, we have picked out five easy fudge recipes with different flavors. These are pretty quick to make as any other dessert ideas such as vanilla ice cream or ice cream custard.
 1. Yummy Root Beer Float Fudge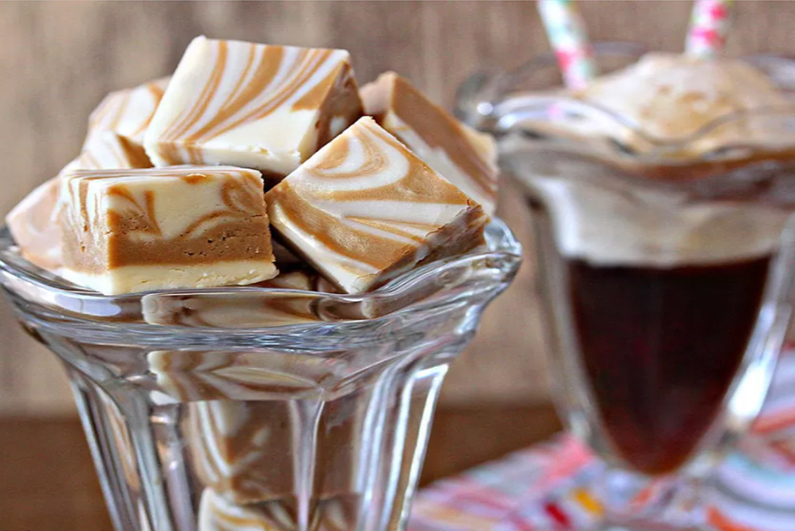 Image Credit: TheSpruceEats.com
This is one of the most favorite fudge treats, especially for children. Always a best-seller at school bake sales, root beer float fudge is sweet and creamy with the ever-loved root beer flavor. Here is the recipe for it.
Ingredients 
3 cups of sugar
5 ounces or 1 can of evaporated milk
1 teaspoon plus ¾ cup butter, divided
½ teaspoon vanilla extract
10 t0 12 ounces or 1 package of white baking chips
2 teaspoon root beer concentrate
7 ounces or 1 jar marshmallow cream
Steps to follow
Take a 9-inch square baking pan and line it with foil.
Grease the foil with one teaspoon of butter.
Take another large saucepan and put sugar, milk and the remaining butter.
Set the heat at medium level and bring this mixture to a rapid boil, stirring it constantly. Keep doing so for four minutes.
Remove the boiled mixture from heat and add baking chips and marshmallow cream to it.
Stir the mixture until chips and cream get melted.
Into a small bowl, pour one-third of the mixture and stir in vanilla.
Stir in root beer, concentrate on the remaining mixture and spread immediately into the prepared pan.
Spread vanilla mixture over its top and refrigerate it for one hour or till it gets firm.
Now, lift the fudge out of the pan using foil. Remove foil and cut fudge into one-inch square pieces.
Store it in the refrigerator in an airtight container by placing layers of waxed paper in between the rows of fudge squares.
2. Easy Peanut Butter Fudge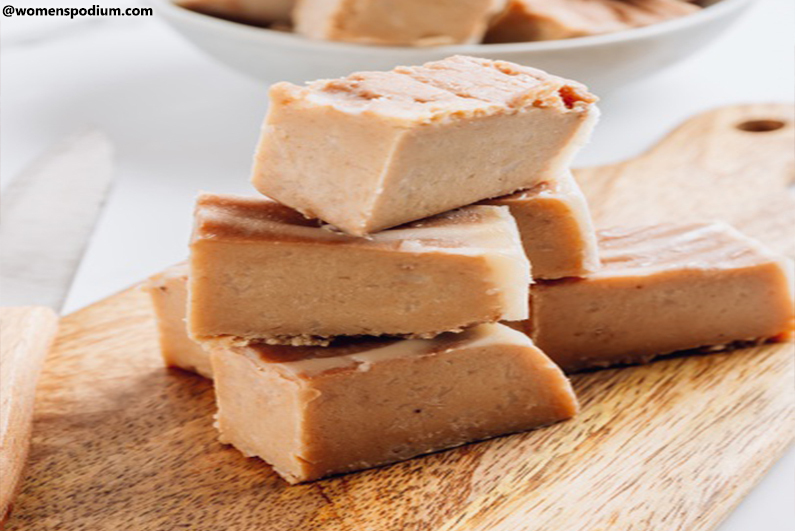 Unbelievably easy peanut butter fudge with marshmallow cream is a nutritious and delicious dessert—some like using creamy peanut butter while others prefer the chunky style. Let's move to its recipe.
Ingredients
2 cups of sugar
2 teaspoon of butter, softened
1—1/3 cups of peanut butter
½ cup whole milk
7 ounces or one jar of marshmallow cream
Steps to Follow
Take an eight-inch square pan and line it with foil greased with butter.
Now combine sugar and milk in another heavy saucepan and bring the mixture to boil over medium heat. Keep stirring and boiling it constantly for three minutes. Then remove it from heat.
Then add to this mixture peanut butter and marshmallow cream and stir them till they get blended.
Spread it over the prepared pan immediately and allow it to cool down slightly.
Refrigerate it till it gets firm.
Now lift the fudge out of the pan by using foil. Then remove the foil.
Cut the fudge into squares of one inch.
Put the squares in an airtight container, placing the layers of waxed paper in between their rows.
Place the container in a refrigerator and serve your friends and guests whenever some are around.
3. Scrumptious Chocolate-Marshmallow Fudge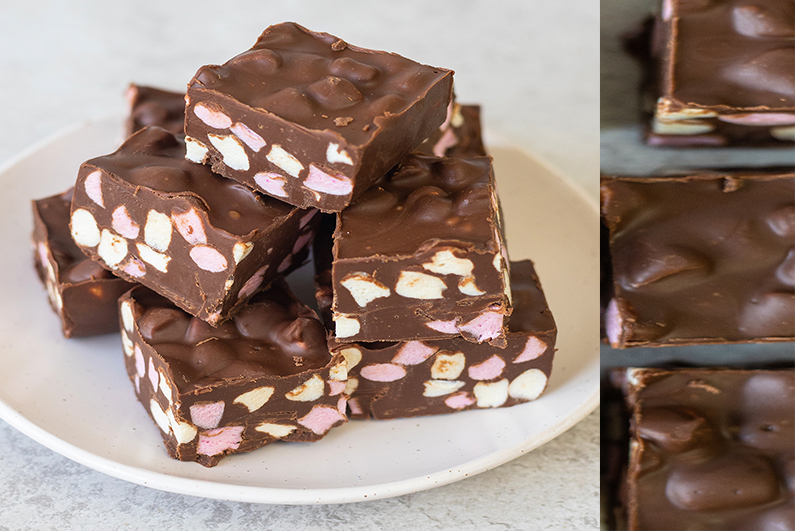 Image Credit: HealthyLifeTrainer.com
People often make this fudge on Christmas Eve and share it with their friends, family and neighbours. It is a healthy tradition that must continue itself. Here is the recipe if you want to try it as well.
Ingredients
2 jars or 14 ounces semi-sweet or dark chocolate
1 cup packed dark brown sugar
1 tablespoon butter
2 cups semisweet chocolate chips
1 cup of cubed butter
3—1/3 cups sugar
12 ounces or 1 can of evaporated milk
2 ounces of semisweet chopped chocolate
32 large marshmallows, halved.
Steps to do
Take a 15 x 10 x 1-inch pan and line it with foil greased with one tablespoon of butter.
Put sugars, milk and cubed butter in a heavy saucepan and put it over medium heat.
Bring the mixture to a rolling boil; keep stirring and cooking it for 5 minutes.
Now add marshmallows to this boiling mixture and keep stirring till they get blended.
Then stir both chocolate chips and chopped chocolate till they get melted.
Spread the whole mixture into the prepared pan.
Keep it in the refrigerator until it gets firm.
Take out the fudge from the pan.
Remove the foil and cut fudge into 1-inch squares.
Refrigerate the squares in an airtight container between the layers of a waxed paper.
Also Read: This extra sweet fudge goes well with the bitter taste of various types of coffee.
4. Lip-Smacking Butter Pecan Fudge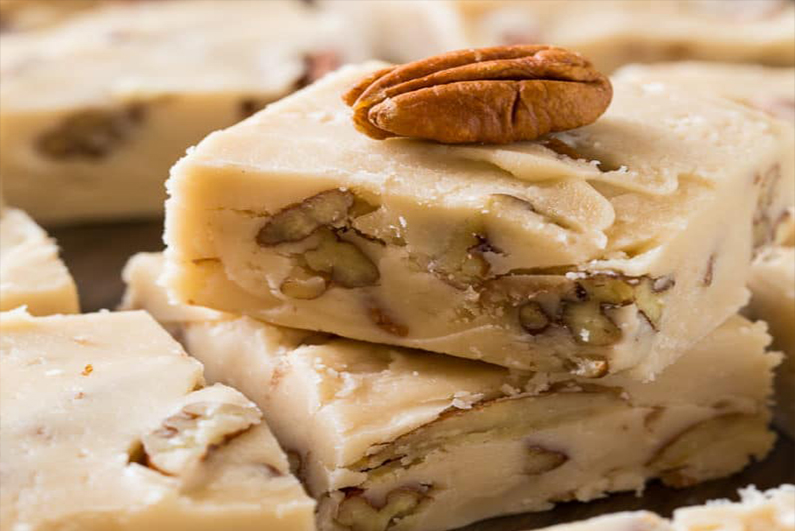 Image Credit: SpicySouthernKitchen.com
The wonderful caramel flavor of this creamy fudge makes it perfect for holiday giving. Toasted pecans confer it a nutty crunch and make people rave about it. Let's see how you can make it at home.
Ingredients
1 cup of coarsely chopped pecans, toasted
1/ 2 cup sugar
1 teaspoon and ½ cup butter, cubed
½ cup packed brown sugar
1/8 teaspoon salt
½ cup heavy whipping cream
1 teaspoon vanilla extract
2 cups sifted confectioners' sugar
Steps to follow
Take an eight-inch square pan and line it with foil. Then grease this foil with one teaspoon of butter.
Put the remaining butter, brown and granulated sugars, cream and salt into a large, heavy saucepan. Heat this mixture over medium heat to a rapid boil while stirring it constantly.
Cook it further without stirring until you get a soft-ball stage when a thermometer reads 234*.
Now remove it from heat and add vanilla to the pan but do not stir.
Leave the pan as such without stirring for 30 minutes to cool it to 110*.
Thicken the fudge by beating it with a spoon.
Now, slowly stir in the confectioner's sugar till the fudge gets smooth or even.
Then add nuts and keep stirring until it becomes thick and starts losing its sheen.
Instantly spread it into a prepared pan and leave it to cool.
Use foil to lift the fudge and then remove the foil.
Cut the fudge into one-inch square pieces and store them in an airtight container with layers of waxed paper in between.
5. Tastiest Banana Cream Fudge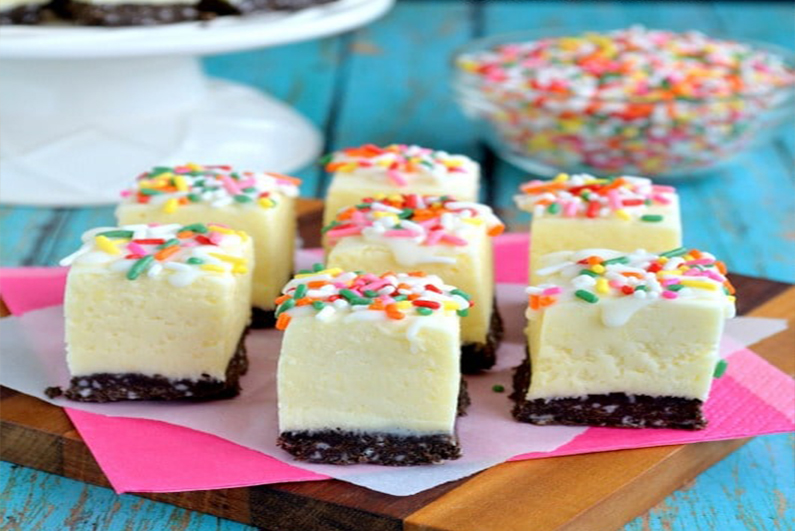 Image Credit: InsideBruCrewLife.com
This creamy fudge is worth devouring with a large cup of coffee on a winter evening. Loved by people of all ages, this easy fudge recipe brings the best taste for all the sweet tooth people. The fudge gets fun, different texture because of the crust as well. Here is the recipe.
Ingredients
3 cups of white chocolate chips
1 ½ cups of sugar
7-8 tablespoons of butter, melted
13 ounces of banana cream (pudding mix)
14 ounces or a can of sweetened condensed milk
7 ounce of jar marshmallow cream
2 cups of cookie crumbs
¼ cup of colored sprinkles (for topping)
Steps to follow
Take an 8-inch square pan and line it with a foil or parchment, and grease it with butter.
Firstly, combine five tablespoons of butter, sweetened condensed milk, and white chocolate chips in a large saucepan.
Keep stirring the mixture, place the mixture over medium heat until it melts to get a smooth texture.
Wait for it to boil, then proceed by adding the banana pudding mix and stirring for 2 minutes longer.
Add in the spoonful of marshmallow cream while stirring until the mixture again becomes smooth and blended.
Firmly press the combined mixture of cookie crumbs and melted butter in the pan to make the crust.
Over the crust, pour the delicious fudge mixture and refrigerate for a few hours until it hardens.
Take the fudge out from the pan using a foil.
Now cut the hard fudge into small square pieces. You can store them in the refrigerator for 5-6 days.
Drizzle the white chocolate and sprinkle topping over the fudge to finish this delicious treat.
To say that fudges are crowd-pleasing candies is totally justified, it can bind with your taste buds with ease. There are varieties of fudge flavors that can relish; try these easy and fun fudge recipes at home.