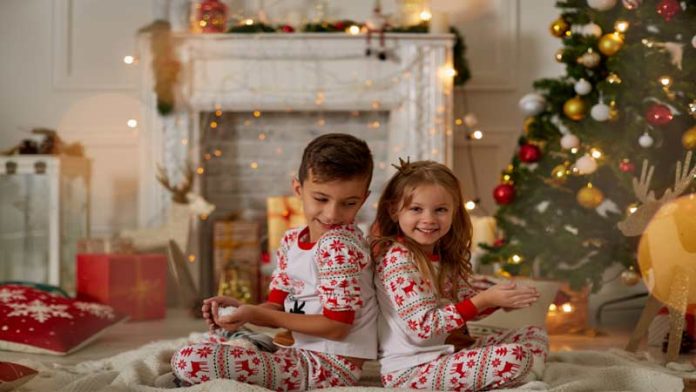 Winters bring a bunch of happiness and a box full of festive Christmas activities. Families unite together, click photos, cook together, make memories; everyone gets engaged, from decorating the Christmas tree to baking yummy cookies. Besides all these, what excites us more is matching outfits. Most families try matching Christmas pajamas or sweaters. The Christmas magical moments get more vibrant while sharing these small things together as a family. Be it family pajamas or even a couple of matching pajamas; it's all about fun and happy Christmas vibes.
10 Christmas Pajamas to Try this Christmas Holidays
Christmas spread happiness; that's why we call the month of December: a magical month. Let's check out these ten Christmas Pajamas you should consider while choosing yours and for your family to celebrate these happy moments.
1. Classic Matching Family Plaid Pajamas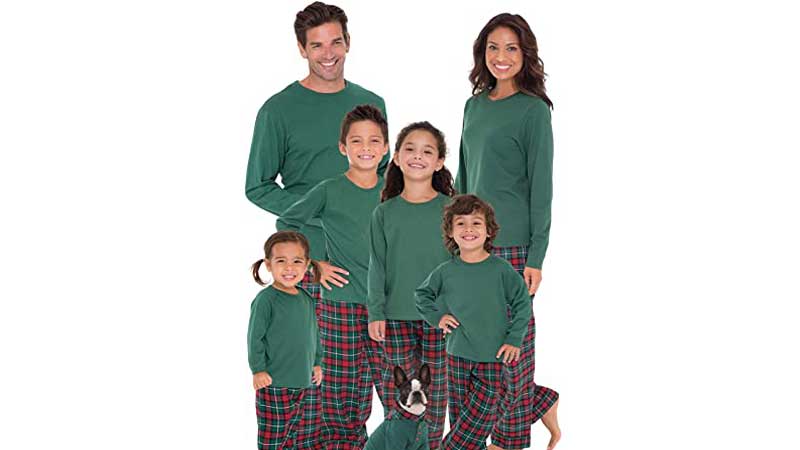 For Christmas night, these classic matching family pajamas are quite comfortable and cozy. They come with an elastic waist closure, long sleeves, and crew neck. Also, as it comes in two colors: green and red, you get two options to choose from. Furthermore, these pajamas are styled for the entire family, including the pet as well. The whole cloth material is flame resistant. Even if your wardrobe is full of pajama sets, you will not regret this purchase if you are searching for family Christmas pajamas set.
2. Christmas Family Matching Pajamas Set With Button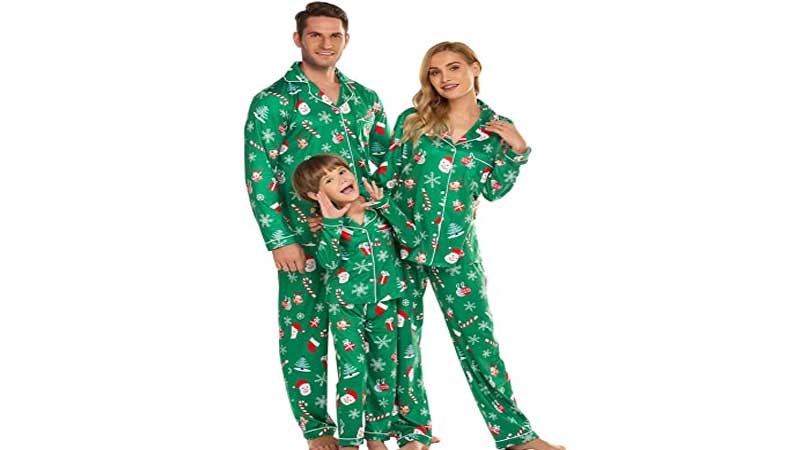 This pajama set comes with a button closure that adds comfort and comes with a silky outer lined fabric and inner microfleece. Moreover, it's skin-friendly and does not cause any irritation to the body. The detailing of Santa Claus, socks, and snowflakes create a chic look; with a notched collar and chest pocket, these matching pajamas complete the whole look. Since it has a traditional Christmas look, you can wear it specifically on the same day. Indeed, these Christmas pajamas sets are an add-on to this festive atmosphere.
3. Red Snoopy Family Pajamas Matching Sets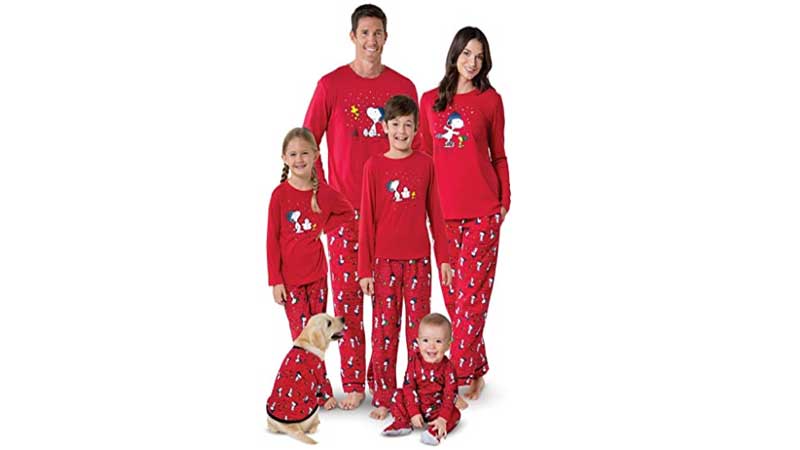 Christmas, in other words, means family time and the onset of the holiday season tradition. And doing things together makes it perfect, and adding matching pajamas for the whole family makes it more fun.
This red family pajama set gives a ravishing festive vibe as a whole; moreover, it is available for everyone. These matching family PJs will make everyone smile, whether you're staging the perfect family photo, decorating the Christmas tree, or making Christmas cookies. In addition, if you have a pet in your house, you should definitely buy this set. The pants have a Snoopy and Woodstock allover print pattern; kids will love to wear these, seeing their iconic buddies on their pants. Besides, the fabric is flame-resistant, fade-resistant, and high-quality, making it safe for kids; as we know, children's sleepwear should be snug-fitting or flame resistant for children's safety.
4. X-Mas Letter Printed Loungewear Sleepwear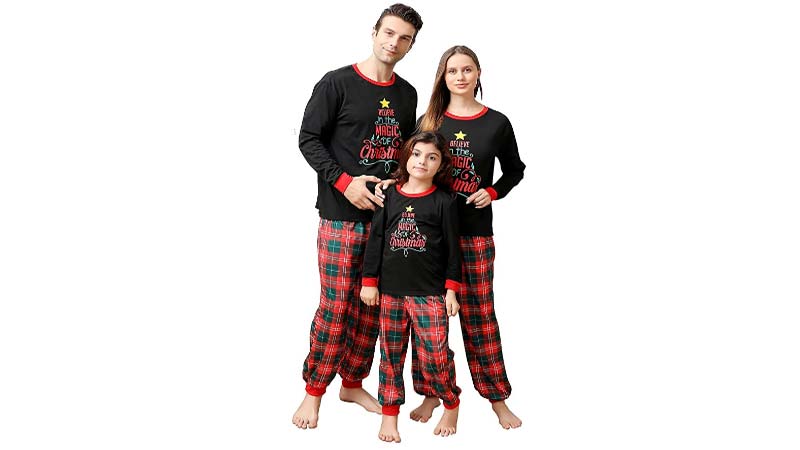 Having matching Christmas PJs is always fun if you want to have a joyous holiday. Imagine your family wearing the same style of pajamas on the night of Christmas and taking pictures together to celebrate the New Year. The material is polyester which is soft, lightweight, comfortable, and skin-friendly. Also, the long sleeve round neck tops look good and are warm enough with good fitting. It has a unique holiday-inspired design with cute letter prints. The classic plaid pants with an elastic waistband for easy wearing are the cherry on the cake for the whole set.
5. Ugly Christmas Sweater Jumpsuit for Men and Women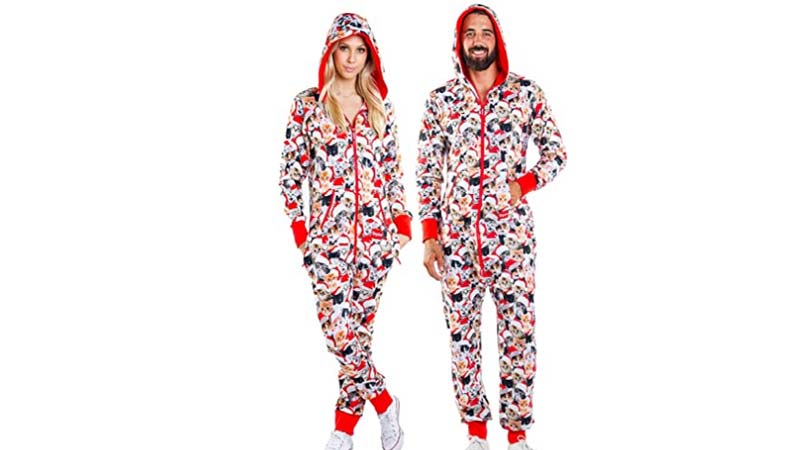 Get ready this Christmas to wrap yourself up in one of Tipsy Elves' signature inspired, ugly, unisex adult fleece jumpsuits. These amazingly warm and cute hooded adult jumpsuits are made of polyester, have long sleeves, zip closure, and are perfect for staying nestled up all night long! These hooded cozy fleece jumpsuits come in multiple styles and designs to choose from. This is just a perfect jumpsuit for newlyweds or couples, as you both will be ready to match outfits in no time to click perfect pictures from all angles to clasp the festive memoirs.
6. Matching Christmas Pajamas for Couples, Kids and Dog
Begin the holidays with these cute Christmas Pjs. This red and black pajama set is the comfy goodness everyone deserves in their wardrobe. Besides grownups, this pajama set comes in all sizes, for newborns, toddlers, kids, even for your dog too. Kids will love the candy cane print that gets the holiday spirit going colorful. The material is of good quality, unique style, extra soft, and keeps the body warm and comfortable.
The thoughtfulness is of much appreciation in the design. These blanket sleepers have a full zipper for easy wear; all the kids' pajamas are flame-resistant. The microfleece fabric is of snuggle-worthy comfort whether you're sleeping or lounging. This pajama set gives a cute coordination style to the entire family to style this festive season.
7. Family Jammies Matching Holiday Organic Cotton Pajamas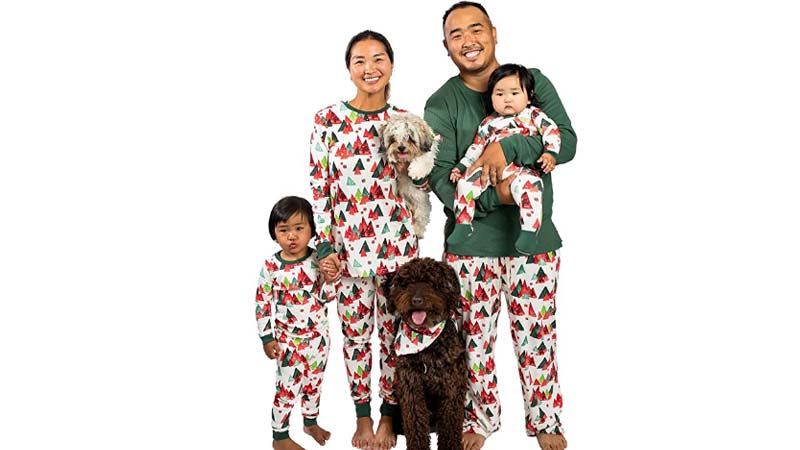 Need some matching family jammies for the family Christmas photo? Try getting this family Christmas Pajama set; it comes with hand-drawn prints. Fabric is breathable cotton, soft, and suitable for people who have sensitive skin. Christmas trees and snowflakes print make it perfect for getting clicked with your dog wearing a bandana; it's comfortable to wear even during day hours.
8. Christmas PJs for Family Pajamas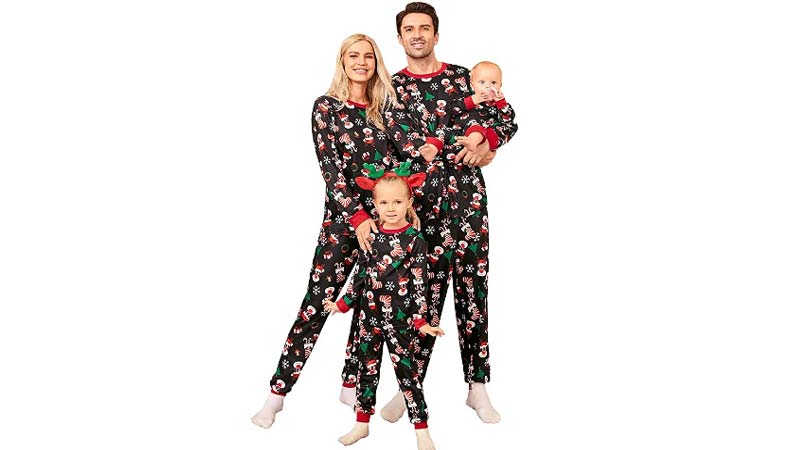 Get festive with this family matching outfit that comes in two different colors and prints. You pick either Christmas themed printed black pajamas or red/black checkered pajama sets for your family. Also, the neck and handcuffs detailing make this set special. This set comes for kids and is quite safely made, keeping things in mind for children's safety and growth. Children's sleepwear is a little loose-fitting; the fabric used is soft, warm and the garment provides snug fitting. What makes this pajama set even more appealing is the choice of colors.
9. Red and White Family Pajama Set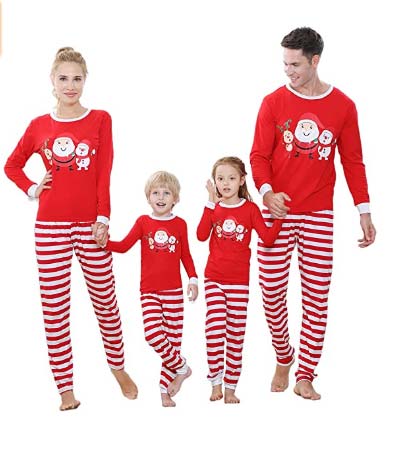 This Red and White Pajama set gives an adorable festival look. The cartoon patch in the middle makes it even more attractive. The red and white stripes in the pants provide a unique design to the set. Moreover, since it is not like a traditional print, you can wear it anytime. The long sleeve shirt comes with an elastic hand closure which helps to prevent winter breezes. These super-soft, comfy, breathable, and skin-friendly Christmas PJs for the family are made from 95% cotton, 5% spandex blend fabric. Although you can get more style and color options from this brand, I picked this red and white family pajama set.
10. Matching Family Christmas Deer Plaid Xmas Pjs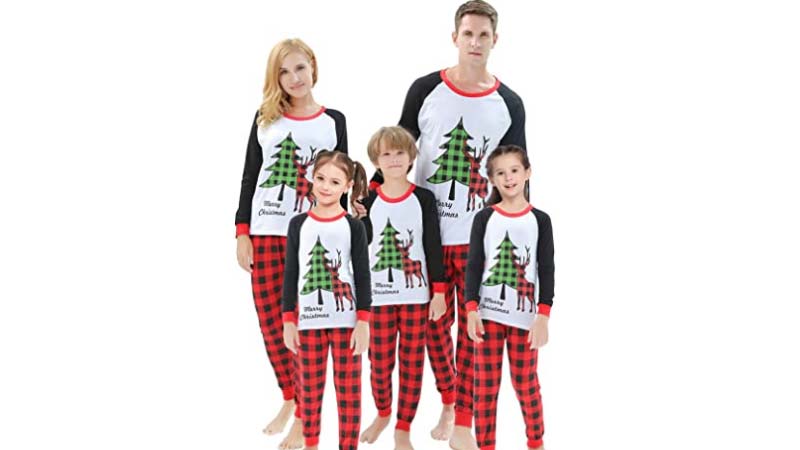 Comes in sizes for all family members; these matching Pjs are a picture-perfect look during the holidays. Festival, holiday-inspired design, reindeer, and Christmas tree patch make these PJs perfect for Christmas day. Made with organic cotton that's woven and double-brushed for an impeccably warm and soft feel. Moreover, the checks and cross design in the pants are attractive. The family set comes for a pet as well. The merry Christmas patch on the shirt makes it a must-buy for this Christmas season.
Christmas is a time to celebrate, Unite, and engrave many memories on each of our hearts. It brings happiness to the family. Make sure you tend to enjoy every bit of it. It is time to share happiness and present gifts to each other. Consider the 10 Christmas pajamas outfits above before buying the perfect one for you.
Also Read: If you are a woman who loves tech, there are hundreds of tech gifts for women available in the market for you to enjoy.