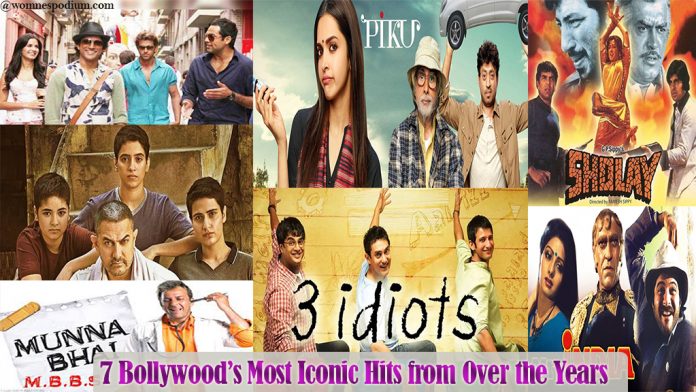 Usually, Bollywood movies are a major hit or miss. Some of them lean on nonsensical dialogues, clichéd plotlines, weak acting abilities, and cheap, slapstick comedy. Movies like these boast of a star-studded cast to attract the masses but are often only worth a one time watch. However, some Bollywood movies are so well executed that one can enjoy watching them over and over with the same enthusiasm.
Such gems are rare, but they are surely present. The casting ensemble is subtle and more suited to the script rather than trying to fill the movie with well-known names just for a greater box office collection. Dialogues are well placed and possess a sense of normalcy to them rather than being over the top and dramatic. The direction is accurate and to the point. With all of this in the mix, we are bound to get a movie worth watching multiple times over.
Here are 7 Bollywood movies you can enjoy watching multiple times over:
1. Sholay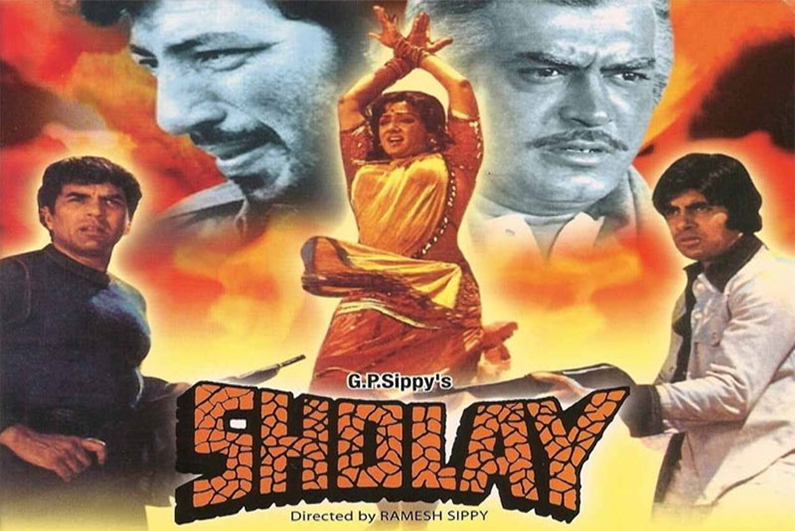 Year: 1975
Director: Ramesh Sippy
Star Cast: Dharmendra, Sanjeev Kumar, Hema Malini, Amitabh Bachchan, Jaya Bhaduri, Amjad Khan
Available to stream: Amazon Prime Video
This 1975 retro gem is one of the best-known movies and super iconic in the purview of Bollywood, and rightly so. A crime masterpiece, the story follows two best friends Jai and Veeru, who are involved in petty crime. They are hired to help a retired police officer by the name of Thakur to catch the notorious Gabbar Singh, a dacoit spreading chaos in the village of Ramgarh. The storyline sounds riveting already, doesn't it?
Sholay quickly gained popularity and continues to be a symbol of one of Bollywood's most iconic films. It also is responsible for fast-tracking the careers of the Big B, now Bollywood's biggest celebrity. Sholay can be an easy watch for a family movie night, with the children being interested because of the amazing storyline and the parents getting nostalgic over how much this movie has affected all of the generations that have passed by without them even noticing.
2. 3 Idiots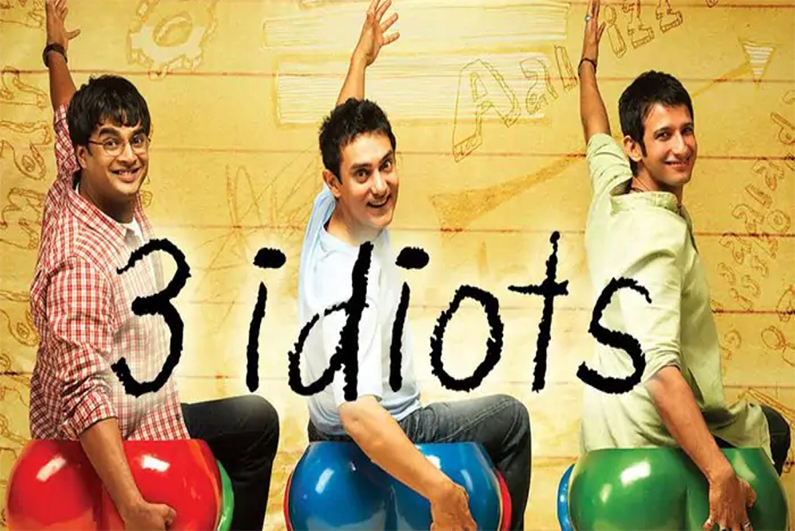 Year: 2009
Director: Rajkumar Hirani
Star Cast: Aamir Khan, R. Madhavan, Sharman Joshi, Kareena Kapoor, Boman Irani, Omi Vaidya
Available to stream: Netflix
3 Idiots was revolutionary during its time and attempted to reveal the reality of our marks oriented education system all the while poking fun at growing up. 3 best friends meet in college but slowly grow out of touch as life takes them on different parts. However, a bet made on a drunken night reunites them unexpectedly, revealing secrets kept since the very beginning.
While the plot synopsis may sound a bit too mysterious, the actual movie focuses more on the childhood nostalgia and fond college memories. It also brings about important messages about the educational system, career options, and the unexpectedness of life. 3 Idiots never gets old, no matter how many times you watch it and it's probably because of Aamir Khan's charm as the lead or a gripping direction by Mr. Rajkumar Hirani. All in all, it's a strong film to watch, with underlying social messages and well placed situational comedy. But prepare to get super nostalgic about the good old days that have long passed by!
3. Piku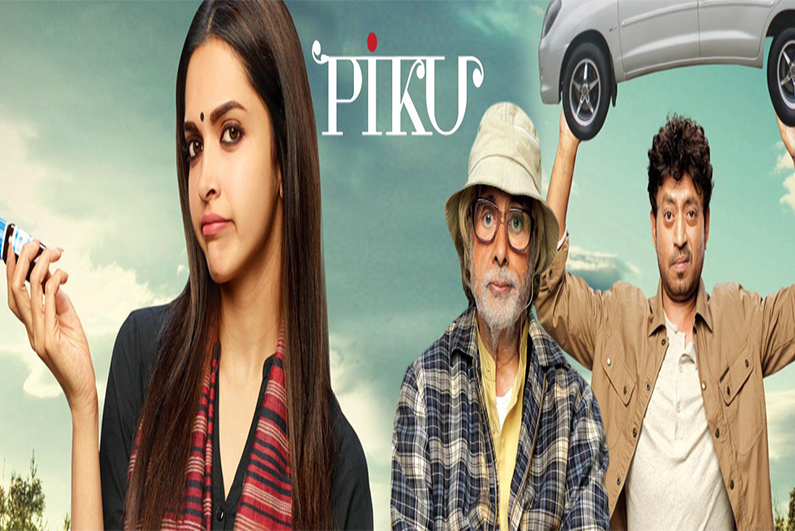 Year: 2015
Director: Shoojit Sircar
Star Cast: Amitabh Bachchan, Deepika Padukone, Irrfan Khan
Available to stream: SonyLiv
An underrated gem, with a star-studded cast with the likes of Deepika Padukone, the late Irrfan Khan, Mr. Amitab Bacchan, and many more, Piku is a breath of fresh air against mainstream cinema. With a relatively simple storyline, Piku appeals to the brain's emotional side heavily. An aging old man with a far too serious daughter is always at odds with one another. However, an impromptu road trip to Kolkata proves to be a bonding moment between the two.
Shoojit Sircar works his magic yet again with this sweet but simple film. Nothing is over the top, with simple sets, costumes, and acting. Which is exactly what the script needs. If you expect to see flashy set designs, premium locations, and intricate costumes, this isn't the film for you. It's just a story about the most ordinary life told in an extraordinary way. It works its way slowly, but that's the beauty of it all and the pace is after all, what makes the movie as impactful as it is.
4. Dangal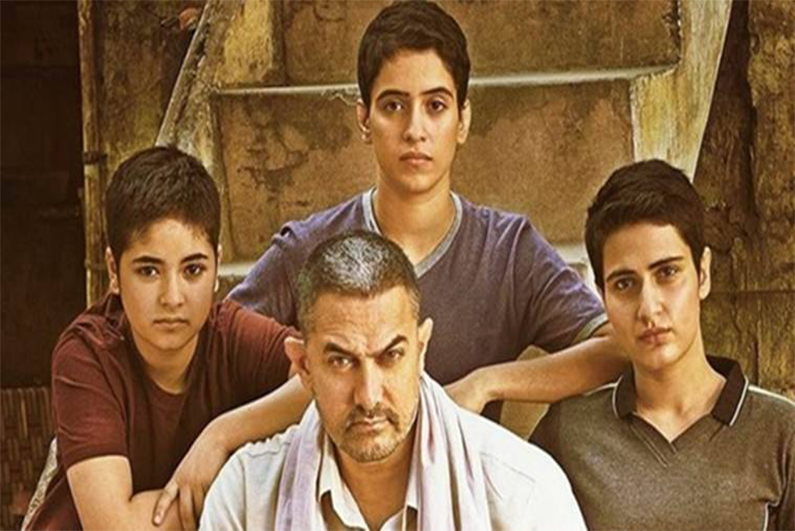 Year: 2016
Director: Nitesh Tewari
Star Cast: Aamir Khan, Sakshi Tanwar, Fatima Sana Shaikh, Zaira Wasim, Sanya Malhotra, Suhani Bhatnagar, Aparshakti Khurana, Girish Kulkarni
Available to stream: Netflix
Sport Bollywood movies are often dramatized, and unnecessarily stylized, and therefore, the root essence of it all is sucked out. Dangal does the exact opposite by saturating the entire film with sportsman spirit and does not refrain from showing the exact hardships one goes through to be the best, rather than only focusing on victory and glamour.
Mahavir Singh Phogat is a former wrestler with a big dream for his daughters; a national-level gold medal. Despite the taboo on women in sports and societal pressures, the father-daughter trio goes against all odds to achieve their dreams. Amir Khan does magic in his role, as we see him as a young wrestler with stars in his eyes, to a proud father cheering from the sidelines. Why Dangal is different from other sports movies is because despite the plot being predictable, the storyline still manages to grip you and even though the topic is highly serious, it does not lose its comedic element. The film also does not shy away from showing how young athletes may lose their way sometimes, and that they always need the right guiding light to direct them.
5. Zindagi Na Milegi Dobara
Year: 2011
Director: Zoya Akhtar
Star Cast: Hrithik Roshan, Abhay Deol, Farhan Akhtar, Katrina Kaif, Kalki Koechlin
Available to stream: Amazon Prime Video and Netflix
A personal favorite, this movie is fun, tastefully dramatic, and a definite must-watch during the lockdown. A highly awaited bachelor trip reunites old best friends Imraan, Kabir, and Arjun as they overcome bad blood, fall in love, mend wounds, find windows to the past and ultimately, change their lives. The characters are intricate with distinct and well-explored background stories to keep the pace varied and gripping.
Set against the breathtaking backdrop of Spain, the movie paces slowly as the three boys discover who they really are and come to terms with their identity. On a surface level, Zindagi Na Milegi Dobara is all of this, but when you look closer you see how situational the whole film can become. All of the plot points that are of significant importance are so tastefully bound together that the film would have lost its flow with the absence of any. Of course, an added bonus is the languid compositions of the literary veteran Javed Akhtar, always managing to strike a chord deep in the heart, triggering emotions you never thought to be plausible.
6. Munna Bhai MBBS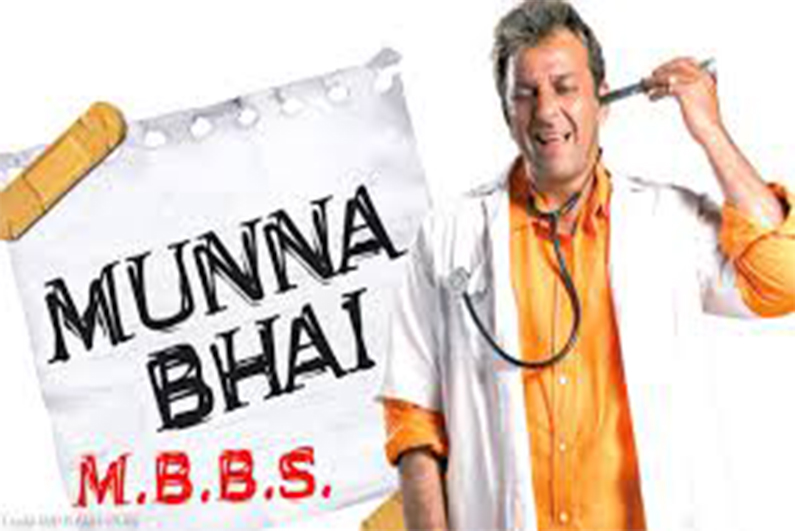 Year: 2003
Director: Rajkumar Hirani
Star Cast: Sanjay Dutt, Gracy Singh, Arshad Warsi, Boman Irani, Jimmy Shergill
Available to stream: Amazon Prime Video and Netflix
Another Rajkumar Hirani gem, Munna Bhai MBBS is a wacky comedy that never gets old. Munna is a typical goon with his trusty sidekick, Circuit. He decides to fulfill his father's dream and enrolls himself in a medical school. Using less than optimum ways to pass his exams, the staff and hospital members soon realize he isn't as bad as he seems, and might just be the breath of fresh air the traditional college needs.
This was one of the Bollywood movies which highlighted Mr. Sanjay Dutt's comeback to the film industry. The only downside to this iconic film is that it may just be a tad bit too similar to the Robin Williams starred Hollywood movie "Patch Adams". However, the lack of originality is highly overshadowed by giving us some of the most iconic soundtracks, dialogues, and sequences that are referenced and recreated to this day.
7. Mr. India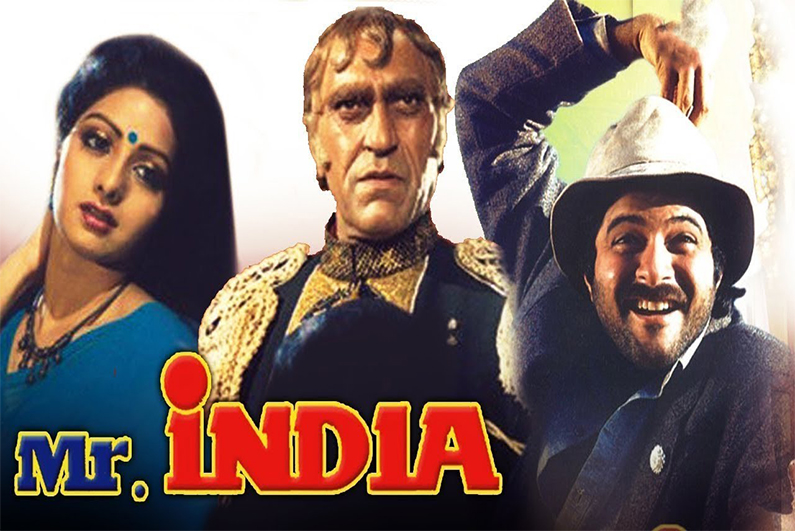 Year: 1987
Director: Shekar Kapur
Star Cast: Sridevi, Anil Kapoor, Satish Kaushik, Amrish Puri, Annu Kapoor
Available to stream: Currently unavailable to stream
Another iconic retro gem, Mr. India is one in the list of many iconic films that Mr. Anil Kapoor gave to the Indian film industry. Arun creates an alter ego by the name of Mr. India by using a special watch that helps him turn invisible. While initially, it is all in fun and games, things quickly turn serious as a gangster sets his sights on Arun's beloved orphanage.
Mr. India is a well-known Bollywood movie amongst adults and children alike. The villain in the film, Mr. Amrish Puri's eccentric character Mogambo, gave us some of the most iconic dialogues and looks the part of the Bollywood industry, easily recognizable everywhere. It also has great songs and even though the acting may be a bit too dramatic, a highly engaging plotline quickly covers up any flaws you can see.
With the quality of cinema declining over the years, Turing back to classics is always fun, because no matter how many times you watch them, they never get old. However, in times like these, when you really want to explore options and find a new watch that you're sure to love, look towards indie titles and you'll be sure to find some hidden gems that never got the spotlight they deserved. For more such movie recommendations, check out @scene.ematic on Instagram and Twitter, for your daily fix of all things cinema.