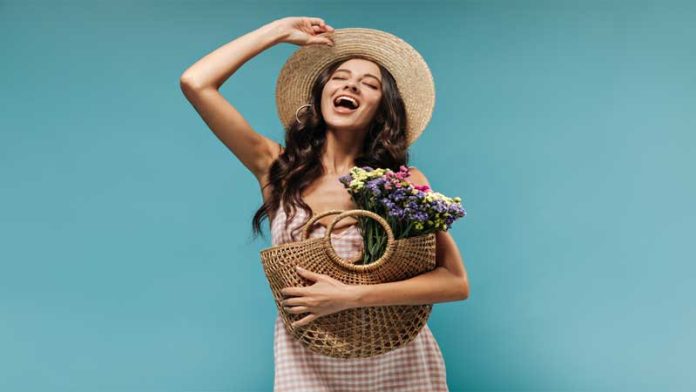 Summer and spring bring with themselves a lot of beautiful memories, and every time the season hits, we are all ready with our beautiful summer or spring outfits. Accordingly, to make an outfit complete and get perfect attire, we choose a handbag that can go with our outfit. Straw handbags have been everyone's favorite pick when it comes to refreshing a summer or spring look. Looking at the insights, they are not just aesthetic. Still, their natural material gives us a variety of options to choose from. Beyond that, its detailing and structured pattern make it unique. Similarly, what makes straw handbags even more special are their distinctive handles which give them a very chic look. Summers and spring bring a colorful joy to each one of us moreover, when it comes to outfits and straw handbags.
Not to forget the important roles of handbags, I quote- "New Handbags are the instant bad day cure."
Hence, below mentioned are ten exceptionally gorgeous straw handbags:
1. Beach Sea Straw Rattan Cami Tote Bags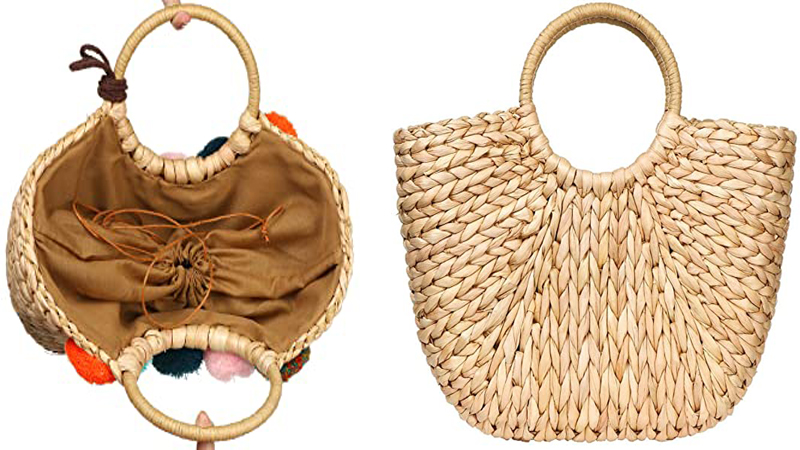 These are handwoven women's straw tote structured bags that give a beach vibe altogether. This extraordinary handmade straw beach bag is made of high quality pure, durable natural straw, high-grade rattan woven material. Additionally, its bold detailing and small handle design make it one of the best styling handbags. Also, this summer bag has enough room for your stuff for travel and daily necessities such as a wallet, glasses, cell phone, cosmetics, cards, MP3 player, and other necessary things. Large cami bags are perfect for many occasions such as beach, party, shopping, hiking, camping, dating, or just as an everyday bag. In addition to this, you can also style this bag with floral summer and spring outfits.

2. Straw Envelope Beach Clutch Purse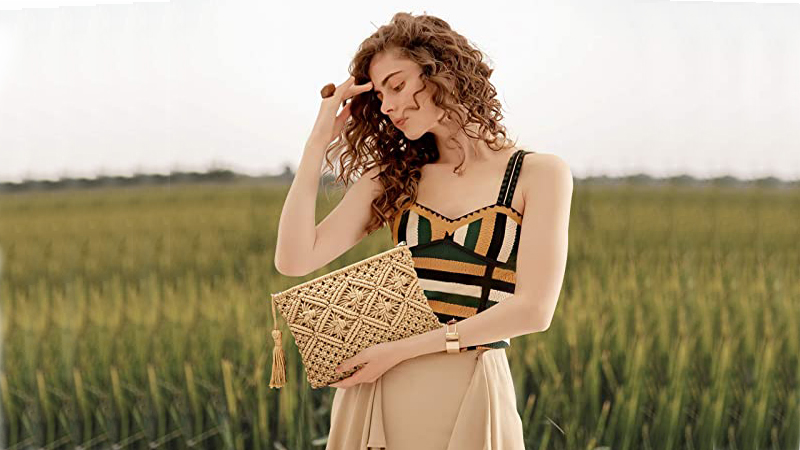 Don't want to carry a large or big handbag, try this eye-catching, trendy envelope adorable and versatile clutch. Although it might look like a makeup bag, it is large enough for a wallet, cell, and mobile phone. This clutch is perfect for evening outings and to try out during summer. It has a secure, zippered closure, fitted with a small yet heavy-duty zipper, and you can keep essentials tucked. Also, as it is made from cotton macrame cord, you could easily dye this one to match any outfit or even dip-dye would look amazing.

3. Girl-on-Vacation Bucket Straw Bag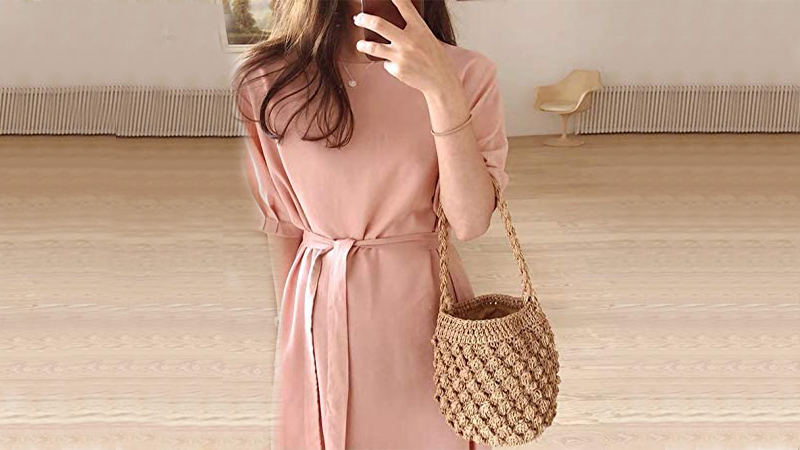 Handmade of natural grass, this straw woven bag is the perfect combination of fashion and retro. It is an excellent choice to go to the beach or summer holidays. This unique bag comes in the shape of a bucket or instead of a basket, and this gives an elegant vintage straw bag look. You can add a scarf to the handle of this bucket straw bag to make it look even more aesthetic. Although the bag is small and light, it can store daily necessities, mobile phones, lipsticks, mirrors, perfumes, sunglasses. You can clean it with a soft brush or wipe it with a damp cloth.

4. Straw Zipper Small Cross Body Bag Wristlet Clutch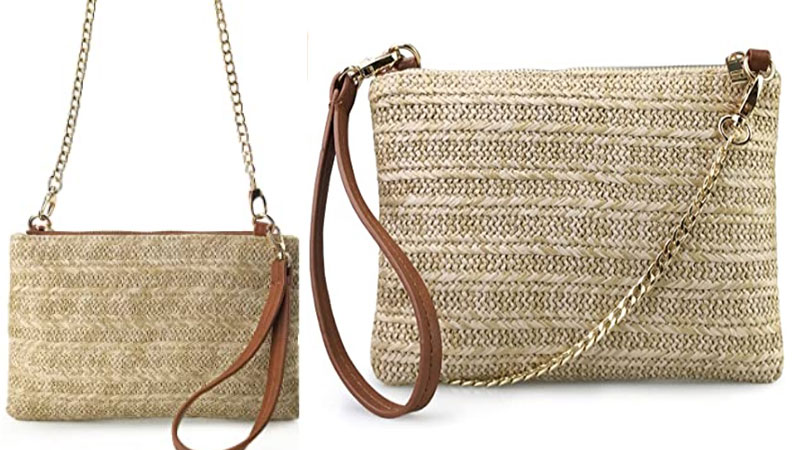 This vintage straw crossbody with wristlet comes with zippered compartments and pockets with two slip pockets, also includes a detachable, full leather shoulder strap. The detachable wristlet gives you three carrying options: crossbody bag, shoulder bag, large clutch. It is perfect for travel; if you need an evening cross body or use it with just the wrist strap, you can take off the chain and carry it alone as a small clutch. It is large enough to hold a larger phone, a small wallet, some of your cosmetics, and a pair of sunglasses.
The trendy chain strap bags grab our attention when buying this handbag. Wristlet straw bags are easy to carry and look salient in a crowd. Wrist bags have been relatively standard, but these straw bags give the old yet classic wristlet handbags a completely revamped look. The chain detailings make the bags a little modern, and the straw makes it go back to our roots of aestheticism, which is a great combination altogether.

5. Vintage Straw Bag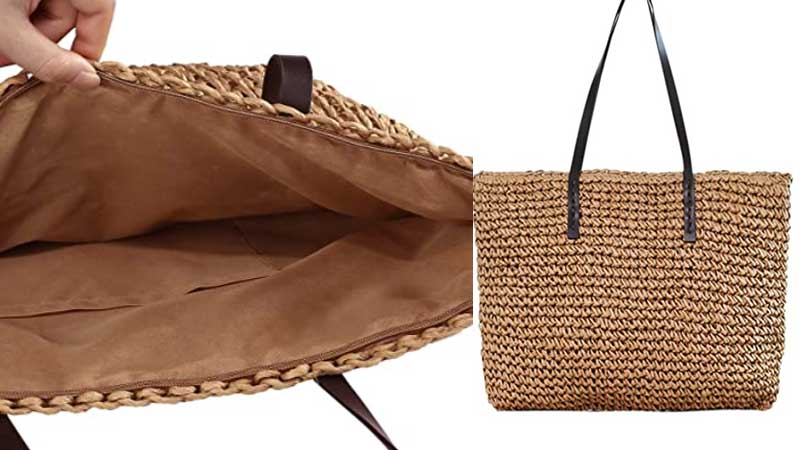 This vintage and the most in-demand handwoven straw bag comes with top zipper closure, one inner pocket, and a beautiful leather-look PU shoulder strap to enhance its detailing. Secondly, what makes it even more remarkable is its shape and how well executed the handle fits in. It has a large capacity to hold a phone, wallet, camera, water bottle, sunglasses, cosmetics, folding umbrella, foldable hat, beach mat, and other personal belongings. Further, it is versatile enough to be used as a shoulder bag, handbag, or totes for summer beach, resorts, travel or casual daily—also a perfect gift item for your mom, daughter, girlfriends, and other female friends. Vintage shades are everyone's all-time favorite, and hence they add an element to our whole outfit through their graceful aesthetic shades and designs. 

6. Handwoven Round Rattan Bag Shoulder Leather Straps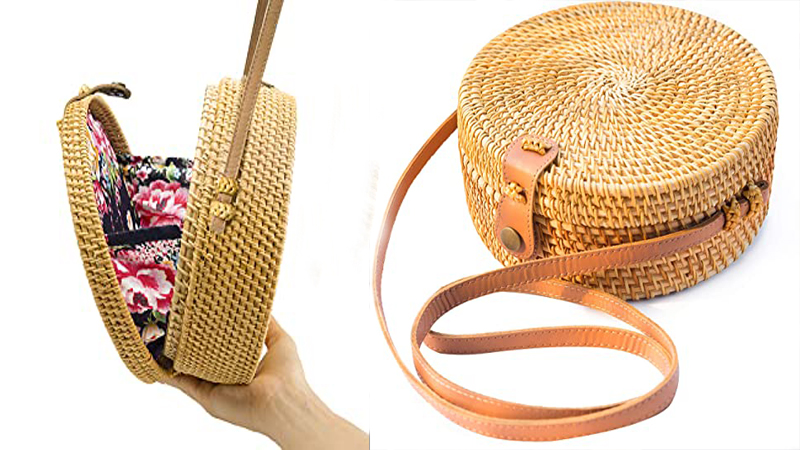 This round rattan straw bag comes with a unique round shape with precise detailing and is thus everyone's go-to summer bag. Eventually, round bags have been exploring the world with their narrowed yet beautiful variations in the design; plus, they can be styled up with every outfit to make it look flawless.
This classic handbag comes with a circular pattern detailing and a rigid base to avoid letting it slide down even if kept aside. This eco-friendly trendy rattan bag is best for fashion lovers for summer beach or daily use. What attracts you the most is its round-shaped design that features a strong magnetic snap closure, a fully adjustable strap, and a small pocket inside enough for holding your money or passport cards. It is large enough to hold the biggest phone such as the XS iPhone Max, sunglasses, small books, wallet, accessories, and other necessities. These bags are a cherry on the top when we style them with polka dots vintage look outfits since they match the entire vibe. Besides, these bags will be a great idea as a small birthday gift for the ladies you love.

7. Large Straw Tote Bag Women's Handbag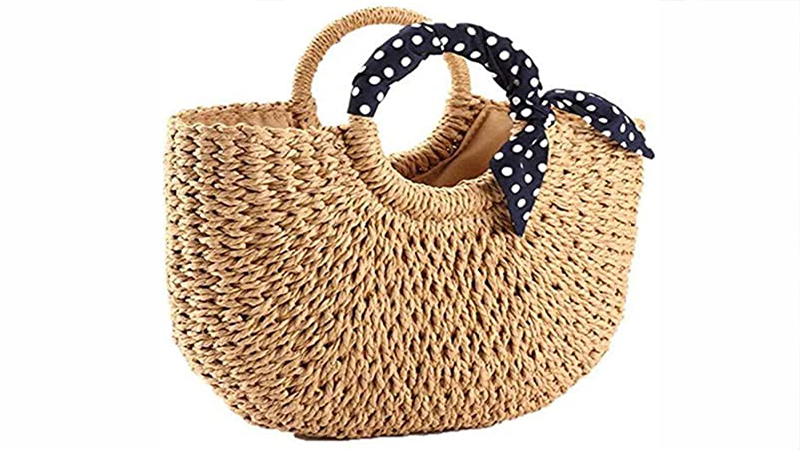 This can be your most perfect vacation bag; though it's not a huge beach bag, you can still put your iPad or laptop accessories as well as sunscreen, cellphone, and a small towel in it. Although being in large size, this isn't used much daily; you can use it while traveling or for a day out. This tote bag is handmade, made of natural straw fiber, and is quite unique and chic. Pair it up with a flared summer outfit to match your vibe and the flawless outfit execution.

8. Designer Straw Fishing Shoulder Bag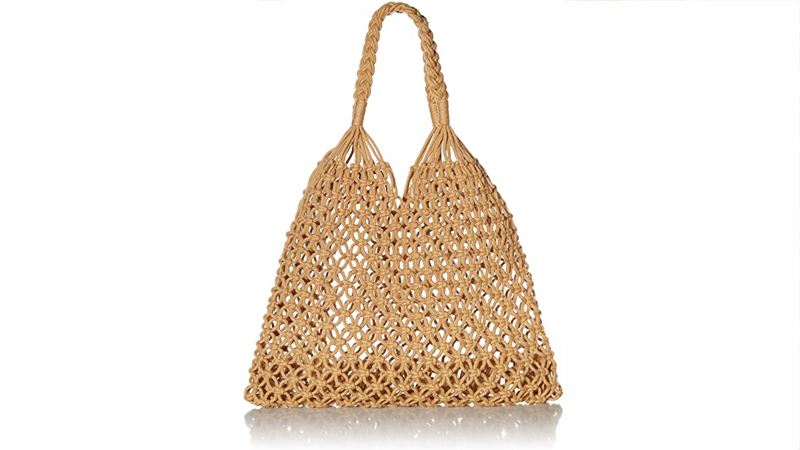 This lovely woven fishing net straw shoulder bag is lightweight, soft, and quite comfortable to carry for any occasion such as summer beach parties, shopping, hiking, camping, dating, or just as an everyday bag. Also, it can be a perfect chic gift for women around you. It is pretty spacious. You can keep your mobile phone, wallet, wallet, cosmetic bag, sunglasses, even an umbrella pretty easily. Furthermore, the bag's handle detailing adds to the bag's uniqueness. The design of the hollow beautiful fishing net is quite attractive. As it's appropriate for a beach party, a date, or even shopping, it would appear stylish when paired with flowery summer dresses.

9. Moon Shaped Straw Bag Large Woven Summer Beach Tote Handbags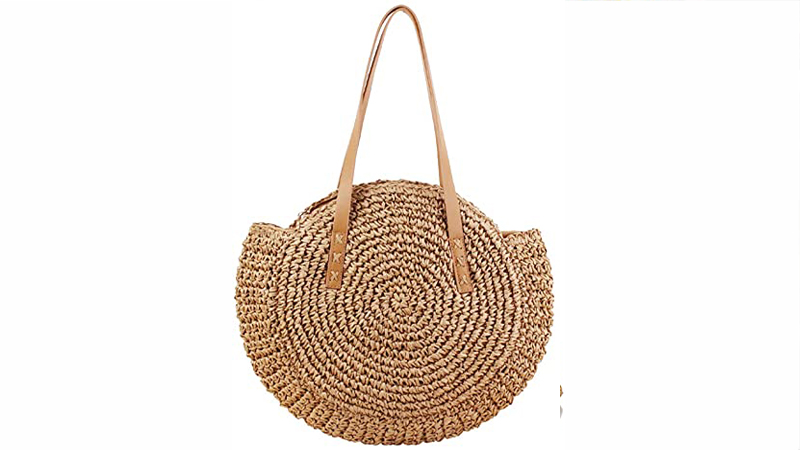 Moon shaped accessories are super cute and deserve all our love and affection. Especially when it comes to handbags, moon-shaped straw handbags are quite beautiful. And the newest fashion bag to match your clothes is every princess' dream, from its shape to structural detailing and perfection to its toughness. Moon shaped straw bags are exceptional. The straps add beauty to the shape by going with the flow of the outfit. However, moon straw bags are tough to find but should be in everyone's closet for a perfect collection.
Suit for all seasons, especially summer, this round-shaped classic and environmental beach straw bag is made of natural handwoven straw with safe zipper closure, leather shoulder straps, and an interior pocket. It's round blooming moon-shaped casual style design makes it look unique and fashionable. The tote shoulder bag has enough room for travel and daily necessities such as a wallet, glasses, cell phone, cosmetics, cards, iPad, and other utilities. And is perfect for any occasion such as beach, pool, spa, party, shopping, hiking, camping, dating or just as an everyday bag.

10. Hand-woven Mini Retro Rattan Handbag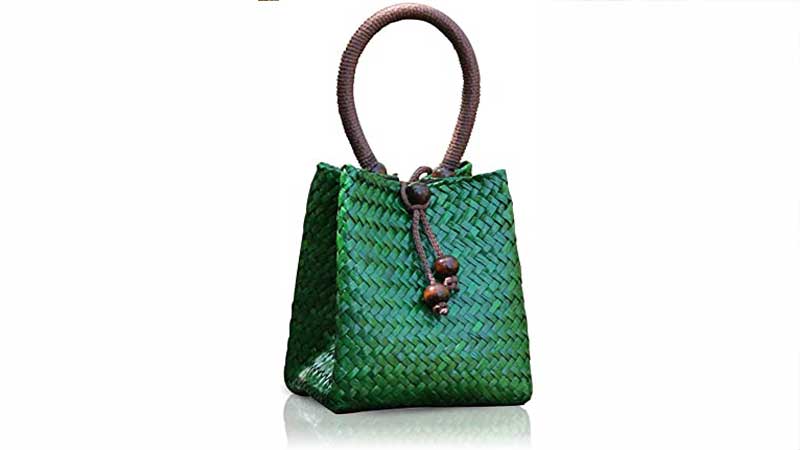 Mini straw bags look extremely cute and fit with any outfit we style them with. Yes, They don't allow us to put more things in them, but they give a very classy look every time we carry them. Besides this, the different variations that we can pull off with this mini rattan bag are equally important. We can either style it with beach outfits from flares to the bodycon suits or style them when heading towards our brunch dates. This mini green retro rattan handbag gives air permeability and is quite strong, and the overall look gives you a refreshing feeling. Designed with a wave pattern, wooden beaded tassel, and retro color, this unique fashionable bucket-shaped straw bag is easy to use and can accompany you in simple leisure or shopping. 

Every outfit comes out well when we carry the confidence within us with a perfect smile. Hence it is a foremost priority to make sure you look great and cozy with what you choose. But what is equally important is how we style ourselves so that we are comfortable in everything we wear and simultaneously how we carry ourselves during that course. 
Summer and spring bring a lot of excitement and joy to them, from roaming around to chilling with friends and making plans for going on a vacation to executing it. Summer makes all of this very special and happens with its added advantages or special outfits and handbags. Even when we follow the trends, especially these straw handbags mentioned above, we should be very precise while selecting them since each bag goes with the desired outfit.
Also Read: Sense of fashion resides in every woman's mind all the time, but sometimes a slight fashion mistake turns into a disastrous wardrobe malfunction.