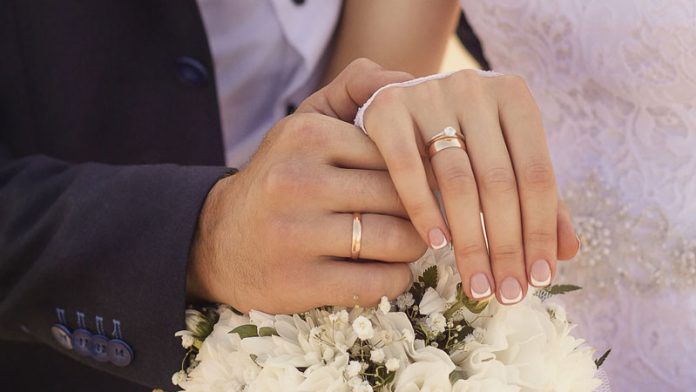 Quotes are one of the best ways to express feelings in a go, today we are sharing inspiring marriage quotes which is all about love and understanding. When two people find themselves compatible with each other, and moving forward wish to live together. They tie a knot called marriage to make their relationship official to be as man and wife.
It's All About Love and Care
Marriage, by all means, is the essence of one's life. There was a time when marriage was a mandatory affair, but now the time has changed. Everyone has their own perspective on marriage, for some, marriage isn't necessary, but for many, it means everything. Some want to live in an open relationship, while some want to grow old together. But the fact is marriage is all about understanding, compatibility, love, respect and care for each other.
25 Inspirational Marriage Quotes
In a nutshell, marriage is a beautiful bond which must be preserved with care, love, compassion, sacrifice, respect and understanding. Let's celebrate the essence of marriage with these 25 inspirational marriage quotes about love and understanding.
By all means, marry. If you get a good wife, you'll become happy; if you get a bad one, you'll become a philosoper.

— Socrates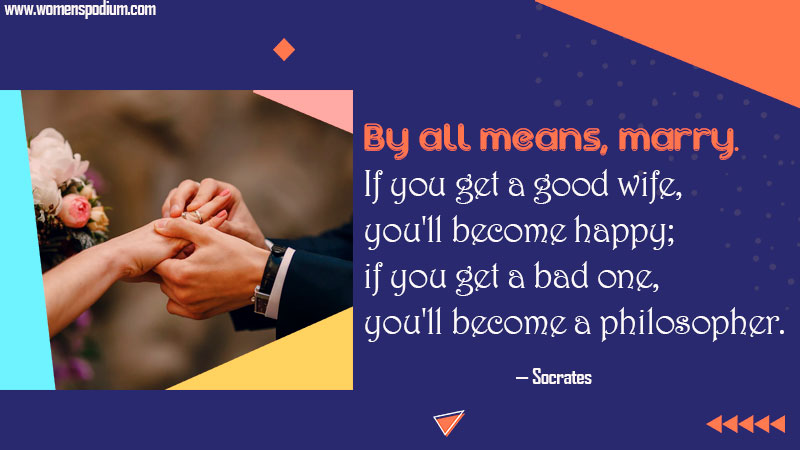 There is no such cozy combination as man and wife.

— Menander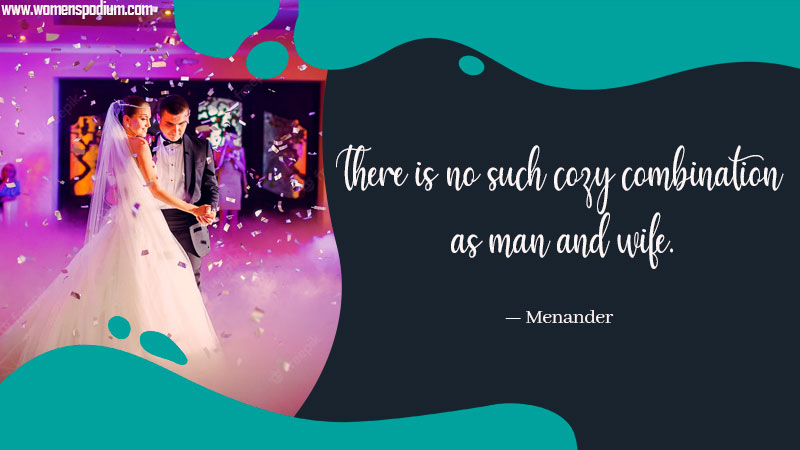 Weddings are important because they celebrate life and possibility.

— Anne Hathaway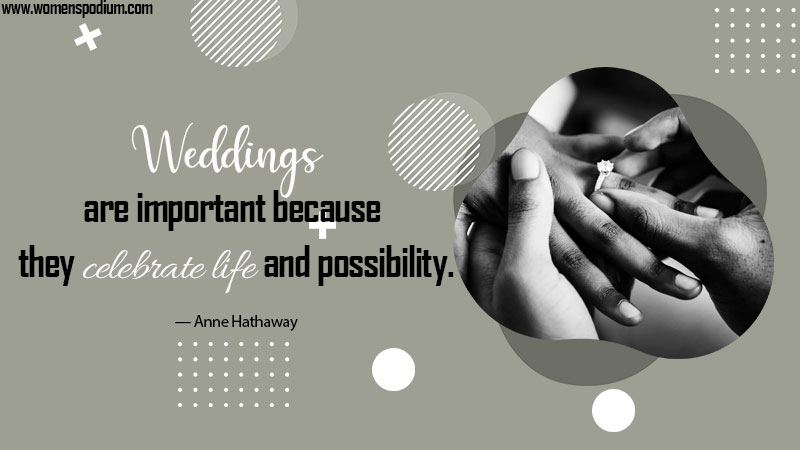 A good marriage is one which allows for change and growth in the individuals and in the way they express their love.

— Pearl S. Buck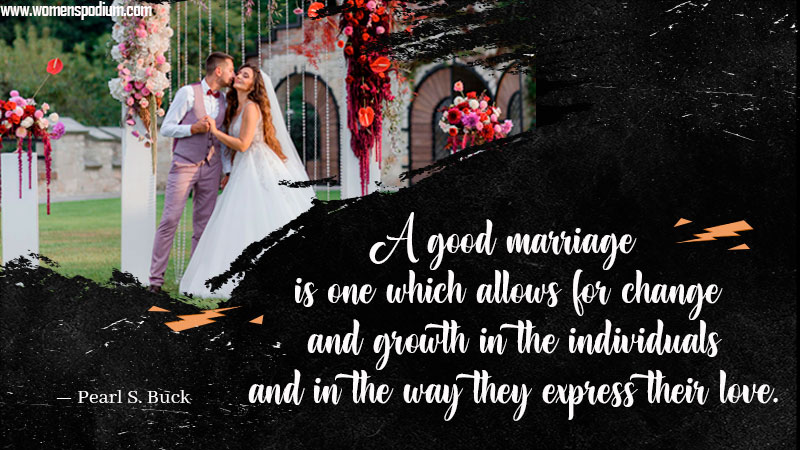 Marriage is not kick-boxing, it's salsa dancing.

— Amit Kalantri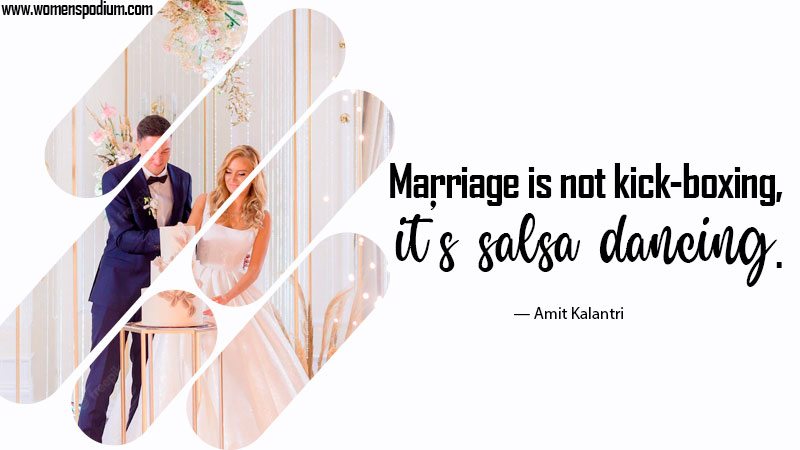 A successful marriage requires falling in love many times, always with the same person.

— Mignon McLaughlin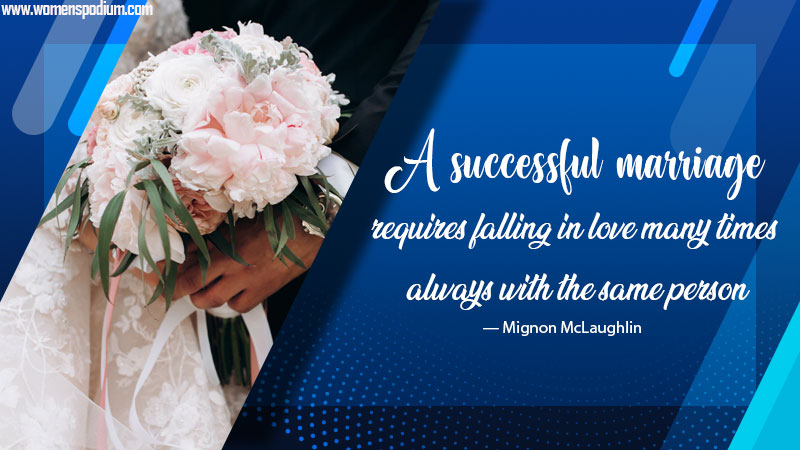 A great marriage is not when the 'perfect couple' comes together. It is when an imperfect couple learns to enjoy their differences.

— Dave Meurer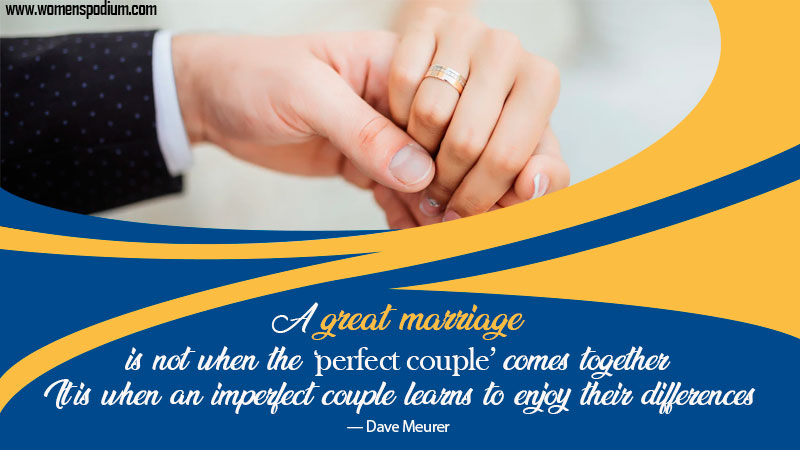 Marriage is not about age; it's about finding the right person.

— Sophia Bus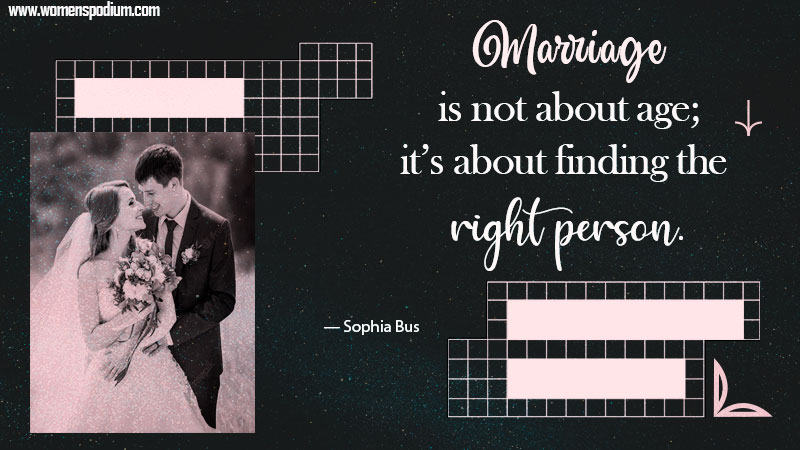 It is not a lack of love, but a lack of friendship that makes unhappy marriages.

— Friedrich Nietzsche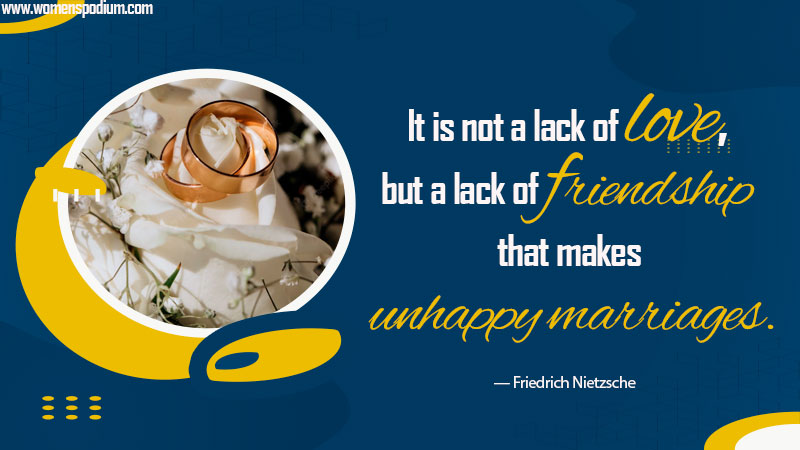 Experts on romance say for a happy marriage there has to be more than a passionate love. For a lasting union, they insist, there must be a genuine liking for each other. Which, in my book, is a good definition for friendship.

— Marilyn Monroe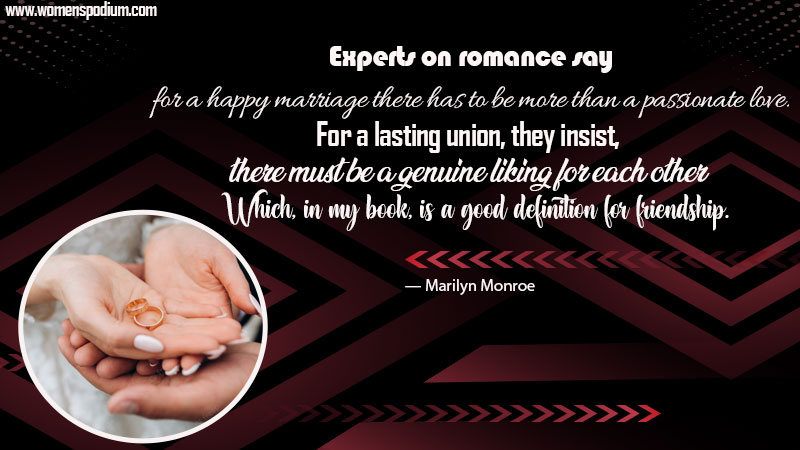 Many marriages would be better if the husband and the wife clearly understood that they are on the same side.

— Zig Ziglar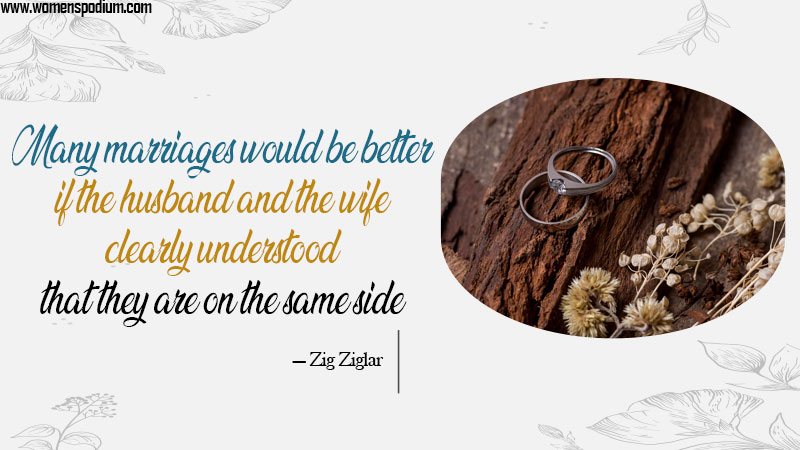 The great marriages are partnerships. It can't be a great marriage without being a partnership.

– Helen Mirren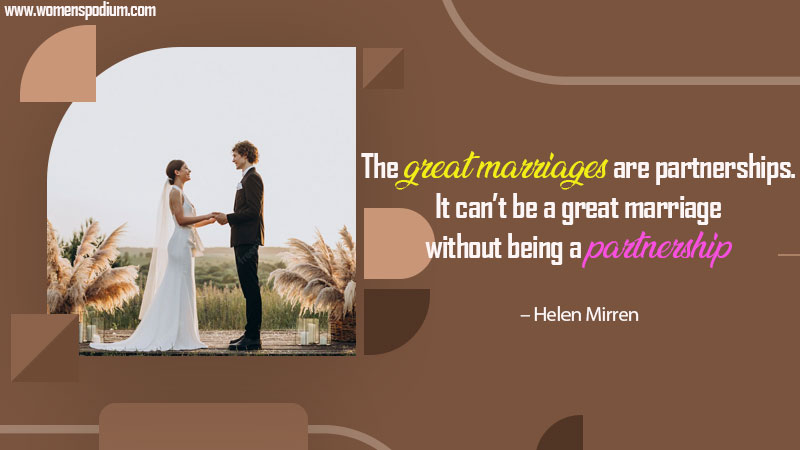 Marriage is not a noun; it's a verb. It isn't something you get. It's something you do. It's the way you love your partner every day.

– Barbara De Angelis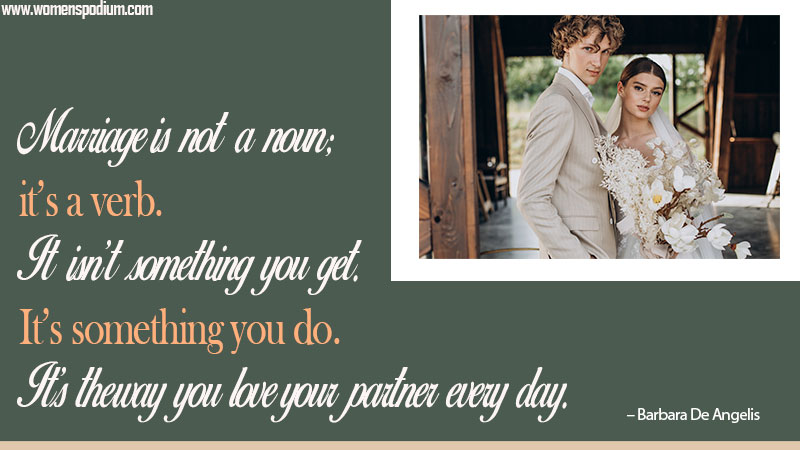 Marriage is a Roller Coaster Ride
It's that phase of one's life, which demands a lot from you, you can't go on living single and focussing on yourself. Marriage is a roller coaster ride; at times, you have to compromise, have to be compassionate to handle a challenging situation. Many situations can ask you to put back or hold on your priorities. Marriage indeed need to behold, ask you to sacrifice your many preferences and favourites. Still, if you are truly in love with your spouse, all the challenging issues are diminutive, you have to let it go smoothly to live in comfort.
Marriage, ultimately, is the practice of becoming passionate friends.

– Harville Hendrix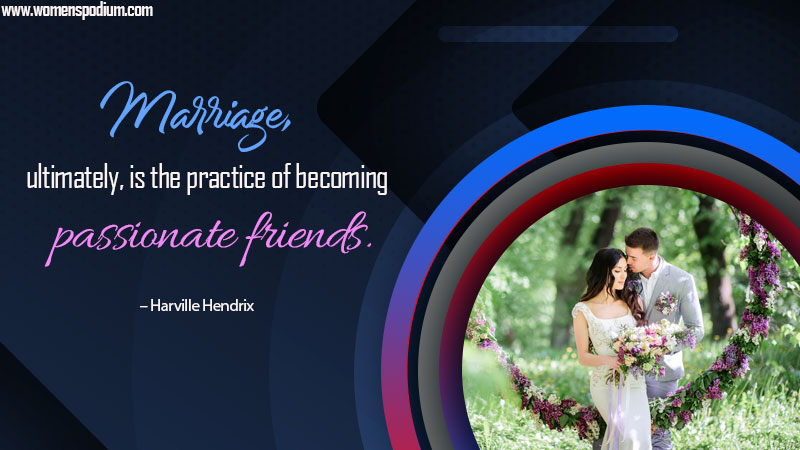 A good marriage is the union of two good forgivers.

– Ruth Bell Graham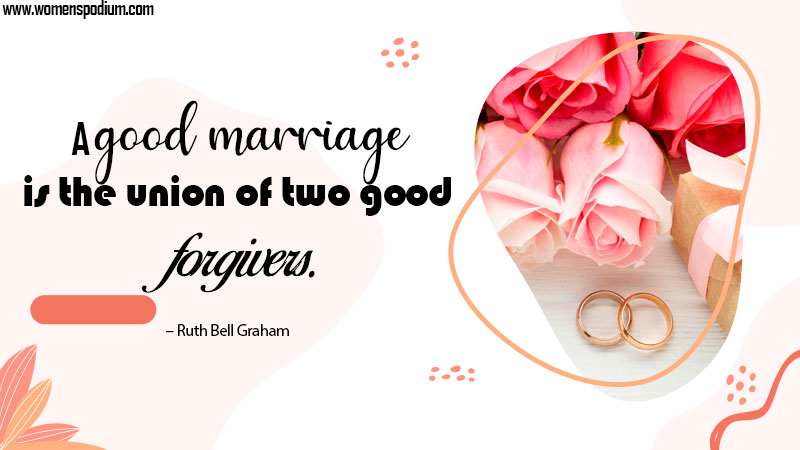 A good marriage is a contest of generosity.

– Diane Sawyer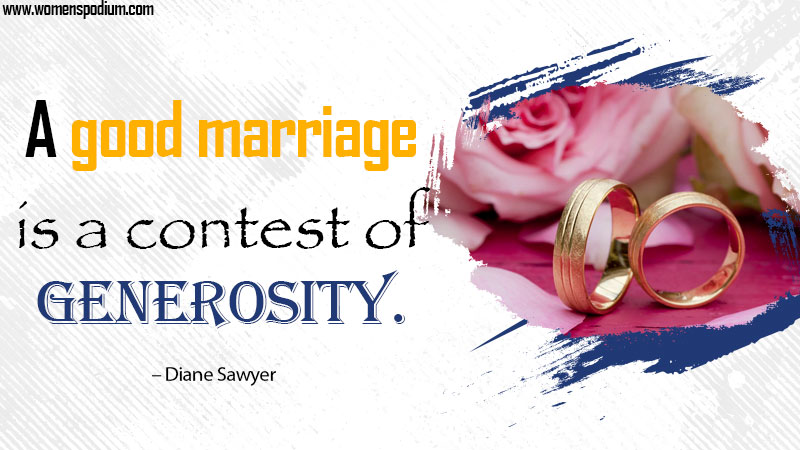 Marriage is like watching the color of leaves in the fall; ever changing and more stunningly beautiful with each passing day.

– Fawn Weaver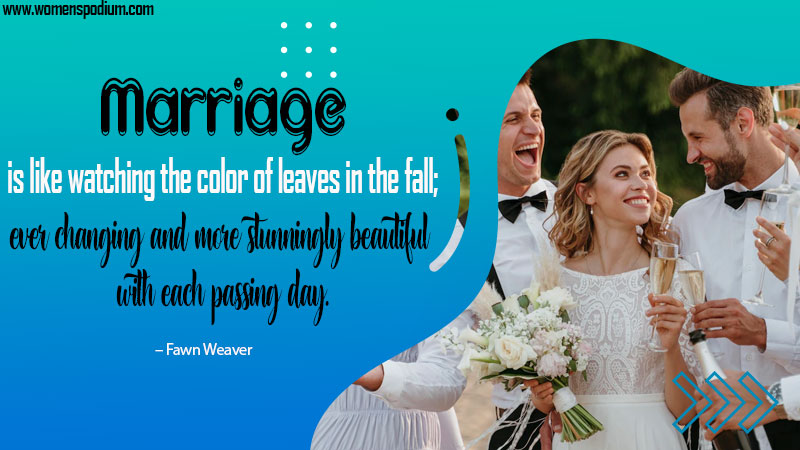 Happy marriages begin when we marry the ones we love, and they blossom when we love the ones we marry.

– Tom Mullen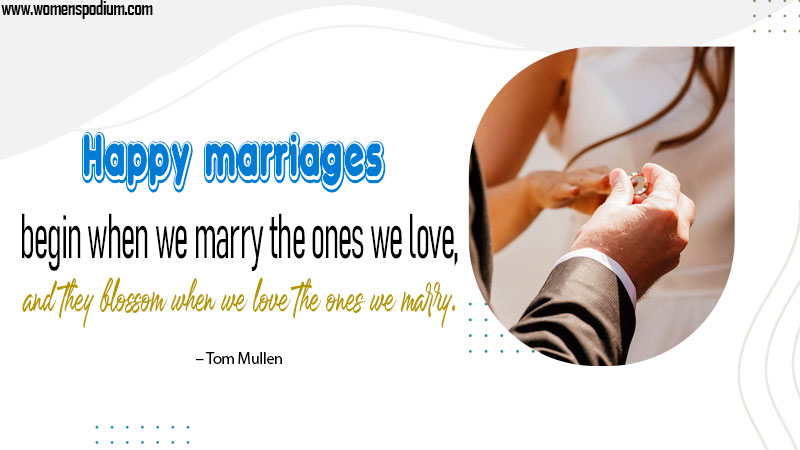 It is a truth universally acknowledged, that a single man in possession of a good fortune, must be in want of a wife.

― Jane Austen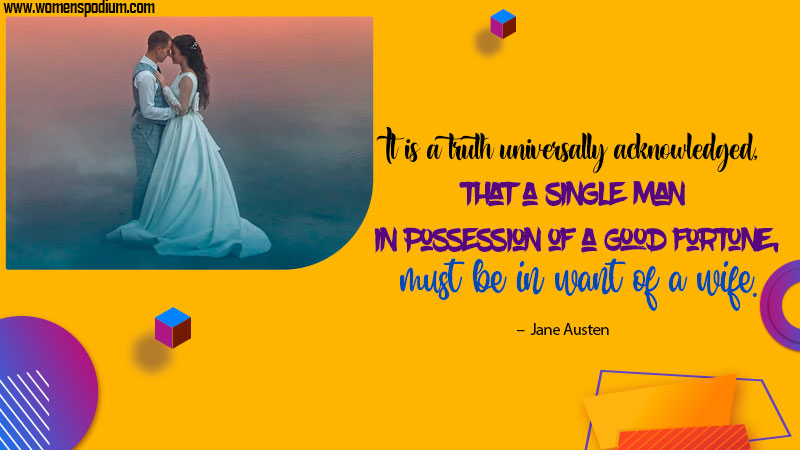 Marriage is an attempt to solve problems together which you didn't even have when you were on your own.

– Eddie Cantor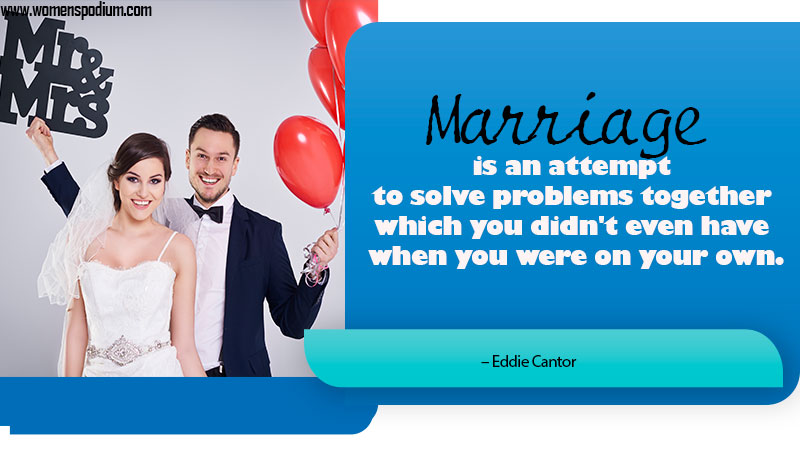 Love is moral even without legal marriage, but marriage is immoral without love.

– Ellen Key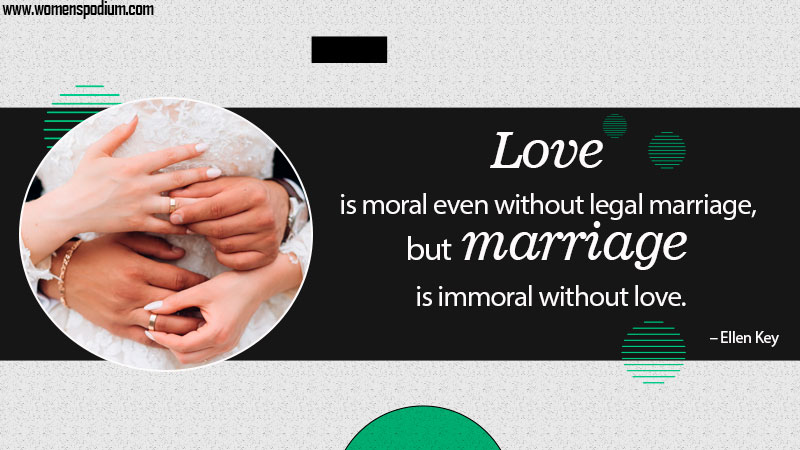 Love is often the fruit of marriage.

– Moliere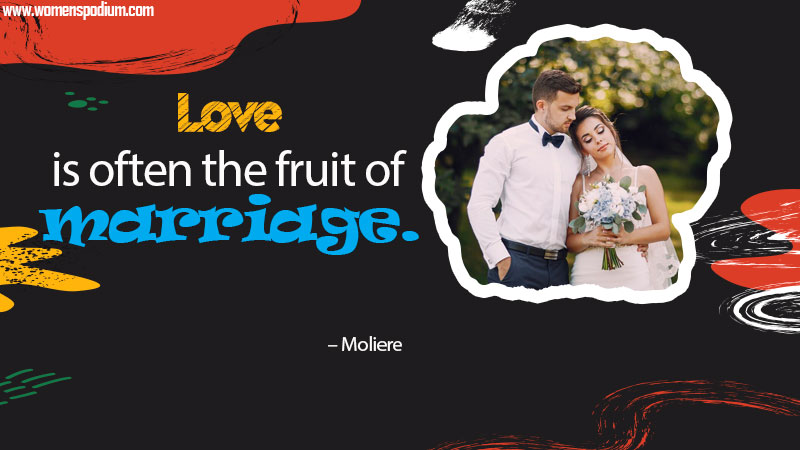 A successful marriage is an edifice that must be rebuilt every day.

– Andre Maurois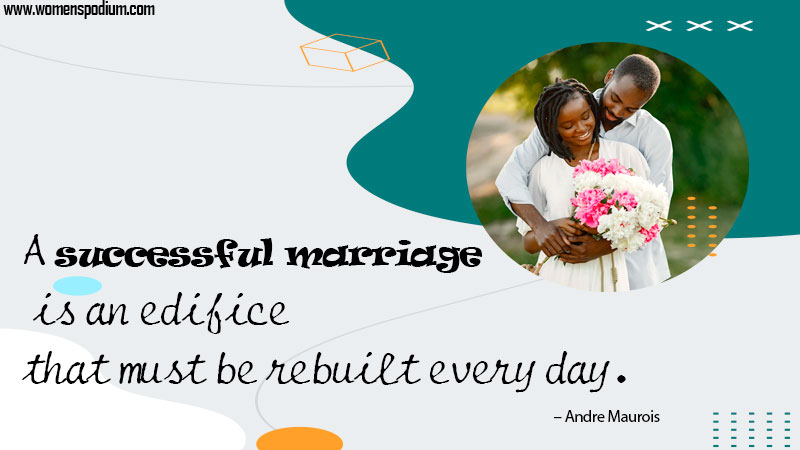 When a marriage works, nothing on earth can take its place.

– Helen Gahagan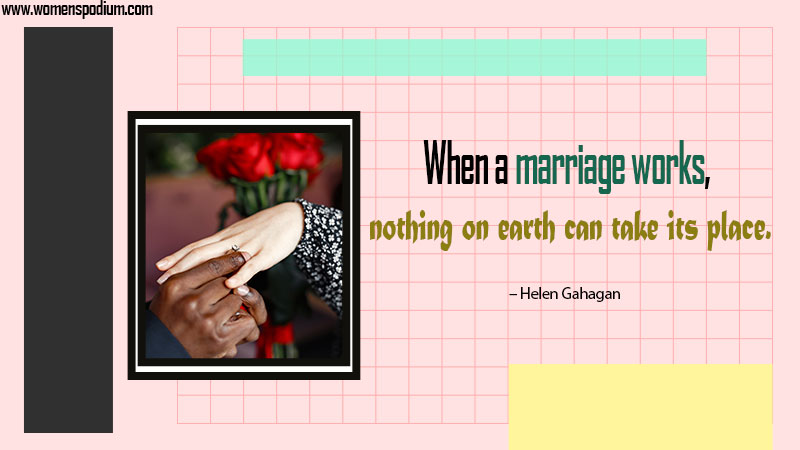 Marriage is miserable unless you find the right person that is your soulmate and that takes a lot of looking.

– Marvin Gaye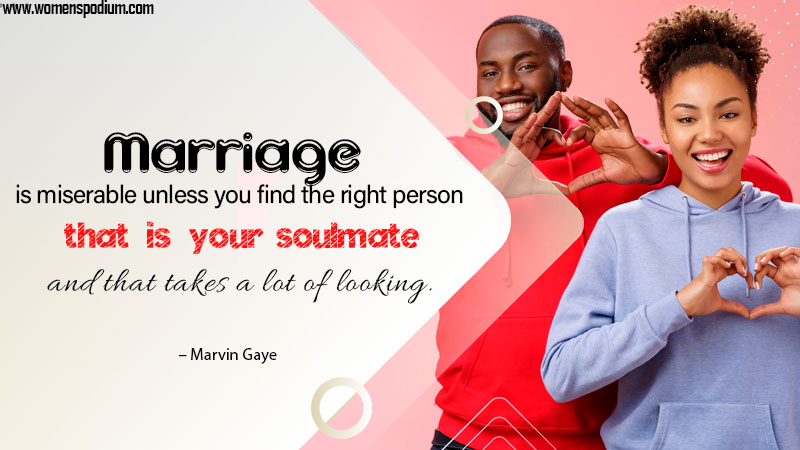 Also Read: Family is the one humane aspect that makes a house a home. And that's why we must know the true meaning of family.