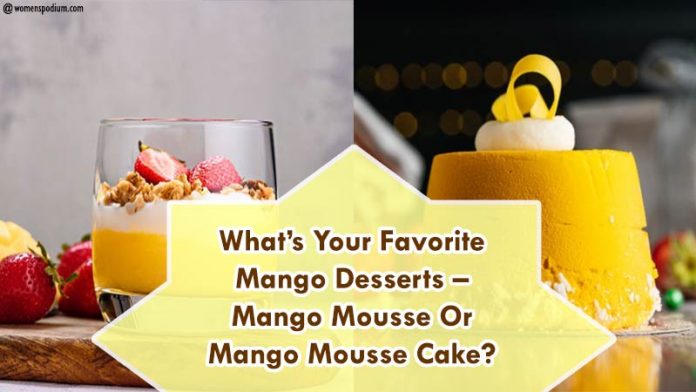 Mango is known as the king of all fruits. So, you can guess its rich taste. However, instead of having it raw, you can add your creativity to make some mouth-watering mango desserts. Mango mousse is an airy, ethereal dessert with a light consistency and refreshing taste. The airier it is, the better. But mousse cake is even better for sweet-toothed people because it is packed with double sweetness. Here are the recipes for both of these desserts.
Which Is Better – Mango Mousse Or Mango Mousse Cake?
When you make mango mousse, make an extra batch for the mousse cake. Both recipes use mango puree as the main ingredient, and the rest is just like any other recipe. Both of these mango desserts have a shelf life of up to 4 days in the refrigerator, and they can be refreshing summer treats for anyone. If you are thinking between mousse and mousse cake, we suggest you put in a little more effort and make mousse cake. Believe it or not, the mousse cake will be your hard-earned success, and you will love it.
Also Read: Here is another fun summer recipe of fruity mocktails for summer, if it seems interesting for you to try!
Mango Mousse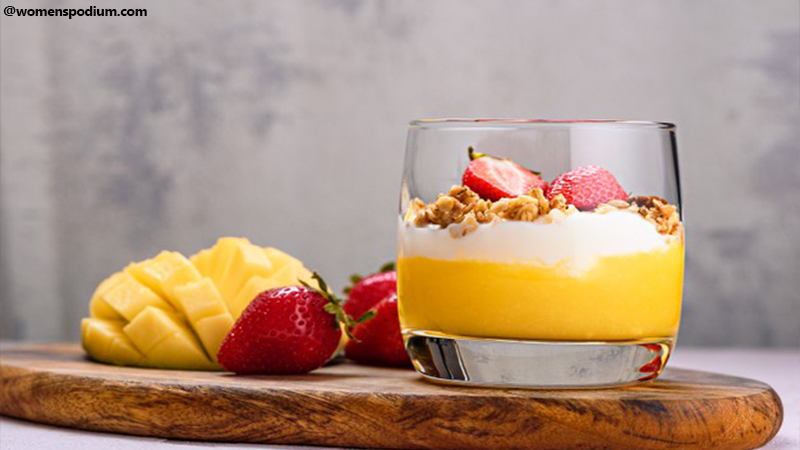 Mango mousse is one of the mango desserts which has a rich, creamy texture. Its smooth consistency is like ice-cream custard or pudding, but it is lighter and more refreshing in taste. Here is an easy recipe you can try at home.
Ingredients:
Ripe mangoes- 4 lbs.
Egg white- 2
Lime juice-1/2 cup
Granulated sugar- ½ cup
Salt- A pinch of
Heavy cream- ½ cup
Gelatin (unflavored)- 1 tbsp
Direction:
Remove the skin of mangoes, take off the seed.
Use an electric blender to prepare a mango puree along with the lime juice.
Make sure that you are not over blending the whole mixture. (with 4 lb. ripe mangoes, you can make 5 cups of puree (approx.).
Now add sugar to the mango puree.
Liquefy the gelatin in ¼ cup of warm water.
Allow it to cool, and then pour into the mango mixture.
In a separate bowl, beat the egg whites well with a pinch of salt (till you get the stiff texture).
Until you get a firm texture, whip the cream thoroughly.
Now pour the properly whipped cream into the beaten egg whites.
Add the whole mixture into the mango puree.
Transfer the whole mixture into a serving dish (you can also pour the mixture into separate dishes).
The final step is to place the mousse into the refrigerator for almost 2-3 hours until you get the firm texture.
You can serve it up cold and garnish it with nuts, cream, or strawberries as you like.
Mango Mousse Cake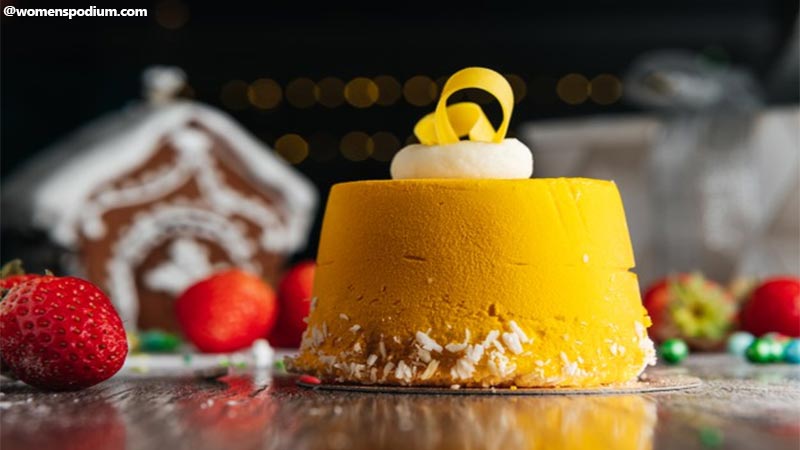 You can be more innovative in making a two-in-one dessert by using mango mousse to build a cake. This is a perfect combo of mango desserts for people who love sweets.
Ingredients:
Mango mousse- 500gms
All-purpose flour- 2 cup
Mango puree- ½ cup for cake, ½ cup for glaze
Eggs- 2
Sugar- 1 cup
Butter (unsalted)- 1 cup
Baking powder- 1 tsp
Milk- 1 cup
Gelatin powder (for glaze)- ½ tsp
Confectioner sugar- ½ tsp
Hot water- ½ cup
Direction:
Preheat the oven to 350 F. Glaze and flour two 8-inch pans to set aside.
Mix the dry ingredients (flour and baking powder) and wet ingredients (sugar, butter, eggs, milk, and puree) separately.
Beat the wet ingredients until creamy for 5 minutes.
Alternatively, add and mix the dry and wet mixtures in batches. Beat at low speed.
Pour the batter in already prepared pans and tap to release air bubbles.
Place them in the oven to bake for 30-40 minutes. Remember to use the safe cookware for the oven.
Remove from oven and cool down to room temperature. Loosen the edges to take it out of the pan.
You can prepare the mousse following the above recipe directions.
Layer one mango cake base with ¼ part of mango mousse. Then refrigerate with each alternating layer.
Once mango mousse sets, you can start preparing glaze.
Add gelatin in hot water to dissolve, then add mango puree.
Add sugar to make it one of those sweet mango desserts, then pour it carefully over the mousse cake.
Refrigerate well for 4 hours before serving.
You can top the mousse cake with mango cubes or berries to give it a refreshing vibe.
Some of you would love to try new recipes with your favorite ingredients. Here is a complete list of ingredients and recipe directions for you to follow. Take full advantage of this sweet summer fruit and try some innovative recipes for mango desserts like mango mousse and mousse cake. Both children and adults will love it!