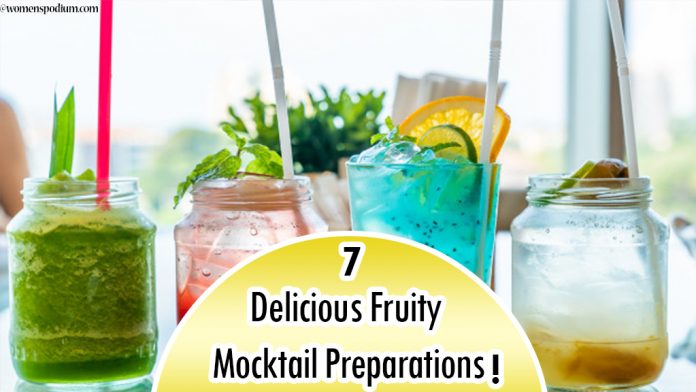 Just like cocktails, mocktails are a refreshing drink just without the alcohol. During the scorching summer heat, fruity mocktail preparations can give you some real relaxing pleasure. You can serve these drinks at a party where underage guests are also invited or even for adult guests it could be an amazing experience. It not only tastes good but also is enriched with nutrients from various fruits. They are quite easy to prepare, you can prepare them according to your choice of fruits. Let's try some delicious mocktail preparations. If you want, you can pour some alcohol into it; however, after having some of these drinks, you might not want any changes in the original taste.
Delicious Fruity Recipes for Mocktails
1. Mocktail with Grapefruit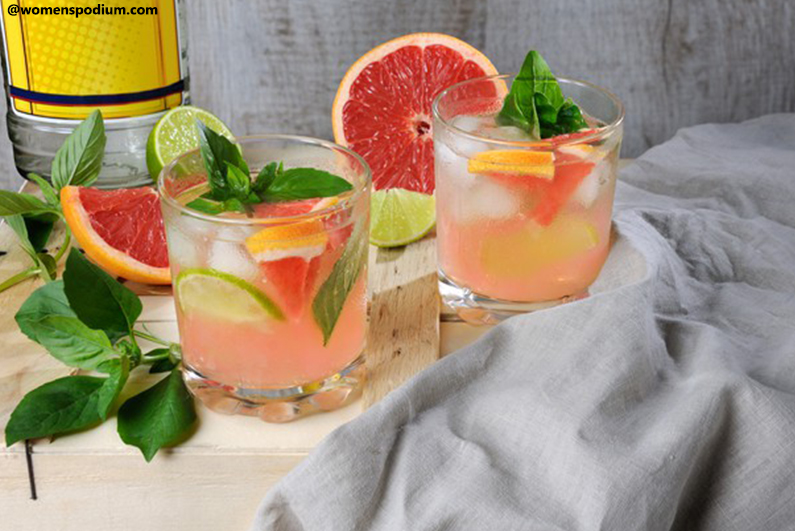 In this modern age, a mojito is a high-demanding trendy drink. However, keeping the same taste in mind you can incorporate various fruity mocktail preparations that can also provide you with some unique tastes. My first pick of the mocktail is with grapefruits.
 Ingredients:
Grapefruit (pink/ruby) – ¼ (take off all the seeds and chop into small pieces)

Mint leaves (fresh)-12 (torn roughly)

Mint sprigs- For decoration

Honey (you can use agave syrup too) – 2 tbsp

Mineral water (flavored) or grapefruit soda (pink) – 1/2 cup (make sure you have arranged for some more)
 Directions:
Take a cocktail shaker and put together mint along with grapefruit chunks. 

Arrange a swizzle stick with an enlarged tip for stirring the drinks and crush the fruit till all the juices have started to come out. 

Add half a cup of soda along with some ice cubes in the shaker. 

Place the cover tightly and shake it with vigorous passion till you get the mixed texture. 

Pour the mixture equally in rock textured glasses

. 

If required, you can add more ice cubes. Put soda on the top. Now, take mint sprigs for decoration and serve chilled.
2. Mocktail Preparation with Citrus Juice Pomegranate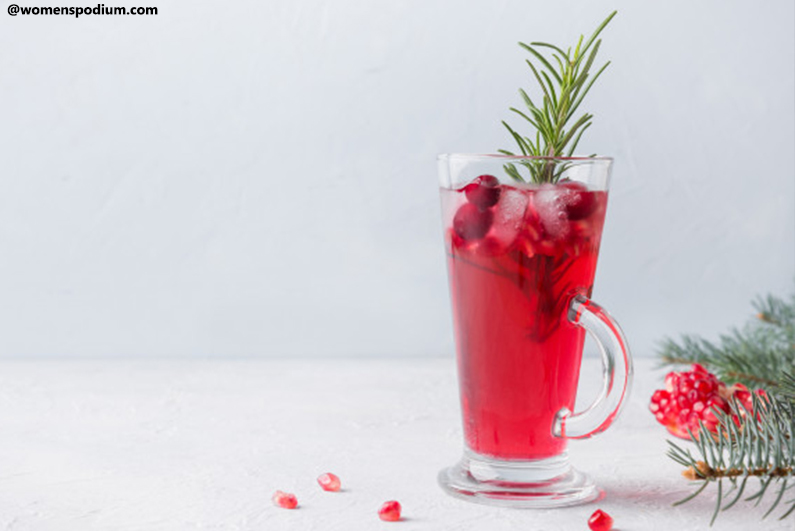 Pomegranate is another excellent choice for a mocktail. For balancing the sweetness, you can use fruits like tangerines or oranges or tangelos, etc. You can enjoy this chilled refreshing drink in the morning, too, without any hangover.
Ingredients:
Oranges- 2 (juice)

Lime- ½

Pomegranates-2

Grapefruits- 2 (small in size)

Mineola tangelos /tangerines- 2
Directions:
Take a juicer or citrus press, whatever is handy to you, and squeeze juice from lime and oranges, grapefruits, and tangerines.

Make sure to keep the pomegranate juice (2/3 cup) in a separate bowl.  

Take three glasses and pour the juice equally in these three different glasses. Add the pomegranate juice on the top (it will settle at the underside).

Serve it with ice cubes.
3. Spicy Cooler with Raspberry and Lemon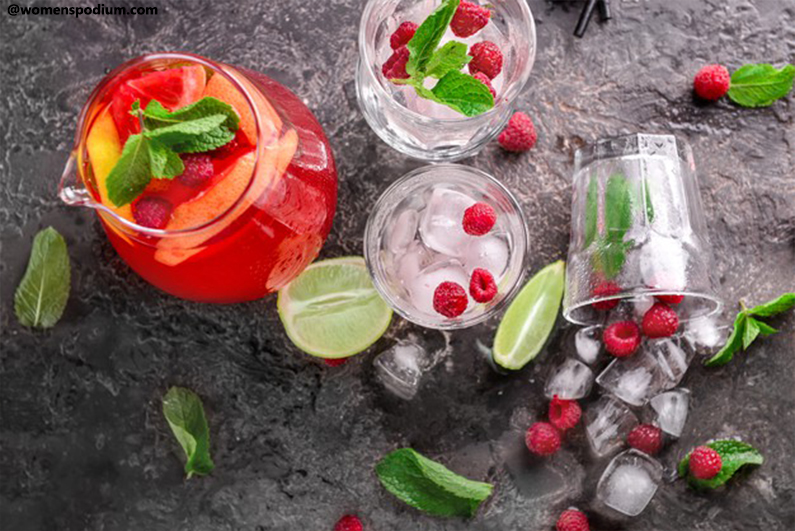 If you love spices, then this should be the perfect choice for you. Try making this to beat the summer heat.
Ingredients:
Honey- ½ cup

Water- ½ cup

Raspberries (frozen) – 2 cups

Lemon juice- ½ cup (freshly squeezed)

Lemon wedges or you can use raspberries (fresh) – For decoration (it's completely optional).

Ginger beer- 2 bottles
Directions:
Arrange a saucepan and pour together lemon juice along with water, honey, and raspberries into it. 

Let it boil over medium temperature. 

Lower the temperature a little bit and allow it to simmer softly (till the fruits are shattered well) for almost 4-6 minutes. 

Take it off from the heat and let it cool down. 

Now transfer the blend in a mesh filter by placing it on the top of the pitcher. 

Using a spoon, you can press the un-shattered fruits to get the juice as much as you can. 

Remove the pulp. 

Arrange a glass with some ice cubes along with raspberry syrup (three tbsp) and add ginger beer to fill the glass and stir well. 

Finally, decorate it with lemon wedges along with some raspberries and serve it instantly. 
4. Preparing Sparklers with Apple and Ginger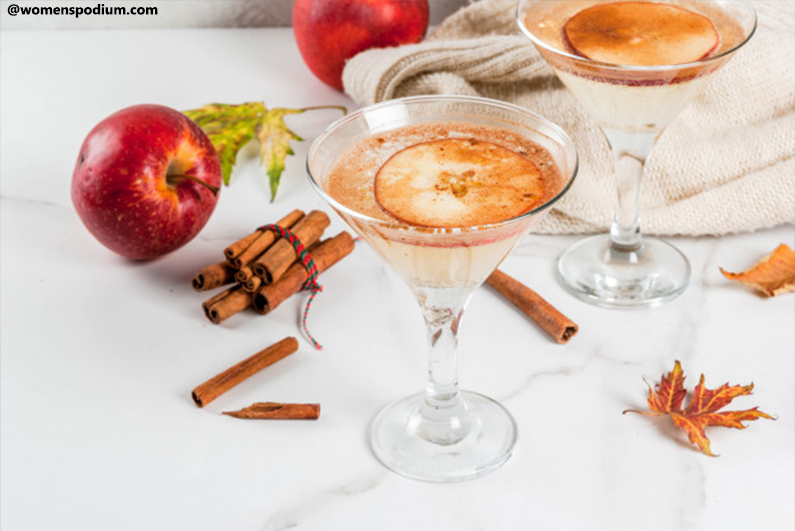 To get a kick in your drink, ginger is the best option to use. Let's check out this kicking mocktail preparation, enjoy it with your guests.
Ingredients:
Crystallized ginger- 6 pieces

Apple cider (sparkling) – 4 ½ cups

Cinnamon sticks- 5-6

Ginger syrup- ¼ cup
Directions:
Take six glasses and pour ginger syrup (2 tbsp) into each glass. Use ice cubes and apple cider to fill the glasses and combine well by stirring. 

Now use the fresh ginger along with those cinnamon sticks and serve it immediately.
5. Mocktail with Hot Sauce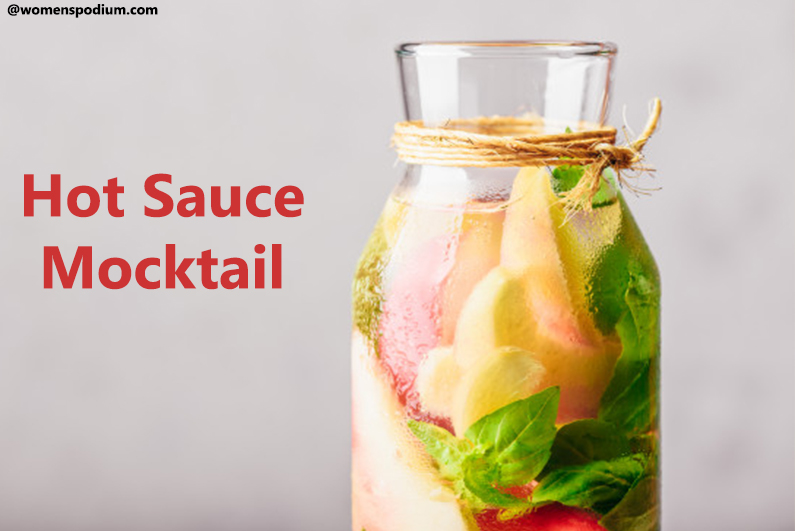 If you are a hot sauce lover, then you must try the following recipe. With the kick of the hot sauce, it will give you some exquisite taste.
Ingredients:
Vegetable juice- 2 cups

Carrot juice- 1 cup

Black pepper (ground freshly)- According to your taste

Celery salt- 1 tsp

Horseradish (readymade) – 1 tbsp

Hot sauce- As per your requirement

English cucumber- cleaned and chopped into blocks (don't forget to remove the skin and sprinkle a pinch of salt)

Worcestershire sauce- 1 tbsp

Lemon juice (fresh) – 2 tbsp

Cucumber (slices) and celery sticks- For decoration (though it's completely optional)
Directions:
Take a food processor and put cucumber slices along with salt into it. 

Mix well till you get your desired smooth texture.

Pour it in a mesh filter and place it on the pitcher. 

After getting all the liquid, remove the pulp.

In that pitcher, add vegetable, hot sauce, black pepper, Worcestershire, and horseradish, squeeze lemon juice along with celery salt, mix properly.

Take a glass (10 ounces) and put ice cubes to fill it. 

Place the celery sticks in it.

Pour the tomato juice mixture to fill up to 1/3 rd from the bottom

.

Now pour the carrot juice (make it the same quantity) and get some layers. 

Use the cucumber juice to occupy the peak. Don't forget to garnish it with cucumber slices before serving.
6. Pink Grapefruit with Pomegranate Syrup Mocktail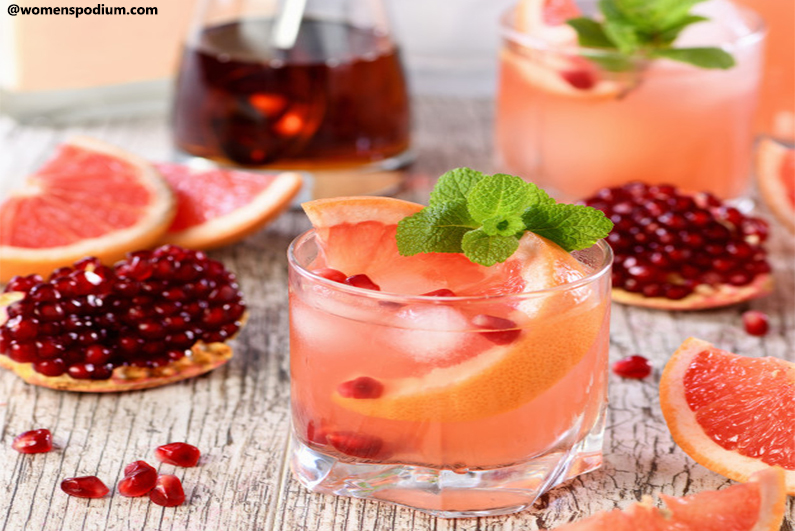 Now it's time for some gorgeous grapefruit margaritas. Try this easy to prepare drink to enjoy it with your family during this scorching summertime.
Ingredients:
Lime- 1

Grapefruit juice (pink) 1 ½ cup

Sanding sugar (colored)- 2 tbsp

Pomegranate syrup/grenadine- 6 tsp
Directions:
Take a shallow plate and put the sanding sugar on it. 

Chop out six narrow slices from the lime (middle portion), and place them separately. 

Now get a coat of the lime wedge on the outer edge of those six glasses. 

Now get a sugar coating by dipping the rim. 

Pour the pomegranate syrup (1 tsp) to the bottom of your glass.

Take a food processer and put ice cubes (2 cups approx) along with the grapefruit juice in it. 

Blend well till all the cubes get crushed. 

Add the chilled mixture into your glasses and pour the syrup. 

Mix well and before serving, use lime (sliced into rounds) for garnishing.
7. Mocktail with Pomegranate and Blueberries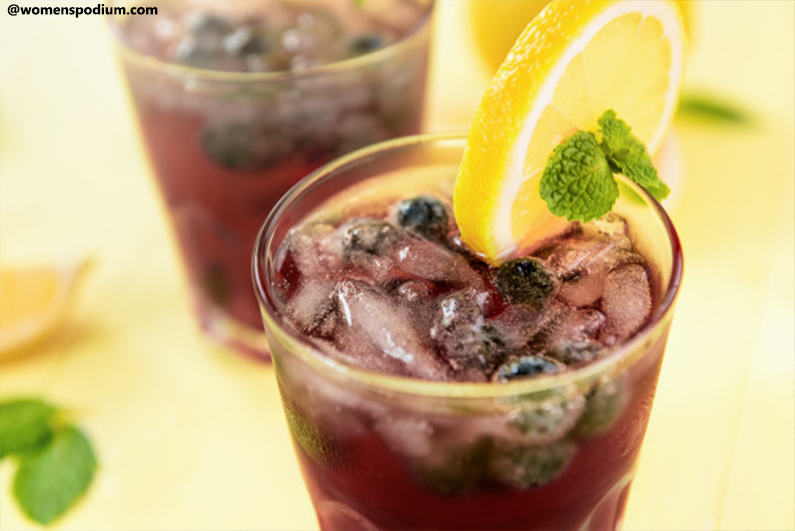 When you want to add some nutrients to your drink, then try this mocktail can be very healthy. This tastes divine and also provides you with some important nutrients, enjoy these fruity mocktail preparations with your family.
Ingredients:
Blueberry jam (natural) – ½ cup

Pomegranate juice – 1/3 cup

Blueberries (fresh) – for decoration (though it's completely optional).

Sparkling cider/champagne (non-alcoholic) – 1 bottle (chilled)
Directions:
Take a saucepan and heat the pomegranate juice at medium temperature (make sure it's not boiling). 

Pour some jam till you get the smooth constitution. 

Take it off from the oven and use the filter on the pitcher. 

To get the extra liquid, you can use the spoon to press the un-crushed fruits. 

Allow it to cool down completely, and place it in your refrigerator. 

Arrange champagne flutes and add syrup (2-3 spoons) into it. 

Add the sparkling cider /champagne on the top of the flutes. 

Pour some fresh blueberries in the drink and serve it. 
These are all fun recipes, which will give you a refreshing taste along with some essential nutrients. These are perfect options for people who don't prefer alcohol. In fact, people who love alcohol can also enjoy it by adding some with it; however, after having it without alcohol, you might not change your mind to have it differently. So try these delicious fruity mocktail preparations and enjoy them with your family and friends.